Policy
More Than 70 State Legislators Experience the Future of Connectivity at CableLabs
For the past several years, CableLabs has annually hosted a large group of state legislators from dozens of states across the country to discuss the future of broadband connectivity. It was our privilege to repeat that honor recently, both to showcase the cable industry's innovation roadmap and to listen to the interests and concerns of a diverse group of lawmakers.
Policymakers were excited to see firsthand the emerging network technologies that will enable increased cable broadband performance—faster symmetrical speeds, lower latency, enhanced reliability and better security. Collectively, the group of network technologies that will enable this increased performance is the cable "10G Platform," which will equip cable networks to deliver 10 gigabit services.
CableLabs' Rob Alderfer, Vice President of Technology Policy, kicked off the visit with an overview of the current state of cable broadband networks and the technologies on the horizon that will drive increased broadband performance. Gigabit-speed service is now available to nearly the entire footprint of the cable network in the United States. Although gigabit service is state of the art today, CableLabs sees an even faster future for connectivity with symmetrical multigigabit speeds coming soon to consumers through the 10G Platform. To help envision this future, CableLabs also screened its latest Near Future Video—"The Near Future: Diverse Thinkers Wanted"—to illustrate the applications and services that could be enabled by widely deployed 10G networks, including holo-rooms, on-call mixed reality (MR) and autonomous taxi fleets, among many others.
The state legislators then took part in a tour of CableLabs, including a series of demonstrations and discussions in the areas of wired network technologies, wireless network technologies, cybersecurity and immersive media.
Wired Network Technologies (Fiber and Coaxial)
In CableLabs' Optical Center of Excellence, Curtis Knittle, vice president of wired technologies, demonstrated multi-gigabit broadband service in action, with speeds of nearly 5 Gbps being received by a single cable modem using DOCSIS® 3.1 network equipment—a clear step toward 10G. Curtis also provided an overview of the emerging wired network technologies that underpin the 10G Platform, including advances in DOCSIS technology (DOCSIS 4.0), fiber optic access networks (Full Duplex Coherent Optics) and distributed access architectures (Remote PHY and Remote MAC/PHY). Collectively, these technologies will scale to deliver 10 Gbps.
Wireless Network Technologies (Wi-Fi, Mobile and Fixed)
CableLabs continues to grow its investment in wireless network technologies, recognizing that the consumer's broadband experience depends on a robust wireless connection. Joey Padden, a distinguished technologist at CableLabs, provided a live demo of gigabit Wi-Fi. Robust wireless connectivity, through home Wi-Fi networks, is essential to the delivery and full enjoyment of the full capability of the current cable broadband service and the 10G service of the future.
Joey led a discussion of the underlying technologies and constraints to future growth, including how a shortage of wireless spectrum is a major bottleneck for delivering on industry innovation. Policymakers can play a key role in helping enable the market by making more spectrum available for new and existing technologies, such as Wi-Fi. Recognizing the importance of spectrum policy, CableLabs is an active technical contributor to these important decisions, which were of high interest to the visiting lawmakers.
Cybersecurity and the Internet of Things
The Internet of Things (IoT) has the potential to enhance all our lives through increased efficiency, convenience and productivity. However, this proliferation of Internet-connected devices also creates meaningful risk for consumers, online services and the broader Internet. Insecure IoT devices can fuel cyberattacks, spread ransomware and steal sensitive personal information, among other concerns.
The 10G Platform seeks to mitigate these risks through a number of new technologies, including CableLabs® Micronets. CableLabs' Mark Walker, Director of Technology Policy, and Kyle Haefner, Senior Security Engineer, demonstrated how new tools such as Micronets will allow cable broadband customers to stay ahead of attackers. Protecting consumers has proven to be a priority we share with legislators. CableLabs and the cable industry are leveraging decades of experience and leadership to help address the challenges and risks that insecure IoT poses.
Immersive Media (VR, MR and Light Fields)
The tour also provided the legislators with the opportunity to experience the latest in virtual reality (VR) and discuss the near future of immersive media technologies, including on-call MR and holographic light field displays. CableLabs' Eric Klassen, Innovation Project Engineer, and Debbie Fitzgerald, Director of Technology Policy, led the discussion and provided legislators with a sense of the applications that cable's 10G broadband networks will enable. To support the development and adoption of immersive media, CableLabs helped found the Immersive Digital Experience Alliance (IDEA), which is standardizing a new media format for the transmission of volumetric media, such as light fields.
Following the lab tours, the event wrapped with a future-focused session on emerging technology megatrends with CableLabs' CEO Phil McKinney. Phil provided an innovator's perspective on key trends that will significantly impact technology development. For example, he highlighted exponential increases in storage capabilities (e.g., biological-based and memristor technologies), artificial intelligence, robotics and bandwidth. Phil explained how these technology megatrends will fundamentally change how we each live, learn, work and play.
As CableLabs continues to build the technologies that will make 10G networks a reality, we recognize the importance of dialogue with policymakers through events such as this. It is critical that government officials have a sound understanding of the industry's innovation roadmap, and it is equally important that industry listen to public policy interests. Together, we can build the future of connectivity.
Policy
Driving Increased Security in All IoT Devices
CableLabs engages with the IoT industry and the broader stakeholder community, including governments, to help drive increased IoT device security.  The rapid proliferation of IoT devices has the potential to transform and enrich our lives and to drive significant productivity gains in the broader economy. However, the lack of sufficient security in a meaningful number of these newly connected devices creates significant risk to consumers and to the basic functionality of the Internet. Insecure IoT devices often serve as building blocks for botnets and other distributed threats that in turn perform DDoS attacks, steal personal and sensitive data, send spam, propagate ransomware, and more generally, provide the attacker access to the compromised devices and their connections.   
To help address the challenge of insecure IoT, CableLabs along with 19 other industry organizations came together to develop "The C2 Consensus on IoT Device Security Baseline Capabilities" released earlier this week.  The broad industry consensus identifies cybersecurity baseline capabilities that all new IoT devices should have, as well additional capabilities that should be phased in over time.  The development kicked off in March with a workshop hosted by the Consumer Technology Association (CTA). Over the past months, the group has coalesced around the identified cybersecurity capabilities.  These include capabilities in the areas of device identity, secured access, data protection and patchability, among others.   
CableLabs has also engaged with the National Institute of Standards and Technology (NIST) as it develops its recently released draft report, "Core Cybersecurity Feature Baseline for Securable IoT Devices: A Starting Point for IoT Device Manufacturers." Both industry and governments largely agree on the capabilities that must be included to increase device security. Like the C2 Consensus, NIST focuses on foundational cybersecurity capabilities, including device identity, secure access, patchability of firmware and software, protection of device configuration and device data, and cybersecurity event logging.    
The cybersecurity capabilities identified in the C2 Consensus and NIST will help prevent and minimize the potential for exploitation of IoT devices.  Both documents provide a strong foundation and help point IoT manufacturers in the right direction on how to increase device security. However, cybersecurity is an ongoing journey, not a destination. Security practices must evolve and continue to improve to address new and emerging threats and changes in technology. This foundation must continue to be built on overtime.   
CableLabs has long been a leader in the development of security technologies. For decades, CableLabs has helped guide the cable industry in incorporating many of the identified security capabilities into cable devices and has ensured the maintenance and advancement of these capabilities over time. For instance, since the first DOCSIS specification in 1997, CableLabs has helped ensure the protection of data: All traffic flows between each cable modem and the CMTS are encrypted to protect the confidentiality and integrity of those transmissions. This is not a once-and-done process; CableLabs has and must continue to advance the cryptography used in cable devices to protect against new and more powerful brute force attacks and other potential threats. Similarly, nearly 20 years ago, CableLabs adopted PKI-based digital certificates to support strong device identity and authentication for devices connecting directly to the cable network (e.g., cable modems, Internet gateways, set-top boxes). Since the initial implementation, CableLabs has continued to advance its PKI implementation to address new and emerging threats.   
 CableLabs has leveraged its experience and success in developing and implementing cybersecurity technologies in cable devices to help drive increased security in IoT devices.  The underlying fundamentals, as well as many of the approaches to implementing, are transferable to IoT, as detailed in our white paper, "A Vision for Secure IoT". We've not only engaged with the C2 Consensus and NIST's IoT security efforts, but also in industry specification organizations, specifically the Open Connectivity Foundation (OCF)—to develop secure interoperability for IoT devices. OCF has implemented nearly all of the identified capabilities in its specification, tests for the capabilities in its certification regime, and provides the capabilities, free of charge, in its open source reference implementation – IoTivity.         
 Since publishing "A Vision for Secure IoT" in the summer of 2017, industry and the broader stakeholder community, including governments, recognize and have begun to address the challenge of insecure IoT.
Policy
Driving Global Connectivity Well Beyond Cable Technology
CableLabs participates in more than 30 unique standards organizations, industry consortia, and open source efforts. 
CableLabs is focused on developing innovative technologies, not only in the performance of cable's hybrid fiber coax (HFC) networks, but also in many areas that extend beyond the traditional cable network, including wireless (both licensed and unlicensed), cybersecurity, network function virtualization (NFV), optical technologies for access networks, and the application of artificial intelligence (AI) and machine learning to network management and orchestration. To be successful, CableLabs recognizes that, in these areas beyond traditional cable technology, it must engage and work with the broader technology community to drive advancements. This effort is visible through CableLabs' deep commitment to leading and contributing to standards organizations, industry consortia, and open source efforts in these broader areas.  
Developing standards and industry specifications are at the core of CableLabs, which has been in the specification and standardization business since its inception over 30 years ago. In 1997, CableLabs released the initial version of the Data Over Cable Service Interface Specification (DOCSIS), the technology that enables broadband service to be provided over an HFC network. Standardization of the cable interface specification allowed the cable network operators to work at scale with the network equipment manufacturers to build the interoperable technology needed for cable to meet the exploding demand for broadband Internet access.
Ever since, CableLabs, along with its members and the vendor community, has continued to advance DOCSIS technology. Cable operators today have largely moved to DOCSIS 3.1 technology, enabling the availability of gigabit-speed broadband across nearly the entire cable footprint in the US, and driving towards a "10G" network capability. As cable has broadened its focus, CableLabs has responded by broadening its standards efforts and industry engagement.
Improving Wi-Fi and Enabling 5G through Wireless Standards Engagement
CableLabs contributes significantly to almost a dozen different standards organizations to improve wireless connectivity through standardization related mechanisms. Our work is not restricted to improvements in the traditionally separate spheres of in-home and mobile wireless and includes work toward a seamless network convergence for the future. Along those lines, CableLabs is engaged in the O-RAN Alliance, where we are leading an effort to establish an open virtualized RAN ("radio access network") fronthaul specification which will allow for low-cost small cells with DOCSIS network backhaul.
At 3GPP, CableLabs is driving the Wireless-Wireline Convergence (WWC) effort to make the operation, management, and traversal of 5G wireless networks and 10G DOCSIS networks more seamless. CableLabs is also working to bring consumers a faster and safer in-home network experience through a next-generation adaptive security platform, CableLabs ® Micronets, which enables enterprise-level smart security at home. Beyond making home networks safer, we're working to make them more powerful; exhibited by our role in achieving recent milestones with carrier-grade Wi-Fi certification through the Wi-Fi Alliance's VantageTM and launch of the new EasyMeshTM certification program.
Driving Increased Performance of Optical Technologies in the Access Network through Broad Industry Collaboration
As cable drives its fiber infrastructure deeper into the HFC network, CableLabs has developed new technology for use of fiber in the access portion of the network and has promoted standardization of such technology. We are involved at several global standards development bodies—including IEEE, ESTI, O-RAN, and SCTE where we work to level-up all aspects of the fiber network. These efforts combine our internal specification development— work (such as Coherent Optics specifications) with broad industry collaboration in order to deliver dramatic improvements to the access network across all areas. This means that while working toward ever faster speeds through developing the next generations of PON protocols, the whole network ecosystem needs to be addressed, which includes innovation in network operations with projects such as Proactive Network Maintenance (PNM).
Building a Common, Secure, Foundation for IoT Devices of the Future
CableLabs envisions a future empowered by technologies that improve our lives—a future where augmented reality (AR)/ virtual reality (VR) head-mounted displays, video walls, AI-enabled media, ubiquitous Internet of Things (IoT) devices, light field holodecks and displays (as seen in our latest Near Future video) are just the beginning. However, in order for AR/VR devices to be populated with high-quality content, for video walls to connect seamlessly, or for our IoT devices to assist us securely, we will first need high-quality, secure, industry-driven standards on which the technology and applications can be built. This belief has led to our involvement in the Open Connectivity Foundation (OCF), an industry effort to develop a secure interoperability specification for IoT.
Catalyzing the Future of Immersive Media Experiences
Recognizing the importance of building consensus throughout the ecosystem, even beyond the broadband network, CableLabs is significantly involved in and contributing technical expertise toward a number of emerging technology areas, including significant projects in video, VR/AR, and immersive media. Essential to the actual adoption of standards, we recently played a founding role in establishing Media Coding Industry Forum (MC-IF) to address patent licensing of future MPEG codecs. In addition, we announced a new collaboration called IDEA (Immersive Digital Experiences Alliance) to establish and promote end-to-end delivery of immersive content, including light fields, over broadband networks.
To learn more about our work in standards, open source, and industry consortia please see our members-only (login required) Standards Strategy Update (April 2019) on current engagements.
Policy
The Gigabit Internet Dream Continues to Expand
Cable gigabit service availability continues to expand – as of June 2018, 63% of U.S. housing units – 74% of the cable broadband footprint – had gigabit service or better available from their local cable operator. This is up seven percentage points in just three months and has expanded by 16X in 18 months. Cable is making the gigabit Internet dream a reality. Coincident with this update of the cable industry's gigabit deployment data, we are also releasing a new installment in our Inform[ED] Insights series that explains the technology that enables these gigabit networks.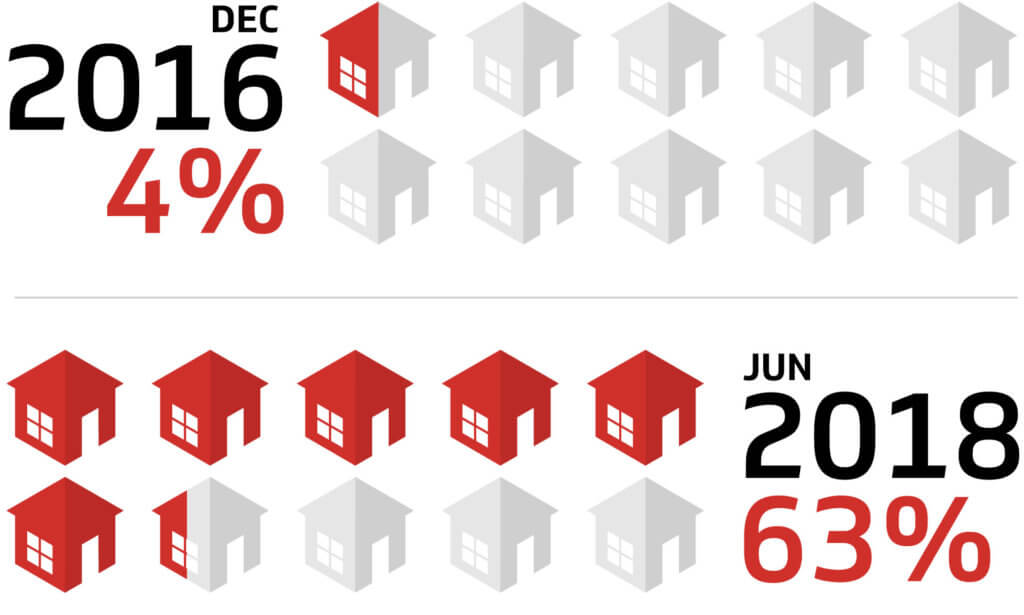 Cable's deployment of high-capacity broadband networks is enabling the gigabit services of today and the symmetric multi-gigabit services of tomorrow. With the wide availability of gigabit service and beyond, the broadband infrastructure is in place to power emerging technologies that will transform and enhance our lives through immersive entertainment, next-generation healthcare and a reimagination of education and work.
CableLabs and the cable industry are continuing to advance the capacity and performance in each segment of the cable broadband network to remain well-ahead of consumer demand. We are focused on developing innovative network technologies in the areas of coax (e.g., DOCSIS 3.1 and full duplex DOCSIS), fiber (e.g., coherent optics in the access network), and wireless (e.g., Wi-Fi and 5G), as well as defining optimal network architectures to provide the necessary capacity and performance in each segment of the network for today's gigabit services and those anticipated in the future.
Ready to see how the cable industry is driving gigabit speeds from the lab to the consumer? Click on the link below to download our new Inform[ED] Insights white paper.
Today is Energy Efficiency Day, a collaborative effort of regional and national organizations working to promote energy efficiency. CableLabs has been a strong supporter of energy efficiency for many years and is involved in a number of related initiatives:
CableLabs leads the technical efforts for three highly impactful energy efficiency Voluntary Agreements (VA) in North America:
As an example of impact, the US Set-Top Box VA is estimated to have saved nearly 30 Terawatt hours of energy over the five years it has been in place. This equates to over $3.5 billion dollars in savings for consumers and avoids over 20 million metric tons of CO2 emissions (the same as 4.4 million passenger cars driven for a full year). The industry achieved these remarkable results while rolling out new, innovative features and capabilities such as voice-controlled remotes and 4K video.
CableLabs plays an active role in the SCTE•ISBE Energy 2020 Program, and I have the honor of being a judge in the SCTE•ISBE Adaptive Power Challenge later this month at the SCTE•ISBE Cable-Tec Expo where six finalists will present their innovative approaches to reducing network power consumption.
CableLabs designs energy efficiency into our specifications. As an example, the DOCSISÒ 3.1 protocol considered energy efficiency up front when developing the protocol, and designed DOCSIS Light Sleep (DLS). First generation DOCSIS 3.1 modems being deployed today offer five times the broadband speeds of DOCSIS 3.0 modems using no additional energy.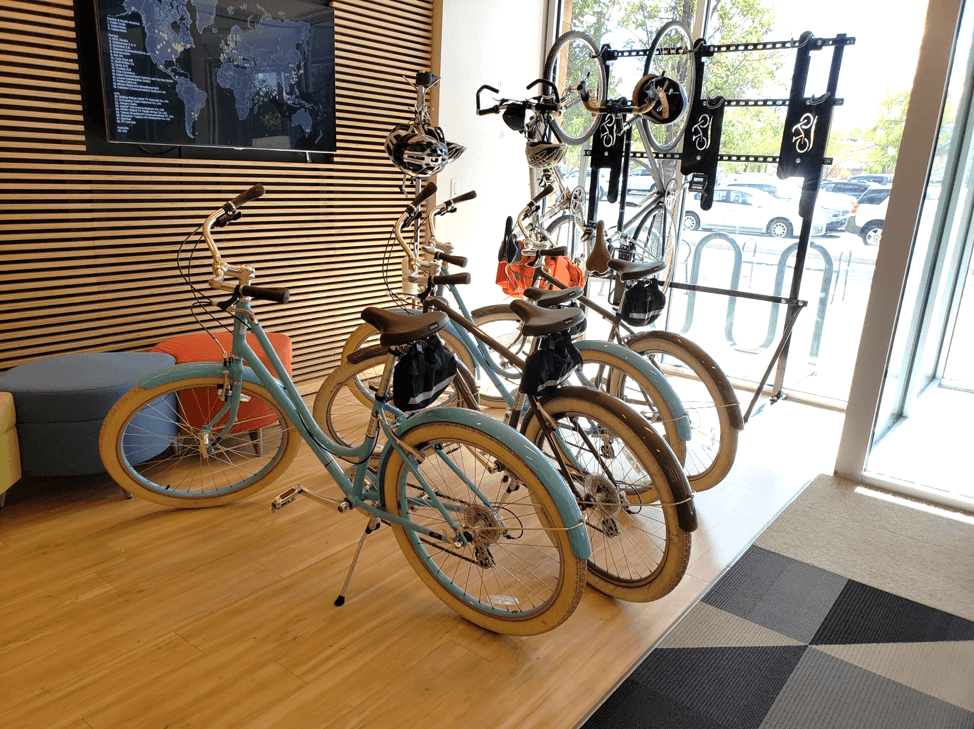 We are also focused on energy efficiency in our workplace. Our building in Louisville, CO has motion-controlled lighting throughout so that the lights are on only when we need them. We focus on decommissioning and turning off servers and equipment when they are not in use.  We have installed eight electric vehicle charging stations at our office and there is constant competition for them. We also provide free bus passes to all our employees to encourage taking the bus whenever possible, and we have community bicycles that employees can use to run errands or simply to take a break and get some fresh air.
CableLabs is excited to promote energy efficiency around the world. Happy Energy Efficiency Day to all! #EEDay2018
How to Learn More
Read the CableLabs Inform[ED] Insights Paper - Energy Efficiency Through Industry Action
Read Energy Blog Topics at CableLabs Blog
Watch the Webinar on the Energy Efficiency Voluntary Agreements
Policy
Legislators at the Labs
Eighty politicians walked into a lab... That's not the start of a joke, it was actually the start of our week here at CableLabs! We were excited and honored to host state representatives and senators from across the U.S. on Monday, and to show them the exciting innovation happening in the cable industry.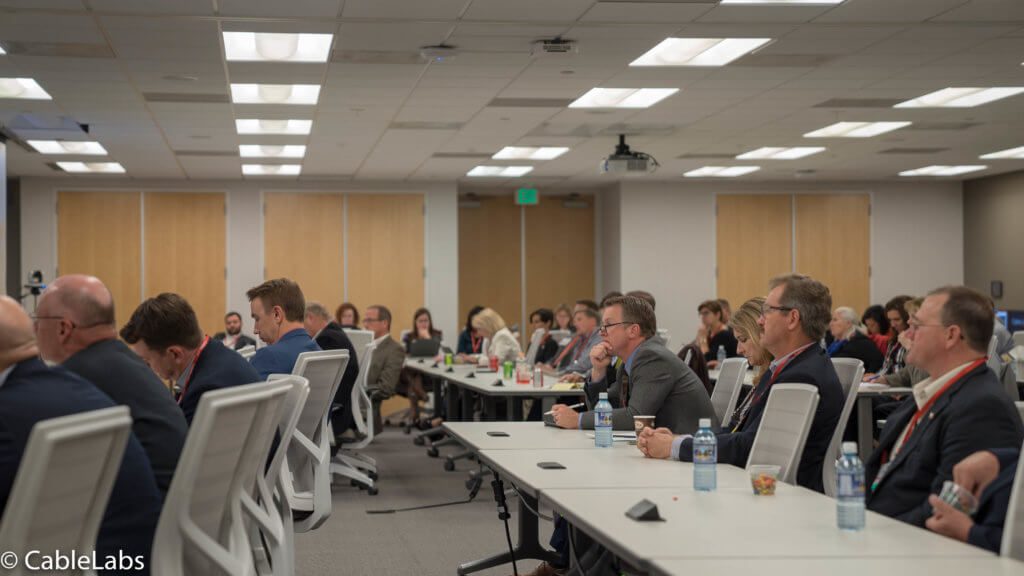 Our day was all about innovating the future of connectivity. We started by talking about the deployment of gigabit networks, which now reach the majority of Americans, and we showed them the research that makes these services a reality over the existing hybrid fiber coaxial networks of the cable industry. We talked about the importance of wireless connectivity and spectrum research, since everyone connects to broadband via Wi-Fi, and a majority of CableLabs' members are also mobile operators. We focused on cybersecurity – an increasingly important area, given the growth of connected ('IoT') devices – and what we are doing to help as part of the broader Internet ecosystem. And finally, no visit to CableLabs would be complete without experiencing the applications that ride over gigabit networks – immersive media, virtual reality, and the holographic effects of light fields were a highlight, and are featured in our latest Near Future film.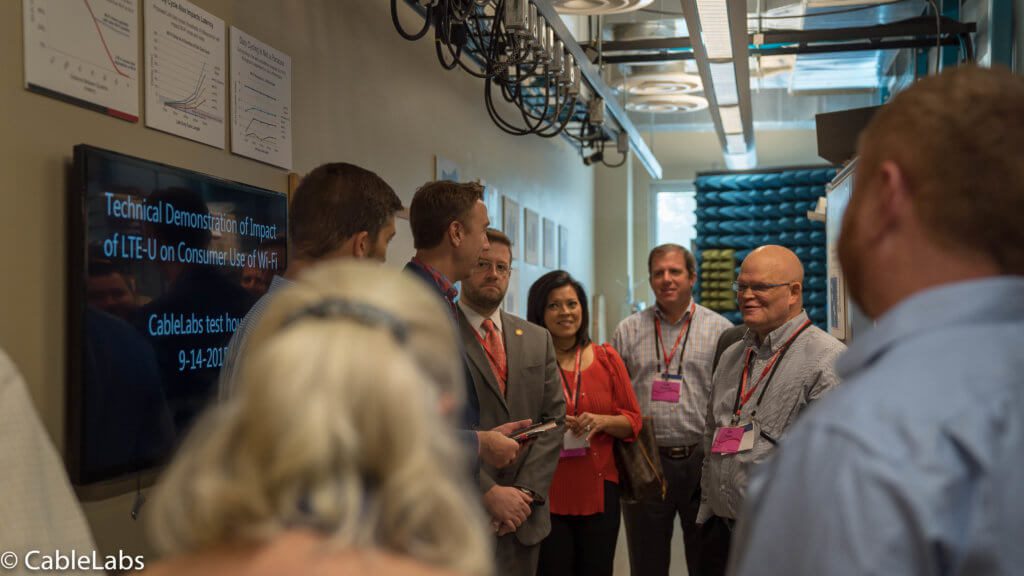 So, what do you get when you have eighty politicians in the Labs? Lots of questions! How should we think about 5G? What can we do to extend broadband service to areas that don't have access? How can we realize the educational possibilities that come with broadband?
All great questions, and at a high level, the answer is that there is no one single technology solution. That is why CableLabs is pushing the envelope of performance on cable, fiber, and wireless, and other technologies, bringing next-generation connectivity to consumers.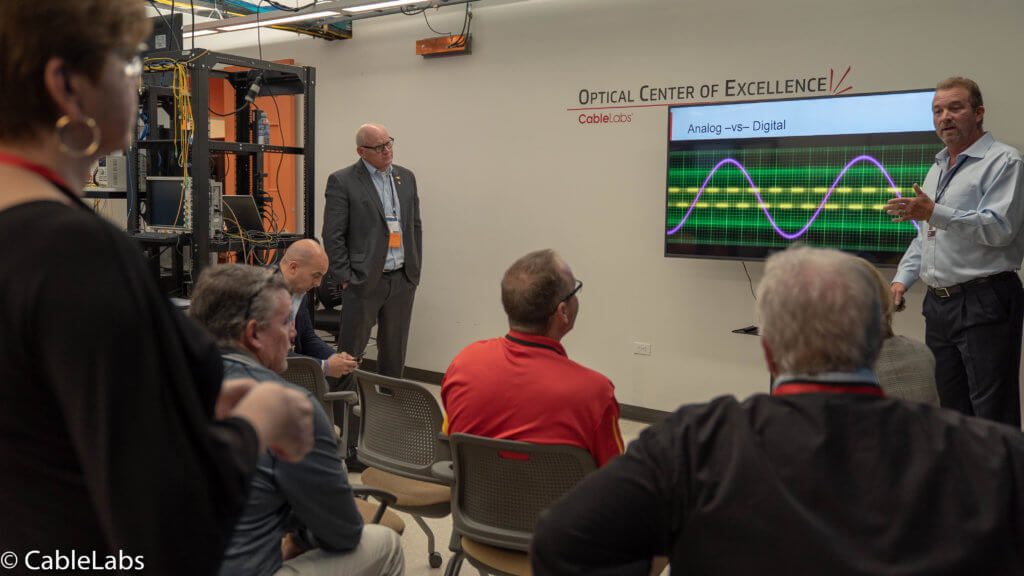 But, there is a common thread for policymakers: The innovations we develop at CableLabs are all at least three years away from being realized in the market. The policy environment can help to put new technologies into the hands of consumers through stable, predictable, and consistent policy that is conducive to investment and risk-taking. Since there is that interaction between technology policy and innovation, we appreciated the opportunity to host a great group of elected representatives this week.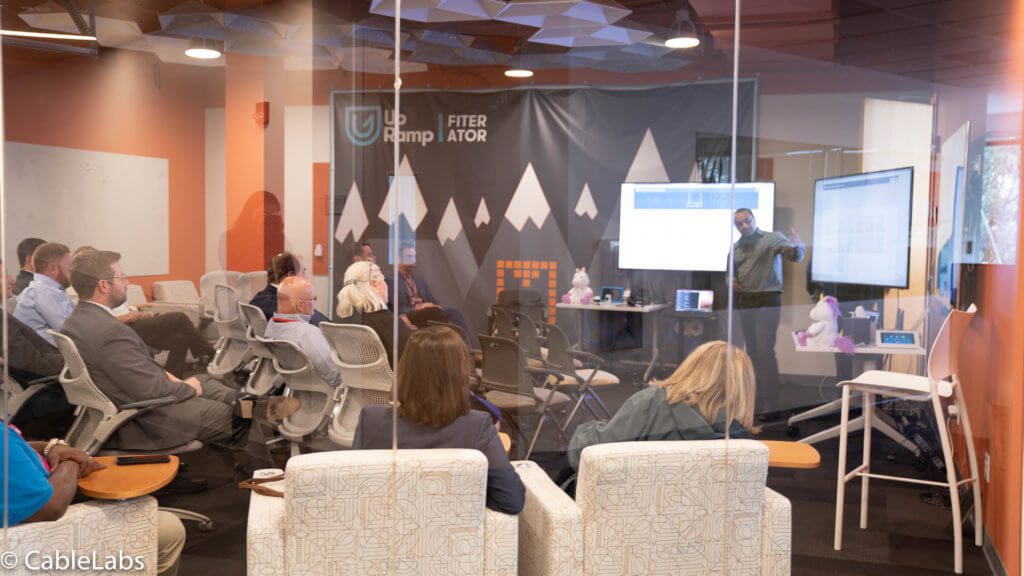 CableLabs is the global innovation hub for the cable industry and provides leaders across the globe with technology insights on which to base decisions of significance.
To learn more about Rob and CableLabs tech policy work, please click here.
Policy
A Super-Fast, Super-Connected Wireless Future Requires a Balanced Spectrum Policy
This article was originally published by Morning Consult on Aug. 9, 2018. You can find the post here. 
Recently, the Senate Commerce Committee held a hearing on the race to 5G, exploring how we can harness the power of wired and wireless broadband to drive transformative communications innovation, and what the government can do to support and accelerate industry efforts. Testimony from a range of ecosystem players – mobile, cable, satellite, and equipment suppliers – made clear that the 5G vision of ultrafast speeds, minimal latency, and expanded coverage across the country will be delivered by a variety of new technologies that will transform our connected lives.
Getting there will require policymakers to unleash wireless bandwidth – the spectrum – that will enable this new world.
At the hearing, industry representatives agreed that the future of connectivity will require access to robust licensed, unlicensed and shared spectrum. Unlicensed spectrum in particular, as Charter Communications Inc.' Craig Cowden pointed out, will play a key role in the delivery of 5G.
Unlicensed spectrum is open to all and is already intensively used for Wi-Fi, which Americans rely on for broadband access. The central role of unlicensed spectrum will continue in our 5G future, as the growth of Wi-Fi continues and new technologies are developed. It is therefore essential that policymakers include unlicensed spectrum in any 5G discussion, and that Congress and the FCC work to expand this wireless bandwidth.
Wi-Fi and unlicensed spectrum already are central to Americans' everyday lives. Wi-Fi carries the majority of all internet traffic now, with 3 billion Wi-Fi devices being deployed this year alone. Last year, over 60 percent of all mobile data traffic was offloaded from cellular networks onto Wi-Fi. Internet of Things devices, which will reach over 11 billion this year, rely on Wi-Fi more than any other connectivity technology. It is a ubiquitous element of our modern economy – e-commerce, medical services, transportation and finance, among other sectors, are all dependent on Wi-Fi connectivity.
Wi-Fi added more than $525 billion in economic value to the U.S. economy just in 2017, according to one estimate. In the coming years, Wi-Fi is expected to grow further, offering increased reliability, lightning-fast gigabit speeds, and seamless secure connectivity. The cable industry – including my organization, CableLabs – is working hard to improve Wi-Fi and other unlicensed technologies for consumers in support of the 5G vision.
There is now a specific opportunity to give this innovation a boost through spectrum, in particular, the 5 gigahertz frequency band. Parts of the 5 gigahertz band are already used by Wi-Fi, and it is home to many new wireless innovations. But to fully enable these latest technologies, the spectrum available for unlicensed services in this frequency range must be expanded upward, into the 5.9 gigahertz range. When this happens, industry can and will rapidly put this spectrum in the hands of consumers.
The 5.9 gigahertz band is our country's best near-term unlicensed spectrum opportunity for several reasons. First, it offers sufficient bandwidth to support wireless innovation through a wide range of technologies and services. Second, since it is an outgrowth of already heavily-used frequencies, it is easily adopted by wireless equipment – a rare opportunity in spectrum allocation, where it usually takes years to get new bandwidth into the hands of consumers. Third, the band is largely unused and has been for the past 20 years. No other spectrum opportunity has fewer existing services to consider.
Having spectrum available that promotes innovation and connectivity is critical to our connected future. Making the unlicensed 5.9 gigahertz frequency band available for new wireless services now would represent one significant step forward in the global race to 5G.
Interested in learning more? Take a look at our Inform[ED] Insights by clicking below. 
Policy
A Milestone in Wi-Fi / LTE-U Coexistence
Today is an important milestone for unlicensed spectrum coexistence - the Wi-Fi Alliance (WFA) has released its plan for testing how well LTE-Unlicensed coexists with Wi-Fi.
This culminates many months of work by many expert engineers within the WFA and its membership, including CableLabs staff. The outcome is that we now have a definitive set of tests, based on real-world consumer data, against which to judge LTE-U – and we can move past the competing technical studies that were the hallmark of 2015.
The WFA and its staff are to be commended for bringing all sides to the table on this issue of such importance for broadband consumers everywhere. The test plan, developed in record-time, is a product of compromise by all sides, and LTE-U proponents participated robustly in the process. There are a number of tests that CableLabs supported as important that ultimately were not adopted. But the final product is nevertheless essential – both in validating coexistence performance of any LTE-U device proposed for deployment, and as a sign that diverse industry interests can work toward solutions as wireless access becomes ever more important for consumers.
CableLabs will continue to be engaged as the WFA moves to implement this plan with authorized test labs. We look forward to a transparent process with results reported publicly by the WFA. As we move to this implementation phase, it is worth describing what the test plan does, in order to understand why it is so important.
At a high level, the test plan does the following:
Checks that LTE-U devices select the most lightly used channel, as LTE-U proponents say they will do;
Ensures that new Wi-Fi networks can access the channel when LTE-U is active;
Measures the impact to Wi-Fi throughput and latency from LTE-U; and,
Ensures that LTE-U adapts its use of the spectrum in response to variation in consumer use of Wi-Fi, as occurs in the real world, in real time.
And it does all of this at signal levels that have been shown with real-world data to be reflective of consumer use of Wi-Fi hotspots. These tests are necessary due to the well-documented shortcomings in the LTE-U Forum coexistence specification, and the lack of standardized test procedures to date, which has yielded vastly different coexistence conclusions. For more information on our views of the test procedures, see Jennifer Andreoli-Fang's contribution to the August workshop of the WFA, which is available here.
Reasonable compromises have been made by all sides in developing this test plan. It is time to move forward using the outcome of this process, in full, as the sole source of reliable determinations of LTE-U coexistence.
News
Liberty Global and CableLabs Join MulteFire Alliance
Today, CableLabs is taking a significant step to drive the development of next-generation wireless technology. We are excited to announce that, along with our member Liberty Global, we are joining the MulteFire Alliance, an open consortium dedicated to making mobile technologies more widely available for use in shared, unlicensed spectrum.
MulteFire is based on 3GPP License Assisted Access LTE (LAA-LTE), which uses listen-before-talk etiquette to share spectrum in a manner similar to Wi-Fi. But unlike LAA, MulteFire will place control signaling entirely in the unlicensed band, breaking the reliance on licensed spectrum and mobile networks. This is a capability that we and others have proposed several times in 3GPP, as yet without successful adoption in that body. Our hope is that pursuing this technology in the Alliance will enable its rapid integration to global standards.
We see this step as the basis for renewed collaboration on next-generation wireless technology, which will become ever more important as we move toward 5G. Reliable coexistence, full transparency, and deep engagement with partners have long been central to our work on technologies that use unlicensed, shared spectrum. These same principles will continue to apply as we work with the MulteFire Alliance, 3GPP, the Wi-Fi Alliance, IEEE, and other groups going forward.
Below is the full copy of the joint press release that was issued today:
Liberty Global and CableLabs Join MulteFire Alliance
 Next-generation wireless technology gets major boost as two leading players in cable join forces with Wireless Consortium
London, United Kingdom and Louisville, Colo. – Sept. 21, 2016 – Today, Liberty Global, the world's largest international TV and broadband company, and CableLabs, the innovation-focused R&D lab for the global cable industry, announced that they have joined the MulteFire Alliance, an independent, diverse and international member-driven consortium dedicated to developing next-generation wireless technology. Through collaboration with the Alliance, Liberty Global and CableLabs can improve the wireless experience and make the technology more widely available to consumers.
"Wireless connectivity has become critically important for consumers," said Balan Nair, CTO of Liberty Global. "By joining the MulteFire Alliance, we are driving the future of wireless for our customers."
The main focus of the MulteFire Alliance is to ensure that next-generation LTE mobile standards are compatible with shared and unlicensed spectrum. This compatibility ensures that the next generation technology is more widely available and that it can coexist alongside Wi-Fi and other technologies. What also makes this technology unique is that operators without access to the licensed spectrum still will be able to use it, breaking down barriers to entry and opening the door to greater innovation.
"This step will arm the cable industry with a new wireless technology that builds on our success in providing Wi-Fi and mobile services and complements the industry's fixed broadband technology leadership," said Ralph Brown, CTO of CableLabs.
Currently, the MulteFire Alliance is working to adapt 3GPP-based mobile wireless standards for shared and unlicensed spectrum so that the technology is broadly available and fairly coexists with Wi-Fi and other technologies. MulteFire is based on 3GPP Release 13 License Assisted Access LTE (LAA) and Release 14 enhanced LAA (eLAA), which uses Listen-Before-Talk (LBT) etiquette to share spectrum in a manner similar to Wi-Fi.
Unlike LAA, however, which is anchored to licensed spectrum and must be used in conjunction with a mobile network, MulteFire will operate entirely in unlicensed or shared spectrum, so that operators without licensed mobile spectrum can utilize it. This "standalone" functionality has been proposed in the 3GPP standards body for both LTE and 5G. By building this capability in the Alliance, its member companies will enable its adoption in global standards and the corresponding broad benefit of wireless innovation.
"We appreciate that the Alliance is committed to transparency and collaboration, given the importance of unlicensed spectrum to broadband access," said Rob Alderfer, Vice President of Technology Policy at CableLabs. "As we move toward ever greater sharing of scarce spectrum resources, reliable coexistence across technologies is essential as we continue to innovate. It's what we believe is the most critical aspect of the Alliance, and one that will be important as the industry moves toward 5G standards."
"Operators in the cable industry are ideal partners in our effort to develop new wireless technology and we are pleased to have CableLabs and Liberty Global join us," said Mazen Chmaytelli, MulteFire Alliance president. "The Alliance is open for broad, global participation, and since one of our goals is to drive our work into global standards, we are establishing liaisons with 3GPP, CBRS Alliance and IEEE to keep them apprised of our progress."
Other members of the Alliance include leading technology suppliers such as Qualcomm, Intel, Nokia and Ericsson.  A full list of members can be found here.
About Liberty Global
Liberty Global is the world's largest international TV and broadband company, with operations in more than 30 countries across Europe, Latin America and the Caribbean.
We invest in the infrastructure that empowers our customers to make the most of the digital revolution. Our scale and commitment to innovation enables us to develop market-leading products delivered through next-generation networks that connect our 29 million customers who subscribe to over 59 million television, broadband internet and telephony services. We also serve 11 million mobile subscribers and offer WiFi service across seven million access points.
Liberty Global's businesses are comprised of two stocks: the Liberty Global Group (NASDAQ: LBTYA, LBTYB and LBTYK) for our European operations, and the LiLAC Group (NASDAQ: LILA and LILAK, OTC Link: LILAB), which consists of our operations in Latin America and the Caribbean. The Liberty Global Group operates in 12 European countries under the consumer brands Virgin Media, Ziggo, Unitymedia, Telenet and UPC. The LiLAC Group operates in over 20 countries in Latin America and the Caribbean under the consumer brands VTR, Flow, Liberty, Mas Movil and BTC. In addition, the LiLAC Group operates a subsea fiber network throughout the region in over 30 markets. For more information, please visit www.libertyglobal.com
About CableLabs
CableLabs is a non-profit Innovation and R&D Lab founded in 1988 by members of the cable television industry. With a strong focus on innovation, CableLabs develops technologies and specifications for the secure delivery of high speed data, video, voice and next generation services. It also provides testing, certification facilities and technical leadership for the industry.
CableLabs' mission is to enable cable operators to be the providers of choice to their customers. Cable operators from around the world are members. For more information, please visit www.CableLabs.com
Contacts:
Liberty Global
Matt Beake
Tel: + 00 44 208 483 6300
CableLabs
Aurora Sassone
Edelman for CableLabs
Tel: +1.415.619.1555
E: aurora.arlet@edelman.com
Wayne Surdam
CableLabs
Tel: + 1.303.661.3766
E: w.surdam@cablelabs.com
Policy
Approaches to Increasing Wireless Spectrum
At the 2014 Cable Show, one of the hottest topics was Wi-Fi. It doesn't take long to realize how important access to this suddenly precious resource really is: Studies indicate that the number of wirelessly connected devices will triple by 2020, to a mind-blowing 30 billion devices.
[Related: Wireless Spectrum Infographic]
And with each new device that connects, less space is available in the wireless spectrum. The FCC recently voted to increase usable wireless spectrum in the 5GHz band, but this is a small fraction of what will be needed to support the growing wireless culture.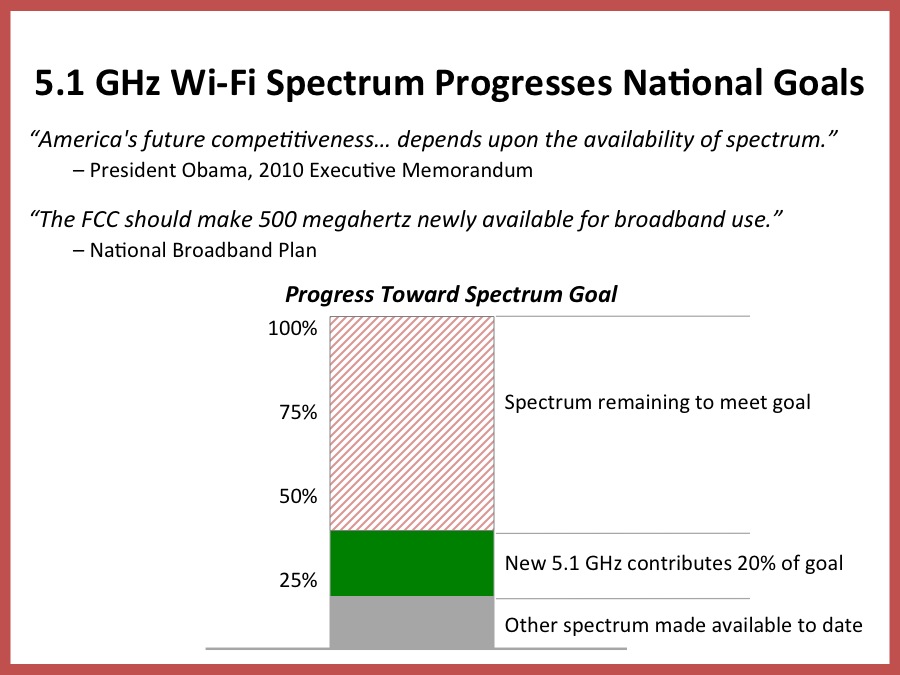 How do we get to a point where there is plenty of spectrum for everyone?  There are multiple approaches.
Reallocating Spectrum
Historically, the government has sought to meet new wireless needs by reallocating spectrum from one service to another. The idea has generally been that each service needs its own exclusive spectrum in order to avoid interference, and as technology changes the FCC needs to shuffle the spectrum portfolio.
For those that can remember all the way back to 2009, the digital television transition was an example of this – the FCC recaptured some spectrum used for TV broadcasts and repurposed it for wireless broadband.  Believe it or not, this process started about 15 years earlier – so reallocation takes time. Not exactly ideal in a world where technology seems to evolve daily.
The FCC already sees new opportunities for further reallocation of TV spectrum to broadband – but hopes to speed it up this time by creating a new two-sided market for spectrum. In essence, they will buy spectrum back from broadcasters in order to put it in the hands of our smartphones and tablets.
The FCC hopes a one-time-only auction will incentivize broadcasters to relinquish licensed spectrum in exchange for presumably very large sums. They get cash in their pocket for giving up space that was under-used, more wireless spectrum is available, and everybody's happy – right?
Possibly. There are a lot of unknowns at this point. Some questions were answered at the May 15 meeting of the FCC, but not everyone can be happy all of the time. Hopefully things will move faster than the last 15-year process, even if keeping up with wireless growth is a near-impossible task.
Sharing Spectrum
Another approach to meeting wireless demand is to open up new spectrum by sharing it among many services, rather than shifting spectrum from one service to another. This is possible because wireless technology has come a long way. Wi-Fi is a great example – it is a fundamentally "polite" technology, since it listens to the airwaves before it transmits. It was built to share.
Without the need to shift services from one band of spectrum to another, spectrum sharing lends a greater ability to keep up with wireless growth. And since a lot of that growth is occurring over Wi-Fi, that's a real opportunity. The FCC's action in March to expand Wi-Fi access to part of the 5 gigahertz (GHz) band is a case in point. And there's more that can be done in 5 GHz, and in other bands like 3.5 GHz.
But the value of spectrum sharing depends on the specifics. We still need to protect against interference, but we also need to be sure that we're not overly protective and discourage productive use of the spectrum. We don't want Wi-Fi jamming military naval radars, for example, but neither do we want Wi-Fi to be confined to Kansas. (No offense to Kansas.)
It's a balance. And CableLabs is doing the R&D to ensure that the right balance is struck.
Increasing Wi-Fi Spectrum: A Roadmap
Ultimately, it will take a combination of approaches to achieve the national goal of wireless spectrum growth.
When CableLabs helped the FCC with research to increase the 5GHz band, there was a concerted effort around interference issues. This collaborative research will serve as the technology roadmap for interference issues surrounding both reallocation and sharing of Wi-Fi spectrum. It's critical that spectrum policy moves forward quickly and effectively to benefit everyone who uses it – and that's all of us.
Rob Alderfer is a Principal Strategic Analyst for CableLabs, where he guides technology policy and strategy across the industry.