News
CableLabs Goes Down Under
In a bit of alright, CableLabs recently welcomed Australia's National Broadband Network (nbn) – as our 56th member — and our first in Australia.  CableLabs now has members across five continents — adding Australia to Asia, Europe, North America and South America.
Established by the Australian government in 2009 to design, build and operate Australia's new broadband network, nbn is unique among CableLabs members as a Layer 2 network which wholesales access to Retail Service Providers (RSPs).  With the nbn network currently passing 4.6 million premises, approximately 50 RSPs are providing service to 2 million end user customers.  nbn plans to extend its network to 12 million premises by 2020 – and will serve 8 million end user customers through its RSPs.
nbn is unique in another fundamental way.  It is comprised of several heterogeneous network technologies, including fixed networks employing HFC, DSL and fiber (FTTx), together with wireless networks (fixed and satellite).  Through a strategy titled "Multi Technology Mix," nbn is a "network of networks" which integrates and optimizes these technologies to maximize speed of rollout, optimize economic return and enhance flexibility. This flexibility is at the heart of nbn's strategy to provide access to fast broadband to all Australians as soon as possible.
By the end of 2018, nbn will deploy DOCSIS 3.1 in its HFC network, joining a growing number of CableLabs' members across Canada, Europe and the U.S. who are deploying DOCSIS 3.1 multi-gigabit technology.  These deployments will help deliver new customer experiences that are faster and more efficient. Examples of the improved experience include:
10Gbps downstream and up to 1Gbps upstream network capacity
Improved responsiveness for applications such as online gaming and video streaming
Ability to transmit up to 50 percent more data over the same spectrum, on existing HFC networks
Increased cable modem energy efficiency through advanced energy management protocols
For more information about nbn, please visit http://www.nbnco.com.au/corporate-information/about-nbn-co.html.
Healthcare
Medical Grade Connectivity: How IoT Drives Digital Transformation in Healthcare
The connected world that is enabling the digital transformation of our lives and society is pervasive. So often, people view the radical transitions as dehumanizing – that technology moving us further from each other, making our relationships more distant and our interactions impersonal. However, this really doesn't hold up to close scrutiny when we consider the context of our whole lives. We've never been so connected to people and information – and we are becoming more engaged every day. We are able to stay in touch with family and friends more easily; share experiences even though distant; share intimate ideas over phones even when sitting next to each other. Like so many important areas of our lives, the realization of the connected world is also transforming healthcare. CableLabs hosted an Inform[ED] symposium to investigate how connected healthcare is evolving and what technical challenges it must overcome. Attended by a fantastic mix of technical professionals, visionaries, and subject matter experts, the overwhelming consensus was that emerging technologies and pervasive networking will reinvent healthcare. The result will be an even more humane and caring system, accessible to more and more people at even lower cost.
The connected healthcare event was opened by Simon Kos, Chief Medical Officer of Microsoft. He set the tone for the day, demonstrating how technology is fundamentally changing society as it becomes more accessible, affordable and capable. His view was on our total health – not just during episodic care with clinicians, but our overall quality of life as we cope with the challenges of living. To organize his storytelling, he used the Quadruple Aim framework and presented examples to examine technology innovation along the dimensions of engaging patients, empowering care teams, optimizing clinical and operational effectiveness and transforming the care continuum. His examples resonated with the views and ideas of other presenters and panelists throughout the day.
Transforming Healthcare Through Interoperability and Data Liquidity
Security concerns are very real, as discussed by a panel of Corporate Information Security Officers (CISOs) moderated by Ram Ramadoss of Catholic Health Initiatives. Panelists included Cyrus Malbari of Abbott, Kathy Hughes of Northwell Health, and Timothy Torres of Sutter Health.  The rash of ransomware incidents against thousands of hospitals globally demonstrates the severity of the threat environment. Yet, as Mr. Ramadoss discussed with his panel, they can't control threats. Rather they work to control weaknesses. Some weaknesses are obvious and yet have been very hard to fully mitigate – phishing, being too open with system administrator privileges, exposing sensitive systems to risks by using them for personal activities such as email. Others are not so obvious. Kathy Hughes pointed out that the focus on care tends to decentralize IT – with the result that a large percentage of devices connected to the care network may not even be known to security teams. Timothy Torres said one way his organization found that works to deal with this challenge was to incentivize purchasing devices through correct channels. The panelists all felt that device security certification could be a major improvement in ensuring securable devices were used to provide care. And they cited potential savings in cyber security insurance as a result.
A discussion point that was visited throughout the day was data liquidity. The concept of data liquidity is not synonymous with interoperability, though related. Rather, data liquidity is about ensuring actionable access to health information by whomever needs it. This is a differentiating challenge in healthcare. As Kerry McDermott and Jeff Smith highlighted in the legal and regulatory panel, medical devices are regulated by a plethora of federal agencies. No other industry has the same mix of privacy and security requirements while at the same the ability to produce such rich and valuable data that, applied to the right algorithms and made available to the right person at the right time can save lives while lowering costs.
Fireside Chat with Ed Cantwell
Ed Cantwell and Ed Miller, both from the Center for Medical Interoperability, observed that interoperability and security in connected devices are interdependent. Security functions between devices must be interoperable, and insecure connectivity doesn't provide practical interoperability. Ed Cantwell went further, describing secure interoperability need to be approached as a utility – a fundamental capability that must exist to support evolving practices in health care. This idea was similar to ideas shared during the IoT Security Inform[ED], where Brian Scriber of CableLabs asserted that code and practices to secure IoT devices and systems should be developed collaboratively and then shared freely.
Ed Cantwell also shared that he thinks blockchain technologies have a role to play here. Blockchains are designed to address trust in a way directly applicable to healthcare, providing a basis for security, privacy, control, transparency, and compliance.
Innovation in Connected Healthcare
The final speakers painted a bright future, discussing in depth how digital transformation will refocus healthcare on the patient, humanizing care. Summer Knight of Firecracker was particularly eloquent, sharing her passion and drive to show how the cable industry can be pivotal in providing medical grade connectivity. She feels that the evolving connectivity will engage and empower individuals and their family as part of the healthcare team as we hardwire humanity at every point of care. Medical grade connectivity can provide the platform for customer engagement and activation, putting the patient in the center of all decisions. The opportunity for contribution from cable is significant. Remote monitoring can reduce costs by as much as $8400/year per patient. Coupled with other critical functions, the near term opportunity for cable operators is over $200 billion annually, supporting a total addressable market of over 170 million people.
This was a very informative event. It brought stakeholders together to chart how we can achieve a bright future in providing secure, connected health. Working together, the cable industry and health care industry can lower the per capital cost of care and we can improve the wellness of populations by making access easier. Medical grade connectivity will improve the patent experience and change how we assess success in providing care as we transition the business focus from fee-for-service to a focus on positive results. We can empower care teams in new ways, ensuring quicker care that allows us to treat patients better and increase the likelihood of excellent outcomes.
Security
The Benefits and Challenges of a Connected World
On April 12, CableLabs hosted an Inform[ED] conference in NYC focused on the emerging IoT security landscape. This open event brought together business leaders, key technologists, and security experts from multiple industry sectors, academia, and government. They shared in-depth views of IoT's evolution and the increasing security, privacy and policy challenges arising from the ongoing and rapidly accelerating deployment of connected devices.
Billions of new devices lead to an increased threatspace
Shawn Henry of Crowdstrike, a retired executive assistant director of the FBI, set the stage for our experts for the rest of the day. His focus and ideas were repeated and supported throughout the event by speakers and panelists. Security threats pose significant challenges to IoT, with real risk to individuals, businesses, and national security. The threats come from terrorist and organized crime groups along with other nation states. New extremist groups such as the Cyber Califate extend activities of terrorists into a cyber Jihad. Organized crime groups focus on theft of personal identifying information they can monetize, targeting capabilities critical to businesses as they evolve extortion.
Criminals target IoT, losing essential data or the ability to use critical devices unless asset owners pay financial compensation to retrieve. A major example is the rash of ransomware targeting hospitals. And, of course, there have been attacks by nation states, notably attributed to North Korea and Iran. All three types of adversaries steal data, change data, and destroy data to achieve their own ends. However, the IoT benefits are worth investment in effort and resources to protect, and IoT security needs to assess the risks posted by bad actors, mitigating vulnerabilities appropriately.
Collaborating on standards and public policy
IoT risk management is also a concern among policymakers, who take notice when insecure devices impact networks and services. Matt Tooley of NCTA discussed with Allan Friedman of the NTIA the agencies' efforts to galvanize all relevant parties toward solutions through a multi-stakeholder process. Gerald Faulhaber of the Wharton School, Chaz Lever of Georgia Tech, and Jason Livingood of Comcast agreed on the need for broadly shared responsibility for IoT security, and Professor Faulhaber noted some form of government oversight may be forthcoming, though the model is unclear. While certification of devices may provide some key elements we need, it's important we understand policy will likely be slow to evolve. This means businesses, including service providers, device manufacturers and others must evolve their security strategies as adversaries evolve their methods of attacking IoT. Industry-driven solutions will continue to provide the most agile responses to new threats.
Threat mitigation
The team of security experts that came together at CableLabs' Inform[ed] event are working hard to manage risks and mitigate threats. We heard great insights from Dylan Davis of RiskSense, Terry Dunlap of Tactical Network Solutions, James Plouffe of MobileIron and technical consultant to the popular Mr. Robot series, Dan Massey of the DHS Security & Technology directorate, Tobin Richardson from the Zigbee Alliance, and Matt Perry from Microsoft also the OCF Board of Directors President. Service provider experts includes Brian Rexroad of AT&T, Clarke Stevens of Shaw Communications, and Rich Compton of Charter Communications. This fantastic body of experts provided substantive insight into the IoT security challenge and what needs to be done to protect our infrastructure, data, and user experiences. One of the common themes of the conference — how to secure IoT devices and the infrastructures that connect them – kept resonating throughout the day. We just need to do it. There aren't that many surprises here — as Brian Scriber of CableLabs provocatively summed up in the final key.
Encouraging manufacturers to implement well designed and securable code, and enabling the security capabilities and features we know to use in other technology areas.
It is critical to protect people and devices during onboarding, the process of joining networks and configuring devices and services properly as they are first installed. We need strong device and personal identity methods, enabled through public key infrastructure solutions.
Our communications and device operations need to ensure confidentiality and integrity while also ensuring appropriate levels of availability.
Finally, devices must be fully supported throughout their life cycle, and this must include upgradable security and dynamic patching of vulnerabilities.
Our industry knows how to do these things — we've got over 30 years of experience securing our networks and IT systems. The lessons learned are still relevant and should be applied to the broader IoT ecosystem. But, we still see common errors like use of known insecure protocols and use of devices that don't require strong authentication, or even include default credentials so anybody knowledgeable of the device can log on. And people can find those devices through services such as Shodan — a very common theme through the day. There are opportunities for improvement such as better measurement and monitoring capabilities. Applying the benefits of data science and big data practices will help detect vulnerabilities and anomalies faster.    Further, highly automated strategies to patch and reconfigure devices and networks will enable us to address threats quickly. Security's goal is to make attacking IoT sufficiently expensive so adversaries lose interest. Make it too hard or too expensive for bad actors to exploit IoT for nefarious gains.
These business, technology and policy experts provided actionable guidance, making this a unique event – and the audience and panelists left positive and confident that IoT security can be meaningfully improved if all parties share responsibility. Working collaboratively, we can ensure our customers have great experiences that enrich their lives. And we know what needs to be done. We just need to get working together to make it happen.
Join us for Innovation Bootcamp
CableLabs CEO Phil McKinney and the CableLabs team will host Innovation Boot Camp in Silicon Valley and provide a highly-focused, hands-on experience to give you the tools needed to identify, develop and pitch an innovation project.
Kyrio
NDA Vendor Forum Takeaways: Working with Kyrio
Guest blog post by Mitchell Ashley, President and General Manager of Kyrio. Last week I had the privilege of unveiling the new Kyrio at the NDA Vendor Forum. The NDA Vendor Forum is an annual event for us to brief the supplier community on all the activities at CableLabs, Kyrio and UpRamp. It's a great opportunity to get up to speed on where the industry is headed and its priorities. As the leading innovation resource for everything networkable we provide technology solutions and enable new marketplaces for safer, better and faster ways to network. So businesses and their customers can thrive.
Wireless
Momentum Builds for 3.5 GHz Mobility in 2018
What is the 3.5 GHz Citizens Broadband Radio Service?
Last year, the U.S. allocated 150 MHz of spectrum for fixed and mobile broadband use under the newly-created Citizens Broadband Radio Service (CBRS) in the 3550-3700 MHz band. To put 150 MHz of bandwidth into perspective, this is roughly equivalent to the total spectrum that each of the Big 4 U.S. wireless operators have licensed to date.  With 10 MHz channels, this is ideal for LTE TDD and small cells with transmitter powers of 1W/10 MHz EIRP for indoor use and as high as 50W/10 MHz EIRP in rural locations. This is great for MSOs who have the key locations, backhaul and power where people use data, either inside buildings or outside via their external cable infrastructure. For example, in metro areas, MSOs can place 10W/10MHz EIRP small cells on cable strands for great coverage. It is the first time that fixed operators will be allowed to use LTE in unlicensed spectrum.
CBRS is the world's first three-tier spectrum sharing framework in which one or more Spectrum Access Systems (SASs) will actively manage 1) incumbents, 2) priority access licensed (PAL) users, and 3) general authorized access (GAA) users. Basically, the SAS will tell the Access Points, called CBRS Devices (CBRDs), which channels to use to avoid interference to other users in a given geographical area. CBRS contains both licensed spectrum, with seven PAL channels, and unlicensed spectrum, with eight GAA channels, in over 73K census tract areas across the US. The PAL license period is three years with an initial right to renew for a further three years. In areas where the auction for PAL is unsuccessful, all this spectrum becomes available as unlicensed (GAA).
Incumbents in the band include shipborne radars operated by the Department of Defense and receive-only fixed-satellite service earth stations. Wireless Internet Service Providers (WISPs), utilities, and other terrestrial users currently in the 3650-3700 MHz segment are required to transition from 50 MHz of spectrum to 150 MHz of CBRS. The main issue for use of 3.5 GHz in the coastal regions of the U.S. is the detection of shipborne radars used by approximately 30 U.S. naval carriers. However, these ships are normally stationed globally. To detect the arrival of one of these ships on either the East or West coasts of the U.S. requires building an Environmental Sensing Capacity (ESC) – a radar detection network. The ESC will inform the SAS which channels the radar is located on in a given area so that current users are moved to adjacent channels. Normally, the radars will only occupy one or two channels over a relativity small geographical area containing the current location of the ship. The rest of the spectrum is available to all.
Momentum for 3.5 GHz
The U.S. wide commercial timeline for 3.5 GHz use is dictated by the availability of the SASs, ESCs, commercial grade network equipment, and capable end-user devices. The recent Mobile World Congress (MWC 2017) in Barcelona, Spain showcased  the status of many of these time critical components. CableLabs hosted its own workshop there, inviting several of the key players in the 3.5 GHz space.  Many companies on the show floor demonstrated their readiness for 3.5 GHz.
Of course, the guarantee of success is not only the availability of technology but also the willingness of key players to adopt and bring consensus support for the opportunity - particularly for a U.S. specific band where wide adoption is key. In particular, this is key for the most important component of the technology – the smart phone. Recently, Verizon committed to 3.5 GHz in an interview with FierceWireless.
Equally, T-Mobile, Sprint and AT&T are eyeing LTE deployment in the 3.5 GHz band. All four of the US mobile network operators are members of the CBRS Alliance which is driving the LTE TDD use of this band for mobile.  CableLabs was one of the first organizations to join to help set the direction of CBRS for our members. Charter and Comcast are now also members bringing key MSO support.
The collection of these mobile operators and the larger MSOs with interest in 3.5 GHz will help create the interest among the tier one handset vendors, such as Apple and Samsung, to support this band. Actually, at MWC 2017, Sony has already announced the support of band 42 in their new handset for Asia which supports the first 50 MHz of the CBRS band. One terminal research web site, The Global Mobile Suppliers Association (gsacom.com), claims that the new Samsung Galaxy 8 in April will also support band 42 at its launch. This is compelling since it means the engineering "tweaking" of the handset antennas has largely been solved. Beside these antennas, the silicon support of 3.5 GHz has already been achieved by Qualcomm in their latest Snapdragon modem released in October of last year. All of this bodes well for 2018 and handset support of the new CBRS band 48.
Outside the key handset issue, it is expected that the SASs and ESCs will be up and running at the end of 2017, promising full spectrum availability across the U.S. in 2018. The PAL auctions are expected towards the middle to end of 2018, but in the meantime operators will have access to all the spectrum as GAA.
Again, there was no shortage at MWC 2017 of the availability of Access Points (CBRDs) both for indoor and external use from the likes of AirSpan, Accelleran, Juni, Nokia and Sercom. And, I am sure I missed others there as well.
On the SAS side, Federated Wireless and Google are probably the leading SAS providers at the moment. However, besides Federated and Google, other WinnForum members which were successful in gaining licenses from the FCC in the first phase include Amdocs, Comsearch, CTIA, Keybridge and Sony. The WinnForum is driving the standards for the SAS and SAS to SAS interconnections. Again, here CableLabs is also a member.
Customer Propositions
BGR found last year that the average speed of LTE in the U.S. was only 10 Mbps, placing us at number 55 in the World with Singapore at number one with an average speed of 37 Mbps according to OpenSignal's data. Here the customers needs are met by external macro-cellular networks which lose speed as they pass thru walls. However, locating small cells inside buildings, where 80% of mobile data is consumed today, can offer speeds as high as 570 Mbps if all of the GAA spectrum (80 MHz) is used with 4x4 MIMO. Even with access to just two channels, 20 MHz, this will offer 7 times faster than the average LTE network here according to CableLabs testing with 2x2 MIMO. But why stop there? We can aggregate 3.5 GHz and WiFi to reach a potential 1.4 Gbps.
CableLabs' UpRamp Fiterator® has already identified one company, Trinity Mobile Networks, which uses Multipath TCP to aggregate both WiFi and Macro cell LTE networks to combine the speed of both. While in 2015, SK Telecom in Korea launched "Giga cells" which combines their WiFi network with LTE to reach 1.17 Gbps speeds in Android phones.
And Finally, One Last Thought
3.5 GHz offers the potential for US operators to offer 5G connection speeds years before 5G! All of this bodes well for an exciting 2018 for 3.5 GHz and for our members to take advantage of this spectrum for both mobile and fixed plays. Remember everything is wireless and wireless is everything!
Innovation
Innovation Starts Here and Now
From ideation to pitch, CableLabs' Innovation Boot Camp is an immersive learning experience that will boost your ability to achieve repeatable, scalable innovations that differentiate your organization in a highly competitive world.
Innovation Boot Camp will be held May 1-5 at CableLabs' Silicon Valley location in Sunnyvale, CA, hosted by Phil McKinney and the CableLabs' Innovation Team.
Focus, Ideate, Rank and Execute
You will learn an effective framework for transforming your ideas into value while engaging customers, and experienced innovators as you gain hands-on experience.  Along the way, you'll hone your ability to develop a customer-centric understanding of a problem and ask the essential questions to help your team generate disruptive new ideas.  This unique experience includes:
exercises to practice the essential skills for successful innovation
overcoming innovation obstacles (internal and external)
presenting your idea to get it adopted
Past Innovation Boot Camp participants have praised this event for equipping them to address real-world innovation challenges more effectively and develop the skills to overcome the obstacles that they and their teams faced.
"Innovation Boot Camp gave me the structure I needed to move from idea to implementation"
"…an excellent way to immerse yourself in a truly innovative experience"
During the course of the event, participants will identify and interact with target customers and peers, engage with and hear from innovation leaders/practitioners, and participate in a tour of Silicon Valley companies whose innovations have made them leaders in their respective markets.
Join us May 1-5 in Silicon Valley to learn how you can build on your existing skills, and add to your toolbox. Application and more details are available here.
Contact Christian Pape with any questions about this event or your innovative practices.
By Christian Pape, Innovation Office, Vice President, CableLabs —
Virtualization
SNAPS-OO is an Open Sourced Collaborative Development Resource
In a previous blog, I have provided an overview of the SNAPS platform which is CableLabs' SDN/NFV Application development Platform and Stack project. The key objectives for SNAPS are to make it much easier for NFV vendors to onboard their applications, provide transparent APIs for various kinds of infrastructure and reduce the complexity of integration testing.
I am thrilled to share our latest SNAPS success.  We have written an OpenStack API abstraction library that also contains many automated tests and we have contributed it to the Open Platform for NFV (OPNFV) project at the Linux Foundation.  OPNFV is a project where service providers and network vendors collaborate to improve the capabilities and adoption of open source Network Functions Virtualization (NFV). Our results have also been shared at NFV World Congress, SDN World Congress, OPNFV Summit [video], Open Networking Summit (ONS) [video] [pdf] and the Big Communications Event (BCE).
The Rationale for our Approach
CableLabs has deep expertise developing specifications by following a collaborative, iterative approach.  In many ways, the open source software development process mirrors many of these specification development processes.  In the open source communities, CableLabs provides source code and feedback coming from our integration and debugging activity.  In fact, CableLabs contributions are included in key open source projects such as OpenStack and OpenDaylight.  In this way, we are making it easier for vendors to use open source projects to build solutions for the benefit of the entire ecosystem.
We have generated practical knowledge and insights through our hands-on experience of building and operating an active SDN/NFV application development lab.  And we took vendor neutrality to the next level by basing our software stack on purely open source solutions and based on the OPNFV reference configuration.  We did not use versions of OpenStack, OpenDaylight, etc. that have been tested and customized by a vendor.  This allowed us to interact with a much larger community for new features and fixes.
The CableLabs team supported by vendors and services providers has moved our project into OPNFV as "SNAPS-OO", based on the idea that it is an Object Oriented way to work with our SDN/NFV Application development Platform and Stack.  The project was quickly accepted and is now being used by the release testing team to verify each OPNFV build.  With the integration of SNAPS-OO into the OPNFV FuncTest project, our contributions are now part of the release criteria and suite of tests that will be used at the upcoming OPNFV PlugFest next month.
Some of the benefits that SNAPS-OO delivers are:
Ease of use for new developers
A rich library of example applications and test suites
Support for accessing multiple secured clouds
Automated cleanup of the NFVI when updates are applied
Quick identification of component failure(s)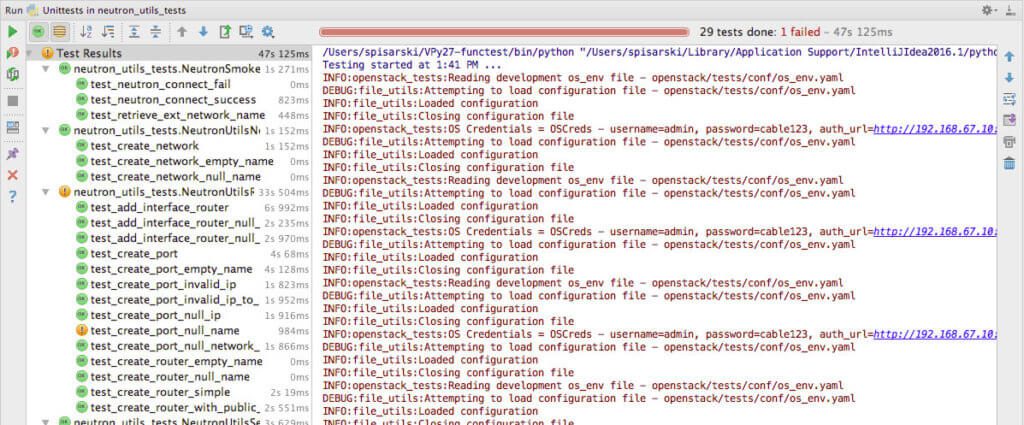 As a result of this open source approach, and in just a few weeks since SNAPS-OO was released, we have seen a significant increase in the level of contributions and adoption.
Next Steps
Continue to expand the capabilities supported by SNAPS-OO.
Encourage additional OPNFV projects to use SNAPS-OO.
Use SNAPS-OO and other tools to run much more sophisticated SDN/NFV workloads.
Share SNAPS-OO with more open source communities.
How SNAPS-OO Benefits Our Membership
SNAPS-OO is helping to improve the quality of the open source projects associated with the NFV infrastructure and Virtualization Infrastructure Managers that many members are using today and plan to use in the future.  SNAPS-OO can be used to validate that the infrastructure is installed properly and it will be playing a key role in the Kyrio NFV Interoperability lab.  Future NFV development provided by vendors will benefit from the use of SNAPS-OO.  With the variety of workloads that we will be running on our SNAPS platform, we will be able to specify a single configuration that can run future NFV workloads alongside other cloud hosted applications.
Security
How The Dark Web Affects Security Readiness in the Cable Industry
The darknet, dark web, deep web, dark internet – exciting catch-phrases often referred to by analysts and reporters. But what are they? What is the dark web?
The dark web is a network of networks that overlays the Internet. One of the most common dark web networks is The Onion Routing Network, or Tor. Used properly, Tor provides anonymity and privacy to users. Anonymity is achieved when users' identity is never revealed to others and their traffic cannot be traced back to their actual access accounts and associated Internet addresses. Privacy is achieved when users' communications cannot be read by anybody other than the intended recipients. Anonymity and privacy are closely related but distinct ideas – privacy can be achieved without anonymity and vice versa.
CableLabs recently hosted a panel about the dark web at its Winter Conference.  The panel brought in subject matter experts from across the industry including Andrew Lewman of OWL Cybersecurity. Andrew was previously the Executive Director for Tor from 2009 to 2015. The panel investigated the technology and social impacts of the dark web, and particularly highlighted why cable operators care about this technology area.  The dark web is used by adversaries to sell and exchange malware and information used to attack networks, and also account information about employees and customers of companies. Cable operators monitor the dark web to see what is being sold and get indications and warnings of threats against them. This information is used to improve and augment the layers of security used to protect networks and customers.
The evening after the panel, Phil McKinney had the opportunity to talk with Andrew Lewman about the dark web – we are pleased to share that video.
How Does the Dark Web Work?
Tor provides an interesting case study. As stated above, Tor stands for "The Onion Routing." The inspiration of the name is how The Onion Router protocol wraps packets of information in layers of security that must be successively peeled to reveal the underlying information. The method is, of course, a bit more convoluted in reality. Routes are defined by a proxy which makes an "onion" using layers of cryptography to encode packets. The packets from the initiator are forward packets. As a forward packet is moved through the network of Onion Routers, layers of the onion are successively removed. These layers can only be removed by routers with the correct private key to read that layer of the onion. To those that are router savvy, what is really happening is that the proxy creates a circuit using tunnels of tunnels until the endpoint is reached. If an intermediary device attempts to decrypt a layer of the onion with an incorrect key, all the other interior layers of the "onion" will be garbled.
Tor is, however, just one example technology. What other means do people use to achieve private and anonymous communications? The chat channels provided on popular console games are reportedly used by terrorists and criminals. An alternative technology solution that overlays the Internet is I2P. And there are many others.
Beyond the Dark Web
In addition to being aware of the dark web, CableLabs leads other security initiatives as they relate to device security and protecting the cable network.  CableLabs participates in the Open Connectivity Foundation (OCF) which is spearheading network security and interoperability standards for IoT devices.  CableLabs has a board position at OCF and chairs the OCF Security Working group. By ensuring that all IoT devices that join the cable network are secure, risks to both the network as well as the privacy of subscribers are taken into consideration.
CableLabs recognizes the importance that the cable industry will contribute to the larger ecosystem of IoT device manufacturers, security providers and system integrators.  We are producing a two-day Inform[ED] Conference to bring together cable industry technologists with these stakeholders.  April 12 will focus on IoT Security and April 13 will cover Connected Healthcare.  Please join us in New York City and we look forward to having you join us in this important conversation.
Wednesday, April 12, 2017
8:00am to 6:00pm
InterContinental Times Square New York
300 W 44th St.
New York, NY 10036
Healthcare
Cable Connects with Healthcare
The connection between cable and healthcare may not be immediately obvious to the casual observer.  However, upon further reflection, this connection becomes more evident.  Cable companies have been expanding their commercial services to focus on the healthcare vertical.[1]  Cable operators are able to deliver a cost-effective bundle of broadband, telephone, and television services that meet the connectivity and business needs of hospitals and clinics.[2] Connected healthcare is very important for areas of the country that lack medical resources.  For example, GCI, the largest Internet provider in Alaska, is taking a lead in connected healthcare by providing remote Alaskan villages with telemedicine through their ConnectedMD program.
Connecting hospitals and clinics is only the beginning. Remote patient monitoring is becoming an increasingly important aspect in addressing the growing costs of healthcare.  The results of a year-long remote patient monitoring pilot from Geneia showed a savings of over $8,000 per monitored patient annually.[3] This kind of remote patient monitoring relies on a robust broadband connection to the home.
Today, in addition to connecting hospitals and clinics, the cable network infrastructure reaches 93% of U.S. homes.[4]  This enables cable services to contribute in an increasingly important role toward healthcare.
The demand for healthcare services continues to grow thanks to the reality of an increasing demographic of individuals over the age of sixty-five: currently that group makes up 15% of our population, but by 2040 it will be nearly 22%.[5]  Coupled with the rising cost of providing healthcare services in hospitals, connected healthcare makes more sense and "cents" than ever.  It is well known that treating chronic conditions comprises the highest percentage (as much as 80%) of U.S. healthcare expenditures.  Using remote patient monitoring to stay on top of chronic conditions and anticipating potential crises avoids unnecessary ER visits and improves patient outcomes.
Connectivity transcends industries and the issues faced by healthcare are massive, therefore the time for collaboration has arrived.  One example of this kind of collaboration with the healthcare industry is our work with the Center for Medical Interoperability (CMI).  The West Health Institute study, The Value Of Medical Device Interoperability, estimated that more than $30 billion in annual health care savings could be realized by solving medical device interoperability.[6]  CMI was formed to address this problem and is modeled after the CableLabs centralized research and development laboratory.  CableLabs brings its expertise in device interoperability, device security, and certification to the healthcare industry through its participation in CMI's specification development efforts.
Another example of industry-wide collaboration is our participation in the Open Connectivity Foundation (OCF) which is spearheading network security and interoperability standards for IoT devices.  CableLabs not only has a board position at OCF, we chair the OCF Security Working group. Through OCF, we are working to drive increased IoT security to address the associated risks to both the network as well as the privacy of subscribers.
The organization that I represent, CableLabs, recognizes the increased role that the cable industry will contribute to the healthcare industry of the future.  We are producing two back-to-back Inform[ED] Conferences to bring together cable industry technologists with health information management professionals.  April 12 will focus on IoT Security and April 13 will cover Connected Healthcare.  Please join us in New York City and we look forward to having you join us in this important conversation.
Thursday, April 13, 2017
8:00am to 6:00pm
InterContinental Times Square New York
300 W 44th St.
New York, NY 10036
Footnotes
[1] Comcast - https://business.comcast.com/enterprise/industry-solutions/healthcare
Cox - https://www.cox.com/business/industry-expertise/healthcare.html
Charter - https://enterprise.spectrum.com/solutions/healthcare.html
[2] https://www.ncta.com/platform/broadband-internet/gci-makes-telehealth-as-easy-as-regular-healthcare-in-rural-alaska
[3] https://www.geneia.com/news-events/press-releases/2016/june/geneia-study-finds-remote-patient-monitoring-could-save-more-than-8000-dollars-per-patient-annually
[4] NCTA -  https://www.ncta.com/industry-data; Source:  NCTA Analysis of SNL Kagan and Census Bureau Estimates
[5] https://aoa.acl.gov/Aging_Statistics/Index.aspx
[6] http://www.westhealth.org/resources/value-of-io-analysis/
By Ralph Brown, Chief Technology Officer, CableLabs.
Networks
Network Operator Perspectives on NFV priorities for 5G
Today, twenty-three network operators published a white paper to guide the industry on priorities for NFV to deliver the industry vision for 5G systems: "Network Operator Perspectives on NFV priorities for 5G". The network operator co-authors include Bell Canada, BT, CableLabs, CenturyLink, China Mobile, China Unicom, Colt, Deutsche Telekom, KDDI, KT, NTT, NTT DOCOMO, Orange, Portugal Telecom, Rogers, SK Telecom, Sprint, STC, Swisscom, Telecom Italia, Telefonica, Telenor, and Vodafone. As managing editor for this white paper, I worked closely with colleagues from these leading organizations to document some key consensus requirements that we want the 5G standards community to take into account in their upcoming specification work.
We believe the evolved 5G network will be characterized by agile resilient converged fixed/mobile networks based on NFV and SDN technologies and capable of supporting network functions and applications encompassing many different networks and services domains. The breadth of foreseen 5G use cases and environments implies high scalability, ultra-low latency and ability to support a massive number of concurrent sessions, as well as ultra-high reliability and security. To achieve these ambitious goals, Network Slicing, Cloud-native design principles, End-to-end Service Management, Edge Computing, RAN Cloudification, Multi-site/domain Services, NFV License Management, Security, Reliability, and Scalability are important enablers as outlined in some detail in this paper.
In an era of increasingly stretched resources, it is vitally important for standards development organizations and open source communities to avoid re-invention and wasteful duplication of effort. Hence, an important message is to encourage reference to the extensive body of foundational NFV specification work already published by the ETSI NFV Industry Specification Group over the past four years as the basis for 5G.
As managing editor, I believe this white paper should be used as guidance for the wider industry on how NFV should be used to realize 5G use cases.
What is CableLabs Doing in this Space?
The cable network will provide an ideal foundation for 5G because it is ubiquitous and already supports millions of Wi-Fi nodes in places where the majority of wireless data is consumed. It has high capacity for both Access and Backhaul. It is highly reliable and has low intrinsic latency because it is based on optical fiber which penetrates deep into the access network feeding wideband coaxial cables reaching all the way to the end-user premises. Moreover, it is a multi-node remotely powered access topology ideally suited to support the connection of the large number of small cells close to homes and businesses that will be needed for 5G.
A multi-faceted CableLabs R&D program is addressing the key technologies required for 5G around NFV and SDN that we are executing on behalf of our cable operator stakeholders. For example, CableLabs is progressing an intensive study of virtualized provisioning of the cable access network to enable programmability, our NFV/SDN reference platform is based on OPNFV and we are looking ahead to support 5G using an end-to-end virtualized architecture that includes low latency edge compute nodes located at the cable head-end. In addition, we are seeking to accelerate NFV/SDN interoperability through CableLabs' Kyrio subsidiary which has built an interoperability lab where vendors can work together with operators to toward their NFV and SDN solutions.
By Tetsuya Nakamura, Principal Architect, Strategy & Innovation, CableLabs