Innovation
Innovation From All Corners: The Role of Vendors in the Innovation Ecosystem
So far we've covered the cycle of innovation and commercialization in Transforming Ideas into Solutions and how CableLabs helps turn innovative ideas into reality through startup collaboration and creative licensing agreements. This next part of the Innovation Ecosystem Series focuses on vendors and their role in moving our industry forward.  
CableLabs has a long history of vendor community collaboration, teaming up to bring new, innovative ideas to reality. Vendors' research, unique vantage point and expertise helps shape our innovation roadmaps, inform our members' business decisions and bring new cutting-edge technology products to market faster and more cost-effectively.
We could cite many examples of successful vendor collaboration, but let's look at one that has had a widespread and significant market impact: DOCSIS® technology. Its role in the evolving cable modem sector is a great example of how vendor contributions drive the innovation cycle in the industry.
DOCSIS Technology: A Vendor Collaboration Success Story
DOCSIS technology, well established and universally adopted today, was revolutionary at the outset, establishing a telecommunications standard that permitted the addition of high-bandwidth data transfer to an existing cable TV (CATV) system. This meant users could finally experience true interoperability, regardless of the cable vendor they chose.
The Problem
Prior to the creation of the original DOCSIS specifications, many vendors brought proprietary cable modems to market. Each of these proprietary solutions had its own unique, innovative approach to offering broadband internet over a cable network. Some offered solutions for carrying downstream traffic but were weaker in the area of carrying upstream traffic. Some had better Media Access Control (MAC) layer protocols but did not offer great RF performance. Few addressed the issue of security and privacy. None of them individually had the best fix, and none of them captured sufficient market share to make the economics work for truly mass deployment. In short, neither suppliers nor cable customers were finding the optimum resolution.
The Solution
Together with our member companies and industry suppliers, we embarked on an exhaustive process to select the "best of breed" innovations proposed by the vendors. This process involved testing a multitude of different solutions to determine which ones would eventually make it into DOCSIS technology. With each successive generation of DOCSIS technology, innovative contributions to the specifications enable greater speed, lower latency and higher reliability. Now, thanks to our continued collaboration with our vendors, DOCSIS 3.1 technology supports phenomenal speeds of up to 10 gigabits per second downstream and 1 gigabit per second upstream—an amazing achievement that allows our cable operators to stay very competitive in today's markets. 
The Industry Impact
DOCSIS technology catapulted the cable industry into a new service arena, providing broadband internet access to many homes across the country and beyond. Bruce Leichtman, president and principal analyst for Leichtman Research Group, relates the results: "At the end 2Q 2017, cable had a 64% market share. The broadband market share for cable is now at the highest level it has been since the first quarter of 2004."
Thanks to DOCSIS technology, consumers can now enjoy ultra-high definition 4K television, artificial reality (AR), advanced gaming options, IoT and many other benefits of internet connectivity. This, coupled the soon-to-be-delivered 5G, is a very exciting time for broadband innovation.
How We Engage With Our Vendors
Over the last 30 years, we've worked hard to develop close working relationships with vendors through various programs and collaboration opportunities. Here are just some of the ways our vendors can engage with us and our member community.
Working Groups: As Working Group members, vendors get the opportunity to participate in the creation of new specifications and collaborate with other industry professionals.
Visiting and Contributing Engineer Programs: Vendors can work on-site in our labs as Visiting Engineers or remotely—as Contributing Engineers. They get access to our tools and workspace in exchange for their expertise.
Draft Specification Reviews: Vendors can get access to draft specifications not yet available to the public. This gives them an opportunity to comment and submit change requests 30 to 60 days prior to issuance.
Co-innovation Opportunities: Just like with DOCSIS technology, we invite all members and vendors to join us in tackling a specific problem facing the industry and are open to many co-innovation opportunities. 
Events & Showcases: Vendors have multiple opportunities to show off their inventions and connect with cable operators throughout the year. Some of our free events, like the Envision Forum (formerly Connect[ED] Forum), are geared specifically to vendors.
Kyrio Product Certifications: In our industry, interoperability is key. Through Kyrio, vendors can test their products to make sure they meet all the industry specifications.
Vendors' work is crucial to our industry on both the innovation and commercialization side of the spectrum. These companies are some of the most prolific sources of great ideas and it's part of CableLabs' mission to make sure they are heard by the right people at the right time in the innovation cycle. By working together with both our members and vendors, we can continue to reach our collective goals as an industry and discover new possibilities.
Learn more about vendor collaboration by clicking below. 
Wireless
Wireless RF Spectrum Scarcity, What About Light Wave?
The scarcity of unlicensed RF spectrum is a never-ending subject in the wireless industry. The 2.4 and 5 GHz bands, once considered profuse, are now overcrowded and regulators such as the FCC are planning to release 1.2 GHz of bandwidth in the 6 GHz band. Over the last decade, this has fueled a growing interest in Light Communication (LC) technologies that offer the potential of THz of unlicensed spectrum including visible light, near-infrared and near-UV. Standard LEDs are now providing illumination while transmitting data at a high rate, and laser diodes (LDs) can reach ~100 Gbps in point to point communications. The recent introduction of products on the market for internet access and wireless backhauling show that the technology is becoming a reality.
What Is Light Communication?
In light communications, the signal is transmitted by an emitting diode (LED/LD) using Intensity Modulation, where the brightness of the light is modulated at a high frequency, imperceptible to the human eye. At the receiver, a photodiode or a camera image sensor converts the received optical power to an electrical signal using Direct Detection. Dimming is possible but often impacts the performance of the system. Rates of Multi-Gbps have been demonstrated with standard phosphor-coated LEDs (1 Gbps) or RGB LEDs (3 Gbps), using advanced modulation technics such as OFDM. Laser Diodes achieves higher data rate over much longer distances but are not always practical in consumer application due to potential health issue and the quality of laser light for illuminations.
LC offers the advantages of a large, unregulated, license-free spectrum, and is already capable in lab environment of reaching 100 Gbps (near field communication). The technology is particularly adapted to environments where RF communications are restricted or pose health concerns. LC is also considered as more "secure" against hackers since the communication is confined in the cone of light within a well-defined coverage zone. Line of Sight (LOS) is required for most use cases.
LC Applications: From Specialized to Mass Markets
With the technology being quite recent, different industries including lighting, transportation, industrial/manufacturing and telecommunication are evaluating its potential.
Specialized markets include location-based services where illuminations can provide a precise location. "Light beacons" are received by smartphone's camera (supported by recent cell phone models) and an App provides services to enhanced user experience in retail stores or museum places. The aerospace industry is also considering LC to deliver in-flight entertainment.
Outdoor terrestrial link scenarios are attracting much interest fueled by the need of cost-effective wireless backhauls, especially in the context of 5G (small cells). The laser diode transmission usually operates on the near-infrared spectrum due to lower attenuation levels. The technology is part of the Free Space Optic (FSO) communication family that requires a strict line of sight. Available solutions reach 1 Gbps over up to 300 meters with a good reliability, and speeds up to 10 Gbps are on roadmaps. Over longer distances, however, bad weather conditions, especially fog and dust, can significantly affect the throughput. For this reason, the technology is often complemented with mmWave which is mostly affected by rain.
The mass market opportunity, however, resides in the Wireless Local Area Network (WLAN) applications where the technology, referred as Light Fidelity (Li-Fi), can complement or, in some cases, replace Wi-Fi. IEEE 802 has recently added a Light Communication task group (802.11bb) to complement the 802.11 family, recognizing the potential of Li-Fi. The standard specifies a PHY operating in the in 380 nm to 5,000 nm band (visible light, near-infrared, near-UV) targeting data rate from 10 Mbps up to at least 5 Gbps for a single link throughput. The uplink in Li-fi systems is usually based on IR transmission due to power limitation of the mobile devices and potential glare of visible light to the user.
Environments that restrict the use of EMI (Electromagnetic Interference) such as hospital, schools and factories are likely to fuel the industry in the next 5 years. The office/enterprise environment is also well suited for Li-Fi where lighting is ubiquitous and Power Over Ethernet is available and serves as a backhaul.  In residential environments, Li-Fi can locally offload traffic in heavily populated apartments where RF interference is the primary concern. All these applications are addressed by the 802.11bb standard, while ITU G.vlc focuses on the residential environment.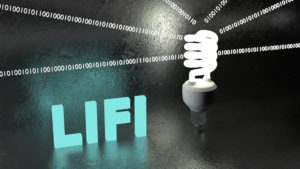 Light communication is a promising technology that is still in its infancy. The growing interest in this technology is driven by the availability of a huge unlicensed spectrum not susceptible to RF interferences. As CableLabs continues to focus on developing new and innovative wireless technologies, light communications will definitively stay on the radar.
To stay current with what CableLabs is doing in the wireless space, make sure to subscribe to our blog.
AI
A Different Future for Artificial Intelligence
Not a single day goes by without us hearing about AI. Machine learning, and AI, as these terms are often conflated, have become part of the lexicon in business, technology and finance. Great strides in pattern recognition and the discovery of hidden correlations in vast seas of data are fueling the enthusiasm and hopes of both the technical and business communities.
While this success is worth celebrating, we should not lose track of the fact that there are many other aspects of artificial intelligence beyond machine learning. Common sense reasoning, knowledge representation, inference, to name a few, are not part of the toolbox today but will have to be if we seek forms of machine intelligence that have much in common with our own.
The reason why such forms of machine intelligence are not being used is due to the difficulty that those problems entail. Unlike the recent advances in machine learning, half a century of research in symbolic systems, cognitive psychology and machine reasoning have not produced major breakthroughs.
Intelligent Networks: A New Form of Artificial Intelligence
A more promising future can be expected once we realize that intelligence is not restricted to single brains; it also appears in groups, such as insect colonies, organizations and markets in human societies, to name a few. In all these cases, large numbers of agents capable of performing local tasks that can be conceived as computations, engage in collective behavior which successfully solves a number of problems that transcend the capacity of a single individual to solve. And they often do so without global controls, while exchanging information that is imperfect and at times delayed.
Many of the features underlying distributed intelligence can be found in the computing networks that link our planet. Within these systems processes are created or "born", migrate across networks and spawn other processes in remote computers. And as they do, they solve complex problems -think of what it takes to render a movie in your screen -while competing for resources such as bandwidth or CPU contested by other processes.
Interestingly, we understand the performance of distributed intelligence, both natural and artificial, much better than the workings of individual minds. This is partly due to the ease with which we can observe and measure the interactions among individuals and programs as they navigate complex informational spaces. Contrast this with the difficulty in learning about detailed cognitive processes within the human brain. And from this large body of knowledge we know that while the overall performance of a distributed system is determined by the capacity of many agents exchanging partial results that are not always optimal, success is determined by those few making the most progress per unit time (think of many agents looking for the proverbial needle in the stack).
Distributed Intelligence: Better than the Best
This suggests a promising path forward for AI; the creation of distributed intelligent programs that can sense, learn, recognize and aggregate information when deployed throughout the network in the service of particular goals. Examples can be the sensing of local anomalies that are aggregated intelligently in order to decide on a given action, the collective detection of malware in parts of the network, sensor fusion, and effective responses to predetermined traffic and content patterns, to name a few.
Distributed AI is not an illusory goal. A few such systems have already been designed and tested and have shown large improvements in the times needed to solve hard computational problems such as cryptarithmetic and graph coloring. These are problems characterized by the fact that as their size increases linearly, the time to finding a solution rises exponentially. A common example is the traveling salesman problem, which can be seen as a metaphor for the laying of networks in such a way that they minimize the number of traversals needed to cover a number of cities and users. While there are a number of powerful heuristics to approach this optimization problem, for large instances one can only hope for solutions that while not optimal, satisfy a certain number of constraints.
The beauty of cooperative systems is that once deployed, they can exhibit combinatorial implosions. These implosions are characterized by a sudden collapse in the number of possible venues to a solution due to the effectiveness of cooperation, and as a result, what took exponential times to solve is now rendered in linear or polynomial time. These implosions appear as both the quality and the number of messages exchanged by AI agents increases while working on the solution of complex problems.
In closing, the emergence of distributed AI will allow for the solution of a number of practically intractable problems, many of them connected with the smooth and safe functioning of our cable networks. Imagine applying different AI solutions to search for security anomalies and combining them in order to identify and act on them. Or monitoring distal parts of the network with different kind of sensors whose outputs are aggregated by intelligent agents. These are just two instances of the myriad problems that could be tackled by a distributed form of artificial intelligence. The more examples we think of and implement, the closer we will get to this vision of a society of intelligent agents who, like the social systems we know, will vastly outperform the single machine learning algorithms we are so familiar with.
Subscribe to our blog to learn more about the future of artificial intelligence. 
Culture
Building Community with CableLabs Gives
This Thanksgiving, I'm thankful that I can enjoy a nice dinner at home with my family. Others, however, don't have that luxury on Thanksgiving Day. When I first participated in some of the programs supported by CableLabs Gives, I was honestly surprised to learn how many people lack the basic necessities of a safe shelter and food, even here in Colorado.
What is CableLabs Gives?
CableLabs Gives is the umbrella program that helps with numerous charities here in Colorado. Habitat for Humanity, which advocates for affordable housing to those who need homes is one program we support. Housing costs in Colorado have risen dramatically in recent years, making it even harder for lower-income families to achieve self-reliance. 
In June 2017, I organized a volunteer day with Habitat for Humanity of the St. Vrain Valley and CableLabs employees. We took a day off to work on homes at a construction site in Longmont. I even convinced my boss to come, and as you can see below, he really got into the work! Together, we cleared out nearby rocks, cut wood and painted the outsides of homes being constructed by Habitat. I organized a second event at the same site a few months later, where we painted interior portions of the house.
As most of us lead busy lives, we are fortunate that CableLabs gives its employees paid time off to volunteer. Not only does this help our community, but by empowering employees to get actively involved in charitable projects, we are more committed and proud of our work.
Other Endeavors
Other charitable endeavors supported by CableLabs seek direct contributions from employees. This past May, I championed the 23rd Annual Compete to Beat Hunger Corporate Challenge through Community Food Share. Community Food Share is an organization whose mission is to eliminate hunger in Boulder and Broomfield Counties through engagement, collaboration and leadership. The Corporate Challenge is a friendly competition among thousands of employees in Boulder and Broomfield Counties to collect food and raise money for those in need of assistance.
People are familiar with food donation bins at their grocery store, particularly around the holidays. Sometimes these are a quick, easy and maybe even a fun way to give a little to those in need. In reality, though, food banks such as Community Food Share buy food in bulk and usually get more food per dollar than what we can buy at a grocery store. Since it's sometimes a little harder to get financial donations, it was important to let our employees know about the cause and how they could support it. Employees met the challenge by providing monetary donations, as well as some important food items requested by Community Food Share.
At CableLabs, we are fortunate that our company matches employee donations to charitable organizations, up to $100 per person each fiscal year. As the Corporate Challenge neared the end, it anticipated that it would not meet its community-wide goal of raising $500,000. When they extended the deadline for donations, I encouraged my co-workers to donate to the cause, ensuring they took full advantage of their matching donations for the cause. Due to this, CableLabs ended up donating $6,500 and 28 lbs of food!
Every year, we also collect new school supplies for backpacks for local school children in need. Additionally, we have yearly chili cook-offs to raise funds for United Way, which not only raises funds but gets the employees together in a fun and relaxed atmosphere - except for those hoping to win the cook-off, they take it pretty seriously! CableLabs Gives is a great way to encourage employees to participate in their community through charitable work or donations. By matching financial donations or giving workers paid time off to volunteer, CableLabs lets us know that it cares about us and our community.
Interested in a career opportunity where you can make a difference? Click the link below to see open positions. 
Wireless
Converged Carriers, Femtocells and Spectral Efficiency: Rethinking the Traditional Outdoor Small Cell Deployment
With the release of any new generation, or "G," in the cellular world, the goal is always to outperform the previous generation when it comes to spectral efficiency—that is, how many bits you can pack into your slice of airwaves. To telecom nerds, this is expressed as bits per second per hertz (bps/Hz). Going from 3G to 5G, peak spectral efficiency skyrockets from 1.3 bps/Hz with 3G, to 16 bps/Hz with 4G LTE , to 30 bps/Hz with LTE-A, and to a truly eye-watering 145 bps/Hz with 5G (in the lab).
And it makes sense: Spectrum is an expensive and limited resource. Operators pay billions for every MHz they can acquire.
Not What It Seems
Unfortunately, the reality of spectral efficiency in deployed mobile networks is far less stratospheric. A 2017 study pegged spectral efficiencies for a live LTE network at roughly 1 bps/Hz on average with a peak of about 5.5 bps/Hz. So where did all that spectral efficiency go?
The short answer is that it ran smack into a wall. Literally! In 2016, ABI Research Director Nick Marshall said that "more than 80 percent of all traffic [is] originating or terminating indoors," and we serve the vast majority of that traffic with outdoor cells.
The Inertia of Tradition
In the push toward 5G, we hear a lot about network densification. So far, given the amount of effort going into changing the siting rules, it sounds like the plan is to deploy more outdoor cells to help increase spectral efficiency in 5G networks. In a recent RCR Wireless News article, the headline read "US outdoor small cell antenna shipments to grow by 75% in 2018: Study" citing a study by EJL Wireless Research.
Putting aside the immense issues facing the economics of that approach (more on that in the next blog post covering our TCO analysis), it still relies on an architecture of deploying outdoor cells to handle a largely indoor traffic load. It still puts literal barriers in the way of increased spectral efficiency.
Airtime Perspective
Let's quantify this issue a bit to make sure we have a shared perspective on the system capacity impact of using outdoor cells to handle indoor traffic because it's a big deal.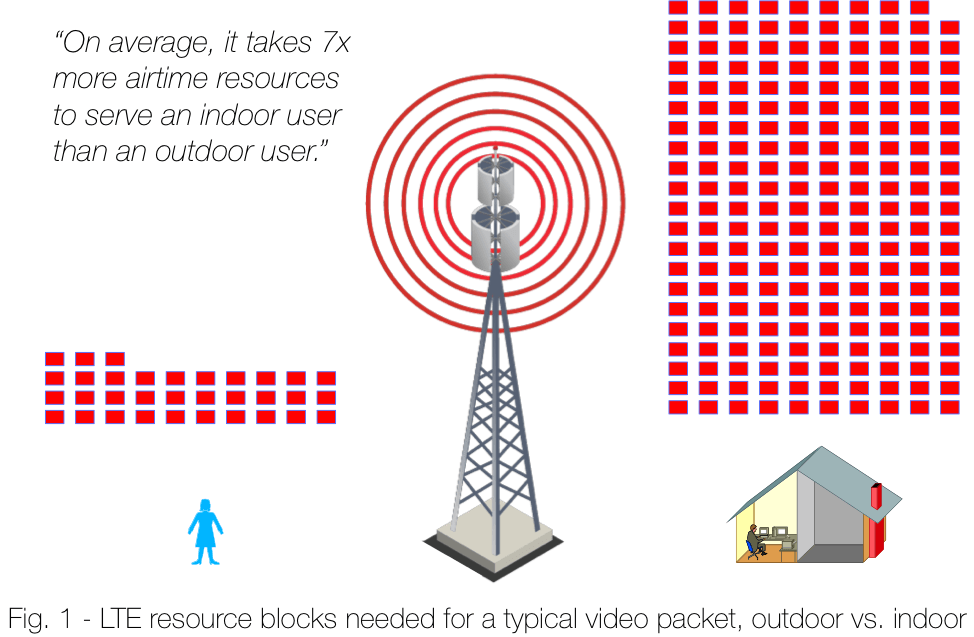 Sending a typical video packet from an outdoor cell to an outdoor user takes 33 resource blocks, whereas sending that same frame to a deep indoor user can take 209 resource blocks (1500B IP packet, I_TBS 3 vs I_TBS 19, TM2 with 2TRx)! On average, it takes seven times more airtime resources to serve an indoor user than an outdoor user.
Given the inefficiency, why are we still trying to cross the walls?
User Behavior
It's probably not news to anyone that indoor penetration is costly. A common industry view says that when a user is indoors, his or her data should be served by Wi-Fi to offload the burden on the cellular network. Industry reports are produced every year showing that large amounts of traffic from mobile devices are offloaded to Wi-Fi networks (e.g., ~80 percent in 2017).
However, as the industry moves toward unlimited data plans, and as mobile speeds increase, the incentives for seeking out Wi-Fi for offload are diminishing. A recent CableLabs Strategy Brief (CableLabs membership login required) provides empirical data showing that Wi-Fi data offload is declining as adoption of unlimited data plans increases. The trend, across all age groups, shows increased cellular data usage. So as demand for cellular data is going up, an increasing portion is going to be crossing the walls.
There are a number of long-held complaints about the Wi-Fi user experience. I won't enumerate them here, but I'll point out that as the incentives to offload data to Wi-Fi are weakened, even the slightest hiccup in the Wi-Fi user experience will drive a user away from that offload opportunity at the expense of your cellular system capacity.
Introducing Low-Cost Femtocells
There's a growing breed of operator that has both cellular operations and traditional cable hybrid fiber coax (HFC) infrastructure—a big wired network and a big wireless network (Note: here I am talking about full MNOs with HFC/DOCSIS networks, not MVNOs. MVNOs with HFC/DOCSIS networks will have different goals in what optimizing looks like). For these operators, the carrots of convergence dangle in all directions.
Over the past couple of years, CableLabs has ramped up efforts to solve the technology issues that have traditionally hindered convergence. Latency concerns for backhaul or vRAN fronthaul can be resolved by the innovative Bandwidth Report project. CableLabs leadership in the TIP vRAN Fronthaul project is making latency-tolerant fronthaul protocols a reality. Timing and synchronization challenges presented by indoor deployments are months away from commercialization, thanks to CableLabs' new synchronization spec.
The summation of these projects (and more on the way) provides a suite of tools that converged operators can leverage to deploy mobile services over their HFC/DOCSIS network.
Enter the femtocell deployment model. Femtocells aren't new, but with the new technologies developed by CableLabs, for the first time, they can be done right. Gone are the days of failed GPS lock, poor handover performance, and interference issues (topics of our 3rd blog in this series). From a spectral and economic viewpoint, femtocells over DOCSIS are poised to be the most efficient deployment model for 4G evolution and 5G cellular densification.
Wi-Fi Precedence
Take Wi-Fi as a guide to how femtocells can improve spectral efficiency. Modern Wi-Fi routers—even cheap home routers—regularly provide devices with physical link rates approaching 10 bps/Hz. That is a huge gain over the sub-1 bps/Hz achieved using an outdoor cell to serve an indoor user. In such a scenario, the benefits are myriad and shared between the user and the operator: The user experience is dramatically improved, the operator sees huge savings in outdoor system capacity, and it all occurs with more favorable economics compared to traditional small cell strategy.
When selectively deployed alongside home Wi-Fi hotspots, indoor femtocells give the converged operator the chance to capture the majority of indoor traffic with an indoor radio, freeing the outdoor radio to better serve outdoor traffic.
More Discussion to Come
In this post, I talked about the spectral efficiency problems of traditional outdoor small cell deployments and how a femtocell deployment model can address them. Next time, I'll discuss a total cost of ownership (TCO) model for femtocells over a DOCSIS network, both full-stack and vRAN-based solutions.
And don't take my word for it! Stay tuned to the CableLabs blog over the next couple months for more discussions about cellular deployments over a DOCSIS network.
Security
Micronets: Enterprise-Level Security Is No Longer Just For Enterprises
Today we are introducing CableLabs® Micronets, a framework that simplifies and helps secure increasingly complex home and small business networks.
As we add devices to our networks such as cell phones, computers, printers, thermostats, appliances, lights and even medical monitors, our networks become more susceptible to intrusions. Micronets automatically segments devices into separate, policy-driven trust domains to help protect the devices, data and the user. Agile and easy-to-use, Micronets gives consumers increased protection and control of their local network without overwhelming them with technical details. Micronets reduces the risks associated with vulnerable devices but is not a substitute for strong device security.
The Micronets Advantage: Smart Security and Ease of Use
CableLabs Micronets is an advanced network management framework that utilizes three components to provide enhanced security:
Automated Networked Devices: While CableLabs is not the first organization to introduce the concept of network segmentation, Micronets' primary advantage is in its implementation. The Micronets framework uses advanced mechanisms like device fingerprinting and Manufacture Usage Definitions (MUD) to intelligently group networked devices into dynamically managed trust domains or "micronets."
For example, children's devices are assigned to one micronet, home automation on another and so on. If one device is compromised, devices on the other micronets will not be visible to the attacker. The system will automatically quarantine the infected device, minimizing the risk to the network and other connected devices. While the system is largely autonomous, the user has the visibility and control to adjust trust domains and add new devices.
Seamless User Experience: Micronets provides a layer of dynamic management and secure credential provisioning that hides the complexity associated with network orchestration and focuses on improving the user experience. It's a self-organizing platform that's very easy to use and control which is a major benefit to an average customer who lacks the time and knowledge required for manual network administration.
Adaptive Devices: The Micronets framework also includes an intelligence layer that manages the connectivity between the individual trust domains, the Internet and third-party provider services. Because security threats continuously evolve, Micronets is built to evolve as well. State-of-the-art identity management and cloud-based intelligence technologies, like machine learning and neural networks, are leveraged to provide adaptive security that can evolve over the years, thereby providing a solution that will work for today's as well as tomorrow's needs.
Another benefit that Micronets can provide is enhanced security for highly sensitive devices or applications, through secure network extension via APIs. For example, Micronets can be used to establish a secure, end-to-end network connection between an Internet-connected medical device, like a glucose tester, and the cloud services of a healthcare provider. This enhanced capability provides confidentiality, integrity and availability of the medical device and the healthcare data to and from the device.
Micronets provides features, such as network isolation, similar to 5G network slicing but can operate across Wi-Fi and mobile networks. Micronets is focused on security of private networks (e.g., home networks and SMB networks) where 5G slicing is focused on different service segment performance levels of end to end networks. Since Micronets is an overlay technology, it's compatible with existing networks, even 5G slicing, where 5G slicing is dependent on the broad deployment of the underlying 5G technologies.
Under the Hood: A Deeper Dive into How Micronets Works
Micronets has five major architectural components:
Intelligent Services and Business Logic: This layer acts as the interface for the Micronets platform to interact with the rest of the world. It functions as a receiver of the user's intent and business rules from the user's services and combines them into operational decisions that are handed over to the Micronets Manager for execution.
Micronets Manager: This critical element orchestrates all Micronets activities, especially flow switching rules between the home network, cable operator and third-party providers that allow the delivery of services. It also provides controls that allow the user to interact with the Micronets platform.
Micronets Gateway: Micronets Gateway could be a cable modem, router, wireless access point, or LTE hub/femtocell. It's a core networking component that uses Software Defined Networking (SDN) to define how Micronets services interact with the home network. It also oversees the entire device profile on the user network—both wired and wireless.
The Home Network: All the devices on the customer's home or SMB network are automatically organized into appropriate trust domains—or micronets—using the device identity and SDN based logic. However, the customer can always make manual changes through a user-friendly Micronets interface.
Micronets API: Operator partners and third-party operators can interact with the Micronet manager via secure APIs. Micronets ensure that third-party devices and services are secured through mutual authenticated and encrypted communications channels.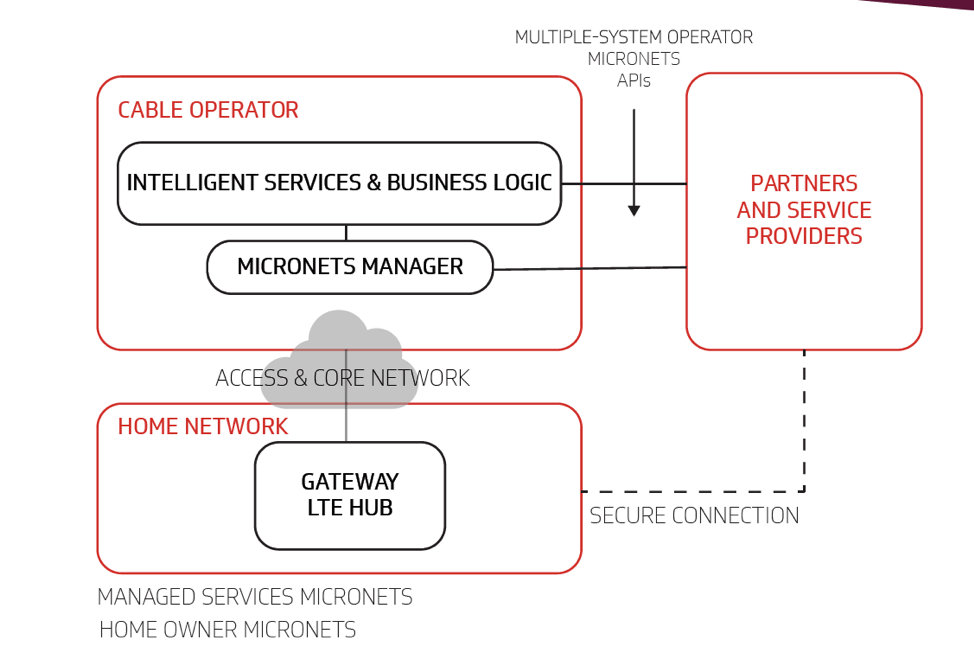 The Rollout: Getting Micronets In Homes and Business
White Paper: Our white paper lays out the vision and architecture of Micronets in greater detail.
Industry Partnerships: We're working with our industry partners and cable operator members to bring Micronets to consumers. We are also working on implementing an easy-onboarding framework that builds on top of features from the Wi-Fi Alliance (WFA), namely EasyConnect, WPA3 security and the Internet Engineering Task Force (IETF) Manufacturer Usage Description framework to enable the secure and seamless configuration and on-boarding of consumer devices. We are also leading the development of a secure interoperability specification for IoT devices in the Open Connectivity Foundation, and with Micronets, we're making significant strides to simplifying and securing increasingly complex networks.
Code: We are releasing the reference code, currently under development, to the open source community in the coming months.
Government Collaboration: We're participating in and supporting government efforts like NIST's National Cybersecurity Center of Excellence project on mitigating botnets in home and small business networks.
Our Members and Vendors: We are planning on developing and publishing specifications for standardized API's for advanced security services based on machine learning and device fingerprinting in collaboration with our members and vendors.
CableLabs has long been a leader in the development of security technologies for the delivery of video and broadband Internet access services. With Micronets we are bringing our expertise to the growing world of connected devices, for which security is a shared responsibility across the Internet ecosystem.  Micronets helps mitigate the risks associated with insecure IoT, but is not a substitute for or alternative to the ongoing efforts to drive increased device security, to prevent vulnerabilities at their source.
Download our white paper by clicking below or learn more here.
Interested in working with the CableLabs team or hearing more about Micronets? Contact Darshak Thakore (d.thakore@cablelabs.com).
Wireless
Operators Now Have the (ad)Vantage™
The first Wi-Fi–certified Vantage™ Access Point device became commercially available last month. This is a milestone because it means the Wi-Fi industry is beginning to incorporate carrier-grade Wi-Fi features into Wi-Fi devices. This will benefit operators' ability to better manage Wi-Fi networks, which—in turn—will benefit users by delivering an elevated quality of experience.
The Wi-Fi Alliance conceived Vantage™ (the Wi-Fi Alliance's brand name for carrier-grade Wi-Fi) as a way to provide solutions to operator needs in conjunction with priorities set by Wi-Fi device vendors. Many of the Wi-Fi devices today use IEEE 802.11 features in their baseline design yet implement proprietary features to enhance performance and provide product differentiation. Although this can be beneficial to the user, it can also lead to inconsistent performance if users utilize a variety of Wi-Fi devices with different feature enhancements.
Vantage™ devices attempt to overcome this potential inconsistency by introducing a common set of 802.11 features to meet common operator needs. Such needs include:
Enhancements to network connection
Connection times
Network attachment
Faster speeds—most important in high-density, dynamic Wi-Fi network environments that have a high concentration of users.
For example, have you ever experienced slower data speeds on a Wi-Fi network when people exit at a subway station stop? Or lose your connection while waiting at an airport gate when a high volume of passengers deboard? Or find that the text you sent is delayed at a baseball game during the 7th inning stretch?
Vantage™ leverages these key technologies into a single device as a basis for its solution to operator needs:
Wi-Fi CERTIFIED™ ac: high-performance, dual-band operation
Wi-Fi CERTIFIED Passpoint®: secure, light-touch authentication
Wi-Fi CERTIFIED Agile Multiband™: efficient use of spectrum, smart steering
Wi-Fi CERTIFIED Optimized Connectivity™: improved roaming, efficient transmissions
Wi-Fi Vantage™ devices offer features that provide automatic, seamless, secure access to Wi-Fi networks and mechanisms for efficient use of spectrum and network resources in densely populated, dynamic environments. It also allows operators to deliver an elevated user experience, increased data rates and the ability to allow more devices to operate on the same network without sacrificing performance. 
CableLabs' joint leadership with the operator community (mobile and cable operators) created the vision and roadmap for the Vantage™ program while partnering with the Wi-Fi ecosystem. The Vantage™ certification process has been completed, and the operators and industry are now waiting for more Vantage™ Access Points and user devices to become commercially available to improve managed Wi-Fi networks and deliver optimal user experience.
To learn more about Vantage™ in the future, subscribe to our blog. 
Wireless
Mobility Lab Webinar Recap and Q&A: CBRS Neutral Host Network using Multi-Operator Core Network
Last week, we hosted the first webinar in our mobility lab series "CBRS Neutral Host Network using Multiple Operator Core Network." In case you missed it, you can read about the webinar in this blog or scroll down for the links to the video and Q&A.
Background: CableLabs Mobility Lab Webinar Series
The FCC established Citizen's Broadband Radio Service (CBRS), a 3.5GHz shared spectrum, to alleviate the shortage of frequencies available for wireless communication services. From an operator perspective, propagation characteristics of the CBRS band are a good fit with low-powered small cells, which can provide a capacity boost and fill in the coverage holes for both indoor and outdoor scenarios. With CBRS General Authorized Access (GAA) deployments on the verge of seeing the light by early 2019, wireless operators are investigating ways to utilize newly allocated CBRS band.
Neutral Host Network (NHN) is a CBRS use case which is attractive for mobile operators, cable operators and new entrants because it:
Lowers expenses of buying licensed spectrum
Lowers investments in building network infrastructure
Lowers initial roll-out costs of operating and managing new deployments
With NHN deployments operating in shared spectrum, such as CBRS, there is no need to coordinate radio frequency network planning between the multiple operators sharing the neutral host access network.
Mobility Lab Webinar #1: CBRS NHN Use Case Using Multi-Operator Core Network (MOCN)
Leveraging our in-house mobility lab, we built test setups for several CBRS use cases. The first webinar demonstrates a CBRS use case which utilizes a 3GPP deployment model, called Multi-Operator Core Network (MOCN), where an operator shares its access network and spectrum with other operators. This use case can be a viable alternative to conventional single operator owned network infrastructure.
The webinar provides:
An overview of Network Sharing, Active Network Sharing, MOCN and CBRS
Description of CBRS NHN use case and its deployment scenarios
Lab demonstration of CBRS NHN use case
Our upcoming webinars will showcase the various mobility lab projects we are working on. For any questions, please feel free to reach out to Wireless Architect Omkar Dharmadhikari. You can view the first webinar here and click the link below to download a copy of the Q&A.
Policy
The Gigabit Internet Dream Continues to Expand
Cable gigabit service availability continues to expand – as of June 2018, 63% of U.S. housing units – 74% of the cable broadband footprint – had gigabit service or better available from their local cable operator. This is up seven percentage points in just three months and has expanded by 16X in 18 months. Cable is making the gigabit Internet dream a reality. Coincident with this update of the cable industry's gigabit deployment data, we are also releasing a new installment in our Inform[ED] Insights series that explains the technology that enables these gigabit networks.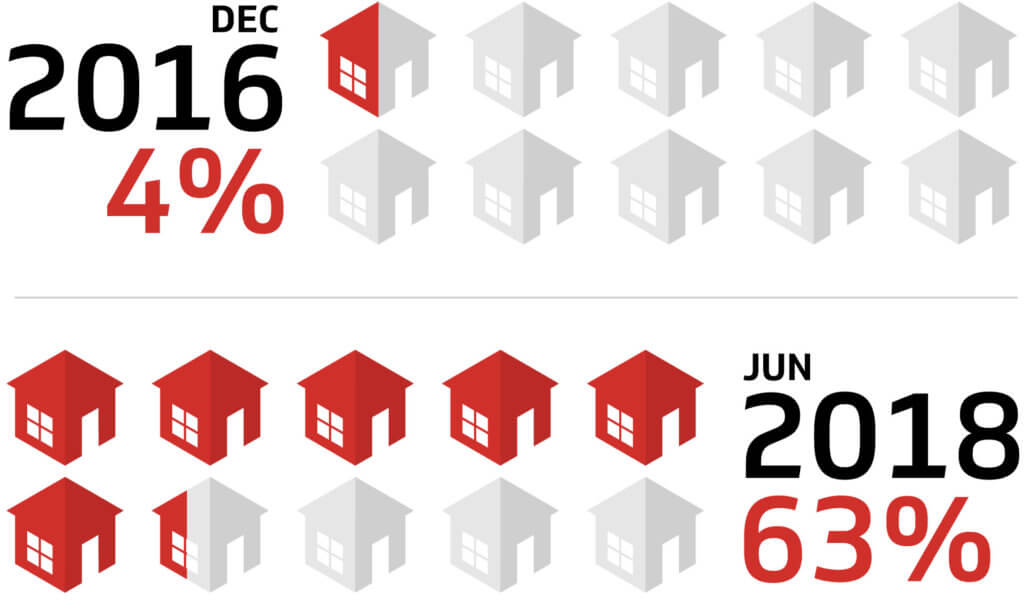 Cable's deployment of high-capacity broadband networks is enabling the gigabit services of today and the symmetric multi-gigabit services of tomorrow. With the wide availability of gigabit service and beyond, the broadband infrastructure is in place to power emerging technologies that will transform and enhance our lives through immersive entertainment, next-generation healthcare and a reimagination of education and work.
CableLabs and the cable industry are continuing to advance the capacity and performance in each segment of the cable broadband network to remain well-ahead of consumer demand. We are focused on developing innovative network technologies in the areas of coax (e.g., DOCSIS 3.1 and full duplex DOCSIS), fiber (e.g., coherent optics in the access network), and wireless (e.g., Wi-Fi and 5G), as well as defining optimal network architectures to provide the necessary capacity and performance in each segment of the network for today's gigabit services and those anticipated in the future.
Ready to see how the cable industry is driving gigabit speeds from the lab to the consumer? Click on the link below to download our new Inform[ED] Insights white paper.
Innovation
IPoC: A New Core Networking Protocol for 5G Networks
5G is the latest iteration of cellular network technology developed to meet the growing traffic demand for both smartphones and homes. With beamforming and frequency bands reaching millimeter waves, 5G promises many benefits:
Higher speeds
Lower latency
The ability to connect many more devices
However, current de jure standards and protocols, designed for earlier technologies, have the potential to dilute these promises. To address the limitations of current networks, CableLabs developed the IP over CCN (IPoC) protocol, a compelling new solution to meet the new, more robust requirements of 5G.
Why a New Solution?
The primary goal of the fourth generation (4G or LTE) technology was access to the Internet, so the technology utilized IP networking, the packet routing technology historically and currently used in the Internet.
IP networking has been around since the mid-1970s and has served us remarkably well, but it isn't without flaws. The purpose of the Internet Protocol is to allow a computer at one fixed location in the network to exchange information with another computer at a fixed location in the network.  For mobile devices (that clearly aren't at a fixed location) this has never been a great fit, and LTE technology had to develop complicated IP over IP tunneling mechanisms (the LTE Evolved Packet Core (EPC)) to enable mobility.
Furthermore, in the majority of cases, a mobile application wants to fetch specific data (say the text and images of a blog post) but doesn't really care which computer it talks to in order to get it. As a result, to improve network efficiency and performance, network operators (both mobile and fixed) have implemented complex Content Distribution Networks in order to try to redirect the mobile application to the nearest server or cache that has the requested data.
In LTE-EPC, all of a user's IP traffic is tunneled through a centralized choke point (or anchor) in the mobile operator's core network, which eliminates the ability to serve data from a nearby cache. Also, as a mobile device moves in the network, the EPC needs to create new tunnels and tear down old ones in order to ensure that the user's data reaches them.
These limitations are widely acknowledged by standards-setting groups. They are currently soliciting input to introduce new protocols that will pave the way for 5G to meet the demands of next-generation technologies, specifically:
Improve the efficiency and performance of the network mobility plane, compared to today's LTE standards,
Support non-IP network protocols, of which Content Centric Networking is a leading candidate.
Benefits of Content Centric Networking
Content Centric Networking: A networking paradigm that emphasizes content by making it directly addressable and routable. Learn more here.
CCN offers several key advantages over IP networking:
It employs "stateful forwarding" which elegantly and efficiently supports information retrieval by mobile client devices without the need for tunneling or a location registration protocol
It addresses content directly rather than addressing end hosts, which means that it enables in-network caching, processing and intelligent packet forwarding, allowing it to excel in content retrieval optimization, allowing data to be easily retrieved from an on-path cache
It supports a client device using multiple network attachments (e.g., radio links) simultaneously, providing greater reliability and performance.
Its design meets the needs of large-data and IoT applications
For many new applications, CCN provides a much better fit for purpose than the Internet Protocol.
IP over CCN (IPoC): A New Way to Handle IP
In spite of the significant improvements Content Centric Networking offers over current IP networking, the reality is that all of today's applications, both client and server, are built to use IP networking. We developed IPoC as the solution to this issue. IP over CCN (IPoC) protocol is a general-purpose tunneling protocol that enables delivery of IP traffic over a Content Centric Network (CCN) or a Named Data Network (NDN).
IPoC enables deployment of CCN as the core networking protocol for 5G, both for new, native CCN applications and as a mobility plane for existing IP applications, replacing the LTE-EPC. As a result, IPoC saves the IP investment and allows a full transition to the new CCN protocol.
With this approach:
Native CCN applications reap the benefits of tunnel-free anchorless networking, along with the latency and efficiency gains that come from in-network caching.
Existing IP-based applications can be supported with a mobility management solution that is simpler than the existing LTE-EPC. Gone are the special-purpose tunnel management functions that create and destroy tunnels as mobile devices move in the network.
The need for network slicing to accommodate both IP and CCN and the complications and overhead entailed in running two core networks in parallel are eliminated.
IPoC Performance in Mobile Networks
With the assistance of two PhD students from Colorado State University, we developed simulation models and conducted performance and efficiency testing of the protocol in comparison to LTE-EPC. In our simulation study, we implemented the IPoC protocol using the Named Data Networking (NDN) simulator ndnSim (which implements a CCN-like semantic) and used mobile communication as the driving example, comparing IPoC-over-NDN protocol performance against GTP-over-IP. We found that the protocol overhead and performance impact of IPoC is minimal, which makes it suitable for immediate deployment.  The report on this study includes links to the source code as well.
Want to Take a Closer Look?
IPoC can be best understood as a transition technology. Providing a shim layer and allowing CCN to act as a mobility plane for legacy IP applications, it accommodates the current protocol standards while opening the door for deployment of native CCN applications and the benefits they offer.
The 5G standardization project is seeking new mobility solutions for 5G, and we believe CCN and IPoC would be a great solution to address the needs. We have submitted a definition of the IPoC protocol as an Internet-Draft to the Internet Research Task Force (IRTF) Information Centric Networking Research Group. In addition, we have developed a proof-of-concept implementation of the IPoC protocol on Linux.
Interested in learning more? Subscribe to our blog and recieve updates on 5G by clicking below.