Culture
Meet CableLabs Cybersecurity Expert Michael Glenn
As more of our physical world becomes digital, cyber attacks continue to get smarter, more efficient and scalable. Because preventing damage from these threats means preparing for them in the first place, of particular focus for CableLabs is the need to address the risks associated with unsecured internet-connected devices. Below, meet the man making IoT devices safe from hackers.
Michael Glenn is the VP of Security Technologies at CableLabs. Michael and his team work in a variety of technologies to incorporate strong security principles into the design, specification and implementation of numerous products and services. His areas of focus include broadband (DOCSIS), wireless, trust management, IoT, SDN/ NFV, carrier security, blockchain and next-generation home and mobile networks.
Before joining CableLabs, Michael spent 15 years at Quest/ CenturyLink in a variety of security and engineering positions. He was the chief information security office for Qwest and lead the development of the Enhanced Cybersecurity Services (ECS) and Einstein Accelerates (E3A) services in cooperation with the U.S. intelligence community which protects private and civilian government critical infrastructures. In 2005, his team developed the first tier 1 ISP botnet notification remediation system which continues to provide tens of thousands of notifications to infected residential customers each year.
Before working at Qwest, Michael worked at the Ronald Reagan Ballistic Missile Defence Test Site in a variety of engineering and management roles. He received a Bachelor of Science degree from the Colorado School of Mines.
Now, learn more about the man using security to improve people's lives by watching the video below.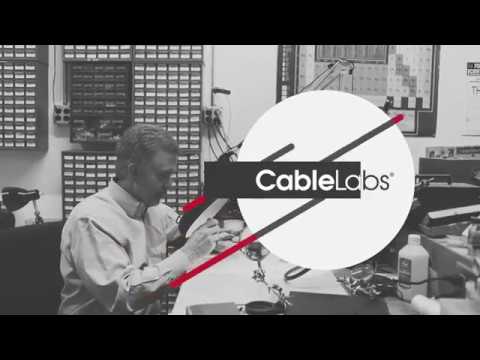 Interested in learning more about cybersecurity? Read more in Michael's blog posts here or our Inform[ED] Insights paper "A Vision for Secure IoT."
Energy
Set-Top Box Energy Efficiency Voluntary Agreement: Extended, Expanded, and Exceeding Expectations
Last week, NCTA and CTA announced that the highly successful Set-Top Box Energy Efficiency Voluntary Agreement (STB VA) has been renewed for another four-year term. This is great news for consumers and the environment because it includes new commitments and more stringent energy efficiency levels for Set-Top Boxes.
Extended
The original STB VA was established in 2013 and the commitments ran through 2017. This new voluntary agreement goes through 2021 with the annual report from the independent administrator to come out in 2022.
Expanded
The 2013 STB VA included a number of commitments by all the signatories, including the commitment that 90% of all STBs purchased would meet specified energy efficiency levels. The first level went into effect in 2014. A more stringent set of levels (known as Tier 2) went into effect in 2017. This amended VA defines a third tier of efficiency levels, Tier 3, that will go into effect in 2020.  On average, Tier 3 is 20% more efficient than Tier 2. In addition, the VA includes the exploration of additional reductions and efficiencies for a potential future extension.
A new requirement in the amended VA includes reporting on the availability and usage of applications offered by the signatories to view their content on Smart TVs, PCs, and mobile devices without the use of an STB.
Exceeding Expectations
In the first four reporting periods of the STB VA, it has already proven to be immensely successful. As I blogged when the 2016 annual report came out, the program has already saved consumers over 2.1 Billion dollars and avoided 11.8 million metric tons of CO2 over the first four years. The original VA estimated savings of $1B annually, but that was nearly achieved in 2016 and is expected to be greater than $1B when the 2017 report is released.
The extended VA, with its new commitments and stricter energy tiers, is expected to save an ADDITIONAL $600 million, for a total of $1.6B in annual savings. In emissions terms, this equates to avoiding 9.3 million metric tons CO2, which is the equivalent of eliminating the emissions of over 2 million passenger cars EACH YEAR.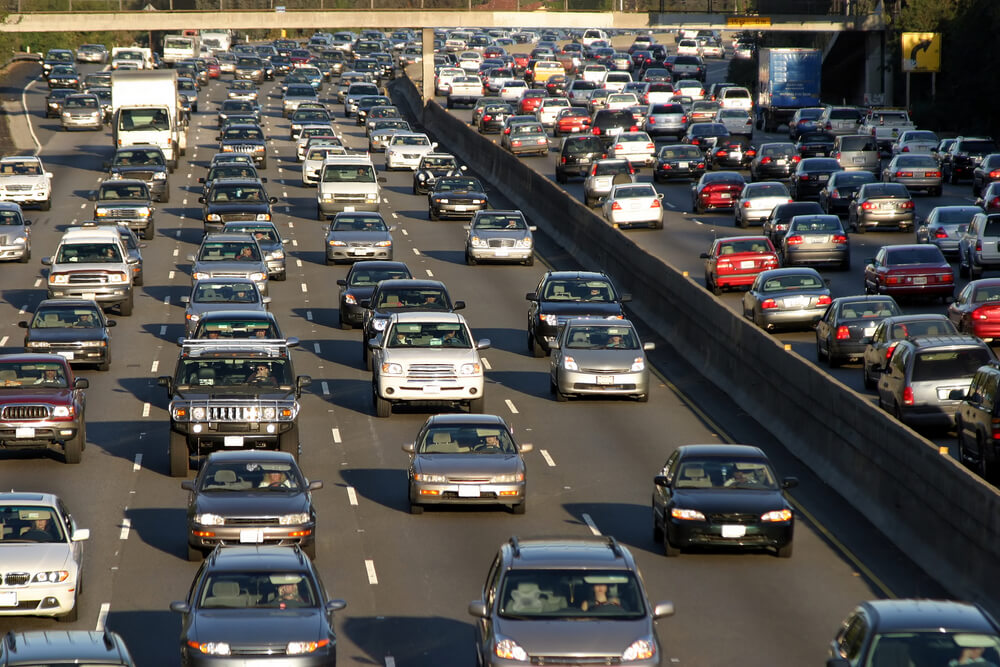 Exalted
The STB VA is recognized as an effective alternative to regulation. Just last week, Secretary of Energy Rick Perry stated:
"DOE supports the commitment from industry to improve energy efficiency and looks forward to the renewal of this voluntary agreement with our private sector partners. Reducing federal regulatory burdens is a priority for myself and this Administration, and voluntary industry standards such as this are an effective alternative to government regulation."
In 2016, the STB VA was recognized as Top Project of the Year by Environmental Leader, a leading daily trade publication on energy, environmental and sustainability issues.
Experienced
CableLabs has played a leading role in many areas of the STB VA since the beginning and will continue to support the VA for this next term:
We led the efforts to define the Tier 2 and Tier 3 energy levels, researching opportunities for energy savings and reductions, and will continue in this role in ongoing discussions moving forward.
In our spec work, we integrate energy efficiency into our protocols, such as DOCSIS Light Sleep in the DOCSIS 3.1 specifications.
We also provide support for the implementation of the VA, with testing, modeling, and reporting STB energy consumption for the cable signatories.
CableLabs and its subsidiary, Kyrio, are ISO-17025 accredited to conduct certified testing of energy consumption of set-top boxes and small network equipment, which enables us to support non-cable signatories as well.
CableLabs is committed to the success of the STB VA, and we look forward to working with the industry to save consumers money, improve the environment and continue to deliver innovative features and services.
You can read more about CableLabs' work on energy efficiency in our blog posts here and more about the Energy Efficiency Voluntary Agreements here. For more information, contact Debbie Fitzgerald at d.fitzgerald@cablelabs.com.
Debbie Fitzgerald is a Principal Architect in the Technology Policy department and leads the Energy Efficiency Program. 
Wired
Inform[ED] Video: Full Duplex Coherent Optics over Fiber Networks
Last week, CableLabs Distinguished Technologist Steve Jia posted a blog "Doubling up on Fiber Capacity: A Winning Strategy for Full Duplex Coherent Optics." In that blog, Steve describes how the CableLabs Full Duplex Coherent Optics innovation doubles the bi-directional capacity of each cable access network fiber, multiplies the capacity of each existing access network fiber by over 200 times and simultaneously makes Coherent Optics technology well suited for deployment in many more cable access network fibers.
Watch our Inform[ED] video below to learn more about this groundbreaking technology.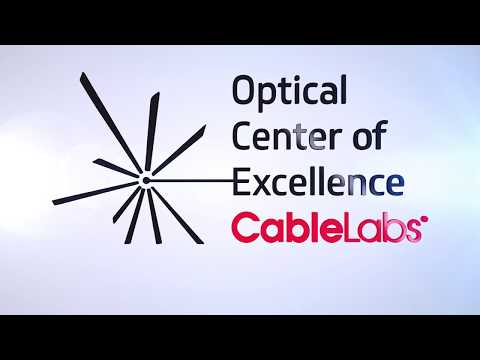 Full Duplex Coherent Optics has the potential to have a huge impact on operator networks. Don't forget to subscribe to our blog to learn more about coherent optics in the future.
Events
CableLabs Hosting a Free Full Duplex DOCSIS® Technology Seminar
CableLabs is hosting a free Full Duplex (FDX) DOCSIS® technology seminar April 17–18, 2018 that will be attended by both cable operators and DOCSIS suppliers. The seminar will take place at a private events center to provide attendees with a comfortable and professional setting to learn all about Full Duplex DOCSIS technology.
Scheduled speakers will be technologists who developed the FDX DOCSIS specifications. Most have been involved with DOCSIS technology since the beginning, all are accomplished speakers who possess a wealth of knowledge to share not only about FDX DOCSIS but also about how FDX DOCSIS integrates into the family of DOCSIS generations.
FDX DOCSIS 3.1 technology allows cable operators to offer symmetric gigabit-speed data services over their existing Hybrid Fiber/Coax (HFC) networks, building on the core DOCSIS 3.1 orthogonal frequency-division multiplexing (OFDM)/orthogonal frequency-division multiple access (OFDMA) technology. This additional set of features significantly increases upstream capacity and allows for the same spectrum to be simultaneously used for both downstream and upstream.
The technology seminar will cover a wide range of topics, including:
The physical layer: The physical layer topic includes how both OFDM and OFDMA have been extended to allow full duplex operation. This also includes how FDX DOCSIS fits into the channel plan, and how the system is expected to operate.
The Media Access Control (MAC) layer: This topic includes both how the cable modem termination system (CMTS) manages the full duplex spectrum and how today's FDX modems initialize and communicate with the CMTS for full duplex operation.
Link Budgets and System Performance: This topic will discuss how to manage both signal levels and loss throughout the system in order to maintain peak operating performance.
FDX DOCSIS support of existing DOCSIS modems: This topic concerns how FDX DOCSIS modems will be tested for backward compatibility with earlier versions of DOCSIS modems; they will all operate on the same cable plant with no need to upgrade older modems.
Fiber Node changes: What will change in the Fiber Node, which now supports a Distributed Access Architecture (DAA) solution to distribute part (or all) of the CMTS to the fiber node?
Node+0 Tips: These tips and considerations will focus on Node+0 (passive coax) plant construction to support FDX DOCSIS.
The technology seminar has been designed to foster interactive discussion with the audience. FDX DOCSIS is an extension of the DOCSIS 3.1 technology and now involves the HFC network to create a system that offers symmetric capacity. Presentations will offer critical insights into these aspects of the architecture and technology. Attendees will come away with a greater appreciation and understanding of FDX DOCSIS's underlying mechanisms.
Seminar Details
The FDX DOCSIS technology seminar is free to attend and is open to all CableLabs members and DOCSIS NDA suppliers. The audience is intended to be composed of technology leaders involved with the early deployments of DOCSIS, including not only the DOCSIS engineers but also experts in outside plant and construction as FDX DOCSIS uses a Node+0 HFC network.
This technology seminar overlaps with an FDX DOCSIS interop being held at CableLabs the week of April 16. All CableLabs members and suppliers participating in the interop have the opportunity to tour the interop and witness FDX DOCSIS technology in operation, viewing—for perhaps the first time—the same spectrum carrying simultaneous upstream and downstream traffic.
With the CableLabs membership spanning five continents, the seminar will provide a unique opportunity for networking, as well as connecting or reconnecting with colleagues involved with the introduction of new DOCSIS technology. The seminar will offer a diverse set of deployment scenarios, and the discussions will include how FDX DOCSIS can support the needs of cable operators.
Wired
Doubling up on Fiber Capacity: A Winning Strategy for Full Duplex Coherent Optics
During our 2017 Winter Conference, CableLabs announced the launch of the point-to-point (P2P) Coherent Optics specification project, potentially multiplying the capacity of each existing cable access network fiber by over 100 times and possibly indefinitely deferring new fiber builds on existing routes. Now, a new CableLabs innovation, Full Duplex Coherent Optics:
Doubles the bi-directional capacity of each fiber
Multiplies the capacity of each existing access network fiber by over 200 times
Simultaneously makes Coherent Optics technology well suited for deployment in many more cable access network fibers
Why CableLabs Began the Coherent Optics Project
Most cable operators have a somewhat limited fiber count between the headend and the fiber node, so maximizing the capacity provided by this scarce resource has real economic advantages for cable operators.  Getting more capacity out of the existing fibers can eliminate the need to dig more trenches to lay more fiber. This allows operators to best leverage the existing fiber infrastructure to withstand the exponential growth in capacity and services for residential and business subscribers.
Transport Methodologies
There are two fundamental topologies to achieve bidirectional P2P coherent transport:
According to a recent operators survey, 20 percent of existing cable access networks use a single-fiber topology. That means that downstream and upstream transmission to nodes takes place on a single strand of fiber. It is estimated that over the next 5 years, this number will grow to 60 percent. Therefore, bidirectional transmission over a single fiber is needed for coherent signals to support single-fiber topologies and to facilitate the redundancy of optical links.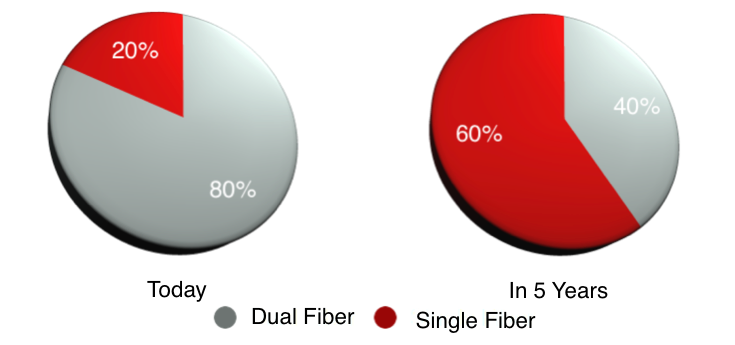 The Dual-Fiber Approach
Today, achieving bidirectional transmission in an optical domain with a single laser requires two fibers. This is the standard practice using today's coherent optical technology. One laser in a transceiver performs two functions:
as the optical signal source in the transmitter
as the reference local oscillator signal in the receiver
Because of the use of the same wavelength from the same laser, a second fiber must be available for the other direction—one fiber for downstream and a second fiber for upstream.

The Single-Fiber Approach
The second typical approach is to use a single fiber but transmit at different frequencies or wavelengths, similar to the upstream and downstream spectrum split that we implement in our HFC networks. To accomplish this frequency/wavelength multiplexing approach, two lasers operating at different wavelengths are needed. Wavelength multiplexers and demultiplexers following a wavelength management and allocation strategy are needed to combine these different wavelengths over the same fiber. The second laser ends up costing a lot more than money—increasing power consumption, operational complexity, and transceiver footprint.

CableLabs' Full Duplex Coherent Optics Approach
CableLabs proposes an alternative method to achieve full duplex coherent optics. We leverage two optical circulators on each end in a special configuration. The circulator is a low-cost, passive, but directional device—much like a traffic roundabout for cars, but this is an optical roundabout. Instead of using two fibers, a single fiber is connected for bidirectional transmission. Most importantly, instead of using two lasers, a single laser is employed for single-fiber coherent systems.

How Does It Work in a Cable?
Many scenarios in cable focus on the access environment with limited transmission distances. Unlike backbone and metropolitan coherent optical networks, access networks don't require multiple directional optical amplifiers in cascade. By definition, the introduction of directional components hampers bidirectional transmission.
When dealing with coherent signals, we have much higher Optical Signal to Noise Ratio (OSNR) sensitivity and higher tolerance to the impairments from the spontaneous Rayleigh backscattering than intensity-modulated systems. In addition, the threshold of the stimulated Brillouin scattering (SBS) nonlinear effect is much higher because of the nature of phase-modulated signals on the reduction of optical carrier power and the increase of effective linewidth.
With this new dimension of direction-division multiplexing (DDM) in the optical domain, any coherent wavelength can be used twice, once in each direction, thus doubling the whole fiber system capacity. This full duplex implementation is not bandwidth-limited. It works for 100G, 200G and future 400G. It is also not wavelength-selective. It works for short wavelengths and for long wavelengths, and it would cover not only the entire C-Band but, with different optical sources, the entire fiber spectrum. All these features have been experimentally verified in CableLabs' Optical Center of Excellence (OCE) over distances of up to 100 kilometers.
Impacts/Benefits of Full Duplex Coherent Optics
Full duplex coherent optics will significantly increase the value of the currently-deployed fiber infrastructure. It has been implemented in an elegant way, without the requirement of redesigning new chips for digital signal processing. This scheme can be seamlessly incorporated into the ongoing CableLabs' P2P Coherent Optics specification effort, which will be issued in mid-2018.
Dr. Alberto Campos, a CableLabs Fellow, also contributed to this article.
--
Interested in learning more about our point-to-point (P2P) Coherent Optics specification project? A follow-up video containing more information on the technology will be posted next week. Click below to join our working group.
Technology
Emerging Technologies: New and Compelling Use Cases
How will emerging technologies impact industries powered by communication networks? What will this mean for your customers and end users?
In our annual Emerging Technology Timeline (ETT), we highlight provocative new technologies that will impact the development of novel solutions and the ecosystems they serve. Are you a product tsar, strategist or developer who relies on the power of the network to deliver solutions or launch new applications? If so, then this series is written for you by the lab that is inventing networks of the future.
With hundreds of technologies in 7 sections, our timeline covers the present to 2023 and beyond. In this introduction, we touch upon some of the major themes that influenced our timeline: the body, professions reimagined, changing lifestyles and urban design.
Longer Better Lives: The Bionic You
Embellishment of the body with new and impactful technologies is putting society on the verge of a Cyber Human Revolution. Like the Industrial Revolution, this will lead to massive shifts in how we live, work and play.
In a biometrically-connected world, people will be able to better monitor their health, stress and overall well-being, helping them "find their Zen" before they'd otherwise know they need it. Innovations will emerge that enable people to overcome their disabilities: the deaf will be able to hear, the blind see, and the physically disabled walk. For many more, our well-being and day-to-day experience will be enhanced by:
Smart diagnostic clothing
Hearables and smart contact lenses
Powered exoskeletons and second skins
Ingestible robots
Bioacoustic sensing
Neuro-enhanced interfaces
Unlike the Industrial Revolution, the Cyber Human Revolution will see technology enable consumer and individual choice, bringing power back to labor and lifestyle in new and unusual ways. Expect the above to transform lives and unleash individual capacity to participate, produce and perform in new ways.
Professions Reimagined, Lifestyles Unshackled
Changes to the body and personal productivity will also enable a diverse and larger workforce. Changes in how we live and move about will follow. Some people may opt to live off-grid part-or even full-time, enabled by sustainable power sources, energy storage systems, water collection and monitoring, repurposing of waste into productive materials and so on.
Computers with human-like capabilities will emerge, creating a new set of jobs. True telepresence will change the workplace and lifestyles of the labor force. Autonomous vehicles will repurpose commutes and allow asset-lite living. Expect the rapid adoption and deployment of the following catalysts:
Artificial Intelligence and Machine Learning
Invisible interfaces
Commercial and companion robotics
Blockchain decentralized asset management
Meanwhile, mega productivity centers will emerge, which are already taking root in some of the world's fastest growing cities, and will appear as modern-day self-sufficient villages. These megacities will require new infrastructure and design with the network at the core.
The Sensor Driven World: Sentient Cities
The surge in data-driven activity has only begun. A convergence of technologies enabling Smart Cities are on an accelerated growth curve. We believe the future urban landscape will not only be "smart;" it will be auto-adaptive via artificial intelligence and sensors embedded within the network as well as within services upon the network. The most progressive cities will appear like adaptive organisms.  Expect the following to be pervasive and increasingly critical to lives and workforce productivity:
Terabit speeds
Intelligent bots
Proliferation of tiny sensors
Virtual, mixed and augmented reality
A confluence of new services that leverage precise network capabilities
Municipalities must be increasingly futuristic and work with communications service providers to build cities of the future. Cities must respond to the increasing demands of enterprises and residents by embedding intelligence and new networks in future design. We further speculate that just as cities are competing for growth engine enterprises like Amazon, they may have to compete for talented and skilled residents in the future too. A new landscape of applications and service providers will emerge, and we are ready to enable them.
CableLabs: Leading the Way to the Networks of the Future
Our technologists and product managers are developing innovations across wired and wireless technologies, network architectures, security and artificial intelligence. Rapidly adopted innovations are often best developed across ecosystems, and we collaborate across industries dependent upon the network of the future to unleash their potential. If your solution or service depends upon advanced networks, you may be experiencing challenges related to the network or falling short with your customer experience. Our innovation lab is dedicated to removing these pain points and obstacles to your success.
Emerging Technology Timeline Part 2 and Beyond
Each month, we will bring you a new view of our Emerging Technology Timeline in the sequence below:
Think big about your product roadmap and unlock your industry's long-term potential. Check back soon for a new view of how emerging technologies and experiences will affect you and your enterprise. Not enough? Reach out to the authors to learn more.
---
About the Authors
Anju Ahuja
In our ever-evolving marketplace, Anju believes that taking a "Future Optimist" approach to solving challenging problems manifests solutions that benefit both the individual and the enterprise. Today Anju takes this approach to answer questions for emerging technologies like AR, VR, MR, AI and how they will work with traditional media, communications and the broader global cable industry. As Vice President of Market Development and Product Management, Anju leads the team whose charge is to enable transformative end-user experiences, and revolutionize the delivery of new forms of content, while also unleashing massive monetization opportunities. Anju also serves on the Board of Directors of Cable & Telecommunications Association for Marketing (CTAM) as well as the President's Advisory Council of Northern California Women in Cable Telecommunications (WICT).
Martha Lyons
Inventor, Futurist and Technologist, Martha Lyons is the Director of Market Development at CableLabs. With a wide-ranging career at Silicon Valley high tech companies and non-profits, Martha has over two decades of experience in turning advanced research into reality. A leading authority in the initiation and development of first of kind solutions, her current focus is the identification of industry-leading opportunities for the Cable industry. She is personally interested in how advances in the areas of intelligent agents, Blockchain, bioengineering, novel materials, nanotech and holographic displays will create opportunities for disruptive innovation, to the delight of end users, in industries ranging from healthcare, retail, and travel to media and entertainment. When Martha is not inventing the future, she enjoys disconnecting from technology and spending time outdoors, preferably near some body of water.
DOCSIS
vRAN Over DOCSIS: CableLabs Making it a Reality
In November, CableLabs announced the opening of our new Telecom Infra Project (TIP) Community Lab. Today, CableLabs joins TIP in releasing a whitepaper, making public deeper insights into the vRAN fronthaul interface under development in the TIP vRAN Fronthaul project group. With this new interface, the addressable market for virtualized RAN (vRAN) deployment architectures can grow significantly. This increased market is evidenced by the diverse set of use cases being sponsored by the growing set of operator-based TIP Community Labs.
With the release of the white paper, the project group highlights key milestones which have been reached, including agreements further defining the open API and a set of interoperability metrics to be used in validating the interface in multi-vendor configurations.
As the project continues, work on the CableLabs DOCSIS network vRAN fronthaul use case will take place at the CableLabs TIP Community Lab. We look forward to sharing more as we continue to check milestones off our list, so check back soon for updates.
You can find the whitepaper "Creating an Ecosystem for vRANs Supporting Non-Ideal Fronthaul v1.0." here. 
DOCSIS
Webinar Recap: Enabling Cable Networks for Mobile Backhaul
Last week, Craig Cowden (Charter), John Chapman (Cisco) and I jointly presented a webinar on improving latency for mobile backhaul over DOCSIS. Moderated by CableLabs' Rob Alderfer, we:
Discussed cable's wireless strategy and business case for mobile backhaul
Did a deep dive into the technical details on how our Bandwidth Report (BWR) proposal can reduce the DOCSIS latency to ~1ms to enable mobile backhaul.
More background on the BWR protocol and the joint development project between CableLabs and Cisco can be found in my blogs "Powering the Future of Mobile Backhaul" and "Enabling the Cable Networks for Mobile Backhaul."
The webinar was attended by a record number of audiences from operators, equipment suppliers and members of the public. With a large amount of interest building from cable operators, we have gathered a group of CMTS and LTE vendors this week and began the standardization work on the BWR protocol. Please contact me if you are interested in joining the standardization group.
You can watch the replay of the webinar below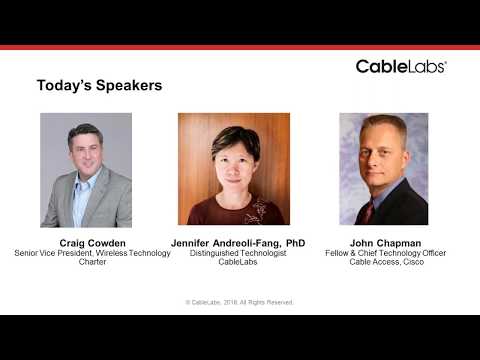 For those of you attending the Mobile World Congress, stop by the CableLabs booth 5J81, Hall 5. I am also holding a joint demo with John Chapman at the Cisco booth number 3E30, Hall 3.
Wired
Pinpointing Signal Leakage and Noise Ingress Demo
The CableLabs Proactive Network Maintenance (PNM) effort develops technologies and systems to proactively detect network problems before they impact the customer. In essence, our revolutionary technology turns every cable modem into a troubleshooting device, transferring that information to cable operators. Deploying PNM technologies results in faster and more accurate diagnoses of problems, faster repairs and ultimately a happier customer - all of which lead to lower costs for cable operators.
One of our PNM efforts tackles signal leakage and noise ingress.
The demonstration in our video is of an automatic data capture system that could be mounted on a vehicle that normally spends much of the day driving through neighborhoods, such as a garbage truck, a dry cleaning delivery service, or a taxi cab. The system can be completely automated to capture, upload, process and prioritize network maintenance. Watch our video below to learn more about this groundbreaking technology.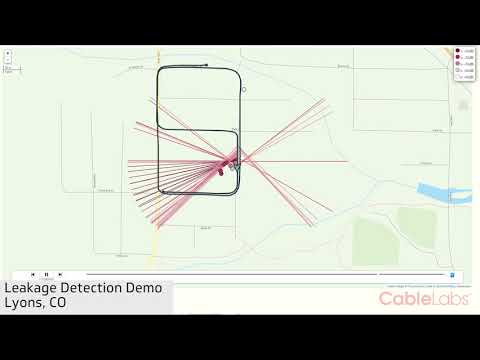 Don't forget to subscribe to our blog to stay current with our PNM effort.
DOCSIS
Enabling the Cable Networks for Mobile Backhaul
With 5G and small cell densification on the near horizon, mobile networks need economically viable backhaul solutions. Cable operators are well positioned with fixed networks to bridge that gap, and many operate mobile networks themselves. Could we be on the verge of fixed-mobile network convergence? Things seem to be pointing in that direction, but it won't happen without technology developments to make DOCSIS and LTE networks compatible.
A big element of this compatibility is aligning the typical network latency between DOCSIS and what is required for backhauling LTE. Today's DOCSIS upstream access latency is higher than the allocated budget (Fig 1) and solving the latency problem is key to enabling cable networks for mobile backhaul.
Our solution: together is better
About a year ago, a lightbulb moment led to a solution which led to a joint project between CableLabs and Cisco that I wrote about last October. You can read about it here.
To recap, instead of operating as two independent networks, we want to coordinate the DOCSIS channel access procedure with information made available by LTE, so that the DOCSIS process can start while the LTE transactions are still going on. When two systems work hand-in-hand, we achieve better end-to-end latency. (Fig 2)
With the CableLabs team supplying expertise in mobile and John Chapman's (Cisco Fellow and CTO Cable Access) team developing the pipelining API on the CMTS, we jointly built a proof-of-concept (PoC) using open source LTE small cells and the Cisco cBR-8 CMTS.
What we have been working on
Since my blog last October, we have been working on characterizing DOCSIS latency with increasing load on the DOCSIS channel. Using the pipelining method, the series of ping packets we sent from the User Equipment (UE) achieved an upstream latency of ~1-2 ms on the DOCSIS link (Fig 3). The latency remained consistent when we loaded up the DOCSIS link with other upstream traffic of up to ~60% of the channel capacity. Above this loading point, the latency gain with our pipelining method became more significant compared to no pipelining, albeit creeping above the 1-2 ms range.
At this point, skeptical readers might be wondering, what's the penalty for sending the LTE scheduling information across the DOCSIS link? We coded our LTE scheduler to send a "Bandwidth Report" (BWR) messages every 1 ms. A 80-byte BWR message, therefore, incurs 640 kbps, a minute amount compared to DOCSIS speeds that are now in the multi-Gbps range.
On the other hand, it is possible that the data predicted by the LTE scheduler might not actually arrive at the DOCSIS link, causing under-utilization of the DOCSIS grants. So, how many DOCSIS grants are issued by the CMTS but are not used with the BWR method? We performed tests and observed a respectable number. We will be reporting more on the upcoming webinar (details see below).
We have also been working on a fronthaul setup. Initial results showed that more latency gains can be expected with BWR compared to backhaul. More on that later.
What's next
We have been demonstrating the proof of concept to CableLabs members since last summer. CableLabs and Cisco will once again hold a joint demo at the upcoming Mobile World Congress.
The joint team is wrapping up the PoC work. We worked together on perfecting the pipelining operation and designing the new BWR message. We will take this baseline design to the CableLabs Mobile Backhaul Working Group that I am currently leading. Given the interest from CableLabs members, my goal is to get LTE and CMTS vendors together to agree on protocol and message details, so that cable operators can get the latency benefit regardless of which LTE and CMTS equipment they choose to deploy.
Additionally, in building the PoC, we have accumulated expertise on how to perfect the BWR algorithm to optimally predict the amount of data and time egressed from the LTE side. We will pass this knowledge on to the LTE implementers during the specification work.
I am holding a webinar with John Chapman on Thursday, February 15th at 8am Pacific / 11am Eastern / 5pm Central European Time. It is open to the public and we hope to see you there.
For those of you attending Mobile World Congress, I am holding a joint demo with John Chapman at the Cisco booth number 3E30, Hall 3 Hybrid Hall.