Wired
Proactive Network Maintenance (PNM): Are You InGeNeOS?
I love a good acronym! InGeNeOS™ is an acronym built from Intelligent General Next Operations Systems. It's the name of a CableLabs working group that solves Proactive Network Maintenance (PNM) issues for the cable industry, and it might be for you.
What's So InGeNeOS about PNM?
The InGeNeOS group focuses on discussing, inventing, building and sharing network operations tools and techniques from the data made available from DOCSIS® systems, including the CM, CMTS and test devices. Other CableLabs working groups focus on DOCSIS specifications, and the SCTE Network Operations Subcommittee Working Group 7 focuses on network operations training material. The InGeNeOS group connects these two worlds and turns the network information into capabilities that engineers and technicians can use to maintain services. We turn DOCSIS system information into solutions that identify, diagnose and sometimes automatically correct network problems—often before the customer notices. When these tools get good enough, they can become proactive. Thus, we often refer to this group as the PNM Working Group (WG). See why we put it into an acronym?
Don't Just Think—Do!
This group doesn't merely ponder PNM solutions; it is very active in several ways:
Developing best practices for PNM solutions—We just started an effort to document PNM best practices in a DOCSIS 3.1 environment.
Guiding specifications development for emerging technologies—For example, although Full Duplex (FDX) DOCSIS technology is not yet deployed, we know it must be fully ready when it is, and that includes being operationally supportable.
Sharing experiences, both problems and solutions—Many working group participants work maintenance problems at operator companies, or for operators, so they bring problems to the working group to get ideas for causes and resolutions.
Testing theories in the lab—Once we develop theories about the causes of problems in the field, we reproduce the theorized conditions in the lab to confirm the cause. We can also calibrate measurements, test methods for detection and develop new PNM tools and methods based on these tests.
This developing, defining, knowledge sharing and testing help operators reduce costs and improve service reliability by improving their network maintenance operations. All these are just examples of what we do. If you have ideas that might fit within this framework, keep reading.
So You Think You're InGeNeOS?
Operators in—and vendors supporting—the cable industry can easily benefit from joining the InGeNeOS group:
If you are a cable operator and a CableLabs member, consider this your invitation to join.
If you are a cable operator but not a member, this is a very good reason to become a member.
If you are a vendor, all you need to do is sign the NDA and IPR.
In any case, contact Jason Rupe to join the InGeNeOS group.
Wireless
Mobility Lab Webinar Recap: Over-the-Top (OTT) Aggregation
This week, we hosted our second installment of the Mobility Lab Webinar series on "Over-the-Top (OTT) Aggregation." If you were unable to attend the webinar, you can read about it in this blog or scroll down to see the recorded webinar and Q&A below.
Background
Wireless operators have always been driven to meet increasing user demand by achieving higher data rates and improving quality of service. To fulfill these needs, wireless operators have used various types of carrier aggregation, including several commonly used industry-standard solutions:
Traditional multi-carrier aggregation
Aggregating carriers in either licensed or unlicensed spectrum, using a single technology like LTE
Aggregating carriers by using both LTE in licensed spectrum and Wi-Fi in unlicensed spectrum
Each aggregation solution offers benefits such as higher date rates, improved QoS, more efficient spectrum utilization and enhanced user experience. But these benefits need to be weighed against certain tradeoffs in terms of capital investments, deployment complexities, spectrum and network infrastructure ownership. This may result in barriers for Multiple Service Operators (MSOs) with no cellular infrastructure.
Our Webinar: Over-the-Top (OTT) Aggregation
OTT aggregation is an alternate solution to industry-standard aggregation solutions. OTT aggregation solutions leverage existing cellular and Wi-Fi infrastructures without requiring any significant changes on the network and end-user devices. Thus, OTT aggregation solutions offer an economical approach for an MSO to provide high data rates and improved user experience.
The webinar provides the following:
An understanding of why aggregation is important
An overview of traditional aggregation solutions
A detailed description of OTT aggregation solutions compared with industry-standard aggregation solutions
An overview of the testing conducted by CableLabs to validate the benefits of aggregation solution on end-user throughput and quality of experience (QoE)
To learn more about this topic, please use the links below:
Stay tuned for information about upcoming webinars. If you have any questions, please feel free to reach out to Wireless Architect Omkar Dharmadhikari.
Events
CableLabs Europe Conference 2019: Together We are Ready for Anything
As we enter a new era of innovation, our networks must continue to stay ahead of both competition and customer demand. On 3-4 April 2019, join us for CableLabs Europe Conference 2019 as we explore challenges and opportunities for converging today's technologies – and those that are "next" – into our fixed and wireless networks.
Why Attend
This free, members-only event puts you in contact with professionals who are adept at building tomorrow's networks - today. These leaders and innovators are shaping network advancements throughout the European and U.S. cable industries.
What You'll Discover
CableLabs Europe Conference is a two-day event with speakers, discussions and opportunities to ask questions to those in the know.
10G Vision: Learn how the 10G combination of speed, millisecond latency, and superior security at scale can meet consumer needs well beyond what they are currently experiencing.
Strategies for Building 10G Networks: Listen to an expert panel's strategic choices for delivering on the promises of 10G networks, such as Full Duplex DOCSIS technology, Node+X, extended spectrum and advanced fiber.
Maximizing In-Home Wireless Opportunities: Discover how MSOs seize on opportunities to take Wi-Fi from black boxes to managed services, such as EasyMesh™, Wi-Fi PNM and more.
Innovation Showcase: Meet companies that are breaking technology barriers and changing the landscape of the industry - diverse innovations include computer vision, machine learning, password-free high assurance authentication, rogue device mitigation, and personal data protection and privacy aligned with GDPR requirements.
 Transatlantic Technology: Listen to and participate in policy and regulatory discussions surrounding key topics including 10G/ 5G connectivity and subscriber behavior in Europe, and how they relate to our innovative technologies.
Mobile and Fixed Broadband - Infrastructure and Service Perspective: Discover how operators are looking at the relationship between mobile and broadband from both an infrastructure and service perspective.
Growth Engines for Mature Markets: Europe has many advanced product offerings in converged wired and wireless networks despite increasing levels of complexity. Learn from experts discussing what needs to be fixed, as well as possibilities in future customer service and offerings.
CTO Roundtable: Leveraging the success of last year's highly popular roundtable, hear what key CTOs on both sides of the Atlantic are doing with their networks.
Fireside CEO Chat: Phil McKinney, CableLabs President and CEO, will lead a discussion with industry CEOs ranging from business strategies to competition to consumer demand.
Event Info
When: 3-4 April 2019
Where: London, England
Hotel: St. Pancras Renaissance London Hotel
Euston Rd., Kings Cross,
London NW1 2AR, UK
Who: CableLabs Members
Security
Comparing 4G and 5G Authentication: What You Need to Know and Why
The 5G (fifth generation) of cellular mobile communication is among the hottest technologies today and is under development by 3GPP. Besides providing faster speed, higher bandwidth, and lower latency, 5G also supports more use cases, such as:
Enhanced Mobile Broadband (eMBB)
Massive Machine Type Communications (mMTC)
Ultra Reliable Low Latency Communications (uRLLC)
With global deployment imminent, privacy and security protection are of critical importance to 5G. Calls, messaging, and mobile data must be protected with authentication, confidentiality, and integrity. Authentication and key agreement form the cornerstone of mobile communication security by providing mutual authentication between users and the network, as well as cryptographic key establishment that is required to protect both signaling messages and user data. Therefore, each generation of cellular networks defines at least one authentication method. For example, 4G defines EPS-AKA. 5G defines three authentication methods: 5G-AKA, EAP-AKA', and EAP-TLS. Network practitioners are asking what motivates the adoption of the new 5G authentication methods, how they differ from 4G authentication, and how they differ from each other.
To answer these questions, CableLabs studied and compared 4G and 5G authentication. Our analysis shows that 5G authentication improves 4G EPS-AKA authentication in a number of areas. For instance, 5G offers a unified authentication framework for supporting more use cases, better UE identity protection, enhanced home network control, and additional key separation in key derivation. This study also points out that 5G authentication is not without weakness and requires continuous evolvement.
For more information, please download the "A Comparative Introduction of 4G and 5G Authentication" white paper. Be sure to contact Tao Wan if you have questions.
Wireless
DOCSIS® Network vs. Fiber BackHaul for Outdoor Small Cells: How Larger Footprint of DOCSIS Networks Lowers TCO in the Outdoor Use Case
In our recent blog post, we talked about how, from a total cost of ownership (TCO) perspective, DOCSIS networks triumph as either backhaul or fronthaul over traditional fiber backhaul for the indoor use case. In this blog, we bring that TCO analysis to a more intuitive, outdoor use case: a head-to-head comparison between TCO of DOCSIS backhaul and fiber backhaul, both of which serve the same set of outdoor small cells.
The basic idea here is: leverage the existing real estate of DOCSIS networks for additional use cases beyond residential/business services. This approach applies to the markets where DOCSIS networks already have a larger footprint than the fiber on the ground. We have seen data points suggesting that there typically is 3~5X more coax cable than fiber in major North American metro markets. This enables a large subset of small cells to be deployed on cable strands or at a short distance from the cable strands, using short drops.
Through primary research, one of our members with dual operations (cable + wireless) confirmed that from a small cell radio planning perspective, they exhaust all cable strand mounting options first, before looking into the gaps for additional sites. This is the key differentiator for DOCSIS technology vs. fiber, where most of the backhaul connections require either new build or premium lease rates.
In this TCO analysis, we showed >50% reduction in TCO for an outdoor use case of backhauling small cells when served by DOCSIS networks compared to a more traditional deployment served by fiber. 
But, Is DOCSIS Network the Right Solution for Small Cell Backhauling?
The short answer is – YES.
There are two major requirements associated with any small cell deployment –
Site acquisition/preparation/construction/powering
Backhaul with certain capacity/latency/timing synchronization
These two requirements are intertwined since we need to choose a site where backhauling option/s are available and, to the extent possible, cost-effective.
In terms of site (1st requirement) with ready access to backhaul, MSOs have 2 offers on the card:
Firstly, co-siting small cells with existing MSO owned/operated WiFi hotspots which are already served by DOCSIS backhaul.
Secondly, leveraging existing cable infrastructure, and in particular aerial plant i.e., cable strands, that takes out a lot of steps (and cost) from the small cell deployment process. Using existing infrastructure eliminates/lightens the need for permitting and site acquisition, preparation/construction and also powering. Along with site access (typically covered by existing pole-line attachment agreements) and power, cable strand deployments also come with readily accessible DOCSIS links as backhaul.
Figure 1 below shows a typical strand-mount small cell installation, consisting of a small cell gateway and a 4G/LTE-A small cell as reported in the technical paper prepared for SCTE-ISBE 2018 Fall Technical Forum by Dave Morley from Shaw Communications Inc./Freedom Mobile. The small cell gateway here contains a DOCSIS 3.1 cable modem and power supply.
Figure 1: Typical Strand Mount Small Cell @ Shaw Communications Inc./Freedom Mobile
In terms of backhaul specifications (2nd requirement), Belal Hamzeh and Jennifer Andreoli-Fang from CableLabs® have articulated how DOCSIS technologies, with recent developments, fulfills all three fundamental backhaul needs around capacity, latency, and timing in the technical brief titled DOCSIS Technologies for Mobile Backhaul (CableLabs members only). In that paper, the authors have argued that, depending on the mobile operator's defined SLA, even DOCSIS 3.0 can support backhaul capacity needs. And, significant downstream capacity improvement can be added with DOCSIS 3.1 and significant upstream capacity improvement can be added with Full Duplex DOCSIS.
Regarding latency, control and user plane latency is expected to improve significantly, achieving ~1-2ms latency with the pipelining/Bandwidth Report (BWR) technique across DOCSIS and mobile technologies. Finally, DOCSIS 3.1 already has the mechanism to natively distribute IEEE-1588 timing over the network. With recent CableLabs work on a DOCSIS synchronization specification, DOCSIS 3.1 will also be able to achieve the stringent phase precision as required in LTE TDD/5G networks.
Therefore, in summary, DOCSIS meets the requirements associated with small cell deployment, triggering the need to compare its TCO with traditional fiber based TCO when either one can provide the backhaul for a set of newly deployed small cells in a target market. 
Deployment Scenarios We Looked At
For TCO analysis, we considered a hypothetical market covering 100 sq.km. with 290K housing units (HU) and ~700K people in it. There will be 640 outdoor small cells deployed in the market with 150Mbps/50Mbps max DL/UL throughput per cell (20MHz 2*2 LTE cell). For simplicity, using 1:1 mapping between radio and backhaul throughput, we considered peak backhaul capacity of 150Mbps/50Mbps per small cell.
However, since the peak data rates are required/achieved only under ideal conditions, the average DL/UL throughput during the busy hour is much lower, typically 20-25% of the peak rates. We considered the average throughput to be 20% of the peak, thus forming a small cell cluster comprised of 5 small cells that results in 128 total small cell clusters in our market. Each of these clusters is served by a single cable modem capable to handle 150Mbps/50Mbps.
We have 2 identical scenarios: Scenario A, with fiber backhaul and Scenario B, with DOCSIS backhaul, both serving the same market with 128 clusters i.e. 640 total small cells.
TCO Analysis and Key Takeaways
In this analysis, for both scenarios, we assumed the need for 3 types of backhaul connectivity to bring the small cells online – new build (both scenarios), existing cable strand/MSO WiFi Hotspots (scenario B only), and short drop (~300ft) to site/pole from nearby network (both scenarios).
In our base case, for the 2 scenarios, we applied the following breakdown among types of backhaul connectivity required:
The distribution of backhaul connectivity type used in our base case is informed based on primary research and market observations. Obviously, there is no one size fits all and this is a key area to assess when an operator analyzes potential TCO savings in a target market. Scenario B's attractiveness largely depends on the ratio (2/3rd in our base case) of existing cable strand/WiFi hotspots that an MSO can leverage to deploy small cells.
The cost difference between new build and short drop does not come from site acquisition/ preparation/ installation because that need will be identical for both types. However, backhaul lease amount (/month) is different for these two types in our 100% Opex based model for backhaul cost.
Though configurable in our model, our default TCO term is 7 years. Also, we calculated the TCO per user passed and focused on the relative difference among scenarios to de-emphasis the overall cost (in dollars), which will differ by markets, the scale of deployment and supplier dynamics among other things.
According to our base case assumptions, we see the following:
TCO in DOCSIS BH scenario has the potential to be >50% cheaper than the TCO in fiber BH scenario
The major difference in TCO between the two scenarios come from Opex. This is because, all 3 key Opex contributors – site lease, site utility cost, and backhaul lease are significantly higher (3~5X) in scenario A than in scenario B.
There also is a major difference in Capex between the two scenarios. This is largely because, site acquisition/preparation in scenario A costs more (2~2.5X) than the same category of Capex in scenario B, due to the advantage DOCSIS holds for leveraging more existing sites.
We allocated 20% of DOCSIS network upgrade (from low split to mid split) cost to the DOCSIS scenario. If we take this out (since DOCSIS network upgrades will happen anyway), the Capex associated with plant upgrade cost in scenario B will be gone, making it even more attractive from TCO perspective.
As mentioned earlier in Table 1, the TCO analysis outcome is primarily dependent on base case assumptions for the distribution of BH connectivity types. If existing cable strand/WiFi hotspots can handle 80% of small cell sites, then, instead of ~50%, the TCO for scenario B will be reduced by ~60%. On the contrary, if that ratio drops down to 50%, then TCO reduction in scenario B will also come down to ~40%.
In an upcoming strategy brief (CableLabs member operators only), we intend to share more details on our methodology, assumptions and breakdown of observed results (both Capex and Opex) along with a full sensitivity analysis.
Conclusion
As we also mentioned in our previous blog (on indoor use case), it's self-evident that a DOCSIS network-based deployment would have favorable economics compared to a fiber-based model just by virtue of its larger footprint/incumbency alone. When we throw in additional advantages such as lower power requirement/utility charges, that gap only widens. Our TCO model introduced here quantifies that perceived benefit and numerically shows the cost savings in serving outdoor small cells via DOCSIS. This sort of use case strengthens our view that DOCSIS technology has a huge role to play in 5G deployments.
Subscribe to our blog and stay tuned as we continue to explore how to leverage DOCSIS network for mobile deployments. In our next blog post of this series, we intend to look at the DOCSIS networks' ability to support advanced features such as CoMP.
Wireless
Mobility Lab Webinar #2: Over-The-Top (OTT) Aggregation
Achieving higher data rates and increasing quality of service (QoS) have always been driving forces for wireless operators to meet increasing user demand for higher throughputs.
To address this need, operators have used various flavors of aggregation, including:
Traditional multi-channel aggregation
Aggregating carriers in either licensed or unlicensed spectrum, using a single technology like LTE
Aggregating carriers by using both LTE in licensed spectrum and Wi-Fi in unlicensed spectrum
Each aggregation solution has its own benefits in terms of higher data rates, better QoS, better spectrum utilization and better user experience. Along with these benefits come certain tradeoffs in terms of capital investments, complexities, the need to own spectrum and the need to own certain network components. The necessity to own spectrum and certain network components result in barriers for Multiple Service Operators (MSOs) that are trying to enter the market to provide cellular services.
OTT Aggregation Differentiation
OTT aggregation solutions can be implemented irrespective of what cellular network assets the MSOs own. OTT aggregation solutions, as shown in the figure below, leverage existing cellular and Wi-Fi infrastructures without requiring any significant changes on the network and end devices. Thus, an OTT aggregation solution provides an economical way for MSO to provide high data rates and improved user experience.
OTT Aggregation Solution
The key advantages of OTT aggregation solutions over other aggregation solutions include:
Providing high data rates in an economical way with no changes required to the existing LTE and Wi-Fi networks and with no additional device support needed
Gapless handovers with IP continuity and aggregation across all heterogeneous networks without access to Mobile Network Operators' (MNOs') Evolved Packet Core (EPC)
Ability to set customized policies and manage Quality of Service (QoS) without access to MNOs' EPC
Ability to aggregate MSO-owned Wi-Fi network with third-party (private) Citizen's Band Radio Service (CBRS) networks
More About OTT Aggregation Solutions
CableLabs is hosting another webinar as part of the "Mobility Lab Webinar Series" about "Over-The-Top (OTT) Aggregation Solutions," scheduled for February 12, 2019.
The webinar will provide:
An understanding of why aggregation is important
An overview of traditional aggregation solutions
A detailed description of OTT aggregation solutions compared with other aggregation technologies
An overview of the testing conducted by CableLabs to validate the benefits of aggregation solution on end-user throughput and quality of experience (QoE)
A lab demonstration of OTT aggregation using CBRS and Wi-Fi networks
Stay tuned for information on further webinars in the pipeline. In case of any questions/suggestions, please feel free to reach out to Omkar Dharmadhikari, Wireless Architect, CableLabs or Mark Poletti, Director of Wireless, CableLabs. Register for this Webinar by filling out the form below:
Wired
Proactive Network Maintenance: Where Is Common Data Collection Going Next?
Welcome to 2019, and the future of Proactive Network Maintenance (PNM)! As CableLabs' PNM solutions mature, we look toward developing a framework for PNM that everybody can use.
On December 21, 2018, CableLabs released the Combined Common Collection Framework (XCCF) version 2.0. This new version includes several enhancements, including refactoring to make it easier to work with and tuning to support new use cases. If you are in the PNM club and receive the monthly reports, you've seen some of these enhancements over the past 6 months:
In July, the XCCF team solved many encountered cable modem (CM) stability issues associated with polling. We also created methods to purge and maintain files in the cache, and to allow better load management.
In August, we added additional scalability enhancements, multiple formats for outputs, listing abilities, read or write (RW) and read-only (RO) strings, and we introduced code to support the new 10th PNM measurement.
As of September, the XCCF includes a data archiver function to allow users to manage and save space on the application program interface (API).
As of October, the XCCF includes a method to manage host machine performance, as well as the ability to separately manage read and write strings. We have also significantly optimized query time and further hardened and enhanced it for greater performance as part of the Gridmetrics™ project.
In November, the XCCF team added improved CM polling, a few back-end improvements, a CM events driver and better spectrum analysis handling in a new driver.
In December, final touches to version 2.0 of the XCCF included an ability to receive traps from CMs and converged cable access platforms (CCAPs), and store them. A considerable amount of code was refactored to decouple data storage from the rest of the code so that users can swap out the data storage with their favorite database or alternative method.
CableLabs is using the XCCF for several use cases, including PNM, Gridmetrics™, Profile Management, LTE ingress detection and general network monitoring needs. We envision several use cases beyond those already identified and have demonstrated effectiveness for many of these:
CM testing: This is the purpose of the Cable Modem Validation Application (CMVA). We found it useful for validating chip and CM builds for PNM, for modem testing in an operator's lab setting, and for streamlining testing such as the acceptance test plan (ATP) for certification. We also found it useful for the next use case.
Developing PNM methods: The convenience of the CMVA, coupled with XCCF, makes it useful for a lot of basic data visualization needs, including experimenting with detecting impairments. The PNM working group used it to capture output from testing while reproducing observations from the field and discovering the effectiveness of some measurement methods. CableLabs is using it to guide our development of the next use case.
PNM ApplicatioN Environment (PNMANE): CableLabs will be developing an environment for PNM applications that sit on top of XCCF.
Gridmetrics™: XCCF collects machine data, so why not collect voltage measurements from power supply modems? We did exactly that, and it works very well. Now, operators can use their network to monitor power levels they receive, and thus provide out-of-band measurement of the power grid to support power companies.
Profile management: The profile that a CM uses dictates much of the quality of experience that a customer enjoys. XCCF collects the information needed from the network to enable optimizing the profiles that the CMs use, thus enhancing service performance and experience.
LTE ingress detection: Spectrum analysis and receive modulation error ratio (RxMER) data, as well as other PNM measures, can reveal ingress, including LTE. CableLabs has a method for detecting these issues, which can inform not only PNM activity but also the placement of small cells, and report on overall network health for such an endeavor.
General network monitoring and operations: Northbound data collection on any network device is possible in the same manner as supported by XCCF. A whole world of possibilities exists here. Fortunately, the XCCF is suited to evolve to new methods of machine data collection and is set to protect the network from over-polling, too.
Service protection automation in Software Defined Networking (SDN): Many SDN solutions lack access to the network data required to adjust network conditions for an automated response to network impairments and other conditions. The XCCF can provide useful information northbound to applications that can protect against failures, develop traffic engineering solutions or analyze and define solutions for network risk.
We expect use cases to drive how we support the XCCF into 2019, and this is where you all come in.
Please comment below or contact us to share your use cases and experiences with using the XCCF and CMVA, or where your PNM needs are headed. Many operators and vendors have requested access to download and install the XCCF, as well as CMVA, and we hope and expect that everyone has been getting good use out of them.
CableLabs needs feedback to continue supporting projects, so we need your input. Please let us know how you've been using the XCCF or CMVA, particularly how you've gained value for your company or the industry overall. Anything you can share is helpful, no matter how brief or minor you might think it is. Your input will help drive future development of XCCF, CMVA and our current efforts, including PNMANE.
Events
AI & Machine Learning: Register for Our Next Innovation Boot Camp in April 2019
No matter your title or job description, you probably hear the term "innovative" a lot around your office. It's what drives all of us to come to work, push boundaries and solve the unsolvable. Sounds inspiring, but how do you become innovative or lead others to be more innovative? This is the premise behind CableLabs' Innovation Boot Camp, an intensive three-and-half-day workshop that helps you understand a more predictable way to generate breakthrough ideas and uses proven strategies, real-world scenarios and small group exercises to ignite your innovation leadership skills.
2019 Innovation Boot Camp: The New Assistants - AI & Machine Learning
We usually structure our Innovation Boot Camps around a single area of focus and this April's topic is "The New Assistants: AI & Machine Learning." It's a hotly debated topic and an area ripe for innovation. Just consider the latest announcements at CES 2019, where smart appliances and virtual assistances of all shapes and sizes were capturing our imagination. During your time at Innovation Boot Camp, we will discuss the latest breakthroughs in AI as well as the challenges faced by the innovators in this field. And you will have the opportunity to practice innovation and generate new ideas in this space.
Why You Should Attend
Participants often describe CableLabs' Boot Camp experience as an intense learning journey that teaches you how to apply new creative practices, build on your influence and present your best ideas with more confidence. It's also a great networking opportunity that allows you to foster valuable relationships with a whole community of innovators.
But don't take our word for it. Here's what our Boot Camp graduates have to say about the program:
Jeremy Swenson, an Operation Analyst from Midco, said: "It brought a lot of common-sense approaches, but also a lot of new information that I never would have thought about—new tools and strategies that I can take to my company and implement on day one."
The Boot Camp program is based on the FIRE framework for Innovation (Focus, Ideate, Rank, Execute) developed by author, radio host and our CEO, Phil McKinney. Each exercise is designed to build on new information and show you how it could be put into practice immediately. Even if you've never thought of yourself as the "creative type," our skilled innovation coaches and speakers will show you how you can become one. By the end of the program, you will build an arsenal of useful strategies that will help you generate and pitch ideas in your professional sphere.
Pam Lloyd, a VP from G.C.I, said: "The external speakers were all top notch and each one built on the framework…the flow was great!" 
Aside from our own CableLabs innovation experts, we like to bring in industry leaders from external companies. Because this year's Innovation Boot Camp is focused on AI and Machine Learning, we will select experts from this field. They'll share their thoughts on the future of AI and its current progress as well as the role of innovation in their lives.
Sian Morgan, a Senior Director from Videotron, said: "The tours were great. We got to see innovation in more of a working context by visiting large organizations that were integrating innovation into their day-to-day work."
If you think our Boot Camp is all lectures and group exercises, think again. Our participants go out in the field for private tours of Silicon Valley companies that are known for their focus on innovation and are willing to share the truth about it (in the past we have toured Google, Salesforce, Toyota, Ford, Autodesk, etc.)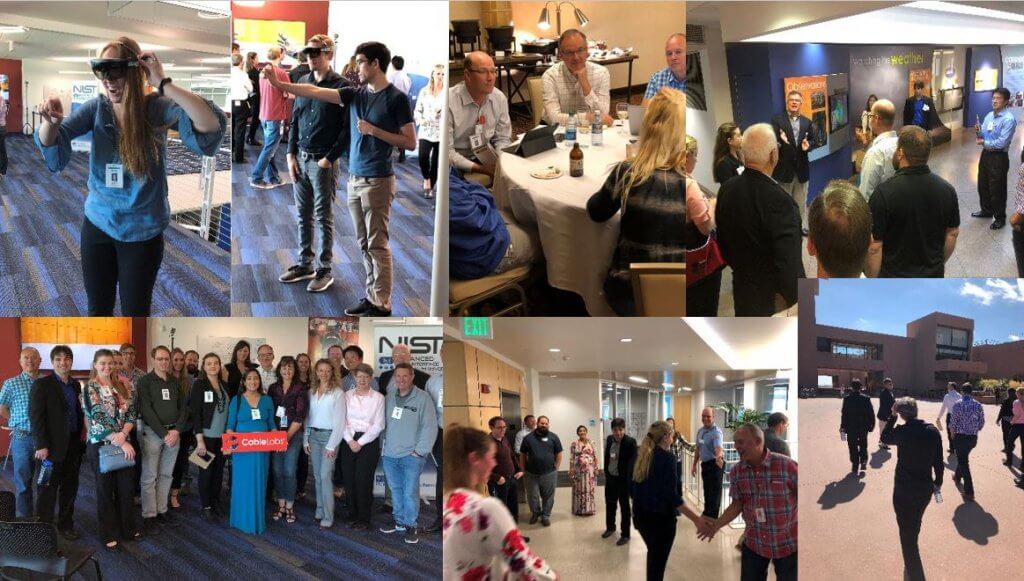 The Final Pitch
Our Innovation Boot Camp is designed to foster innovation leadership skills in industry professionals. In other words, it's all about you, and building your skills and a custom toolkit which you can then take back to your team. That's why the program culminates with what we like to call "the final pitch" where you will get to demonstrate your newly-learned skills by pitching your idea to a panel of battle-tested innovators. It's a fantastic opportunity to test yourself and get valuable feedback that you can incorporate in real life.
Ready for your next Innovation Boot Camp? Early bird pricing is still available - register today! 
Event Info
Where:
CableLabs Silicon Valley
400 W California Ave
Sunnyvale, CA 94086
When:
April 9-12, 2019
Price:
CableLabs Members Early Bird Discount: $997 (Register before February 8)
CableLabs Members: $1,347
General Industry Early Bird Discount: $1,497 (Register before February 8)
General Industry: $1,997
Pricing includes all materials, tours, meals and beverages. You will need to provide your own transportation and hotel (special hotel discounts available).
Wired
The Profile Management Application: Optimizing DOCSIS® 3.1 Networks
Cable operators are broadly deploying DOCSIS 3.1 technology around the world. Operators in North America and Europe have announced gigabit service offerings that use the technology across their footprint. In this blog, I focus on techniques by which operators can boost the capacity and robustness of their existing DOCSIS 3.1 network.
Introducing Toolsets for Optimizing the DOCSIS 3.1 Network
DOCSIS 3.1 specifications introduced orthogonal frequency division multiplexing (OFDM) technology to the access network. In DOCSIS 3.0 and prior technologies, a single-carrier downstream channel (6 MHz) would be configured with just the one modulation order (say, 256-QAM). The DOCSIS 3.1 technology divides a wider (e.g. 192 MHz) channel into a number of small subcarriers spaced at 25 kHz or 50 kHz apart, creating up to 7600 subcarriers. These subcarriers can be individually configured to operate at a different modulation order, anywhere from 256-QAM, to 1024-QAM, all the way to 4096-QAM.
A specific configuration of modulation orders for every subcarrier in the OFDM channel is known as a "profile." A cable modem termination system (CMTS) can use multiple profiles on a channel; profiles differ in the modulation orders assigned to each subcarrier.

Different modems experience the network in different ways. Some modems may have a noisier environment, whereas others see a relatively clean plant. The figure shows an example of the interference seen by a modem in part of the OFDM channel.
Profiles allow the channel to operate at a higher modulation order in clean parts of the spectrum and then go down to more robust modulation orders when there is any interference present. The idea with multiple profiles is to have the CMTS use different profiles for such different groups of cable modems. This allows the operator to reach two goals:
minimize transmission errors on the network and
maximize network capacity.
The same concept applies to upstream OFDMA channels, where one can create upstream profiles for the channel, to increase reliability and throughput.
The Profile Management Application (PMA) Solution
If there are say 4 OFDM channels per port, 10 ports per line-card, and 10 line-cards on a CMTS, then there could be easily over a couple of million subcarriers requiring a specific configuration! This represents an immense configuration challenge which cannot be solved manually. This problem is made more difficult because profiles are not typically "one size fits all," but rather they need to be tailored to the set of cable modems on the channel, the interference on the channel, and they also need to adjust to plant changes over time. The question then becomes: What is the most efficient method for automating the creation of multiple profiles to maximize robustness and capacity?
I am pleased to announce that CableLabs has met this tremendous challenge with the introduction of the Profile Management Application (PMA). The PMA creates a set of optimal profiles for each channel and assigns profiles to modems. And the PMA accomplishes this dynamically by proactively reading data collected from the network. The PMA can create optimized modulation profiles periodically, as well as backup profiles in case of errors. It can also intelligently decide when to roll out profile changes to the network. A single PMA instance can create and configure profiles for a number of CMTSs in a short period of time and help the operator understand the data capacity of each channel.
How It Works—PMA Architecture and Algorithms
CableLabs released a PMA Technical Report that describes the PMA architecture, use cases, and interface definitions. We also developed data models (YANG) and protocols to facilitate the design of a software application to configure and manage modulation profiles.
Determining the optimal set of modulation profiles to use on a DOCSIS 3.1 channel is a task for intelligent software, given the number of modems, the number of subcarriers and the differences in signal quality across the channel each modem experiences. This CableLabs paper on profile management algorithms describes methods to optimally compute the profiles. The paper also introduces a metric indicating the capacity gain a set of profiles obtains compared with running all traffic at 256-QAM. The key idea is to use clustering algorithms to group modems that have similar signal-to-noise signatures across the channel and then design a profile for each group. The PMA algorithm searches for the best set of profile definitions to maximize the overall capacity and at the same time keeps the individual profiles robust to observable interference patterns.
Some of the information that a PMA needs to compute the profiles includes the channel information from a CMTS, list of modems and network signal quality metrics (mainly, each modem's per subcarrier RxMER data). Also using performance data (e.g., codeword error rates), a PMA can further refine the profiles.
How It Works—Deployment
A PMA field deployment would include the following:
Data Collection: A centralized server is needed for modems and CMTSs to upload signal quality data. Operators can use the CableLabs DOCSIS Common Collection Framework (DCCF) to implement this.
PMA: Using the data collected, this application creates optimized profiles per channel. It configures these profiles on the CMTS, assign CMs to profiles and can initiate performance tests.
CMTS: Configures profiles for the individual channels, assigns the modulation profiles to CMs and ultimately sends/receives data using the profiles.
CMs: Cable Modems use the profiles defined and assigned by the CMTS to receive/send data.
What's Next? PMA Software Available
CableLabs has developed network-deployable software that operators can integrate and use within their DOCSIS 3.1 access network. This PMA solution can use the data generated by the network devices and create optimized OFDM/OFDMA profiles while considering different capabilities supported across CMTS platforms. The software is capable of calculating profiles for a channel with around 200 CMs in ~30 msecs using a single CPU process, so it is easily scalable across an operator's network. Many operators are testing and planning PMA deployment using this solution framework. PMA is available via CableLabs C3. Contact us to try it out. (Watch for an upcoming video blog on this topic.)
Gains from PMA
A PMA will help increase the throughput per cable modem and maximize network capacity by optimizing the bit-loading of the subcarriers within a channel. Designing profiles around noisy areas in the plant make the system operation more robust. The bandwidth gains in running a well-designed set of profiles can be anywhere from 15% to 40% capacity increase on a channel, compared with running the whole channel at 256-QAM. This can translate to a solid 200 to 400 Mbps extra capacity on each OFDM channel! This enables an operator to match growing bandwidth demands and defer potential node-splits and new equipment costs.
With this profile management technology, operators can realize the full potential of their DOCSIS 3.1 network, by minimizing transmission errors and maximizing the data capacity of the OFDM/OFDMA channels.
Subscribe to our blog to learn more about PMA in the future.
Security
Security for Blockchains and Distributed Ledgers
Empirical evidence reveals an inimical belief that blockchains and distributed ledger technologies (DLTs) are inherently secure because they use cryptography, employ hashing algorithms and have public/private keypairs—in short, a belief that the data in these systems is extremely unlikely to become exposed. After evaluating requirements and deciding to utilize a blockchain solution, security is important to consider from the start.
Over the past several years, the Security Technologies arm of CableLabs' Research and Development organization has been tracking blockchain attacks and compromises. From this work, several hazard groupings have been identified. The following list is intended to act as an aid to architecture, design and implementation efforts surrounding enterprise projects that use these technologies.
Smart Contract Injection
The Smart Contract engine is an interpreter for a (sometimes novel) programming language and a parser of data related to the decisions the engine needs to make. The hazard in this situation is when executable code appears inside smart contracts in an effort to subvert the contract language or data. Implementers need to consider sanitizing inputs to smart contracts, proper parsing and error handling.
Replay Attacks
Not only is there a threat in transaction processing and validation, but also in node behavior, authentication, and the securing of confidential messaging. Adding nonces to check against prior transactions is critical.
History Revision Attacks
Blockchains that rely on fault-tolerant consensus models do well when there are many participating nodes processing, competing and collaborating on the next block. When the number of nodes drops, or if there is predictably cyclic behavior, lulls can be leveraged in a history revision attack where a new branch is created, effectively deleting a previously accepted transaction. Designers should consider how to best guarantee minimum support and the diversity of nodes.
Permanence Poisoning
Due to the permanence of blockchains and the cost to fork, it's possible to sabotage a chain with even claims of illegal content to draw the ire of regulators and law enforcement.
Confidential Information Leaks
Permanence increases the risk of data being exfiltrated out of the chain. Even encrypted data is at risk for future threats against those algorithms or brute-force attacks. Designers need to make sure that they understand the data being stored, how it is protected, who owns it and how it could be re-associated with any pseudonymized users.
Participant Authentication Failure
Are transaction creators cryptographically signing their transactions? Is that signature verified by the protocol? Is transaction receipt confirmed (non-repudiation)? Are sessions managed? Architects need to consider the proof of possession of private keys in the verification and authentication of participants.
Node Spoofing
Nodes are the entities that create and agree on the next new blocks in a chain. Nodes should be authenticated like any other user or system, and authentication must be verified, with multiple votes prohibited. Designers who fail to look for voting irregularities open their implementation to risk.
Node Misbehavior
Nodes that behave incorrectly, intentionally circumventing fault-tolerance mechanisms, or trojan nodes (nodes in public chains that follow the standard protocol but have non-standard implementations) are problematic. Transaction propagation non-compliance is another concern—where nodes don't convey transactions quickly to other nodes, nodes consistently act in opposition to other nodes, or verifications align consistently within small fiefdoms. In addition, architects need to consider what happens to the chain operations when the chain, the nodes or a subset of the nodes is subject to a denial of service attack.
Untrustworthy Node-Chain Seam
The cryptographic difference between what was intended by the participant, what happens in the node, and what happens on the chain must all be consistent. Architects should enforce a design such that the node is unable to modify a transaction (signing and hash verification), skip a transaction (non-repudiation) or add new transactions (source verification).
General Security Hazards
The hazards fall into this meta-category of general security concerns that have specific implications in the blockchain/DLT realm. Architects, designers and implementers all need to take heed of these practices and work to ensure a complete solution:
Unproven Cryptography: Look for best practices and proven cryptography in cipher suites, hash algorithms, key lengths, elliptical curves used, etc.
Non-Extensible Cryptography: Should a foundational algorithm aspect of the chain become compromised, can the chain easily migrate to another suite/hash/key pair? Is there a mechanism and process among node operators to agree and deploy this quickly?
Security Misconfiguration: Be aware of all code libraries used, stay abreast of the latest security information about deployment technologies such as Docker, and ensure that defaults present in test systems are not available in production systems. Ask if there are any components with known vulnerabilities, determine whether any open ports or file-system permissions may be at risk, and understand protection mechanics for private keys.
Insufficient Logging and Alerts: If something goes wrong, are there sufficient methods in place to capture actions that occurred (voting, smart contracts, authentication, authorization)? Project managers must ensure that alerts have been added to the code, that the correct recipients have been added at deployment time, and that procedures for constant monitoring and updating of those recipients take place.
Weak Boundary Defense: Development teams need to be aware of, and shore up, defenses so that there are no exploitable holes in client code or node software, smart contract engines, mobile applications, web applications, chain viewers or administrative tools.
Clearly, this list doesn't contain everything that must be reviewed in a blockchain or DLT application, but the objective is to provide a few key areas to focus on and provide insight to dive deeper where it makes sense in your own applications. Blockchains can help bridge trust gaps in an ecosystem, but security is foundational to that trust.
Want to learn more about security for blockchain and distributed ledgers in the future? Subscribe to our blog by clicking below.