Strategy
CableLabs Asia Summit – Impact with a Difference
On December 6-7, CableLabs hosted its first CableLabs Asia Summit and, by all accounts, it was a genuine success. We invited cable's top leaders from across Asia – including our members in Australia, China, Indonesia, Japan, Singapore and Taiwan – to come together to in Shanghai gain insight, collaborate and learn about the innovation impacting our networks.
CableLabs, together with nine of our members in Asia and key technology leaders from Comcast in the US and Liberty Global in Europe and Latin America, spent two days of complete immersion developing a greater understanding of the unique business, operations and competitive dynamics of the cable operators in Asia, exploring technologies advancing the competitive positioning of operators today, and the innovative technologies that will assure cable's competitive positioning in the future. Three additional cable operators from China participated in the first day of the summit by way of exploring membership with CableLabs.
All in, 61 individuals across 14 MSOs, CableLabs, and other participants contributed to a highly interactive event. With NPS scores of 75 and 88 across the two days of the summit, value was very much delivered, success defined not only through the content provided by CableLabs, but equally so by way of presentations from across several of our members.
CableLabs presented:
Topics presented by our members:
Comcast provided an overview of its network strategy
Liberty Global outlined their customer premise equipment (CPE) strategy
Presentations from our Asian members provided an overview of some of the advanced technologies implemented in their respective regions, including facilitating intelligent communities from Wasu Digital Media, OTT and Android STB solutions implemented by Taiwan Broadband Communications, functional requirements for development of the C-DOCSIS 2.0 specification in China led by Gcable, led by Gcable, and broadcasting video content to connected devices by Henan Cable
CTO roundtable with senior technical leadership from Beijing Gehua, Chongqing Cable Network, J:COM from Japan and Shenzhen Topway exchanged insights to technical, strategic and competitive challenges confronting their businesses.
Projecting our support internationally by way of regional events is a critical part of our strategy at CableLabs. Through summits and conferences delivered in the regions we represent around the world, we are able to:
More effectively support member engagement through exchanges and interaction between CableLabs and our members
Develop critical insights and gain a deeper appreciation of issues that are driving our members in each region
Assure that the technologies CableLabs is developing are universally applicable across all members
Create and develop collaboration and community between and across members
Foster ideas and strategies that feed an innovation engine by way of developing innovative technologies that can be applied across our members
Are you a European member – or a member elsewhere across the regions we serve – interested in collaborating with and learning from your fellow European members? Register now and join cable's top executives across Europe to gain insight and learn more about future innovative technologies at Inform[ED] Europe May 3-4 in London.
Culture
Meet CableLabs Tech Policy Whisperer Rob Alderfer
Spectrum is the bandwidth in the sky that has fueled our wireless technology revolution. However, there's been a lot of talk about spectrum shortages recently. With an essential resource in such high demand, the focus has become how do we free up more spectrum and make the best of what we have? Now, meet the man shaping technology policy and standards to meet these challenges.
Rob Alderfer is Vice President of Technology Policy at CableLabs. An expert in wireless spectrum, Rob is responsible for CableLabs' technology policy and standards strategy. His team has been instrumental in the development of wireless spectrum and broadband policy, as well as cybersecurity and energy efficiency standards.
Rob has been involved in communications technology policy for over a decade. Before joining CableLabs, he was the Chief Data Officer for the Federal Communications Commission's Wireless Bureau, where he guided United States wireless broadband policy. While at the FCC, Rob engaged regularly with the Chairman and other senior Commission leaders as a trusted advisor on spectrum policy and data analysis. Previously, he was an analyst at the White House Office of Management and Budget and was responsible for the development and implementation of communications policy and programs across two administrations.
Outside of CableLabs, Rob serves as chair of the Telecommunications Policy Research Conference (TPRC) program committee, the world's foremost communications policy research conference. He is also a partner with Social Venture Partners of Boulder County, helping non-profits deliver strong results. When not preparing policy, you may find him enjoying beautiful Colorado with his family, hiking, biking, and skiing.
Now, watch the video below to learn more about the man working on freeing up spectrum for broadband use.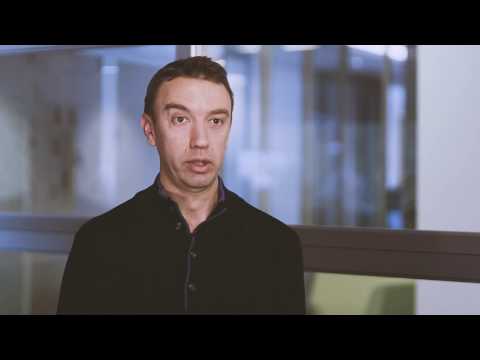 You can read more about what Rob's working on his blog posts and Inform[ED] Insights: "Cable: 5G Wireless Enabler" and "Cable Broadband Technology Gigabit Evolution." Subscribe to our blog to learn more about CableLabs and spectrum in the future.
Consumer
CES 2018: Cable's Impact
Today marked the beginning of the 2018 Consumer Electronics Show (CES) in Las Vegas, Nevada. Owned and produced by the Consumer Technology Association (CTA), with over 170,000 attendees from 150 countries and more than 3,900 exhibiting companies, CES is one of the world's largest tech trade shows and serves as the global stage for next-generation innovations. Showcasing jaw-dropping technology in areas like VR and smart homes, most of the products or marketplaces at CES 2018 are serviced or impacted by the cable industry: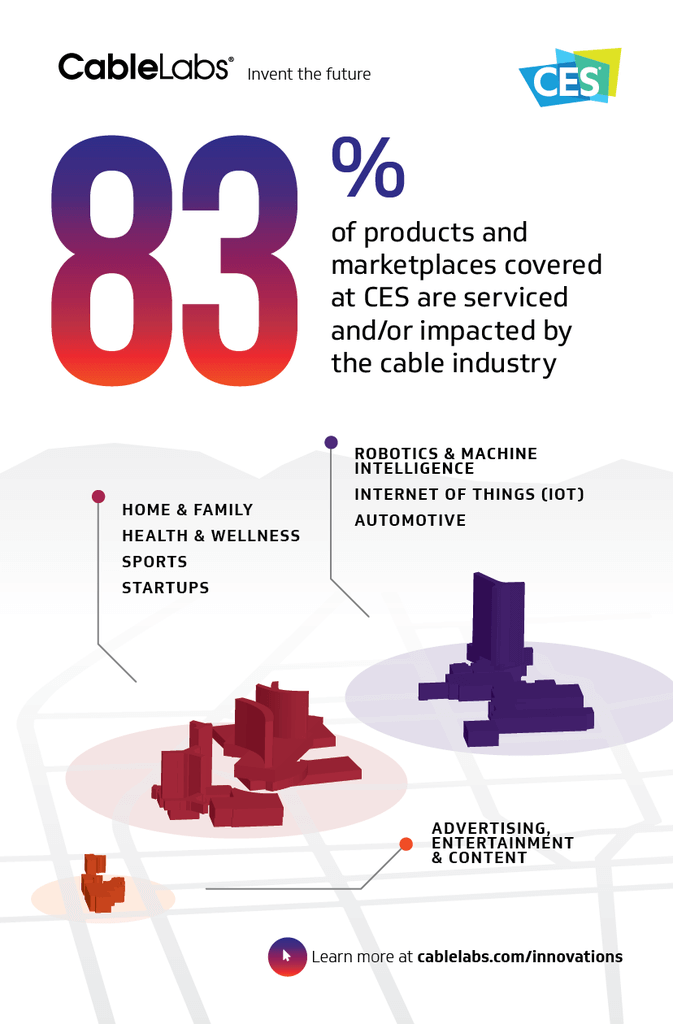 Follow us on twitter to catch up on the latest news and highlights from CES 2018.
--
Want to know more about the technology trends of 2018? Watch CableLabs President and CEO Phil McKinney's "2018 Tech Innovation Predictions."
Virtualization
NFV License Management: The Missing Piece of the Puzzle
Ever experienced the annoyance of trying to install or reinstall licensed software on your PC only to find that you lost the license key? Imagine the challenge of managing software licenses in a large complex organization such as a telecommunications operator with hundreds, if not thousands or even tens of thousands, of licenses spread across many critical systems. How many licenses are in use at any given moment? How many are expired or technically in breach of commercial agreements with vendors?
I could go on, but you get the gist. Software license management in the telecommunications environment is about to become an order of magnitude more complex as NFV emerges from the shadows to become the technology of choice for future telecommunications network infrastructures!
Physical network appliances, purchased with a packet of software licenses, wrapped up in a commercial agreement with a single vendor and fixed for several years are about to be displaced by racks of servers running thousands of ephemeral instances of Virtual Network Functions (VNFs) and other types of critical software originating from a myriad of diverse sources - and changing minute by minute according to changing demands on the network.
Welcome to the brave new world of NFV.
How Software Licensing Underpins the Economic Viability of NFV
As one of the leaders of the group of network operators who introduced the NFV concept in 2012, I have been aware since the very beginning of the critical role that software licenses will play in the economics of NFV. Once a rack of servers is installed, software licensing becomes a significant recurring cost, as anyone who purchases software will know all too well. It might seem obvious, but there shouldn't be any technical barriers to the implementation (and enforcement) of any type of commercial licensing agreement between network operators and software providers.
The ability to negotiate and concurrently implement different software licensing regimes with different software providers is a very important competition dynamic for NFV. Interoperability for automated license management transactions between software providers and network operators will be crucial and we want to level the playing field for innovative small software vendors to engage with the cable industry by specifying standardized approaches.
Leveling the Playing Field for Small Software Vendors
I hadn't thought much more about NFV License Management until the summer of 2015 when I was approached at a Silicon Valley conference by the marketing director of a small independent software vendor. He said his company was very concerned that they might be excluded from NFV procurement contracts because network operators would not be motivated to implement proprietary license management arrangements with more than a few predominantly large players. I was very concerned about this because the whole point of NFV was to open the telecommunications ecosystem to small innovative software players. A vibrant and open telecommunications ecosystem is something I feel passionately about, and I resolved to do something about it.
Why do we need standards for NFV License Management?
Today there is huge diversity of license management mechanisms across the software industry which is reflected in the product offerings from Virtual Network Function (VNF) providers. Each network operator and VNF provider has a different licensing and enforcement process and the rate of change for software is increasing. Clearly, this will make service provisioning and license renewal operations more complex, error-prone and time-consuming. How will VNF providers know that their software is being used according to the license terms? And network operators need to ensure that any failure in license acquisition or enforcement does not lead to service outage.
These issues can be resolved by establishing a standard NFV license management architecture which, in addition to facilitating software vendors creating their own, independent, commercial licensing terms, would have many benefits, including:
Avoiding the need to customize the license management procedure for each VNF type and VNF provider.
Simplifying acquisition of VNF license usage information, this is particularly important when dynamically scaling VNF instances to support service demand.
Reducing licensing errors which might otherwise lead to service outages.
Massively simplified license management operations which are independent of the underlying VNF solution. This, in turn, may result in savings from the ability to optimize actual usage, reducing the waste of digital assets like software licenses.
Enabling a competitive ecosystem for NFV software providers.
A guiding principle is to minimize the impact on the existing NFV specifications by identifying the minimum features needed to implement any commercial license management framework typically residing in a separate or higher layer system (e.g. OSS/BSS). I think of this as identifying and specifying the minimum set of operations necessary to be executed by the NFV Management & Orchestration (MANO) system to acquire VNF software licenses and monitor their usage.
Addressing the NFV License Management Challenge
I encouraged discussion on this topic in the ETSI NFV Network Operator Council and there were notable contributions from BT, Korea Telecom and others which raised global awareness.
Peter Willis at BT summed up the network operator requirements for NFV license management very nicely in an influential contribution:
All VNFs should use the same methods, mechanisms and protocols.
Processes should be fully automated requiring no manual intervention and scalable to 10's of Millions of VNF instances.
There should be no common mode failure mechanisms.
Networks should be able to bootstrap in all possible scenarios.
Customers should not lose service due to administrative errors (i.e. VNFs should default to running).
All commercial VNF licensing models should be supported without requiring VNFs to be re-written or upgraded.

Peter provided some interesting examples: Perpetual, pre-pay, post-pay, pay-per-use, pay-per-GByte, pay-per-Gbit, pay-by-maximum-instances, pay-per-day, pay-per-month, pay-per-minute, etc.

VNF "usage" accounting should be independent of "billing" (i.e. it should be possible to turn "usage" data into a "bill" using a third-party application).
"Usage" data should be authenticated & auditable (a key concern for VNF providers).
With the network operators fully on board, an ETSI NFV Work Item was initiated to study the topic and to publish a set of recommendations that the industry could sign off on. Abinash Vishwakarma at NetCracker volunteered to lead the work which started in the autumn of 2016.
Recommendations Published
I am really pleased that just as everyone was heading home for the holidays, ETSI NFV delivered the Report on License Management for NFV. This work took months of collaborative effort and is a very important step for the industry. It documents the features required to be implemented within the NFV Architectural Framework to support NFV License Management. These features will enable any combination of commercial license management regimes without implementing proprietary license management mechanisms.
The ETSI NFV work is complemented by work in TM Forum on NFV License Management addressing the higher layer requirements.
Next Steps
The next step will be to specify the necessary features within the ETSI NFV Architectural Framework and associated APIs that may be required to support License Management. This work is targeted to be completed in time for Release 3 of the ETSI NFV specifications in the summer of 2018.
Meanwhile, I am in dialogue with software providers to encourage them to get involved in this critical next stage of ETSI NFV work and to begin developing product road-maps to support NFV license management with the features and scalability required for telecommunications-grade operations.
What is CableLabs doing in this space?
CableLabs has been working on SDN and NFV for over four years. We have studied the impact of NFV in the cable environment, including the home environment and the access network. We are also making a significant contribution to the collaborative industry effort on NFV. We hold leadership positions in ETSI NFV and our NFV & SDN software stack – SNAPS is part of OPNFV. We actively encourage interoperability for NFV and SDN solutions and CableLabs' subsidiary Kyrio operates SDN-NFV interoperability labs at our Sunnyvale-CA and Louisville-CO locations, which enable vendors and operators to work together to validate interoperability for their solutions.
ETSI NFV has created the foundation standards to deliver carrier-grade virtualization capabilities for the global telecommunications industry. You can find more information at ETSI NFV Industry Specification Group. To stay current with what CableLabs is doing in this space, make sure to subscribe to our blog.
--
Don Clarke is a Principal Architect at CableLabs working in the Core Innovation Group. He chairs the ETSI NFV Network Operator Council and is a member of the ETSI NFV leadership team.
Innovation
2018 Tech Innovation Predictions
Now that 2018 has begun, it's time for me to give my innovation predictions for the year. Watch the video below to find out what you can expect to see in 2018 and which trends are over-hyped.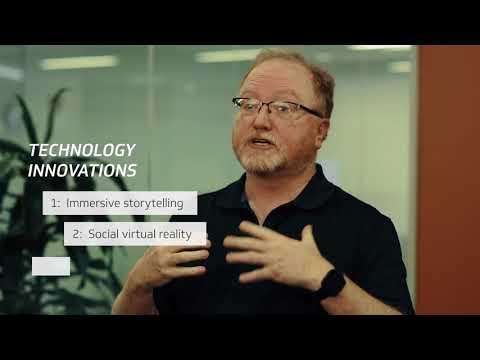 What are your predictions for 2018? Tell us in the comment section below. Best wishes for a great new year!
 --
Subscribe to our blog to see how CableLabs enables these predictions to come to life.
Wireless
Getting Rid of a Big Communications Tax on OFDM Transmissions
You can find the background information for this article in the post "Sharing Bandwidth: Cyclic Prefix Elimination." 
Most wireless transmissions use a modulation technology called OFDM (orthogonal frequency-division multiplexing). This method was invented by Saltzburg and Chen at Bell Labs in the 1960s, but was not widely commercialized until the 1990s when faster signal processing chips became available.  This modulation method has now been adopted into DOCSIS 3.1 technology.
In essence, data symbols are formed into blocks comprised of a large number of cosine waves of differing magnitude and phase values. Because the waves all have an integer number of cycles in the block, they do not interfere with each other. That is, they have a mathematical property of orthogonality.
This modulation technique excels when there are a lot of reflections, a.k.a. multipath, echoes, or dispersion.  For this modulation to be successful, a portion of the transmitted signal must be copied from the back and pasted onto the front of the transmitted block.  This is illustrated in Figure 1. The copied and pasted signal is called a cyclic prefix (CP), or a cyclic extension, or sometimes a guard interval.  The function of the CP is to allow any echoes to die out before the remainder of the block is analyzed.
While this modulation technique works well, the CP is pure overhead, a waste of expensive scarce bandwidth, and depletes battery power on wireless transmitters. A CP is a communications tax on both bandwidth and battery power and CP overhead generally ranges between 5 and 25%.
CableLabs Invention
CableLabs has invented a method to get rid of the CP using a math trick called an "overlapped circular convolution" to remove the effect of echoes without the CP. Parts of neighboring preceding and subsequent blocks are used as "pseudo-prefixes." After equalization, the neighboring blocks pieces are discarded, leaving a de-ghosted block.  Essentially the pseudo-prefix is applied at the receiver, and the transmitter doesn't need to send any CP. That also means that the duration of the pseudo-prefix can be arbitrarily increased at the receiver for severe echo environments.
Figure 2 is a block diagram illustrating the CableLabs method, where a pseudo-prefix is created at the receiver using neighboring blocks. For wide-bandwidth applications, the overlapped circular convolution can be replaced with an overlapped Fourier transform with frequency domain equalization. This is more computationally efficient. For a user, the implementation of this technology means the cell phone data rates go up when receiving, and battery life is longer when transmitting.
Watch the video below to learn more about cyclic prefix elimination: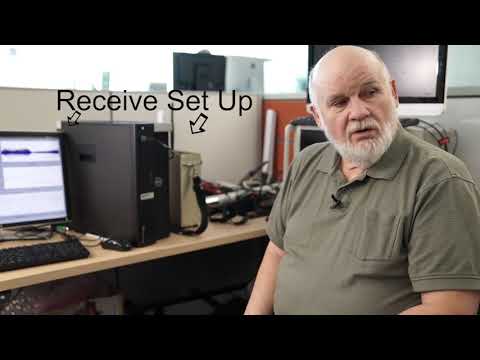 A technical paper describing the technique in detail is available in the December issue of the SCTE ISBE Journal of Network Operations on page 42 titled "OFDM Cyclic Prefix Elimination." You can download a copy for free once you register on the site. Subscribe to our blog or contact Principal Architect Tom Williams for more information
Wireless
Sharing Bandwidth: Cyclic Prefix Elimination
Unfortunately, there is only so much over-the-air wireless bandwidth, and it must be shared between a lot of folks. And the situation is not getting any better.  While you can usually run another wire or fiber optic cable between two locations to get more bandwidth, if you have a wireless application you must share this scarce resource.
New applications, such as IoT (internet of things), 3-D Virtual Reality headsets, and new cell phone applications are demanding more and more bandwidth. With cable subscribers watching video on portable devices, such as tablets and phones, interference problems (such as frozen pictures and tiling) are becoming more frequent problems. More than half of customer complaints are caused by wireless problems, and the most common problem is Wi-Fi interference, frequently from a neighbor's service.
Solutions to the Problem
One solution to the problem of more bandwidth is to use cellular technology and make the cell size smaller. Have you ever observed that out in the country cell towers are tall for a long reach? But in crowded cities, they are much closer to the ground, and the antennas are pointed downward. This is to reduce cell diameter in highly populated areas, allowing bandwidth reuse in non-overlapping cells. Transmitted power is also reduced for small cells to limit signal reach, thus reducing interference.  However, large numbers of cell sites are expensive to deploy and maintain - and the bandwidth itself can be expensive. In the latest FCC bandwidth auction, the 600MHz band in the United States was sold for almost $20 billion!
Other techniques to increase bandwidth include steerable beams and a technique called MIMO (multiple input, multiple output). This is a system for reusing the spectrum with more unique signals in the same air, by transmitting 2 or more signals on different antennas which are physically separated. At a receive site, sophisticated signal processing, using 2 or more antennas, separates the two signals.
CableLabs Innovation: Cyclic Prefix Elimination
CableLabs researchers are constantly looking for efficiency improvements, and they have found one way to improve wireless signals to make them use less bandwidth. This method, called "OFDM CP Elimination" (the full mouthful is Orthogonal Frequency Division Multiplex Cyclic Prefix Elimination!), allows the data to be sent in less time, increasing the resolution of pictures, and reducing the time for screen updates. Their method eliminates an overhead called a "Cyclic Prefix", thereby improving efficiency by up to 25%.  A side benefit of finishing transmissions earlier is increasing battery life for handheld devices.
Interested in a deep dive into cyclic prefix elimination? Check out my video on the subject, my blog post "Getting Rid of a Big Communications Tax on OFDM Transmissions" and my technical paper in the December issue of the SCTE ISBE Journal titled "OFDM Cyclic Prefix Elimination."
--
CableLabs innovates to help our member companies provide better services to their customer including higher data rates, higher reliability and lower latency. Subscribe to our blog to find out more.
Culture
Meet CableLabs Signal Expert Tom Williams
As our world becomes increasingly connected, the demand for bandwidth is outstripping efforts to supply it. Meet the man working on improving signals, so they use less bandwidth, keeping our technology revolution from grinding to a halt.
Tom Williams is a Principal Architect of Access Network Technologies at CableLabs. Beginning his career at Scientific Atlanta (now Cisco), he is a veteran in the industry with 37 years of experience as a cable engineer. He is a prolific inventor and author, with 46 patents granted, several patents pending and publications in several journals.
Tom doesn't sweat the small stuff - he likes to tackle problems at-scale. Since he's been at CableLabs, he's worked on testing digital broadcast signals for compatibility with cable plants, evaluating the ability of cable lines to transport high-speed digital signals, PHY-layer issues associated with the delivery of gigabit data over cable networks and advanced networks diagnostics. Currently, his focus is on cyclic prefix elimination.
What is cyclic prefix elimination you ask? In a nutshell, cyclic prefix elimination improves wireless signal efficiency, so more data is sent to a device in less time. A benefit of more data moving through the air faster is that transmissions are finished earlier, resulting in your data doubling on a fraction of your cellular battery power.  
Watch the video below to learn more about Tom and how he's shaping the way we communicate, work and live.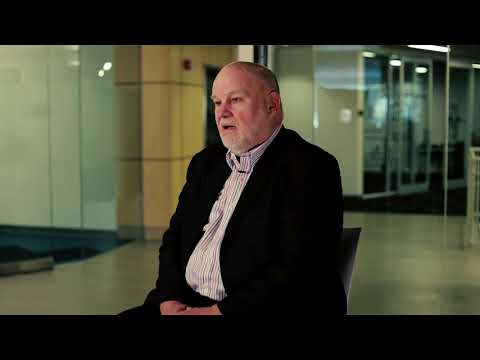 You find out more information on cyclic prefix elimination in Tom's blog post "Sharing Bandwidth: Cyclic Prefix Elimination" and "Getting Rid of a Big Communications Tax on OFDM Transmissions."
Virtualization
CableLabs Announces SNAPS-Boot and SNAPS-OpenStack Installers
After living and breathing open source since experimenting in high school, there is nothing as sweet as sharing your latest project with the world! Today, CableLabs is thrilled to announce the extension of our SNAPS-OO initiative with two new projects: SNAPS-Boot and SNAPS-OpenStack installers. SNAPS-Boot and SNAPS-OpenStack are based on requirements generated by CableLabs to meet our member needs and drive interoperability. The software was developed by CableLabs and Aricent.
SNAPS-Boot
SNAPS-Boot will prepare your servers for OpenStack. With a single command, you can install Linux on your servers and prepare them for your OpenStack installation using IPMI, PXE and other standard technologies to automate the installation.
SNAPS-OpenStack
The SNAPS-OpenStack installer will bring up OpenStack on your running servers. We are using a containerized version of the OpenStack software. SNAPS-OpenStack is based on the OpenStack Pike release, as this is the most recent stable release of OpenStack. You can find an updated version of the platform that we used for the virtual CCAP core and mobile convergence demo here.
How you can participate:
We encourage you to go to GitHub and try for yourself: 
Why SNAPS?
SNAPS (SDN & NFV Application Platform and Stack) is the overarching program to provide the foundation for virtualization projects and deployment leveraging SDN and NFV. CableLabs spearheaded the SNAPS project to fill in gaps in the open source community to ease the adoption of SDN/NFV with our cable members by:
Encouraging interoperability for both traditional and prevailing software-based network services: As cable networks evolve and add more capabilities, SNAPS seeks to organize and unify the industry around distributed architectures and virtualization on a stable open source platform to develop baseline OpenStack and NFV installations and configurations.
Network virtualization requires an open platform. Rather than basing our platform on a vendor-specific version, or being over 6 months behind the latest OpenStack release, we added a lightweight wrapper on top of upstream OpenStack to instantiate virtual network functions (VNFs) in a real-time dynamic way.
Seeding a group of knowledgeable developers that will help build a rich and strong open source community, driving developers to cable: SNAPS is aimed at developers who want to experiment with building apps that require low latency (gaming, virtual reality and augmented reality) at the edge. Developers are able to share information in the open source community on how they optimize their application. This not only helps other app developers, but helps the cable industry understand how to implement SDN/NFV in their networks and gain easy access to these new apps.
At CableLabs, we pursue a "release early" principle to enable contributions to improve and guide the development of new features and encourage others to participate in our projects. This enables us to continuously optimize the software, extend features and improve the ease of use. Our subsidiary, Kyrio, is also handling the integration and testing on the platform at their NFV Interoperability lab.
You can find more information about SNAPS in my previous blog posts "SNAPS-OO is an Open Sourced Collaborative Development" and "NFV for Cable Matures with SNAPS"
Who benefits from SNAPS?
App Developers will have access to a virtual sandbox that allows them to test how their app will run in a cable scenario, saving them time and money.
Service providers, vendors and enterprises will be able to build more exciting applications, on a pure open source NFV platform focused on stability and performance, on top of the cable architecture.
How we developed SNAPS:
We leverage containers which have been built and tested by the OpenStack Kolla project. If you are not familiar with Kolla, it is an OpenStack project that maintains a set of Docker containers for many of the OpenStack components. We use these scripts to deploy the containers because the Kolla-Ansible scripts are the most mature and include a broad set of features which can be used in a low latency edge data center. By using containers, we are improving the installation process and updating.
To maximize the usefulness of the SNAPS platform, we included many of the most popular OpenStack projects:
Additional services we included:
Where the future of SNAPS is headed:
We plan to continue to make the platform more robust and stable. 
Because of the capabilities we have developed in SNAPS, we have started discussions with the OPNFV Cross Community Continuous Integration (XCI) project to use SNAPS OpenStack as a stable platform for testing test tools and VNFs with a goal to pilot the project in early 2018.
Aricent is a strong participant in the open source community and has co-created the SNAPS-Boot and SNAPS-OpenStack installer project. Aricent will be one of the first companies to join our open source community contributing code and thought leadership, as well as helping others to create powerful applications that will be valuable to cable.
As an open source project, we encourage other cable vendors and our members to join the project, contribute code and utilize the open source work products.
There are three general areas where we want to enhance the SNAPS project:
Integration with NFV orchestrators: We are including the OpenStack NFV orchestrator (Tacker) with this release and we want to extend this to work with other orchestrators in the future.
Containers and Kubernetes support: We already have some support for Kubernetes running in VMs.  We would like to evaluate the benefit of running Kubernetes with or without the benefit/overhead of VMs.
Serverless computing: We believe that Serverless computing will be a powerful new paradigm that will be important to the cable industry and will be exploring how best to use SNAPS as a Serverless computing platform.
Interactive SNAPS portfolio overview:
Have Questions? We'd love to hear from you
Don't forget to subscribe to our blog to read more about NFV and SNAPS in our upcoming in-depth SNAPS series. Members can join our NFV Workshop February 13-15, 2018. You can find more information about the workshop and the schedule here.
Wired
Webinar Recap: Proactive Network Maintenance (PNM) for DOCSIS® 3.1
CableLabs Principal Architect Jason Rupe recently participated in Broadband Technology Report's webinar "Proactive Network Maintenance (PNM) for DOCSIS 3.1." Sponsored by SCTE/ ISBE, White Sands Engineering and VeEX, the webinar reviews PNM in the DOCSIS 3.1 context, the major benefits of PNM and how operators can best employ it. In particular, Jason discussed: 
The webinar also included speakers Randy Harmon (Director of White Sands Engineering), Brady Volpe (Founder and CEO of both The Volpe Firme and Nimble This) and Nitish Khullar (Product Manager of HFC Monitoring Platform).
If you missed the webinar, you can watch the replay here or download the slides here.
About PNM and CableLabs
PNM describes the process of rigorous inspection of the network to look for impending failure conditions, followed by remediation before problems become evident to users. This means that every cable modem is a troubleshooting device and networks can be monitored 24 x 7 to provide insights, follow trends and detect important clues with the goal to identify, diagnose and fix issues before cable customers notice any impact.
First developed by CableLabs in 2008, PNM is a revolutionary concept that changed network maintenance from reactive to proactive. CableLabs is continuously developing methods and tools that give member cable operators visibility and actionable insight to identify impairments more efficiently and cost-effectively than traditional test equipment. The result is faster and more accurate diagnosis of problems, faster repairs, happier customers and lower costs for cable operators.
You can find more information about CableLabs PNM efforts by reading Jason's recent article "PNM Series: The Business Case for a Common Collection Framework." In his post, he explains how CableLabs collects data from the network in a way that doesn't impact service by avoiding overly frequent data requests.
Don't forget to subscribe to our blog to stay current on our work in Proactive Network Maintenance (PNM).