CableLabs Announces the Convergence Council
Motivational speaker, Jim Rohn is known for saying, "What is powerful is when what you say is just the tip of the iceberg of what you know." For an organization like CableLabs, the challenge morphs into something quite monumental when the goal is to enable convergence across multiple industries and technologies that have been progressing independently of one another.
So, CableLabs is trying something new this year.
As part of our ecosystem expansion program, CableLabs has created the Convergence Council that will be hosted by CableLabs's Chief Research and Development Officer (CRDO) Mariam Sorond. The Convergence Council is an advisory board, composed of a broad range of experts and thought leaders representing multiple aspects of connectivity—whether it's wired, wireless, mobile, fixed technologies—or the enablers of these technologies through cloud and virtualized platforms while embracing open and disaggregated architectures. This brilliant team of evangelists is tasked with identifying convergence use cases that will inspire development, technologies and solutions, business models that could unlock opportunities for convergence, and building scenarios for industry consensus.
"Tomorrow's consumers are slated to be more connected, informed, and creative than ever before." Sorond says. "To that end, we are moving towards more user-centric networks that will need a fresh look at convergence to enable not only the demands of a seamless user experience but also an unleashing of new applications. To speed the industry's understanding of use cases that will drive this vision, I wanted to create an industry-sounding board from as broad a sample of thought leaders as possible to help us explore some of the more complex areas."
CableLabs looks forward to working with these talented individuals to move this important initiative forward. The Convergence Council will also be working very closely with the newly announced Mobile Convergence Committee to ensure a comprehensive industry engagement on our future work.
Many of the participants in the council have expressed strong support of the Convergence Council and convergence in general.
Says Rob Soni, Head of Architecture and Technology at Nokia/Bell Labs, "The future of Mobile Access Networks will be to lean forward towards virtualized and disaggregated platforms. These platforms will be flexible and maximize user and enterprise experience. This will give great opportunities between cable operators and mobile operators to cooperate in many ways in the 5G era. Leveraging transport, platforms, and common technologies are all opportunities for greater cooperation between different types of operators that minimize the total cost of ownership. "
"Cable providers will play a critical role in the era of 5G and the edge," says Caroline Chan, VP and GM, Network Business Incubator Division, Intel. "Convergence is essential for ensuring consistent service and persistent connectivity."
"CableLabs has recognized the need for a convergence strategy, and we're honored to participate in the development of a common vision and strategy," says John Baker, Senior VP, Business Development, Mavenir. "Unifying the layers of wireless and cable infrastructure offers a significant opportunity. Convergence will allow for simplification in the deployment and operation of converged solutions."
Steve Alexander, CTO, Ciena, sums up the opportunity behind convergence: "Cable access digitization and transition to cloud is a ripe environment for bandwidth-rich solutions," he says. "Intelligence and convergence will enable myriad end-to-end services and a seamless user experience."
The following ecosystem partner representatives are on the advisory council this year:
You can learn more about and hear directly from Convergence Council members by registering for CableLabs' Envision Vendor Forum 2021: Mobile & Convergence.
CableLabs Announces the Mobile Convergence Committee: User-Centric Networks of the Future Need A Fresh Look at Convergence
Over the next decade, we expect the industry to undergo a significant transformation as service providers deploy multiple access technologies and as new connectivity choices become available to users. To enable transparent, seamless connectivity for users and to efficiently leverage their assets, networks need to become more user-centric. User centricity will demand a more holistic architecture that converges the independent, siloed networks we currently use, thereby enabling a more seamless and optimized experience at home, at work, on the go and in the air. The time is now to put on an innovative lens to take a fresh look at convergence.
Although many people are focused on expanding from wired to wireless, and integrating existing wired and wireless networks, no single access method can address the needs of all users. Ideally, a converged network solution will enable our members to deliver the most efficient seamless experience while allowing them to keep up with ever-increasing demand for faster, more reliable, more secure connectivity—all in an effort to improve the way we live, work, learn and play and to unleash the next generation of applications and use cases.
This transformational shift toward user-centric networks as wireless and wireline technologies surge toward deployment, the CableLabs team, led by Chief Research Development Officer (CRDO) Mariam Sorond, formulated a clear vision of what network architectures and technologies for such a converged network should be.
"With the rapid adoption of new disaggregated architectures, open standards and cloud native technologies," Sorond said, "the timing seemed right to focus on a user-centric network architecture through the convergence of wireless and wired networks."
A well-defined set of architectures and requirements will provide a clear and consistent view and facilitate industry alignment and economies of scale. It will also provide guidelines for ecosystem partners to develop converged solutions and products, enabling our members to deliver on the vision of user-centric networks. To this end, Sorond has put together the Mobile Convergence Committee (MCC), the main objective of which will be to develop industry requirements for a network that will, in turn, bolster the convergence architecture and its specifications.
Currently, the MCC is composed of the following ten industry influencers and thought leaders:
We anticipate that MCC membership will expand to a total of 14 in the coming months.
"The advantages of convergent networks is clear, and it will strongly benefit our customers," said Nadia Benabdallah. "We will simplify the consumption of new services, regardless of the underlying infrastructure. With the adoption of the 'Network as a Platform' approach, we make the underlying networks invisible to our customers."
"The long-term vision for fixed mobile convergence is to deliver ubiquitous wired-wireless connectivity to our customers anywhere and on any device, delivered on cable's high-capacity and low-latency networks," Craig Cowden said. "This means that customers will carry their services, policies and identity with them wherever they go. The time for convergence is now, as we can leverage key building blocks like virtualization, network disaggregation, open interfaces, multi-access edge computing (MEC), automation, along with artificial intelligence (AI) and machine learning (ML) to manage network complexities. I look forward to chairing the Mobile Convergence Committee and working with a talented group of professionals."
"At Cox," said Tony Krueck, "our number-one guiding principle for considering retail wireless is to protect our core business. We believe the primary way to do that is through converged capabilities. Creating seamless connectivity and applications for our customers will become foundational to the future of our products and services."
"With Xfinity Mobile, Comcast has taken its leading connectivity experience outside the home and given our customers the ability to access the Internet from anywhere," said Tom Nagel. "As we look toward a future with more integrated experiences across all of our services, we are excited to work with CableLabs toward the virtualization and convergence that will help make that a reality."
"We believe that bringing together a common vision and strategy in wireless, cable infrastructure and—most importantly—customer experience is critical to moving the industry forward," said Luciano Ramos. "As members of CableLabs, we're very pleased to participate in the Mobile Convergence Committee to help simplify converged solutions and bring new experiences to customers."
"The industry has been talking about convergence for a long time", said Iyad Tarazi. "What's exciting about this CableLabs initiative is that the foundational technologies now exist for us to make this real, and the focus on the customer experience is the right guiding principle."
If you're interested in hearing more about the MCC, register for Envision by clicking below.
Set-Top Box Voluntary Agreement Tightens Energy Allowances and Extends Term
CableLabs, CTA and NCTA are pleased to announce that the award-winning Set-Top Box Voluntary Agreement (STB VA) has been extended by four years, along with introducing a new tier of allowances that will reduce energy consumption of set-top boxes by at least another 20 percent.
The STB VA has been a true success story since it was established in 2012. In the first seven reporting years, the STB VA has saved U.S. residential video consumers a total of 55.1 TWh and over $7 billion in electricity bills. More important, it has averted nearly 39 million metric tons of CO2 emissions through 2019.
Since the inception of the STB VA, the average energy consumption of set-top boxes has steadily declined, even as set-top box features have increased, such as 4K video support, Wi-Fi interfaces and the ability to record multiple programs at the same time. This progress demonstrates the successful collaboration between everyone in the ecosystem, including silicon manufacturers, equipment manufacturers, software developers, service providers, and energy-efficiency advocates. It is projected that, at the end of this extended term, the total energy used by set-top boxes in the United States will be only one-third of the energy used by set-top boxes in 2012 when the agreement was initially signed!
The charts below depict the evolution of a typical cable set-top box without a digital video recorder (Non-DVR) and one with a digital video recorder (DVR) across the years and across the tiers. Note that non-DVR energy consumption has decreased by nearly 70 percent between Tier 1 and Tier 4. This is especially significant as operators migrate more toward non-DVR smaller-client set-top boxes and use their ability to maintain customers' recordings in the cloud. Not only does this capability dramatically reduce the energy footprint of STBs in the home, but it also enables customers to watch their recordings on their phones, tablets, PCs and other devices inside and outside the home.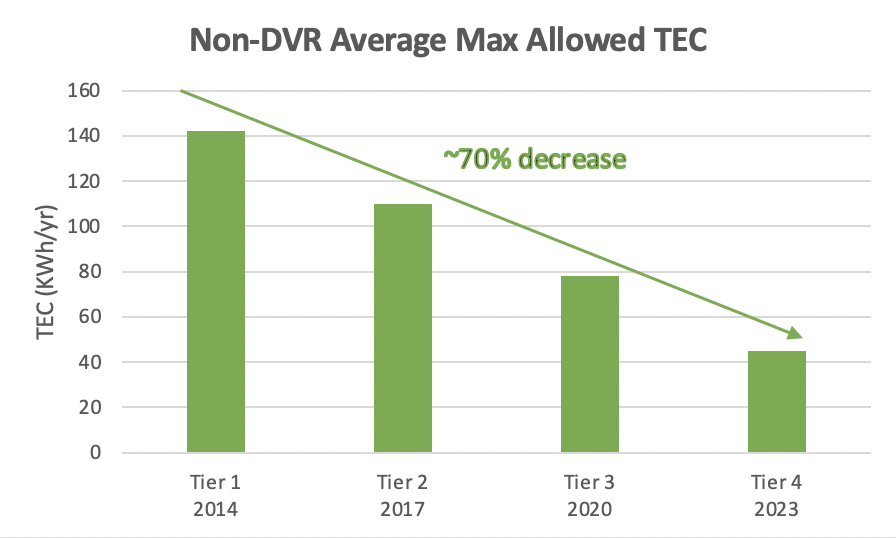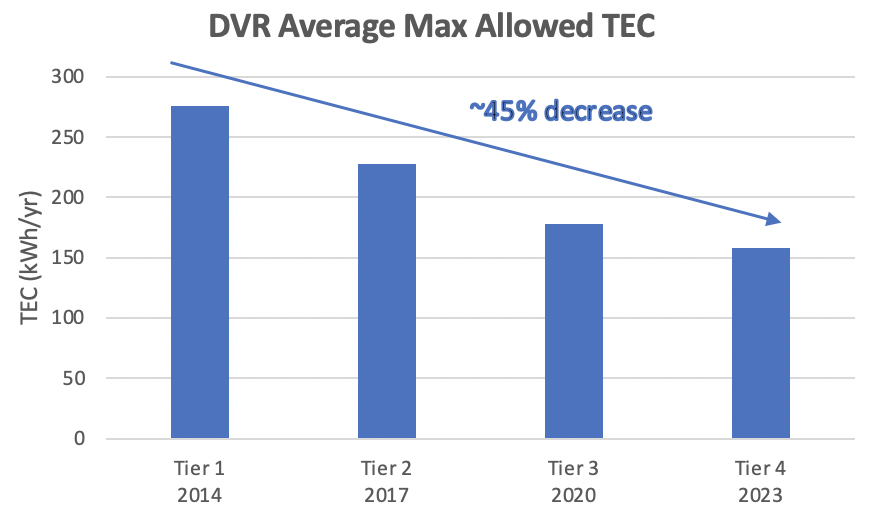 Typical Energy Consumption (TEC) is a formula used by the STB VA (and ENERGY STAR) to evaluate the energy efficiency of an STB. It is a function of the energy consumption of a STB in various modes, such as watching TV and standby, and expressed in units of kWh/yr.
History of the STB VA Tiers
In 2012, the STB VA was developed as a result of discussions among pay-TV service providers, technology suppliers, energy-efficiency advocates and the U.S. Department of Energy. The industry VA was forged, and it has certainly demonstrated that it is an effective alternative to regulation since its inception.
One of the primary commitments of the STB VA is that 90 percent of all STB purchases in a calendar year will measure in lower than the energy-consumption levels specified by the applicable tier. When the STB VA was established by the industry in 2012, the first tier adopted the same levels as the ENERGY STAR 3.0 program that was currently in place for STBs. That defined the "Tier 1" set of allowances for the STB VA.
In 2013, two energy-efficiency advocates—the Natural Resources Defense Council and the American Council for an Energy-Efficient Economy (ACEEE)—became signatories as part of an extension to the VA that included a more aggressive new "Tier 2" set of allowances, which became applicable in 2017.
The VA was extended a second time in 2018 with a new Tier 3 definition of allowances and the term running through 2021. At the time Tier 3 was defined, the signatories also committed to exploring a Tier 4 for the allowances.
That brings us to today. After several years of research and industry collaboration led by CableLabs, the signatories just ratified a new amendment to the VA, extending the term through 2025 (with a final report in 2026) and defining an even more aggressive Tier 4 set of allowances.

To Sum It Up
In the Tier 1 era, near the beginning of the VA in 2013, a typical cable customer had two DVRs and one non-DVR device because set-top boxes were not yet networked in the home. Heading into the Tier 4 era, that same cable customer will have even more features and capabilities (e.g., cloud recording, 4K video, integrated streaming services such as Netflix) but may have just three small non-DVR devices, reducing set-top box energy consumption in the home by over 80 percent!
CableLabs is proud to be part of this highly successful VA that affords new innovative features, greater functionality and the capability to deliver high-quality services to consumers in an energy-efficient manner.
Want to Learn More?
CableLabs Certifies First Cable Modem with Low Latency DOCSIS® Support
CableLabs is pleased to announce that, for the first time, a DOCSIS® 3.1 specification–compliant cable modem that includes the Low Latency DOCSIS (LLD) set of features has become CableLabs Certified. This announcement represents a major milestone on the path toward 10G because LLD support is key to improving latency on DOCSIS networks, and improving latency is one of the pillars of 10G.
Starting with Certification Wave (CW) 134 in January, all DOCSIS 3.1 cable modems submitted for CableLabs certification are required to include support for the LLD feature set. Our Kyrio subsidiary recently finished testing the Motorola MG8725 from Minim, which was submitted for testing in that CW. The CableLabs Certification Board—made up of representatives from our member companies—then reviewed the results and determined that the device had met the requirements for CableLabs Certification.
The modem can be found on the Certified/Qualified Device List on the CableLabs website with an ID of MOTO1341. Any DOCSIS 3.1 cable modems added to that list in the future for CW 134 or later will also include support for the LLD feature set.
What Is Latency?
As described in our "Latency 101: Getting From There to Here" blog, latency refers to the time it takes for something to get from one point to another across a network. People experience this delay when doing things on the Internet, and it can come from myriad sources. Although latency performance often does not receive the same attention as speed, it's one of the most noticeable aspects of a user's online experience.
What Is Low Latency DOCSIS?
As described in our blog post "CableLabs Low Latency DOCSIS Technology Launches 10G Broadband into a New Era of Rapid Communication," LLD technology is a set of new features for DOCSIS 3.1 (and future) equipment that can be added to already deployed devices via a software update. LLD can provide consistent low latency (as low as 1 millisecond) on the access network for the applications that need it. The user experience will be more consistent with much smaller delay variation.
Why Is Low Latency DOCSIS Important?
In our blog post "Rise of Cloud Gaming—Meeting the Challenges for ISPs," we discussed applications such as online gaming and game streaming that can provide greatly improved user experiences with reduced, consistent latency. But latency isn't just about gaming: Many work-from-home applications such as video conferencing can benefit from improved latency. And future technologies like interactive virtual experiences will require consistently low latencies as well.
What Is CableLabs Certification, and Why Does It Matter?
As detailed in our blog post "What's in a Name? The Value of Certification/Qualification for Cable Operators," in order for a device to become CableLabs Certified, Kyrio executes a series of tests to determine whether the device complies with a particular CableLabs specification. Once that testing is completed, the results are reviewed by the Certification Board to determine whether that device has earned CableLabs Certification status.
CableLabs Certification, therefore, serves as a mark of quality, indicating that a given device complies with the requirements of our specifications and enabling cable operators to roll out the device. CableLabs and Kyrio offer a number of options to assist vendors through the certification process—as detailed in our blog post "3 Tips on How to Make CableLabs Certification/Qualification Testing as Painless as Possible"—including interoperability events and device pre-testing.
A cable modem with LLD functionality that successfully completes CableLabs Certification represents a big step on the path to eventual wide deployment of these technologies, enabling a host of new applications and improved user experiences. We can't wait to see the new ideas that will generate.
FMA 101: Taking Things Apart to Make Them Even Better
This month, we continue our CableLabs 101 series by peeling back the next layer of the hybrid fiber-coax (HFC) distributed access network with a recently released specification called Flexible MAC Architecture (FMA). This technology isn't as well known as DOCSIS®, Remote PHY or Coherent Optics, but it's just as essential to make 10G a reality in the near future. Let's take a closer look.
What Is FMA?
Without getting too technical, a big part of what we do involves analyzing how things work. We like to take things apart and see how we can reorganize or alter the components to build better, more efficient products. Essentially, that's what innovation is all about! In this case, the "product" in question is the DOCSIS technology and the cable access network that delivers Internet to your home.
Some time ago, we figured out how to split key DOCSIS functions into two major pieces: the Media Access Control (MAC) function responsible for DOCSIS processing and the physical radio frequency function (PHY) responsible for DOCSIS signal generation. This initial split became known as Remote PHY, and you can read more about it in our previous blog post here. Subsequently, we built a complementary project involving the redistribution of these functions across the network to enable efficiencies in speed, reliability, latency and security. This newer project is FMA, which defines various ways of restructuring the MAC function's management, control and data planes to support multi-gigabit data services of the future.
In September 2020, this extraordinary effort—involving thousands of work hours across the global cable industry—culminated in the specification. It's a library of specifications that gives our industry vendors the technical means to develop interoperable products for our cable community, and it officially welcomes FMA into the 10G technologies toolkit.
How Does FMA Work and Why Do You Need It?
The Converged Cable Access Platform (CCAP)—a nearly decade-old technology—serves as a single platform for both video and broadband services. In a traditional CCAP architecture, all the major network functions, including the MAC layer functions we mentioned earlier, are unified at the headend. However, as consumers' bandwidth consumption has continued to skyrocket with no sign of slowing down, the cable industry asked: Is there a better way to structure CCAP to prepare our networks for the needs of tomorrow?
The answer was yes.
That's how the concepts of Remote PHY, Remote MAC-PHY and, eventually, FMA were born. By taking apart key CCAP functions and moving them to other places throughout the network (e.g., a fiber node), we can greatly reduce space and power demands at the headend, creating efficiencies that translate into faster network speeds, lower latencies and overall a better, and reliable cable access network.
Plus, FMA offers cable operators the ultimate flexibility to implement and deploy CCAP functionality in a way that makes the most sense for them. It fully supports the DOCSIS 4.0 requirements and, along with the other tools in the 10G arsenal, can help operators build adaptive and secure networks that can easily handle future demand.
How Does This Technology Affect You and Your Future?
Complete disaggregation of CCAP sounds great, but you might be asking yourself: "What's in it for me?" As with any 10G technology that we'll cover in this series, it's always about improving the end user experience. All those technical efficiencies we talked about basically boil down to more room for data to go through the network at much faster speeds. This means more multi-gigabit services, low-latency applications such as ultra-realistic video experiences and overall a better quality of experience. One day soon, as we continue to build upon cutting-edge cable technologies like FMA, this will become reality.
The September 2020 FMA release is just a part of a much bigger initiative to completely virtualize cable access networks in the near future, so definitely stay tuned! In the meantime, we'll continue taking things apart and putting them back together in new and better ways to take your connected experiences to the next level.
Remote PHY 101: Why the Industry Is Working Together to Take Things Apart
In our previous CableLabs 101 post about Distributed Access Architecture (DAA), we discussed the benefits of distributing key network functions throughout the cable access network to optimize its performance. Today, we delve deeper into Remote PHY—one of the earliest DAA solutions that cable operators are deploying to increase their network's bandwidth and more.
What Is Remote PHY?
PHY stands for "physical radio frequency (RF) layer," which delivers voice, video and data via the DOCSIS® protocol over the hybrid fiber-coax (HFC) network. Media Access Control (MAC) is an example of another CCAP layer that we'll cover in our next CableLabs 101 post.
Prior to the introduction of the DAA concept, all CCAP functions, including PHY and MAC, were integrated at the Internet provider's cable modem termination system (CMTS)—typically located at the headend or hub site—which sends and receives data to and from the modem in your home. This data exchange is the basis for how DOCSIS technology on HFC networks works. However, the integrated CCAP approach does not maximize the potential of the cable access network.
Once we figured out how to split the PHY and MAC functions, we were then able to distribute PHY closer to the end user, resulting in increased network capacity and greater speeds. You can refresh your memory about the benefits of DAA and Distributed CCAP Architecture (DCA) here.
Remote PHY was the first documented DCA specification that we officially released in 2015, followed by Flexible MAC Architecture (FMA), released in September 2020. These solutions are complementary and have similar benefits, giving cable operators the flexibility to architect their networks the way they see fit to support future high-bandwidth services. The specifications provide guidance to our industry vendors who are manufacturing Remote PHY–compatible equipment. Just like the other DOCSIS and Coherent Optics technologies, Remote PHY and the other DCA approaches are part of the 10G toolset.
How Does Remote PHY Work?
The Remote PHY specification defines ways to separate the physical RF layer from the MAC layer that remains at the headend and describes the interfaces between them. Let's take a closer look at how it's done.
The PHY layer of the CCAP system is placed in something called a Remote PHY Device (RPD). An RPD is a piece of equipment usually produced by a third-party cable vendor that contains all the PHY-related circuitry, as well as the pseudowire logic that connects back to the CCAP Core, which supports full DOCSIS functionality. In other words, all this rerouting on the back end is completely hidden from customers like you. Your network will function the same as before, only much faster because the PHY layer is now located much closer to where you live.
Speaking of location, the beauty of the Remote PHY architecture lies in its flexibility to place RPDs anywhere, including optical nodes closer to the network "edge"—a cable insider's way of saying "closer to customers' homes." A single node can serve just a few blocks or even a single building; therefore, each customer modem connected to that node gets a bigger chunk of the bandwidth pie, so to speak. And, of course, more available bandwidth means better customer experience!
How Does This Technology Affect Me and My Future?
You might think that it makes no difference to you how your Internet provider's CCAP is designed—and you would be right. What does matter, however, is the noticeable difference in your Internet quality, including how fast your apps work, how quickly you can download your movies or how much lag (or lack thereof) you experience when you play an online game with your friends. Looking forward to the near future, you may be using applications that utilize holographic displays, artificial intelligence, virtual rooms, 360° fully immersive entertainment experiences and other innovative technologies that require multi-gigabit bandwidth to function seamlessly.
This is why CableLabs and our partners in the cable industry are continuously inventing new ways to mine more bandwidth out of the available RF spectrum. Thanks to specifications like Remote PHY, FMA and others, we have all the pieces in place to deliver 10G symmetrical speeds—and more—to support future innovations. Now it's just a matter of putting it all together.
Expanded Testing of Video Conferencing Bandwidth Usage Over 50/5 Mbps Broadband Service
As working from home and remote schooling remain the norm for most of us, we wanted to build on and extend our prior investigation of the bandwidth usage of popular video conferencing applications. In this post, we examine the use of video conferencing applications over a broadband service of 50 Mbps downstream and 5 Mbps upstream ("50/5 broadband service"). The goal remains the same, looking at how many simultaneous conferencing sessions can be supported on the access network using popular video conferencing applications. As before, we examined Google Meet, GoToMeeting, and Zoom, and this time we added Microsoft Teams and an examination of a mix of these applications. To avoid any appearance of endorsement of a particular conferencing application, we haven't labeled the figures below with the specific apps under test.
We used the same network equipment from November. This includes the same cable equipment as the previous blog -- the same DOCSIS 3.0 Technicolor TC8305c gateway, supporting 8 downstream channels and 4 upstream channels, and the same CommScope E6000 cable modem termination system (CMTS).
The same laptops were also used, though this time we increased it to 10 laptops. Various laptops were used, running Windows, MacOS and Ubuntu – nothing special, just laptops that were around the lab and available for use. All used wired Ethernet connections through a switch to the modem to ensure no variables outside the control of the broadband provider would impact the speeds delivered (e.g., placement of the Wi-Fi access point, as noted below). Conference sessions were set up and parameters varied while traffic flow rates were collected over time.  Throughout testing, we ensured there was active movement in view of each laptop's camera to more fully simulate real-world use cases.
As in the previous blog, this research doesn't take into account the potential external factors that can affect Internet performance in a real home -- from the use of Wi-Fi, to building materials, to Wi-Fi interference, to the age and condition of the user's connected devices -- but it does provide a helpful illustration of the baseline capabilities of a 50/5 broadband service.
As before, the broadband speeds were over-provisioned. For this testing, the 50/5 broadband service was over provisioned by 25%, a typical configuration for this service tier.
First things first: We repeated the work from November using the 25/3 broadband service. And happily, those results were re-confirmed. We felt the baseline was important to verify the setup.
Next, we moved to the 50/5 broadband service and got to work. At a high level, we found that all four conferencing solutions could support at least 10 concurrent sessions on 10 separate laptops connected to the same cable modem with the aforementioned 50/5 broadband service and with all sessions in gallery view. The quality of all 10 sessions was good and consistent throughout, with no jitter, choppiness, artifacts or other defects noticed during the sessions. Not surprisingly, with the increase in the nominal upstream speed from 3 Mbps to 5 Mbps, we were able to increase the number of concurrent sessions from the 5 we listed in the November blog to 10 sessions with the 50/5 broadband service under test.
The data presented below represents samples that were collected every 200 milliseconds over a 5-minute interval (300 seconds) using tshark (the Wireshark network analyzer).
Conferencing Application: A
The chart below (Figure 1) shows total access network usage for the 10 concurrent sessions over 300 seconds (5 minutes) while using one of the above conferencing applications. The blue line is the total downstream usage, and the orange line is total upstream usage. Note that the total upstream usage stays around 2.5 Mbps which may be a result of running 10 concurrent sessions. Also, the downstream usage stays, on average, around 15 mbps, which leaves roughly 35 Mbps of downstream headroom for other services such as streaming video that can also use the broadband connection at the same time.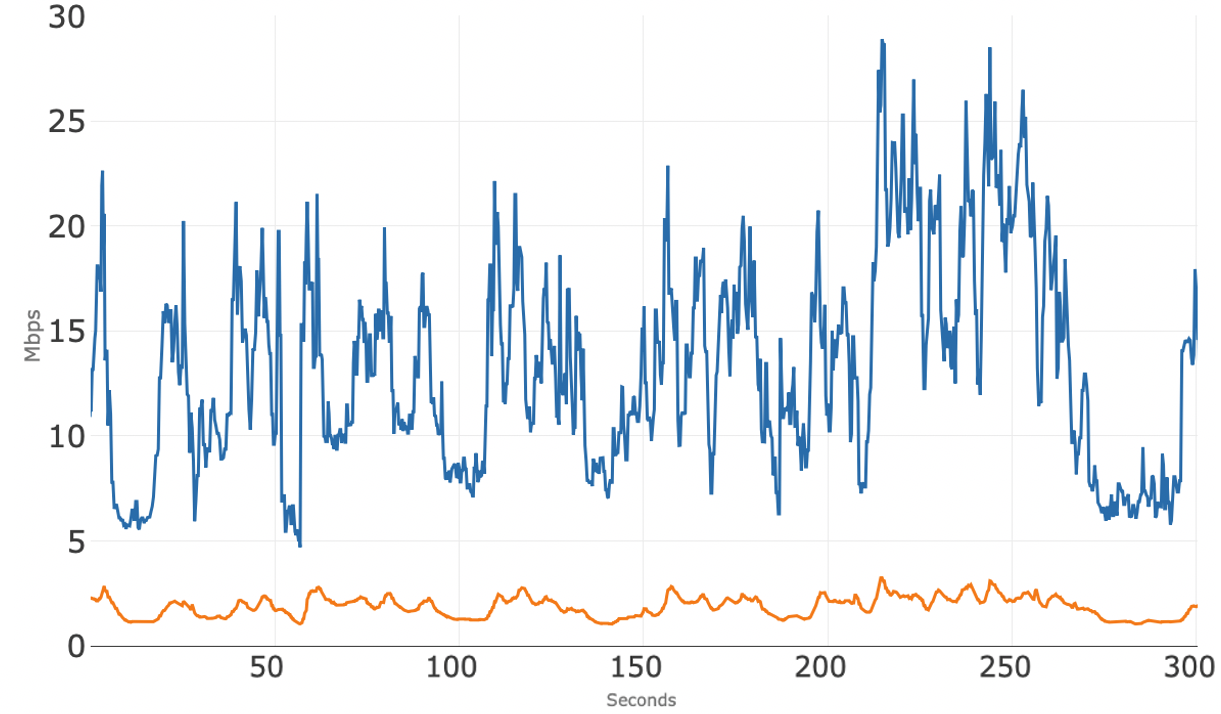 Figure 2 shows the upstream bandwidth usage of the 10 concurrent sessions and it appears that these individual sessions are competing amongst themselves for upstream bandwidth. However, all upstream sessions typically stay well below 0.5 Mbps -- these streams are all independent, with the amount of upstream bandwidth usage fluctuating over time.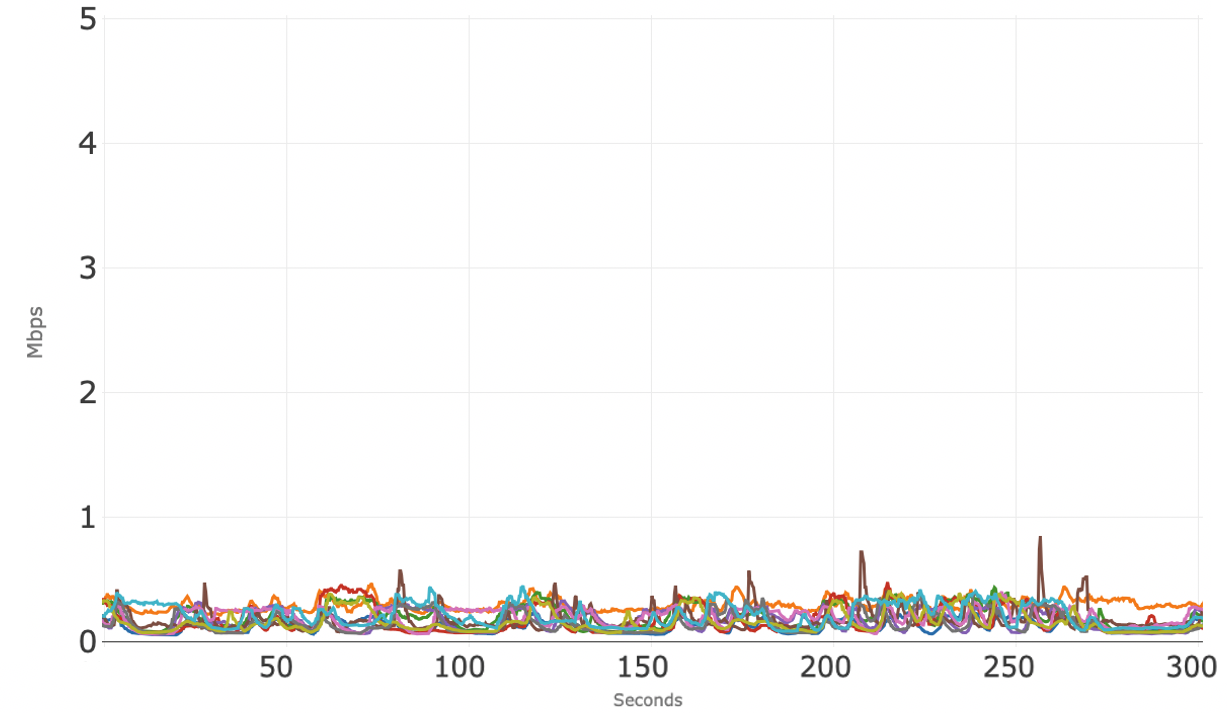 Figure 3 shows the downstream bandwidth usage for the 10 individual conference sessions. Each conference session typically uses between 1 to 2 Mbps. As previously observed with this application, there are short periods of time when some of the sessions use more downstream bandwidth than the typical 1 to 2 Mbps.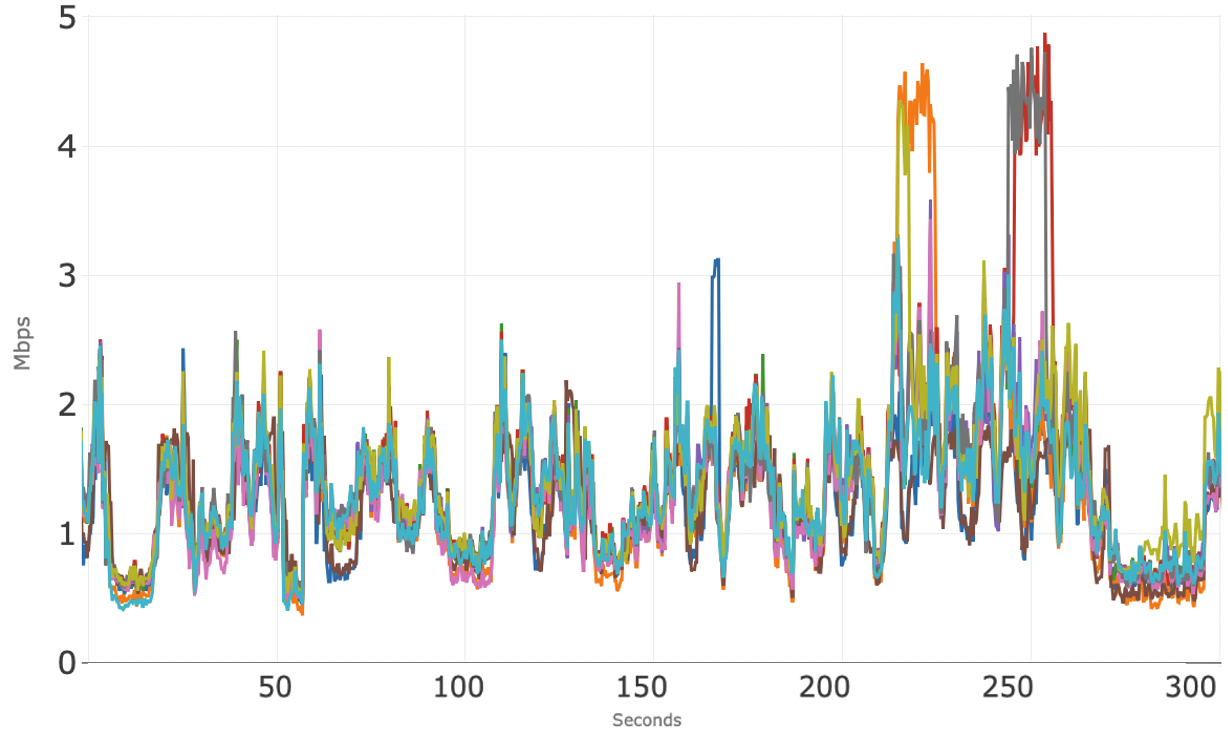 Conferencing Application: B
Figure 4 shows access network usage for 10 concurrent sessions over 300 seconds (5 minutes) for the second conferencing application tested. The blue line is the total downstream usage, and the orange line is total upstream usage. Note that the total upstream usage hovers around 3.5 Mbps.  The total downstream usage is very tight, right above 10 Mbps.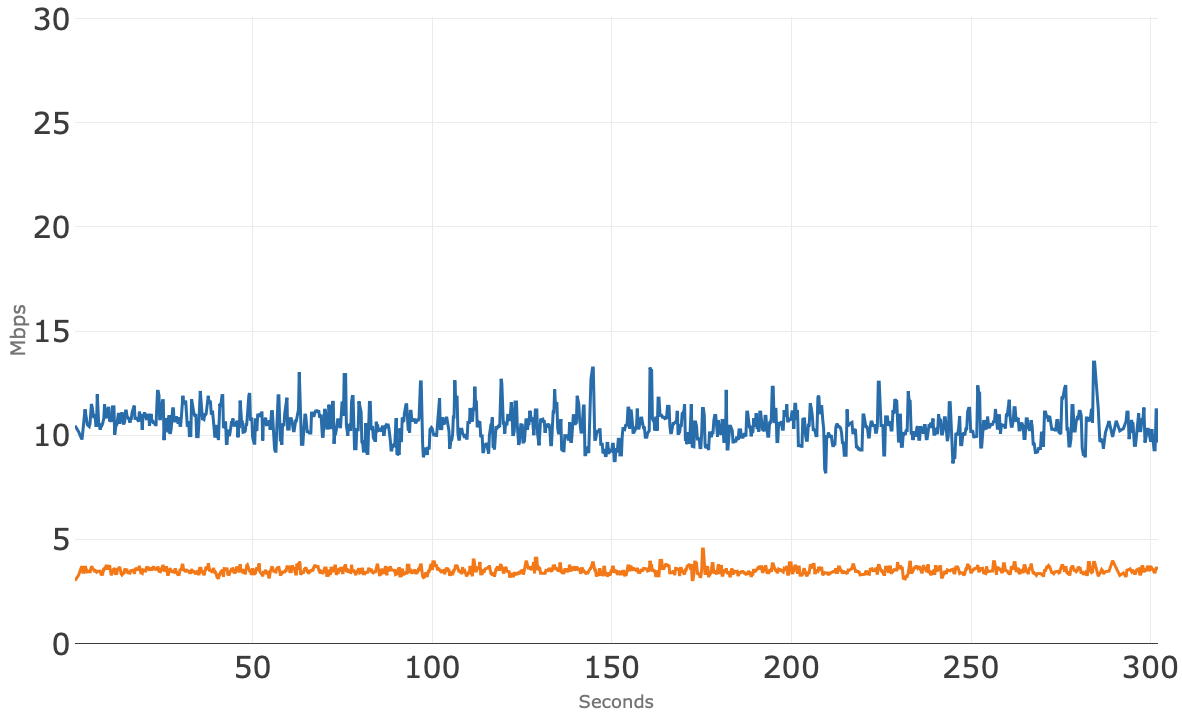 Figure 5 shows the upstream bandwidth usage of the 10 individual conference sessions where all but one session is well below 1 Mbps and that one session is right at 2 Mbps.  We don't have an explanation for why that blue session is so much higher than the others, but it falls well within the available upstream bandwidth.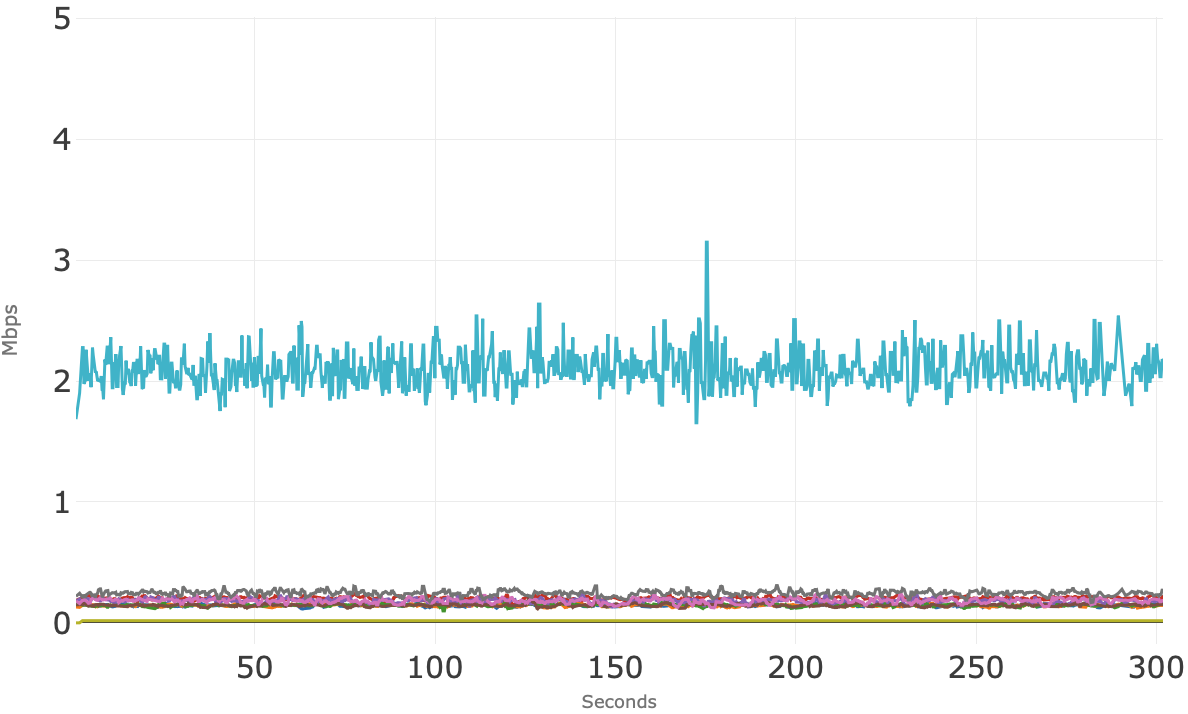 Figure 6 shows the downstream bandwidth usage for the 10 individual conference sessions clusters consistently around 1 Mbps.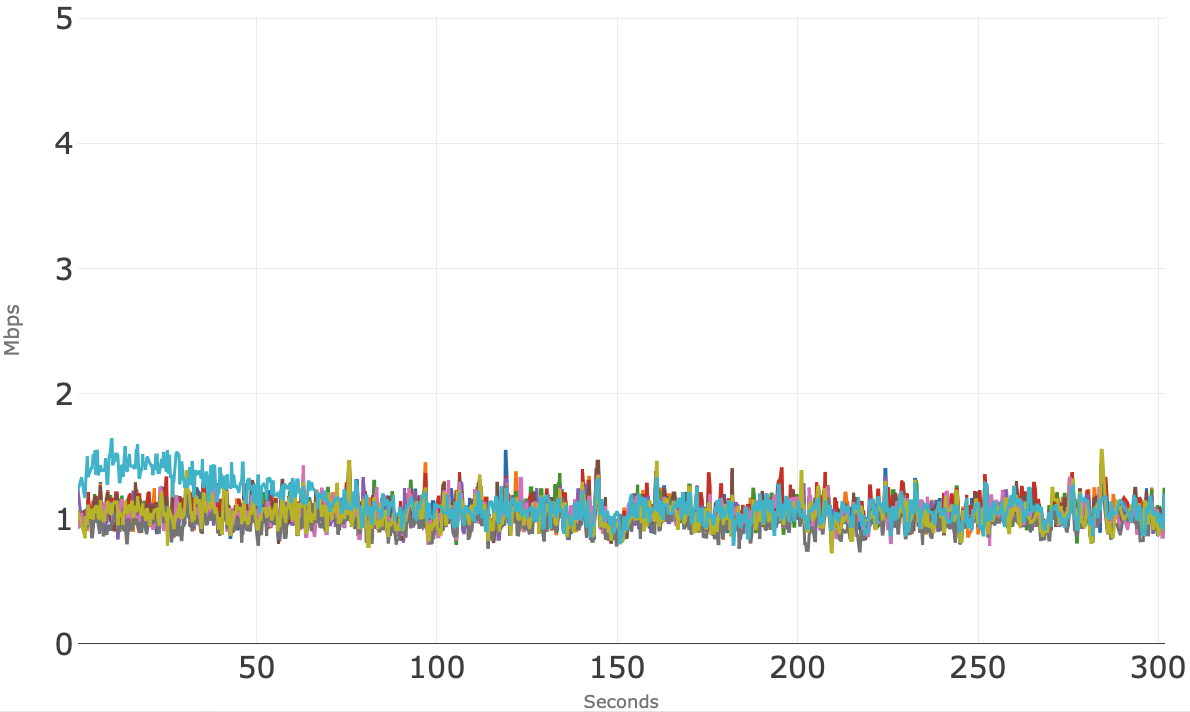 Conferencing Application: C
Figure 7 shows access network usage for the 10 concurrent sessions over 300 seconds (5 minutes) for the third application tested. The blue line is the total downstream usage, and the orange line is total upstream usage. Note that the total upstream usage hovers right at 3 Mbps over the 5 minutes.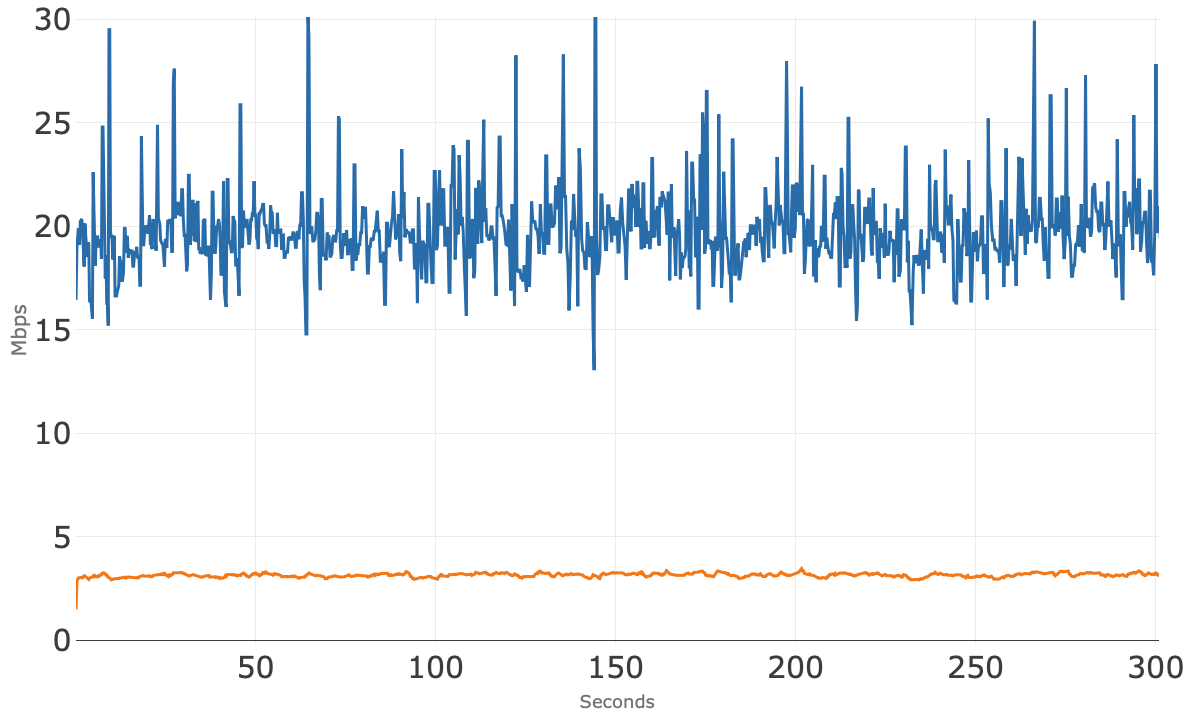 Figure 8 shows the upstream bandwidth usage of the 10 individual conference sessions where all stay well below 1 Mbps.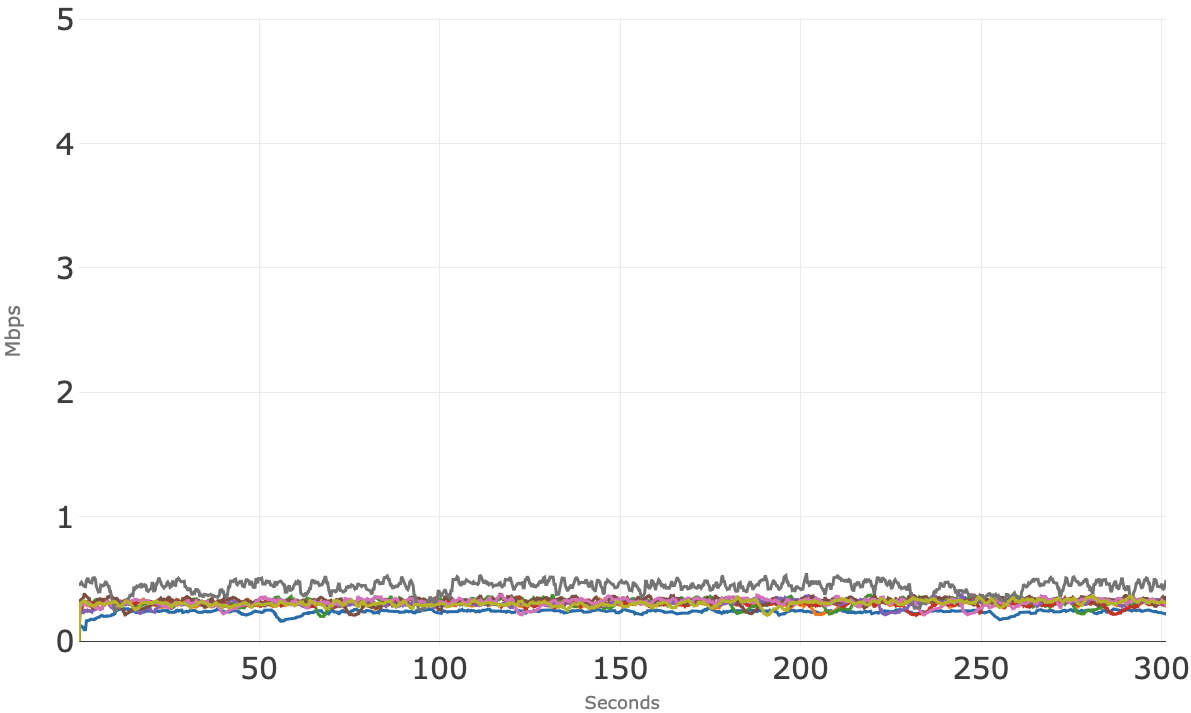 Figure 9 shows the downstream bandwidth usage for the 10 individual conference sessions. These sessions appear to track each other very closely around 2 Mbps, which matches Figure 7 showing aggregate downstream usage around 20 Mbps.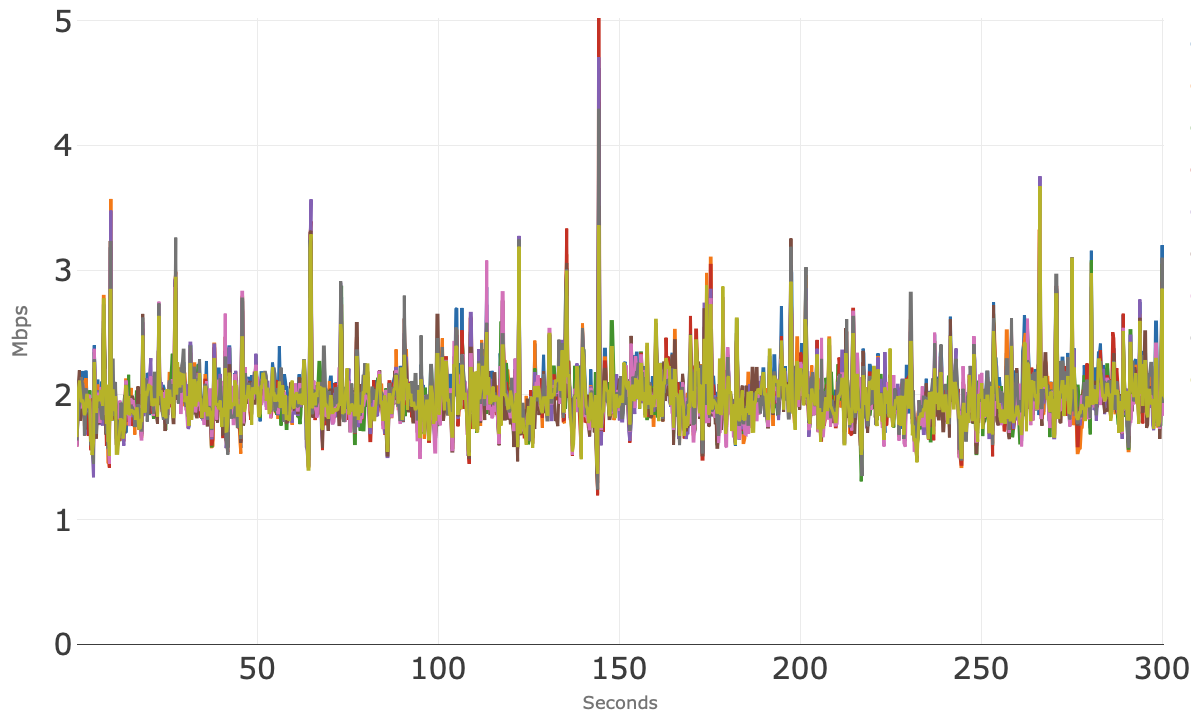 Conference Application: D
Figure 10 shows access network usage for the 10 concurrent sessions over 300 seconds (5 minutes) for the fourth application tested. The blue line is the total downstream usage, and the orange line is total upstream usage. Note that the total upstream usage hovers right at 5 Mbps over the 5 minutes, and there is no visible degradation to the conferencing sessions was observed.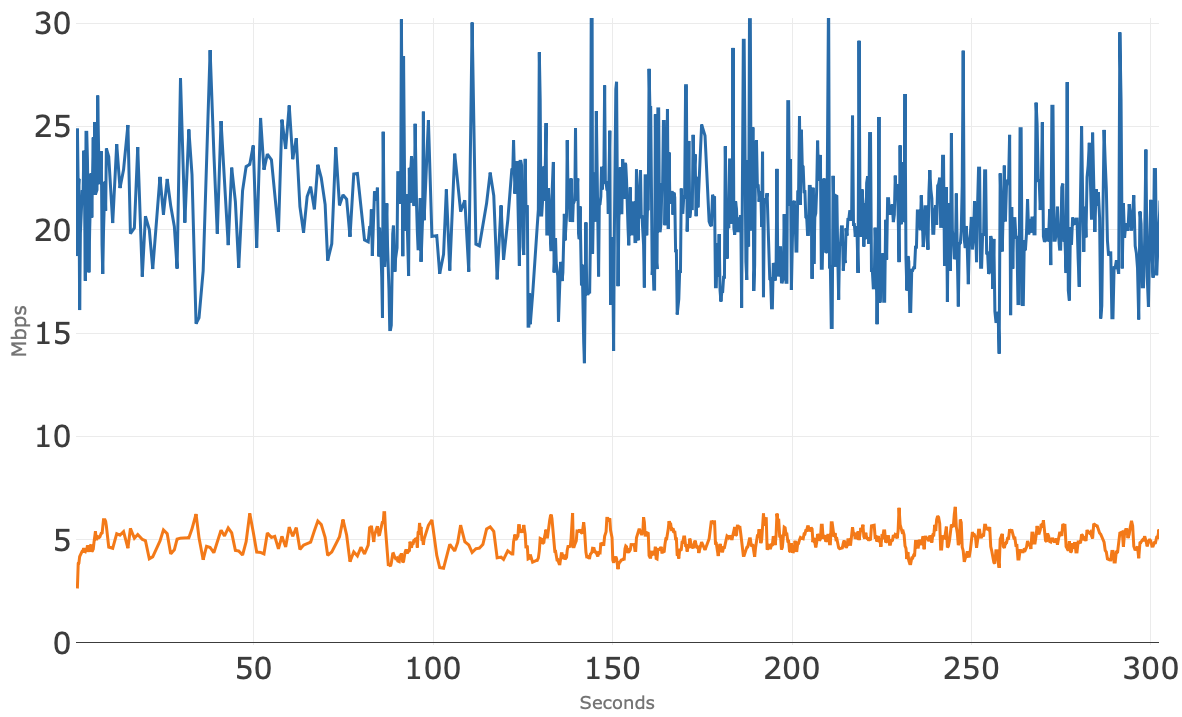 Figure 11 shows the upstream bandwidth usage of the 10 individual conference sessions, where there is some variability in bandwidth consumed per session.  One session (red) consistently uses more upstream bandwidth than the other sessions but remained well below the available upstream bandwidth.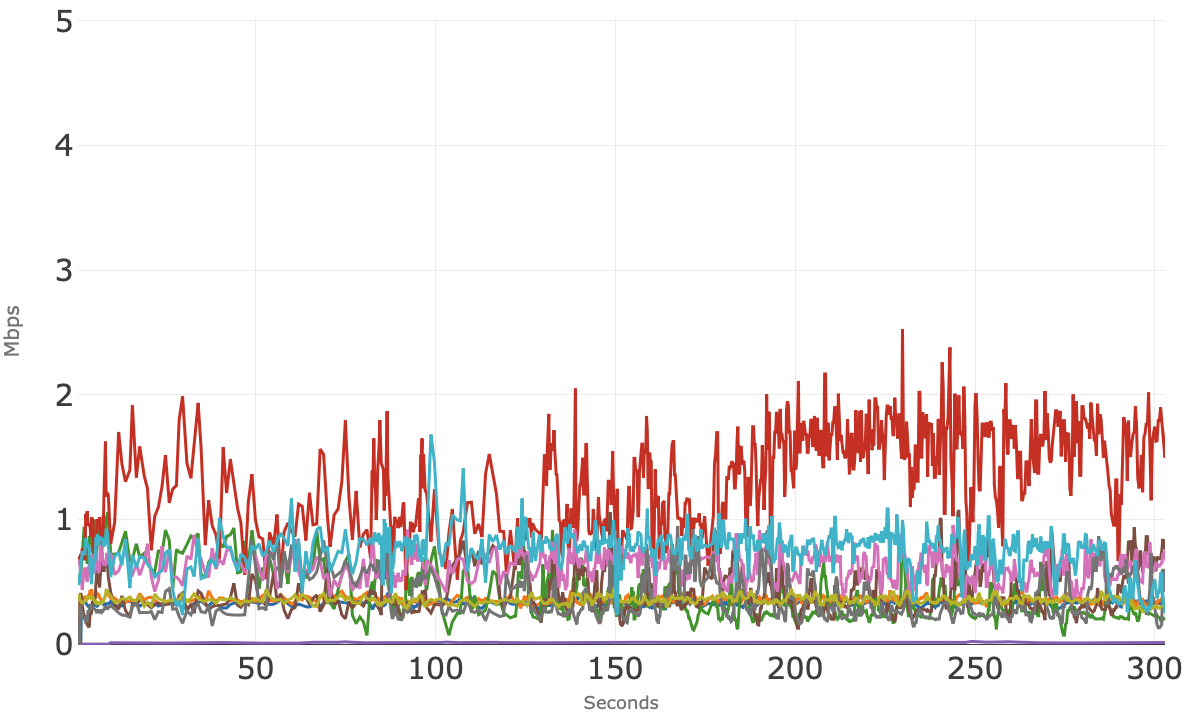 Figure 12 shows the downstream bandwidth usage for the 10 individual conference sessions. These sessions show two groups, with one group using less than 1 Mbps of bandwidth and the second group using consistently between 2 Mbps and 4 Mbps of bandwidth.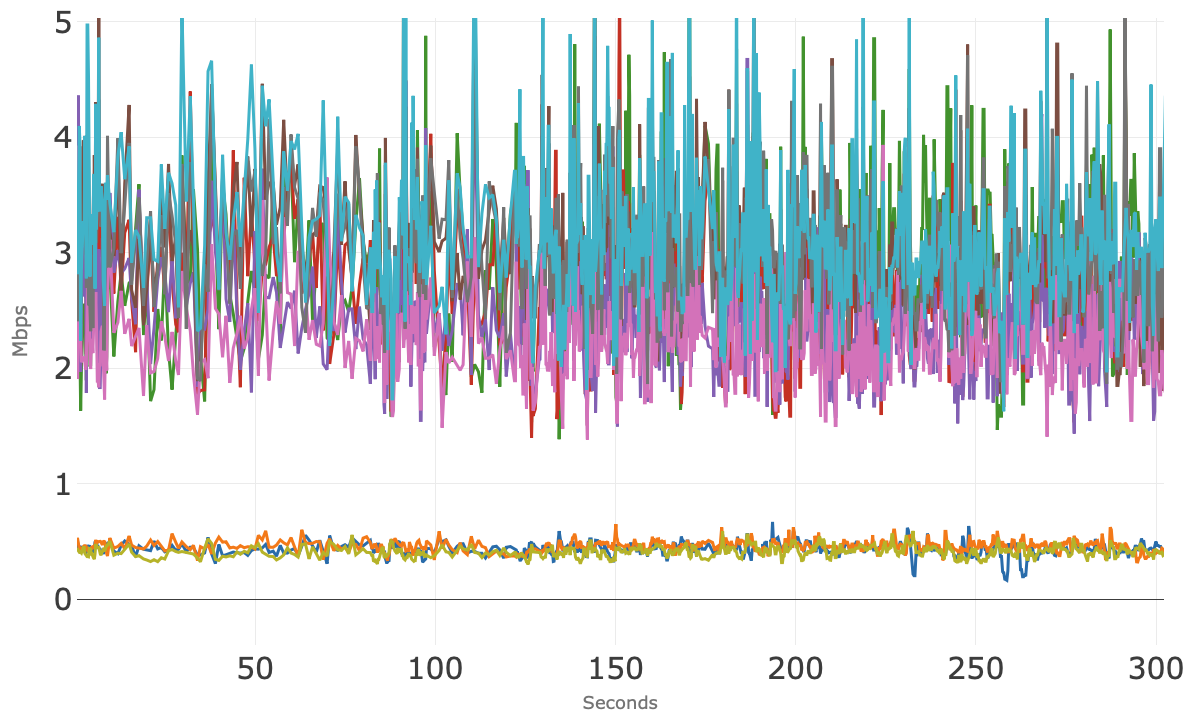 Running All Four Conference Applications Simultaneously
In this section, we examine the bandwidth usage of all four conferencing applications running simultaneously. The test consists of three concurrent sessions from two of the applications and two concurrent sessions from the other two applications (once again a total of 10 conference sessions running simultaneously). The goal is to observe how the applications may interact in the scenario where members of the same household are using different conference applications at the same time.
Figure 13 shows access network usage for these 10 concurrent sessions over 300 seconds (5 minutes). The blue line is the total downstream usage, and the orange line is total upstream usage. Note that the total upstream usage once again hovers around 5 Mbps without any visible degradation to the conferencing sessions, and the downstream usage is pretty tight right above 10 Mbps.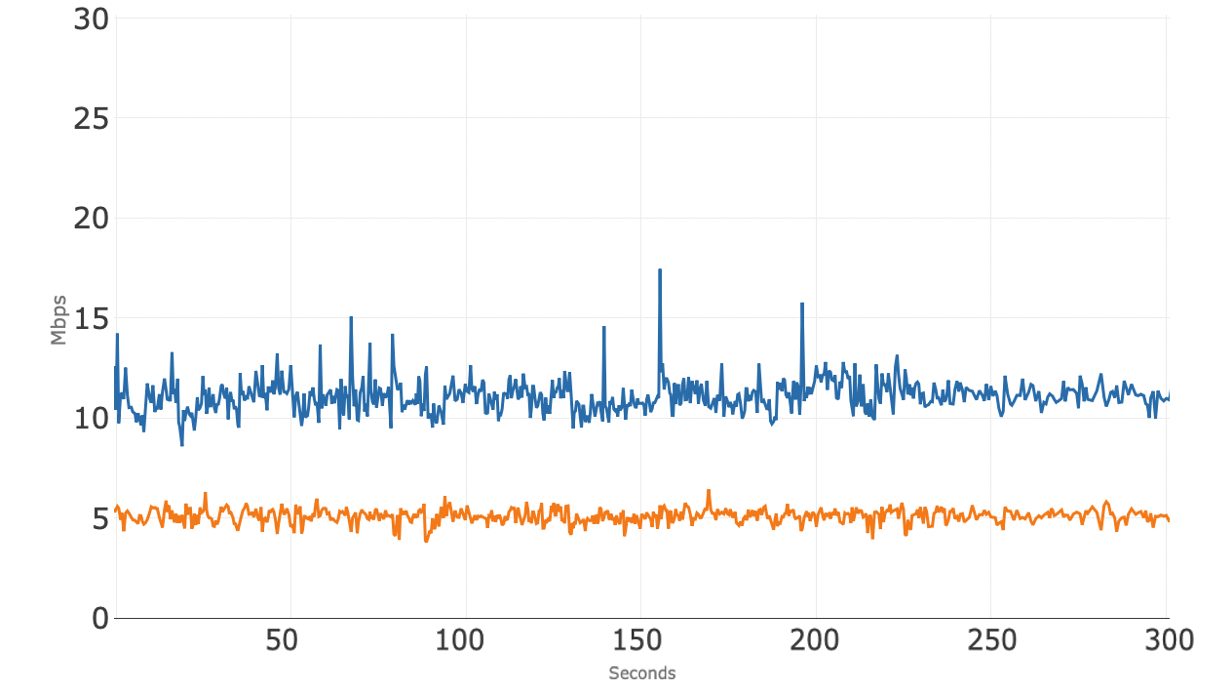 Figure 14 shows the upstream bandwidth usage of the 10 individual conference sessions where several distinct groupings of sessions are visible. There were 4 different apps running concurrently. One session (red) consumes the most upstream bandwidth at averaging around 2 Mbps, whereas the other sessions use less, and some much less.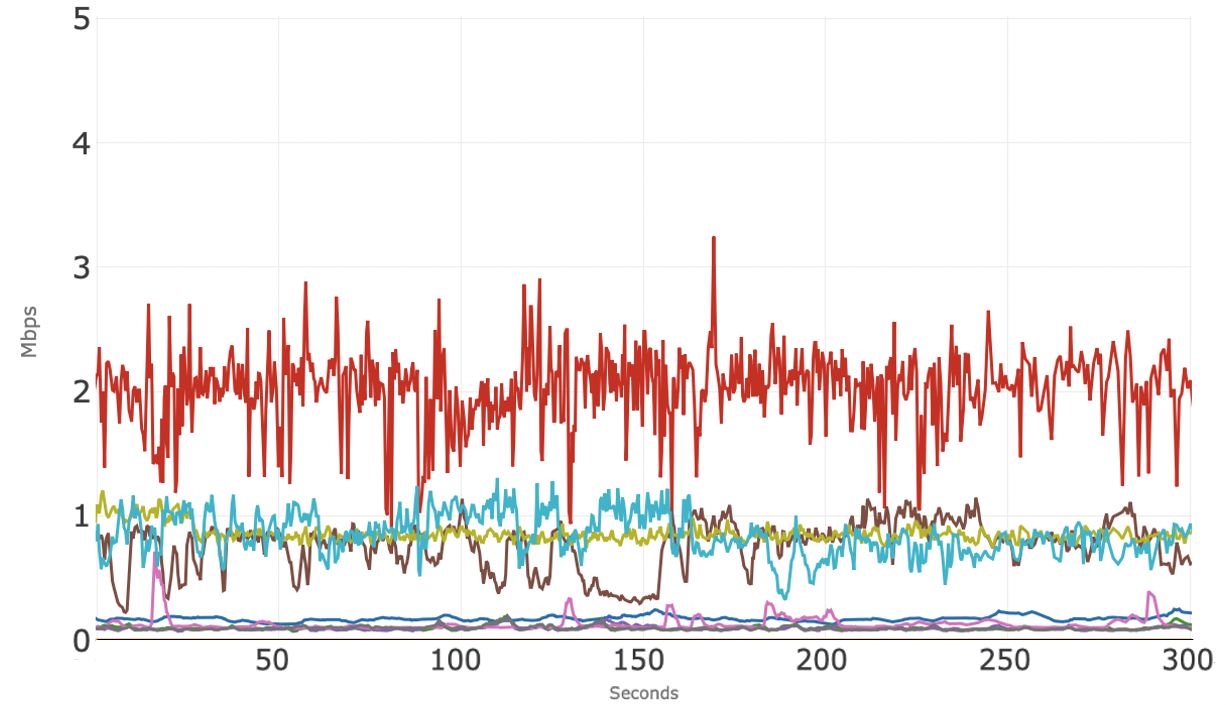 Figure 15 shows the downstream bandwidth usage for the 10 individual conference sessions across the four apps and, again, there are different clusters of sessions. Each of the four apps are following their own algorithms.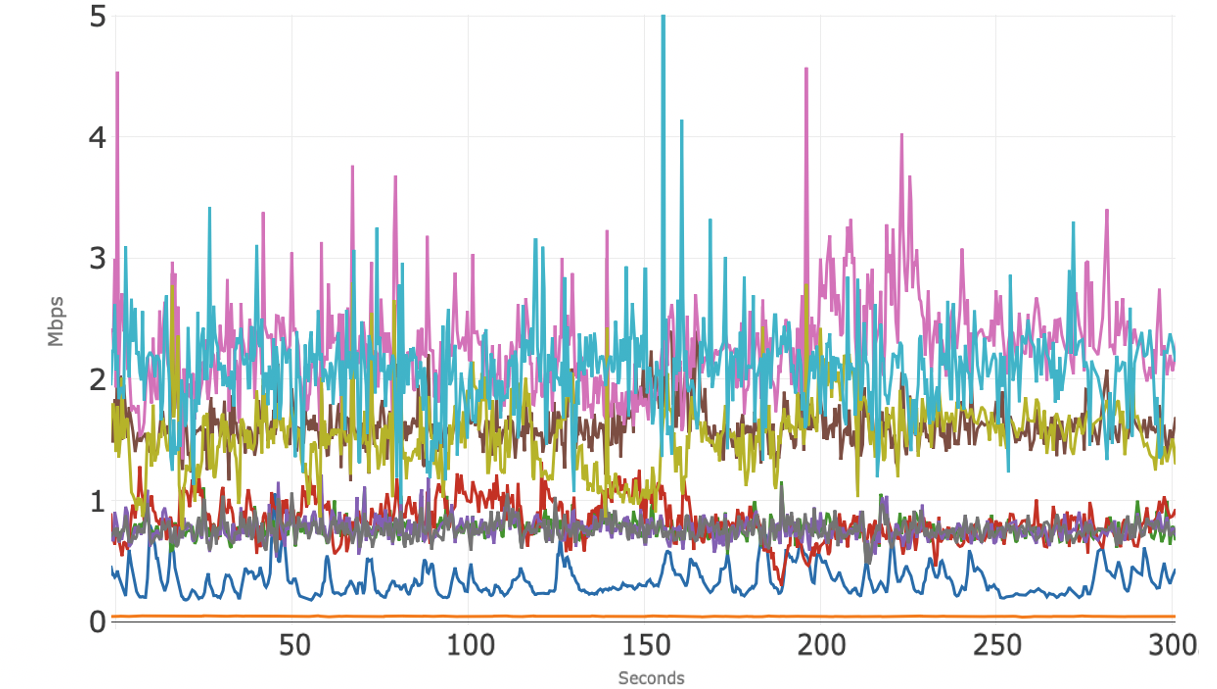 In summary, with a 50/5 broadband service, each of the video-conferencing applications supported at least 10 concurrent sessions, both when using a single conferencing application and when using a mix of these four applications. In all cases, the quality of the 10 concurrent sessions was good and consistent throughout. The 5 Mbps of nominal upstream bandwidth was sufficient to support the conferencing sessions without visible degradation, and there was more than sufficient available downstream bandwidth to run other common applications, such as video streaming and web browsing, concurrently with the 10 conferencing sessions.
DAA 101: A Flexible Approach to Better, Faster Cable Networks
This month, we'd like to share information about Distributed Access Architecture (DAA) and how cable operators are using it to build the 10G networks of the future. In our previous posts about DOCSIS® and Coherent Optics technologies, we touched on some of the components of the cable hybrid fiber-coax (HFC) network, such as the headend and fiber nodes, but of course, there's much more to it. Today, we'll take a closer look at the functionality of the cable access network and how it can be distributed between various components to optimize network performance.
What Is Distributed Access Architecture?
DAA isn't a single technology but rather an umbrella term that describes the network architecture cable operators use to future-proof their access networks. This network evolution involves moving various key network functions that are traditionally located at the cable operator's hub site (or headend) closer to customers' homes—while also leveraging signal-quality improvements inherent with digital optics and the ubiquity of Ethernet. In addition, closer is better because it reduces the amount of hardware at the headend and creates efficiencies in network speed, reliability, latency and security.
In a nutshell, CableLabs' DAA technology solutions give cable operators the ability to cost-efficiently redesign their access networks in stages, when and how they see fit. Because all providers' business objectives are different, CableLabs has designed several DAA approaches they can leverage. Ultimately, it's all about building a robust 10G network that not only supports the needs of today's gig consumers but also anticipates tomorrow's high-rate applications such as holodecks, artificial intelligence (AI), virtual reality (VR) and more.
Let's take a look at one particular embodiment of DAA, known as Distributed CCAP Architecture (DCA).
How Does Distributed CCAP Architecture Work?
In a traditional HFC network architecture, the operator's hub—or headend—is connected via fiber to the fiber node in your geographical region. In the fiber node, the optical signal is converted to a radio frequency (RF) signal that travels via a coaxial cable to the cable modem in your home. The key functions responsible for the transmission of data and device access are placed at either end of the operator's access network—the hub and the modem—like bookends.
In 2015, CableLabs figured out how to split the key DOCSIS network functions into two components: a Media Access Control (MAC) layer that's responsible for how devices in a network gain access to the network, and a Physical (PHY) layer, a physical component that's responsible for the transmission and reception of data. Decoupled, these components can now be partially or fully moved from the headend into a fiber node closer to subscribers' homes, resulting in increased network capacity, greater speeds, lower latency and so on. That's the basis for DCA.
How Can Distributed CCAP Architecture Help Build Better Networks?
 Distributing key DOCSIS network functions out of the headend and closer to subscribers' homes comes with many benefits. Primarily, it allows operators to: 
Maximize Their Network's Potential
DCA allows cable operators to take full advantage of the gigabit capabilities of Coherent Optics and DOCSIS 3.1 technology, including Full Duplex DOCSIS and Low Latency DOCSIS. This means their networks will have more than enough bandwidth to support the latest-generation products for years to come.
Achieve a Better-Quality RF Signal
With distributed architecture, the RF signal that usually originates in the regional hub can now originate in the optical node, closer to the subscriber's home, thus reducing distortion and creating a more seamless user experience.
Increase Network Reliability
Because the main functions of the network no longer need to be housed at the headend, the access network can be redesigned so that fewer homes are connected to any single optical node (where the fiber and coax portions of the network meet). This means that if there's an outage, it will affect fewer customers, ultimately increasing the reliability of the overall network.
Expand RF Spectrum in the Future
Because DCA solutions are easily customizable and budget-friendly, they provide new opportunities for cable operators to expand their RF spectrum (basically maximizing the capacity of the coax portion of the HFC network) to support future services.
How Does This Technology Affect Me and My Future?
Widespread adoption of DCA, and importantly the superset of capabilities provided by DAA, is essential to creating the 10G future that we're all looking forward to. And although it might seem that DAA only provides cost-effective solutions for cable companies, ultimately the real beneficiary is you, the customer. By reimagining and reinventing cable access infrastructure, we're finding greater efficiencies that translate into more powerful networks. These networks will enable a wave of new, innovative services that will transform the way we live, learn, work and play.
Just like DOCSIS technology, Coherent Optics and other technologies that we'll be covering in our 101 series, DAA is another piece of the puzzle responsible for propelling cable's HFC networks into the new decade and beyond. Stay tuned for another installment—coming soon!
CableLabs' Latest Advancements on the Path to 10G
At CableLabs, staying at home during the COVID-19 pandemic has resulted in new ways of collaborating that have helped us continue to build technologies that will deliver internet speeds 10 times faster than today's networks. The trek to 10G started in 2019, as we began working with our members to create the technologies that build the 10G network.
This week, we announced significant advancements made in 2020 toward the realization of 10G. A sampling of our technical achievements over this past year includes DOCSIS® 4.0 technology, Intelligent Wireless Network Steering (IWiNS), Flexible MAC Architecture specifications, our leadership in the development of the IEEE 802.3ca standard and increased Wi-Fi reliability and performance. Plus, some of our members have started testing and delivering 1.25 Gbps service.
Our digital future will stall without a platform that can meet our needs. Although we don't know what the next trend will be, we do know that the Internet will be central to its development. By advancing device and network performance to stay ahead of consumer demand, 10G will provide myriad new immersive digital experiences and other emerging technologies that will revolutionize our lives.
It's a new year, and we're hyper-motivated to continue working on advancements in network reliability, security, speed and latency. Check out this chart to see how the latest 10G achievements map to these four areas.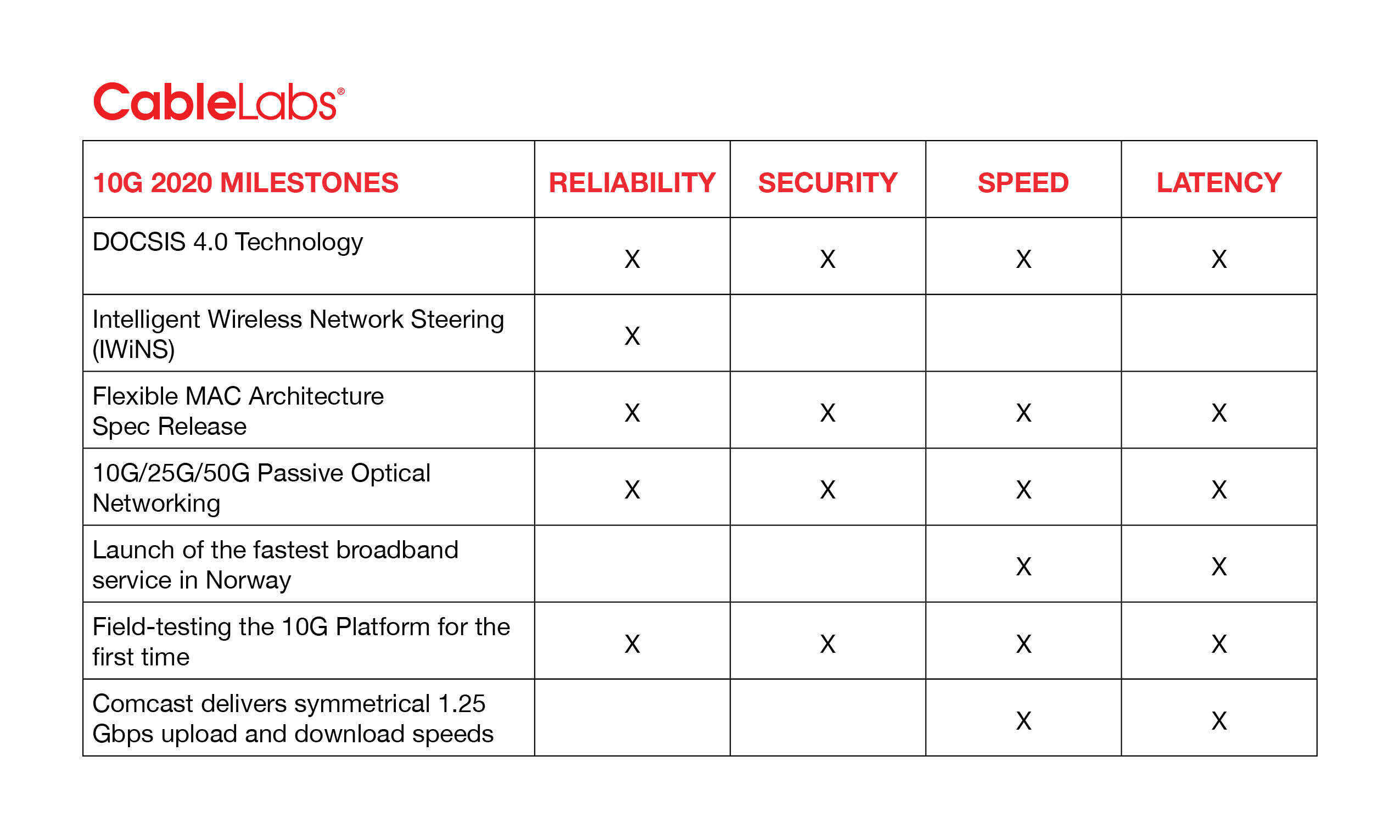 IWiNS—An Informed Approach to Mobile Traffic Steering
It's 3p.m. and you're rushing, in between meetings, to pick up your kids from school. You start to pull out of your garage when your boss texts you to hop on a quick video call.  But something doesn't work. Your app seems stuck, showing a spinning wheel—and you really need to get going. You're starting to get nervous. You shake your fist at the sky and shout, "The Wi-Fi!"
That's right: You're far enough away from your home Wi-Fi access point that you have very little connectivity available, but you're still close enough that your phone won't let go of that connection. It happens all the time—like the last time you were in that coffee shop, browsing the web just fine, but then you suddenly had issues joining a video call. Or when you were walking your dog around the neighborhood while playing your favorite game, and the session kept freezing and crashing.
So, what do you do when you're paused in your driveway, eager to get on the road? You rush through your phone settings, turn off Wi-Fi, your cellular connection kicks in and now you can finally start the video call with your boss. Your intuition saved the day—this time!
The good news is that there's likely nothing wrong with your home Wi-Fi or your phone and that you aren't alone in this experience. In fact, CableLabs' primary research shows that whenever mobile customers perceive a poor quality of experience, 64 percent of them feel the need to manually troubleshoot their network connectivity—and they believe the quickest and most effective solution is to turn off Wi-Fi and rely solely on the cellular network. Unfortunately, this behavior causes operators direct and indirect losses, and it prevents users from leveraging operator Wi-Fi networks that could serve them better and potentially give them a better mobile user experience.
We live in a constantly connected world in which users often have overlapping Wi-Fi, LTE and Citizens Broadband Radio Service (CBRS) coverage. Manually troubleshooting network connectivity frustrates users who don't want to be concerned about where their data is coming from. How can operators improve the customer experience while maintaining control over how network resources are utilized?
A 2018 PWC Consumer Intelligence Series 5G Survey shows that "roughly one-third [of broadband customers surveyed] said that reliability was a 'must-have' for internet access" and that "performance drops were a stronger concern than any other factor, though security, speed and cost efficiency each came up as important."
As part of our commitment to 10G, CableLabs has been working tirelessly to develop new technologies that help improve latency, security, speed and reliability for broadband customers around the globe. With the importance of reliability to the end-consumer in mind, improvements to connection reliability both in the home and in the mobile space have become one of the top objectives of the 10G platform.
In 2018, CableLabs started researching technologies to improve reliability within the mobile user experience. We analyzed several standard and proprietary solutions, and we identified gaps representing great innovation opportunities. That was the inception of the Intelligent Wireless Network Steering (IWiNS ) project, a mobile traffic steering technology created by CableLabs. IWiNS enhances the mobile user experience by adding network and application awareness to traditional mobile traffic steering without requiring any changes to the mobile device or the network infrastructure.
Previous and current mobile steering solutions are divided into two main categories: network-centric and user-centric solutions:
Network-centric solutions such as LTE-WLAN aggregation (LWA), LTE-WLAN Radio Level Integration with IPsec Tunnel (LWIP), 5G Access Traffic Steering Switching and Splitting (ATSSS) are generally standardized by 3GPP and are centered around the cellular ecosystem. They treat a secondary external network asset (e.g., a Wi-Fi access point) as subordinated upon a cellular base station and core network. These solutions require support inside the mobile device and modifications to Wi-Fi access points.
User-centric solutions are based on downloadable over-the-top apps that aggregate throughput across all the wireless networks that a device can connect with. Although these solutions don't require specific support from the device operating system (or modifications to the network infrastructure), they provide little or no control for the operator to manage the configuration of the traffic steering rules.
IWiNS fills the gaps for both types of solutions by building a technology that takes advantage of an over-the-top approach and gives full control of the traffic steering configuration to operators. Operators can now optimize single-user connectivity and take advantage of a crowd-sourced approach, resulting in a more reliable, efficient and adaptive traffic steering solution. It's like evolving from paper maps (static and unilateral information) to the wonders of online navigation, where the power of crowd-sourced information is available.
With IWiNS, operators can generate per-application policies that are optimized using real-time network performance indicators derived from all users connected to the network. Users' experience is enhanced by freeing them from manually troubleshooting network-connectivity issues, allowing operators to take advantage of a flexible toolset to dynamically manage network resources. Mobile virtual network operators (MVNOs) can cut costs by increasing Wi-Fi offload. Mobile network operators (MNOs) can reduce the capital cost of serving dense demand areas, leveraging cheaper network infrastructure assets and turning multiple networks into one.
IWiNS is deployed by using a client-server architecture in which the client is installed on the mobile device as an over-the-top mobile app and the server is hosted anywhere that's convenient for the operator (e.g., public cloud, on-premises cloud, private data center). IWiNS doesn't require any modification to the mobile device operating system or to the network infrastructure. The IWiNS client can also be embedded inside the operator's customer care app, making its deployment simpler for the operators. The server is composed of containers that handle policy management, network metrics collection and performance estimation functions—all orchestrated to ensure the scalability, efficiency and security of the deployment.
IWiNS optimizes the mobile user experience in real time and also gives operators an effective tool to shape network utilization and control their costs. With IWiNS, a new way of experiencing mobile connectivity is right around the corner.
CableLabs has created and demonstrated the IWiNS 1.0 proof of concept. More information about the IWiNS project, including a white paper, demo and executive summary, is available below.