Wireless
Mobility Lab Webinar #3: Inter-Operator Mobility with CBRS
The emergence of spectrum sharing with Citizen Broadband Radio Service (CBRS) has unlocked opportunities for new entrants including traditional multiple service operators (MSOs) to provide mobile service. CBRS networks will use low power small cells which inherently provides short distance coverage and thus target deployment in high traffic areas. Operators will likely have to rely on macro-cell network coverage to compensate for mobile service outside CBRS network coverage. Mobile Virtual Network Operator (MVNO) agreements are a common solution to support this strategy. Mobility and roaming between MSO-owned CBRS network and mobile network operator (MNO) owned licensed LTE network could potentially become a hurdle for MSOs with the need to share roaming interfaces and the need to have mobility parameters configured on both networks.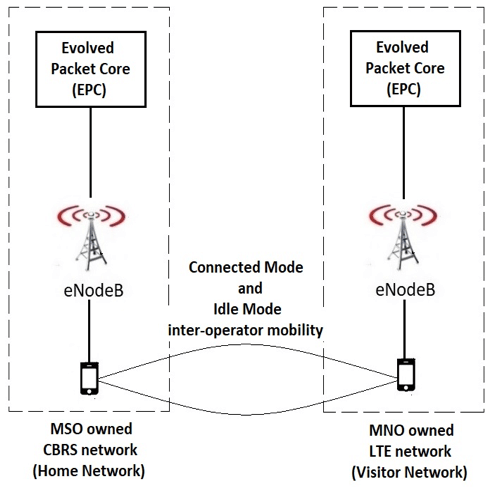 Inter-operator mobility with CBRS can be achieved with two 3GPP standardized roaming models for inter-operator mobility, each posing different challenges, benefits and tradeoffs to MSOs:
Home Routed (HR)
HR is ideal for MSOs who have a strong relationship with an MNO where sharing multiple interfaces and configuring mobility parameters is not an issue. HR benefits MSOs by enabling seamless connected mode mobility for subscribers while transitioning between the two operators but incurs high latency with user traffic being routed back to the home network.
Local Break Out (LBO)
LBO is ideal for MSOs who desire the least dependency on the MNO and plan to offer only data services with CBRS. Voice service offering with LBO implementation can degrade user experience because service disruption is expected during network transition with no S10 interface sharing. LBO, however, offers efficient routing in terms on bandwidth and latency as the user traffic is serviced by the visitor network.
CableLabs conducted testing to analyze requirements for the two 3GPP based roaming models with regards to network infrastructure, roaming interfaces, mobility configuration and mobility triggers. The testing documents key findings and observations that could assist MSOs to evaluate the benefits and challenges offered by the two roaming models.
Register for our Webinar
CableLabs is hosting another webinar as part of the "Mobility Lab Webinar Series" on "Inter-Operator Mobility with CBRS", scheduled for April 16th, 2019.
The webinar provides:
An understanding of 3GPP based network implementations for roaming used for inter-operator mobility along with their benefits and tradeoffs
An overview of inter-operator mobility testing at CableLabs
A brief description of alternate implementations that could overcome challenges faced with 3GPP based network Implementations for roaming
A lab demonstration of connected mode handover using Home Routed (HR) model between MSO owned CBRS network and MNO owned licensed LTE network
In case you missed our previous webinars, you can find them below:
Summer Conference
Collaborate, Share and Learn at Summer Conference 2019
With the beautiful Colorado summer fast approaching, we're ramping up preparations for our  annual three-day Summer Conference in Keystone—a place we like to call "Faster, Together." It's where professionals from all corners of cable gather to reflect on the state of the industry, sneak a peek into the future and exchange ideas on how to get there faster.
Join us this summer and find out how you can:
Get on the same page with the cable community
The agenda is packed with insightful keynotes, panel discussions and product showcases designed to give you a sense of what's happening around the industry. The event sessions cover two tracks: innovation and technical. On the innovation side, you'll learn more about emerging technologies and find out how your company's roadmap measures up with industry trends. On the technical side, you'll delve deeper into how things work and how the global industry can join forces to overcome its current technical obstacles.
Step out of your comfort zone
Many of us are goal-oriented introverts by nature. Great for hitting deadlines, but it's time to take a break from the office and open your mind to new ideas, even if they come from people who have nothing to do with your line of work. Or do they? In the past we've invited speakers from all walks of life—writers, illustrators and even poker players—to share success strategies that you can easily apply in your career.
Build valuable business connections
Tap into a powerful network of operators, vendors, startups and industry experts who share a vision of the connected future built on advanced cable technologies. Every session, project meeting or coffee break is a potential networking opportunity.
It doesn't matter if it came from the mind of a Fortune 500 CEO or a maverick innovator with big dreams, every great idea deserves a moment in the spotlight. Book a slot in Tek Stadium™ to showcase your company's product and get invaluable feedback from hundreds of industry professionals.
Attend exclusive meetings
Attend project meetings that are focused on new technologies and getting them widely deployed sooner. Project meetings are for cable operator members only. 
New Decade, New Possibilities
We're excited to announce that starting in 2020 we are launching an all-new annual event—with a new purpose, agenda and location—to serve the growing needs of the cable community in the new decade and beyond. And since at CableLabs innovation never stops, we're going bigger and bolder than ever before!
This also means that this year's Summer Conference will be our last. Don't miss your opportunity to attend this event—be sure to click below to learn more information and be notified when registration opens!
Event Info
Where:
633 Tennis Club Rd, Dillon CO
Hosted by: CableLabs
When: August 5-7, 2019
Wired
The P2P Coherent Optics Specification of the Future, Available Today
Today, CableLabs is announcing another addition to our family of Point-to-Point Coherent Optics specifications:  The Physical Layer 2.0 (PHYv2.0) specification. This new specification defines interoperable point-to-point (P2P) coherent optics links running at 200 Gbps (200G) on a single wavelength.
Just 9 months ago, in July of 2018, CableLabs announced the release of the P2P Coherent Optics Physical Layer 1.0 (PHYv1.0) specification, which defines operation at 100 Gbps (100G) on a single wavelength. The PHYv1.0 specification is designed to support rapid product development, ensuring the availability of interoperable products quickly. That quick availability was born through the interoperability event we held this past December, in which 9 different suppliers participated and demonstrated 100G interoperability.
In other words, the specification of the Now
The PHYv2.0 specification, on the other hand, is designed to leverage an emerging new generation of silicon and the resulting devices, which are anticipated to arrive by 2020. Those new devices will double the capacity of the cable access network, consume less power, and lower the cost per bit delivered. All on the network that already exists today.
This is the specification of the Future: A future that's coming very quickly
Further, this new specification is a key part of another future that's coming soon: the 10G future recently unveiled by the cable industry. P2P coherent optics running at 100G – and now 200G – allows cable operators to leverage the fiber they've already deployed to support that future vision as cost effectively as possible by greatly increasing the capacity of their existing hybrid fiber coax (HFC) networks. That, in turn, enables the enhanced services and experiences envisioned as a part of the 10G future.
Whether the connection to the customer is wired or wireless, at some point all of those network connections need to be aggregated together. The CableLabs suite of coherent optics specifications – now highlighted by the PHYv2.0 specification, defining interoperable 200G operation – will serve as a critical piece of enabling our interconnected future. Fill out the form below for more information.
Wired
Preparations for Full Duplex DOCSIS® 3.1 Technology are Marching Along
Built on the successful completion of CableLabs' DOCSIS 3.1 specification, Full Duplex (FDX) DOCSIS® 3.1 technology is a key component of the 10G platform that will significantly elevate the level of services available to consumers using existing cable broadband networks. With FDX DOCSIS 3.1 technology, the same frequencies are simultaneously used for both upstream and downstream traffic, virtually doubling the capacity of the coaxial cable. More capacity means lower latency and speeds of up to 10G for both upstream and downstream traffic. Cable broadband users will be much more satisfied with services, leading to greater customer retention and the ability to attract new customers.
Field Testing Analysis
In the past year, CableLabs has thoroughly scrutinized FDX DOCSIS 3.1 technology in the field. Test equipment and engineers have flown around North America performing analysis on real cable broadband networks, including both a newly constructed plant and coaxial cable that was installed back while I was in college (that coax is well past voting age…). Volumes of data were collected, such as technical parameters on various configurations and various weather conditions: data from real networks in the real world.
And it works. The testing results were positive and in line with expectations, and products built to the specifications are expected to deliver the higher symmetrical bit rates associated with full duplex operation. Now, coaxial cable networks won't be a limiting factor in getting to full duplex and the next generation of broadband services.
Now that CableLabs has developed FDX DOCSIS 3.1 specifications, members can move forward with this exciting technology. Members can further benefit from the Kyrio testing services that provide all the engineering expertise and lab equipment needed for testing FDX DOCSIS 3.1. All the operator has to do is identify network segments where the work is to be performed.
What's Coming in 2019
Getting back to the lab (which is a lot dryer and warmer than some of the outside plant scenarios where CableLabs has worked), CableLabs is:
Hosting lab activities to support the development and interoperability of FDX DOCSIS 3.1 products
Bringing back important discoveries from the field testing into the labs to support testing in real-world situations and scenarios.
Building the lab infrastructure needed to rigorously analyze performance and reliability in a variety of configurations
CableLabs and the cable industry are continuing to advance cutting-edge developments in cable broadband networks to remain ahead of consumer demand. The focus is on developing innovative network technologies, as well as defining optimal network architectures that provide the necessary capacity and performance in each network segment for multi-gigabit services today and in the future.
You can learn more about Full Duplex DOCSIS 3.1 technology and the 10G platform by clicking below. 
Legal
The Personal and Social Implications of the End User License Agreement
As in-house counsel, I often read and write online licensing agreements for software. These agreements go by a variety of names, such as Terms of Service (ToS) or End User License Agreements (EULAs). These are the agreements you scroll through (without actually reading) and then click the "I Agree" box, thus legally binding yourself to something you didn't take the time to read or understand in order to get something you want quickly.
Not Your Fault
Don't feel bad about not reading EULAs. It would take a significant amount of time to read every one of the agreements you encounter. Also, many of them would require you to go to law school to understand them! And even if you didn't like the terms of an agreement, your only options would be to try to negotiate better terms (best of luck with that!) or not use the software or service. Besides which, if you're getting the software or service for free, you may ask, "Who cares?" You should! Even if the transaction doesn't involve money, it isn't actually free. You may not be giving up your money, but you are giving up your legal rights.
You may not care about some of those rights, as they often may not impact you too seriously. But one serious development I do see coming up more often is when a company reserves the right to change the agreement at any time by posting new terms on its website. If you continue to use that company's software, then you automatically agree to the new terms. This means that it's possible that a free app you downloaded one day wouldn't be free the next day—and you wouldn't know it unless you compulsively checked the website to read what you didn't read the first time.
Sometimes You Can Win in Court – But You do Have to Go to Court
It's not all bad in EULA land. In some instances, the court will have your back. Because EULAs are non-negotiable form agreements, they're considered "adhesion contracts." Generally, courts won't allow the dominant party (the one that wrote the adhesion contract) to enforce an adhesion contract term if the court considers it "unconscionable"— that is, generally, and as a simplification, if the contract term is unfair to the weaker party. But that also means you have to sue and spend time paying for your case.
So Who is Going to Change the EULA?
Although there may be little incentive for lawyers to change EULAs on their own, there are incentives for the lawyer's clients. Companies invest a lot in their customer experience. EULAs are clearly not part of that investment, but they should be—after all, the EULA is where the software or service is purchased. Companies are in a position to challenge their legal counsel to draft EULAs that work to enhance the customer experience. Outside of a sea change in the law, this may be the only way EULAs will change.
At Kyrio, I work hard to make our agreements as simple as possible. I have also launched my own initiative with lawyers and designers to develop contracts that are written in standard English. Subscribe to our blog to learn more in the future.
Security
CableLabs® Micronets Security Reference Code Is Now Open Source
In November, we introduced CableLabs micronets, a next-generation on-premise networking platform focused on providing adaptive security for all devices connecting to home or small business networks. Micronets uses dynamic micro-segmentation to manage the connectivity to each device and is designed to provide seamless and transparent security without burdening end users with the technical aspects of configuring and maintaining the network. Micronets is also a foundational piece of the cable industry's recently announced 10G vision – supporting increased security for home and small business users.
Today we are pleased to announce that the release of the micronets reference implementation as open source software. You'll find links to files and details on how to build and deploy the different Micronets components here. CableLabs plans to continue to develop and add new features to the open source reference implementation – we also welcome contributions from the broader open source community.
Why Open Source?
Here at CableLabs, we believe in the importance of sharing our code to accelerate the adoption of new ideas and to stimulate industry-wide innovation. In this particular case, there was an even stronger sense of urgency to do so.
The rapid and growing proliferation of Internet-connected devices, or the "Internet of Things" (IoT), has ushered in a new era of connectivity that gives us unprecedented control over our environment at home and at work. Unfortunately, along with all the benefits comes significant risk to end users and the broader Internet, alike.  Vulnerable IoT devices are the fuel for botnets and other distributed threats.  Compromised IoT devices are used to launch distributed denial of service (DDoS) attacks, spread ransomware, send spam, and more generally, enabling the theft of personal or sensitive information.  Moreover, vulnerable IoT devices may also create the risk of physical harm, as many connected devices now provide a bridge between the cyber and physical worlds.
CableLabs and the broader IoT ecosystem are committed to driving improved IoT security, but such efforts are not enough alone to address the risks of insecure IoT.   We must also develop network technologies, such as micronets, to help mitigate the risks of insecure IoT.  There will always be legacy devices that don't meet current IoT security best practices and potentially, manufactures that don't follow best practices.
We believe addressing the risks of insecure IoT is a shared responsibility. By releasing the reference code as open source, we're hoping to accelerate the adoption of micronets and encourage others to build upon our work.
More on Micronets and How it Fits into Our Security Agenda
The micronets platform leverages advanced mechanisms like device fingerprinting and artificial intelligence to enable real-time detection and quarantining of compromised IoT devices, minimizing the risk to other devices on the local network and to the broader Internet.  Micronets can also provide enhanced security for high-value or sensitive devices, further reducing the risk of compromise for these devices and applications. Despite the complex technology under the hood, this self-organizing system is geared toward an everyday consumer and is very easy to use. For a deeper dive into micronets' security features, please download the micronets whitepaper here. Missed our recent public webinar? You can find it on youtube here.
Micronets is just one of many active security projects at CableLabs. For instance, we're also working on advancing additional cyber-attack mitigation technologies, such as DDoS information sharing, IP-address spoofing prevention and more, as well as actively contributing to industry and government efforts to drive increased IoT security. And although there's no single solution that protects every network, we will continue working with our members and vendors and various industry organizations to develop better tools that make our world a safer place—one network at a time.
Click below for details on how to build and deploy the different Micronets components. 
Events
What's Next for Cable? To Find Out, Join us at Cable Next-Gen this March
For the 12th consecutive year, cable's top executives, technologists, engineers, marketers, new business developers, strategists, financial experts and other professionals gather in Denver, Colorado, for Light Reading's Cable Next-Gen Technologies & Strategies Conference. Widely known as the cable industry's leading independent event, it is a two-day deep dive into cable's future. Participants discuss the adoption and monetization of emergent technologies, current and future business models, transitioning from legacy platforms to next-generation equipment and software and other hot topics that'll shape the cable industry for years to come.
Who, What, Where
Previous attendees consistently boast about every aspect of this event, from its structure to the quality of the speakers to the venue. Judging by the posted agenda, 2019 will not disappoint. Captivating keynotes, panel discussions, Fireside Chats and networking lunches will not only keep you interested and engaged for the full two days, they'll also leave you with a wealth of new information you can take back to the office.
This year's list of confirmed participants includes many of our members, organizations such as Society of Cable Telecommunications Engineers (SCTE) and many other representatives from the cable community. Many of our accomplished technologists including our CEO and President, Phil McKinney, have been invited to share their expertise as keynote presenters or panelists. Here's a list of some our attendees and their respective sessions:
Author, speaker and innovation guru, Phil McKinney, will deliver a keynote on the rollout of 10G technologies in the near future, titled CableLabs Talks 10G. Find out more about how our technologies will enable the 10G platform and deliver residential internet speeds 10 times faster than today's networks and 100 times faster than what most consumers currently experience.
CableLabs' current "Inventor of the Year," Dr. Campos is regarded by many as the "founding father of Proactive Network Maintenance." He will share his expertise in his keynote, Coherent Optics: Beyond Bits, and participate in a panel discussion called Lighting Up Coherent Optics.
A video and immersive experience expert, Dr. Hinds will share her thoughts on the future of VR/AR/MR technologies in her keynote CableLabs Goes Back to the Future.
Mr. Levensalor will leverage his extensive NFV knowledge and experience as an OPNFV Vice Chair in the Fireside Chat called Transforming the Cable Network Infrastructure.
As the connected home becomes a reality for many consumers in the coming decade, experts like Josh are working hard to make Wi-Fi experience the best it can be. He will join two other panelists for a Special Breakfast Session called Profiting from the In-Home Wi-Fi Challenge: Strategies and Solutions.
An expert in developing monetization strategies for emerging communication technologies, Jen Shelby will share her knowledge as a panelist in a session titled Monetizing Next-Gen Business Services.
Dates & Location
March 12-14, 2019
Embassy Suites Downtown Denver Convention Center
Denver, Colorado
If you're still wondering if this event is for you, it's simple—if you're in the cable business and are involved in building its future—Cable Next-Gen has to be on your list of annual "must-goes." For more details or to register, please visit the Conference website.
AI
Why Consensual AI Improves Problem Solving
A version of this blog post was published on February 21, 2019, on the S&P Global Market Intelligence site. 
We are surrounded by embedded sensors and devices with more processing power than many of the computers standing on our desks. Machine learning modules inside phones, home control systems, thermostats, and the ubiquitous voice operated gadgets, constitute a whole technological species that now coexist with us through the same Internet environment we populate with our own communication devices. These are the simple components of what it is commonly called the "Internet of Things" (IoT).
The real revolution is taking place in a different, less visible setting, an industrial one, that ranges from manufacturing and refineries to health care. Within these very large systems and organizations, myriads of embedded smart sensors are connected through shared API's, leading to a new form of networked computing power that will likely dwarf what we conceive of as the present-day Internet.
The Challenges of Embedded Systems
This vast industrial array of connected sensors has many characteristics that make it different from the consumer smart devices with which most people are familiar. First, the pervasiveness and interconnectivity of these sensors, coupled with the unpredictability of their inputs, make their response times autonomous from human intervention. For instance, a fitness tracker running out of power does not necessitate an urgent response. In comparison, the failure or delayed emergency signal from a smart sensor controlling several refinery valves can trigger an undesirable chain reaction from other sensors and actuators leading to consequential systemic failures.
Second, these smart sensors constitute an open and asynchronous distributed system which cannot predict the behavior of the environment in which it is embedded. This system is also decentralized since it would be hard for a central unit to receive and transmit up-to-date information on the state of the whole system.
Third, the distributed nature of this industrial internet of things makes it open to a host of security threats, since a single break into a component of the distributed fabric can compromise the entire system.
While it is easy to create machine learning algorithms that report on the behavior of parts of the system, it is hard for these programs to be able to reason and act swiftly in response to inputs and malfunctions of a large, interconnected embedded system. A notable improvement can be achieved by using Edge Computing, which entails sensing and processing the information from embedded systems in close spatial proximity to them.
Far more complicated is the aggregation of such local information at a coarser level, so that one can obtain global and timely information and take corrective action when needed. The reason why this is difficult is that sensors differ in the precision and sophistication with which they sense and process data, while at times reporting faulty readings.
Consensual AI Solutions
One way to remedy these problems is to design distributed algorithms that can cooperate in the overall task of diagnosing and acting on systems of embedded sensors. Examples include the sensing of local anomalies that are aggregated intelligently in order to decide on a given action, the collective detection of malware in parts of the network, and effective responses to predetermined traffic and content patterns, to name a few.
We know that such distributed systems are extremely effective at solving the global problems posed by interconnected local units because this is the manner in which humans successfully manage large distributed tasks. Organizations are created at a dizzying speed to deal with problems of control and distribution in a number of industries and services, and they function by interweaving local expertise that is able to detect and solve problems that require timely solutions, from network malfunctions to supply chain interruptions.
This distributed form of artificial intelligence is not an illusory goal. A few such systems have already been designed and tested and have shown dramatic improvements in the times needed to solve hard problems such as optimization and graph coloring. These problems are characterized by the fact that as their size increases linearly, the time to finding a solution rises exponentially. A common example is the traveling salesman problem, which can be seen as a metaphor for the laying of networks in a manner that minimizes the number of traversals needed to cover multiple cities and users. As more nodes are added to such a network, the number of possible solutions increases exponentially, leading to the impossibility of finding the node that minimizes the connections in finite times.
The beauty of cooperative systems is that once deployed, they can exhibit combinatorial implosions. These implosions are characterized by a sudden collapse in the number of possible avenues to a solution due to the effectiveness of cooperation. As a result, problems that took an enormous amount of time to solve are now rendered in linear or polynomial time. These implosions occur when both the quality and the number of messages exchanged by these agents or programs increases while working on the solution of complex problems.
In the context of these networked embedded sensors, consensual systems have the ability to aggregate disparate, and at times, incorrect information to quickly and reasonably diagnose problems. These types of cooperative systems will allow for the control of these large embedded systems without having to resort to an exhaustive analysis of all the data that floods the network. Even better, one hopes that as algorithmic forms of common-sense reasoning (e.g. haven't I seen this problem before?) are developed in the future we will then reach the dream of fully embedded sensors being able to control their systems in a form that one would call intelligent.
Want to learn more about AI in the future? Subscribe to our blog. 
Wired
Proactive Network Maintenance (PNM): Are You InGeNeOS?
I love a good acronym! InGeNeOS™ is an acronym built from Intelligent General Next Operations Systems. It's the name of a CableLabs working group that solves Proactive Network Maintenance (PNM) issues for the cable industry, and it might be for you.
What's So InGeNeOS about PNM?
The InGeNeOS group focuses on discussing, inventing, building and sharing network operations tools and techniques from the data made available from DOCSIS® systems, including the CM, CMTS and test devices. Other CableLabs working groups focus on DOCSIS specifications, and the SCTE Network Operations Subcommittee Working Group 7 focuses on network operations training material. The InGeNeOS group connects these two worlds and turns the network information into capabilities that engineers and technicians can use to maintain services. We turn DOCSIS system information into solutions that identify, diagnose and sometimes automatically correct network problems—often before the customer notices. When these tools get good enough, they can become proactive. Thus, we often refer to this group as the PNM Working Group (WG). See why we put it into an acronym?
Don't Just Think—Do!
This group doesn't merely ponder PNM solutions; it is very active in several ways:
Developing best practices for PNM solutions—We just started an effort to document PNM best practices in a DOCSIS 3.1 environment.
Guiding specifications development for emerging technologies—For example, although Full Duplex (FDX) DOCSIS technology is not yet deployed, we know it must be fully ready when it is, and that includes being operationally supportable.
Sharing experiences, both problems and solutions—Many working group participants work maintenance problems at operator companies, or for operators, so they bring problems to the working group to get ideas for causes and resolutions.
Testing theories in the lab—Once we develop theories about the causes of problems in the field, we reproduce the theorized conditions in the lab to confirm the cause. We can also calibrate measurements, test methods for detection and develop new PNM tools and methods based on these tests.
This developing, defining, knowledge sharing and testing help operators reduce costs and improve service reliability by improving their network maintenance operations. All these are just examples of what we do. If you have ideas that might fit within this framework, keep reading.
So You Think You're InGeNeOS?
Operators in—and vendors supporting—the cable industry can easily benefit from joining the InGeNeOS group:
If you are a cable operator and a CableLabs member, consider this your invitation to join.
If you are a cable operator but not a member, this is a very good reason to become a member.
If you are a vendor, all you need to do is sign the NDA and IPR.
In any case, contact Jason Rupe to join the InGeNeOS group.
Wireless
Mobility Lab Webinar Recap: Over-the-Top (OTT) Aggregation
This week, we hosted our second installment of the Mobility Lab Webinar series on "Over-the-Top (OTT) Aggregation." If you were unable to attend the webinar, you can read about it in this blog or scroll down to see the recorded webinar and Q&A below.
Background
Wireless operators have always been driven to meet increasing user demand by achieving higher data rates and improving quality of service. To fulfill these needs, wireless operators have used various types of carrier aggregation, including several commonly used industry-standard solutions:
Traditional multi-carrier aggregation
Aggregating carriers in either licensed or unlicensed spectrum, using a single technology like LTE
Aggregating carriers by using both LTE in licensed spectrum and Wi-Fi in unlicensed spectrum
Each aggregation solution offers benefits such as higher date rates, improved QoS, more efficient spectrum utilization and enhanced user experience. But these benefits need to be weighed against certain tradeoffs in terms of capital investments, deployment complexities, spectrum and network infrastructure ownership. This may result in barriers for Multiple Service Operators (MSOs) with no cellular infrastructure.
Our Webinar: Over-the-Top (OTT) Aggregation
OTT aggregation is an alternate solution to industry-standard aggregation solutions. OTT aggregation solutions leverage existing cellular and Wi-Fi infrastructures without requiring any significant changes on the network and end-user devices. Thus, OTT aggregation solutions offer an economical approach for an MSO to provide high data rates and improved user experience.
The webinar provides the following:
An understanding of why aggregation is important
An overview of traditional aggregation solutions
A detailed description of OTT aggregation solutions compared with industry-standard aggregation solutions
An overview of the testing conducted by CableLabs to validate the benefits of aggregation solution on end-user throughput and quality of experience (QoE)
To learn more about this topic, please use the links below:
Stay tuned for information about upcoming webinars. If you have any questions, please feel free to reach out to Wireless Architect Omkar Dharmadhikari.