News
Mexican Cable Operator Joins CableLabs
Just a couple months after our new member announcement for Millicom, we're happy to report that yet another Latin American cable company—Megacable—is joining us. The timing couldn't be better. As we geared up for our inaugural Latin America & Caribbean Summit in December, we relied on our CALA members to bring cable's global 10G vision of universal high-speed Internet access and continuous connectivity to the areas they serve. And now that one of Mexico's largest cable communications companies is onboard (together with Izzi Telecom), we're looking forward to working with them to make this vision a reality in the near future.
About Megacable
If you live in Mexico, you're probably familiar with Megacable, a TV, phone and Internet provider operating in 26 states and more than 350 municipalities, including Guadalajara, Puebla, Toluca, León, Veracruz, Hermosillo, Culiacán, Morelia, Querétaro and Torreón. The company's fiber network, which passes 8.8 million homes, spans more than 61,000 km (that's more than 38,000 miles) supported by nearly 22,000 employees. As of September 30, 2019, Megacable had grown to approximately 3.2 million pay-TV subscribers, 3.1 million broadband subscribers and 2.1 million telephony subscribers. At the close of Q3 2019, unique subscribers rose to 3.6 million, and revenue-generating units (RGUs) reached 8.4 million, up 7.1 percent compared with Q3 2018. RGUs per unique subscriber reached 2.3, continuing an upward trend.
In addition to its basic triple-play services, Megacable also creates and broadcasts exclusive content related to Mexican culture, tourism, news and entertainment on its own Video Rola channel, available live in certain parts of Mexico and the United States. In August, Megacable broadcast its first original series production on the Panico and Cine Mexicano channels, as well as on Megacable's "Xview" its interactive video and on-demand platform. The 13-episode series is called "13 Minutos Antes de Dormir" ("13 Minutes Before Sleeping") and features a number of Mexican horror legends, plus an original score. The company also caters to its business clients with a robust portfolio of services that includes the design and development of tailored information technology and equipment solutions.
Mega-Plans for the Future
Megacable's future ambitions include improving and expanding its fiber optics footprint, as well as offering a whole new set of mobile services to its customers. Just this May, Megacable acquired another 1,370 km of fiber optics infrastructure through a deal with Axtel, increasing its residential and business subscriber base by 50,000. In November, Megacable began its journey to becoming a quadruple-play provider by venturing into the mobile business as a Mobile Virtual Network Operator (MVNO) under its new service "Mega 4.5G." As part of its launch promotion in select cities, it has distributed more than 500,000 SIM cards with access to Megacable's MVNO network absolutely free for 3 months.
This type of entrepreneurial spirit is essential to driving progress and helping people stay more connected to everything and everyone they love. Improving high-speed connectivity, whether wired or wireless, is key to realizing the 10G future where lightning-fast super networks will serve as a springboard for a whole new wave of innovation—not just in Mexico, but all around the world.
Welcome, Megacable!
Innovation
2020 Tech Innovation Predictions
Now that 2020 has arrived, it's time to share my tech innovation predictions for the year. Watch the video below to find out what you can expect to see this year.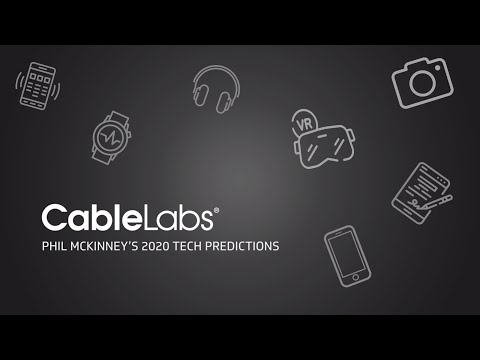 What are your innovation predictions for 2020? Tell us in the comment section below. Best wishes for a great new year!
 --
Subscribe to our blog to see how CableLabs enables innovation.
10G
The Path to 10G: 2020 Update
The future of connectivity holds technical enhancements that are meant to change the way we live, work, learn and play. A fully realized connected network that enables all the different use cases and provides ubiquitous coverage through a seamless experience will need to rely on multiple access technologies and choices. Seeing this paradigm shift in the future of connectivity, the broadband industry came together to announce the 10G Platform in January 2019, led by CableLabs, SCTE•ISBE, NCTA and GIGAEurope. 10G will enable broadband connectivity with higher connection speeds, lower latency, higher reliability and increased security, and it also will enable and complement other access technologies.
Today, DOCSIS 3.1 technology enables the cable industry to offer 1 Gbps service to 80% of U.S. households. Just one year after the announcement of 10G, we have made some exciting progress towards this milestone in just 12 months.
As we march towards the frontier of 10G, new cable modems already being certified are capable of 5 Gbps capacity, with integrated standard 2.5 Gbps Ethernet ports that make it easier to distribute that capacity throughout the home. With full duplex and extended spectrum capabilities integrated into next-generation DOCSIS 4.0 technology, the industry will be able to deliver on that 10 Gbps promise over hybrid fiber coax networks.
The 10G optical network (Figure 1), is the backbone of the distributed access architecture and will provide the industry with opportunities for true service convergence that leverages the flexibility and tremendous capacity provided by fiber optics.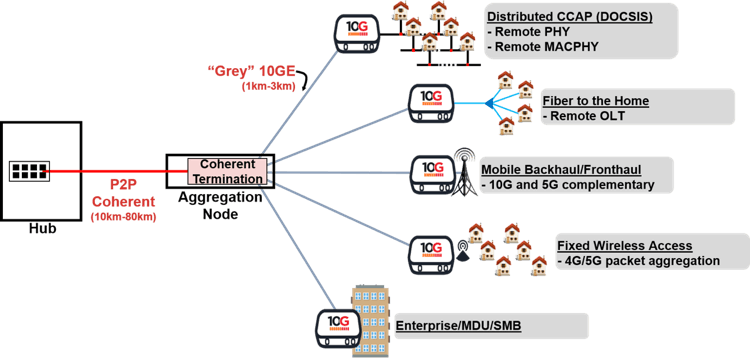 Figure 1: The 10G converged optical network
This year, CableLabs released an update to the 100 Gbps point-to-point coherent optics specification and released a new 200 Gbps specification – both intended to support the aggregation requirements of the distributed access architecture. While operators currently deploy 10G passive optical network technology (PON) where fiber to the premise is preferred, the IEEE standard for next-generation 25G-PON and 50G-PON technology remains on track for mid-2020 completion.
Lower latency is an important network characteristic that is quickly becoming a key service differentiator for connectivity, especially when considering delivering top cloud gaming or telemedicine experiences. This year, CableLabs and industry partners completed the DOCSIS specification updates to include Low Latency DOCSIS (LLD), a technique allowing traffic that requires low latency to transit the HFC network in just 1-2ms. Implementation of this technology quickly ramped up with seven vendors attending the LLD interoperability events.
Additionally, as part of the convergence of HFC networks with 5G networks, latency becomes critical when looking to use HFC as the transport layer. In 2019, we trialed two new technologies that enable mobile deployments over DOCSIS networks:
Low Latency Xhaul pipelines DOCSIS bandwidth requests from mobile base stations, and was trialed and showed average DOCSIS network latency below 2ms.
We also lead a trial of the TIP vRAN Fronthaul project, which is vRAN fronthaul designed to handle DOCSIS network latencies up to 30ms.
Another key pillar of the 10G Platform is security, to which we have dedicated significant efforts over the last year, advancing four leading technologies:
Transparent Security uses the programmable data plane inside the access network to perform in-band telemetry and traffic processing. This increases protection against distributed denial of service attacks and provides flexibility to the network operator in active defense techniques.
Device Onboarding makes good on the 10G promise by requiring easy and secure onboarding and provisioning of devices connecting to the platform made possible through strong device identity credentials and lifecycle management.
Endpoint Identity provides unique, immutable, and attestable identities for networked devices. Strong device identity provides the trust framework to enable all other security controls, making it fundamental for securing the 10G Platform.
Network Independent Credentialing, an essential part of 10G security, allows for authentication and risk management across access networks. Supporting this vision, Release 2 of the CBRS-A specifications included CableLabs' work on Extended Credentials Authentication Framework (TS-1003) which extends the possibility to authenticate to CBRS-A Networks with different types of credentials – e.g., X.509 Digital Certificates. Building on that, the work is now focused on providing a common credentials management framework that can be integrated across the 10G platform (EAP-CREDS).
Proactive network maintenance (PNM) has long been a key element to increasing the reliability of the HFC network and providing an excellent quality of experience for cable service subscribers, and it is no different with 10G. This year CableLabs has a more robust portfolio of PNM activities than ever before. By measuring key "health" parameters from millions of cable modems, operators are able to create solutions on the Pro Ops platform to solve problems before customers experience any degradation in service.
Our PNM accomplishments extend to Wi-Fi where CableLabs led the pursuit of establishing a standard set of health metrics and their reporting format for Wi-Fi networks – now officially called Wi-Fi CERTIFIED Data Elements– to optimize residential Wi-Fi networks. Soon, PNM for cable industry optical networks will integrate seamlessly with traditional industry network health solutions.
In addition to PNM, we have delivered Dual Channel Wi-Fi™, which enables a 10G reliable Wi-Fi connection by ensuring optimized delivery of data services used in video, gaming, large file downloads, and time-sensitive services like video conferencing. A Dual Channel Wi-Fi reference implementation is currently available to the operators and vendors.
Looking into 2020
The connectivity catalyst of the future needs to occur across many spaces, including cyberspace, geospace, and electromagnetic space and it will all be coming to you in a virtualized cloud-native form. Technologies need to evolve to meet the vision through cost-effective solutions; wired, wireless, fixed, mobile, terrestrial, satellite, HAPS, unlicensed, licensed, low-band, high band, low-speed, high-speed, will all play a role to meet the demand of humans and things.
Over the past year, the industry has worked to create and introduce technologies that bring us one step closer to the promise of a 10G network, and are excited by the progress we have made. At CableLabs, we are excited about 10G and are actively involved with 5G, IEEE, and many other industry forums which are also working on advancing the future of connectivity.
Energy
Canada Launches a Small Network Equipment Voluntary Agreement
CableLabs is pleased to announce that an energy efficiency voluntary agreement for Small Network Equipment (SNE) was launched today in Canada. This is the second category of equipment in the Canadian Energy Efficiency Voluntary Agreement (CEEVA) program, which was initiated in 2017 to improve the energy efficiency of Set-Top Boxes (STB).
The new CEEVA SNE, which was developed in partnership with Natural Resources Canada (NRCan), provincial governments and utilities, commits leading service providers and manufacturers to improving the energy efficiency of devices like Internet modems and routers by 2021. It is based on the highly successful SNE Voluntary Agreement in the US that was established in 2015 and has achieved an average 66 percent improvement in energy efficiency of the SNE purchased and deployed by its signatories since its launch.
The CEEVA SNE signatories to date are:
Bell Canada
COGECO Connexion Inc.
CommScope, Inc. of North Carolina
Rogers Communications Canada Inc.
Shaw Communications Inc.
Vidéotron LTD
Technicolor Connected Home USA LLC
In CEEVA SNE, the service providers commit that 90 percent of their new SNE purchased will meet the energy efficiency levels beginning in 2021. The levels will align with the more rigorous Tier 2 levels that were established in the US SNE VA when it was extended last year, so Canada is skipping Tier 1 and going right to Tier 2. (In the US, Tier 2 will go into effect in 2020.) As with CEEVA STB, compliance is determined through independent testing and auditing, and the service providers will also publicly post the power consumption of all models purchased after January 1, 2020.
Programs such as CEEVA and the US Voluntary Agreements are very important to keep energy efficiency a design priority, yet provide the agility required to rapidly innovate on these platforms.  A voluntary approach to improve energy efficiency has been proven to be an effective alternative to regulation. This is even more important as we head into a 10G world.
Four of the five CEEVA service provider signatories are cable operators and CableLabs members, and CableLabs provides significant leadership in the CEEVA program. In addition, Kyrio is ISO-17025 accredited to conduct the energy testing for set-top boxes and small network equipment, and supports the CEEVA signatories with their testing expertise.
Internet services provided by the CEEVA signatories also help to save energy by enabling e-commerce, telecommuting, smart thermostats and lighting. By standing up this new voluntary agreement, these companies are further advancing their commitments to Canada's shared energy efficiency and climate change objectives.
Wireless
RadSec, Securing RADIUS Message Exchange
With the ever-increasing use of mobile devices for data-rich activities, mobile networks have felt the burden of handling larger amounts of data. To gain relief, mobile operators have turned to offloading data onto Wi-Fi networks that are locally available—not only their own networks but Wi-Fi networks owned by their roaming partners. If the roaming partner's Wi-Fi network is secured, then the subscriber's credentials are exchanged between the roaming partner and the home operator, typically over the Internet. These credentials need to be secured while traversing the Internet, and the most common method is to use IPSec secure tunnels. Although IPSec secures and encrypts this critical information over the Internet, IPSec is not without issues and risks.
One issue is that the information is encrypted only from firewall to firewall, leaving the data unencrypted within both operator networks. In addition, setting up IPSec can be cumbersome because of the amount of work typically involved and the number of individuals, which can include the server administrator, network administrator, firewall administrator and security individuals. There's also the issue of performing key exchanges and testing the connections; the entire process is repeated if either end of the connection needs to be altered, resulting in downtime.
A Solution to These Issues Is RADIUS Security (RadSec)
Although RadSec is still a draft specification within the IEEE (RadSec profile for RADIUS), it's based on TLS RFC 6614 "Transport Layer Security (TLS) Encryption for RADIUS," which enables the securing and encrypting of RADIUS messages between the RADIUS client and server. RadSec ensures that all RADIUS messages are secured and encrypted not only when they're sent over the Internet but also when they're deeper within each operator's network, starting with the client and server. Because RadSec is based on TLS, the client and server are mutually authenticated at connection time, ensuring a trusted connection by chaining the certificates to a trusted Root Certificate. By using certificates, the revocation of certificates can be used to eliminate unauthorized connections. In addition, TLS offers encryption of the RADIUS exchange. Encrypting the exchange prevents the exposure of sensitive subscriber information at all points between client and server—within the roaming partner's network, over the Internet and within the mobile operator's network—making the entire path secure.
RadSec is flexible and scalable. With RadSec, the client or server IP addresses can be altered without having to reconfigure the secure tunnel settings, as is the case with IPSec. The number of peering clients and servers can also be increased as needed based on operational requirements—without requiring additional work to establish new secure tunnels. This flexibility contributes to RadSec's scalability. With traditional secure tunnels, if additional roaming partnerships formed, firewalls need to be set up to support the new tunnels. With RadSec, at the most, firewall access control lists (ACLs) would need to be updated to allow traffic from and to the new partner; the same certificate can be used for all roaming partnership connections.
Based on the benefits of RadSec, CableLabs has led the work in Wireless Broadband Alliance (WBA) to introduce RadSec to the WBA Wireless Roaming intermediary eXchange (WRiX).
For more information about RadSec, please contact Luther Smith (l.smith@cablelabs.com).
Reliability
Data Elements and TR-181 – Connect to the PNM Data You Need
Remote Wi-Fi troubleshooting is the keystone of good customer experience and reduced support costs. The ultimate iteration of this is a fully automated proactive network maintenance system, where Wi-Fi issues are resolved before they impact your customer. When Wi-Fi becomes self-healing, customers enjoy seamless access to your services. The first steps to enable this bright future have already been taken.
Wi-Fi CERTIFIED Data Elements™ Extends TR-181
Earlier this year, CableLabs led the effort in the Wi-Fi Alliance to build and launch Wi-Fi CERTIFIED Data Elements, which established a standardized data model to capture those key performance indicators necessary for remote Wi-Fi troubleshooting. Certifications are now available through Wi-Fi Alliance authorized test labs, and we anticipate the first Data Elements capable customer presence equipment in early 2020. But capturing this data is meaningless without a way to transport it out of the home. In September, the Broadband Forum helped us take the next major step by adopting Data Elements into TR-181.
TR-181 is a device data model that encompasses a variety of CPE configuration and monitoring parameters and has been very successful in the remote configuration of cable modems. Data Elements extends TR-181 to the Wi-Fi domain with meaningful, actionable information that is specifically targeted at remote troubleshooting. This includes layer 1 & 2 information from attached client devices and neighboring networks, giving you an unprecedented view deep into your customer's network and beyond. Normally, we think of remote troubleshooting data as covering only the gateway's perspective. By capturing and analyzing the behavior of the attached clients, you can identify and resolve long distance issues such as hidden nodes or external interference sources.
TR-181 with Data Elements is now available for both the widely-deployed TR-069 and USP – the next-generation advanced remote management utility.
Please contact Josh Redmore (j.redmore@cablelabs.com) for more information on how to get involved with Data Elements and TR-181.
Innovation
ChirpStack: The New Open Source LoRa Server
Over the past couple of years, CableLabs and Orne Brocaar have introduced multiple major releases of the LoRa® Server, a community led open source LoRaWAN® network server. The goal of this effort is to provide a powerful tool for enabling LPWAN services using unlicensed bands worldwide. The server is licensed under the MIT license, so it can be used freely for any use from testing to production. Our objective continues to focus on enabling growth and creativity in the LPWAN ecosystem using the LoRaWAN protocol.
We are excited to announce that LoRa Server has been renamed ChirpStack™. What does this rebranding mean for our community of users? Well, nothing really, with exception of assuming a new name. The server continues to provide the functions, capability, LoRa Alliance® compliance and MIT licensing it always has. However, the name and URL location of the resources has changed.
The ChirpStack software, source-code and documentation are now available here: https://www.chirpstack.io. The discussion forum is now available here: https://forum.chirpstack.io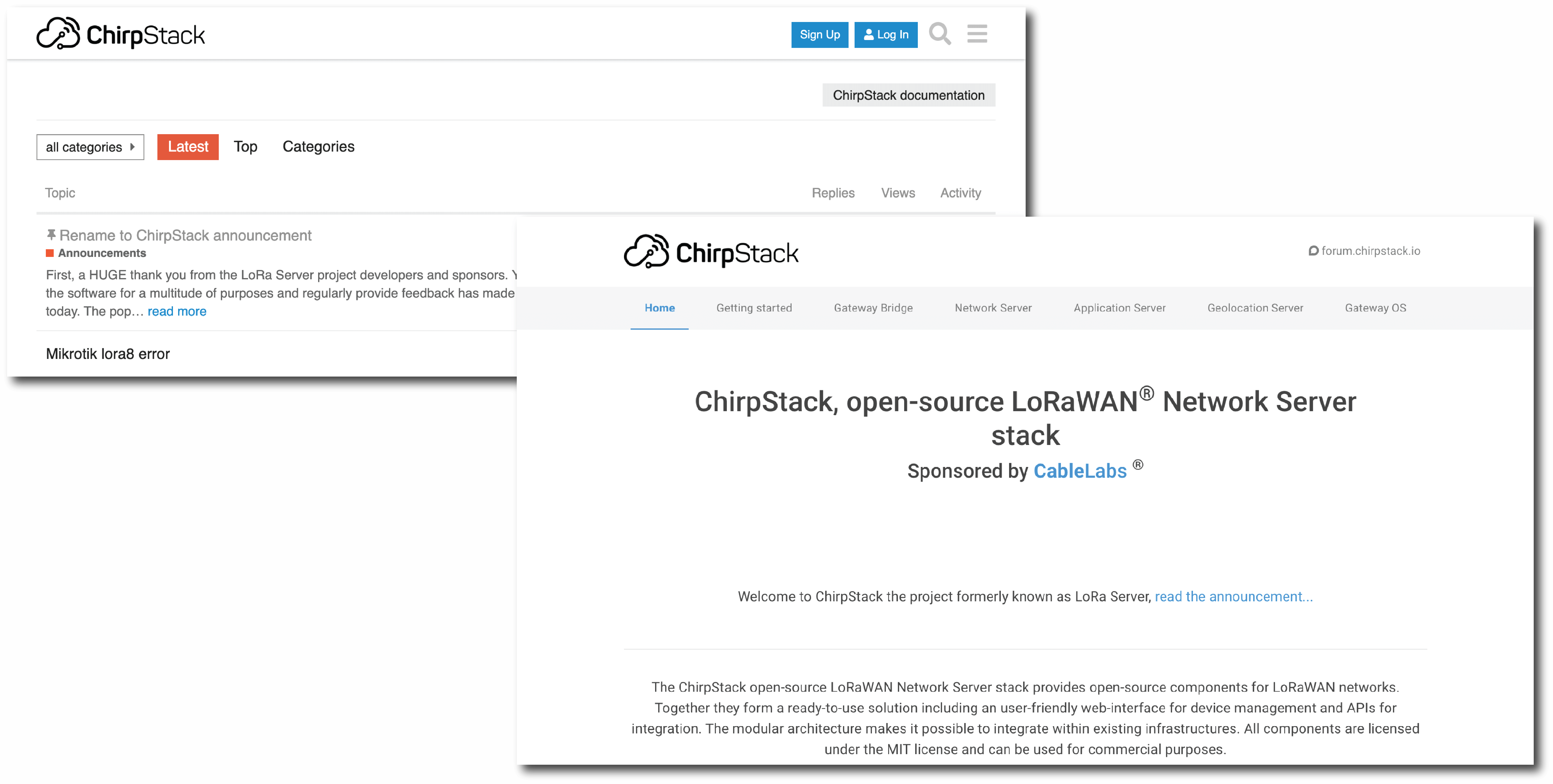 Since its debut in 2016, the LoRa Server project has gained a lot of traction and is now being used by thousands of users from (currently) 144 countries around the world. And, we fully expect the ChirpStack project will continue to serve this user base with valuable tools, software, and discussion.
"Solutions built on Semtech's LoRa devices offer the real potential to change the world by delivering analytical insight into how we live and work today. To create a smarter tomorrow, developers working with LoRa devices and the LoRaWAN protocol need access to easy-to-use accelerators that help drive applications to market more quickly," said Alistair Fulton, Vice President and General Manager of Semtech's Wireless and Sensing Products Group. "CableLabs and its ChirpStack software have contributed to the growth of LoRaWAN, creating value to the ecosystem by helping to simplify the IoT development process and enable the creation of new, innovative products for the next generation of use cases."
We have automated the renaming process in the lastest version as much as possible, and we hope this migration will only be a nominal inconvenience. A full list of considerations and changes have been provided on the forum. If you experience any challenges with this migration, please communicate issues and feedback on the forum.
In the latest release(s) you will find a lot of interesting new features. Using NetID filters it is possible to reduce the bandwidth usage of your gateways. This is useful when you are using a cellular backhaul. We have also made it easier to correlate log messages across the different components, which will help when troubleshooting issues as they occur. To increase the geolocation accuracy, we have added support to perform geolocation on multiple uplink frames. We will continue to improve and add new features and we are looking forward to your feedback and contributions to the ChirpStack project.
Note: LoRa is a registered trademark or service mark of Semtech Corporation or its affiliates.
Wireless
Field Trial Results Show Wi-Fi CERTIFIED Vantage™ Devices Offer Significant Improvement to Network Performance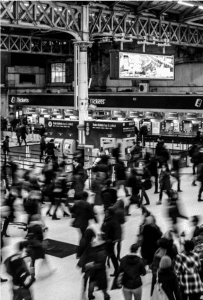 In a high-traffic, high-volume user environments such as subways, airports, and stadiums, maintaining a reliable connection and moving consistently across access points (APs) in a Wi-Fi network has always been a challenge for users and operators. A solution to this issue is now commercially available in the form of Wi-Fi CERTIFIED Optimized ConnectivityTM and Wi‑Fi CERTIFIED Agile MultiBandTM AP and client devices. These are core certifications to the WFA Wi-Fi CERTIFIED VantageTM program. These Wi-Fi Vantage TM devices contain features that optimize management and control frame transmissions, network discovery, authentication, and network transition. A field trial was conducted to measure the performance of a Wi‑Fi network using of Wi-Fi Optimized ConnectivityTM and Wi‑Fi Agile MultiBandTM devices embedded in a highly congested urban environment centered around a busy subway station. Results show the following improvements over non-Wi-Fi Vantage devices:
Optimized Network Discovery
Without Wi-Fi Vantage, the inefficiencies of network discovery and response messages can severely disrupt existing client connections and make it difficult for clients to attach to the network. The optimized network discovery features in Wi-Fi Vantage include suppression of, and broadcast of, probe responses by the AP and also include probe request deferral and suppression by the client. Field trial results show that the number of probe responses in a Vantage network were reduced by 76% on the 2.4 GHz radios and by 72% on the 5 GHz radios. This resulted in a probe response airtime usage reduction of 67% in 2.4 GHz and 44% in 5 GHz.
Optimized Authentication
Without Wi-Fi Vantage, clients can experience long reconnection setup times when moving back into a previously-joined network. With Wi-Fi Vantage, this re-connection setup time is reduced using Fast Initial Link Setup (FILS) Authentication. When FILS Authentication was tested in the Wi-Fi Vantage network, results showed that the connection setup times decreased by 76% (from 228 ms to 55 ms).
Fast Network Transition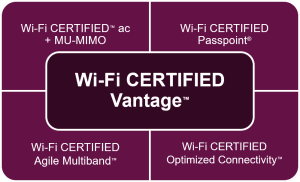 Without Fast Network Transition (FT), clients must perform a full Extensible Authentication Protocol (EAP) when roaming, possibly interrupting the end-user experience. With Wi-Fi Vantage, once a client device decides to roam to a different AP, band, or channel, the association and connection happen quickly and seamlessly.  Test results show that FT roaming improved client re-connection setup times by 84%, reducing it from 203 ms to 31 ms. In addition, Fast Network Transition can be deployed with, and will work alongside, FILS Authentication to further optimize client connections and roams.
A full-featured Wi-Fi Vantage network will benefit overall network performance and user experience, especially in high-traffic, high-volume environments. Some Vantage features may already be included in operator-managed Wi-Fi networks using vendor-specific implementation and nomenclature. Field trial results will allow operators to assess the value of a partial- or full-featured Vantage certified Wi-Fi network. CableLabs' joint leadership with the operator community (cable and mobile operators) created the vision and roadmap for the Wi-Fi Vantage program while partnering with the Wi-Fi ecosystem and will continue these efforts for the next generation of Wi-Fi Vantage.
For more information about this project or CableLabs' involvement please contact John Bahr (j.bahr@cablelabs.com) or Mark Poletti (m.poletti@cablelabs.com).
Wired
Everything You Want to Know About Coherent Optics for Access Networks (But Were Afraid to Ask)
The cable industry has been well served by its extensive fiber deployment that took place during the initial hybrid fiber-coax (HFC) buildout. Even though cable operators have answered capacity demand through fiber node-splits in specific high demand scenarios, only recently have operators embarked on deeper-fiber roll-out strategies as part of a comprehensive long-term evolution plan.
The exponential growth in demand for capacity prompted CableLabs to explore how to best use cable's optical infrastructure resources. This exploration led to research activities for the introduction of coherent optics in the access environment. We're delighted to announce the publication of the book "Coherent Optics for Access Networks" by CRC Press (Taylor & Francis Group), highlighting many of CableLabs' research activities.
The book discusses how coherent optics in the access network is re-engineered to simultaneously achieve lower complexity and higher performance afforded by the generous link margins characteristic in shorter links. This instantiation of coherent optics is not only suitable for cable access but also for telco and cellular fiber access networks.
Recent developments in the field of coherent optics for access network applications that will support point-to-point (P2P) aggregation use cases and point-to-multipoint (P2MP) fiber to the user's passive optical network are examined. Optical industry trends as well as the conventional intensity modulation and direct detection (IM-DD) systems and newly developed advanced direct-detection architectures leveraging four-level pulse amplitude modulation format, Stokes receivers and Kramers–Krönig receivers are also presented.
This book focuses on how to adapt coherent optics technology to the access environment in ways that address major cost challenges, such as simplified transceiver design and photonic integration. An example, is the introduction of full-duplex coherent optics, which enables simultaneous bidirectional transmission on the same wavelength thereby doubling fiber's capacity. Full-duplex coherent optics is an approach that is feasible to implement in the shorter-link-length access environment.
The book provides economical modeling for aggregation uses cases in comparison with traditional 10G IM-DD DWDM based solutions. Implementation requirements, unique to the access environment, are also provided when introducing coherent optics into access scenarios, including coexistence with existing services and security challenges. Progress on recent-specification development activities is reviewed for many industry organizations that focus on short-distance coherent optics interoperability.
In writing this book, the authors have benefitted from the numerous interactions with experts within the optical telecommunication components and systems community, in particular with the vendor and operator members that contributed to CableLabs' point-to-point coherent optics specification. This book represents a first look of technological advances in coherent optics, in the interest of future proofing of our access networks.
Favorable coherent component cost-reduction trends are expected to continue, technological advancements will enable higher performance and simpler implementations will make coherent technology more pervasive in the access network so that exponential growth in capacity is achieved. Given the headway gained in specification generation bodies and the development progress of optical component and transceiver manufacturers focusing on shorter link distances, a future with coherent optics in the access network is upon us.
Latency
The March to Budget-Friendly vRAN Continues!
As with most of my recent blog posts, I'm here to share some exciting updates on the work that CableLabs has been doing in the Telecom Infra Project (TIP) with virtualized RAN for non-ideal transport networks—for example, DOCSIS networks, passive optical networks (PONs) and really anything not on dedicated fiber. Over the past 6 months or so, we've reached some milestones that are worth a blog post blast. I'm going to keep each update brief, but please follow the links to dig in further where you're interested.
TIP vRAN Fronthaul White Paper #2
On November 13, TIP's vRAN Fronthaul Project Group is releasing a white paper discussing the results of Phase 1 of the project. The paper covers the combined learnings from the four Community Lab efforts led by Airtel, BT, CableLabs and TIM. We also include some key takeaways with which operators can assess the network assets that can be used in future vRAN deployments. You can find the paper here.
TIP Summit vRAN Fronthaul Demo
Also this week, the vRAN Fronthaul team has assembled a demo for TIP Summit '19 in Amsterdam. The demo is showing the newly containerized multi-vendor vRAN solution running two remote radios (RUs) from a single CU/DU virtual baseband unit. In the LTE software stack, the Layer 2 and 3 containers come from Altran, and the Layer 1 container comes from Phluido, with RUs from Benetel. The containerized setup increases CPU efficiency by over 80 percent relative to our previous virtual machine–based architecture. If you're in Amsterdam at TIP Summit, be sure to stop by the vRAN stand on the show floor.
TIP vRAN Fronthaul Trial with Shaw Communications
In July of this year, Shaw Communications, CableLabs and TIP collaborated to trial the vRAN Fronthaul LTE solution from Altran, Benetel, and Phluido over the Shaw commercial grade DOCSIS networks. In a fantastic result, we were able to demonstrate the ability of the Shaw DOCSIS networks to support Option 7-2 split fronthaul traffic for LTE services. In addition, we replicated all of our lab findings over the Shaw DOCSIS networks, validating the ability of our lab results to transfer to real world networks. "The trial demonstrated that Shaw's hybrid fibre coaxial FibrePlus network is well positioned to support not only existing wireless services but the significant densification coming with the deployment of 5G," said Damian Poltz, Vice President, Technology Strategy and Networks, Shaw Communications.
O-RAN Specification Includes Non-Ideal Fronthaul
While the team was busy hitting all these milestones in the TIP vRAN Fronthaul project, during the first half of the year CableLabs also led a collaborative effort to bring non-ideal fronthaul support to the O-RAN Alliance CUS plane specification. As of July, the 2.0 version of the CUS plane specification now includes support for non-ideal fronthaul with latencies up to 30ms over a common Option 7-2 interface. In addition, a new appendix was added to provide further detail on the implementation and operational specifics of deploying the lower-layer split over non-ideal transport such as DOCSIS networks, PON or managed Ethernet.
You can find out more by clicking the link below.