Home Network
Tips to Improve Your Home Wi-Fi Performance
In response to the Covid-19 outbreak, most people around the world are being asked to stay home. At the same time, they're going about their daily lives as best as possible under the circumstances. This means that people will be doing more online such as working from home, classroom assignments, calling their friends and watching videos.
With more users in the home simultaneously active online, you may be experiencing Wi-Fi overload. Joanna Stern over at the Wall Street Journal posted a helpful article about fixing Wi-Fi pain points here. We have a few more suggestions and tips to better share your home network.
The first step is to assure that your router is centrally located in your home. Router antennas send Wi-Fi signals out in all directions. So, if yours is tucked away in a corner of your home your wireless coverage might be pointing outside. A central location will optimize your signal. Ideally the router should be off the floor and placed as high as possible. It's also important to keep the router away from obstructions, such as TVs and other large electronics. The more obstacles near your router, the more interference with the signal.
Don't forget to stay close to your Wi-Fi router when you're using data-intensive applications. The closer the device you are using is to a Wi-Fi router, the better its connection will be. If you have several people on the internet in your household all at the same time watching online videos and such, consider using standard definition (versus high definition) to help things run smoothly. Go into video settings on your streaming platforms and lower the resolution as needed. Do you really need full HD 1080 resolution for the kids to watch Baby Shark? Look for "data saver" or "good" under the settings of your favorite services. Also consider lowering the video resolution on your webcam to 720p to ensure great video while reducing the risk of the kids competing with you for Wi-Fi bandwidth while binge-watching Star Wars movies.
Services such as Zoom, Google Hangouts and Webex allow for changing your video resolution under their settings tabs. Others may require a change by your systems administrator. It can help to turn off your video security cameras and nanny cams while at home or not in use too.
If you're on a deadline for work or school and need to try and speed things up, try minimizing the use of concurrent devices and applications (e.g., gaming or watching streaming video) to reduce conflict. Backing up videos, pictures and files can take a while, depending on the size and other applications being used. Schedule and perform large file backups during overnight hours.
Don't forget that having multiple tabs open on your browser can slow things down, especially if you're streaming music or have a video running on different websites in the background. This can cause a decrease in your browsing speed, so we recommend closing tabs when they're not in use. We're all used to working wirelessly these days; a wired Ethernet connection will speed up data transfer from your computer to the Internet. So, go to your garage or closet where you store your miscellaneous electronic accessories and dig up your CAT 6 (standard twisted pair cable) cables to use a wired versus Wi-Fi connection for your PCs, gaming consoles and TVs if available.
By taking some of the steps outlined above, we can all help improve our Internet experience within the home network. We will get through this and whatever comes next!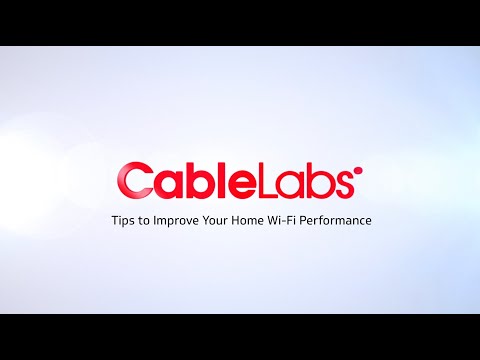 DOCSIS
On the Path to 10G: CableLabs Publishes DOCSIS® 4.0 Specification
Today we are pleased to announce the release of the DOCSIS 4.0 specification, which incorporates both full duplex and extended spectrum capabilities. A part of the suite of technologies that support the 10G platform, DOCSIS 4.0 technology achieves a downstream speed of up to 10 Gbps (doubling the maximum download speed available with DOCSIS 3.1 technology) and an upstream speed of up to 6 Gbps - quadrupling what DOCSIS 3.1 technology could do. These speed increases build on the ample capacity deployed by cable operators today–with gigabit services nearly saturating the US cable footprint–and will enable cable broadband to deliver symmetric multigigabit services, with significantly enhanced upstream capabilities. As cable operators respond to the evolving connectivity needs of customers in our current public health crisis, remote work, learning, and health services stand to benefit from upstream broadband enhancements as DOCSIS 4.0 technology is deployed.   
Specification development started in August 2016. The full duplex capabilities were described in an October 2017 blog post, and now the extended spectrum capabilities have been completed as described in a September 2019 blog post.  
With these speed increases, we intend to change the consumer broadband industry by ushering in a new era of application development. Although speed numbers are important, broadband is about so much more than speed: it's about changing the way we collaborate to make the world a better place. We have more devices, and our experiences increasingly rely on connectivity. Streaming video continues to explode. We're video-chatting instead of making calls, we're playing music off the web instead of our own media, and we're playing games with people around the world. As technology continues to advance, we don't know what the next trend will be, but we do know that the Internet will be central to whatever it is.
DOCSIS 4.0 Technology Increases Upstream Speed 
A key piece of this story is the DOCSIS 4.0 multigigabit upstream capability, which greatly increases how fast information can be uploaded from your computer. Traditionally, businesses have required faster upload speeds to move large files around or to perform in-house web hosting. Now consumers are expecting more upstream speed as they work and learn from home. In addition, upstream speed is important to do things such as the following: 
Hard drive backups 
Uploading videos and pictures 
Cloud applications 
Video conferencing 
Smart homes and IoT devices 
Home security cameras 
Distance learning and visual classrooms 
 These applications are just the beginning. The higher speeds available with DOCSIS 4.0 technology will serve as a catalyst for the next wave of innovations.
The 10G Platform 
The DOCSIS 4.0 specification takes to heart the four pillars of the 10G platform initiative. Below are quick descriptions of these pillars, and links to more information. 
Speed is addressed in this blog post. Multigigabit symmetric speeds raise the bar for consumer broadband.
Lower latency was incorporated into the DOCSIS 3.1 specification and has been brought forward into the DOCSIS 4.0 specification. Lower latency will provide a better experience for consumers on applications such as online gaming and multimedia.
Increased security comes with every new DOCSIS release. Our security experts are constantly monitoring network threats to the network and taking measures to increase the confidentiality, integrity and availability of communications.
Higher reliability must be planned into the network and DOCSIS technology takes this to a new level by including methods to proactively identify and address network issues before consumers are even aware of them.
CableLabs continually makes advances in these areas and others, bringing state-of-the-art breakthroughs to cable broadband. 
Mapping Out the Next Steps for DOCSIS Technology  
Delivery of the specification is the first step of a three-part DOCSIS lifecycle. The second step includes interoperability events and the final step is certification, which will be discussed in future blog posts. These three steps—specification, interoperability and certification—have been part of the DOCSIS process for over 20 years and constitute a time-proven method to deliver high-speed, low-cost, interoperable cable modems to consumers. 
News
CableLabs Appoints 5G Pioneer Rakesh Taori as VP of Wireless
CableLabs is excited to announce the appointment of Rakesh Taori as its Vice President of Wireless. He will report to Chief Research and Development Officer, Mariam Sorond. In this role, Rakesh will drive CableLabs' efforts in the wireless and mobile area delivering on CableLabs' vision and strategy for putting the industry in the driver's seat in the future of connectivity.
"We are delighted to welcome Rakesh to CableLabs. His in-depth knowledge and vast experience in the wireless area will bring tremendous benefits to our members and the industry as a whole," said Sorond. "Rakesh brings a broad perspective across many technologies and platforms. As the industry embraces the principles of open standards, virtualization, and open interfaces, Rakesh's creative thinking will propel innovations at CableLabs towards disruptive networks."
Rakesh's appointment underscores CableLabs' commitment to attracting thought leaders from the wireless industry. His decade-long pioneering work in 5G, coupled with his first-hand experience in initial deployments equips him with a solid understanding of the opportunities. He provides a timely addition to CableLabs' ability to deliver innovations that will continue to place the industry at the leading edge of convergence and connectivity.
"I am thrilled to join CableLabs and I look forward to working with a team of world-class distinguished technologists and research engineers," said Rakesh. "Delivering ultra-high-speed ubiquitous broadband services to consumers securely, and monitoring, administering and operating billions of machines and objects in public and private networks will require unprecedented levels of innovations in wired and wireless technologies. CableLabs provides the ideal platform for inventing unified architectures that incorporate native support for coexistence and seamless delivery and helps the industry build and deliver innovative and efficient systems to serve these next-generation needs."
Prior to joining CableLabs, Rakesh was a Fellow of 5G Technologies with JMA Wireless (which acquired Phazr Inc.)—a 5G startup where Rakesh was a founding employee and served as the VP of systems and standards. At Phazr, Rakesh led the systems team that helped architect and build 5G infrastructure equipment, including Phazr's novel 5G base station—the industry's most integrated and compact form-factor 5G base station. At JMA/Phazr Rakesh also enabled and led several paid mmW 5G trials and pilot deployments with Tier-1 operators in the European Union and Japan.
Prior to JMA/Phazr, Rakesh amassed valuable experience and expertise while working with technology leaders including Samsung, Ericsson and Philips. Rakesh has served on the Wi-Fi Alliance Board for over 5 years, served as a vice-chairman of the IEEE 802.16 working group and held various leadership positions in several standards organizations. Rakesh holds more than 150 granted U.S. patents.
Subscribe to our blog to learn more about Rakesh's work in the future.
News
CableLabs' Own Dr. Jennifer Andreoli-Fang Is This Year's WICT Rocky Mountain Woman in Technology
We are proud to announce that on May 1, 2020, CableLabs' Distinguished Technologist, Dr. Jennifer Andreoli-Fang, will receive the prestigious Woman in Technology award for her contribution to the cable industry. The award is presented by Women in Cable Telecommunications (WICT) Rocky Mountain chapter, one of the oldest and largest organizations dedicated to advancing the position and influence of women in the telecommunications field. 
Jennifer's Journey to the Walk of Fame 
Walk of Fame is widely regarded as one of the most influential and inspiring events that recognizes talented individuals—both women and men, veterans and up-and-comers—for their game-changing contributions to the cable industry. Jennifer's dedication to advancing cable technologies has certainly earned her this honor. Thanks to Jennifer, the cable-enabled internet you enjoy today is faster and more robust than ever before. She has spent the last 12 years leading the development of state-of-the-art broadband wireline and mobile wireless technologies such as, DOCSIS® 3.0 MAC, DOCSIS 3.1 MAC, Full Duplex DOCSIS MAC architecture and LTE in unlicensed spectrum. She also co-invented Low Latency Xhaul (LLX)-a crucial step toward DOCSIS/mobile convergence-and is now leading a multi-vendor effort to standardize it across the industry.   
To say that Jennifer knows her trade is an understatement. As an innovator and a true leader, she is widely respected within the cable and mobile community. In addition to her CableLabs work, she also led the cable industry LTE unlicensed effort at the 3GPP, served as the vice chair of the Wi-Fi Alliance (WFA) LTE-U Task Group and organized and served as the chairwoman of the IEEE International Conference on Communications LTE-U workshop. She is leading the CableLabs effort at the O-RAN Alliance. 
Jennifer's every move is geared toward building innovative network solutions that enable faster, more seamless communication between people and devices. She has more than 80 granted and filed patents and many prestigious industry awards, including the 2018 Light Reading Hedy Lamarr Female Tech Pioneer of the Year and 2017 Silver Stevie Award for Innovative Woman in Technology. The Walk of Fame Award is a well-deserved addition to Jennifer's already impressive collection. 
Congratulations, Jennifer! 
10G
The 10G Converged Optical Network
Those of you who've heard me speak on the topic of Point-to-Point (P2P) Coherent Optics have probably noticed that I've placed this technology in the context of the cable industry's move to Distributed Access Architectures, and as a result, the dramatic change in the way networks are architected. It's a change that I would argue is as dramatic as the move from single-direction all-coax networks to bidirectional hybrid-fiber coax (HFC) networks that occurred a couple of decades ago. And it's a change that enables a range of new services and business opportunities.
The cable industry's roadmap to the 10G Platform is making that change—and its implications—clearer.
As most followers of these blogs are likely aware, the majority of today's cable systems leverage an HFC network with analog optics: RF signals are generated in a hub or headend, converted to optical, then converted back to electrical at a fiber node for distribution over coax to the home. Broadband service over that network is provided via a DOCSIS® cable modem termination system (CMTS) at the hub or headend, working with a DOCSIS cable modem in a customer's home; the cable modem provides customers with access to high-speed Ethernet network connections via coax. As a result, high-speed data transmissions over a cable operator's network are generally only accessible via DOCSIS cable modems connected to the coax portion of the network rather than the fiber portion.
However, that's now changing.
In her recent blog post, "The Path to 10G: 2020 Update," our Chief R&D Officer Mariam Sorond talked about the convergence enabled by the 10G Converged Optical Network, which Figure 1 illustrates.
Although it can take many forms, it's often assumed that the Aggregation Node with a Coherent Termination Device depicted here (which is expected to sit where a Fiber Node resides today) would be an Ethernet switch. This has dramatic implications for how this network can be leveraged: There's now a fiber-based Ethernet connection point deep in the network with 100 Gbps or more of capacity and very low latency.
In essence, the cable operator's core Ethernet network has been expanded deep into the field. Just about anything can be attached to it. And with high capacity and low latency, a host of potential new service offerings becomes possible.
Figure 1 makes just this point: Not only does it depict a Distributed CCAP device (such as a Remote PHY or MACPHY device) connected to the network, but also a Remote OLT, a mobile base station, a fixed wireless access point and a direct enterprise connection. And that's only a sampling of the nearly endless possibilities, because everything is converged onto a single, high-speed, low-latency, high-reliability fiber Ethernet network.
That's ultimately what the 10G Converged Optical Network is about: not just providing a network that supports today's or even tomorrow's known services but also providing the network on which to enable all sorts of innovative new services that no one has even thought of yet. P2P Coherent Optics—and the move to Distributed Access Architectures—is a key enabler of that.
The various pieces required to support this new reality are starting to come into place: Remote PHY devices are being deployed, and interoperable P2P Coherent Optics technology has been demonstrated, with new equipment to support outdoor deployments expected in the not-too-distant future. If you have new and innovative ideas for ways in which to leverage this emerging new network, please use the contact form below. We'd love to hear from you. Otherwise, keep watching for these blogs to see how things progress.
Events
Gearing Up for 4Front 2020: What Does It Take to Build the Future?
We're only 4 months away from launching 4Front, and it's shaping up to be one of the most innovative and meaningful events of the year! The agenda already includes an amazing lineup of speakers, workshops, demos, interactive experiences and members-only sessions that will not only help inform you about the future but also create opportunities where you can participate in building it. Be sure to mark your calendar for the big event: June 23–24, 2020. Seats are limited for select sessions, so register today!
Below are just some of the things you can expect from 4Front:
Meet and Collaborate with Our Amazing Speakers
What really sets 4Front apart is the diversity of expertise that we're bringing to the event. We've got world-famous educators, authors, founders, product managers, futurists, psychologists, technologists, behavioral scientists, engineers, journalists, AI experts, molecular biologists, gerontologists and even biohackers—all coming to 4Front to share their expertise, both from the big stage and in more intimate workshop settings.
You'll meet such visionaries as:
Learn Innovative Techniques that Will Help Solve Real Problems and Improve Decision-Making
The same experts and visionaries that you'll hear from onstage will join you for a series of interactive workshops designed to complement the four main conference experience tracks: Live, Work, Learn and Play. In these workshops, you will learn how to:
Overcome organizational barriers to innovation
Recognize disruptive new business concepts
Design better, more humanist products
Generate more creative ideas
And much more!
Our experienced facilitators will not only teach you these highly valuable skills but will also show you how you can implement them in your day-to-day life and business. These workshops are included in the general admission, but seats are extremely limited. Make sure to reserve your spot after registering. You can learn more about 4Front workshops here.
Show Off Your Hard Work by Becoming a 4Front Exhibitor
At 4Front, we're aiming to ignite a global effort to build a better, safer and more connected future through cross-industry collaboration. By becoming a 4Front exhibitor, you can show off your ideas for the future and collaborate with experts from various industries whom you wouldn't otherwise meet. These encounters could help identify common problems and jumpstart new ventures that lead to innovative solutions.
If you'd like to share your vision of the future, make sure to reserve your exhibitor table at 4Front today! Table space is limited.
Together, we can determine how we will live, work, learn and play in the next decade and beyond. Don't wait for the future—start building it at 4Front. Hope to see you there!
Wireless
Wi-Fi CERTIFIED EasyMesh™ Update: Added Features for Operator-Managed Home Wi-Fi® Networks
It's been about a year since Wi-Fi Alliance released the Wi-Fi EasyMesh™ program and started certifying devices. Since then, the industry has been hard at work creating Wi-Fi EasyMesh products and working on what comes next. CableLabs is continuing its leadership work on the updated Wi-Fi EasyMesh certification program, and now we can all see the fruits of that labor.
The updated Wi-Fi EasyMesh protocol adds a number of essential features that operators and end-users need:
Wi-Fi EasyMesh Controller-centric collection of Wi-Fi CERTIFIED Data Elements™ diagnostic data from all connected access points (APs)
Enhanced backhaul security with SAE
Optimized use of available channels with coordinated channel scanning (including DFS channels)
Network traffic separation with virtual local area networks (VLANs), such as private and guest networks
Wi-Fi CERTIFIED Agile Multiband™ support for improved client connections
What's the Big Deal?
Since our last blog post about Wi-Fi EasyMesh, mesh APs have become almost as well known as antibacterial soap or friendship bracelets, albeit not yet as universally deployed. Many of these products work very well, especially those that have dedicated interconnection (backhaul) radios, as Wi-Fi® remains the easiest and most cost-effective way to connect these multi-AP systems.
So, what's the problem we're solving with this Wi-Fi EasyMesh update? Nearly all of the products not certified for Wi-Fi EasyMesh are opaque to an operator. When problems arise, the operator has little to no information available about what's going on behind the cable modem gateway, and the customer is left without assistance. The first version of the Wi-Fi EasyMesh protocol created the groundwork for this, whereby the Wi-Fi EasyMesh Controller (usually in the cable modem gateway) can set up and configure the other Wi-Fi EasyMesh APs. Now, the updated Wi-Fi EasyMesh protocol includes all the diagnostics information (aka, Wi-Fi Data Elements™) that an operator might need to get down to the nitty gritty and fix an issue.
Wi-Fi Data Elements, You Say…
In the blog post, "Data Elements and TR-181 – Connect to the PNM Data You Need," my colleague Josh Redmore explained what Wi-Fi Data Elements are and exactly why operators need them:
"The ultimate iteration of [remote Wi-Fi troubleshooting] is a fully automated proactive network maintenance system, where Wi-Fi issues are resolved before they impact your customer. When Wi-Fi becomes self-healing, customers enjoy seamless access to your services."
We can safely say that this is the Holy Grail of any operator-deployed Wi-Fi system, and the updated Wi-Fi EasyMesh protocol with Wi-Fi Data Elements support makes that possible in a standardized way.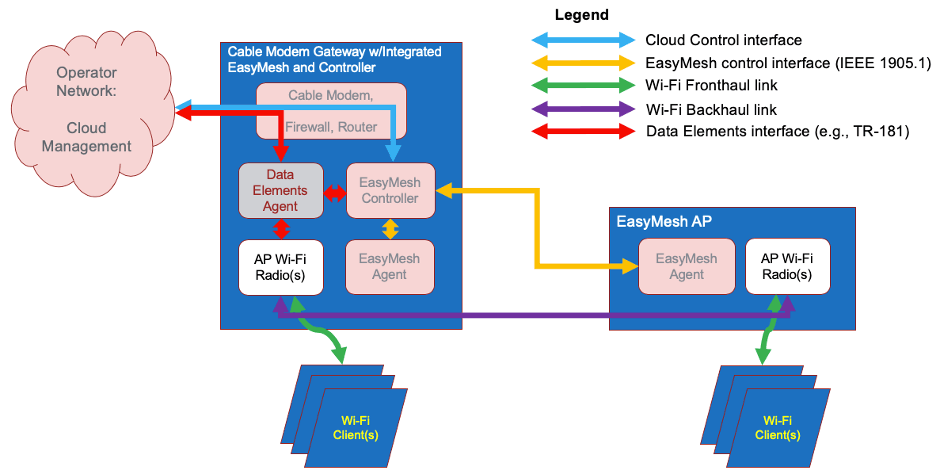 Figure 1: Example Wi-Fi EasyMesh and Wi-Fi Data Elements Network Topology
But Wait, There's More…
Remember all the major enhancements listed above in the Wi-Fi EasyMesh protocol update? What benefits do those bring?
SAE support in the backhaul brings more robust authentication mechanisms, increases cryptographic strength, disallows outdated legacy protocols, and requires the use of Protected Management Frames (PMF). It adds support for Simultaneous Authentication of Equals (SAE), which is resistant to offline dictionary attacks.
Coordinated channel scanning is a combination of two features that essentially allow the Wi-Fi EasyMesh Controller to get a complete picture of which Wi-Fi channels are overcrowded and which are free for use. It includes the ability to ask APs to scan specific channels, including DFS channels. The result is that the Wi-Fi EasyMesh network will be able to use the best channels available for each deployment—not only as first installed, but continually.
Network traffic separation continues Wi-Fi EasyMesh's support for multiple service set identifiers (SSIDs) per AP and even per radio. However, until now, all traffic for those SSIDs was intermingled. Now each SSID's traffic can be separated into VLANs. This upgrade helps operators take a step in the right direction toward traffic security.
Wi-Fi Agile Multiband™ support adds a number of features, including optional support for Fast Transition roaming with WPA2-PSK, improved guidance for clients to move to another AP in the network, tunneling of certain client-sent management frames (ANQP, WNM, Assoc) back to the Wi-Fi EasyMesh Controller, and support for association-disallowed attributes in beacons and probe responses from Wi-Fi EasyMesh Agents.
CableLabs' Early and Continuing Involvement
Wi-Fi connectivity is key for CableLabs' members, and CableLabs has been working closely on this Wi-Fi Alliance standard from the start. We were chosen to be the editor of the organization's test plan for both the first and second versions of the protocol, and we worked with Wi-Fi Alliance staff and vendors to develop the certification program. CableLabs continues to help lead and contribute essential technology to the Wi-Fi EasyMesh program.
Stay tuned for more press releases and blog posts to follow the progress of this new wireless technology.
News
CableLabs Honored with a New Technology Emmy
This awards season, CableLabs won a Technology and Engineering Emmy Award for enabling development and deployment of the Hybrid Fiber Coax (HFC) Network Architecture—the suite of technologies responsible for the razor-sharp broadband video, high-speed Internet you enjoy today.
These Emmy awards aren't easy to snag—although we previously received one in 2010 for DOCSIS 3.0 technology. They're awarded only once per year to individuals and companies whose technologies have made an extensive and significant impact on the transmission, recording and reception of television. Essentially, the awards recognize technologies that have revolutionized the industry. That's inarguably true of HFC and, specifically, the AM laser technology that replaced the very long and unreliable amplifiers in cable distribution plants. AM lasers substantially reduced noise and distortion and increased the plants' bandwidth, paving the way for high-capacity digital services such as HDTV, Video on Demand, high-speed Internet connectivity and more. In just a few decades, cable operators have universally adopted HFC technology, deploying more than 500,000 miles of optical fiber worldwide.
CableLabs' Contribution: A Little Bit of History
In many ways, what's known today as HFC technology is a joint effort to improve the reliability of cable technologies devised in the early 1980s. Prior to 1985, cable systems had long cascades of amplifiers, the failure of which affected service to large populations. In search of a solution, Time Warner—and later, Ortel—began experimenting with using fiber deep in the system with much shorter legs of coax and only a few amplifiers in each leg. The results were very promising—much better picture, reduced noise and greater overall system reliability.
After the initial test trials, the challenge was to make this technology economically viable for larger-scale commercial deployments. This is where CableLabs has played a monumental role. In 1988–89, newly formed CableLabs (led by Dick Green) drove the effort to standardize the application of HFC technology and facilitate collaboration between cable operators and industry vendors, resulting in rapid performance improvements and reduced cost.  It is this collaboration across cable operators, industry vendors and CableLabs – and other industry partners – that remains the hallmark of CableLabs' continued success today.
What's Next for HFC: The Road to 10G
HFC technology has been around for over 30 years and is still going strong, providing the platform for countless gigabit data services, like Ultra HD and more. It's also the basis for the cable industry's 10G platform, which aims to provide faster speed, lower latencies, enhanced reliability and better security in a scalable manner. Achieving this goal will open the door to a whole new wave of innovations, such as full-immersion virtual reality (VR) gaming, artificial intelligence (AI) applications and other technologies that will revolutionize the way we live in the near future.
One of the major advantages of HFC architecture is its ubiquity, which allows the cable industry to make quick performance improvements without any major, expensive overhauls to the system. And although we at CableLabs are deeply honored to receive recognition for our contribution, our work on HFC is far from over. We'll continue working with our members and partners to unleash HFC's full potential, building on our existing foundation to deliver a fast, reliable and secure network of the future.
The 72st Annual Technology and Engineering Emmy Awards will take place in partnership with the National Association of Broadcasters (NAB), at the NAB Show at the Wynn Encore Hotel and Spa on Sunday, April 19th, 2020 in Las Vegas, NV.
Acknowledgment of Significant Individual and Corporate Contributors:
CableLabs
Dick Green
Time Warner / ATC
Jim Collins, Jim Chiddix, Louis Williamson, Dave Pangrac, Don Gall, John Walsh, Jim Luddington, Jay Vaughn
TCI
John Malone (who was also Chairman of CableLabs), J.C. Sparkman, Richard Rexrote
Ortel
Hank Blauvelt, Larry Stark
ANTEC / AT&T Bell Laboratories
ANTEC – John Egan

AT&T Bell Laboratories – Bob Stanzione, Carl McGrath, Gerry Fenderson

Jerrold / General Instrument
David Grubb, Steve Frederick, Geoff Roman
Scientific Atlanta
Dave Fellows, Lee Thompson, Frank Little, Rezin Pigeon
Virtualization
Give your Edge an Adrenaline Boost: Using Kubernetes to Orchestrate FPGAs and GPU
Over the past year, we've been experimenting with field-programmable gate arrays (FPGAs) and graphics processing units (GPUs) to improve edge compute performance and reduce the overall cost of edge deployments.
Unless you've been under a rock for the past 2 years, you've heard all the excitement about edge computing. For the uninitiated, edge computing allows for applications that previously required special hardware to be on customer premises to run on systems located near customers. These workloads require either very low latency or very high bandwidth, which means they don't do well in the cloud. With many of these low-latency applications, microseconds matter. At CableLabs, we've been defining a reference architecture and adapting Kubernetes to better meet the low-latency needs of edge computing workloads.
CableLabs engineer Omkar Dharmadhikari wrote a blog post in May 2019 called Moving Beyond Cloud Computing to Edge Computing, outlining many of the opportunities for edge computing. If you aren't familiar with the benefits of edge computing, I'd suggest reading that post before you read further.
New Features
As part of our efforts around Project Adrenaline, we've shared tools to ease the management of hardware accelerators in Kubernetes. These tools are available in the SNAPS-Kubernetes GitHub repository.
Field-programmable gate array (FPGA) accelerator integration
Graphics processing unit (GPU) accelerator integration
Hardware Acceleration
FPGAs and GPUs can be used as hardware accelerators. There are three advantages that we consider when moving a workload to an accelerator:
Time requirements
Power requirements
Space requirements
Time, space and power are all critical for edge deployments. You have limited space and power for each location. The time needed to complete the operation must fall within the desired limits, and certain operations can be much faster running on an accelerator than on a CPU.
Writing applications for accelerators can be more difficult because there are fewer language options than general-purpose CPUs have. Frameworks such as OpenCL attempt to bridge this gap and allow a single program to work on CPUs, GPUs and FPGAs. Unfortunately, this interoperability comes with a performance cost that makes these frameworks a poor choice for certain edge workloads. The good news is that several major accelerator hardware manufacturers are targeting the edge, releasing frameworks and pre-built libraries that will bridge this performance gap over time.
Although we don't have any hard-and-fast rules today for what workloads should be accelerated and on which platform, we have some general guidelines. Integer (whole number) operations are typically faster on a general-purpose CPU. Floating point (decimal number) are typically faster on GPUs. Bitwise operations, manipulating ones and zeros, are typically faster on FPGAs.
Another thing to keep in mind when deciding where to deploy a workload is the cost of transitioning that workload from one compute platform to another. There's a penalty for every memory copy, even within the same server. This means that running consecutive tasks within a pipeline on one platform can be faster than running each task on the platform that is best for that task.
Accelerator Installation Challenges
When you use accelerators such as FPGAs and GPUs, managing the low-level software (drivers) to run them can be a challenge. Additional hooks to install these drivers during the OS deployment have been added to SNAPS-Boot, including examples for installing drivers for some accelerators. We encourage you to share your experiences and help us add support for a broader set of accelerators.
Co-Innovation
These features were developed in a co-innovation partnership with Altran. We jointly developed the software and collaborated on the proof of concepts. You can discover more about our co-innovation program on our website, which includes information about how to contact CableLabs with a co-innovation opportunity.
Extending Project Adrenaline
Project Adrenaline only scratches the surface of what's possible with accelerated edge computing. The uses for edge compute are vast and rapidly evolving. As you plan your edge strategy, be sure to include the capability to manage programmable accelerators and reduce your dependence on single-purpose ASICs. Deploying redundant and flexible platforms is a great way to reduce the time and expense of managing components at thousands or even millions of edge locations.
As part of Project Adrenaline, SNAPS-Kubernetes ties together all these components to make it easy to try in your lab. With the continuing certification of SNAPS-Kubernetes, we're staying current with releases of Kubernetes as they stabilize. SNAPS-Boot has additional features to easily prepare your servers for Kubernetes. As always, you can find the latest information about SNAPS on the CableLabs SNAPS page.
Contact Randy to get your adrenaline fix at Mobile World Congress in Barcelona, February 24-27 2020.
News
Mexican Cable Operator Joins CableLabs
Just a couple months after our new member announcement for Millicom, we're happy to report that yet another Latin American cable company—Megacable—is joining us. The timing couldn't be better. As we geared up for our inaugural Latin America & Caribbean Summit in December, we relied on our CALA members to bring cable's global 10G vision of universal high-speed Internet access and continuous connectivity to the areas they serve. And now that one of Mexico's largest cable communications companies is onboard (together with Izzi Telecom), we're looking forward to working with them to make this vision a reality in the near future.
About Megacable
If you live in Mexico, you're probably familiar with Megacable, a TV, phone and Internet provider operating in 26 states and more than 350 municipalities, including Guadalajara, Puebla, Toluca, León, Veracruz, Hermosillo, Culiacán, Morelia, Querétaro and Torreón. The company's fiber network, which passes 8.8 million homes, spans more than 61,000 km (that's more than 38,000 miles) supported by nearly 22,000 employees. As of September 30, 2019, Megacable had grown to approximately 3.2 million pay-TV subscribers, 3.1 million broadband subscribers and 2.1 million telephony subscribers. At the close of Q3 2019, unique subscribers rose to 3.6 million, and revenue-generating units (RGUs) reached 8.4 million, up 7.1 percent compared with Q3 2018. RGUs per unique subscriber reached 2.3, continuing an upward trend.
In addition to its basic triple-play services, Megacable also creates and broadcasts exclusive content related to Mexican culture, tourism, news and entertainment on its own Video Rola channel, available live in certain parts of Mexico and the United States. In August, Megacable broadcast its first original series production on the Panico and Cine Mexicano channels, as well as on Megacable's "Xview" its interactive video and on-demand platform. The 13-episode series is called "13 Minutos Antes de Dormir" ("13 Minutes Before Sleeping") and features a number of Mexican horror legends, plus an original score. The company also caters to its business clients with a robust portfolio of services that includes the design and development of tailored information technology and equipment solutions.
Mega-Plans for the Future
Megacable's future ambitions include improving and expanding its fiber optics footprint, as well as offering a whole new set of mobile services to its customers. Just this May, Megacable acquired another 1,370 km of fiber optics infrastructure through a deal with Axtel, increasing its residential and business subscriber base by 50,000. In November, Megacable began its journey to becoming a quadruple-play provider by venturing into the mobile business as a Mobile Virtual Network Operator (MVNO) under its new service "Mega 4.5G." As part of its launch promotion in select cities, it has distributed more than 500,000 SIM cards with access to Megacable's MVNO network absolutely free for 3 months.
This type of entrepreneurial spirit is essential to driving progress and helping people stay more connected to everything and everyone they love. Improving high-speed connectivity, whether wired or wireless, is key to realizing the 10G future where lightning-fast super networks will serve as a springboard for a whole new wave of innovation—not just in Mexico, but all around the world.
Welcome, Megacable!