Interop·Labs for DOCSIS® 4.0 Technology
On behalf of CableLabs, Kyrio will be hosting upcoming DOCSIS 4.0 interoperability events! 
DOCSIS 4.0 technology is the next evolution of the HFC network, moving the industry towards the 10G vision and offering multigigabit symmetric services as well as low latencies over the network.  
As vendors work to create the development of DOCSIS 4.0 products, CableLabs and Kyrio are busy preparing for the next phase of technology development: conducting interoperability events. CableLabs has established a rigorous process for technology development starting with DOCSIS 1.0 technology and ultimately leading to the robust ecosystem that exists today. The company's proven approach has worked successfully at CableLabs for the past 24 years: 
Phase 1                               Phase 2                              Phase 3

Phase 1 is the specification stage, when CableLabs, members and vendors come together to collaborate on defining the DOCSIS technology. Phase 1 for DOCSIS 4.0 was completed in 2019, when the specifications were written and suppliers have began implementation.
Phase 2 is when interoperability events (aka interops) occur at CableLabs in Louisville, Colorado to make sure that systems work together. As the term implies, interops are held to ensure that components of a DOCSIS system — including the base technology, security and support — are interoperable for easy installation and proactive customer care.
For DOCSIS 4.0 technology, CableLabs will be prepared to host the first interop event this year after  SCTE Cable-Tec Expo 2021 in Atlanta, where the show floor promises to hold several DOCSIS 4.0 technology demonstrations.
At this time, 12 DOCSIS 4.0 interoperability events are planned to begin in October 2021 and will run through December 2022. This near-monthly spacing will give suppliers the opportunity to attend, learn and then run a sprint to add new functionality for the next interop.
The early interops focus on basic functionality of the DOCSIS chipsets. As the schedule progresses, the focus will shift to adding more software functionality. Always, the emphasis will be on interoperable solutions, including the cable modem, cable modem termination system (CMTS) and software support systems. Going forward, the interops will include Remote PHY and Remote MACPHY devices.
Interoperability gives operators the confidence to plan large installations and the certainty that the equipment they purchase today will also work tomorrow. Customers can buy a modem and take it with them if they move into a new cable territory, worldwide. Interoperability provides a larger market in which suppliers can compete, which, in turn, allows for healthier ecosystems and varying strategies.
Phase 3, the certification stage, will happen naturally as the interoperability process produces more mature products and systems. We'll talk more about this phase when that time approaches.
The interop phase can be a fun, invigorating time. Some of us have been working on the DOCSIS project for two decades, and there are always new entrants. As we shift back to working in our offices post-pandemic, we're all looking forward working face-to-face in the lab—all in the effort to bring forward the next generation of cable broadband and deliver on the 10G promise.
Interoperability is paramount to the DOCSIS ecosystem. The DOCSIS community is encouraged to once again come together for these upcoming interoperability events, contributing and collaborating to keep the DOCSIS 4.0 ecosystem healthy and sustainable. This fall, CableLabs will be ready!
Chris Lammers Selected for Cable TV Pioneers Class of 2021
Cable TV Pioneers recently announced that 24 new members have been selected for the Cable TV Pioneers 55th Annual Induction. Each of the honorees has a minimum of 20 years of direct involvement in the cable industry and has made a positive impact on the growth and innovation of our industry during those years. The members of this year's class include a strong array of men and women, from CEOs and company founders to technologists and journalists. Each has demonstrated and proven his or her value as a cable pioneer. We are very excited to announce that among those honored is our very own Chris Lammers, chief operating officer and senior vice president of member development at CableLabs. 
Over the past four decades, Chris has held numerous senior roles and responsibilities within the cable industry. Today at CableLabs, he's responsible for operations, membership development and international relationships. Under his guidance, CableLabs' membership has grown from 23 members to 65 members across 35 countries in North America, Latin America, Europe and Asia. In addition, Chris established CableLabs' test and evaluation labs, leading the cable industry's first video, broadband and voice certification programs. Chris also leads mergers and acquisitions for CableLabs, including the procurement of multiple cable television systems and, most recently, the acquisition of the Society of Cable Telecommunications Engineers (SCTE), with a critical focus on the integration of SCTE into CableLabs.
In what many see as one of his most substantial contributions to the broadband industry, Chris developed the MTO Group within CableLabs, made up of a highly influential community of mid-market and smaller operators across the United States and Canada. Chris was the first individual to recognize the need for including small organizations and determining how to understand, serve and address the coverage area of these smaller markets.
Through these efforts, Chris continues to represent the "voice" of the mid-market and small-market operators at CableLabs. His passion for mid-tier operators and small-market members brings a more holistic perspective of the entire broadband industry to CableLabs. It's no exaggeration to say that Chris has been a true leader in bringing together cable operators of differing sizes and nations to create a truly global community.
Chris also supports CableLabs' staff engaging in innovation to support MTOs, such as CableLabs' mapping project and initiatives related to rural broadband. Through this work, Chris has ensured that mid-market and smaller operators are valued and that their unique needs are addressed. Without this work, many consumers served by MTOs wouldn't receive the leading-edge services they enjoy today. 
Another very important activity that is near and dear to Chris' heart is giving back to the community. Chris serves on the Emma Bowen Foundation's Board of Directors (as well as its Executive Committee), an organization to which he has been committed for nearly 20 years. He has contributed to the Foundation by seeking to build a more diverse media industry by recruiting promising college and university students of color and placing them in multi-year paid internships at some of the nation's leading media, PR and technology companies. Chris has supported the WICT Rocky Mountain chapter through its Tech It Out and Walk of Fame programs. He has also contributed to numerous state and local cable associations through industry guidance and speaking engagements.
Chris began his cable tenure serving as senior vice president and general counsel (1988–1993) at Western Communications, where the majority of his clients were cable operators, and he has been employed at CableLabs for the past 24 years. Please join us in congratulating Chris on his outstanding years of service and for his contributions to—and the impact he has made on—the entire industry.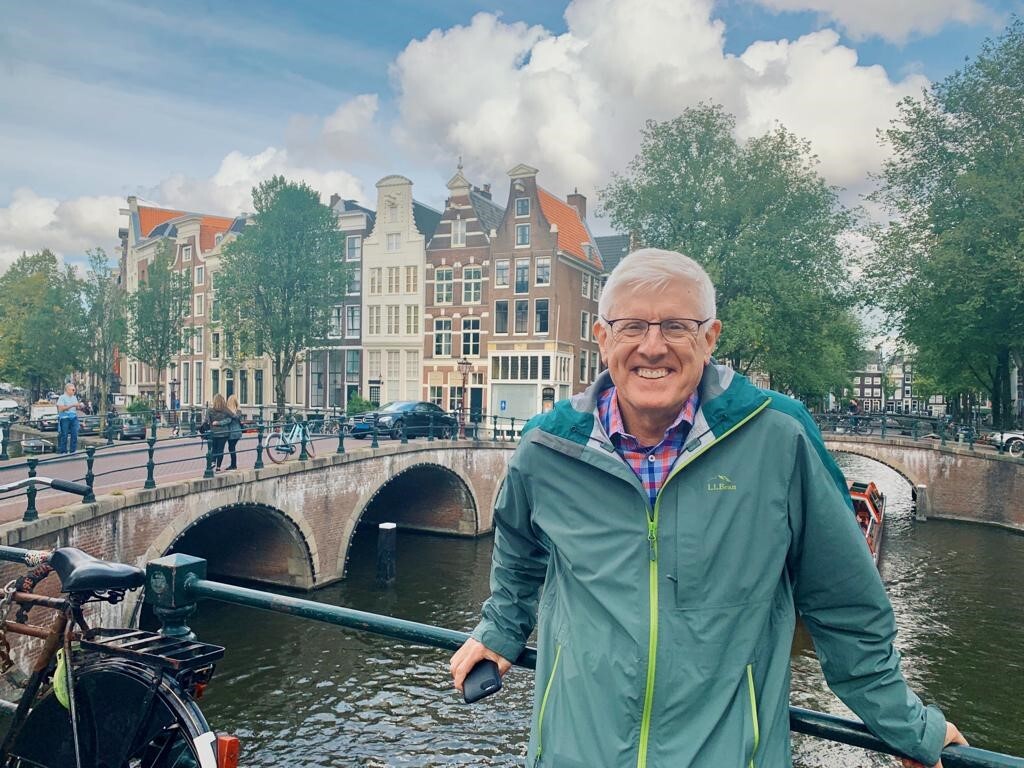 Transparent Security Outperforms Traditional DDoS Solution in Lab Trial
Transparent Security is an open-source solution for identifying and mitigating distributed denial of service (DDoS) attacks and the devices (e.g., Internet of Things [IoT] sensors) that are the source of those attacks. Transparent Security is enabled through a programmable data plane (e.g., "P4"-based) and uses in-band network telemetry (INT) technology for device identification and mitigation, blocking attack traffic where it originates on the operator's network.
Cox Communications and CableLabs conducted a proof-of-concept test of the Transparent Security solution in the Cox lab in late 2020. Testing was primarily focused on the following major objectives:
Compare and contrast performance of the Transparent Security solution against that of a leading commercially available DDoS mitigation solution.
Validate that INT-encapsulated packets can be transported across an IPv4/IPv6/Multiprotocol Label Switching (MPLS) network without any adverse impact to network performance.
Validate that the Transparent Security solution can be readily implemented on commercially available programmable switches.
This trial compared the effectiveness of Transparent Security with that of a leading DDoS mitigation solution. Transparent Security was able to identify and mitigate attacks in one second as compared with one minute for the leading vendor. We also validated that inserting and removing the INT header had no observable impact on throughput or latency.
The History and Updates of Transparent Security
We initially released the Transparent Security architecture and open-source reference implementation in October 2019. Since then, we've achieved several milestones:
Why Cox Is Interested
As the proliferation of IoT devices continues to increase, the number of devices that can be compromised and used to participate in DDoS attacks also increases. At the same time, the frequency of DDoS attacks continues to grow because of the widespread availability of DDoS for-hire sites that allow individuals to launch DDoS attacks for relatively little cost. These factors contribute to a trend of malicious traffic increasingly using upstream bandwidth on the access network.
Although currently available DDoS mitigation solutions can monitor for outbound attacks, they're primarily focused on mitigating DDoS attacks directed at endpoints on the operator's network. These solutions use techniques such as BGP diversion and Flowspec to drop traffic as it comes into the network. However, mitigating outbound attacks using these techniques aren't effective because the malicious traffic will have already traversed the access network, where it has the greatest negative impact before the traffic can be diverted to a scrubber or dropped by a Flowspec rule.
Transparent Security offers the promise of near-instantaneous detection of outbound attacks, as well as the ability to mitigate that attack at the source, on the customer premises equipment (CPE), thereby preventing that traffic from using upstream access network resources.
In addition to Transparent Security's DDoS mitigation capabilities, there are additional benefits to network performance/visibility in general. Implementation of Transparent Security on the CPE means that network operators can derive the specific device type associated with a given flow. This allows the operator to determine the type of IoT devices being leveraged in the attack.
This also opens myriad other possibilities—for example, reducing truck rolls by enabling customer service personnel to determine that a customer's issue is with one specific device versus all the devices on the internal network. Another example would be the capability to track the path a given packet followed through the network by examining the INT metadata.
Consumers will see a direct benefit from Transparent Security. Once compromised devices are identified, the consumer can be notified to resolve the issue or, alternatively, rules can be pushed to the CPE to isolate that device from the internet while allowing the consumer's other devices continued access. Such isolation mitigates the additional harm coming from compromised devices.  This additional harm can take the form of degraded performance, exfiltration of private data, breaks in presumed confidentiality in communications, as well as the traffic consumed through DDoS.  Less malicious traffic on the network provides for a better overall customer experience.
Lab Trial Setup
The test environment was designed to simulate traffic originating from the access network, carried over the service provider's core backbone network, and targeting another endpoint on the service provider's access network in a different market (e.g., an "east-to-west" or "west-to-east" attack).
The following diagram provides a high-level overview of the lab test environment: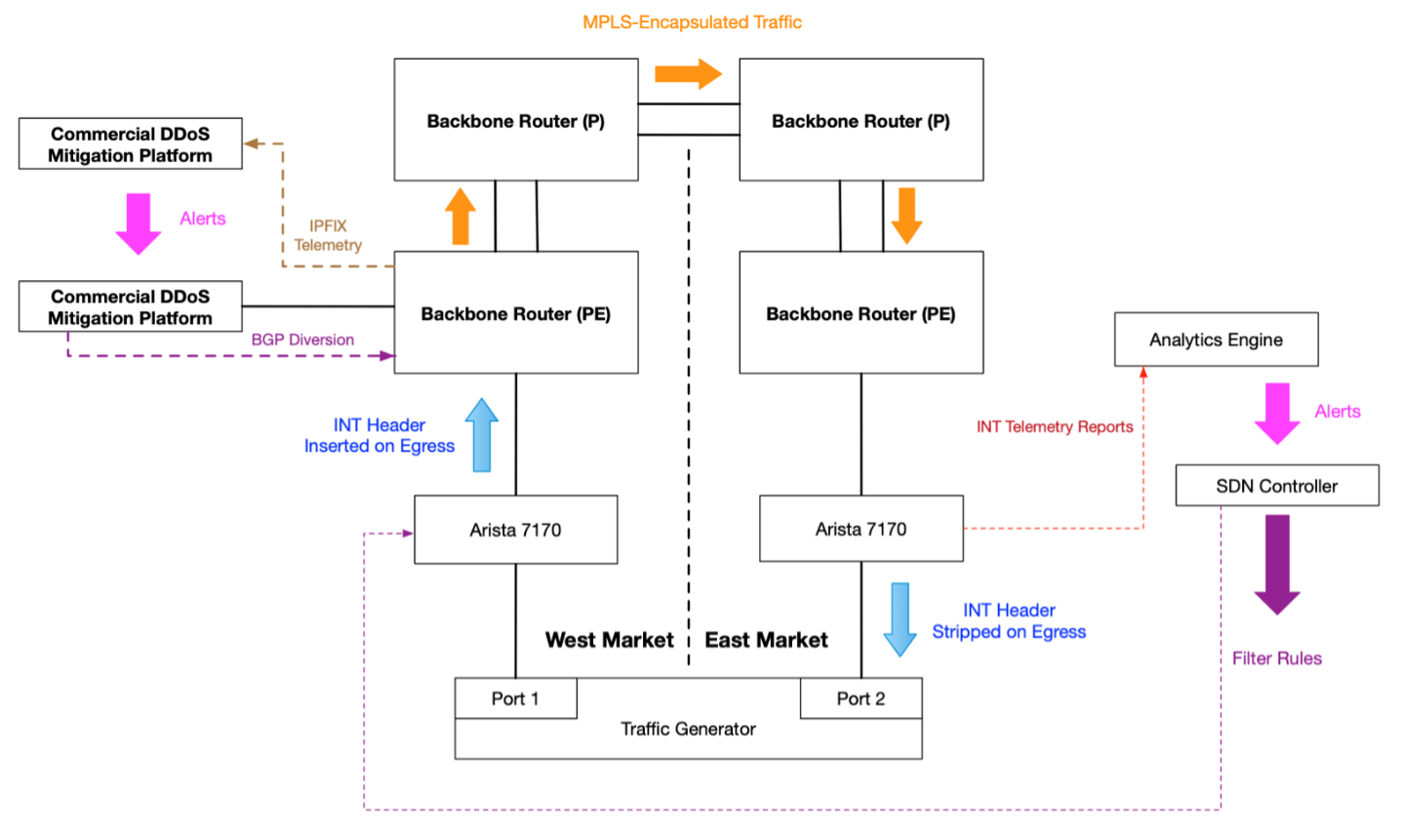 In the lab trial, various types of DDoS traffic (UDP/TCP over IPv4/IPV6) were generated by the traffic generator and sent to the West Market Arista switch, which used a custom P4 profile to insert an INT header and metadata before sending the traffic to the West Market PE router. The traffic then traversed an MPLS label-switched path (LSP) to the East Market PE router, before being sent to the East Market Arista, which used a custom P4 profile to generate INT telemetry reports and to strip the INT headers before sending the original IPv4/IPv6 packet back to the traffic generator.
Results
When comparing and contrasting the performance of the Transparent Security solution against that of a leading commercially available DDoS mitigation solution, the lab test results were very promising. Detection of outbound attacks was rapid, taking approximately one second, and Transparent Security deployed the mitigation in five seconds. The commercial solution took 80 seconds to detect and mitigate the attack. These tests were run with randomized UDP floods; UDP reflection and TCP state exhaustion attacks were identified and mitigated by both solutions. In this trial, only packets related to the attack were dropped. Packets not related to the attack were not dropped.
The Transparent Security solution was implemented on commercially available programmable switches provided by Arista. These switches are being deployed in networks today. No changes to the Networking Operations System (NOS) were required to implement Transparent Security.
The tests validated that INT-encapsulated packets can be transported across an IPv4/IPv6/MPLS network without any adverse impact. There was no observable impact to throughput when adding INT headers, generating telemetry reports or mitigating the DDoS attacks. We validated that the traffic ran at line speed, with the INT headers increasing the packet size by an average 2.4 percent.
Application response time showed no variance with or without enabling Transparent Security. This suggests that there will be no measurable impact to customer traffic when the solution is deployed in a production network.
Conclusion and Next Steps
Transparent Security uses in-band telemetry to help identify the source of the DDoS attack.
This trial focused on using Transparent Security on switches inside the service provider's network. For the full impact of Transparent Security to be realized, its reach needs to be extended to gateways on the customer premises. Such a configuration can mitigate an attack before it uses any network bandwidth outside of the home and will help identify the exact device that is participating in the attack.
This testing took place on a custom P4 profile based on our open-source reference implementation. We would encourage vendors to add INT support to their devices and operators to deploy programmable switches and INT-enabled CPEs.
Take the opportunity today to explore the opportunities for using INT and Transparent Security to solve problems and improve traffic visibility across your network.
Hourly Data Consumption of Popular Video Conferencing Applications
Building on our prior work, this investigation explores the hourly data consumption of popular video conferencing applications: Google Meet, GoToMeeting, Microsoft Teams and Zoom. As video conference applications have become an integral part of our daily lives, we wanted to not only better understand the bandwidth usage as previously explored, but also the total data consumption of these applications. This investigation provides a first step in better understanding that latter dimension. To avoid any appearance of endorsement of a particular conferencing application, we have not labeled the figures below with the specific apps under test. In short, we observed that a single user on a video conferencing application consumed roughly one gigabyte per hour, which compares to about three gigabytes per hour when streaming an HD movie or other video. However, we did observe substantial variance in video conferencing app hourly data consumption based on the specific app and end-user device.
Key Components of the Testing Environment
Much like our prior work on bandwidth usage, the test setup used typical settings and looked at both upstream and downstream data consumption from laptops connected to a cable broadband internet service. We used the same network equipment from November and our more recent blog post in February. This includes the same cable equipment as the previous blogs — the same DOCSIS 3.0 Technicolor TC8305c gateway, supporting eight downstream channels and four upstream channels, and the same CommScope E6000 cable modem termination system (CMTS). The cable network was configured to provide 50 Mbps downstream and five Mbps upstream broadband service, overprovisioned by 25 percent.
The data gathering scenario:
10 people, each on their individual laptops, participated in the conference under test
One person on the broadband connection under test, using either a lower-cost or a higher-cost laptop. The other nine participants were not using the broadband connection under test.
For the laptop under test, the participant used the video conferencing application for the laptop's operating system, rather than using the video conferencing application through the web browser.
Total data consumption was recorded for the laptop using the broadband connection under test.
For all 10 participants, cameras and microphones were on. Conference applications were set to "gallery mode" with thumbnails of each person filling the screen, no slides were presented and the video conference sessions just included people talking.
The laptop under test used a wired connection to the cable modem to ensure that no variables outside the control of the service provider would impact broadband performance. Most notably, by using a wired connection, we removed the variable of Wi-Fi performance from our test setup. During data collection, the conference app was the only app open on the laptop under test.
Video conferencing sessions were set up and data consumption was measured over time. We collected 10 minutes of data for each conferencing session under test to calculate the total consumption for one hour. The charts below show the data consumed for each of the 10 minutes of the conference session. During the conference there was movement and discussion to keep the video and audio streams active throughout the period of data collection.
For each test scenario, only one laptop was connected at a time to the broadband connection under test. Our goal was to measure the data consumption of one conferencing user on the broadband connection. The other conference participants were on the internet; they were not in the lab. Once again, we used TShark (a popular, widely used network protocol analyzer) to capture and measure the data.
For the laptop under test, we chose two that have quite different capabilities. The first was a low-cost laptop with an 11-inch screen, like the ones students are often provided by school districts for at-home learning. The second was a higher-cost laptop with a 15-inch screen, like what we often see in an enterprise environment. Note the two laptops not only have quite different hardware components (e.g., CPU, graphics processors, memory, cameras, screens), but also have different operating systems. Once again, to avoid any appearance of endorsement, we are not identifying the specific laptops used.
Analysis
Table 1 shows hourly bandwidth consumption (combining both upstream and downstream) for the laptop under test, normalized to Gigabytes per hour. The table provides the data consumption for the low-cost and higher-cost laptops in each scenario with the four conferencing applications.
Table 1: Video Conferencing App Hourly Bandwidth Consumption in Gigabytes for Each User (Gigabytes/hour)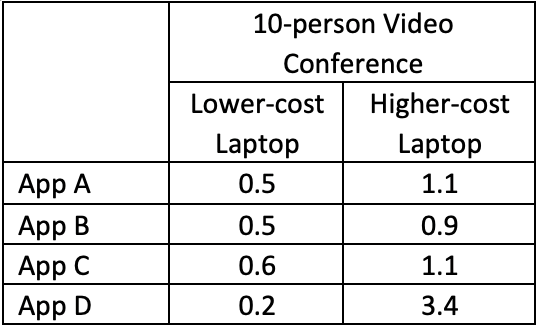 The following figures show the data consumption, in Megabytes, for each minute of the 10-minute data collection for each of the permutations of our testing.
A few notes on the charts:
There was only one client behind the cable modem.
Each bar represents one minute of data consumption.
Each bar shows total consumption and includes both the upstream and downstream, and both audio and video, added together.
App A is blue in each chart; App B is green; App C orange; and App D is purple.
These charts show real-time consumption measured in Megabytes per hour to illustrate consumption over time.
Figure 1 shows the data consumed when using the lower-cost laptop in the 10-person meetings.

Figure 2 shows data consumed each minute for each of the four apps when using the higher-cost laptop was in the 10-person meetings.

Figure 3 shows the data consumed each minute using App A and compares the two laptops used for data collection. For each minute, the bar to the left is the lower-cost laptop and the bar to the right is the higher-cost laptop.

Figure 4 shows the data consumed each minute using App B and compares the two laptops. The bar to the left is the lower-cost laptop and the bar to the right is the higher-cost laptop.

Figure 5 shows the data consumed each minute using App C and compares the two laptops. The bar to the left is the lower-cost laptop and the bar to the right is the higher-cost laptop.

Figure 6 shows the data consumed each minute using App D and compares the two laptops. The bar to the left is the lower-cost laptop and the bar to the right is the higher-cost laptop.

Key Observations
A. Data Consumption Varies: The first takeaway is that different apps consume different amounts of bandwidth, as shown in Table 1, from 0.5 GBytes per hour up to 3.4 GBytes per hour, for video conferences using the different laptops, the same broadband connections, the same general setup (e.g., gallery view), the same people doing the same things on camera, etc.
For a  given app on a given laptop, data consumption was consistent over the 10-minute collection time.
App D using the higher-cost laptop consumed the most bandwidth.
With App D on the lower-cost laptop, there was video quality degradation. We confirmed the broadband connection was operating as expected and was not the cause of the video degradation. Rather, it appeared that the combination of the hardware and operating system of the lower-cost laptop was unable to meet the resource requirements of App D.
App B consistently consumed less bandwidth regardless of scenario.
B. Comparing Laptops: In Table 1, the two columns of data show the differences between the lower-cost and higher-cost laptops for the data collections. On the lower-cost laptop, Apps A, B and C consume about the same amount of data on an hourly basis.
C. Comparing Laptops: The second column of data show that all apps on the higher-cost laptop consumed more bandwidth than the lower-cost laptop. This difference implies that when using the actual conferencing app (not a web browser), processing power available in the laptop may be a determining factor in consumption.
D. Comparing Apps: App C was the most consistent in data consumption regardless of the laptop used. The other conference applications noticeably consumed more on the higher-cost laptop.
In summary, we observed a more than 7X variation in the data consumption of video conferencing with a very limited exploration of just two variables – laptop and video conferencing application. Notably, however, when data consumption was at its highest, it was of the same magnitude as the data consumption of an HD video stream.
This is an area ripe for further research and study, both to more comprehensively explore these variables (e.g., other device types, larger meetings) and to explore other variables that may meaningfully influence data consumption.
Bringing Wi-Fi Security to the Next Level
WBA PKI Framework Enables RadSec Connection Security
In 2020, the COVID-19 pandemic nearly eliminated travel. Today, as restrictions are lifted, we're seeing travel levels increase—particularly locally. Soon, we should all be able to return to the world of far-reaching travel.
Whether for trips across town or journeys around the globe, Wi-Fi accessibility is a critical necessity in the 21st century. Using various Wi-Fi roaming technologies such as Passpoint®, Wireless Broadband Alliance (WBA) WRIX and OpenRoaming™, we can enjoy the Wi-Fi connected broadband experience wherever we go. And as we move about, there are many Wi-Fi networks available to us from various operators; most are secured by some level of security, whether a shared secret, captive portal or Extensible Authentication Protocol (EAP), also known as 802.1x.
Many service providers are moving to EAP for user authentication, a tactic that not only simplifies access to their own Wi-Fi network but also enables a secure roaming experience for their users. To allow users to be authenticated and gain access to roaming Wi-Fi networks, user credentials need to be routed to the home service provider. This interconnection between the roaming partner and the home service provider has typically been over IPSec tunnels. The introduction of RadSec is changing the method of interconnection. RadSec offers a full end-to-end secure path and the ability to use dynamic interconnections.
RadSec interconnection security is based on the mutual exchange of certificates between the two operators, enabling authentication of the operators and encryption of the information exchanged. To standardize these certificates, WBA members (under the leadership of CableLabs) undertook the creation of a solid RadSec PKI framework.
The WBA team led by CableLabs are proud to have completed the PKI framework and have made it available for deployment and use by all members of the WBA, marking the closure of the WBA Roaming Evolution Working Group. The PKI framework includes the PKI Certificate Policy (CP), Trust Root Certificate Authority (CA) agreement, Policy Intermediary CA (I-CA) agreement, Issuing I-CA agreement, End-Entity agreement, Operator Deployment Guidelines and End-Entity Deployment Guidelines.
The completion of the PKI framework is ready to advance and make Wi-Fi roaming simpler. There are several roaming implementations that will benefit from the PKI framework, including specific inter-operators' roaming deployments, the WBA Wireless Roaming intermediary eXchange (WRiX) and OpenRoaming.
The WBA PKI framework is currently available to WBA members and PKI certificates by Kyrio®, a wholly owned subsidiary of CableLabs. Moving forward, the WBA Roaming Work Group will continue to manage the PKI framework and documentation including the new project, "Profiles & RCOIs Prioritization".
For more information about the WBA PKI framework contact pmo@wballiance.com and to get your RadSec certificates, contact PKIOPS@kryio.com.
In Honor of Earth Day: CableLabs and Kyrio Offices Now Powered by 100% Renewable Energy
At CableLabs, we pride ourselves on our commitment to sustainability in every aspect of our work. At our headquarters in Louisville, Colorado we recently subscribed to Windsource, a program offered by Xcel Energy that ensures our office is powered by 100 percent renewable energy. Our engagement with Windsource was part of a broader discussion with Xcel in which we also signed a Memorandum of Understanding (MOU) to participate in the company's Strategic Energy Management program. This program is a 24-month commitment with the objective of better understanding and managing our energy usage.
The Kyrio test lab and offices are also now powered by 100% renewable energy, and the Kyrio team was instrumental in driving the sustainability initiative. Kyrio is committed to continue using sustainable energy as the company grows, and recycles all expired electronic equipment.
CableLabs' Vice President of Information Technology and Facilities, Jeff Leget, and his team have installed several charging stations at the Colorado office, and we provide all our Colorado-based employees an EcoPass card to take advantage of public transit as part of our sustainability efforts. We have also developed a roadmap to institute similar initiatives at our Sunnyvale, California office.
On a larger scale, CableLabs has been instrumental in establishing industry voluntary agreements in the United States and Canada to improve the energy efficiency of set-top boxes (STBs) and small network equipment (SNE) such as modems and routers. The most recent U.S. STB VA report found that, in 2019 alone, the VA had saved consumers more than $1.9 billion and avoided nearly 10.4 million metric tons of CO2 emissions from power plants. You can learn more about these agreements in the United States here and in Canada here.
Implementing programs that focus on sustainability and energy efficiency is important to us this Earth Day and every day. We encourage other companies to look into how they can make small changes to become sustainable. Together, these efforts can add up to making a big impact. We look forward to announcing more sustainability efforts in the near future.
CableLabs Announces the Convergence Council
Motivational speaker, Jim Rohn is known for saying, "What is powerful is when what you say is just the tip of the iceberg of what you know." For an organization like CableLabs, the challenge morphs into something quite monumental when the goal is to enable convergence across multiple industries and technologies that have been progressing independently of one another.
So, CableLabs is trying something new this year.
As part of our ecosystem expansion program, CableLabs has created the Convergence Council that will be hosted by CableLabs' Chief Research and Development Officer (CRDO) Mariam Sorond. The Convergence Council is an advisory board, composed of a broad range of experts and thought leaders representing multiple aspects of connectivity—whether it's wired, wireless, mobile, fixed technologies—or the enablers of these technologies through cloud and virtualized platforms while embracing open and disaggregated architectures. This brilliant team of evangelists is tasked with identifying convergence use cases that will inspire development, technologies and solutions, business models that could unlock opportunities for convergence, and building scenarios for industry consensus.
"Tomorrow's consumers are slated to be more connected, informed, and creative than ever before." Sorond says. "To that end, we are moving towards more user-centric networks that will need a fresh look at convergence to enable not only the demands of a seamless user experience but also an unleashing of new applications. To speed the industry's understanding of use cases that will drive this vision, I wanted to create an industry-sounding board from as broad a sample of thought leaders as possible to help us explore some of the more complex areas."
CableLabs looks forward to working with these talented individuals to move this important initiative forward. The Convergence Council will also be working very closely with the newly announced Mobile Convergence Committee to ensure a comprehensive industry engagement on our future work.
Many of the participants in the council have expressed strong support of the Convergence Council and convergence in general.
Says Rob Soni, Head of Architecture and Technology at Nokia/Bell Labs, "The future of Mobile Access Networks will be to lean forward towards virtualized and disaggregated platforms. These platforms will be flexible and maximize user and enterprise experience. This will give great opportunities between cable operators and mobile operators to cooperate in many ways in the 5G era. Leveraging transport, platforms, and common technologies are all opportunities for greater cooperation between different types of operators that minimize the total cost of ownership. "
"Cable providers will play a critical role in the era of 5G and the edge," says Caroline Chan, VP and GM, Network Business Incubator Division, Intel. "Convergence is essential for ensuring consistent service and persistent connectivity."
"CableLabs has recognized the need for a convergence strategy, and we're honored to participate in the development of a common vision and strategy," says John Baker, Senior VP, Business Development, Mavenir. "Unifying the layers of wireless and cable infrastructure offers a significant opportunity. Convergence will allow for simplification in the deployment and operation of converged solutions."
Steve Alexander, CTO, Ciena, sums up the opportunity behind convergence: "Cable access digitization and transition to cloud is a ripe environment for bandwidth-rich solutions," he says. "Intelligence and convergence will enable myriad end-to-end services and a seamless user experience."
The following ecosystem partner representatives are on the advisory council this year:
You can learn more about and hear directly from Convergence Council members by registering for CableLabs' Envision Vendor Forum 2021: Mobile & Convergence.
CableLabs Announces the Mobile Convergence Committee: User-Centric Networks of the Future Need a Fresh Look at Convergence
Over the next decade, we expect the industry to undergo a significant transformation as service providers deploy multiple access technologies and as new connectivity choices become available to users. To enable transparent, seamless connectivity for users and to efficiently leverage their assets, networks need to become more user-centric. User centricity will demand a more holistic architecture that converges the independent, siloed networks we currently use, thereby enabling a more seamless and optimized experience at home, at work, on the go and in the air. The time is now to put on an innovative lens to take a fresh look at convergence.
Although many people are focused on expanding from wired to wireless, and integrating existing wired and wireless networks, no single access method can address the needs of all users. Ideally, a converged network solution will enable our members to deliver the most efficient seamless experience while allowing them to keep up with ever-increasing demand for faster, more reliable, more secure connectivity—all in an effort to improve the way we live, work, learn and play and to unleash the next generation of applications and use cases.
This transformational shift toward user-centric networks as wireless and wireline technologies surge toward deployment, the CableLabs team, led by Chief Research Development Officer (CRDO) Mariam Sorond, formulated a clear vision of what network architectures and technologies for such a converged network should be.
"With the rapid adoption of new disaggregated architectures, open standards and cloud native technologies," Sorond said, "the timing seemed right to focus on a user-centric network architecture through the convergence of wireless and wired networks."
A well-defined set of architectures and requirements will provide a clear and consistent view and facilitate industry alignment and economies of scale. It will also provide guidelines for ecosystem partners to develop converged solutions and products, enabling our members to deliver on the vision of user-centric networks. To this end, Sorond has put together the Mobile Convergence Committee (MCC), the main objective of which will be to develop industry requirements for a network that will, in turn, bolster the convergence architecture and its specifications.
Currently, the MCC is composed of the following ten industry influencers and thought leaders:
We anticipate that MCC membership will expand to a total of 14 in the coming months.
"The advantages of convergent networks is clear, and it will strongly benefit our customers," said Nadia Benabdallah. "We will simplify the consumption of new services, regardless of the underlying infrastructure. With the adoption of the 'Network as a Platform' approach, we make the underlying networks invisible to our customers."
"The long-term vision for fixed mobile convergence is to deliver ubiquitous wired-wireless connectivity to our customers anywhere and on any device, delivered on cable's high-capacity and low-latency networks," Craig Cowden said. "This means that customers will carry their services, policies and identity with them wherever they go. The time for convergence is now, as we can leverage key building blocks like virtualization, network disaggregation, open interfaces, multi-access edge computing (MEC), automation, along with artificial intelligence (AI) and machine learning (ML) to manage network complexities. I look forward to chairing the Mobile Convergence Committee and working with a talented group of professionals."
"At Cox," said Tony Krueck, "our number-one guiding principle for considering retail wireless is to protect our core business. We believe the primary way to do that is through converged capabilities. Creating seamless connectivity and applications for our customers will become foundational to the future of our products and services."
"With Xfinity Mobile, Comcast has taken its leading connectivity experience outside the home and given our customers the ability to access the Internet from anywhere," said Tom Nagel. "As we look toward a future with more integrated experiences across all of our services, we are excited to work with CableLabs toward the virtualization and convergence that will help make that a reality."
"We believe that bringing together a common vision and strategy in wireless, cable infrastructure and—most importantly—customer experience is critical to moving the industry forward," said Luciano Ramos. "As members of CableLabs, we're very pleased to participate in the Mobile Convergence Committee to help simplify converged solutions and bring new experiences to customers."
"The industry has been talking about convergence for a long time", said Iyad Tarazi. "What's exciting about this CableLabs initiative is that the foundational technologies now exist for us to make this real, and the focus on the customer experience is the right guiding principle."
If you're interested in hearing more about the MCC, register for Envision by clicking below.
Set-Top Box Voluntary Agreement Tightens Energy Allowances and Extends Term
CableLabs, CTA and NCTA are pleased to announce that the award-winning Set-Top Box Voluntary Agreement (STB VA) has been extended by four years, along with introducing a new tier of allowances that will reduce energy consumption of set-top boxes by at least another 20 percent.
The STB VA has been a true success story since it was established in 2012. In the first seven reporting years, the STB VA has saved U.S. residential video consumers a total of 55.1 TWh and over $7 billion in electricity bills. More important, it has averted nearly 39 million metric tons of CO2 emissions through 2019.
Since the inception of the STB VA, the average energy consumption of set-top boxes has steadily declined, even as set-top box features have increased, such as 4K video support, Wi-Fi interfaces and the ability to record multiple programs at the same time. This progress demonstrates the successful collaboration between everyone in the ecosystem, including silicon manufacturers, equipment manufacturers, software developers, service providers, and energy-efficiency advocates. It is projected that, at the end of this extended term, the total energy used by set-top boxes in the United States will be only one-third of the energy used by set-top boxes in 2012 when the agreement was initially signed!
The charts below depict the evolution of a typical cable set-top box without a digital video recorder (Non-DVR) and one with a digital video recorder (DVR) across the years and across the tiers. Note that non-DVR energy consumption has decreased by nearly 70 percent between Tier 1 and Tier 4. This is especially significant as operators migrate more toward non-DVR smaller-client set-top boxes and use their ability to maintain customers' recordings in the cloud. Not only does this capability dramatically reduce the energy footprint of STBs in the home, but it also enables customers to watch their recordings on their phones, tablets, PCs and other devices inside and outside the home.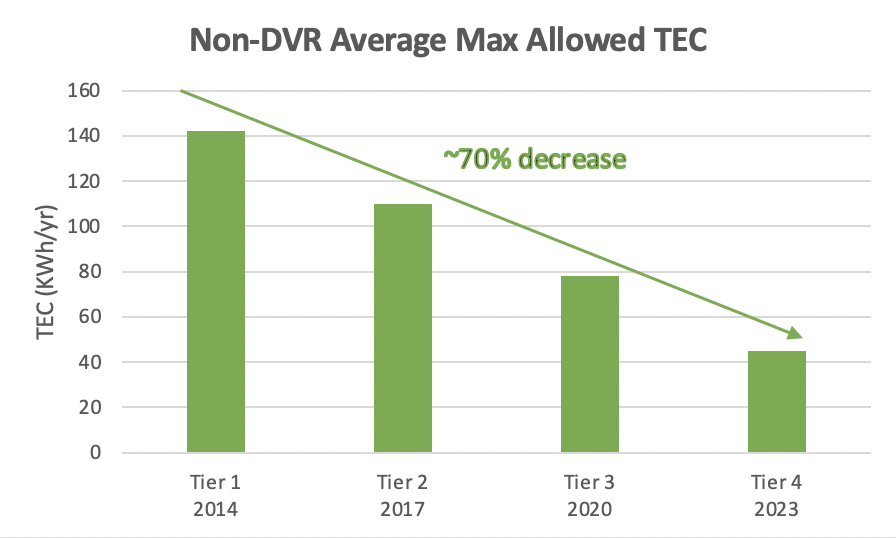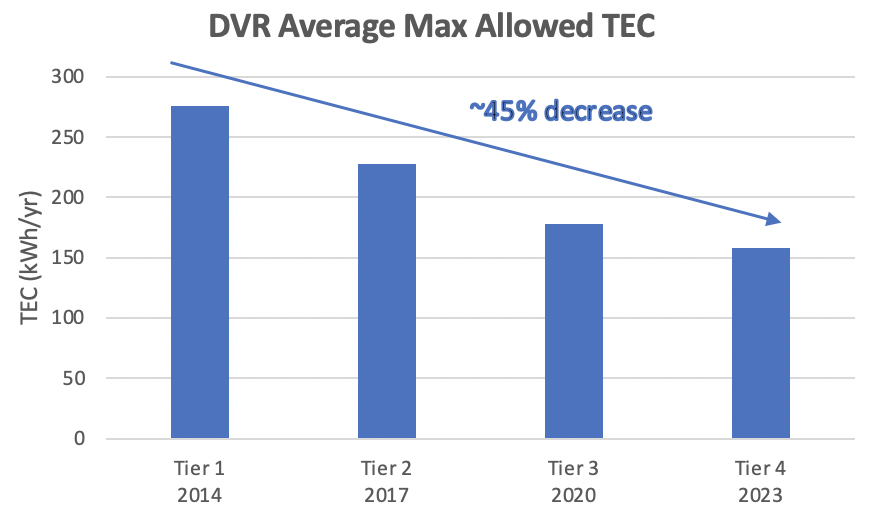 Typical Energy Consumption (TEC) is a formula used by the STB VA (and ENERGY STAR) to evaluate the energy efficiency of an STB. It is a function of the energy consumption of a STB in various modes, such as watching TV and standby, and expressed in units of kWh/yr.
History of the STB VA Tiers
In 2012, the STB VA was developed as a result of discussions among pay-TV service providers, technology suppliers, energy-efficiency advocates and the U.S. Department of Energy. The industry VA was forged, and it has certainly demonstrated that it is an effective alternative to regulation since its inception.
One of the primary commitments of the STB VA is that 90 percent of all STB purchases in a calendar year will measure in lower than the energy-consumption levels specified by the applicable tier. When the STB VA was established by the industry in 2012, the first tier adopted the same levels as the ENERGY STAR 3.0 program that was currently in place for STBs. That defined the "Tier 1" set of allowances for the STB VA.
In 2013, two energy-efficiency advocates—the Natural Resources Defense Council and the American Council for an Energy-Efficient Economy (ACEEE)—became signatories as part of an extension to the VA that included a more aggressive new "Tier 2" set of allowances, which became applicable in 2017.
The VA was extended a second time in 2018 with a new Tier 3 definition of allowances and the term running through 2021. At the time Tier 3 was defined, the signatories also committed to exploring a Tier 4 for the allowances.
That brings us to today. After several years of research and industry collaboration led by CableLabs, the signatories just ratified a new amendment to the VA, extending the term through 2025 (with a final report in 2026) and defining an even more aggressive Tier 4 set of allowances.

To Sum It Up
In the Tier 1 era, near the beginning of the VA in 2013, a typical cable customer had two DVRs and one non-DVR device because set-top boxes were not yet networked in the home. Heading into the Tier 4 era, that same cable customer will have even more features and capabilities (e.g., cloud recording, 4K video, integrated streaming services such as Netflix) but may have just three small non-DVR devices, reducing set-top box energy consumption in the home by over 80 percent!
CableLabs is proud to be part of this highly successful VA that affords new innovative features, greater functionality and the capability to deliver high-quality services to consumers in an energy-efficient manner.
Want to Learn More?
CableLabs Certifies First Cable Modem with Low Latency DOCSIS® Support
CableLabs is pleased to announce that, for the first time, a DOCSIS® 3.1 specification–compliant cable modem that includes the Low Latency DOCSIS (LLD) set of features has become CableLabs Certified. This announcement represents a major milestone on the path toward 10G because LLD support is key to improving latency on DOCSIS networks, and improving latency is one of the pillars of 10G.
Starting with Certification Wave (CW) 134 in January, all DOCSIS 3.1 cable modems submitted for CableLabs certification are required to include support for the LLD feature set. Our Kyrio subsidiary recently finished testing the Motorola MG8725 from Minim, which was submitted for testing in that CW. The CableLabs Certification Board—made up of representatives from our member companies—then reviewed the results and determined that the device had met the requirements for CableLabs Certification.
The modem can be found on the Certified/Qualified Device List on the CableLabs website with an ID of MOTO1341. Any DOCSIS 3.1 cable modems added to that list in the future for CW 134 or later will also include support for the LLD feature set.
What Is Latency?
As described in our "Latency 101: Getting From There to Here" blog, latency refers to the time it takes for something to get from one point to another across a network. People experience this delay when doing things on the Internet, and it can come from myriad sources. Although latency performance often does not receive the same attention as speed, it's one of the most noticeable aspects of a user's online experience.
What Is Low Latency DOCSIS?
As described in our blog post "CableLabs Low Latency DOCSIS Technology Launches 10G Broadband into a New Era of Rapid Communication," LLD technology is a set of new features for DOCSIS 3.1 (and future) equipment that can be added to already deployed devices via a software update. LLD can provide consistent low latency (as low as 1 millisecond) on the access network for the applications that need it. The user experience will be more consistent with much smaller delay variation.
Why Is Low Latency DOCSIS Important?
In our blog post "Rise of Cloud Gaming—Meeting the Challenges for ISPs," we discussed applications such as online gaming and game streaming that can provide greatly improved user experiences with reduced, consistent latency. But latency isn't just about gaming: Many work-from-home applications such as video conferencing can benefit from improved latency. And future technologies like interactive virtual experiences will require consistently low latencies as well.
What Is CableLabs Certification, and Why Does It Matter?
As detailed in our blog post "What's in a Name? The Value of Certification/Qualification for Cable Operators," in order for a device to become CableLabs Certified, Kyrio executes a series of tests to determine whether the device complies with a particular CableLabs specification. Once that testing is completed, the results are reviewed by the Certification Board to determine whether that device has earned CableLabs Certification status.
CableLabs Certification, therefore, serves as a mark of quality, indicating that a given device complies with the requirements of our specifications and enabling cable operators to roll out the device. CableLabs and Kyrio offer a number of options to assist vendors through the certification process—as detailed in our blog post "3 Tips on How to Make CableLabs Certification/Qualification Testing as Painless as Possible"—including interoperability events and device pre-testing.
A cable modem with LLD functionality that successfully completes CableLabs Certification represents a big step on the path to eventual wide deployment of these technologies, enabling a host of new applications and improved user experiences. We can't wait to see the new ideas that will generate.