Wireless
Wi-Fi Alliance Launches Wi-Fi CERTIFIED 6™ Certification Program
Wi-Fi 6 has been around for almost a year, in the news and on the shelves. Tuesday, however, marked a key milestone to the deployment of the next generation of Wi-Fi connectivity; the Wi-Fi Alliance has announced the launch of the Wi-Fi CERTIFIED 6 ™ certification program. Wi-Fi CERTIFIED 6™ provides the assurance that certified devices will interoperate and meet the industry-agreed standard requirements. With more than one billion Wi-Fi 6 chipsets expected to be shipped annually by 2022, interoperability is playing a crucial role to guarantee a proper operation of Wi-Fi networks and a seamless user experience.
Based on the IEEE 802.11ax standard, Wi-Fi 6 enhances the former Wi-Fi generations by delivering greater network capacity, improving performance in congested environments, increasing data rates, and improving power efficiency. IEEE 802.11ax Working Group started work on the next generation of Wi-Fi back in 2014. The former 802.11 standards focused primarily on delivering higher peak and aggregated throughput but with the rapid evolution of the Wi-Fi landscape, new use cases and challenges needed to be addressed. The exponential growth of Wi-Fi connected devices made it critical to focus on actual field conditions. 802.11ax, known as Wi-Fi 6, addresses the congestion and interference issues seen especially in dense deployments, to deliver higher average throughput per user. The targeted deployments include busy airports or train stations, public venues, mobile traffic offload, and apartment complexes. For Cable Operators this can translate to improved efficiency by serving multiple users at a higher average throughput in a residential environment or public hotspots.
Wi-Fi CERTIFIED 6™ key features
Wi-Fi CERTIFIED 6™ certification program includes a series of key features listed below:
Downlink and uplink Orthogonal Frequency Division Multiple Access (OFDMA) where the channel width is split in different sub-channels that allocated to different clients. OFDMA increases the system efficiency while decreasing the latency in dense deployment, making more efficient use of the available spectrum. This allows multiple users to be served simultaneously compared to Wi-Fi 5 and earlier where a single user is served one at a time.
Downlink Multiple User Multiple Input, Multiple Output (MU-MIMO) increases the system capacity. MU-MIMO was introduced in Wi-Fi 5 and is part of Wi-Fi 6 extends the capability to serve up to 8 users concurrently.
Quadrature Amplitude Modulation (QAM) 1024 increases the peak throughput by 25% in good conditions compared to Wi-Fi 5.
Transmit beamforming uses several transmit antennas on the access point to focus the signal to then destination station. This enables higher data rates at a longer range.
Target Wakeup Time (TWT) is based on a scheduler that allows devices to negotiate when and how often they will wake up to send or receive data. TWT improves battery life of devices, a feature required for Internet of Things (IoT) devices.
Basic Service Set (BSS) coloring allows for devices to recognize if incoming traffic is from an adjacent network, allowing devices to take measures to adapt transmissions to optimize intra-network activity.
Wi-Fi 6 certified devices must also meet 3 prerequisites:
Wi-Fi CERTIFIED N (Wi-Fi 4) and Wi-Fi CERTIFIED AC (Wi-Fi 5) certifications ensure a backward compatibility with former Wi-Fi standards.
Wi-Fi CERTIFIED Agile Multiband allows devices to make intelligent access point, band, and channel selection, improving efficiency and consistency on congested wireless networks.
Wi-Fi CERTIFIED WPA3 improves security standards for authentication, authorization and encryption, resolving some vulnerabilities issues of WPA2 that emerged over the past years.
The Role of Wi-Fi 6 in the 10G Platform
Earlier this year, CableLabs®  introduced 10G™, the cable industry's vision for delivering 10 gigabit networks. The 10G platform includes a collection of technologies enabling 10 Gbps symmetrical speeds, lower latencies, enhanced reliability, and security. In addition to the wired related technologies such as DOCSIS 4.0 and P2P coherent optics, the platform includes a set of wireless technologies as an integral part of the network (e.g. Dual Channel Wi-Fi™ and Low Latency Wi-Fi). With almost half of the Internet traffic initiated from Wi-Fi connected devices, the cable industry is devoted to developing and enhancing wireless networks for a seamless user experience.  Wi-Fi 6 increased capacity, lower latency, and higher throughput is supporting the necessary evolution of the wireless technologies to address the 10G roadmap.
Wi-Fi 6 is also addressed by Kyrio™, a subsidiary of CableLabs. Kyrios's Wi-Fi 6 test setup (based on Otoscope®) provides a lab environment for controlled testing. In addition, the Kyrio test house is equipped with Wi-Fi 6 devices to simulate a real-world experience and characterize Wi-Fi 6 performance in a residential environment.
Latency
CoMP over DOCSIS: Femtocells in the Age of vRAN
As promised in the last couple blogs discussing DOCSIS based femtocells, we've saved the best for last. So far in the series, we've made the case for femtocells over DOCSIS networks and laid out the total cost of ownership (TCO) benefits of this deployment model. In this final blog post, I'll share the results of some testing we've been doing at CableLabs on using Coordinated Multipoint (CoMP) to optimize femtocell performance in dense deployments.
Decluttering the Radio Signal
Let's step back and look at a key issue that has limited the benefit of femtocells in the past: intercell interference. When femtocells (or any cells, for that matter) are placed in close proximity, the radio signals each cell site produces can bleed into its neighbor's territory and negatively affect network performance.
With CoMP, neighboring cells can coordinate their transmissions in a variety of ways to work collaboratively and prevent interference. They can share scheduling and beamforming data to avoid creating interference. Or, they can use joint processing, which allows multiple cells to talk to a single cell phone at the same time, increasing the signal quality.
Although it's not a perfect analogy, it's a bit like trying to listen to a bunch of people singing their favorite song at the top of their lungs versus listening to a choir following a conductor, as you see in the following figure. The former is old femtocells, and the latter is virtualized RAN (vRAN) femtocells using CoMP.

Icons made by Freepik from Flaticon is licensed by CC 3.0 BY.
Since its inception, CoMP has been largely believed to require fiber transport links to work. For example, in TR 36.819, there's a whole section devoted to the impact of "higher latency communication between points," where "higher" refers to 5ms, 10ms or 15ms of latency. In that text, gains decrease as latency increases, ultimately going negative (i.e., losses in performance).
However, with the increase in attention on vRAN, particularly lower-layer splits like the work going on in Telecom Infra Project (TIP) vRAN Fronthaul and O-RAN Alliance WG4, latency takes on new meanings with respect to CoMP.
For example, what matters more, the latency from one radio unit to another or the latency from one virtualized baseband unit (vBBU) to another? And if it's the latter, does that mean CoMP can provide benefit even over long-latency non-ideal vRAN fronthaul like DOCSIS?
To find out the answers to these questions, we set up a test bed at CableLabs in collaboration with Phluido to explore CoMP over DOCSIS.  We used the hardware from the TIP vRAN Fronthaul project, with an LTE SW stack provided by Phluido that supports CoMP. We installed two radio units in different rooms, each radio connected via a DOCSIS® 3.0 network to the vBBU. We designated two test points, one with a phone located at the cell center, the other with both phone in the cell edge/cell overlap region.
Notably in our setup, the latency from radio unit to vBBU and radio unit to radio unit were both about 10ms. However, the latency between vBBUs was essentially zero as both radios shared the same vBBU. This setup is specifically designed to test whether vBBU-to-radio latency or vBBU-to-vBBU latency is more important for CoMP gains.
Gains!
What we found is that radio-to-radio latency and radio-to-vBBU latency can be quite large in absolute terms, and we can still get good CoMP performance provided that latency is low between the vBBUs and that vBBU-to-radio unit latency is similar for the radios in the CoMP cluster, as you see below.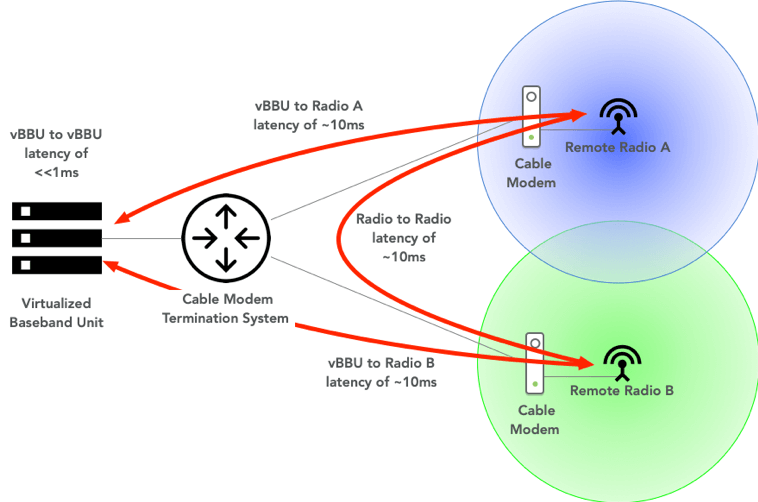 In other words, to realize CoMP gains, the relative latency between a set of cells is more important than the absolute latency from vBBU to each radio.
We tested four configurations of phones at the cell center versus the cell edge, or some mix thereof, as the following figure shows.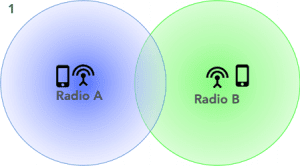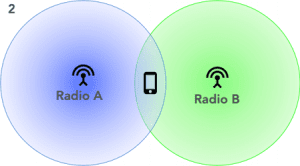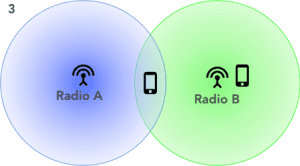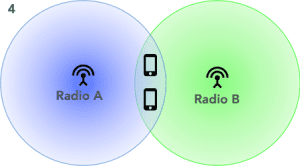 In case 1, we see full cell throughput at each phone with CoMP enabled or disabled. This is great; this result shows that we haven't lost any system capacity at the cell center by combining the cells into a single physical cell ID (PCI) and enabling CoMP.
In case 2, the phone throughput jumped from 55 Mbps to 78 Mbps when we enabled CoMP, showing a CoMP gain of almost 50 percent.
In case 3, when we enabled CoMP, the phone at the cell edge saw a throughput gain of 84 percent. In this scenario, the throughput of the cell center phone saw a decrease in throughput. This illustrates a tradeoff of CoMP when using legacy transmission modes (TM4, in this case) where the operator must choose whether it wants to favor cell edge users or cell center users. With more advanced transmission modes (e.g., TM10), this tradeoff is no longer an issue. Note that this is true of any CoMP deployment and not related to our use of DOCSIS network fronthaul.
In case 4, we expected to see significant gains from CoMP, but so far we haven't. This is an area of further investigation for our team.
vRAN Femtocell CoMP in MDUs
Let's look at an example use case. Cell service in multi-dwelling units (MDUs) can be challenging. A combination of factors, such as commercial construction materials, glazing and elevation, affect the indoor signal quality. As discussed in my previous blog, serving those indoor users can be very resource intensive.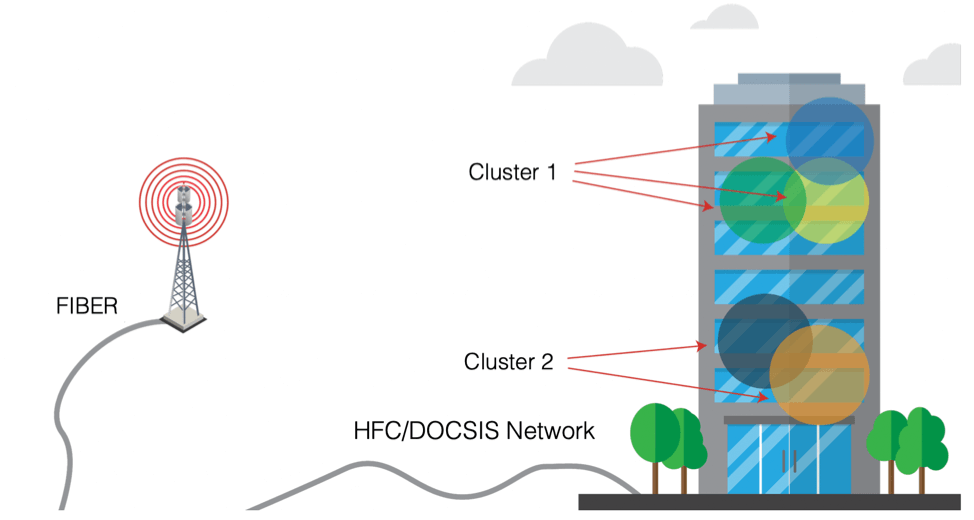 As an operator, it would be great to have a low-cost way to deploy indoor cells. With vRAN over DOCSIS networks supporting CoMP, the operator can target femtocell deployments at heavy users, then build CoMP clusters (i.e., the set of radios that collaborate) as needed to optimize the deployment.
Putting It All Together
The testing described here has shown that CoMP gains can be realized even when using long-latency fronthaul over DOCSIS networks. As these solutions mature and become commercial-ready, deployments of this type will provide the following for operators:
Low-Cost Hardware: vRAN radios, particularly for femtocells, are low-complexity devices because the majority of the signal processing has been removed and put in the cloud. These radios can be built into the gateway customer premises equipment (CPE) already deployed by operators.
Low-OPEX Self Installs: With vRAN radios built into DOCSIS CPEs, operators can leverage the simplicity of self-installation. The ability to dynamically reconfigure CoMP clusters means that detailed RF planning and professional installation aren't necessary.
High-Performing System: As shown in our testing results, CoMP gains can be realized over DOCSIS network–based vRAN femtocells. This eliminates another of the previous stumbling blocks encountered by earlier femtocell deployments.
Latency
Enabling 5G with 10G Low Latency Xhaul (LLX) Over DOCSIS® Technology
I am a GenXer, and I am addicted to my iPhone. But it's not just me, today's consumers, millennials and baby boomers and everyone in between, are increasingly spending more and more time on their mobile devices. Have you ever wondered what happens to your traffic when you interact with your iPhone or Android devices? The traffic reaches a radio tower, but it doesn't just stop there – it needs to reach the internet via a connection between the cellular base station and a distant data center.
Traditionally, that connection (a.k.a., "xhaul") is mostly provided by fiber. Fiber has great speed and latency performance but is costly to build. With advancements in LTE and 5G, mobile operators are increasingly deploying more and more radios deeper into the neighborhoods. They will need a more scalable solution to provide that xhaul without sacrificing the performance. This is where the hybrid fiber coaxial (HFC) network can help.
With ubiquitous cable infrastructures that are already in place, the cable operators have the scalability to support today's LTE and tomorrow's 5G networks without the cost of building new fiber networks. With DOCSIS 3.0+ as well as Low Latency Xhaul (LLX) technology, the DOCSIS network has performance that is virtually indistinguishable from fiber. The CableLabs 10G technologies make the HFC network a better xhaul network, which is a win-win for the consumers, mobile operators, and cable operators.
How Low Latency Xhaul (LLX) Works
Today's DOCSIS technology provides a good starting point for mobile xhaul but may not be enough to support the ultimate latency requirements needed for future mobile traffic. DOCSIS upstream latency can range from a typical of 8-12 milliseconds to around a maximum of 50 milliseconds under heavy load. We want to see that latency down to 1 to 2 milliseconds range in order to support 5G.
The LLX technology is specifically designed to reduce the latency experienced by mobile traffic while traversing the DOCSIS transport network on its way to the internet. The LLX technology development started about 3 years ago as a joint innovation project between CableLabs and Cisco. I wrote about it here and here.
So, how does LLX work? Let's look at the case of LTE backhauled over a DOCSIS network as an example. Today, LTE and DOCSIS are two independent systems – their operations occur in serial, and the overall latency is the sum of the two system latencies. But from an engineer's point of view, both technologies have a similar request and grant-based mechanism to access the channel. If the two processes can be pipelined, then LTE and DOCSIS operations can take place in parallel, removing the "sum" from the latency equation. To enable pipelining, we designed a protocol that utilizes a message called the  bandwidth report (BWR) that allows the LTE network to share information with the DOCSIS network. Pipelining is a unique and inventive aspect of LLX and is the heart of what creates a low latency transport.

Operator Trials
So, just how well does LLX work? We have recently teamed up with Shaw, one of our Canadian members, as well as our technology development partners Cisco and Sercomm to perform a series of lab trials. The detail of the trials will be published in the upcoming SCTE Cable-Tec Expo in October. But as a preview, we demonstrated that even when the DOCSIS network is heavily loaded, LLX consistently reduced the DOCSIS upstream latency down to 1 to 2 milliseconds, all without adversely affecting other traffic.
Deploying LLX Technology
The LLX specification was published a few months ago, the result of collaborative efforts from key cable and mobile equipment vendors in the CableLabs-led LLX working group.
LLX technology is designed to work for a variety of deployment models, including backhaul and fronthaul, over DOCSIS as well as over PON networks. To this end, we have taken the technology to mobile industry standardization organizations such as the O-RAN Alliance whose current focus is fronthaul.
LLX works in the DOCSIS 3.0 and later networks as a software upgrade to the CMTS. It has been implemented on commercial DOCSIS and mobile equipment. More information on LLX is available here.
For those attending the SCTE Cable-Tec Expo in New Orleans, we will be discussing the innovation on the Innovation Stage at 12:45pm local time with my industry partners from Shaw, Cisco, and Sercomm. I will also dive deep into the technology and the Shaw trial results in my SCTE panel "Mobile X-haul and DOCSIS", Wednesday October 2nd at 9am local time. Hope to see you there.
10G
CableLabs Low Latency DOCSIS® Technology Launches 10G Broadband into a New Era of Rapid Communication
Remember the last time you waited (and waited) for a page to load?  Or when you "died" on a virtual battlefield because your connection couldn't catch up with your heroic ambitions? Many internet users chalk those moments up to insufficient bandwidth, not realizing that latency is to blame. Bandwidth and latency are two very different things and adding more bandwidth won't fix the internet lag problem for latency-sensitive applications. Let's take a closer look at the difference:
Bandwidth (sometimes referred to as throughput or speed) is the amount of data that can be delivered across a network over a period of time (Mbps or Gbps). It is very important, particularly when your application is trying to send or receive a lot of data. For example, when you're streaming a video, downloading music, syncing shared files, uploading videos or downloading system updates, your applications are using a lot of bandwidth.
Latency is the time that it takes for a "packet" of data to be sent from the sender to the receiver and for a response to come back to the sender. For example, when you are playing an online game, your device sends packets to the game server to update the global game state based on your actions, and it receives update packets from the game server that reflect the current state of all the other players. The round-trip time (measured in milliseconds) between your device and the server is sometimes referred to as "ping time." The faster it is, the lower the latency, and the better the experience.
Latency-Sensitive applications   
Interactive applications, where real-time responsiveness is required, can be more sensitive to latency than bandwidth. These applications really stand to benefit from technology that can deliver consistent low latency.
As we've alluded, one good example is online gaming.  In a recent survey we conducted with power users within the gaming community, network latency continually came up as one of the top issues. That's because coordinating the actions of players in different network locations is very difficult if you have "laggy" connections.  The emergence of Cloud gaming makes this even more important because even the responsiveness of local game controller actions depends on a full round-trip across the network.
Queue Building or Not?
When multiple applications share the broadband connection of one household (e.g. several users performing different activities at the same time), each of those applications can have an impact on the performance of the others. They all share the total bandwidth of the connection, and they can all inflate the latency of the connection.
It turns out that applications that want to send a lot of data all at once do a reasonably good job of sharing the bandwidth in a fair manner, but they actually cause latency in the network when they do it, because they send data too quickly and expect the network to queue it up.  We call these "queue-building" applications. Examples are video streaming and large downloads, and they are designed to work this way.  There are also plenty of other applications that aren't trying to send a lot of data all at once, and so don't cause latency.  We call these "non-queue-building" applications. Interactive applications like online gaming and voice connections work this way.
The queue-building applications, like video streaming or downloading apps, get best performance when the broadband connection allows them to send their data in big bursts, storing that data in a buffer as it is being delivered.  These applications benefit from the substantial upgrades the cable industry has made to its networks already, which are now gigabit-ready. These applications are also latency-tolerant – user experiences are generally not impacted by latency.
Non-queue-building applications like online gaming, on the other hand, get the best performance when their packets don't have to sit and wait in a big buffer along with the queue-building applications. That's where Low Latency DOCSIS comes in.
What is Low Latency DOCSIS 3.1 and how does it work?
The latest generation of DOCSIS that has been deployed in the field—DOCSIS 3.1—experiences typical latency performance of around 10 milliseconds on the access network link. However, under heavy load, the link can experience delay spikes of 100 milliseconds or more.
Low Latency DOCSIS (LLD) technology is a set of new features, developed by CableLabs, for DOCSIS 3.1 (and future) equipment.  LLD can provide consistent low latency (as low as 1 millisecond) on the access network for the applications that need it.  The user experience will be more consistent with much smaller delay variation.
In LLD, the non-queue-building applications (the ones that aren't causing latency) can take a different path through the DOCSIS network and not get hung up behind the queue-building applications.  This mechanism doesn't interfere with the way that applications go about sharing the total bandwidth of the connection. Nor does this reduce one application's latency at the expense of others. It is not a zero-sum game; rather, it is just a way of making the internet experience better for all applications.
So, LLD gives both types of applications what they want and optimizes the performance of both.  Any application that wants to be able to send big bursts of data can use the default "classic" service, and any application that can ensure that it isn't causing queue build-up and latency can identify its packets so they use the "low latency" service. Both then share the bandwidth of the broadband connection without one getting preference over the other.
Incorporating LLD Technology
Deploying Low Latency DOCSIS in a cable operator's network can be accomplished by field-upgrading existing DOCSIS 3.1 CMs and CMTSs with new software. Some of the low latency features are even available to customers with older (pre-DOCSIS 3.1) CMs.
The technology includes tools that enable automatic provisioning of these new services, and it also introduces new tools to report statistics of latency performance to the operator.
Next Steps
DOCSIS equipment manufacturers are beginning to develop and integrate LLD features into software updates for CMTSs and CMs, and CableLabs is hosting Interoperability Events this year and next year to bring manufacturers together to help iron out the technology kinks.
We expect these features to become available to cable operators in the next year as they prepare their network to support low latency services.
LLD provides a cost-effective means of leveraging the existing hybrid fiber-coaxial (HFC) network to provide a high-performance network for latency-sensitive services. These services will help address customers' requirements for many years into the future, maximizing the investments that cable operators have made in their networks. The cable industry is provisioning the network with substantial bandwidth and low latency to take another leap forward with its 10G networks.
For those attending the SCTE Cable-Tec Expo in New Orleans, Greg will be presenting the details of this technology on a SCTE panel "Low Latency DOCSIS: Current State and Future Vision"  Room: 243-244,  Monday, September 30, 2019: 3:30 PM - 4:30 PM".  Hope to see you there!
Events
Can You Envision It Now?
In a world of constant change and innovation, the need for collaboration and assurance is crucial. Every year, CableLabs and Kyrio host a booth at SCTE-ISBE Cable-Tec Expo (#1101 this year). At this event, cable and broadband professionals from around the world come together to share innovations, trends and emerging technologies. This year, we're doing something a little different. We're excited to announce the creation of our new CableLabs Envision Vendor Forum leading into SCTE Cable-Tec Expo 2019. This forum will accelerate innovation by introducing our newest technology advancements to our vendor community faster than ever.
What Will CableLabs Cover at Envision?
10G Wired Technologies
In addition to the significant cost savings, without laying more cable, we are also future-proofing our wired technologies and making certain that our customers have access to revolutionary services in the years to come. With technologies like Distributed Access Architecture, Full Duplex Coherent Optics, Passive Optical Network (PON), Proactive Network Maintenance (PNM), and DOCSIS 4.0, that revolutionary future is just around the corner.
Members of our team will not only provide information about the technology being developed for the industry; it will also offer an all-inclusive story that will tie together the numerous projects into a clear and comprehensive narrative. This narrative will support the direction of wired technologies within the industry and how all of the work is interconnected.
Mobile and Wireless Networks Enabled by 10G
Wireless technologies must be fast, secure and widely available so that we can stay connected to the people and things that matter the most to us. Wireless technologies are important, like network convergence and low latency mobile xhaul, because low-latency wireless access is key to building our connected future. We've been making sure cable's hybrid fiber coax networks are ready to support wireless needs now and in the future.
Panel Discussions and More
CableLabs technology experts will be speaking and moderating panel discussions throughout the forum, and CEO and President Phil McKinney is speaking at the opening ceremony. Our lineup of speakers and moderators include the following:
There will be many more speakers you will not want to miss, especially our keynote speaker, Kevin Hart, Executive VP, Chief Product and Technology Officer, from Cox Communications.
CableLabs Envision Vendor Forum is ideal for developers, engineers, systems administrators, systems architects, technical decision makers, product engineers, marketers, and anyone who needs to be ahead of the technology movement.
Event Information
When: Sept. 30, 2019
Where: New Orleans, LA
Reliability
Cable-centric Reliability
No doubt our cable industry has a unique culture of working and innovating together to solve technical issues. But there are best practices from other communities which we can build from; these practices inform how we can continue to develop toward more reliable services. By "reliable," as it relates to service, I mean reliable, available, and resilient services, which result from reliable, available, resilient, repairable, maintainable, and highly performing cable networks, not to mention operations focused on the customers' needs. On the other hand, specifically used, reliability refers to the probability of not experiencing failure, whereas availability refers to the expected proportion of time that something is working as intended. These are very related, but very different things. You can read more here. But when we speak generally about reliability, often many of these like concepts are relevant.
What is Unique About Cable Relating to Reliability Concepts?
For one thing, DOCSIS® networking is unique. Each version of DOCSIS technologies improved performance, but also increased the robustness of the services it supports. Error correction, profile management, pre-equalization, echo cancelers, and other technologies have enabled this performance extension, but also these advantages create separation from the impairment and service failures, allowing for maintenance before service is impacted.
Another unique advantage is Proactive Network Maintenance (PNM). The advantages of DOCSIS technologies are what make PNM possible. We use data to find impairments in the network that, left untreated, will eventually impact service. This capability affords operators the opportunity to find and remove impairments early, before the network is further damaged by degradation, and service is impacted severely. Networks can be maintained well, but also services remain available while the network is experiencing failure.
Cable operators and vendors in cable have analog radio frequency (RF) expertise with a digital mindset. The cable industry knows RF, and that knowledge has helped it get the most out of the physical layer of the network. That deep understanding of the network's physical layer is why mitigating network failure modes is second nature, and the industry has the needed skills.
Then there's the industry's "laser focus." Pushing fiber out deeper into the network can improve reliability and availability, but current technology does lack some of the PNM advantages. There is work to do, but the capabilities are there for us to develop.
What Are the Best Practices We Can Re-use?
Designing communication networks for reliability carries many best practices and experience.
The ability to understand and mitigate failures before deployment – We have defined PNM use cases based on the measurements we've been able to define in the DOCSIS specifications. Now, we must extend that work to link to failure modes, effects, and criticality analysis, and root cause analysis, to inform technology choices, measurements for management, and design for reliability.
Condition based maintenance – Maintenance optimization research is clear that in any practical situation it is almost always more cost efficient to base maintenance on condition information rather than age information.
Prognostics and Health Management (PHM) – A newer field of reliability, PHM is a lot like our PNM. PHM is a research field of study using data sources (e.g., vibration in mechanical systems, or charge time in batteries) to determine the remaining useful life of a component or system. PNM is a clear cousin to that field, so we can certainly share and gain benefit from that work.
Certification testing – Certifying cable modems (CMs) has improved the PNM responsiveness of CMs, and the same can be true about cable modem termination systems (CMTSs) as that part of the network begins to align.
Maintenance optimization – Service reliability and availability, in addition to network reliability and availability and robustness, are important focuses for the industry; they relate, but are distinct and important in their own. The network can fail while service continues to perform at a high level, so maintenance can be better planned in this situation.
Thoughts for the Future of Cable
More options mean more standardization – Adding more options to the technology choices allows operators to better meet the unique needs of their customer base. However, keeping it all standardized increases operability and repairability so that service is highly reliable and available.
Each feature needs measurements – As we add options and features to cable technologies, each option needs special measurements to assure that the feature can be managed properly. DOCSIS 4.0 technology is full of options, so we'll need a critical eye on each to make sure those options can be operated reliably.
Pushing the limits of technology requires more diligence on PNM – As we rely on tighter tolerances and more complexity on issues like upstream noise, echo cancelation, and error correction, we need more information about how those perform, and more diligent PNM practice relating to them.
Impairments relate to capacity and network resilience – As capacity becomes a stronger focus, the impact of impairments on that capacity becomes more important, so cable network reliability is entwined.
As we push higher capacity to the edge, redundancy must come with it – With more capacity comes more critical services, and more impact to the lives of customers. A failure becomes more impactful as a result. Then, as the cost of a failure increases, large failures become more expensive, driving the need for more network resiliency, and thus more redundancy.
Strong Foundation, Strong Future
Building on a strong foundation of PNM and DOCSIS technologies, the cable industry has the right culture and technology foundation to take communications to a reliable future. We have lots of work to do, but we're on the right path to do it. Here we go!
Innovation
Behind the Tech: Near Future. Diverse Thinkers Wanted.
During Summer Conference, we released Diverse Thinkers Wanted, the fourth Near Future film—this one about the ways we'll all be working a few years from now. Just like the previous three films, Diverse Thinkers Wanted highlights how advancements in cable technology can affect the way we interact with other people and the world around us—but this time in a professional capacity. The film explores multiple future technologies that can eventually help us become better, faster and smarter versions of ourselves, enhancing our creative problem solving, time management and collaboration skills.
On-Call Mixed Reality
Our eyeglasses and other wearables will be outfitted with connected mixed reality (MR) tech that can display a variety of useful and timely information about everything we see. This will give new meaning to the term "plugged in" at work. 
Public Light Field
Public Light Field technology will allow multiple users to sign in and share information in a virtual 3D space or take part in private discussions through a secure channel if they need to. Thanks to this tech, working from home or another location will be easier than ever.
 Autonomous Taxi Fleet
We envision a future, just a few years away, where a connected autonomous taxi service is instantly available to safely take you from point A to point B no matter where you are. Beats trying to get an Uber during rush hour!
Layered Videoconferencing
The traditional video telepresence solutions available today will be enhanced with MR and holographic technologies that will allow you and your team to be exponentially more productive, leaving less room for misunderstandings and more room for creativity.
Earpiece AI
Next-generation AI applications can help you make the right decisions more quickly than ever. They can continuously listen for context and adapt to your needs as time goes by. Eventually, these tools will know what you need when you need it, without your explicit instructions. This tech will be very handy when you're in a time crunch.
Holo-rooms
Holo-rooms are gathering spaces that include the latest holographic tech such as light field displays, light field rooms and volumetric light field tables. They're perfect for running "virtual" meetings where all the participants feel as if they're in the same room even if they're miles apart.
Alternative Interfacing
Future innovations will allow you to do things you've never been able to do before, such as moving virtual objects with the gaze of your eyes. This type of tech can revolutionize the workforce by creating exciting new opportunities and even entire new fields of work.
Affordable Light Field Units
As light field technology becomes more mainstream, it will become more affordable, allowing manufacturers to create a variety of products for use at home, work and in public places, such as museums and bus stops. Soon, it will become one of the most effective ways to convey information.
News
Millicom, Cablevideo and Schurz Communications Join the CableLabs Family
Welcoming a new company to the CableLabs family always makes for an exciting day here at the office. Today, we'd like to introduce you to not one but three of our newest members:
Millicom, one of the leading providers of cable, mobile and high-speed broadband services in Latin America
Cablevideo, a local Argentinian TV and Internet provider
Schurz Communications, a privately held company that owns a variety of regional U.S. broadband and cloud service providers
Millicom: A Company on a Mission to Help Growing Economies Reach Their Full Potential
Millicom operates under the TIGO brand in nine Latin American countries—Bolivia, Colombia, Costa Rica, El Salvador, Guatemala, Honduras, Nicaragua, Panama and Paraguay—building the digital highways that connect people, improve lives and develop communities. Millicom is driving connections that matter through the rapid expansion of its Hybrid Fiber Coax (HFC) and mobile networks with more than 147,000 km of fiber and a reach of 30 million households.
Passing more than 11 million homes today, Millicom's 3.3 million HFC customers enjoy a variety of digital video services, including advanced personalization and viewing recommendations, together with high-speed broadband.
On the mobile front, Millicom's 4G/LTE networks serve 37.2 million mobile customers. The company is now focused on converging its cable and mobile services, which would allow Millicom to deliver more compelling data-centric products to its rapidly growing customer base.
Cablevideo: Small Company with a Big Heart
Cablevideo began servicing the Santa Fe area of Argentina in the mid-1980s and has since expanded to Santo Tomé, Coronda, and other neighboring provinces. For the majority of Santafesinos, Cablevideo is synonymous with cable television, offering hundreds of channels, including on-demand and premium channels like HBO, as well as high-quality, reliable broadband Internet to local homes and businesses. Cablevideo also owns and produces content for three local channels that enjoy very high viewership among local residents.
Recently, Cablevideo has started to expand its operations outside Santa Fe and its provinces, laying fiber in areas such as Recreo that have never had cable or Internet. Because it is a local provider, Cablevideo is deeply embedded in local communities. Besides providing a variety of entertainment options, Cablevideo also offers job opportunities to local residents and free services to neighboring schools, nursing homes and hospitals. In June 2018, in preparation for the first winter cold in Argentina, Cablevideo joined forces with a local radio station to gather 5,000 blankets for 1,650 families who live in tin huts—proof that business is not always just about the bottom line.
Schurz Communications: A Family Business That Values Meaningful Connections 
Schurz Communications can trace its roots to 1872, when Alfred B. Miller and Elmer Crockett founded a local Indiana newspaper called the South Bend Tribune. Schurz got into the cable business in 1968 in Hagerstown, Maryland, and owns four other locally operated broadband companies in Arizona, Iowa, Minnesota and Vermont that offer video, high-speed Internet and voice services to neighboring communities. Operating HFC, GPON and EPON networks, Schurz is providing advance digital services to more than 200,000 revenue-generating units (RGUs).
In addition to its highly successful broadband operations, Schurz is focused on the technology of information sharing, which safely facilitates human and geographic connections on a global scale. Through Otava, Schurz provides world-class cloud, colocation, data protection, disaster recovery, security and other professional services solutions to thousands of customers around the world. Schurz understands the value of data and is committed to protecting it in the cloud.
CableLabs Membership: Where Local Meets Global
Now that Millicom, Cablevideo, and Schurz have joined our ranks, they have access to our global CableLabs community that strives to achieve alignment and adoption of common technologies. Plus, they can take advantage of many members-only resources, such as:
Exclusive access to our quarterly R&D reports, competitive assessments of innovation focus areas and more
An invitation to members-only global events, plus other industry conferences, such as CES, where members share insights and best practices
A behind-the-curtain look at the latest innovative research not yet available to the general public
An opportunity to participate in working groups that drive industry standards in fiber, security, mobile, virtual networking and other innovative fields
Access to state-of-the-art development and testing facilities for next-generation technologies
If you're interested in becoming a CableLabs member and would like more information, please contact us by clicking the link below.
Energy
Voluntary Agreements Continue to Save Money and the Environment
Last week, three important energy efficiency annual reports were released and the results are remarkable. I'm talking about the award-winning Set-top Box (STB) and Small Network Equipment (SNE) Voluntary Agreements (VA) in the United States, and the Canadian Energy Efficiency Voluntary Agreement for Set-top Boxes (CEEVA). These three programs were established in the U.S. and Canada with the goals of making set-top boxes and residential equipment more energy efficient, saving consumers money and reducing carbon emissions from power plants, all while continuing to innovate and introduce new features.
United States Set-top Box Voluntary Agreement
The US STB VA, established in 2012, expanded in 2013, and renewed in 2018, covers over 94% of the pay television market in the United States. Over the six years of this VA, the signatories continue to find ways to deliver services more efficiently. In the most recent 2018 Annual Report, the independent administrator, D+R International, found that the STB VA reduced the national STB energy consumption from 32 TWh in 2012 to only 19.4 TWh in 2018.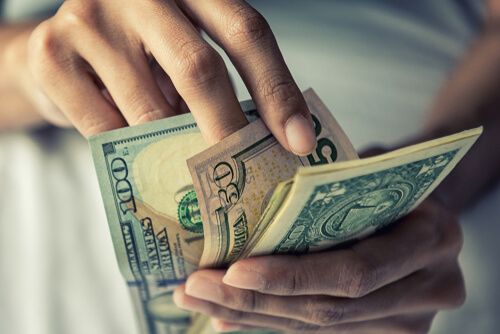 Consumer Savings
• $1.6 BILLION in 2018
• $5.15 BILLION total in 6 years


Carbon Footprint
• 8.9 Million Metric Tons CO2 emissions avoided in 2018
• 28.6 Million Metric Tons CO2 emissions avoided in 6 years
United States Small Network Equipment Voluntary Agreement
The US SNE VA report shared impressive results as well with energy efficiency continuing to improve year over year, demonstrating an average of a 66% decline in energy usage relative to increasing broadband speeds over the four years of the VA. This is especially impressive considering that the operators are purchasing and deploying devices to support continued demands on bandwidth and capabilities. When the SNE VA was established in 2015, the cable service providers reported sixteen different DOCSIS 3.0 models with only eight downstream bonded channels and no DOCSIS 3.1 purchases. In 2018, the only DOCSIS 3.0 models reported were at least 16 downstream bonded channels and ten different DOCSIS 3.1 models were reported.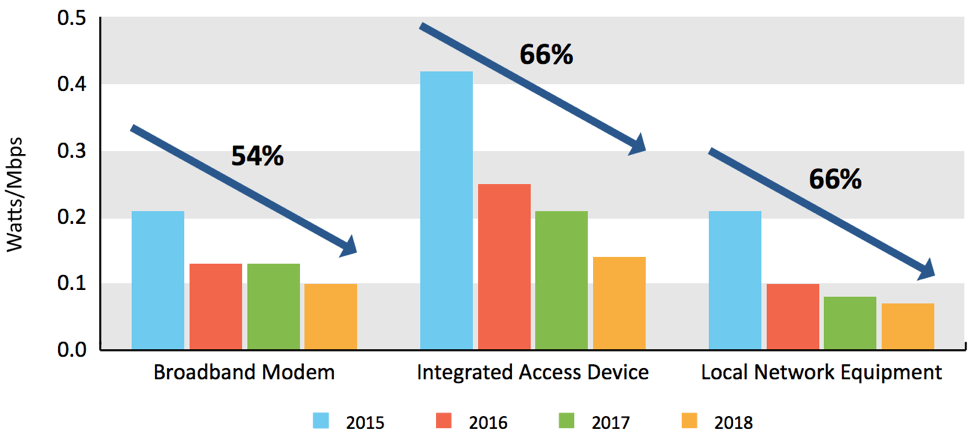 Figure 2 US SNE VA Average Energy Usage by Equipment Type, Weighted by Broadband Speed

The US SNE VA was recognized this year by Environmental Leader as a 2019 Top Project of the Year
Canadian Energy Efficiency Voluntary Agreement
CEEVA is only in its second year of reporting but is already demonstrating significant results.  You can find the annual report here, and it is also available in French here (pour tous ceux qui veulent lire le rapport en Français!)

Figure 3 Weighted Average TEC, by Set-Top Box Category
CableLabs' Role
Although CableLabs is not an official signatory to these voluntary agreements, we play a critical role in their success in a number of areas:
Leading the technical working groups for all of the VAs, researching and innovating ways to further reduce energy consumption in the devices
Playing a key role in the negotiations when establishing, running and renewing the VAs
Chairing the CTA R04WG13 working group that is responsible for the STB energy consumption test procedure used by the US STB VA, CEEVA and ENERGY STAR
Conducting energy testing for most major cable signatories in the U.S. and Canada (CableLabs and Kyrio are both ISO-17025 accredited for energy testing of STBs and SNE)
The success of these agreements continues to reinforce the benefits of a voluntary approach to achieve these goals over more restrictive government regulation. In this market, where technology is evolving at an increasingly rapid pace, these agreements provide CableLabs members and partnering vendors the opportunity to innovate and deliver the services that our consumers demand.
We are extremely proud of the success of these voluntary agreements and the positive impact they have had on cable consumers and the environment.
Want to Learn More?
Innovation
The Near Future. Diverse Thinkers Wanted: 10 Fun Facts
This week, at our Summer Conference, we released a short film titled The Near Future. Diverse Thinkers Wanted. The fourth installment in our Near Future series focusing on light field technology, mixed reality and AI, the film highlights how our broadband networks and increased connectivity keeps everyone in the workplace seamlessly connected and more creative. Here are ten fun facts about our film:
The autonomous cars in the film appear to have no steering wheel. This was achieved by using real cars with steering wheels and producing carefully mirrored shots: the set, costumes, props and stage direction were all mirrored, and the shot was then flipped in post-production, creating a realistic autonomous car driver-side with no steering wheel.
The lead actress ran so much in the film that she had to use two sets of shoes to avoid blisters. In shots that showed her feet, she used her costume's business shoes; in other shots, she used running shoes.
The opening chase scene from the café to the cars took more than 20 takes to get everything shot properly from every angle. Both actors were exhausted but happy to add a chase scene to their acting experience.
The café in the film does not exist. Every table, chair, cup, painting and every other prop was brought into an empty retail space that was built (art designed) as a café. Two days after it was built, the whole thing was taken down, leaving only an empty retail space again.
The holographic video content in the autonomous car assumes that the windshield glass works with the dashboard element to generate the media. The producers initially thought that glass light field technology was "too sci-fi," but it passed due to the availability of existing glass displays.
One day of shooting happened at a college, and parking had to be coordinated on narrow campus grounds. While one of the red "autonomous" cars was being parked, it hit a concrete corner of an outdoor seating area, which ripped through the metal of the car's passenger side door. Nobody was hurt, and thankfully the car scene had already been shot.
The set for the quadriplegic was actually an office kitchen that was converted into a home space. Every item in the office kitchen was taken out, and every prop—including tables and chairs in the background, and item on the wall of the set—was brought in and designed to look like a home. After shooting, it was all torn down and the office kitchen was put back together exactly as it was.
Several quadriplegics were auditioned for the part, but the actor who got the part is not disabled. He said that being able to move only his eyes and face was one of the hardest acting challenges he's ever had.
The Holo-Room was designed and mostly constructed beforehand. It was designed to be moved piece by piece into an office space for quick construction. It was moved in and built in 1 day and then torn down.
The film was shot entirely in San Diego, marking the first time a Near Future film had no scenes filmed in the Bay Area.