Resources
CableLabs delivers innovations that enable our members to be the provider of choice in their markets. By providing laboratory space to vendors and members, hosting events, and authoring specifications and publications, CableLabs is revolutionizing cable technology.
InfoZone
InfoZone is a web-based content management system designed specifically for sharing files. Access requires a Login ID issued by CableLabs.
Can't find what you are seeking?
Contact us at info@cablelabs.com
Development Lab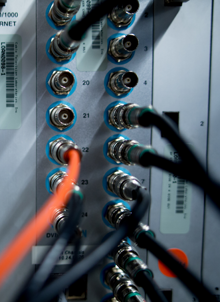 The CableLabs Development Lab
THE HOME COURT ADVANTAGE
The CableLabs Development Laboratory facilities were established to accelerate product development for devices that are intended to interoperate under the CableLabs DOCSIS®, PacketCable™, DPoE™, and/or OpenCable™ specifications.
CableLabs offers over 12,000 square feet of lab space to suppliers and members who wish to use this development area. Private lab space is also available upon request.  More details are available here: