DAA 101: A Flexible Approach to Better, Faster Cable Networks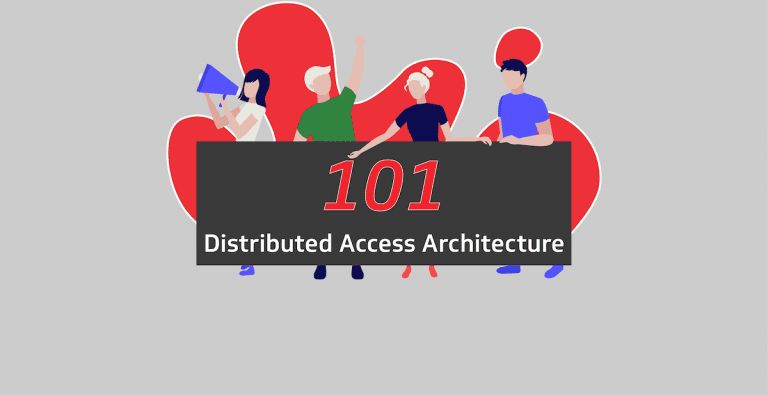 This month, we'd like to share information about Distributed Access Architecture (DAA) and how cable operators are using it to build the 10G networks of the future. In our previous posts about DOCSIS® and Coherent Optics technologies, we touched on some of the components of the cable hybrid fiber-coax (HFC) network, such as the headend and fiber nodes, but of course, there's much more to it. Today, we'll take a closer look at the functionality of the cable access network and how it can be distributed between various components to optimize network performance.
What Is Distributed Access Architecture?
DAA isn't a single technology but rather an umbrella term that describes the network architecture cable operators use to future-proof their access networks. This network evolution involves moving various key network functions that are traditionally located at the cable operator's hub site (or headend) closer to customers' homes—while also leveraging signal-quality improvements inherent with digital optics and the ubiquity of Ethernet. In addition, closer is better because it reduces the amount of hardware at the headend and creates efficiencies in network speed, reliability, latency and security.
In a nutshell, CableLabs' DAA technology solutions give cable operators the ability to cost-efficiently redesign their access networks in stages, when and how they see fit. Because all providers' business objectives are different, CableLabs has designed several DAA approaches they can leverage. Ultimately, it's all about building a robust 10G network that not only supports the needs of today's gig consumers but also anticipates tomorrow's high-rate applications such as holodecks, artificial intelligence (AI), virtual reality (VR) and more.
Let's take a look at one particular embodiment of DAA, known as Distributed CCAP Architecture (DCA).
How Does Distributed CCAP Architecture Work?
In a traditional HFC network architecture, the operator's hub—or headend—is connected via fiber to the fiber node in your geographical region. In the fiber node, the optical signal is converted to a radio frequency (RF) signal that travels via a coaxial cable to the cable modem in your home. The key functions responsible for the transmission of data and device access are placed at either end of the operator's access network—the hub and the modem—like bookends.
In 2015, CableLabs figured out how to split the key DOCSIS network functions into two components: a Media Access Control (MAC) layer that's responsible for how devices in a network gain access to the network, and a Physical (PHY) layer, a physical component that's responsible for the transmission and reception of data. Decoupled, these components can now be partially or fully moved from the headend into a fiber node closer to subscribers' homes, resulting in increased network capacity, greater speeds, lower latency and so on. That's the basis for DCA.
How Can Distributed CCAP Architecture Help Build Better Networks?
 Distributing key DOCSIS network functions out of the headend and closer to subscribers' homes comes with many benefits. Primarily, it allows operators to: 
Maximize Their Network's Potential
DCA allows cable operators to take full advantage of the gigabit capabilities of Coherent Optics and DOCSIS 3.1 technology, including Full Duplex DOCSIS and Low Latency DOCSIS. This means their networks will have more than enough bandwidth to support the latest-generation products for years to come.
Achieve a Better-Quality RF Signal
With distributed architecture, the RF signal that usually originates in the regional hub can now originate in the optical node, closer to the subscriber's home, thus reducing distortion and creating a more seamless user experience.
Increase Network Reliability
Because the main functions of the network no longer need to be housed at the headend, the access network can be redesigned so that fewer homes are connected to any single optical node (where the fiber and coax portions of the network meet). This means that if there's an outage, it will affect fewer customers, ultimately increasing the reliability of the overall network.
Expand RF Spectrum in the Future
Because DCA solutions are easily customizable and budget-friendly, they provide new opportunities for cable operators to expand their RF spectrum (basically maximizing the capacity of the coax portion of the HFC network) to support future services.
How Does This Technology Affect Me and My Future?
Widespread adoption of DCA, and importantly the superset of capabilities provided by DAA, is essential to creating the 10G future that we're all looking forward to. And although it might seem that DAA only provides cost-effective solutions for cable companies, ultimately the real beneficiary is you, the customer. By reimagining and reinventing cable access infrastructure, we're finding greater efficiencies that translate into more powerful networks. These networks will enable a wave of new, innovative services that will transform the way we live, learn, work and play.
Just like DOCSIS technology, Coherent Optics and other technologies that we'll be covering in our 101 series, DAA is another piece of the puzzle responsible for propelling cable's HFC networks into the new decade and beyond. Stay tuned for another installment—coming soon!