Driving Global Connectivity Well Beyond Cable Technology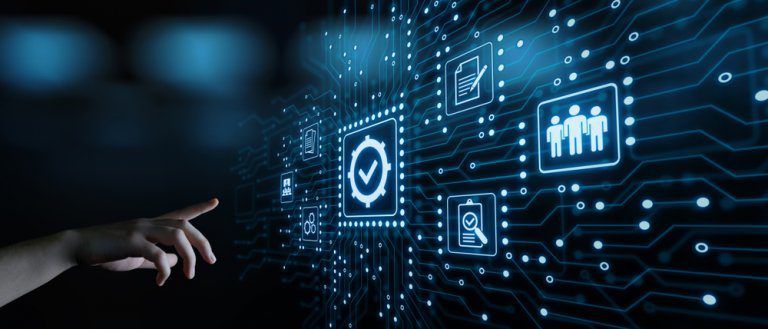 CableLabs participates in more than 30 unique standards organizations, industry consortia, and open source efforts. 
CableLabs is focused on developing innovative technologies, not only in the performance of cable's hybrid fiber coax (HFC) networks, but also in many areas that extend beyond the traditional cable network, including wireless (both licensed and unlicensed), cybersecurity, network function virtualization (NFV), optical technologies for access networks, and the application of artificial intelligence (AI) and machine learning to network management and orchestration. To be successful, CableLabs recognizes that, in these areas beyond traditional cable technology, it must engage and work with the broader technology community to drive advancements. This effort is visible through CableLabs' deep commitment to leading and contributing to standards organizations, industry consortia, and open source efforts in these broader areas.  
Developing standards and industry specifications are at the core of CableLabs, which has been in the specification and standardization business since its inception over 30 years ago. In 1997, CableLabs released the initial version of the Data Over Cable Service Interface Specification (DOCSIS), the technology that enables broadband service to be provided over an HFC network. Standardization of the cable interface specification allowed the cable network operators to work at scale with the network equipment manufacturers to build the interoperable technology needed for cable to meet the exploding demand for broadband Internet access.
Ever since, CableLabs, along with its members and the vendor community, has continued to advance DOCSIS technology. Cable operators today have largely moved to DOCSIS 3.1 technology, enabling the availability of gigabit-speed broadband across nearly the entire cable footprint in the US, and driving towards a "10G" network capability. As cable has broadened its focus, CableLabs has responded by broadening its standards efforts and industry engagement.
Improving Wi-Fi and Enabling 5G through Wireless Standards Engagement
CableLabs contributes significantly to almost a dozen different standards organizations to improve wireless connectivity through standardization related mechanisms. Our work is not restricted to improvements in the traditionally separate spheres of in-home and mobile wireless and includes work toward a seamless network convergence for the future. Along those lines, CableLabs is engaged in the O-RAN Alliance, where we are leading an effort to establish an open virtualized RAN ("radio access network") fronthaul specification which will allow for low-cost small cells with DOCSIS network backhaul.
At 3GPP, CableLabs is driving the Wireless-Wireline Convergence (WWC) effort to make the operation, management, and traversal of 5G wireless networks and 10G DOCSIS networks more seamless. CableLabs is also working to bring consumers a faster and safer in-home network experience through a next-generation adaptive security platform, CableLabs ® Micronets, which enables enterprise-level smart security at home. Beyond making home networks safer, we're working to make them more powerful; exhibited by our role in achieving recent milestones with carrier-grade Wi-Fi certification through the Wi-Fi Alliance's VantageTM and launch of the new EasyMeshTM certification program.
Driving Increased Performance of Optical Technologies in the Access Network through Broad Industry Collaboration
As cable drives its fiber infrastructure deeper into the HFC network, CableLabs has developed new technology for use of fiber in the access portion of the network and has promoted standardization of such technology. We are involved at several global standards development bodies—including IEEE, ESTI, O-RAN, and SCTE where we work to level-up all aspects of the fiber network. These efforts combine our internal specification development— work (such as Coherent Optics specifications) with broad industry collaboration in order to deliver dramatic improvements to the access network across all areas. This means that while working toward ever faster speeds through developing the next generations of PON protocols, the whole network ecosystem needs to be addressed, which includes innovation in network operations with projects such as Proactive Network Maintenance (PNM).
Building a Common, Secure, Foundation for IoT Devices of the Future
CableLabs envisions a future empowered by technologies that improve our lives—a future where augmented reality (AR)/ virtual reality (VR) head-mounted displays, video walls, AI-enabled media, ubiquitous Internet of Things (IoT) devices, light field holodecks and displays (as seen in our latest Near Future video) are just the beginning. However, in order for AR/VR devices to be populated with high-quality content, for video walls to connect seamlessly, or for our IoT devices to assist us securely, we will first need high-quality, secure, industry-driven standards on which the technology and applications can be built. This belief has led to our involvement in the Open Connectivity Foundation (OCF), an industry effort to develop a secure interoperability specification for IoT.
Catalyzing the Future of Immersive Media Experiences
Recognizing the importance of building consensus throughout the ecosystem, even beyond the broadband network, CableLabs is significantly involved in and contributing technical expertise toward a number of emerging technology areas, including significant projects in video, VR/AR, and immersive media. Essential to the actual adoption of standards, we recently played a founding role in establishing Media Coding Industry Forum (MC-IF) to address patent licensing of future MPEG codecs. In addition, we announced a new collaboration called IDEA (Immersive Digital Experiences Alliance) to establish and promote end-to-end delivery of immersive content, including light fields, over broadband networks.
To learn more about our work in standards, open source, and industry consortia please see our members-only (login required) Standards Strategy Update (April 2019) on current engagements.