From Vision to Implementation: CableLabs Achieves Numerous 10G Platform Milestones in 2022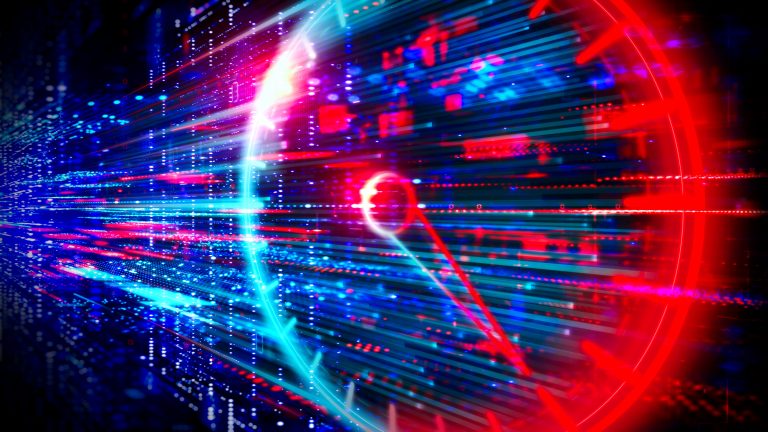 Tomorrow's promise of 10G connectivity is steadily accelerating toward reality, thanks to the contributions of CableLabs and its members.
The uncompromisingly reliable, more secure and 10-times-faster network of the near future will reshape how we live, work, learn and play by delivering faster symmetrical speeds, lower latencies, enhanced reliability and enhanced network security in a scalable manner. Between new technical accomplishments and a variety of applications, various initiatives have helped propel 10G closer to real-world deployment.
To illustrate the industry's immense 10G progress this year, CableLabs—the leading organization helping to drive 10G innovation—is highlighting the numerous advancements that have catapulted 10G from the drawing board to proof of performance.
New 10G Experiences and Applications
CableLabs Members Are Enhancing Network Speed and Reliability
From Charter demonstrating rapid downstream and upstream speeds over a hybrid fiber-coaxial (HFC) network to Comcast successfully testing a prototype 10G modem in lab trials and announcing the introduction of symmetrical multigigabit speeds in 2023, CableLabs members made significant speed and reliability advancements on the path to unleashing 10G. Our members constantly invest money and infrastructure, further supporting the development of a 10G-capable, fiber-based network.
Applying 10G to Transform Our Lives
Demonstrated by multiple operators and supporting equipment providers at the CableLabs 10G Showcase, DOCSIS® 4.0 technology is capable of supporting 9 Gbps downstream capacity and 6 Gbps upstream capacity today. This confirmation that hybrid optical nodes support both DOCSIS 4.0 technology and EPON services allows operators the flexibility to optimize how they will deliver 10G to homes and businesses.
Earlier this year, the NCTA partnered with the Future Today Institute to explore how 10G will transform our lives. Through research and the release of white papers, the two organizations brought to light the potentially transformative impact of 10G across four key critical industries: agriculture, health care, education and entertainment.
The 10G Challenge
Developed and executed by CableLabs from inception to completion on behalf of the industry, the 10G Challenge encouraged innovators to ponder transformative solutions that leverage the speed, security, reliability and low latency of the 10G network. This first-of-its-kind technology challenge was designed to accelerate the development of applications for emerging 10G networks. Innovators across the United States and Canada developed and submitted entries outlining solutions that will shape the ways we live, work, learn and play in the future. The six winners rose to the challenge, devising life-changing technologies that highlight the incredible capability of 10G.
The 5G Challenge
As the host lab for the 5G Challenge, CableLabs contributed the standalone 5G network on the 10G lab platform, as well as its expertise with open and interoperable network technologies. The 5G Challenge was presented by the NTIA's Institute for Telecommunication Sciences in collaboration with the Department of Defense with an aim of accelerating the development and widespread deployment of open and interoperable 5G networks with true plug-and-play operation.
CableLabs' Technological Advancement
Convergence Confirmed
At SCTE Cable-Tec Expo 2022, CableLabs leveraged the critical capabilities of the 10G Lab to test several network-as-a-platform concepts, and to successfully demonstrate how to improve scalability and reliability with the power of a converged network running on virtualized infrastructure.
As broadband traffic continues to surge, cable operators must upgrade networks to expand capacity and boost efficiency. Enter convergence. This broad converged platform can support multiple network software stacks using a common management interface. The goal? Enabling operators to mix and match wireline and wireless services over the same core infrastructure. The realization of full wireline-wireless network convergence ultimately improves scalability and reliability and serves as a foundational element on the road to 10G.
Successful Interoperability
Low Latency, Low Loss, Scalable Throughput (L4S) technology is a critical component of Low Latency DOCSIS. By exhibiting dramatic improvements in latency when using L4S at an interoperability event, CableLabs and its subsidiary, Kyrio—with support from Comcast, Apple and Google—demonstrated how L4S will enable the media interactivity and immersion necessary to unlock the metaverse. With L4S providing precise feedback to applications about impending congestion, the technology can help advance the speed, low latency and reliability of the multigigabit platform of the future.
Validating Point-to-Point Coherent Optics (P2PCO)
To support higher-capacity infrastructure—thereby supporting the speed, low latency and reliability necessary to deliver 10G—CableLabs' Point-to-Point Coherent Optics (P2PCO) technology creates a network connection between two points that use coherent optical transceivers.
By using one laser for bidirectional, single-fiber transmission, P2PCO doubles the fiber's capacity and takes existing access network fiber to the insanely fast speeds needed for 10G, meeting growing broadband consumer demand. In July, CableLabs confirmed that devices compliant with its P2PCO PHYv2.0 specification can transmit over roughly the same distance as devices compliant with the PHYv1.0 spec—and at double the operating capacity: 200 gigabits per second versus 100 Gbps per wavelength.
Standards and Specifications
This year, CableLabs and SCTE—a CableLabs subsidiary—submitted several specifications published as standards, including the Generic Access Platform (GAP) specification and standards for 1.8GHz actives to DOCSIS 4.0 technology. These standards and specs help provide operators with all the necessary technologies or tools to get to 10G.
Between convergence, L4S, P2PCO and emerging industry standards and specifications, CableLabs-driven technological advances are foundational in supporting most of the key tenets of 10G.
At CableLabs, we understand the vital need for network connectivity to power whatever our increasingly data-driven world demands next. That's why we foster collaboration between members and technologists to move society closer to 10G speeds, lower latencies, enhanced network reliability and better security daily. For more information about CableLabs' 2022 achievements and progress toward 10G, read the press release.