In Honor of Earth Day: CableLabs and Kyrio Offices Now Powered by 100% Renewable Energy
At CableLabs, we pride ourselves on our commitment to sustainability in every aspect of our work. At our headquarters in Louisville, Colorado we recently subscribed to Windsource, a program offered by Xcel Energy that ensures our office is powered by 100 percent renewable energy. Our engagement with Windsource was part of a broader discussion with Xcel in which we also signed a Memorandum of Understanding (MOU) to participate in the company's Strategic Energy Management program. This program is a 24-month commitment with the objective of better understanding and managing our energy usage.
The Kyrio test lab and offices are also now powered by 100% renewable energy, and the Kyrio team was instrumental in driving the sustainability initiative. Kyrio is committed to continue using sustainable energy as the company grows, and recycles all expired electronic equipment.
CableLabs' Vice President of Information Technology and Facilities, Jeff Leget, and his team have installed several charging stations at the Colorado office, and we provide all our Colorado-based employees an EcoPass card to take advantage of public transit as part of our sustainability efforts. We have also developed a roadmap to institute similar initiatives at our Sunnyvale, California office.
On a larger scale, CableLabs has been instrumental in establishing industry voluntary agreements in the United States and Canada to improve the energy efficiency of set-top boxes (STBs) and small network equipment (SNE) such as modems and routers. The most recent U.S. STB VA report found that, in 2019 alone, the VA had saved consumers more than $1.9 billion and avoided nearly 10.4 million metric tons of CO2 emissions from power plants. You can learn more about these agreements in the United States here and in Canada here.
Implementing programs that focus on sustainability and energy efficiency is important to us this Earth Day and every day. We encourage other companies to look into how they can make small changes to become sustainable. Together, these efforts can add up to making a big impact. We look forward to announcing more sustainability efforts in the near future.
Set-Top Box Voluntary Agreement Tightens Energy Allowances and Extends Term
CableLabs, CTA and NCTA are pleased to announce that the award-winning Set-Top Box Voluntary Agreement (STB VA) has been extended by four years, along with introducing a new tier of allowances that will reduce energy consumption of set-top boxes by at least another 20 percent.
The STB VA has been a true success story since it was established in 2012. In the first seven reporting years, the STB VA has saved U.S. residential video consumers a total of 55.1 TWh and over $7 billion in electricity bills. More important, it has averted nearly 39 million metric tons of CO2 emissions through 2019.
Since the inception of the STB VA, the average energy consumption of set-top boxes has steadily declined, even as set-top box features have increased, such as 4K video support, Wi-Fi interfaces and the ability to record multiple programs at the same time. This progress demonstrates the successful collaboration between everyone in the ecosystem, including silicon manufacturers, equipment manufacturers, software developers, service providers, and energy-efficiency advocates. It is projected that, at the end of this extended term, the total energy used by set-top boxes in the United States will be only one-third of the energy used by set-top boxes in 2012 when the agreement was initially signed!
The charts below depict the evolution of a typical cable set-top box without a digital video recorder (Non-DVR) and one with a digital video recorder (DVR) across the years and across the tiers. Note that non-DVR energy consumption has decreased by nearly 70 percent between Tier 1 and Tier 4. This is especially significant as operators migrate more toward non-DVR smaller-client set-top boxes and use their ability to maintain customers' recordings in the cloud. Not only does this capability dramatically reduce the energy footprint of STBs in the home, but it also enables customers to watch their recordings on their phones, tablets, PCs and other devices inside and outside the home.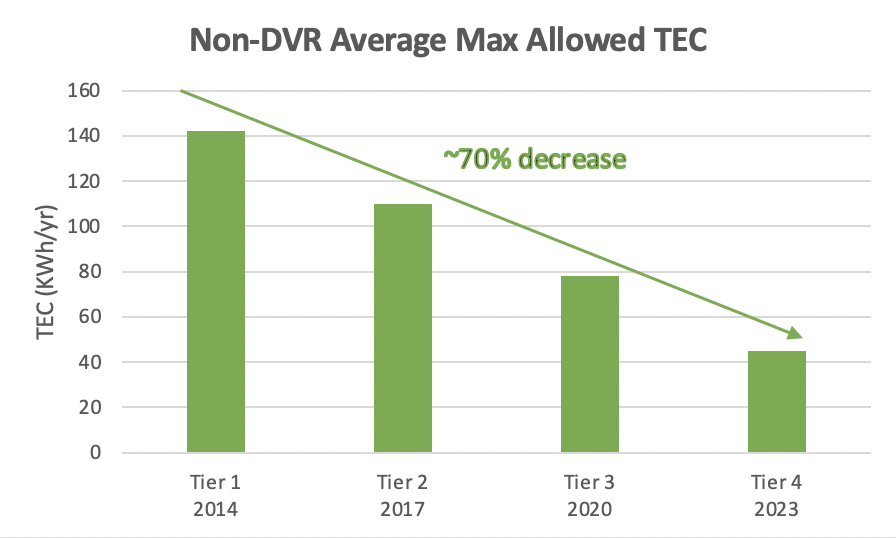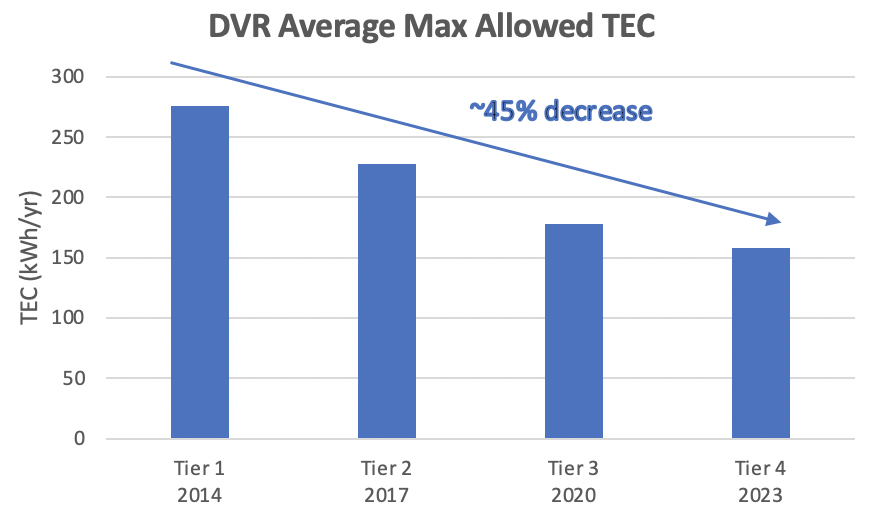 Typical Energy Consumption (TEC) is a formula used by the STB VA (and ENERGY STAR) to evaluate the energy efficiency of an STB. It is a function of the energy consumption of a STB in various modes, such as watching TV and standby, and expressed in units of kWh/yr.
History of the STB VA Tiers
In 2012, the STB VA was developed as a result of discussions among pay-TV service providers, technology suppliers, energy-efficiency advocates and the U.S. Department of Energy. The industry VA was forged, and it has certainly demonstrated that it is an effective alternative to regulation since its inception.
One of the primary commitments of the STB VA is that 90 percent of all STB purchases in a calendar year will measure in lower than the energy-consumption levels specified by the applicable tier. When the STB VA was established by the industry in 2012, the first tier adopted the same levels as the ENERGY STAR 3.0 program that was currently in place for STBs. That defined the "Tier 1" set of allowances for the STB VA.
In 2013, two energy-efficiency advocates—the Natural Resources Defense Council and the American Council for an Energy-Efficient Economy (ACEEE)—became signatories as part of an extension to the VA that included a more aggressive new "Tier 2" set of allowances, which became applicable in 2017.
The VA was extended a second time in 2018 with a new Tier 3 definition of allowances and the term running through 2021. At the time Tier 3 was defined, the signatories also committed to exploring a Tier 4 for the allowances.
That brings us to today. After several years of research and industry collaboration led by CableLabs, the signatories just ratified a new amendment to the VA, extending the term through 2025 (with a final report in 2026) and defining an even more aggressive Tier 4 set of allowances.

To Sum It Up
In the Tier 1 era, near the beginning of the VA in 2013, a typical cable customer had two DVRs and one non-DVR device because set-top boxes were not yet networked in the home. Heading into the Tier 4 era, that same cable customer will have even more features and capabilities (e.g., cloud recording, 4K video, integrated streaming services such as Netflix) but may have just three small non-DVR devices, reducing set-top box energy consumption in the home by over 80 percent!
CableLabs is proud to be part of this highly successful VA that affords new innovative features, greater functionality and the capability to deliver high-quality services to consumers in an energy-efficient manner.
Want to Learn More?
Energy Efficiency Voluntary Agreements Helped Pave the Way for Increased Remote Access
We're enduring crazy times in 2020! Because of COVID-19, the world has shifted to learning, working and playing at home for months at a time—and residential cable networks have successfully handled the load. One key reason that networks have managed so well is because cable service providers build for the future: The majority of cable networks were well-positioned to deliver the necessary downstream and upstream data to customers who are now conducting much of their day remotely over the network.
How do energy efficiency voluntary agreements play a role? One major advantage to the voluntary approach is the New Feature Allowances Process, which enables operators and manufacturers to innovate and evolve their networks and consumer devices without being constrained by regulation. An example is the Small Network Equipment Voluntary Agreement (SNE VA) adopted by the United States in 2015 (Canada also established a similar agreement late last year). In the 4 years that the SNE VA has been in place, average broadband download speeds have nearly quadrupled and consumer devices have evolved significantly, such as cable modems migrating from DOCSIS 3.0 to 3.1 to deliver faster download speeds. In addition, Wi-Fi devices have evolved to use more radios with more spatial streams and capabilities to deliver increased Wi-Fi capacity within the home. The New Feature Allowances Process provides the ability to define new features that may require additional power, which—in the case of small network equipment—allowed operators to roll out devices early to meet the increased demand due to COVID-19 when consumers needed it the most.
And, according to the recently released US SNE VA annual report, the energy consumption of these devices has remained stable, as demonstrated in the figure below.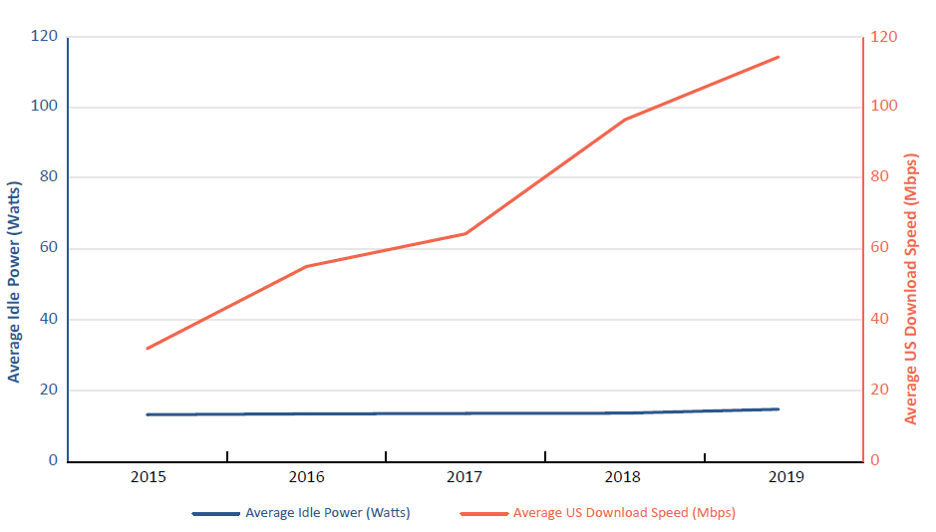 In fact, the independent administrator for the voluntary agreements, D+R International, reported that the energy efficiency[1] of integrated access devices (modems with Wi-Fi routers and/or embedded phone support) has improved by 70 percent since the beginning of the SNE VA in 2015.
The US SNE VA was also recognized by the Global Commission For Urgent Action on Energy Efficiency as an "Exemplar Policy" program in this recent report.
U.S. Set-Top Box Voluntary Agreement (US STB VA)
The US STB VA report also shared good news, finding that the national set-top box annual energy consumption has declined by 46 percent since the beginning of the VA in 2012, even as functionality and features of set-top boxes have improved.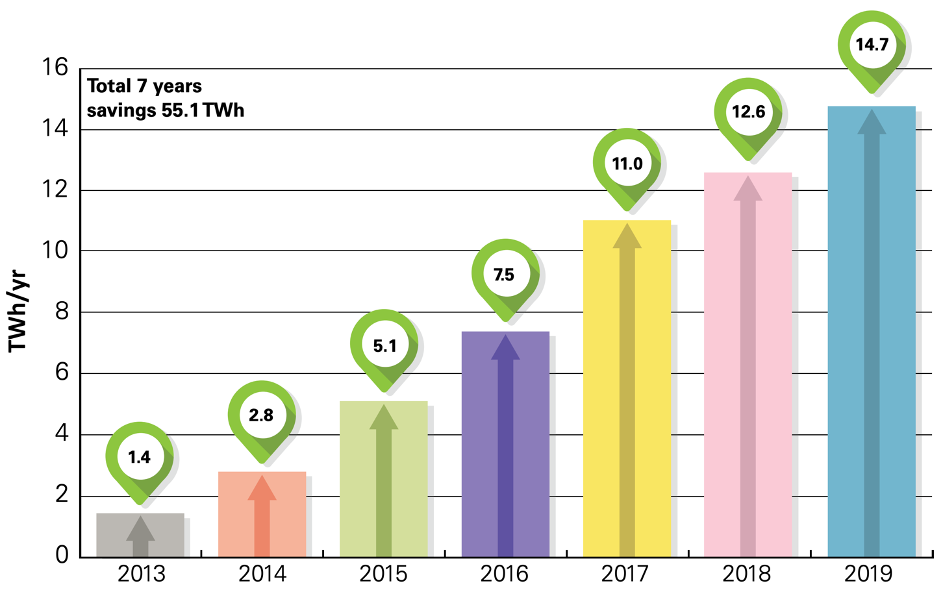 The STB VA saved 14.7 TWh in 2019, which is nearly equivalent to the power generated by five coal-run power plants in a year, and saved consumers over $1.9 billion on their utility bills.  This is enough electricity to power ALL the homes in California for a full 7 months!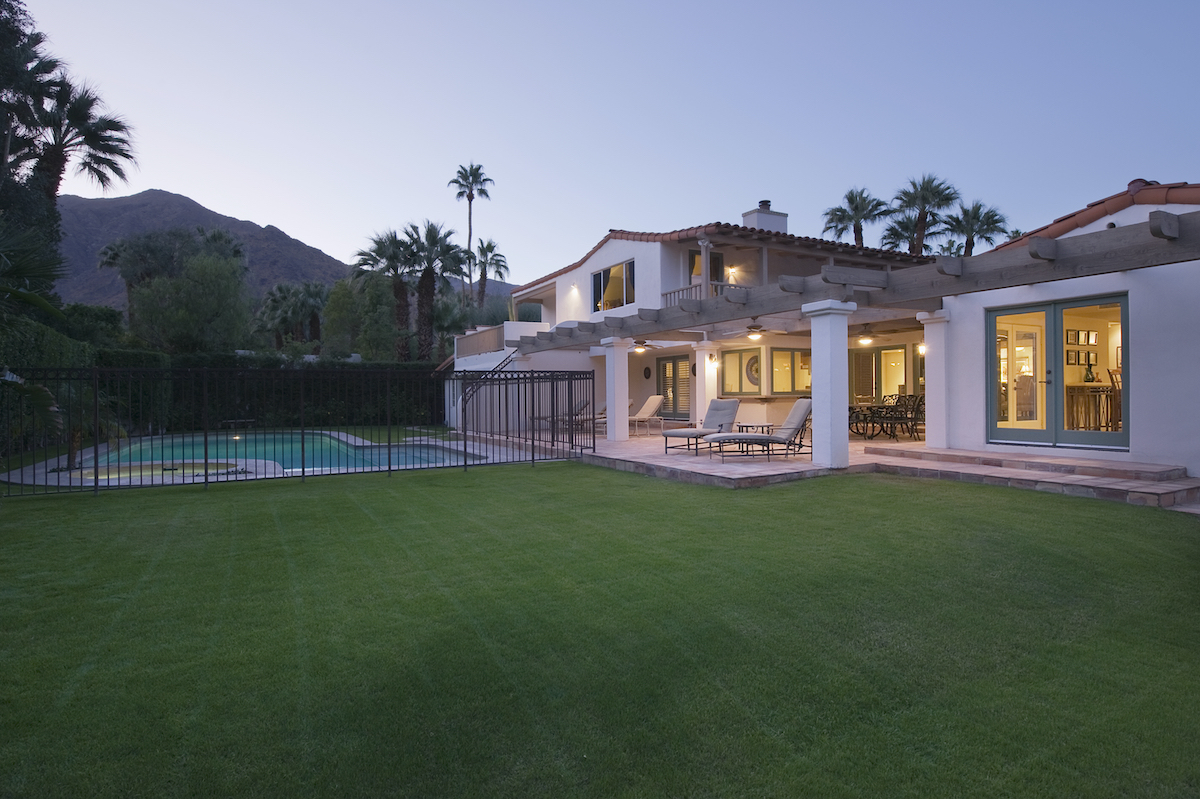 Canadian Energy Efficiency Voluntary Agreement (CEEVA)
Even though CEEVA has been around for only 3 years, Canada is making great strides as well, as detailed in its most recent CEEVA Annual Report.  The average weighted energy consumption of purchased set-top boxes has decreased by 44 percent over the 3 years that CEEVA has been in place. This significant decline is due to a number of reasons:
Deployment of whole-home architectures that enable customers to view recorded content throughout the home with just one personal video recorder (PVR)
Deployment of cloud-based recording that eliminates the need for any PVR in the home, and PVRs generally consume more power than non-PVRs
Improvement in set-top box energy efficiency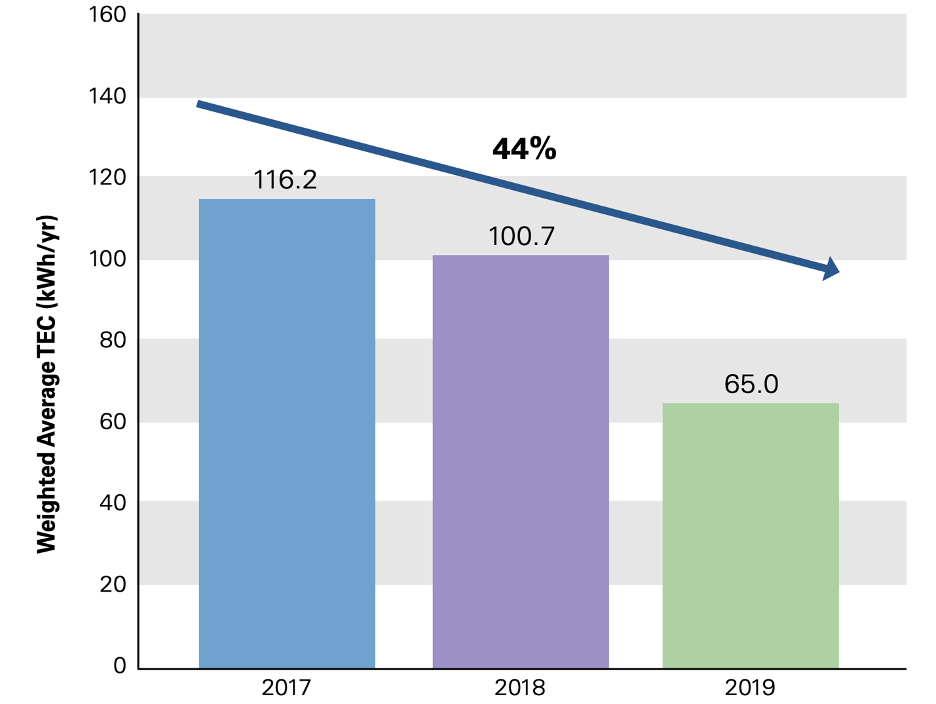 As we reported in December 2019, Canada stood up a new CEEVA agreement for small network equipment that went into effect in 2020, but the first report won't be out until next year.
CableLabs is proud to be part of these highly successful voluntary agreements that afford new innovative features, greater functionality and the capability to deliver high-quality services to consumers in an energy-efficient manner.
[1] Energy efficiency of network equipment is measured in terms of energy per consumed bit.  In the US SNE VA report, the unit of measure is Watts/Mbps.
Canada Launches a Small Network Equipment Voluntary Agreement
CableLabs is pleased to announce that an energy efficiency voluntary agreement for Small Network Equipment (SNE) was launched today in Canada. This is the second category of equipment in the Canadian Energy Efficiency Voluntary Agreement (CEEVA) program, which was initiated in 2017 to improve the energy efficiency of Set-Top Boxes (STB).
The new CEEVA SNE, which was developed in partnership with Natural Resources Canada (NRCan), provincial governments and utilities, commits leading service providers and manufacturers to improving the energy efficiency of devices like Internet modems and routers by 2021. It is based on the highly successful SNE Voluntary Agreement in the US that was established in 2015 and has achieved an average 66 percent improvement in energy efficiency of the SNE purchased and deployed by its signatories since its launch.
The CEEVA SNE signatories to date are:
Bell Canada
COGECO Connexion Inc.
CommScope, Inc. of North Carolina
Rogers Communications Canada Inc.
Shaw Communications Inc.
Vidéotron LTD
Technicolor Connected Home USA LLC
In CEEVA SNE, the service providers commit that 90 percent of their new SNE purchased will meet the energy efficiency levels beginning in 2021. The levels will align with the more rigorous Tier 2 levels that were established in the US SNE VA when it was extended last year, so Canada is skipping Tier 1 and going right to Tier 2. (In the US, Tier 2 will go into effect in 2020.) As with CEEVA STB, compliance is determined through independent testing and auditing, and the service providers will also publicly post the power consumption of all models purchased after January 1, 2020.
Programs such as CEEVA and the US Voluntary Agreements are very important to keep energy efficiency a design priority, yet provide the agility required to rapidly innovate on these platforms.  A voluntary approach to improve energy efficiency has been proven to be an effective alternative to regulation. This is even more important as we head into a 10G world.
Four of the five CEEVA service provider signatories are cable operators and CableLabs members, and CableLabs provides significant leadership in the CEEVA program. In addition, Kyrio is ISO-17025 accredited to conduct the energy testing for set-top boxes and small network equipment, and supports the CEEVA signatories with their testing expertise.
Internet services provided by the CEEVA signatories also help to save energy by enabling e-commerce, telecommuting, smart thermostats and lighting. By standing up this new voluntary agreement, these companies are further advancing their commitments to Canada's shared energy efficiency and climate change objectives.
The Case for Gridmetrics, SAGA and Grid Cybersecurity
Today, the electrical grid is essentially blind. Particularly, in the distribution portion (think the last mile to your home). For all the talk of sensors and Industrial Internet of Things (IIoT), there's a distinct lack of visibility into the status of power availability and quality in the last miles of the electrical distribution grid. (Note that nearly 90 percent of all outages occur in the distribution grid.) Want proof? Just ask utilities how they identify outages. Many will say their number one source is the crowd—yup, phone calls, texts, tweets and so on.
Now, imagine a grid of sensors across the Unites States that live on the last mile of the electrical grid and are connected via a private, high-speed, low-latency network. All of those sensors could be sending data regularly to an aggregation point that provides near real-time insight into the availability and quality of power. That's what the GridmetricsTM project at CableLabs® does.
What could one do with this big-data set? One application we're pursuing with our partners at National Renewable Energy Labs (NREL) is a collaborative R&D project called Situational Awareness of Grid Anomalies (SAGA), sponsored by the Department of Energy's (DOE's) Office of Cybersecurity, Energy Security and Emergency Response (CESER).
We believe there are many use cases for this type of data. In addition to receiving the DOE award related to grid cybersecurity, we're working on multiple Gridmetrics pilot opportunities across multiple sectors: power utilities, public safety, insurance and smart cities. For power utilities in particular, we're engaging innovative utility partners to ingest and activate our dataset for myriad use cases, including outage detection/management, mutual assistance resource acquisition, grid safety and power trading, to name a few.
There's no use case more important than helping to ensure the security of our electrical grid. We're pleased to be working with our cable operator members and National Renewable Energy Laboratory (NREL) to develop the analytics, insights and tools to identify and visualize anomalies on the nation's electrical distribution grid.
Click below to read more about the SAGA program from NREL.
Voluntary Agreements Continue to Save Money and the Environment
Last week, three important energy efficiency annual reports were released and the results are remarkable. I'm talking about the award-winning Set-top Box (STB) and Small Network Equipment (SNE) Voluntary Agreements (VA) in the United States, and the Canadian Energy Efficiency Voluntary Agreement for Set-top Boxes (CEEVA). These three programs were established in the U.S. and Canada with the goals of making set-top boxes and residential equipment more energy efficient, saving consumers money and reducing carbon emissions from power plants, all while continuing to innovate and introduce new features.
United States Set-top Box Voluntary Agreement
The US STB VA, established in 2012, expanded in 2013, and renewed in 2018, covers over 94% of the pay television market in the United States. Over the six years of this VA, the signatories continue to find ways to deliver services more efficiently. In the most recent 2018 Annual Report, the independent administrator, D+R International, found that the STB VA reduced the national STB energy consumption from 32 TWh in 2012 to only 19.4 TWh in 2018.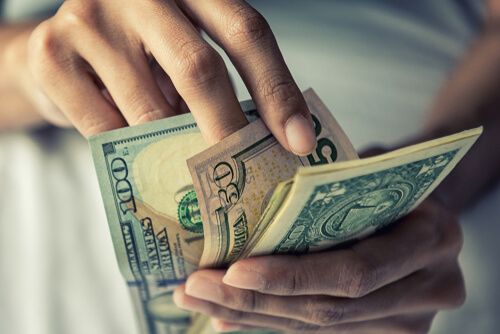 Consumer Savings
• $1.6 BILLION in 2018
• $5.15 BILLION total in 6 years


Carbon Footprint
• 8.9 Million Metric Tons CO2 emissions avoided in 2018
• 28.6 Million Metric Tons CO2 emissions avoided in 6 years
United States Small Network Equipment Voluntary Agreement
The US SNE VA report shared impressive results as well with energy efficiency continuing to improve year over year, demonstrating an average of a 66% decline in energy usage relative to increasing broadband speeds over the four years of the VA. This is especially impressive considering that the operators are purchasing and deploying devices to support continued demands on bandwidth and capabilities. When the SNE VA was established in 2015, the cable service providers reported sixteen different DOCSIS 3.0 models with only eight downstream bonded channels and no DOCSIS 3.1 purchases. In 2018, the only DOCSIS 3.0 models reported were at least 16 downstream bonded channels and ten different DOCSIS 3.1 models were reported.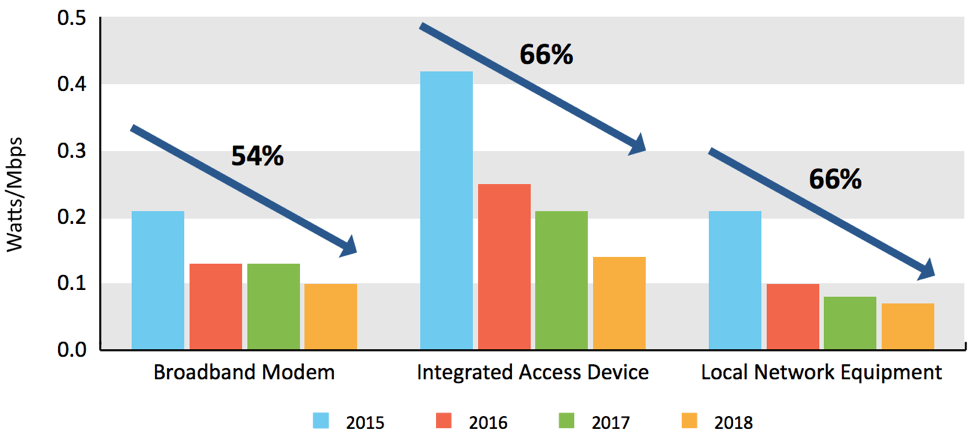 Figure 2 US SNE VA Average Energy Usage by Equipment Type, Weighted by Broadband Speed

The US SNE VA was recognized this year by Environmental Leader as a 2019 Top Project of the Year
Canadian Energy Efficiency Voluntary Agreement
CEEVA is only in its second year of reporting but is already demonstrating significant results.  You can find the annual report here, and it is also available in French here (pour tous ceux qui veulent lire le rapport en Français!)

Figure 3 Weighted Average TEC, by Set-Top Box Category
CableLabs' Role
Although CableLabs is not an official signatory to these voluntary agreements, we play a critical role in their success in a number of areas:
Leading the technical working groups for all of the VAs, researching and innovating ways to further reduce energy consumption in the devices
Playing a key role in the negotiations when establishing, running and renewing the VAs
Chairing the CTA R04WG13 working group that is responsible for the STB energy consumption test procedure used by the US STB VA, CEEVA and ENERGY STAR
Conducting energy testing for most major cable signatories in the U.S. and Canada (CableLabs and Kyrio are both ISO-17025 accredited for energy testing of STBs and SNE)
The success of these agreements continues to reinforce the benefits of a voluntary approach to achieve these goals over more restrictive government regulation. In this market, where technology is evolving at an increasingly rapid pace, these agreements provide CableLabs members and partnering vendors the opportunity to innovate and deliver the services that our consumers demand.
We are extremely proud of the success of these voluntary agreements and the positive impact they have had on cable consumers and the environment.
Want to Learn More?
Today is Energy Efficiency Day, a collaborative effort of regional and national organizations working to promote energy efficiency. CableLabs has been a strong supporter of energy efficiency for many years and is involved in a number of related initiatives:
CableLabs leads the technical efforts for three highly impactful energy efficiency Voluntary Agreements (VA) in North America:
As an example of impact, the US Set-Top Box VA is estimated to have saved nearly 30 Terawatt hours of energy over the five years it has been in place. This equates to over $3.5 billion dollars in savings for consumers and avoids over 20 million metric tons of CO2 emissions (the same as 4.4 million passenger cars driven for a full year). The industry achieved these remarkable results while rolling out new, innovative features and capabilities such as voice-controlled remotes and 4K video.
CableLabs plays an active role in the SCTE•ISBE Energy 2020 Program, and I have the honor of being a judge in the SCTE•ISBE Adaptive Power Challenge later this month at the SCTE•ISBE Cable-Tec Expo where six finalists will present their innovative approaches to reducing network power consumption.
CableLabs designs energy efficiency into our specifications. As an example, the DOCSISÒ 3.1 protocol considered energy efficiency up front when developing the protocol, and designed DOCSIS Light Sleep (DLS). First generation DOCSIS 3.1 modems being deployed today offer five times the broadband speeds of DOCSIS 3.0 modems using no additional energy.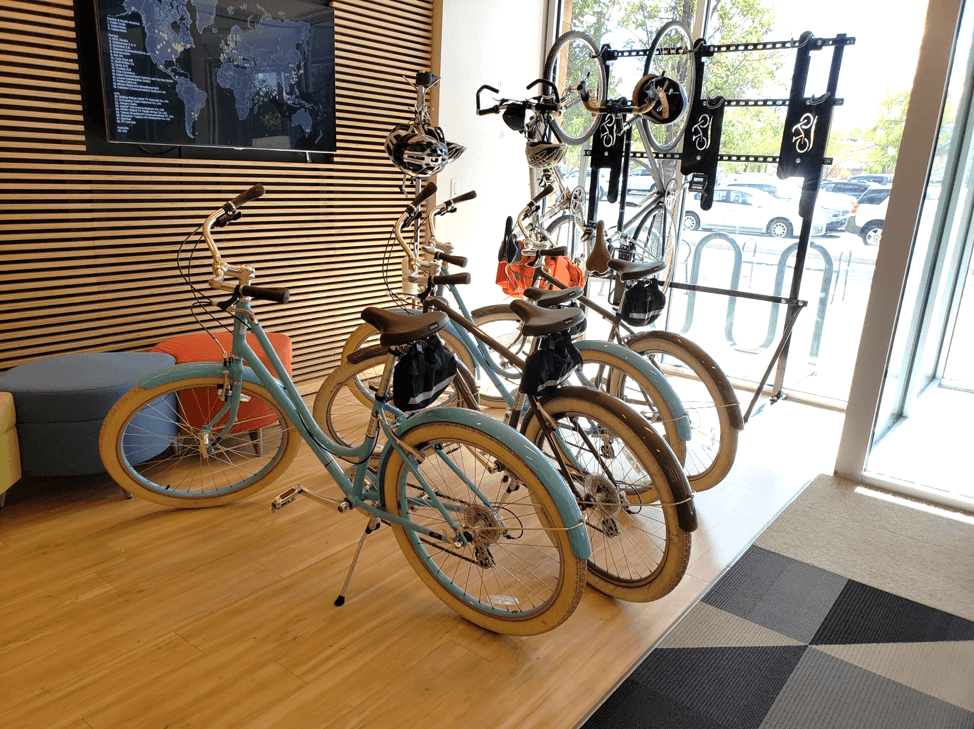 We are also focused on energy efficiency in our workplace. Our building in Louisville, CO has motion-controlled lighting throughout so that the lights are on only when we need them. We focus on decommissioning and turning off servers and equipment when they are not in use.  We have installed eight electric vehicle charging stations at our office and there is constant competition for them. We also provide free bus passes to all our employees to encourage taking the bus whenever possible, and we have community bicycles that employees can use to run errands or simply to take a break and get some fresh air.
CableLabs is excited to promote energy efficiency around the world. Happy Energy Efficiency Day to all! #EEDay2018
How to Learn More
Read the CableLabs Inform[ED] Insights Paper - Energy Efficiency Through Industry Action
Read Energy Blog Topics at CableLabs Blog
Watch the Webinar on the Energy Efficiency Voluntary Agreements
Webinar Recap: Energy Efficiency Through Industry Action
Last week, Mark Hess (Senior VP, Comcast), Doug Johnson (VP Technology Policy, CTA), and I jointly presented a webinar on the energy efficiency voluntary agreements (VAs) in place in the US and Canada for set-top boxes and small network equipment.  This public webinar attracted attendance from across the industry and government organizations.
But don't fret if you missed the webinar, because we are making the recording publicly available as well. Tune into the video below to learn:
History, overview, and amazing progress made by the voluntary agreements over the past few years
Insight from Comcast on the VA and how consumer video architectures have evolved to significantly reduce energy consumption in the home
Benefits to consumers and what makes these particular voluntary agreements successful as effective alternatives to regulation
More information about the voluntary agreements can be found in the Inform[ED] Insights paper, and via my series of blogs on the energy topic.
So grab a cup of coffee, sit back, and learn how the Pay-TV industry is eliminating the need for four coal-fired power plants a year!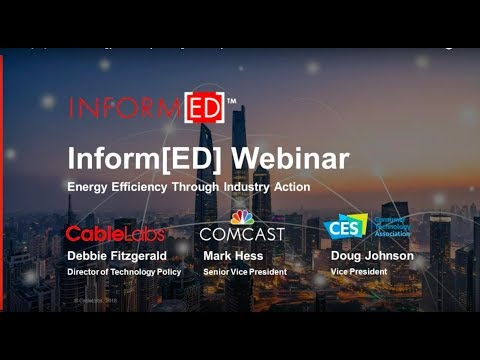 Subscribe to our blog to learn more about the energy efficiency voluntary agreements in the US and Canada in the future. 
Another Year – Another Impressive Result for Voluntary Energy Initiatives
It's that time again! Its annual report season for three very important voluntary energy efficiency initiatives in the US and Canada:
The award-winning US Set-top Box Voluntary Agreement (US STB VA)
The US Small Network Equipment Voluntary Agreement (US SNE VA)
The Canadian Energy Efficiency Voluntary Agreement (CEEVA) for Set-top Boxes
What are voluntary agreements and why are they important?
Voluntary agreements are a collaborative industry initiative to reduce energy consumption and impact sustainability that result in energy savings much faster than other approaches, including direct government intervention. Voluntary agreements provide the flexibility to innovate on the platforms, drive efficiency gains and improve consumer experiences. All three voluntary agreements demonstrate the industry commitment to sustainability both in the US and Canada.
Here are some highlights for each agreement:
US Set-top Box Voluntary Agreement
The US Voluntary Agreement (VA) for Set-top Boxes released its fifth annual report last week, and the independent administrator, D+R International, found that the VA has far exceeded the original $1 billion annual savings estimations for the VA.
In 2017 alone, the VA saved 11 terawatt hours (TWh) and saved consumers $1.4 billion dollars!
Over the 5 years of the VA, it has saved a total of 27.8 TWh of energy and over $3.5 billion dollars for consumers.
8 TWh equates to CO2 avoidance of 20.6 million metric tons of CO2 emissions, the same as 4.4 million passenger cars driven for one year!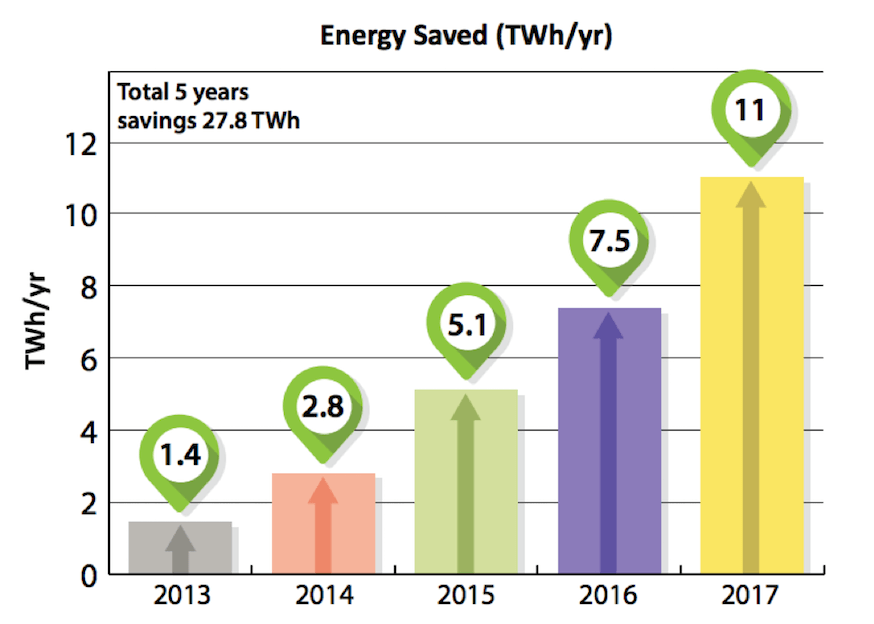 It's worth noting that back in 2013 the Department of Energy was also working on a regulation for STB energy consumption, but terminated those proceedings in favor of this voluntary agreement. A regulation would not have gone into effect until 2018, and the VA has already saved nearly 30 TWh of energy during that timeframe!
In March of this year, the STB VA was renewed for another 4 years and established a more stringent set of allowances (Tier 3) that will achieve at least another 20% in energy savings.
Small Network Equipment Voluntary Agreement
The US Small Network Equipment VA third annual report found that energy efficiency trends are continuing as well. The SNE VA doesn't have a national footprint estimate, but rather tracks the average weighted energy consumption of device categories relative to the increasing average broadband speeds. The most impressive aspect of the SNE industry is the continued growth in broadband speeds as well as in-home network support (e.g. better Wi-Fi, faster internet speeds) while continuing to deliver energy-efficient devices.
The other big news is the SNE VA was extended for another four years, with the timeframe aligned with the STB VA. The renewed SNE VA will run through 2021 with a final report to be published in 2022. It also defined a more rigorous Tier 2 set of allowances for SNE that will go into effect in 2020.
Canadian Energy Efficiency Voluntary Agreement
The Canadian Energy Efficiency Voluntary Agreement for Set-top Boxes (CEEVA), released their inaugural annual report, and their savings are on track as well.
For 2017, STBs were required to comply with Tier 1 levels (the same Tier 1 as used in the US), and a full 100% of all new STBs purchased during the year met these levels.
The more demanding Tier 2 allowances went into effect for CEEVA at the beginning of 2018, but the report found that 86.4% of the 2017 units purchased already met Tier 2 levels. As this was the first year for the VA, the reported data will be used as a baseline for the following years' reports. 
CableLabs' Leadership
CableLabs led the technical efforts for all of these voluntary agreements and is continuously innovating and researching new ways to reduce energy consumption in the network and consumer products. CableLabs and its subsidiary, Kyrio, are also ISO-17025 accredited to conduct the energy testing of set-top boxes and small network equipment and has supported this testing for a large number of signatories across the industry. We are proud to be part of these important initiatives which are saving energy, the environment, and money for consumers.
Want to Learn More? 
CableLabs is hosting an Inform[ed] Webinar on this topic next week, August 22, at 11 AM EST. In our 2nd ever public webinar, Mark Hess, Senior Vice President of Comcast, and Doug Johnson, Vice President of the Consumer Technology Association, are joining me to discuss the details of the voluntary agreements above. We'll demonstrate how collaborative industry-led initiatives have led to significant consumer savings, innovative new features, and a cleaner environment. 
Set-Top Box Energy Efficiency Voluntary Agreement: Extended, Expanded, and Exceeding Expectations
Last week, NCTA and CTA announced that the highly successful Set-Top Box Energy Efficiency Voluntary Agreement (STB VA) has been renewed for another four-year term. This is great news for consumers and the environment because it includes new commitments and more stringent energy efficiency levels for Set-Top Boxes.
Extended
The original STB VA was established in 2013 and the commitments ran through 2017. This new voluntary agreement goes through 2021 with the annual report from the independent administrator to come out in 2022.
Expanded
The 2013 STB VA included a number of commitments by all the signatories, including the commitment that 90% of all STBs purchased would meet specified energy efficiency levels. The first level went into effect in 2014. A more stringent set of levels (known as Tier 2) went into effect in 2017. This amended VA defines a third tier of efficiency levels, Tier 3, that will go into effect in 2020.  On average, Tier 3 is 20% more efficient than Tier 2. In addition, the VA includes the exploration of additional reductions and efficiencies for a potential future extension.
A new requirement in the amended VA includes reporting on the availability and usage of applications offered by the signatories to view their content on Smart TVs, PCs, and mobile devices without the use of an STB.
Exceeding Expectations
In the first four reporting periods of the STB VA, it has already proven to be immensely successful. As I blogged when the 2016 annual report came out, the program has already saved consumers over 2.1 Billion dollars and avoided 11.8 million metric tons of CO2 over the first four years. The original VA estimated savings of $1B annually, but that was nearly achieved in 2016 and is expected to be greater than $1B when the 2017 report is released.
The extended VA, with its new commitments and stricter energy tiers, is expected to save an ADDITIONAL $600 million, for a total of $1.6B in annual savings. In emissions terms, this equates to avoiding 9.3 million metric tons CO2, which is the equivalent of eliminating the emissions of over 2 million passenger cars EACH YEAR.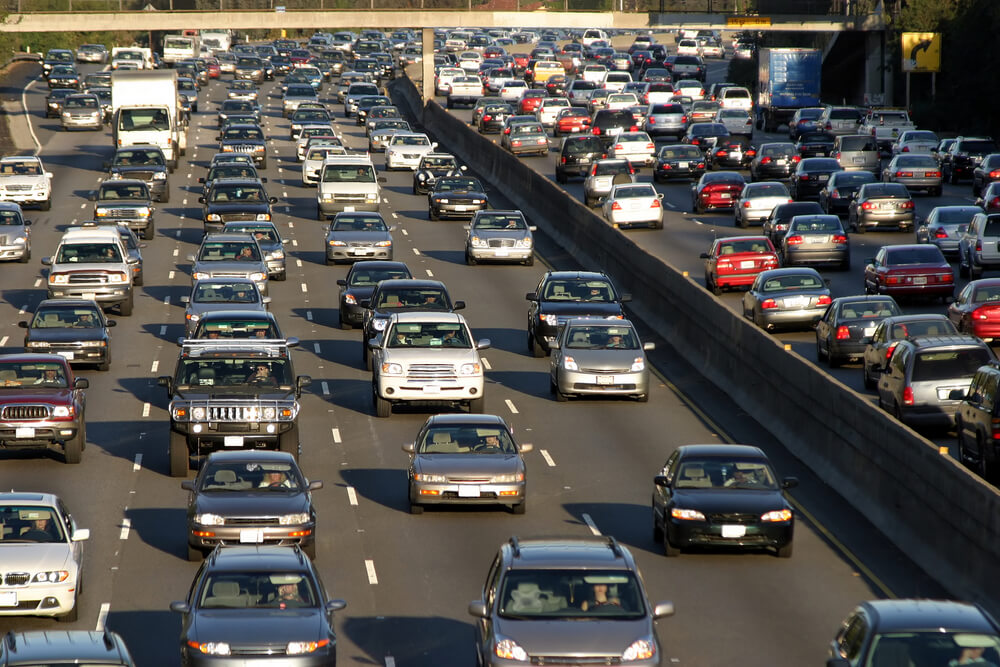 Exalted
The STB VA is recognized as an effective alternative to regulation. Just last week, Secretary of Energy Rick Perry stated:
"DOE supports the commitment from industry to improve energy efficiency and looks forward to the renewal of this voluntary agreement with our private sector partners. Reducing federal regulatory burdens is a priority for myself and this Administration, and voluntary industry standards such as this are an effective alternative to government regulation."
In 2016, the STB VA was recognized as Top Project of the Year by Environmental Leader, a leading daily trade publication on energy, environmental and sustainability issues.
Experienced
CableLabs has played a leading role in many areas of the STB VA since the beginning and will continue to support the VA for this next term:
We led the efforts to define the Tier 2 and Tier 3 energy levels, researching opportunities for energy savings and reductions, and will continue in this role in ongoing discussions moving forward.
In our spec work, we integrate energy efficiency into our protocols, such as DOCSIS Light Sleep in the DOCSIS 3.1 specifications.
We also provide support for the implementation of the VA, with testing, modeling, and reporting STB energy consumption for the cable signatories.
CableLabs and its subsidiary, Kyrio, are ISO-17025 accredited to conduct certified testing of energy consumption of set-top boxes and small network equipment, which enables us to support non-cable signatories as well.
CableLabs is committed to the success of the STB VA, and we look forward to working with the industry to save consumers money, improve the environment and continue to deliver innovative features and services.
You can read more about CableLabs' work on energy efficiency in our blog posts here and more about the Energy Efficiency Voluntary Agreements here. For more information, contact Debbie Fitzgerald at d.fitzgerald@cablelabs.com.
Debbie Fitzgerald is a Principal Architect in the Technology Policy department and leads the Energy Efficiency Program.