ANGA 10 Gigabit and Beyond: Powering the Future of Cable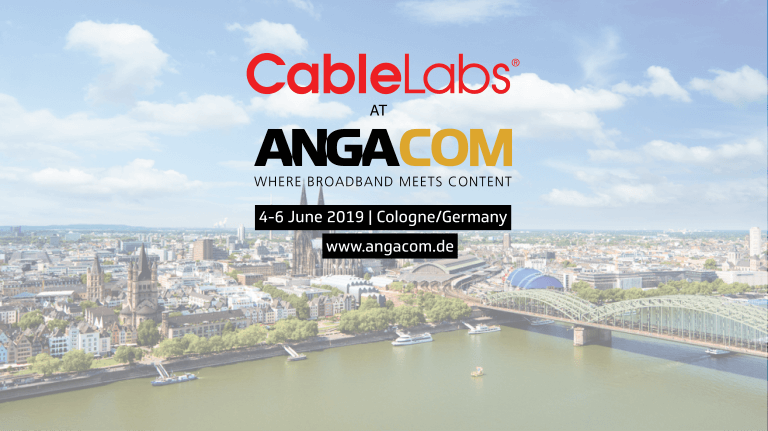 For the 15th consecutive year, thousands of network operators, service providers and vendors from around the globe will gather in Cologne, Germany, for ANGA COM Exhibition and Conference, June 4–6, 2019. Widely known as Europe's leading business platform for broadband operators and content providers, ANGA COM is organized by ANGA Services GmBH, which represents the interests of more than 200 companies in the German broadband industry that provide service to more than 40 million customers. This year's event is a 3-day deep dive into key topics such as gigabit networks, smart homes, Internet of Things (IoT), Wi-Fi, network virtualization, big data, streaming, cloud TV and 5G.
With more than 500 exhibitors and 20,000 participants from 75+ countries expected to attend, this year's list of confirmed participants includes many of our members, together with our partner industry organizations, such as Society of Cable Telecommunications Engineers (SCTE), NCTA and other representatives from the cable community. And, for the first time, ANGA COM is engaging the startup community and will have a featured exhibition area where CableLabs subsidiary UpRamp will be talking to potential Fiterator companies.
10G Gigabit and Beyond: Powering the Future of Cable
On June 4, from 11 a.m. to 12:15 p.m. CEST, CableLabs COO Chris Lammers will kick off the technology track by discussing the cable industry's 10G platform—a collection of technologies providing faster speeds, lower latency, higher reliability and greater security. He will be joined by some of the most influential names in cable, including Cisco Fellow and CTO of Cable Access John Chapman, General Manager of Intel's Connected Home Strategy and Technology Office Robert Ferreira, Vodafone's Director of Deployment Frank Hellemink and Liberty Global VP of Technology Bill Warga. The discussion will be moderated by SCTE·ISBE President and CEO Mark Dzuban. They will talk about the latest 10G developments and answer your burning questions.
Gigabit Broadband: Springboard for 10G
As the suite of technologies that will deliver Internet speeds 10 times faster than today's networks, the foundation for 10G already exists—the hybrid fiber coaxial network currently offering 1 gigabit speeds to much of the United States and Europe. Panelists will discuss how cable networks have ramped up their services to offer 1 gigabit (gigabit-per-second download speed) service across 80 percent of the United States—up from just 5 percent in 2016, with similar growth seen in Europe.
Not convinced we need 10 gigabit or even 1 gigabit speeds? Based on the double-digit bandwidth growth that we continue to see every year, we know that customers are ready for the next step in innovation and, thanks to a consistent cadence of network updates, cable operators are ready too.
10G Platform: Cable's Technologies Make It Real
The 10G standard's promise of faster speeds, lower latency, higher reliability and greater security will enable a wide variety of new services and applications that will change the way millions of consumers, educators, businesses and innovators interact with the world. Learn which technologies power the 10G platform and what's coming next:
Network Convergence: Opening Up New Business Opportunities
Experience 10G with network convergence and the rollout of 5G! The 5G standard requires multiple small cells (radio equipment), and—because those small cells require an efficient way to communicate with one another and the core network—cable can provide the perfect infrastructure. Learn more about technologies like Mobile Xhaul and Fronthaul vRAN that allow the wireline network to efficiently carry traffic back to the mobile network.
Improved Wi-Fi = Happy Customers
In recent years, the cable industry has devoted substantial resources to developing and enhancing wireless technologies for a seamless experience. Learn about the technologies and policy initiatives that increase Wi-Fi speed and reliability for whole-home pervasive coverage and consistent throughput, allowing consumer devices to enjoy the full benefits of advances—in speed, reliability, security and latency—in the coax and fiber portions of the network.
Event Information
Where: Koelnmesse, Cologne, Germany
When: June 4–6, 2019
Why: Learn the ins and outs of the 10G platform
See the ANGA COM 2019 agenda here for more information.