Innovation
An IDEA is Born: CableLabs Heads Up New Alliance That Will Bring Holodecks Into Your Living Room
CableLabs has joined forces with top players in cutting-edge media technology—Charter Communications, Light Field Lab, OTOY and Visby—to form the Immersive Digital Experiences Alliance (IDEA). Chaired by CableLabs' Principal Architect and Futurist, Arianne Hinds, the alliance aims to facilitate the development of an end-to-end ecosystem for immersive media, including VR, AR, stereoscopic 3D and the much-talked-about light field holodeck, by creating a suite of display-agnostic, royalty-free specifications. Although the work is already well underway, the official IDEA launch event was on April 8 at the 2019 NAB Show. Learn more about it here.
IDEA's Challenges: What problems do we want to solve?
Advancements in immersive media offer endless opportunities not only in gaming and entertainment but also in telemedicine, education, business and personal communication and many other areas that we haven't even begun to explore. It's an exciting technological frontier that always gets a lot of buzz at tech expos and industry conferences. The question now is not if, but when is it going to become reality and what are the steps to getting there?
Despite numerous innovation leaps in VR and AR in recent years, the immersive media industry as a whole is still in its very early stages. Light field technology, the richest and most dense form of immersive media that allows the user to view and interact with a three-dimensional object in volumetric space, is particularly limited by the shortcomings of the existing video interchange standards.
Problem #1: Too much data
A photorealistic, volumetric video requires substantially more data than the traditional 2D media we're used to today. In order to deliver a truly seamless and lifelike immersive experience, we need to take a different approach for an interoperable media format and network delivery.
Problem #2: Inadequate Network Ecosystem
There's currently no common media format for storage, distribution and display of immersive images. We'll need to build a media-aware network that's fully optimized for the new generation of immersive entertainment.
IDEA's Goals: How will we address these problems?
IDEA is already working on the first version of the Immersive Technologies Media Format (ITMF), a display-agnostic set of specifications for representation of immersive media. ITMF is based on OTOY's well-established ORBX Scene Graph format currently used in 3D animation.
The initial draft of ITMF, scheduled for release by the end of 2019, will meet the following criteria:
It will be royalty-free and open source
It will be built on established technologies already embraced by content creators
It will be unconstrained by legacy raster-based 2D approaches
It will allow for continued improvements and advancements
It will address real-life requirements based on input from content creators, technology manufacturers and network operators.
In addition to the development of the ITMF standard, IDEA will also:
Gather marketplace and technical requirements to define and support new specifications
Facilitate interoperability testing and demonstration of immersive technologies in order to gain industry feedback
Produce immersive media educational events and materials
Provide a forum for the exchange of information and news relevant to the immersive media ecosystem, open to international participation of all interested parties
IDEA's New Chairperson: A Woman With a 3D Vision
IDEA's newly-elected chairperson, Dr. Arianne Hinds, joined CableLabs in 2012 as a Principal Architect of Video & Standards Strategy. A VR futurist, innovator and inventor, she has over 25 years of experience in areas of image and video compression, including MPEG and JPEG. Dr. Hinds has won numerous industry awards, including the prestigious 2017 WICT Rocky Mountain Woman in Technology Award. She is the Chair for the U.S. delegation to MPEG and is currently serving as the Chairperson of the L3.1 Committee for United States MPEG Development Activity for the International Committee for Information Technology Standards. Her new responsibilities at IDEA are a natural extension of her life's work, perfectly aligned with the IDEA's mission to bring the beautiful world of immersive media technology into the mainstream.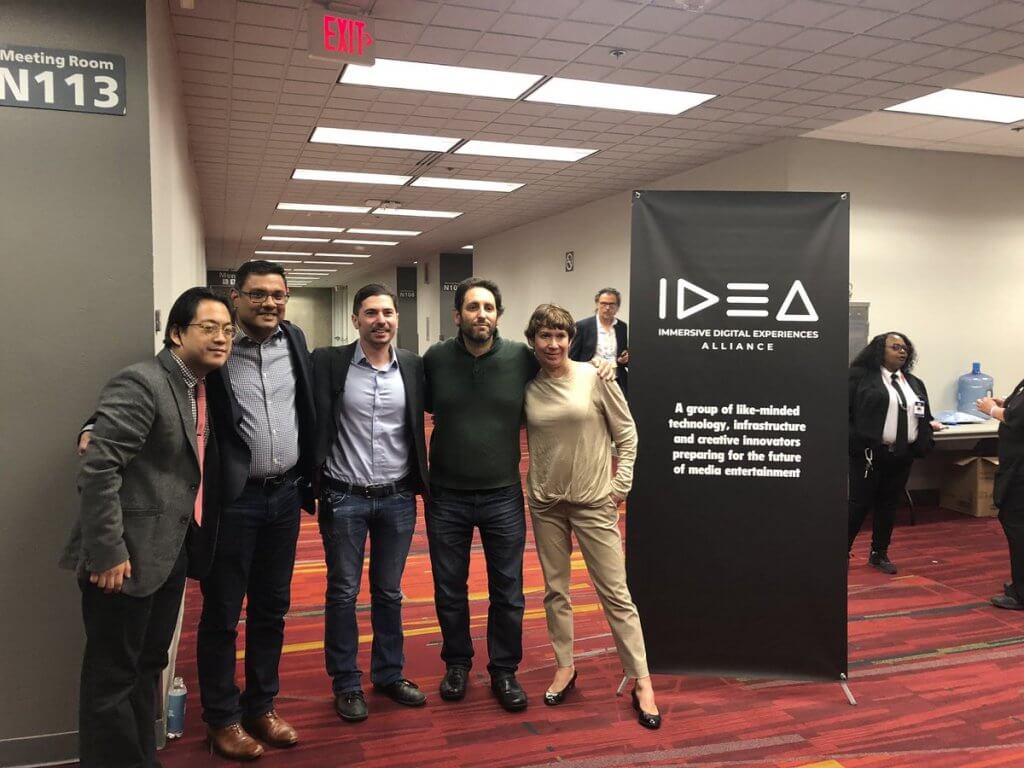 Why CableLabs?
The 10G platform positions cable operators as the first commercial network service providers to support truly immersive services beyond the limits of legacy 2D video. With its ability to deliver up to 10Gbps while at the same time supporting low latency for interactive applications, 10G will be crucial to delivering the immersive media at bitrates (e.g. 1.5 Gbps for light field panels) that allow the corresponding displays to operate at their fullest potential. 
Become an IDEA member
No one company can build the future in isolation. IDEA welcomes anyone—technologists, creative visionaries, equipment manufacturers and network distribution operators—who share its vision. If you're interested in learning more about becoming a member, please visit the website at www.immersivealliance.org.
You can learn more about the CableLabs future vision by clicking below. 
Innovation
2019 Tech Innovation Predictions
Now that 2019 is here, it's time to share my tech innovation predictions for the year. Watch the video below to find out what you can expect to see in 2019.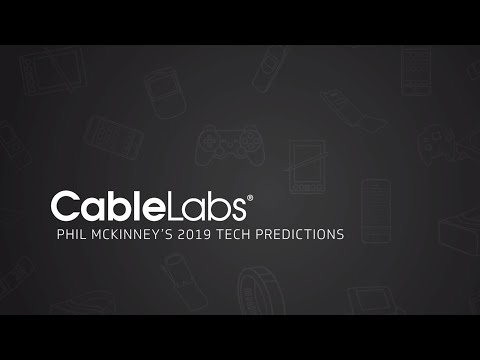 What are your innovation predictions for 2019? Tell us in the comment section below. Best wishes for a great new year!
 --
Subscribe to our blog to see how CableLabs enables innovation.
Innovation
1+1=100: CableLabs' University Research Relationships and Their Role Within the Innovation Ecosystem
One of CableLabs' most important objectives is the continuous pursuit of new ideas that can lead to game-changing innovations for the cable industry. CableLabs university research relationships give us access to great minds around the world that can bring innovative ideas to the cable industry and supercharge our own efforts at CableLabs. It's also an opportunity to build long-term, mutually beneficial working relationships with some of the best research labs in the country.
When you think of building the future, a university lab, traditionally considered a goldmine for radical thinking and innovative research, is a natural place to start. Some of the best academic institutions in the U.S., such as Georgia Tech, Carnegie Mellon, Princeton and our neighbor, Colorado State, share our vision of a highly-connected near future and are doing amazing research in networking, 5G, cybersecurity and other areas of interest to the cable industry. Our partnerships with these institutions have already proven to be a worthwhile investment producing innovative solutions that are helping drive our progress in IoT security and mobile networking.
CableLabs + Universities: Building the Future Together
Current innovation projections for the near future, including the proliferation of IoT devices, VR/AR applications, artificial intelligence and seamless mobile communication, all require a powerful broadband network. Together with our university partners, we're developing ideas that'll bring us closer to the multi-Gigabit network reality of the future. Let's take a look at some examples of how we work together to make it happen.
Future Mobile Infrastructure
In just 20 years we've migrated from basic flip phones to powerful multi-use smartphones that are essentially our pocket-sized lifeline to everyone and everything we need. Not only do we have better hardware, but our mobile networks have also been enhanced to keep up with the exponentially growing user demand. But what will our hyperconnected future look like years from now? How will our mobile networks deal with massive amounts of data? Does our current mobile infrastructure require radical changes? Our partners at Carnegie Mellon University's Electric & Computer Engineering Department are working on answering these questions by taking a fresh look at Mobile Core Network Architecture and the implications of building and operating future mega-powerful mobile networks.
The Future of IoT & Network Security
Our users' desire for increased connectivity and productivity has already led to the proliferation of various IoT sensors and devices in our homes, cars, offices and everywhere in between. In response, companies are rushing to meet user demand by selling products without adequate cybersecurity measures. Since smart technology is only going to become more prevalent in the near future, this hacker's dream is becoming an industry-wide problem that needs urgent attention. We've been working with the Center for Information Technology Policy at Princeton to understand IoT device behavior and potential issues.  We've also been working closely with the faculty and graduate students at Colorado State University to develop new ways of identifying problems and protecting against security threats. This work will help inform CableLabs' larger effort to drive better IoT security standards across the industry. In addition to addressing IoT issues, Colorado State is also exploring ways of using real-time network data to identify unusual traffic patterns and applying multiple strategies to mitigate the rapidly evolving denial of service attacks.
5G and Fiber-Wireless Integration
4G wireless networks are fast but not nearly fast enough for the low-latency technologies of tomorrow. The 5G rollout in the next few years will introduce multi-Gbps mobile broadband speed and along with it—a new era in connectivity. 5G can support cutting-edge technologies, like VR, AI and IoT devices in large quantities, opening the door to a plethora of exciting new inventions, like self-driving AI-powered cars and much more. Together with our research partners at Georgia Tech, we're exploring the possibilities of the 5G network and are looking into expanding the bandwidth capacity of cable's optical technologies to meet the demand of 5G devices.
Moving forward, we will continue seeking out extraordinary thinkers within the academic community and supporting the development of new ideas and talent—the two main ingredients for a brighter future.
Innovation
CableLabs Announces Major Update to the Open Source LoRa Server
Last week, in my blog post "CableLabs Open Source LPWAN Server Brings Diverse LPWAN Technologies Together," we announced our LPWAN Server. This project is open source and:
Provides new capabilities to bring IoT LPWAN wireless technologies together
Is a flexible tool to enable the use of multiple servers across multiple vendors
The LPWAN Server was designed to work with the CableLabs sponsored open source LoRa Server and, together, provide a comprehensive solution to enable many LPWAN use cases. It has been nearly 18 months since we released the first major revision of the LoRa Server and, during this time, many improvements have been made.
In this blog, I'll discuss why we invested in the LoRa Server, how the project continues to improve and how it aligns with the latest specifications released from the LoRa Alliance. If you need a refresher on the LoRa Server, please see my blog post "CableLabs Announces an Open Source LoRaWAN Network Solution."
Why Did CableLabs Invest in the LoRa Server?
The LoRa Server project was conceived and started by Orne Brocaar. His goal was to develop a fully open source LoRa Server that could be used by anyone looking for the opportunity to gain an introduction into LoRaWAN and LPWANs. Due to limited time and resources, the project remained minimal in functionality and progression for nearly a year.
CableLabs had a goal to find a fully community-based open-source LoRaWAN server to provide the cable industry with the ability to easily prototype, test and trial LPWAN services using unlicensed RF spectrum. We discovered the LoRa Server and began investing heavily into developing the functionality to align with our goal. Shortly after this, Orne joined the CableLabs team to lead the development of the LoRa Server into the exceptional tool it has become.
Our design strategy began and continues to focus on these key areas:
Full functional compliance with LoRa Alliance specifications
Extensive debug and logging tools
Protocol transparency to the operator of the server
Scalable for any sized testing, trial or use
While our goals are to provide a tool for testing, trials and related use, the server is fully open-source under the MIT license. This allows it to be used freely for any use from testing to production. We desire to enable growth and creativity in the LPWAN ecosystem using the LoRaWAN protocol.
Introducing a New Version of the LoRa Server
In the summer of 2018, we released LoRa Server v2. We have released several additional updates to introduce new features and improvements since then while maintaining backward compatibility with LoRaWAN 1.0. Where v1 (released in June 2017) was focused on the first stable release since many test versions, v2 focuses on an improved API, User Interface (UI), compliance with LoRaWAN 1.1 and additional interesting new features.
LoRaWAN 1.1
The major feature of LoRa Server v2 is support for LoRaWAN 1.1. LoRaWAN 1.1 is an important release for many reasons:
Enhanced Security
LoRa Server v2 enhances the security of LoRaWAN devices by providing LoRaWAN 1.1 support. Not only does LoRaWAN 1.1 add better protection against replay attacks, it also adds better separation between the encryption of the mac-layer and the application payloads. This also facilitates the implementation of roaming in the future. It is important to mention that LoRa Server v2 still supports LoRaWAN 1.0 devices.
Re-designed Web-Interface
Another major feature of LoRa Server v2 is the completely redesigned and re-written web-interface. The fantastic new interface is more responsive because of smarter caching and it is more user-friendly and easier to navigate.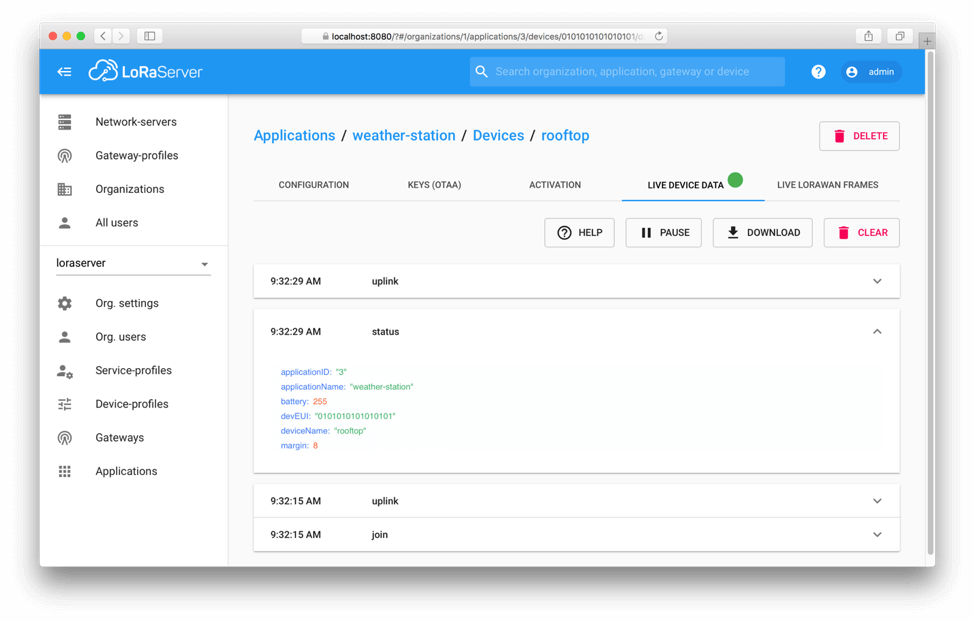 API improvements
As many users are integrating LoRa Server into their own platforms using the LoRa Server APIs, we want to make sure these APIs are easy to use and are consistent. LoRa Server v2 removes many inconsistencies present in the v1 API and makes it possible to reuse objects so that code duplication is avoided.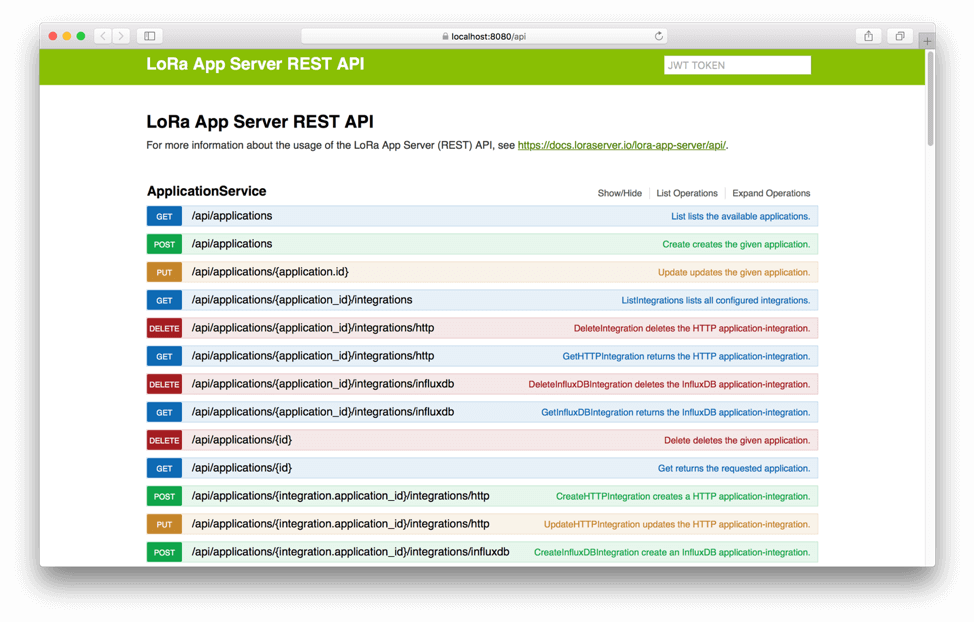 Multicast
Multicast was a feature which was long requested and is finally present since LoRa Server v2.1.0. This feature makes it possible to assign devices to a multicast-group, so a group of devices can be controlled without the need to address each device individually, reducing the required airtime. One of its use cases is Firmware Updates Over The Air (FUOTA) which was recently released by the LoRa Alliance. In an upcoming version, we are planning to further integrate this into the LoRa App Server component of the LoRa Server.
Geolocation
Since LoRa Server v2.2.0, the server provides geolocation support. By default, it integrates with the Collos platform provided by Semtech, but by using the provided geolocation API, other platforms can be used. Please note this requires a v2 LoRa Gateway with geolocation capabilities, as a high precision timestamp is required for proper geolocation.
Google Cloud Platform integration
A common request we have received is how to scale LoRa Server. Since LoRa Server v2.3.0, it is possible to make use of the Google Cloud Platform infrastructure to improve scalability and availability. LoRa gateways can directly connect to the Cloud IoT Core MQTT bridge (using the LoRa Gateway Bridge), and the LoRa Server and LoRa App Server integrate with Google Cloud Pub/Sub.
Open Source Community
The open source community is encouraged to take advantage of our efforts and further functional support for even more gateways, solutions and use cases. There are many LoRaWAN gateways and applications and we would like the development community to help us integrate these. 
To find out more information about the LoRa Server and become involved in this project, go to the LoRa Server site.
Subscribe to our blog for updates on the open source LoRa Server.
Innovation
CableLabs Open Source LPWAN Server Brings Diverse LPWAN Technologies Together
CableLabs is excited to announce a new open source project called LPWAN Server. The LPWAN Server provides new capabilities to bring IoT LPWAN wireless technologies together.
Before we go into more details on the LPWAN Server, let us first get some background into this space. In my previous blog post, I discussed the Internet of Things (IoT) as a growing industry comprised of a massive number of devices that connect to each other to benefit our lives. For example, a soil moisture sensor can help a farmer determine when to water their crops rather than potentially wasting water through a legacy timed-based approach. In that blog post, CableLabs announced the release of an open source LoRaWAN solution, LoRa Server.
What is LoRa Server and LPWANs?
LoRa Server is a community-sourced open source LoRaWAN network server for setting up and managing LoRaWAN networks. LPWANs connect sensors designed to last for years on a single battery transmitting information periodically over long distances.
There are many potential use cases shown below:
LPWANs are designed to cover large geographical areas and minimize the amount of power required for sensors to interact with the network. There are many solutions available to enable these use cases, including:
LoRaWAN™: LoRaWAN is a partially open unlicensed spectrum solution developed through the specifications efforts of the LoRa Alliance: While the specifications are developed within the Alliance, they are made available to the general public upon completion.
Mobile solutions from 3GPP: 3GPP defined Cat-M1 and NB-IoT for varying connectivity requirements. These are also open standards, but they require licensed spectrum.
Weightless: Weightless is an open specification effort but has struggled in gaining traction in the LPWAN space. It should be noted, there are many other proprietary LPWAN technologies with active deployments and use in this ecosystem.
Why No One Solution Will Own the Technology
We believe no one LPWAN technology will fully own this IoT space. Our reasoning for this belief comes from multiple factors. As we look at the sensors in this space, some are intended for real-time applications with consistent and verified uploads, while other sensors simply wake-up periodically and transmit small data payloads. Without going into more specific examples, we believe some LPWAN applications are better suited for licensed spectrum mobile networks, while other LPWAN applications are better supported with unlicensed solutions, such as LoRaWAN™. LoRaWAN services can be further explored through some of our member offerings via MachineQ™ and Cox℠ .
Our New Open Source Solution
With these considerations in mind, we developed a new open source solution to enable easily moving data from devices and applications across varying network types and related solutions. The LPWAN Server was designed to enable multiple use cases:
First, it can be used to simply migrate or operate between two LoRaWAN™ network servers, such as the LoRa Server and The Things Network.
Second, and more importantly, the long-term design intention is to enable the routing of multiple LPWAN technologies, such as LoRaWAN™ and SigFox or LoRaWAN™ and Narrow Band IoT (NB-IoT). In order to integrate IP-based devices, the server will include a "relay server" of sorts. This allows for the IP traffic to mix with LoRaWAN™ traffic for a single upstream interface to an application or data collector, such as Google Cloud and Microsoft Azure.
Our goal with this project is to see developers add more back-end integration with network servers and technologies to enable this routing of traffic across many LPWAN technologies.
LPWAN Server Use Cases
The LPWAN Server was designed to support the following use cases:
1. Multi-vendor LoRaWAN™ environment: Using the LPWAN Server in a multi-vendor LoRaWAN™ environment allows a network provider to:
Test multiple servers from multiple vendors in a lab,
Trial with multiple network servers from multiple vendors
Run multiple vendor solutions in production

2. NB-IoT & LoRaWAN™ device deployment: The LPWAN Server will allow you to operate a single application for devices deployed on both LoRaWAN™ and NB-IoT networks. The LPWAN Server will enable an IP relay-server for connecting with NB-IoT (and Cat-M1) devices commonly behind a 3GPP mobile network Evolved Packet Core (EPC). It also allows for managing devices on the LoRaWAN™ The devices are managed under a single application within the LPWAN Server. This allows an application to receive data over a single northbound Application Program Interface (API) rather than maintain API connections and data flows to multiple networks.
3. Simplify device provisioning across multiple LPWAN network types and solutions: The LPWAN Server simplifies provisioning to one or more LPWAN networks. A major challenge for a back-office solution is to integrate provisioning into a new network server. This is further complicated with multiple new network servers and types. In order to simplify this, the LPWAN Server manages the APIs to the networks, and the back-office solution only needs to integrate with a single API to the LPWAN Server. The following figure illustrates this.

4. Create consistent data order and formats from LPWAN devices: The final use case explains how the LPWAN Server can normalize data from varying devices on one or more networks. Unfortunately, even in a single network environment, such as LoRaWAN™, there is no standard for data formats from multiple "like" sensors. For example, a weather sensor from two different vendors could send the same type of data but reverse the order. An application will need to interpret the data format from multiple sensors. In order to simplify this, the LPWAN Server can be used to reformat the data payload into a common format for sending up to the application server. In this way, the application server will not need to interpret the data.

CableLabs & the Development Community Together
The LPWAN Server is intended to be a community open source project. The initial release from CableLabs provides support for a multi-vendor LoRaWAN™ use case. The back-end has been designed for future support of all of the use cases, and the UI is flexible to support them as well. We currently are using the server for data normalization, too; however, this is via a back-end process.
The open source community is encouraged to take advantage of the initial CableLabs development and further the development into a useful application for even more servers, solutions and use cases. There are many network types and related servers, and we would like the development community to help us integrate these. 
To find out more information about the LPWAN Server and become involved in this project, go to https://lpwanserver.com.
The LPWAN Server was designed to work with the CableLabs sponsored open source LoRa Server. In an upcoming blog, I will discuss how that project continues to evolve and align with the latest specification releases from the LoRa Alliance. The LPWAN Server and LoRa Server provide a comprehensive solution to enable many LPWAN use cases.
Innovation
Innovation From All Corners: The Role of Vendors in the Innovation Ecosystem
So far we've covered the cycle of innovation and commercialization in Transforming Ideas into Solutions and how CableLabs helps turn innovative ideas into reality through startup collaboration and creative licensing agreements. This next part of the Innovation Ecosystem Series focuses on vendors and their role in moving our industry forward.  
CableLabs has a long history of vendor community collaboration, teaming up to bring new, innovative ideas to reality. Vendors' research, unique vantage point and expertise helps shape our innovation roadmaps, inform our members' business decisions and bring new cutting-edge technology products to market faster and more cost-effectively.
We could cite many examples of successful vendor collaboration, but let's look at one that has had a widespread and significant market impact: DOCSIS® technology. Its role in the evolving cable modem sector is a great example of how vendor contributions drive the innovation cycle in the industry.
DOCSIS Technology: A Vendor Collaboration Success Story
DOCSIS technology, well established and universally adopted today, was revolutionary at the outset, establishing a telecommunications standard that permitted the addition of high-bandwidth data transfer to an existing cable TV (CATV) system. This meant users could finally experience true interoperability, regardless of the cable vendor they chose.
The Problem
Prior to the creation of the original DOCSIS specifications, many vendors brought proprietary cable modems to market. Each of these proprietary solutions had its own unique, innovative approach to offering broadband internet over a cable network. Some offered solutions for carrying downstream traffic but were weaker in the area of carrying upstream traffic. Some had better Media Access Control (MAC) layer protocols but did not offer great RF performance. Few addressed the issue of security and privacy. None of them individually had the best fix, and none of them captured sufficient market share to make the economics work for truly mass deployment. In short, neither suppliers nor cable customers were finding the optimum resolution.
The Solution
Together with our member companies and industry suppliers, we embarked on an exhaustive process to select the "best of breed" innovations proposed by the vendors. This process involved testing a multitude of different solutions to determine which ones would eventually make it into DOCSIS technology. With each successive generation of DOCSIS technology, innovative contributions to the specifications enable greater speed, lower latency and higher reliability. Now, thanks to our continued collaboration with our vendors, DOCSIS 3.1 technology supports phenomenal speeds of up to 10 gigabits per second downstream and 1 gigabit per second upstream—an amazing achievement that allows our cable operators to stay very competitive in today's markets. 
The Industry Impact
DOCSIS technology catapulted the cable industry into a new service arena, providing broadband internet access to many homes across the country and beyond. Bruce Leichtman, president and principal analyst for Leichtman Research Group, relates the results: "At the end 2Q 2017, cable had a 64% market share. The broadband market share for cable is now at the highest level it has been since the first quarter of 2004."
Thanks to DOCSIS technology, consumers can now enjoy ultra-high definition 4K television, artificial reality (AR), advanced gaming options, IoT and many other benefits of internet connectivity. This, coupled the soon-to-be-delivered 5G, is a very exciting time for broadband innovation.
How We Engage With Our Vendors
Over the last 30 years, we've worked hard to develop close working relationships with vendors through various programs and collaboration opportunities. Here are just some of the ways our vendors can engage with us and our member community.
Working Groups: As Working Group members, vendors get the opportunity to participate in the creation of new specifications and collaborate with other industry professionals.
Visiting and Contributing Engineer Programs: Vendors can work on-site in our labs as Visiting Engineers or remotely—as Contributing Engineers. They get access to our tools and workspace in exchange for their expertise.
Draft Specification Reviews: Vendors can get access to draft specifications not yet available to the public. This gives them an opportunity to comment and submit change requests 30 to 60 days prior to issuance.
Co-innovation Opportunities: Just like with DOCSIS technology, we invite all members and vendors to join us in tackling a specific problem facing the industry and are open to many co-innovation opportunities. 
Events & Showcases: Vendors have multiple opportunities to show off their inventions and connect with cable operators throughout the year. Some of our free events, like the Envision Forum (formerly Connect[ED] Forum), are geared specifically to vendors.
Kyrio Product Certifications: In our industry, interoperability is key. Through Kyrio, vendors can test their products to make sure they meet all the industry specifications.
Vendors' work is crucial to our industry on both the innovation and commercialization side of the spectrum. These companies are some of the most prolific sources of great ideas and it's part of CableLabs' mission to make sure they are heard by the right people at the right time in the innovation cycle. By working together with both our members and vendors, we can continue to reach our collective goals as an industry and discover new possibilities.
Learn more about vendor collaboration by clicking below. 
Innovation
IPoC: A New Core Networking Protocol for 5G Networks
5G is the latest iteration of cellular network technology developed to meet the growing traffic demand for both smartphones and homes. With beamforming and frequency bands reaching millimeter waves, 5G promises many benefits:
Higher speeds
Lower latency
The ability to connect many more devices
However, current de jure standards and protocols, designed for earlier technologies, have the potential to dilute these promises. To address the limitations of current networks, CableLabs developed the IP over CCN (IPoC) protocol, a compelling new solution to meet the new, more robust requirements of 5G.
Why a New Solution?
The primary goal of the fourth generation (4G or LTE) technology was access to the Internet, so the technology utilized IP networking, the packet routing technology historically and currently used in the Internet.
IP networking has been around since the mid-1970s and has served us remarkably well, but it isn't without flaws. The purpose of the Internet Protocol is to allow a computer at one fixed location in the network to exchange information with another computer at a fixed location in the network.  For mobile devices (that clearly aren't at a fixed location) this has never been a great fit, and LTE technology had to develop complicated IP over IP tunneling mechanisms (the LTE Evolved Packet Core (EPC)) to enable mobility.
Furthermore, in the majority of cases, a mobile application wants to fetch specific data (say the text and images of a blog post) but doesn't really care which computer it talks to in order to get it. As a result, to improve network efficiency and performance, network operators (both mobile and fixed) have implemented complex Content Distribution Networks in order to try to redirect the mobile application to the nearest server or cache that has the requested data.
In LTE-EPC, all of a user's IP traffic is tunneled through a centralized choke point (or anchor) in the mobile operator's core network, which eliminates the ability to serve data from a nearby cache. Also, as a mobile device moves in the network, the EPC needs to create new tunnels and tear down old ones in order to ensure that the user's data reaches them.
These limitations are widely acknowledged by standards-setting groups. They are currently soliciting input to introduce new protocols that will pave the way for 5G to meet the demands of next-generation technologies, specifically:
Improve the efficiency and performance of the network mobility plane, compared to today's LTE standards,
Support non-IP network protocols, of which Content Centric Networking is a leading candidate.
Benefits of Content Centric Networking
Content Centric Networking: A networking paradigm that emphasizes content by making it directly addressable and routable. Learn more here.
CCN offers several key advantages over IP networking:
It employs "stateful forwarding" which elegantly and efficiently supports information retrieval by mobile client devices without the need for tunneling or a location registration protocol
It addresses content directly rather than addressing end hosts, which means that it enables in-network caching, processing and intelligent packet forwarding, allowing it to excel in content retrieval optimization, allowing data to be easily retrieved from an on-path cache
It supports a client device using multiple network attachments (e.g., radio links) simultaneously, providing greater reliability and performance.
Its design meets the needs of large-data and IoT applications
For many new applications, CCN provides a much better fit for purpose than the Internet Protocol.
IP over CCN (IPoC): A New Way to Handle IP
In spite of the significant improvements Content Centric Networking offers over current IP networking, the reality is that all of today's applications, both client and server, are built to use IP networking. We developed IPoC as the solution to this issue. IP over CCN (IPoC) protocol is a general-purpose tunneling protocol that enables delivery of IP traffic over a Content Centric Network (CCN) or a Named Data Network (NDN).
IPoC enables deployment of CCN as the core networking protocol for 5G, both for new, native CCN applications and as a mobility plane for existing IP applications, replacing the LTE-EPC. As a result, IPoC saves the IP investment and allows a full transition to the new CCN protocol.
With this approach:
Native CCN applications reap the benefits of tunnel-free anchorless networking, along with the latency and efficiency gains that come from in-network caching.
Existing IP-based applications can be supported with a mobility management solution that is simpler than the existing LTE-EPC. Gone are the special-purpose tunnel management functions that create and destroy tunnels as mobile devices move in the network.
The need for network slicing to accommodate both IP and CCN and the complications and overhead entailed in running two core networks in parallel are eliminated.
IPoC Performance in Mobile Networks
With the assistance of two PhD students from Colorado State University, we developed simulation models and conducted performance and efficiency testing of the protocol in comparison to LTE-EPC. In our simulation study, we implemented the IPoC protocol using the Named Data Networking (NDN) simulator ndnSim (which implements a CCN-like semantic) and used mobile communication as the driving example, comparing IPoC-over-NDN protocol performance against GTP-over-IP. We found that the protocol overhead and performance impact of IPoC is minimal, which makes it suitable for immediate deployment.  The report on this study includes links to the source code as well.
Want to Take a Closer Look?
IPoC can be best understood as a transition technology. Providing a shim layer and allowing CCN to act as a mobility plane for legacy IP applications, it accommodates the current protocol standards while opening the door for deployment of native CCN applications and the benefits they offer.
The 5G standardization project is seeking new mobility solutions for 5G, and we believe CCN and IPoC would be a great solution to address the needs. We have submitted a definition of the IPoC protocol as an Internet-Draft to the Internet Research Task Force (IRTF) Information Centric Networking Research Group. In addition, we have developed a proof-of-concept implementation of the IPoC protocol on Linux.
Interested in learning more? Subscribe to our blog and recieve updates on 5G by clicking below. 
Innovation
Cable and Education: Welcome to the Classroom of the Future
In August we released the third installment of our vision videos: "The Near Future. Ready for Anything." In the video, we imagine a future where kids use technology to learn and solve problems and can't wait to come back to school on Monday. Skeptical? You won't be after you see what their classrooms might look like in the near future. Cutting-edge technology powered by multi-gigabit super networks will expand their learning environment beyond the physical walls of the school as far as their imagination goes, making education a fun, collaborative and truly enjoyable experience. Take a look for yourself!
Head-Mounted Displays: AR/VR
AR and VR technology has been gaining some traction in the last few years among gamers, but education is one area where it can really shine. No kid would ever fall asleep at their desk wearing a sleek head-mounted display! They can interact with virtual and real-life objects at their own pace, explore and discover new worlds alongside their classmates and be back in time for lunch. Now that's a class trip we'd all look forward to.
Video Wall
We call it a wall, but this technology breaks down boundaries like no other. It creates a collaborative environment where kids from different schools and countries can interact in real time. How fun would it be to learn a new language or work on a common project with your peers who are hundreds of miles away? The learning opportunities are endless. Low latency networks powered by the cable industry are the key to making this concept a reality.
Artificial Intelligence Media
It's a friend. It's a guidance counselor. It's a teacher. A future AI-powered assistant can take on all these roles and more. An invaluable addition to anyone's day, it can interpret its owner's feelings and predict his or her needs at the right time. When it comes to education, it can be a great resource for information, giving our kids the right tools to become the best they can be.
Internet of Things
We're already seeing the benefits of having multiple connected devices in our homes, but that's just a start. IoT technology, such as sensors and other devices, connected to one powerful network has the potential to transform the way we learn, giving us the information we need when we need it. Imagine how much faster your class experiment will go if you could collect and interpret data in an instant? And that's just one possible application out of many others.
Light Field Table
Fans of sci-fi will be excited to see this tech in the classroom! What if you could see digital chemistry elements suspended in the volumetric space right before your eyes? They are holographic, so you can conduct virtual experiments with simple hand gestures. All the future scientists and engineers will agree, this is one fun lab class you won't want to miss.
Light Field Holodeck
Put all your other collaboration tools away, because this one is a game-changer. A light field holodeck can project media into volumetric virtual classroom or workspace where everyone can meet using their photorealistic avatars. Participants can work and communicate with each other as if they are in the same room even if they are miles apart in real life. With enough bandwidth, this will become the collaboration tool of the future. You can read more about how we're enabling this technology here.
There's one requirement all these innovations have in common: a powerful broadband network. To make this vision a reality, we need multi-gigabit networking solutions that can support seamless life-like experiences. CableLabs, along with our members and partners, is working to bring these ideas to life, one innovation at a time. Check out our "Behind the Technology. The Near Future. Ready for Anything. " video in its entirety here: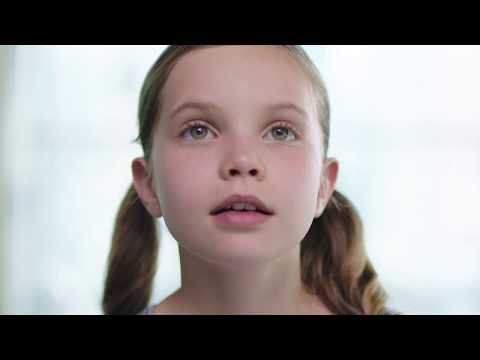 Innovation
Patents and Licensing: Why It Matters
Hi, Jud here. A lawyer, writing a blog. Why? Because I've been asked so many times about how patents and licensing works that I decided to write it all down as an element in our CableLabs Innovation Series. I tend to spend a lot of my time (understatement!) working on both patents and licensing. So, here it goes.
In this blog, I'll use the DOCSIS cable modem specification as an example because it's foundational to broadband -- and broadband is life, right? Those of you who've been around since the early days of DOCSIS, know that it's evolved in a lot of different ways. When DOCSIS was developed it was a method for delivering Internet speeds of 37 Mbps downstream (toward homes) and 8 Mbps upstream (toward the Internet.) These days, devices based on the newest DOCSIS flavors can blast data at a rate of 10 Gigabits per second, both ways.
But that didn't just happen. It took process, development, governance, patents and licenses.
Why are Patents Important?
Patents are actually called out in the original U.S Constitution!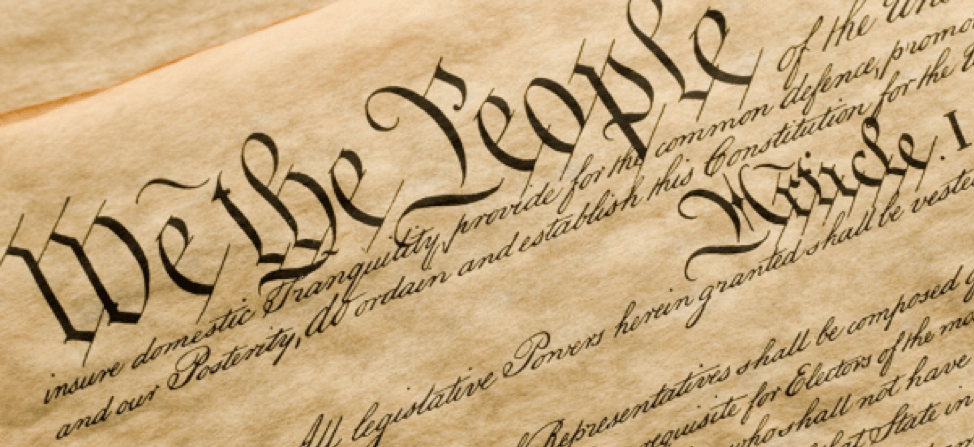 In theory and in practice, a patent protects inventive ideas for a specified and exclusive period of time. In return, the inventor agrees to disclose the invention to the public. Patents advance the general knowledge about the invention to the public. After the period of exclusivity, the public is free to use the invention to advance the technology further. As you can probably imagine, patents abound in complex technology areas such as telecommunications.
Why is Licensing Important?
Almost all standards and specifications carry an associated patent licensing requirement. That is to say, if you agree to work on and contribute to a specification, you also agree to license your patents that are essential to the implementation of that specification. This reality exists to prevent parties from inserting patented technology into a specification, then later say "gotcha!" by alleging the existence of patents that obviate your products, even though they conform to the specification. In legal-speak, this is known as a "patent hold-up." If you're thinking "hold up" as in "stick''em up!" you're in the zone.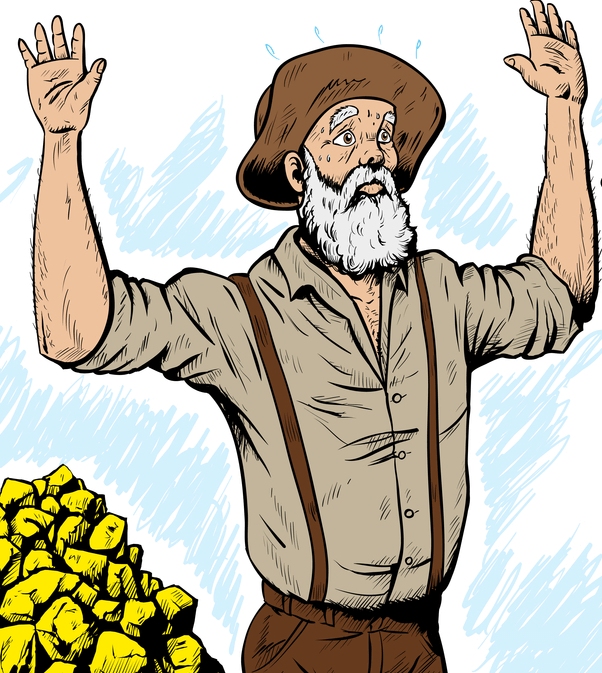 Ideally, for the sake of technological cooperation, interoperability, and advancements in innovation, players in the industry adhere to a patent licensing policy that sets up an environment of "leave your guns at the door." In essence, manufacturers can then implement the specifications, without the fear of being sued for patent infringement by other DOCSIS manufacturers.
Again, using DOCSIS as an example, this is precisely what its licensing agreement, arranged long ago by CableLabs, provides: all signators agree to license their standard essential patents (SEPs) to CableLabs, including the right for CableLabs to the sublicense the SEPs to all other licensed signators - all on a royalty-free basis.
How Licensing Benefits Innovation
Licensing arrangements also create a nurturing environment for technological development, within which all parties can innovate, because all are free to build on everyone else's technology -- again, without fear of later having to pony up unforeseen patent royalties.
The DOCSIS licensing arrangement fostered by CableLabs in the mid-'90s was and is a significant catalyst in the development, implementation, and widespread adoption of the DOCSIS platform. In all, this gun-free, royalty-free DOCSIS licensing environment consists of more than 200 signators!  (In licensing terms, that's a lot.)
Taking another approach: RAND
Many other typical telecommunications standards (e.g., 3GPP, Wi-Fi and DSL) were generally developed under a "reasonable and non-discriminatory," or "RAND" patent policy. A RAND patent policy allows participants to collect "reasonable" royalties on patents required to implement the standard.
It follows that manufacturers sometimes sue each other if they disagree on what is "reasonable."  This can add a significant cost, as well as risk and uncertainty, to the development and deployment of these technologies. In case this isn't patently obvious (see what I did there?), a RAND royalty rate is always greater than a royalty-free royalty rate! (And under the DOCSIS licensing arrangement, the RAND royalty is always $0.)
How Licensing Impacts the Bottom Line
How does this translate to the real-world bottom line? Since its inception, over 2.5 billion DOCSIS-based cable modems and gateways have been deployed. All with no royalties for patents necessary to implement the DOCSIS specification.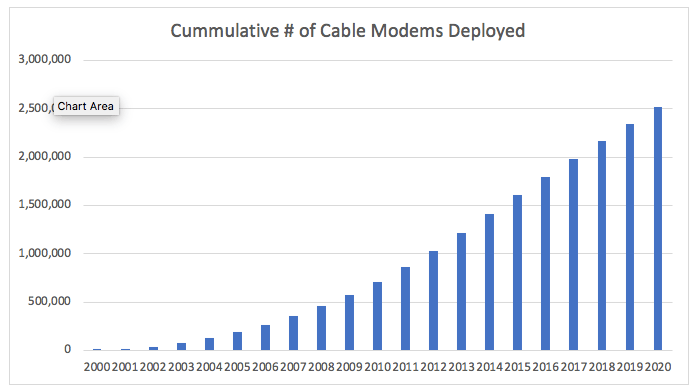 As the DOCSIS technology evolved to add additional features, faster speeds, and improved technology, so did the "patent pool" set up by the license arrangement expand. Think about it this way: if there were 1,611 technical requirements in DOCSIS version 1.0, there are 5,758 requirements in DOCSIS 3.1. That's a pretty big expansion, and a lot of intellectual property, all protected from infringement litigation.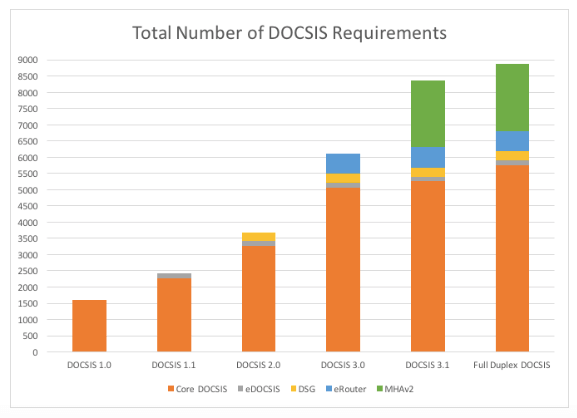 Licensing Arrangement as the Unsung Hero
It's true that probably only lawyers think licensing is sexy, and that's ok. But know that even if licensing doesn't necessarily "wow" you with revolutionary advancements in cable/internet/wireless technology (see our Full Duplex DOCSIS and Coherent Optics technology pages), it's still an important mechanism for business as usual.
From this lawyer's perspective, the CableLabs' royalty-free DOCSIS licensing arrangement has been the unsung hero for the last 20+ years, in terms of fostering implementation and rapid technological innovation, reducing risk, advancing adoption, and expanding deployment worldwide. And, as DOCSIS continues to be the workhorse for all things broadband, it is legally positioned to succeed.
That's it! Feel free to contact me for more information, and thanks for reading!
Innovation
Living the Gigabit Internet Dream
"Gigabit" is the Internet dream. It means connectivity at blazing-fast speeds, with enough bandwidth for any device imaginable, where the online world is your oyster. Cable is rapidly making this dream a reality by making gigabit Internet service available to consumers.
Looking back just a couple of years, the prospect of widely available gigabit service was unimaginable. As of December 2016, only 4% of US housing units had cable gigabit available. In just fifteen months, cable operators in the US have increased that number by 14X. CableLabs regularly surveys our members, and we know that as of March 2018, 56% of US housing units – 66% of the cable broadband footprint – had gigabit service or better available from their local cable operator. That number is poised to climb higher as DOCSIS 3.1 technology is deployed across cable networks.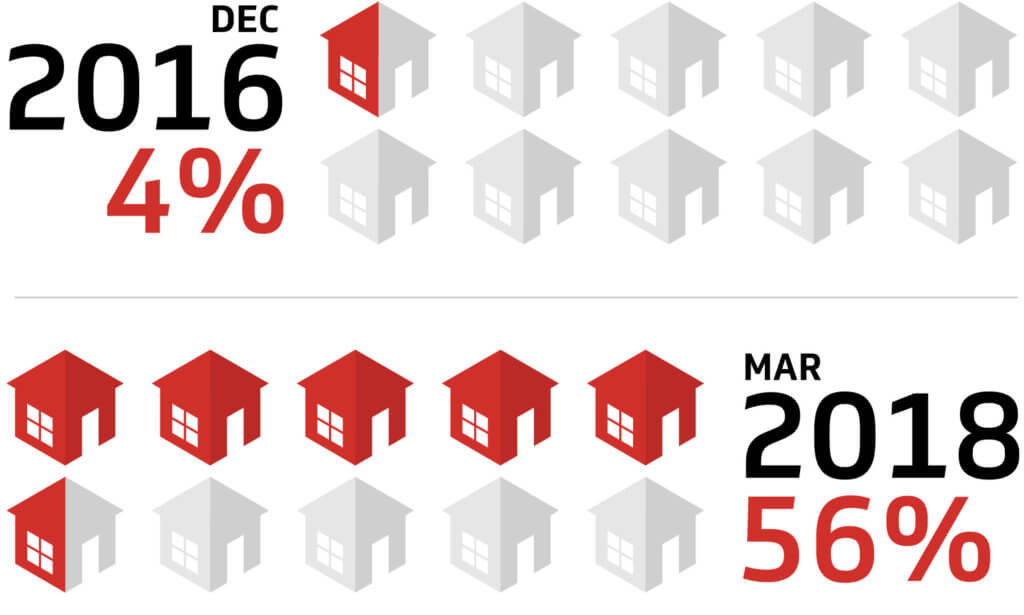 But, This is Only the Beginning of the Story
CableLabs and the cable industry are investing in further network innovations to enable broadband technology to stay well ahead of customer demand for years to come.
Over the past 35 years, available consumer Internet speeds have followed what is known as Nielsen's Law, increasing at roughly a 50% compound annual growth rate. Gigabit service is just the latest step in the history of ever-increasing speeds. If past is prologue, we can expect to see the availability of 10-gigabit service offerings around 2024, enabling experiences that are difficult to imagine today.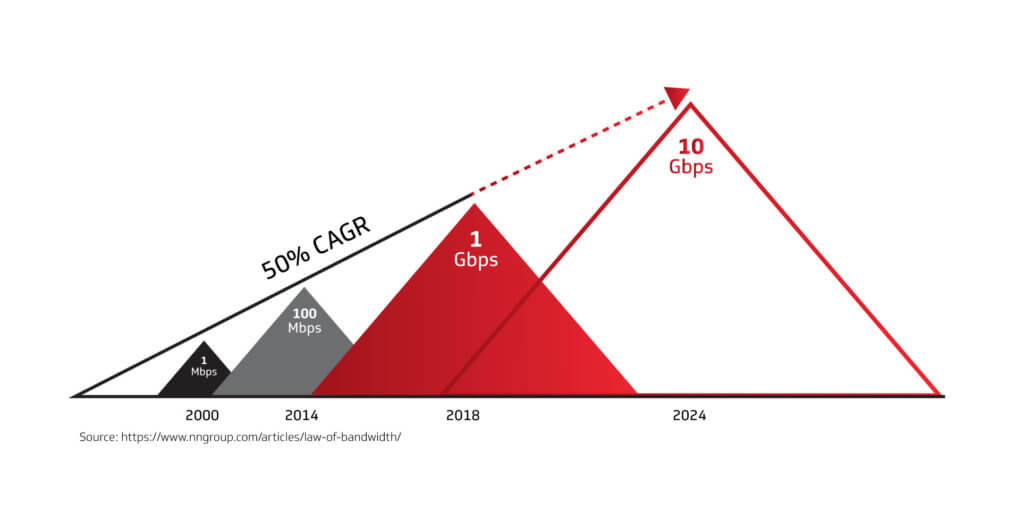 Pushing the Gigabit Internet Envelope
The cable industry is preparing for our ever-faster future. We're examining each segment of the network and developing new technologies to advance the performance of cable networks. The main elements of our work to drive further capacity and performance are:
DOCSIS: CableLabs is currently working to commercialize the next generation of DOCSIS technology. Full Duplex DOCSIS 3.1 will enable cable operators to provide symmetric gigabit service to customers – eliminating the upstream constraint and fully unleashing the power of cable.
Fiber: To ensure sufficient capacity in the fiber portion of the cable network, CableLabs has focused on adapting coherent optics. Coherent optic technologies have the potential to increase the per-strand capacity in cable networks by orders of magnitude over currently available digital optics technologies. This is an essential element in cable's fiber-rich networks to deliver greater performance for consumers.
Wireless: We all experience our broadband service through our Wi-Fi connection. So, our ability to take full advantage of cable network advancements depends on the performance of that Wi-Fi connection. To ensure the reliability and improve the overall performance of Wi-Fi, CableLabs has developed protocols for Wi-Fi proactive network maintenance (Wi-Fi PNM) to quickly solve connectivity problems, advanced global standards for Wi-Fi to usher in next-generation technologies, and increased wireless bandwidth through spectrum policy engagement.
The continued innovations of CableLabs and the cable industry have enabled cable operators to provide broadband service that is well ahead of consumer demand. Cable networks are high-capacity, efficient, and future-ready to meet ever-increasing consumer demand for broadband performance.
For more information on how the cable industry is driving gigabit speeds from the lab to the consumer, please click below.