Step Inside the Future: Experience Exhilarating Virtual Worlds with Immersive Technology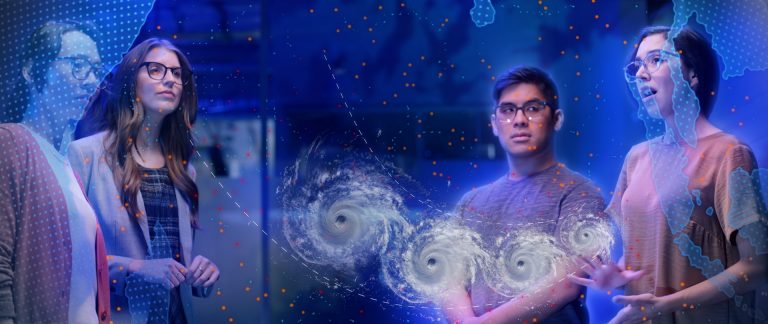 How we experience the digital world is about to get a whole lot more exciting. The newest film in the "Near Future" series shows what a day in the life of a family looks like as technology transforms how they work, study and engage with each other. Imagine interacting with virtual people and places that feel real and propel you into new worlds. This is the future that the "Step Inside" film explores—and it's not that far off.
Immersive Media
In the film, a virtual 3D talking rabbit and a lifelike prowling tiger enhance the children's learning and play through an immersive experience. With holographic and light field technologies, characters come to life with realistic depth and presence so that the family can interact with them.
Light Field Displays
Imagine 3D displays that don't require special glasses or headsets. This is what the main character, Clara, experiences when she's in the meeting with her investors and they can exchange glances. With light field technology, multiple people can view the same thing at the same time using displays on walls, tabletops or even entire stage floors.
Holographic Telepresence
As Clara is briefed on a developing hurricane, she and her remote team can observe the storm's pathway simultaneously via a life-size holographic projection. Holographic telepresence technology allows multiple users to experience the same three-dimensional media at the same time and from different angles. Clara also presents remotely to her board members as if they are all in the same room together. With holographic telepresence, it's easier to build bonds and create deeper connections. These holograms are three-dimensional images formed by the interference of light beams from lasers or other light sources.
Advanced AI Avatars
In the film, Clara's assistant helps her prepare for her presentation and also sees she's nervous and provides her with guidance to calm her. AI avatars are digital representations of a human in a virtual setting powered by artificial intelligence. These avatars can take the form of a multitude of personas that are capable of authentic, human-like communication and designed to educate, guide and entertain us.
AR Smart Glasses
Ben and Clara take their avatars on the go with technologically sophisticated glasses that look like the eyewear many of us wear today. The difference? AR smart glasses will bridge our real-world experiences with our digital lives. Instead of head-mounted displays (HMDs), the sleek smart glasses of the future will allow us to interact with digital objects and information overlays directly within our field of vision.
Quantum Computing
Clara is with her team watching the developing hurricane. Quantum computing is powering the highly detailed storm analytics. In Clara's case, this technology reroutes the ships, potentially saving lives and the business. With quantum, computers can simulate complex scenarios and optimize advantageous outcomes faster than classical computers.
What's Next?
Each of these innovations is already in development, paving the way for our next-generation experiences. CableLabs is at the forefront of what's new and next, innovating today for the broadband of tomorrow.