From Inspiration to Pitch: How Innovation Boot Camp Launched the Idea for ARC HotSpot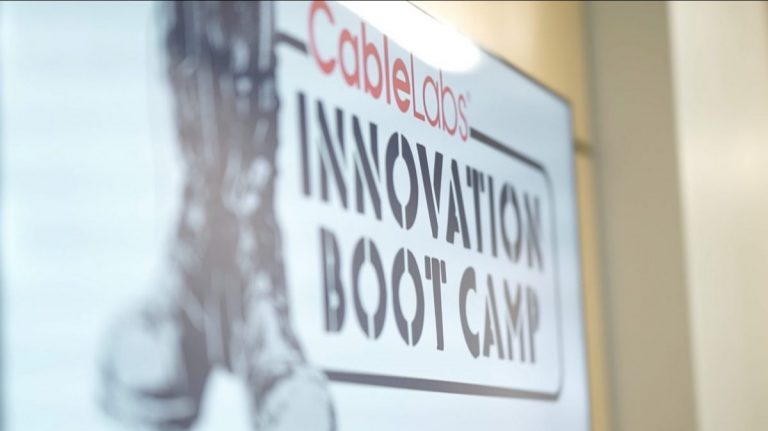 Innovation isn't just about creating new products. It's about bringing together diverse thoughts, perspectives and experiences to solve big problems. At Innovation Boot Camp, CableLabs members and employees work together in an intimidation-free zone to immerse themselves in the innovative process, from inspiration to final pitch.
During the week of April 24–28, 2023, CableLabs will host the 20th Innovation Boot Camp, where innovators will receive hands-on experience and live coaching from CableLabs CEO Phil McKinney and other expert speakers and coaches. In this spring's all-virtual format, participants will learn the FIRE framework (Focus, Ideation, Ranking, and Execution), experience the innovation process end to end; and learn strategies that they can apply to their own teams and projects immediately.
It's an inspiring environment designed to bring the industry closer together and share new ways of creating and innovating.
But do any of the ideas developed at Innovation Boot Camp actually make it to market? Yes, they do.
A Market-Ready Solution to a Real-World Problem
Innovation Boot Camp pulls out all the stops to help participants tackle real issues that they're facing in their businesses or other contexts. The innovative process we teach is designed to generate ideas that result in viable solutions, many of which have gone on to production.
One of those ideas was Kyrio's ARC HotSpot, a technology that delivers automated failover for broadband networks. The idea for ARC HotSpot was born out of the 2020 Innovation Boot Camp, which took place during the COVID-19 pandemic, when companies urgently needed reliable remote-work solutions. By holding the very first virtual Innovation Boot Camp in the midst of this new world of work, CableLabs gave participants an opportunity to collaborate and innovate despite lockdown restrictions.
The challenge of the 2020 Innovation Boot Camp was to come up with a technology idea that would make working from home a better experience. Participants learned from veteran coaches, then broke into teams to begin the ideation process. One of those teams was Team Echo, which consisted of CableLabs employees from various backgrounds and areas of expertise, including CableLabs' Director of Procurement Zen Mykytyn.
During a brainstorming session, Zen observed that one of the most difficult challenges of navigating virtual work and school was keeping everyone connected during a service outage. With two parents working from home and kids logged in to Zoom classrooms, even a short outage resulted in house-wide panic as meetings were disrupted and no one could do their work.
But what if there was a technology that could solve that problem?
Zen's observation was the spark that launched a week of brainstorming, iterating, investigating and developing the idea that eventually became ARC HotSpot.
From Inspiration to Pitch
With the idea in hand, Zen and the other members of Team Echo started developing a solution. Coached by John Bahr, the team came up with the idea of using a smartphone as a hotspot for the entire home network. They conducted a live customer experience conversation to get real feedback on the idea, put together a one-sheet and a storyboard, and developed a pitch that they would present to the Innovation Boot Camp panel at the end of the week.
"CableLabs' Innovation Boot Camp, while a fun learning experience, is also a place where game-changing ideas happen," said coach John Bahr. "My team came up with a solution to a problem that was at the forefront of real customers' minds during the height of the COVID-19 lockdown. Executing on that solution to turn it into a real product was just so cool!"
At the end of the week, Team Echo pitched their idea over Zoom. Just a few short minutes after Zen began presenting, his connection dropped. One of the other team members picked up the pitch as everyone waited for Zen to re-establish his connection. It was a brilliant, planned demonstration of the exact use case that made the team's idea so relevant, and the panel agreed it was an idea worth pursuing.
After Innovation Boot Camp ended, John Bahr gave a demonstration that generated significant interest. Kyrio non-exclusively licensed the intellectual property from CableLabs and developed its own implementation, and ARC HotSpot was born.
Innovation Is a Team Sport
Zen strongly believes that the positive, nurturing environment of Innovation Boot Camp and the diversity of the team made it possible for his idea to come to fruition.
"My team included John Bahr, Greg White and Mark Bridges," he said. "They're all really smart guys and experts in their fields, but they're all different. My field isn't technical thinking or awareness, but working with them gave me a glimpse into what they do every day and how they think. My idea wouldn't have come to be without the rest of the team."
That diversity of experience lies at the heart of Innovation Boot Camp's mission. We believe that great ideas can come from anywhere—and they do. Innovation is a team sport that thrives when diverse thinkers come together in an intimidation-free environment to make things better.
If you're looking for a hands-on experience that puts words and ideas into action, Innovation Boot Camp is ideal for you. You'll learn to challenge your thinking, develop new skills and put those skills into action as you work with a team of other innovators.
Ready to see what it's all about? Join us for the next CableLabs Innovation Boot Camp. Spots are limited, and innovation topics do vary.