Wi-Fi CERTIFIED EasyMesh™ Update: Added Features for Operator-Managed Home Wi-Fi® Networks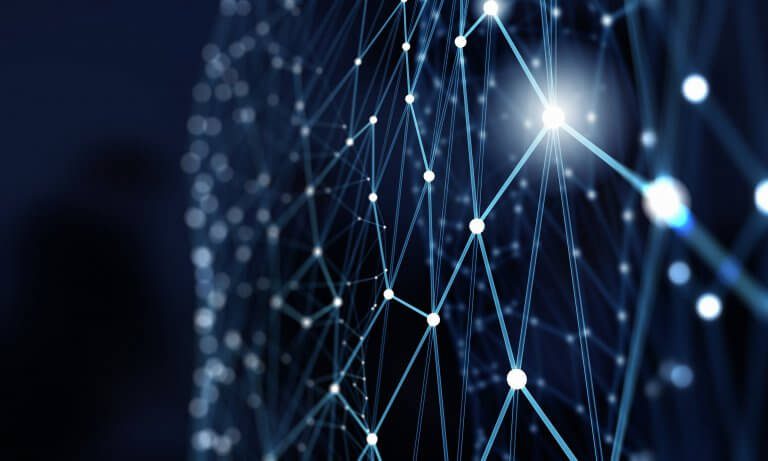 It's been about a year since Wi-Fi Alliance released the Wi-Fi EasyMesh™ program and started certifying devices. Since then, the industry has been hard at work creating Wi-Fi EasyMesh products and working on what comes next. CableLabs is continuing its leadership work on the updated Wi-Fi EasyMesh certification program, and now we can all see the fruits of that labor.
The updated Wi-Fi EasyMesh protocol adds a number of essential features that operators and end-users need:
Wi-Fi EasyMesh Controller-centric collection of Wi-Fi CERTIFIED Data Elements™ diagnostic data from all connected access points (APs)
Enhanced backhaul security with SAE
Optimized use of available channels with coordinated channel scanning (including DFS channels)
Network traffic separation with virtual local area networks (VLANs), such as private and guest networks
Wi-Fi CERTIFIED Agile Multiband™ support for improved client connections
What's the Big Deal?
Since our last blog post about Wi-Fi EasyMesh, mesh APs have become almost as well known as antibacterial soap or friendship bracelets, albeit not yet as universally deployed. Many of these products work very well, especially those that have dedicated interconnection (backhaul) radios, as Wi-Fi® remains the easiest and most cost-effective way to connect these multi-AP systems.
So, what's the problem we're solving with this Wi-Fi EasyMesh update? Nearly all of the products not certified for Wi-Fi EasyMesh are opaque to an operator. When problems arise, the operator has little to no information available about what's going on behind the cable modem gateway, and the customer is left without assistance. The first version of the Wi-Fi EasyMesh protocol created the groundwork for this, whereby the Wi-Fi EasyMesh Controller (usually in the cable modem gateway) can set up and configure the other Wi-Fi EasyMesh APs. Now, the updated Wi-Fi EasyMesh protocol includes all the diagnostics information (aka, Wi-Fi Data Elements™) that an operator might need to get down to the nitty gritty and fix an issue.
Wi-Fi Data Elements, You Say…
In the blog post, "Data Elements and TR-181 – Connect to the PNM Data You Need," my colleague Josh Redmore explained what Wi-Fi Data Elements are and exactly why operators need them:
"The ultimate iteration of [remote Wi-Fi troubleshooting] is a fully automated proactive network maintenance system, where Wi-Fi issues are resolved before they impact your customer. When Wi-Fi becomes self-healing, customers enjoy seamless access to your services."
We can safely say that this is the Holy Grail of any operator-deployed Wi-Fi system, and the updated Wi-Fi EasyMesh protocol with Wi-Fi Data Elements support makes that possible in a standardized way.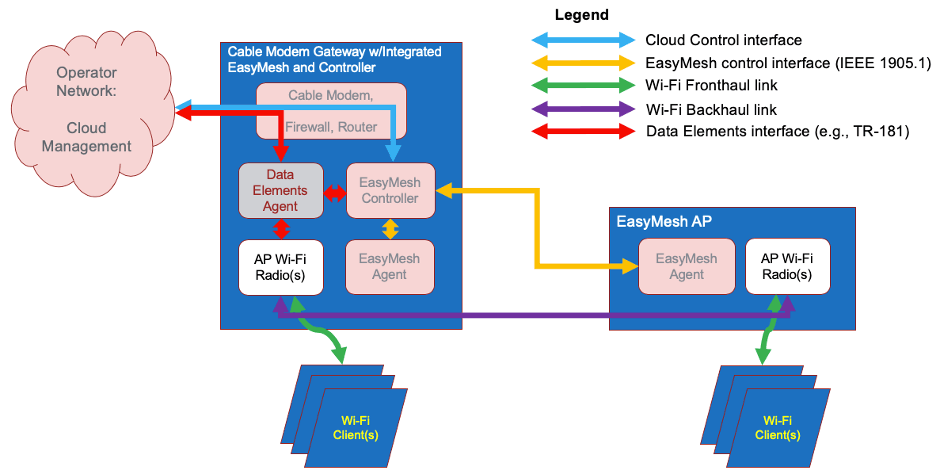 Figure 1: Example Wi-Fi EasyMesh and Wi-Fi Data Elements Network Topology
But Wait, There's More…
Remember all the major enhancements listed above in the Wi-Fi EasyMesh protocol update? What benefits do those bring?
SAE support in the backhaul brings more robust authentication mechanisms, increases cryptographic strength, disallows outdated legacy protocols, and requires the use of Protected Management Frames (PMF). It adds support for Simultaneous Authentication of Equals (SAE), which is resistant to offline dictionary attacks.
Coordinated channel scanning is a combination of two features that essentially allow the Wi-Fi EasyMesh Controller to get a complete picture of which Wi-Fi channels are overcrowded and which are free for use. It includes the ability to ask APs to scan specific channels, including DFS channels. The result is that the Wi-Fi EasyMesh network will be able to use the best channels available for each deployment—not only as first installed, but continually.
Network traffic separation continues Wi-Fi EasyMesh's support for multiple service set identifiers (SSIDs) per AP and even per radio. However, until now, all traffic for those SSIDs was intermingled. Now each SSID's traffic can be separated into VLANs. This upgrade helps operators take a step in the right direction toward traffic security.
Wi-Fi Agile Multiband™ support adds a number of features, including optional support for Fast Transition roaming with WPA2-PSK, improved guidance for clients to move to another AP in the network, tunneling of certain client-sent management frames (ANQP, WNM, Assoc) back to the Wi-Fi EasyMesh Controller, and support for association-disallowed attributes in beacons and probe responses from Wi-Fi EasyMesh Agents.
CableLabs' Early and Continuing Involvement
Wi-Fi connectivity is key for CableLabs' members, and CableLabs has been working closely on this Wi-Fi Alliance standard from the start. We were chosen to be the editor of the organization's test plan for both the first and second versions of the protocol, and we worked with Wi-Fi Alliance staff and vendors to develop the certification program. CableLabs continues to help lead and contribute essential technology to the Wi-Fi EasyMesh program.
Stay tuned for more press releases and blog posts to follow the progress of this new wireless technology.
Field Trial Results Show Wi-Fi CERTIFIED Vantage™ Devices Offer Significant Improvement to Network Performance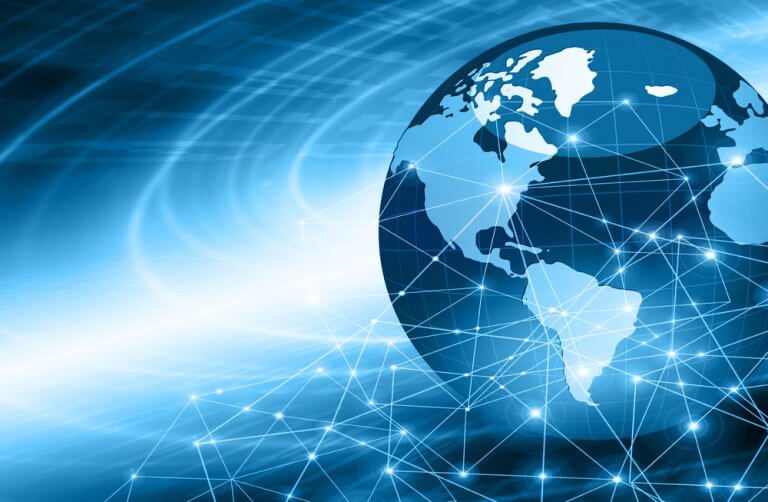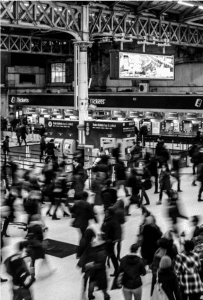 In a high-traffic, high-volume user environments such as subways, airports, and stadiums, maintaining a reliable connection and moving consistently across access points (APs) in a Wi-Fi network has always been a challenge for users and operators. A solution to this issue is now commercially available in the form of Wi-Fi CERTIFIED Optimized ConnectivityTM and Wi‑Fi CERTIFIED Agile MultiBandTM AP and client devices. These are core certifications to the WFA Wi-Fi CERTIFIED VantageTM program. These Wi-Fi Vantage TM devices contain features that optimize management and control frame transmissions, network discovery, authentication, and network transition. A field trial was conducted to measure the performance of a Wi‑Fi network using of Wi-Fi Optimized ConnectivityTM and Wi‑Fi Agile MultiBandTM devices embedded in a highly congested urban environment centered around a busy subway station. Results show the following improvements over non-Wi-Fi Vantage devices:
Optimized Network Discovery
Without Wi-Fi Vantage, the inefficiencies of network discovery and response messages can severely disrupt existing client connections and make it difficult for clients to attach to the network. The optimized network discovery features in Wi-Fi Vantage include suppression of, and broadcast of, probe responses by the AP and also include probe request deferral and suppression by the client. Field trial results show that the number of probe responses in a Vantage network were reduced by 76% on the 2.4 GHz radios and by 72% on the 5 GHz radios. This resulted in a probe response airtime usage reduction of 67% in 2.4 GHz and 44% in 5 GHz.
Optimized Authentication
Without Wi-Fi Vantage, clients can experience long reconnection setup times when moving back into a previously-joined network. With Wi-Fi Vantage, this re-connection setup time is reduced using Fast Initial Link Setup (FILS) Authentication. When FILS Authentication was tested in the Wi-Fi Vantage network, results showed that the connection setup times decreased by 76% (from 228 ms to 55 ms).
Fast Network Transition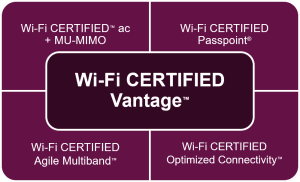 Without Fast Network Transition (FT), clients must perform a full Extensible Authentication Protocol (EAP) when roaming, possibly interrupting the end-user experience. With Wi-Fi Vantage, once a client device decides to roam to a different AP, band, or channel, the association and connection happen quickly and seamlessly.  Test results show that FT roaming improved client re-connection setup times by 84%, reducing it from 203 ms to 31 ms. In addition, Fast Network Transition can be deployed with, and will work alongside, FILS Authentication to further optimize client connections and roams.
A full-featured Wi-Fi Vantage network will benefit overall network performance and user experience, especially in high-traffic, high-volume environments. Some Vantage features may already be included in operator-managed Wi-Fi networks using vendor-specific implementation and nomenclature. Field trial results will allow operators to assess the value of a partial- or full-featured Vantage certified Wi-Fi network. CableLabs' joint leadership with the operator community (cable and mobile operators) created the vision and roadmap for the Wi-Fi Vantage program while partnering with the Wi-Fi ecosystem and will continue these efforts for the next generation of Wi-Fi Vantage.
For more information about this project or CableLabs' involvement please contact John Bahr (j.bahr@cablelabs.com) or Mark Poletti (m.poletti@cablelabs.com).
Better Home Networks: How EasyMesh™ Delivers Intelligent Wi-Fi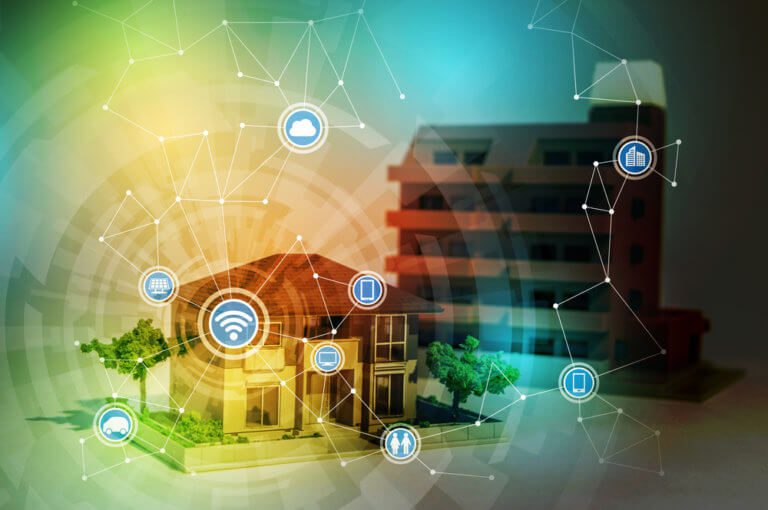 Today, many people view Wi-Fi as an essential component in their home. However, people routinely experience connectivity issues because networks aren't capable of broadcasting their Internet signal adequately and uniformly throughout their home or business. CableLabs is working with the Wi-Fi Alliance (WFA), and its new EasyMesh™ certification program, to solve this problem and provide extended, uniform coverage throughout your entire home.
Watch our video below to learn about the benefits of Wi-Fi EasyMesh™ and how the certification program will create better home networks by bringing network intelligence to multiple access point (multi-AP) deployments.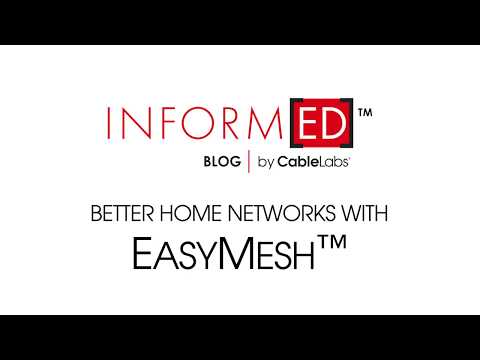 Wi-Fi Alliance members are now able to submit their products for testing. Interested in learning more? Read my blog "EasyMesh™ Brings Super Connectivity to Home Networks" and subscribe to our blog.
EasyMesh™ Brings Super Connectivity to Home Networks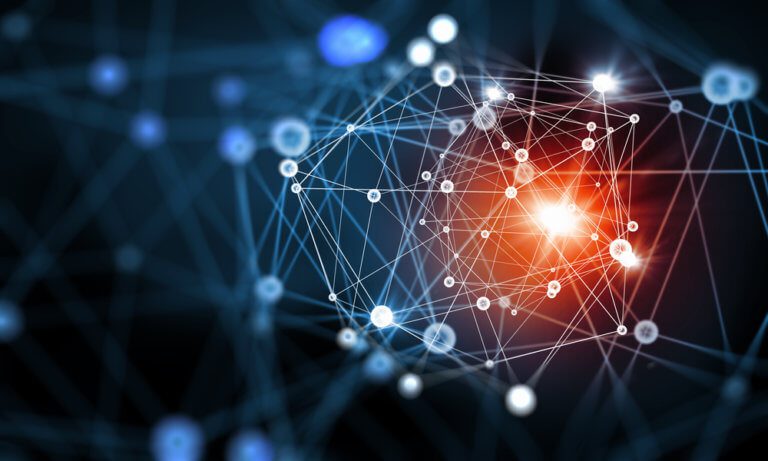 How many times have you been enjoying an HD video in your home and right at the most thrilling point, the movie stops and throws you into endless buffering hell? Or, maybe you're working from home, on an important Skype call with an overseas client, and your connection drops 2 or 3 times because your Wi-Fi connection gives precedence to your daughter, downloading a Game of Thrones episode in her upstairs bedroom.
Innovative, game-changing advances in home networking will change all that. CableLabs is working with the Wi-Fi Alliance (WFA), and it's new EasyMesh™ certification program to solve these problems and provide extended, uniform coverage throughout your entire home.
Home Networks Today Lacking
Homeowners routinely experience home connectivity problems because home networks aren't capable of broadcasting their internet signal adequately and uniformly throughout ever-larger houses as many networks were installed to deal with smaller homes. But the fact is, home sizes in the USA have grown over 60% in the last 40 years. Outdated networks, designed to handle smaller footprints, can't meet the demands of these larger homes, with more devices running more bandwidth-hungry devices, present them.
Consider the typical layout in many home networks today. One access point (AP), typically a router located near the cable modem serving the home, is expected to broadcast its signal to all points in the home where users need access. When it becomes apparent a single AP won't handle the load, the logical answer is to add more APs, but many houses lack the wired infrastructure to add additional APs.
Wi-Fi becomes the easy and cost-efficient way to add and connect these APs. Two technologies predominate today to accomplish this: Mesh APs (MAPs) and repeaters or extenders. While wireless mesh networking has been in the market for more than ten years, only recently has it been able to connect multiple APs, but these networks often lack the advanced intelligence to offer more than basic connectivity.
Intelligent EasyMesh™ Banishes Network Contention
 Wi-Fi EasyMesh™ is a standards-based certification program developed by the Wi-Fi Alliance and marks a leap forward in wireless networking. It defines multiple access point networks for homes and small offices. Easy setup, with automatic device onboarding and configuration, and easy use are just the beginning. EasyMesh™ offers much more:
Network intelligence. Intelligent controllers enable smart communication between multiple APs, sharing information which allows dynamic response to network conditions, such as client and band steering, and maximizes performance. This is huge. In the past, APs not only didn't communicate, they actually contended and competed for bandwidth, resulting in the all-too-familiar buffering and agonizingly slow page loads.
Multi-vendor interoperability in networks. EasyMesh's™ standardization frees customers from reliance on a single vendor's technology. They will have the flexibility to choose the latest and best solution when adding APs, without having to replace all other network APs, as they do today.
Load balancing. Controller intelligence guides devices to seek out the best connection, avoiding interference.
Flexible design and scalability. Add multiple APs from any vendor, enhancing placement to accomplish use-specific AP functionality.
CableLabs' Early and Continuing Involvement
Wi-Fi connectivity is key for CableLabs' members, and CableLabs worked closely with the Wi-Fi Alliance from the start on this project. We were chosen to be the editor of the WFA test plan and worked with WFA staff to develop the certification program based on the test plan.
Early tests are encouraging. CableLabs Lead Architect, Wireless Technologies, John Bahr, reports impressive coverage results obtained in a 5000+ sq. ft. test house running two streaming videos, at HD bitrates, while simultaneously delivering over 50Mbps throughput throughout the house and even to some areas 20' outside the house.
As Neeharika Allanki, Wireless Architect at CableLabs, points out, CableLabs continues to conduct research, working with vendors and MSOs on AP coordination, improved client steering and defining coordination protocol, all vital elements which will strengthen and enrich EasyMesh™. "AP coordination is a really important topic of research not only for the cable industry but for the Wi-Fi industry as a whole. And with really good AP coordination protocols in place, I think it's going to be a really good experience for the consumer."
On June 18, 2018, Wi-Fi Alliance announced that members may now submit their products for testing for the Wi-Fi CERTIFIED EasyMesh™ certification program. Watch for more press releases and blog posts to follow the progress of this new wireless technology by subscribing to our blog. 
A Step Towards Better Wi-Fi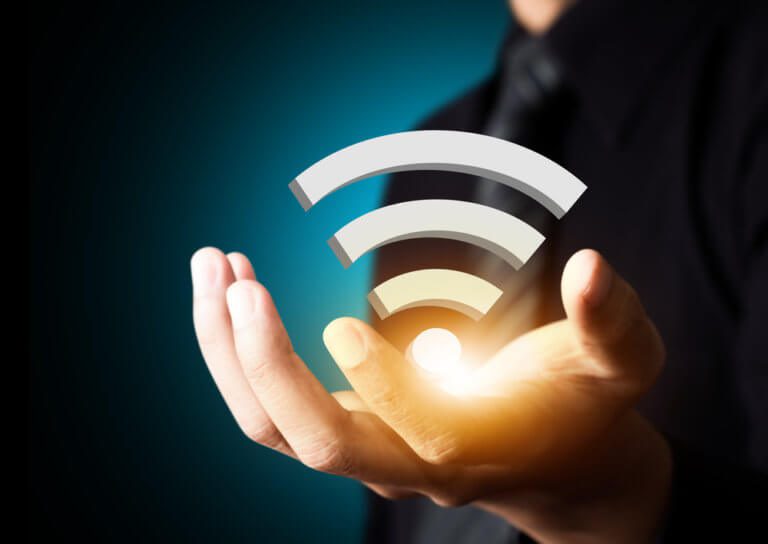 CableLabs is excited about the publication of the Wi-Fi Multi Access Point (AP) Specification draft by Wi-Fi Alliance®. With the release of this draft specification, the Wi-Fi industry is moving towards greater interoperability and coordination between APs from different vendors. The Wi-Fi Multi Access Point (AP) Specification defines the control protocol, as well as the underlying data objects, that will allow access points to talk to each other using a common language. This topic is near and dear to our hearts, so we at CableLabs helped develop this specification and are contributing to the forthcoming Multi-AP certification program.
Need for Multiple APs in the Home
As my previous blog post, Multiple Access Point Architectures and Wi-Fi Whole Home Coverage explains, Wi-Fi is an integral part of just about every home today. As consumers, we expect ubiquitous high-speed coverage wherever we are in our home. However, as both home sizes and client device counts increase, the traditional Wi-Fi setup using a single AP in a home, is increasingly incapable of meeting these expectations. This is especially true for buildings that contain signal interfering materials in the walls, floors and/or ceilings (e.g. HVAC metal ducts, mesh wire supported plaster, brick, and concrete).
To address this problem, many people try to build their own high-performance network in their home by deploying multiple access points.
An access point is a device that creates a wireless local area network, or WLAN, usually in an office or large building. An access point connects to, or is packaged together with, a wired router, switch, or hub via an Ethernet cable or via another Wi-Fi signal, and projects Wi-Fi to a location in your home or business. (How large this location is depends on many factors, but is called the coverage area).
One drawback to the solutions currently available is vendor lock-in. Once you've chosen a brand, you're stuck with that brand and its proprietary chatter between APs. This is because, until now, there has been no standard AP coordination protocol. As the idea has grown in popularity in recent years, moving from the enterprise networks we use at work to the APs we use in our homes, vendors have created their own protocols along the way.
To help standardize the interface between APs, the Wi-Fi Alliance Multi-AP specification defines procedures for:
Onboarding and automatic configuration of new APs
Control and management of the APs
Client steering mechanisms that allow the system to move Wi-Fi clients to the best AP and band (2.4 GHz or 5GHz) to ensure fast connection speeds
These standard procedures enhance the capabilities of the APs, allow vendors to innovate and focus on other cool features and enables a better customer experience. To the end user, this means:
Adding new APs to enhance coverage in your house is easier
Your cable operator can help remotely ensure that the system is working correctly
Your devices seamlessly move from one AP to another as you move around your house, maintaining the highest quality connection
Specifications move the industry forward
Standard interfaces are great; they make the internet work. As an idea gains popularity, to help keep the industry from splintering, defining a standard way of doing it becomes more and more valuable. Standards do just that - they provide a common way to do things, a reference to certify equipment against and help grow new technology ecosystems. CableLabs contributes to specifications in many standards development organizations, including Wi-Fi Alliance, Wireless Broadband Alliance, Broadband Forum, IEEE and MoCA.
Along with the release of the new Wi-Fi Multi-AP draft specification, Wi-FI Alliance is working toward introducing a certification program based upon the specification. To take a deeper dive, you can download the draft Multi-AP Technical Specification on the Wi-Fi Alliance Specifications page here.
CableLabs has been working on multiple APs in the home solutions since 2015 with numerous R&D projects. Subscribe to our blog to stay current with our work on Multi APs.
Multiple Access Point Architectures and Wi-Fi Whole Home Coverage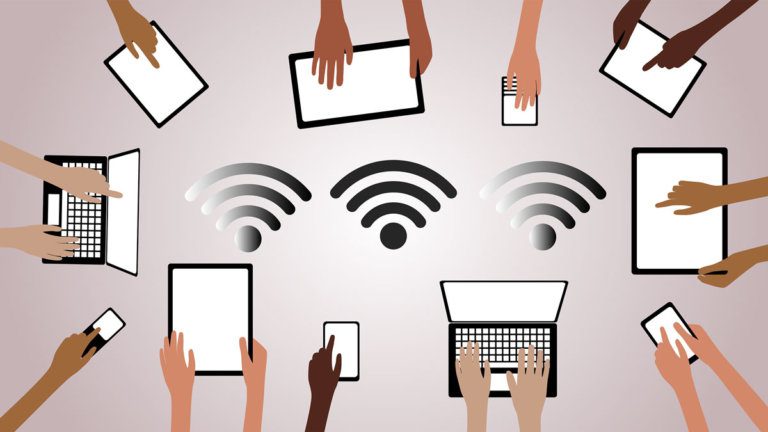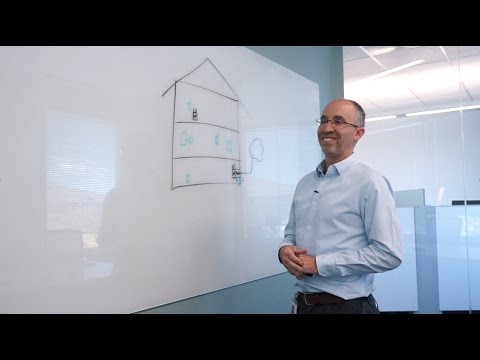 As mentioned in a previous blog post on AP Coordination by my colleague Neeharika Allanki, homes sizes are growing and the number of client devices in a home network are increasing exponentially.  There is a need for not only consistent performance in terms of throughput and connectivity, but also Wi-Fi coverage throughout the home.  Consumers often need more than one Wi-Fi Access Point (AP) in the home network to provide that coverage.
Many houses in the world do not have existing wires that can be used to network these APs together, and so one of the easiest and most cost effective ways to provide whole home Wi-Fi coverage is by using Wi-Fi itself to connect together the APs in the home.  The technologies available today that can do this are Mesh APs (MAPs), Repeaters or Extenders.
Wireless repeaters and extenders have been around for years due to consumers seeing the need to expand Wi-Fi coverage in their homes.  While some form of wireless mesh networking has been around for more than ten years, until recently there were not products designed for the home that used mesh to connect multiple APs.  In the past year, there has been a dizzying array of product announcements and introductions for home Wi-Fi coverage, with many of them using mesh networking.
Mesh Access points (MAPs) are quickly gaining traction in home networks mainly due to ease of installation (even over Repeaters/Extenders) and the promise of high throughput with whole home coverage. A mesh AP network can be defined as a self-healing, self-forming, and self-optimizing network of MAPs. Each MAP can communicate with others using smart routing protocols and thereby choose an optimal path in order to relay the data from one point to another.
As mentioned before in our AP Coordination blog, client steering (moving Wi-Fi clients to the best AP in each location) and band steering (moving and keeping Wi-Fi clients on the best band: 2.4 GHz or 5 GHz) are very important in any multi-AP solution, such as mesh or an AP + repeaters/extenders network. This is needed to ensure that each mobile client stays connected to the best AP for its current location. Without client steering, Wi-Fi clients may show connectivity to Wi-Fi, but throughput may suffer tremendously.  This often shows up as the dreaded "Buffering…" message when streaming a video or a slow progress bar when loading a web page. In a fully wireless multiple AP solution, client steering and band steering is even more critical due to the throughput and latency penalty when traffic is repeated over Wi-Fi from one AP to another.  As MAPs communicate with each other to form the mesh network, they implement some form of AP Coordination, and it is usually proprietary in nature.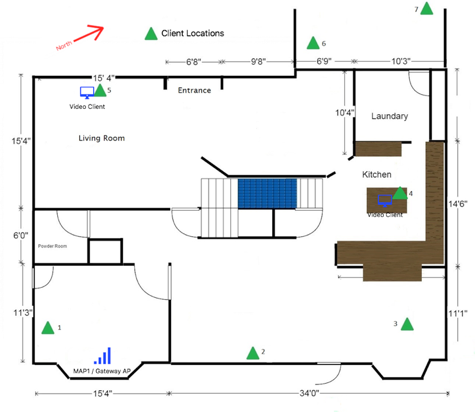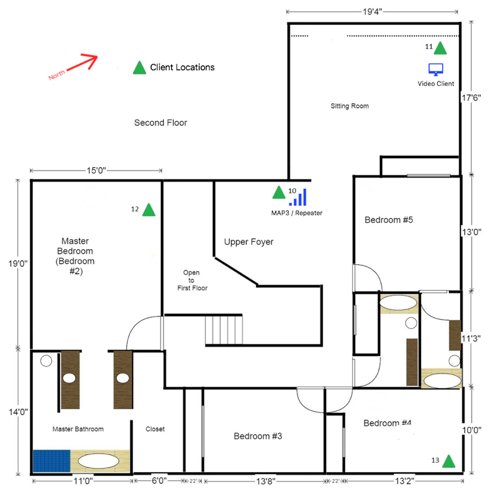 CableLabs recently tested mesh networking solutions and AP + repeater solutions consisting of 3 APs in a 5000+ sq. ft. test house.  We performed throughput, jitter, latency and coverage testing at more than twenty locations in and around the house.  We found that we were able to run two streaming videos, at HD bitrates (~20Mbps), to video clients in the home while also delivering over 50Mbps to our test client.  Both mesh and AP + repeater solutions were able to handle this video throughput, as well as deliver over 50Mbps throughput throughout the house and even to some areas 20' outside the house.  This is excellent news for consumers whose access to the Internet is wireless and who want that access everywhere in their homes.
Next Steps
CableLabs is working with vendors to define a standardized AP Coordination Protocol that would allow all APs in a home network to share information to allow them to make client steering decisions, along with other network maintenance tasks.