CableLabs Demonstrations at SCTE Cable-Tec Expo '15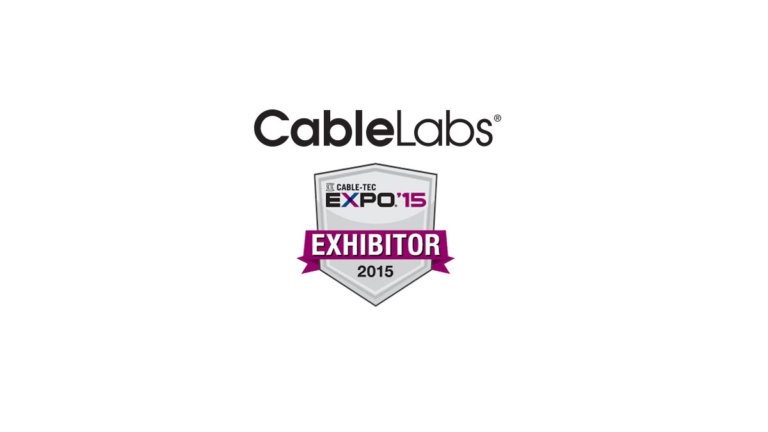 CableLabs will be showcasing five technology demonstrations at the SCTE Cable-Tec Expo '15, October 13 – 16, in New Orleans.
We encourage you to stop by to learn more – CableLabs is located at Booth # 2845.
Spectrum Capture Analysis
CableLabs will be demonstrating tools that have been developed to analyze data from cable modems with spectrum capture capability. The tools are designed to identify spectrum impairments in the downstream and upstream frequency ranges. The tools being demonstrated are available to CableLabs members and licensed vendors.
Next Generation Ultra HD
CableLabs is demonstrating the benefits of High Dynamic Range (HDR) content and Wide Color Gamut (WCG). We have two demonstrations: first, we compare HDR with today's technology, Standard Dynamic Range (SDR); and, second, we compare the current colors available in HDTV with a proposed UHDTV standard called ITU Rec.2020.
CPE Energy Efficiency
CableLabs is committed to helping cable operators and manufacturers design and deploy more energy-efficient consumer premises equipment (CPE). CableLabs provides technical support to the industry Energy Efficiency Voluntary Agreements for Set-Top Boxes and Small Network Equipment as well as other energy efficiency initiatives. While CableLabs focuses on improving the energy efficiency of CPE, we also work closely with SCTE Energy 2020 to address end-to-end energy efficiency in the cable infrastructure.
Internet of Things
CableLabs will demonstrate an implementation of interoperability between competing "Internet of Things" (IoT) ecosystems. This will include AllSeen, UPnP, Hue and possibly others and will show interaction between streaming video and connected things. The CableLabs interoperability framework allows MSOs to offer complex IoT services that work consistently regardless of the particular ecosystem they use. A web-based tool that allows new IoT devices to be created in a matter of minutes will also be shown.
Separating v4/v6 Traffic at the Home Gateway
This demo features an IPv6-GRE tunnel between a home gateway and a device in the cable provider's network. The purpose is two-fold; to transport IPv4 traffic over an IPv6 infrastructure and also to avoid configuring dual-stack interfaces on many of the routers in the Service Provider's network. IPv4 traffic flows through the tunnel, but IPv6 traffic routes natively.
For more information, please contact Wayne Surdam.
The Importance of Vendors and the Rise of the TekStadium™ Vendor Showcase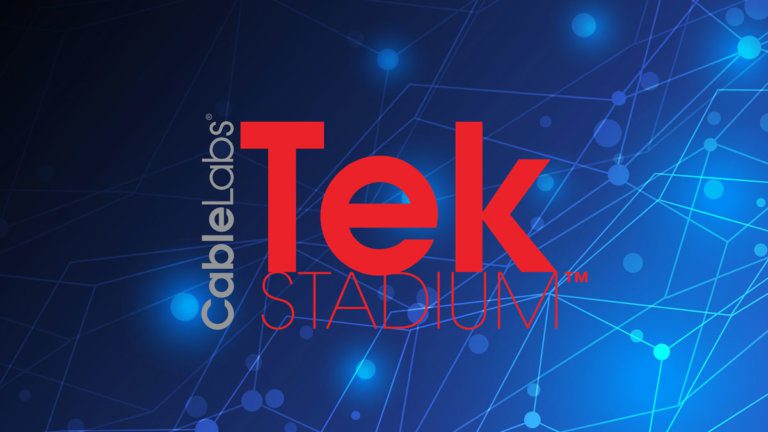 From CableLabs'® inception as a non-profit research and development consortium in 1988, independent vendors have played a critical role in bringing cable technologies to market. Co-operation with independent vendors, as well as with cable operators and standards organizations, has created a pool of thousands of individuals who provide innovative input to the work performed at CableLabs. This has allowed CableLabs to establish a process to get interoperable products to market quickly, and at lower cost.
An obvious success story has been the development of an international standard for the delivery of broadband data services over the cable (hybrid fiber coax) network. The DOCSIS®, broadband specifications, and the resulting broadband service deployment, have evolved over the years to today's DOCSIS 3.1 specifications that support multi-gigabit per second broadband service delivery, at a lower cost per bit, higher capacity, and improved energy efficiency than previous DOCSIS releases, and than many competing technologies.
Specifications need to be built into products in order to deploy services. CableLabs works directly with a wide range of independent vendors to make sure their products - everything from chipsets, to cable head-ends, cable modems, test equipment, etc. - gain visibility with their key customers: cable operators.
Historically CableLabs has done this by providing showcases at conferences to allow independent vendors to show off their products. This year CableLabs launched Tek Stadium as the new brand name of the vendor demonstration area for all CableLabs conferences including Summer Conference, Winter Conference and NCTA's INTX.
Extending beyond the conferences, our TekStadium.com website is a virtual showcase of the technologies, products, applications and services that the cable industry is capable of delivering to customers. For industry vendors, TekStadium.com is an opportunity to promote their company's products and services beyond the physical limitations of a conference to a broader audience that extends beyond conference attendees.
Currently 87 companies are showcasing products on TekStadium.com. Companies are diversified across 12 categories. Category examples include: Broadband, Gateways, SDN/NFV, Security and Wireless, along with others. See the web site for the full list.
The site is available to all. We urge anyone with an interest in innovative products directed at the cable industry to visit the site and take a look.
Wayne Surdam is Vice President of Communications at CableLabs.
Join CableLabs as a part of Tek Stadium™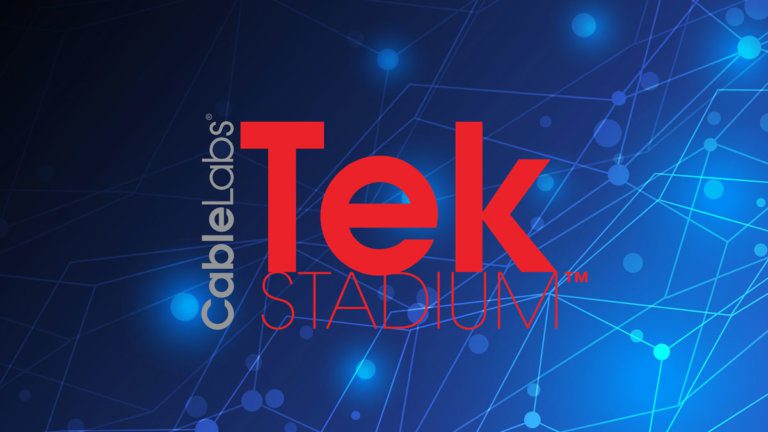 CableLabs Tek Stadium 2015 will form an integral part of NCTA'S INTX – the Internet & Television Expo — to be held May 5-7 in Chicago at The McCormick Center. We encourage you to be a part of this new destination for the digital economy.
Tek Stadium is an educational and technical exhibit designed to showcase the technology, products, services, and applications that enrich the digital universe.
With 6470 square feet of booth space, offering demo space and VIP booth tour access, CableLabs will host more than 30 demonstrations covering a wide range of areas including video, broadband, wireless, the internet of things, security and much more. Tek Stadium is your opportunity to be a part of the larger INTX.
Top Reasons why you should join us at Tek Stadium 2015
A turnkey solution for your business including booth design, setup and connectivity
Tours of Tek Stadium by industry executives, analysts, and government & policy officials to raise awareness of your business to key audiences
A crossroads for media interactions
Private meeting rooms for you to greet your target customers in a professional setting
CableLabs web and social media presence to amplify activities at Tek Stadium throughout and after the event
Join Amdocs, Envivio, ESRI, Front Porch, Irdeto, JetHead Development, S3 Group, Zodiac Interactive, just to name a few, for exposure to top companies and influential players in the industry and beyond!
We look forward to seeing you in Chicago.
Visit TekStadium for more information on what Tek Stadium can do for your business, or contact Wayne Surdam with any questions.
CableLabs Builds Its Presence in Silicon Valley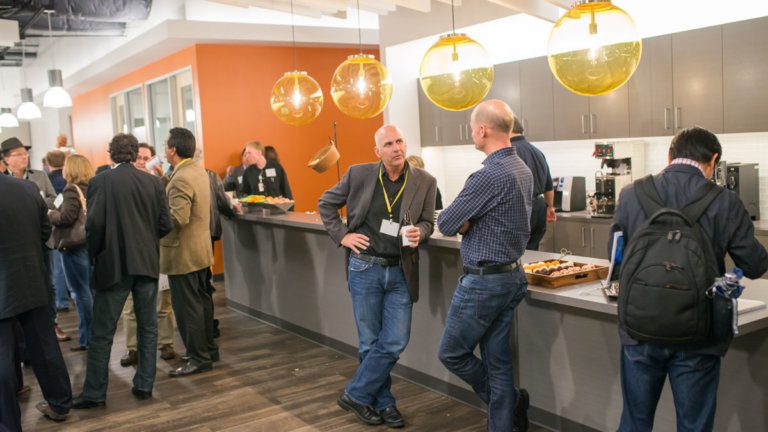 Over the past twenty-five years, CableLabs has acted as a hub for an ever-growing network of cable-related innovation. A year ago we opened CableLabs' new Sunnyvale office in the heart of Silicon Valley. The new office is designed to provide lab facilities, and more importantly a strategically located gathering point and innovation catalyst for our valued members, vendors, and area startups focused on cable and broadband systems.
As in Colorado, the Silicon Valley office is increasingly seen as a focal point for all things cable, providing professional meeting, training, work, and lab spaces. We are delighted to provide a central gathering point for industry thought-leaders to meet and openly discuss issues relevant to developing technologies, as well as the overall process of innovation. Cable operator and technologist interaction events at the CableLabs' Silicon Valley office have included:
INNOVATION BOOT CAMP – a weeklong training on the successful FIRE methodology of innovation and growth.
UX/UI SUMMIT – a day of connection and networking on issues affecting user experience and user interface design in the cable industry.
INTERNET OF THINGS (IoT) WORKSHOP – a forum to develop a technical roadmap for providing connectivity and management services in an IoT world.
INTEROP LAB EVENTS – ongoing events that provide suppliers with a unique opportunity to test products in a multi-supplier environment and/or with CableLabs-provided testing platforms (also interconnected with our Louisville, CO office).
HIGH-LEVEL DECISION MAKING - countless board and committee meetings from cable executives, venture capitalists, and entrepreneurs to engineers, project managers and product designers.
We are excited and proud of the Silicon Valley office's growth in popularity and relevance as an epicenter of industry-wide innovation. CableLabs, as a non-profit consortium, provides a unique environment for open and objective collaboration, research, and development.
The CableLabs' Silicon Valley office is staffed, open, and available to all of our valued members and vendors. It is also available for events, directly or indirectly connected to cable.
Please visit www.cablelabs.com for upcoming events (in Louisville, CO; Sunnyvale, CA; and elsewhere), or contact Tahiya Chin at t.chin@cablelabs.com or 669-777-9035 to discuss your event.
By Wayne Surdam, VP of Communications, CableLabs --