The Importance of Vendors and the Rise of the TekStadium™ Vendor Showcase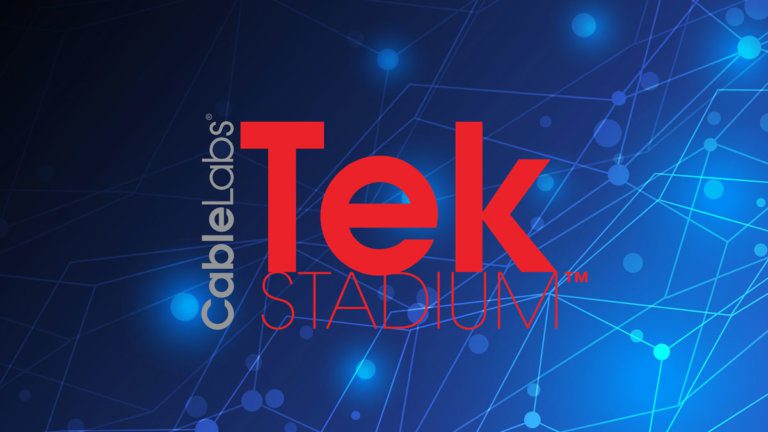 From CableLabs'® inception as a non-profit research and development consortium in 1988, independent vendors have played a critical role in bringing cable technologies to market. Co-operation with independent vendors, as well as with cable operators and standards organizations, has created a pool of thousands of individuals who provide innovative input to the work performed at CableLabs. This has allowed CableLabs to establish a process to get interoperable products to market quickly, and at lower cost.
An obvious success story has been the development of an international standard for the delivery of broadband data services over the cable (hybrid fiber coax) network. The DOCSIS®, broadband specifications, and the resulting broadband service deployment, have evolved over the years to today's DOCSIS 3.1 specifications that support multi-gigabit per second broadband service delivery, at a lower cost per bit, higher capacity, and improved energy efficiency than previous DOCSIS releases, and than many competing technologies.
Specifications need to be built into products in order to deploy services. CableLabs works directly with a wide range of independent vendors to make sure their products - everything from chipsets, to cable head-ends, cable modems, test equipment, etc. - gain visibility with their key customers: cable operators.
Historically CableLabs has done this by providing showcases at conferences to allow independent vendors to show off their products. This year CableLabs launched Tek Stadium as the new brand name of the vendor demonstration area for all CableLabs conferences including Summer Conference, Winter Conference and NCTA's INTX.
Extending beyond the conferences, our TekStadium.com website is a virtual showcase of the technologies, products, applications and services that the cable industry is capable of delivering to customers. For industry vendors, TekStadium.com is an opportunity to promote their company's products and services beyond the physical limitations of a conference to a broader audience that extends beyond conference attendees.
Currently 87 companies are showcasing products on TekStadium.com. Companies are diversified across 12 categories. Category examples include: Broadband, Gateways, SDN/NFV, Security and Wireless, along with others. See the web site for the full list.
The site is available to all. We urge anyone with an interest in innovative products directed at the cable industry to visit the site and take a look.
Wayne Surdam is Vice President of Communications at CableLabs.