Wired
The P2P Coherent Optics Specification of the Future, Available Today
Today, CableLabs is announcing another addition to our family of Point-to-Point Coherent Optics specifications:  The Physical Layer 2.0 (PHYv2.0) specification. This new specification defines interoperable point-to-point (P2P) coherent optics links running at 200 Gbps (200G) on a single wavelength.
Just 9 months ago, in July of 2018, CableLabs announced the release of the P2P Coherent Optics Physical Layer 1.0 (PHYv1.0) specification, which defines operation at 100 Gbps (100G) on a single wavelength. The PHYv1.0 specification is designed to support rapid product development, ensuring the availability of interoperable products quickly. That quick availability was born through the interoperability event we held this past December, in which 9 different suppliers participated and demonstrated 100G interoperability.
In other words, the specification of the Now
The PHYv2.0 specification, on the other hand, is designed to leverage an emerging new generation of silicon and the resulting devices, which are anticipated to arrive by 2020. Those new devices will double the capacity of the cable access network, consume less power, and lower the cost per bit delivered. All on the network that already exists today.
This is the specification of the Future: A future that's coming very quickly
Further, this new specification is a key part of another future that's coming soon: the 10G future recently unveiled by the cable industry. P2P coherent optics running at 100G – and now 200G – allows cable operators to leverage the fiber they've already deployed to support that future vision as cost effectively as possible by greatly increasing the capacity of their existing hybrid fiber coax (HFC) networks. That, in turn, enables the enhanced services and experiences envisioned as a part of the 10G future.
Whether the connection to the customer is wired or wireless, at some point all of those network connections need to be aggregated together. The CableLabs suite of coherent optics specifications – now highlighted by the PHYv2.0 specification, defining interoperable 200G operation – will serve as a critical piece of enabling our interconnected future. Fill out the form below for more information.
Events
Something Old, Something New: CableLabs Holds First P2P Coherent Optics Interop
No, it wasn't a wedding—but it was a major gathering of great importance! Nine prominent manufacturers participated in the very first CableLabs Point-to-Point (P2P) Coherent Optics Interoperability Event.
The highly successful Interop·Labs event took place at the CableLabs offices in Louisville, Colorado, December 4–6. Participants included nine manufacturers from the coherent optics space, including both silicon and module/system makers, each of whom brought a coherent optics transceiver:  Acacia Communications, ADVA Optical Networking, Ciena, Finisar, Fujitsu Optical Components, Inphi, Lumentum, NeoPhotonics, and NTT Electronics. The event was focused on testing interoperability between coherent optics transceivers designed to be compliant with the CableLabs P2P Coherent Optics PHYv1.0 specification (issued in June of this year), which defines requirements for interoperable devices operating at 100 Gbps on a single wavelength.
A Common Goal
If you've been following CableLabs and this blog for some time, you're aware that we've been holding interoperability events at CableLabs for many years—for example, for each successive generation of DOCSIS® technology. For those of us who've been around CableLabs for a while, in some ways this was something old: an event we've done many times before.
But this was something new: this was the first time CableLabs held an interoperability event for P2P coherent optics devices—an entirely different class and type of device from those we've held events for in the past. As a result, this event included a set of companies and engineers that have never been a part of such an event before; it was definitely something new for them!
This fact was highlighted by some feedback I received during the event. One participant remarked, "This was a great session, and everyone involved worked together for a common goal, which doesn't happen much with competitors." This comment was mirrored by other messages I received during the event: attendees praised the open and collaborative environment we created for the interop, allowing engineers from companies that otherwise compete to collaborate one-on-one to address interoperability and get their devices working together.
Working Together
By the end of the event, all nine companies had an opportunity to work with one another, and all of them reported successful interoperability running at 100G. This is particularly significant given how many manufacturers were involved, and that it's been less than 6 months since the specifications were issued. The event represents a major milestone in making this technology available to the cable industry.
During a recent company meeting, our President and CEO Phil McKinney advised us to avoid getting into a rut and to instead look at things with fresh eyes. This event reminded me of the same: seeing people participate together like this for the first time, and hearing about the immense and immediate value they were getting from their participation, helped me to see this event with fresh eyes and reminded me just how special it is for all of us to be able to work—as one—toward common goals that benefit the industry as a whole.
Till Next Time
I'm looking forward to the next event with fresh eyes and a desire to do even more to move this technology forward. Please keep an eye on the CableLabs Events page for an announcement of our next event, and if you'd like to get involved with our efforts to make coherent optics technology available to the cable industry, please get in touch to learn more.
Wired
First Light for CableLabs® Point-to-Point Coherent Optics Specifications
On June 29th, CableLabs publicly unveiled for the first time two new specifications:
These two new specifications are the result of a focused effort by CableLabs, our members, and our manufacturer partners to develop Coherent Optics technology for the access network and bring it to market quickly. They also represent the beginning of a sea change for the way data is distributed into the network by:
Greatly expanding the capacity of existing cable operator fiber access networks,
While meeting ever-increasing capacity demands at the lowest possible cost.
The Drive for More Capacity
Have you ever met a customer that didn't want faster speeds?  That didn't want their broadband and wireless services to be quicker, faster, and more responsive? I didn't think so.
To meet those increasing customer expectations, there are two fundamental changes occurring in the access network of cable operators:
Operators are deploying remote devices using CableLabs Distributed Access Architecture (DAA) technology, which requires converting the fiber network from analog to digital transport.
They are also pushing fiber deeper into the network, such that multiple remote devices are taking the place of a single fiber node.
These two changes together enable cable operators to increase capacity more cost-effectively than traditional node splitting, while improving service quality and opening the door to new service opportunities.
Today's Technology Option
To be able to reach those remote DAA devices (such as Remote PHY Devices, or RPDs), today cable operators are deploying multiple 10 Gbps links that share a single fiber by operating at different wavelengths (known as DWDM, or Dense Wavelength Division Multiplexing) as in the figure below: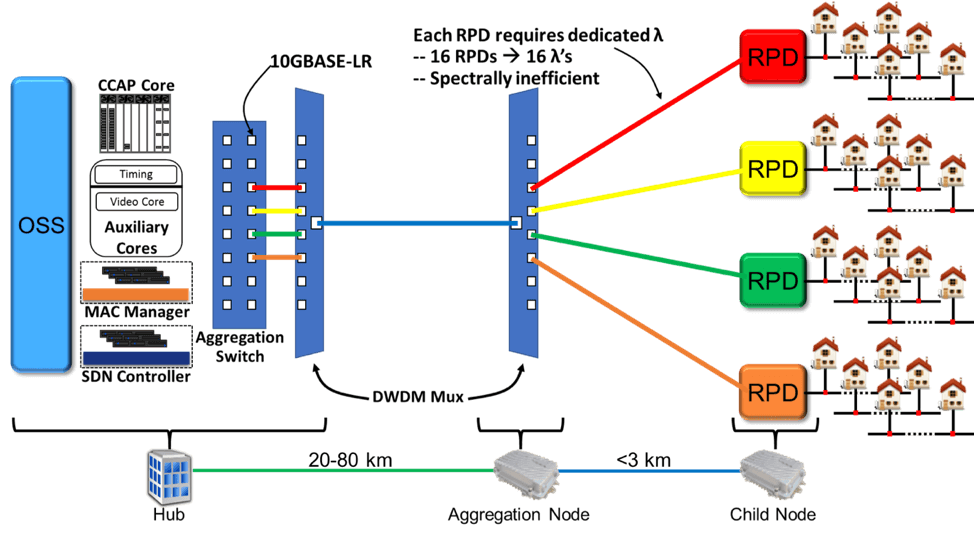 There are limits to how many different wavelengths that can be placed onto a fiber, and the number of fibers available to use may also be limited, which together limit the growth of this option. Additionally, adding more and more wavelengths adds not only direct cost, but also operational complexity, which has its own cost.
Coherent Optics: A Brighter Solution
In order to transmit digital data – a series of 1s and 0s – across a fiber at 10 Gbps, today's devices use On-Off Keying (OOK). In essence, devices turn the light on and off very quickly to transmit that data.
Wouldn't it be great if we could add more information to each pulse of light?
That's what Coherent Optics technology does:  it packs multiple bits of data into each "symbol", allowing for more data to be transmitted in the same amount of time (a.k.a, more speed). It does this by manipulating the amplitude, phase, and polarization of that light to transmit multiple bits of data with each symbol duration, as shown in the following example for 16QAM modulation: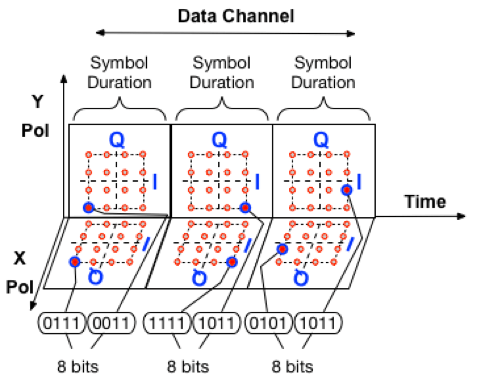 Now, instead of each wavelength carrying 10 Gbps, with Coherent Optics technology defined in these new specifications we can carry 100 Gbps (and more) on each wavelength. And this technology is also well suited to operating with multiple wavelengths on the same fiber, dramatically increasing capacity. Where before a 40 channel fiber network could have a capacity of 400 Gbps, now it'll be 4 Terabits per second, a full order of magnitude increase.
Interestingly, Coherent Optics technology actually isn't new. It's been used in long-haul networks for several years. What is new is applying it to the access network and realizing that by optimizing this technology for these shorter distances, we could dramatically reduce the cost of the technology.
The advantage of applying Coherent Optics Technology to the Access Network
Let's take a look at that network example above, but now using Coherent Optics technology rather than multiple 10 Gbps links: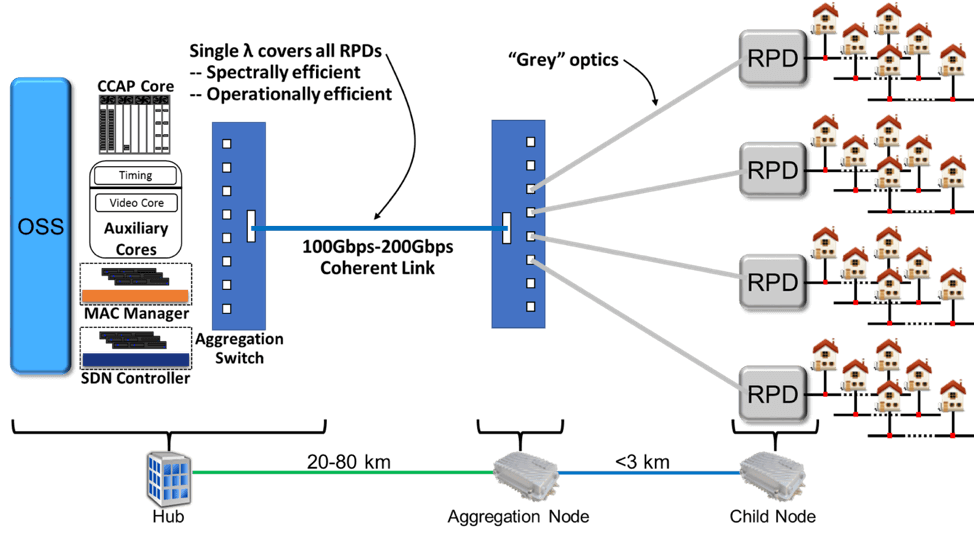 Now we can have just one or two wavelengths operating at 100 Gbps each taking the place of all of those 10 Gbps wavelengths, making network operation and management much simpler. While we still need 10 Gbps links to each of the remote DAA devices, we can use low cost, short reach optics rather than higher cost, long reach optics. This reduces overall cost and complexity compared to existing solutions, without the same limitations.
New Service Opportunities
The opportunities with Coherent Optics technology go well beyond improving service to residential broadband customers. By having a high capacity digital architecture that reaches deep into their networks, cable operators are not only able to support increasing demand for residential broadband services, but are ideally placed to support next-generation wireless services like 5G. These networks will place network endpoints right where wireless transmitters are needed, and with plenty of capacity to support wireless demand growth in addition to wired growth.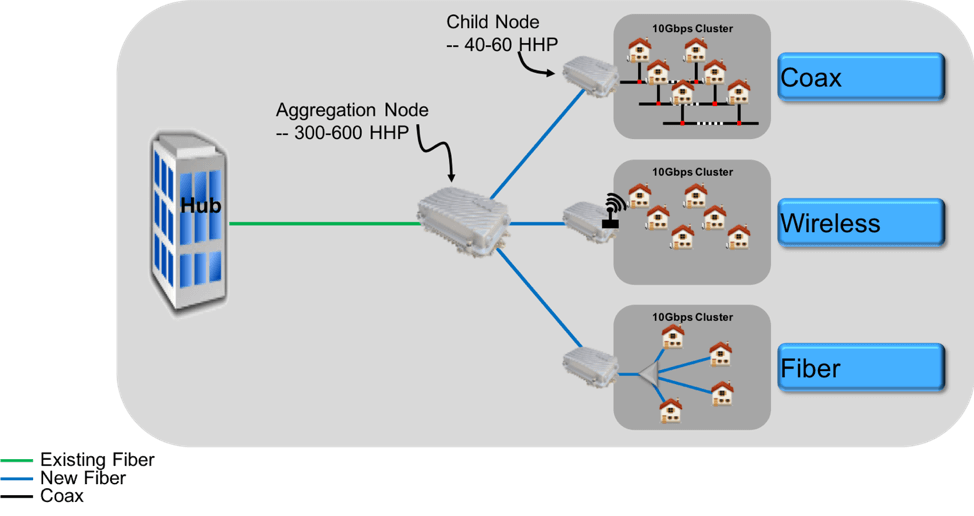 As we like to say, DAA isn't just about DOCSIS services, and Coherent Optics is the key to opening up the capacity to unlock those services.
Why did CableLabs develop Coherent Optics specifications?
The number one objective for the CableLabs effort is to reduce the cost of this technology. The devices used today for long-haul networks are generally expensive, and therefore unsuitable for our objective of increasing capacity cost-effectively. However, much of that is driven by the fact that they have been designed for much longer distances than would be required for the access network. Our specifications reduce cost in 2 primary ways:
They define the minimum feature set necessary for an access network application, reducing complexity and therefore cost; and
They ensure interoperability, which increases competition and scale, thereby also reducing cost.
Through these efforts, we believe that the cost of Coherent Optics technology will be greatly reduced, making it both more economical and more future proof than existing solutions.
What do these specifications define?
The P2P Coherent Optics Architecture Specification: Defines the overall architecture for using Coherent Optics technology in cable operator access networks. It contains information about the technology itself, defines use cases for cable operators, and provides guidance on deployment scenarios. It should be seen as a resource for learning more about how to apply this technology to access networks, as well as assisting in preparing for its use.
The P2P Coherent Optics Physical Layer v1.0 Specification: Defines the requirements for coherent optics transceivers to interoperate with each other on the fiber network at 100 Gbps for each wavelength.  It contains the requirements that manufacturers will need to comply with in order to make their devices interoperate with each other at these speeds while keeping cost down as much as possible.  It should be seen as the guide for manufacturers to use in developing their products for this market.
What's next?
As is implied by the Physical Layer specification being labeled as "v1.0", there is more to come:
CableLabs, its members, and our manufacturer partners are already hard at work on future versions of the technology that will expand the capacity of each wavelength to 200 Gbps and greater.
We're developing an OSSI or Operational Support Systems Interface specification to enable consistent management of Coherent Optics transceivers.
We're also in the planning stages for interoperability events that will demonstrate device interoperability and specification compliance at 100 Gbps speeds.
The well-lit path ahead
Through the use of Coherent Optics technology – and devices built to be compliant with the CableLabs Point-to-Point Coherent Optics Specifications – cable operators now have a means of cost-effectively meeting ever-expanding consumer demand over their existing fiber access networks, and one which also provides the opportunity to provide new services like 5G small cell backhaul and enhanced business services.
The future of the fiber network is bright, so stay tuned!
Labs
3 Tips on How to Make CableLabs Certification/Qualification Testing as Painless as Possible
In the previous two blog posts in this series, we talked about what CableLabs Certification and Qualification are, as well as what they mean to both cable operators and manufacturers. In this post, we pose the question: How does a manufacturer ensure that it can get through this process successfully?
In a word: preparation.
Although a manufacturer could do that preparation itself—obtaining all the equipment, and conducting all the testing needed to prepare for a submission—the good news is that it doesn't have to: CableLabs and Kyrio have a number of ways to help manufacturers prepare, all as a part of our mission to get properly functioning devices into the field as quickly as possible.
1. Interoperability events
The first of these are interoperability events, which are sponsored by CableLabs and jointly conducted by CableLabs and Kyrio.
After the development of a specification, and while the development of products is underway, CableLabs will hold a number of free interoperability events in the Kyrio lab facilities. These events provide an opportunity for manufacturers to test their devices while they're still in development, using Kyrio's state-of-the-art lab facilities. Even more important is that they provide an opportunity for multiple manufacturers to come together on neutral ground and try to get their devices working with one another—to interoperate. And when issues are found (as would be expected early in the development process), CableLabs and Kyrio engineers are available to help figure out the issues, which can even lead to a clarification of requirements in the specification, if necessary.
2. Pre-testing services
Although interoperability events can help accelerate product development and can provide some amount of pre-testing prior to a certification or qualification submission, they are not sufficient preparation in and of themselves.
For those who prefer not to purchase the equipment and dedicate the time necessary to perform that additional testing—or for those who simply prefer more privacy than an interop affords—Kyrio offers individual device manufacturers the opportunity to do flexible, customized, 1:1 testing. This is an opportunity to have the same engineers run the same tests that would be conducted as a part of certification or qualification testing—but privately, with the results going only to the manufacturer that submitted the device. The engineers can even help troubleshoot issues and validate fixes. All of this can be done before a device is ever submitted, providing an opportunity for that device to fly through testing quickly and easily.
3. A process designed to help
And what if a device does run into problems during certification or qualification testing? Even at that point, CableLabs and Kyrio have designed their process to help identify critical issues quickly and allow manufacturers the opportunity to update their devices. All of these opportunities are part of our mission to help get properly functioning devices into the field as quickly as possible.
For more information
In this blog series, we've looked at what CableLabs Certified and CableLabs Qualified mean, why they're valuable for both operators and manufacturers, and how to get through the process as quickly and easily as possible. If you have any further questions, please do not hesitate to contact the following individuals:
To learn more about CableLabs certification or qualification testing with Kyrio, click the button below.
Labs
Why Should I Care? The Value of CableLabs Certification/Qualification for Manufacturers
In my previous blog post in this series, we talked about the process of becoming CableLabs Certified or CableLabs Qualified, and why determining whether a device has been certified or qualified is valuable for cable operators. But what about for manufacturers?
In the previous blog post's example—in which a cable operator was having trouble with a cable modem termination system (CMTS) in his network—imagine that the CMTS manufacturer in question had submitted its device to Kyrio for testing and that it had become CableLabs Qualified. In that case, it's extremely likely that the problems would never have occurred. Or if a problem had occurred, it would likely be originating from a cable modem rather than the CMTS itself.
Wouldn't that knowledge have significant value for the manufacturer, rather than simply claiming that it was DOCSIS Compliant?
Enabling Sales
Which is also why many cable operators require that their devices be CableLabs Certified or Qualified before they deploy them on their network. It's important to note that CableLabs member companies aren't required to purchase only certified or qualified equipment: They can purchase whatever equipment they'd like. However, in many cases, they do see the value for their operations and therefore require devices to be CableLabs Certified or Qualified as part of their purchasing process.
There are even cases in which government regulation necessitates certification. As a result, obtaining certification or qualification can—in some cases—be a requirement for selling a particular product.
A Mark of Quality
But what if you already know your device is compliant? Why do you need someone else to test it to prove that?
Over the years, we've had numerous cases in which a manufacturer was convinced that its product was fully compliant with one of our specifications. However, there are tests that Kyrio is simply in a better position to execute; over the course of our testing processes, we've often uncovered issues that could have caused major problems once a given device was deployed in the field. Not only would that cause a problem for cable operators; it would also cause major problems for the manufacturer that supplied those devices because that manufacturer will be the one on the hook to get things fixed—and to do so quickly. Therefore, it's much more cost-effective to discover those problems early, before things are deployed, and avoid those headaches.
In fact, to the best of our knowledge, no CableLabs Certified device has ever been the subject of a hardware recall.
As a result, the CableLabs Certified and CableLabs Qualified labels have become symbols of quality, ones that have often enabled sales into new markets for manufacturers, thereby opening up new business opportunities.
Sailing through the process
All of that said, the ideal scenario would be to never find failures during certification or qualification testing so that devices sail through the process as quickly and easily as possible. In the next blog post in this series, we'll look at some of the ways CableLabs and Kyrio help to do just that, as part of our mission of getting properly functioning devices into the field as quickly as possible.
Wired
What's in a Name? The Value of CableLabs Certification/Qualification for Cable Operators
An industry colleague recently reached out to a few of us with a problem: A cable operator was having trouble with a cable modem termination system (CMTS) in his network. The manufacturer of that CMTS had claimed that it was "DOCSIS® Compliant," and therefore this operator apparently had assumed it would just work.
We checked the posted list of CableLabs Certified® and Qualified devices (available on the CableLabs® website) and were quickly able to determine that the CMTS in question had not received CableLabs qualification. Although the manufacturer in question claimed that its CMTS was compliant with the DOCSIS specifications, that had not been verified by CableLabs.
What does CableLabs Certified and CableLabs Qualified mean?
This incident caused us to realize that it would be valuable— through a series of blog posts—to help clarify what the terms "CableLabs Certified" and "CableLabs Qualified" actually mean, why they're important to both operators and manufacturers, and how both CableLabs and our Kyrio subsidiary help get products into the field rapidly.
That is a differentiating aspect of CableLabs: We not only help develop new innovative technologies, we also help bring them to market as quickly as possible. We do this through a variety of activities, such as interoperability events where we invite manufacturers to work together collaboratively on neutral ground to promote interoperability, as well as 1:1 private testing through our Kyrio subsidiary.
The ultimate check of compliance to any CableLabs specification, however, comes in the form of our Certification and Qualification programs—that is, certification for customer premise equipment (CPE) devices and qualification for network devices.
The process of becoming CableLabs Certified or Qualified
The road to becoming CableLabs Certified or Qualified:
Begins with a manufacturer applying for that status and submitting multiple samples of a device to Kyrio to conduct independent testing of that device.
Kyrio executes a series of tests to verify various requirements from the relevant CableLabs specification(s)—essentially an extensive compliance audit—and generate a test report regarding those results.
That report is then presented to a Certification Board made up of experts from several CableLabs member companies, who then determine whether to award CableLabs Certification or Qualification.
Only after a manufacturer has successfully completed this process will it be able to state that its device is "CableLabs Certified" or "CableLabs Qualified," and have that product listed on the CableLabs Certified/Qualified list on our website.
Checking the list
So, the next time you see a manufacturer claim that its products are DOCSIS compliant, you may want to ask whether those products are CableLabs Certified, and check our list of certified devices as a way to ensure that they really are compliant with the specifications.
Don't forget to subscribe to our to receive the next blog post in this series where we will look at the value of CableLabs Certification and Qualification for manufacturers. Visit Kyrio to learn more about their testing services.
Consumer
A Great DOCSIS 3.1 Achievement: Certification!
For months, many people have been asking me: "When will DOCSIS 3.1 devices get certified?"
My response has generally been something along the lines of: "When they successfully demonstrate they're ready based on the test results. The team at CableLabs will do everything we can to facilitate this process, as our goal is to see DOCSIS 3.1 devices in the field as soon as possible."
As of today, I can now say with a very big smile that CableLabs has officially certified the very first group of DOCSIS 3.1 cable modems, specifically five cable modems from Askey, Castlenet, Netgear, Technicolor and Ubee Interactive. Thanks to the efforts of the entire industry, we have quickly attained this achievement. See our press release.
Why is DOCSIS 3.1 Certification important?
DOCSIS 3.1 technology is critical to the evolution of cable networks by enabling a cost effective means of supporting ever faster speeds and improved performance, leading to new services. It does this through the incorporation of several new technologies that allow the existing cable network to operate more efficiently, and that can scale to use more of the spectrum available on a cable network. And it does this while maintaining backward compatibility with previous DOCSIS devices, which enables cable operators to conduct a smooth migration.
To assist with the rapid development of DOCSIS 3.1 devices, as has been noted in some past blog postings -- DOCSIS 3.1® Update: Get Your Engines Running…. The Engines ARE Running!, DOCSIS® 3.1 Products Are Getting Real!, DOCSIS 3.1 Technology: Spec to Product in One Year -- CableLabs has been holding a series of Interoperability and Dry Run testing events which allow manufacturers to get together on neutral ground and ensure that their devices work with one another. CableLabs has offered more of these events than with any previous specification effort, with the result that there have been near continuous testing opportunities for manufacturers of cable modems, head-end, and test equipment – a total of 27 of them – over the past number of months. The unified goal has been getting products ready for the field as rapidly as possible.
Certification of DOCSIS 3.1 devices is the next major achievement in the process of getting DOCSIS 3.1 devices ready for the field – a process that is happening rapidly as evidenced by Comcast's recent blog post – and provides a formal indication that they are ready for deployment.
What is CableLabs Certification?
CableLabs Certification is a formal testing process for verifying devices comply with one or more of our specifications. This provides a level of assurance that once deployed in the field, these devices will interoperate with one another and behave as expected.
In the specific case of DOCSIS 3.1 Certification testing, this means that cable modems comply with the DOCSIS 3.1 versions of the MAC and Upper Layers Protocol Interface (MULPI) specification, the Physical Layer Interface (PHY) specification, the Security (SEC) specification, and the Cable Modem Operations Support System Interface (CM-OSSI) specification. The full suite of DOCSIS 3.1 specifications is made publicly available on the CableLabs Website.
By achieving Certified status, these devices have demonstrated in a formal testing environment that they comply with those specifications and should be ready for use in the field. That saves our members effort in validating specification compliance, allows manufacturers to conduct testing in just one place, and therefore speeds time to market of DOCSIS 3.1 devices. It also enables a robust marketplace with healthy competition for DOCSIS 3.1 devices.
This is one of the unique things about CableLabs: we don't just develop technology and specifications, we also assist in the development and deployment of those technologies, helping to ensure that they come to market as rapidly as possible.
How did we get here so quickly?
Just as other aspects of the DOCSIS 3.1 development effort have happened faster than ever before, so too have we achieved DOCSIS 3.1 Certification faster than ever.
First and foremost, CableLabs had a commitment from the entire cable industry to make DOCSIS 3.1 technology a success. Engineers and executives from cable operators, manufacturers, and CableLabs joined forces to move things along rapidly. I cannot overstate the level of cooperation and effort that many, many people have invested in making the rapid development of DOCSIS 3.1 devices a reality.
In addition, just as with the development of the specifications, when considering our Certification program and how we could get devices into the field as quickly as possible, we asked ourselves, "What can we do better?"
In addition to the extensive Interops and the addition of Dry Run testing events, one of the resulting changes was the adoption of a "rolling wave," whereby manufacturers were able to rapidly update their devices as issues were discovered until they were able to successfully pass Certification. That cut out a lot of overhead and repetition, with the result that first generation devices were able to reach the point of being compliant with the DOCSIS 3.1 specifications unusually rapidly.
All of this was part of a deliberate approach of partnering closely with manufacturers to help to get DOCSIS 3.1 devices to cable operators as quickly as possible.
And last but not least, I want to highlight the extreme dedication and effort put forth by the entire Lab Services team and others here at CableLabs too numerous to name; without their knowledge, efforts, and a lot of late nights, none of this would have been possible.
What comes next?
While these are the first five devices to be certified for DOCSIS 3.1 compliance, they certainly will not be the last: watch for more devices to be certified over the course of the coming year. In addition, CableLabs remains committed to assisting manufacturers in preparing for DOCSIS 3.1 certification testing through continued Interops and Dry Runs over the coming months.
It's been a fast paced ride, and it's not over yet. Stay tuned!

Matt Schmitt is the Vice President of Lab Services at CableLabs, where he's worked since 2003.
Read the full press release.
DOCSIS
DOCSIS® Technology: National Broadband Down Under
I was recently asked to speak with a reporter from Australia about CableLabs newly minted DOCSIS 3.1 specifications.  In and of itself that's nothing terribly unusual:  in my role as the lead for the DOCSIS 3.1 project here at CableLabs, one of my responsibilities is to inform people about the technology.  It would've been just like any other briefing, except for the reason I was given for the request:
That Australia was planning to adopt DOCSIS technology for its National Broadband Network, and so he was interested in learning more about the technology, and how it might be deployed in Australia.
That caught my attention, and required some additional research to say the least!
Summarized, what I found (with the help of some colleagues) was this…
In 2009, the Australian government announced the creation of a wholesale-only, open-access communication network to provide high-speed broadband and telephony services to the nation, to be known at the National Broadband Network (NBN).  The plan was to meet this need by building a fiber to the home (FTTH) network to the entire nation in order to provide 100 Mbps service to all Australians.
Then, in 2013, a report was commissioned by a new incoming government to evaluate the progress to date and to determine if there might be other possible solutions for developing the NBN.  One of the key findings was basically this:
In those areas where a Hybrid Fiber-Coax (HFC) network already existed, the goals of the NBN could be achieved faster and less expensively by using DOCSIS technology.
If you look at the numbers, this is clearly true:
Cable modems based on DOCSIS 3.0 technology providing speeds well in excess of 100 Mbps have been widely deployed to millions of households for many years.   New products will soon be available that are capable of nearly 1 Gbps (1000 Mbps) of capacity.
Upgrading an existing HFC network to DOCSIS 3.0 technology is simple and cost effective step for the network operator to increase broadband speeds.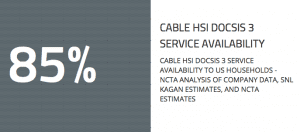 [infographic source:  NCTA Industry Data.]
The report also found that for areas without HFC access networks, other technologies (including fiber) would be more appropriate to meet the objectives of the NBN.  Some Australians have raised concerns that this will create a disparity between fiber and HFC customers.  This is where the performance enchancements of DOCSIS 3.1 technology become essential to the success of using HFC networks for the NBN.  With the multi-gigabit capabilities of DOCSIS 3.1 technology, HFC customers will be able to receive the same services as FTTH customers.  This enables an easy and cost effective migration path for HFC customers, using DOCSIS 3.0 cable modems today to meet the needs of the NBN today, and DOCSIS 3.1 cable modems to provide even faster services if they're needed in the future.
The result is that Australians that have access to HFC networks will get broadband services faster and more economically than if a FTTH network were built, and still be able to scale to higher speeds in the future cost effectively.  To me, that's pretty cool, mate.
Matt Schmitt is the Director, DOCSIS Specifications, at CableLabs, where he's worked since 2003.  In this role he is responsible for the development of technologies for high-speed data over coax networks, primarily related to the DOCSIS family of specifications.