Join CableLabs at Expo•nential and SCTE Cable-Tec Expo for In-Person, Industry-Wide Connection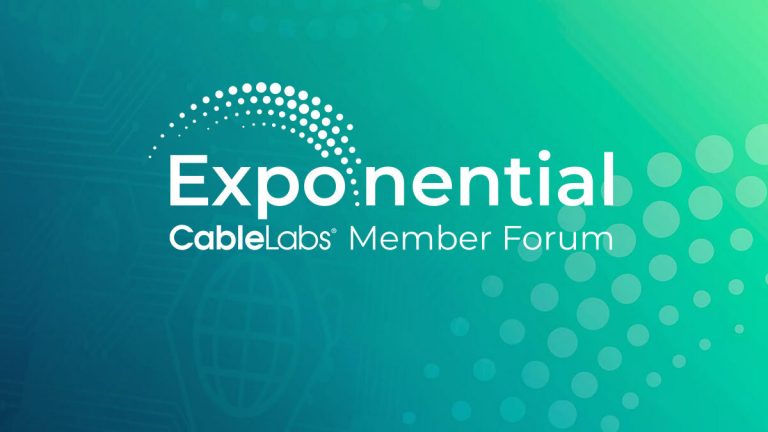 Thanks to the innovations of the cable broadband industry, countless businesses and individuals have benefited from virtual experiences and online collaboration over the past two-plus years. But nothing compares to the synergy that can be achieved through in-person connection. That's why we're counting down the days to Expo•nential, a CableLabs member forum that will take place Monday, September 19, in Philadelphia, just ahead of SCTE® Cable-Tec Expo®.
At Expo•nential, members will have the opportunity to connect with CableLabs experts, hear from thought leaders and exchange insights in a series of thoughtfully designed sessions. Topics will range from passive optical networking (PON) solutions and the road to 10G to light field experiences and quantum networking. During this full day of interactive discussions open exclusively to CableLabs members, we'll explore various industry perspectives on "Today, Tomorrow and Beyond," the theme of the first-time event. You can find the agenda and session details here, then stay tuned as we add speakers to the lineup! Expo•nential sessions include:
Broadband Usage & Its Future Growth
Network Economics & Last-Mile Strategies
DOCSIS® Technology: Maximizing ROI
Passive Optical Networking: The Other 10G Technology
The Future of Converged Networks
The Road to 10G: Cloud-Native Architectures
Fiber Access Network Technologies & Use Cases
Wi-Fi: A Link to Tomorrow
Light Field & Immersive Experiences
Quantum Network: Entanglement-as-a-Service
SCTE Cable-Tec Expo
After Expo•nential, join us at SCTE Cable-Tec Expo 2022, the industry's largest and most influential learning and networking event in the Americas. The event kicks off the evening of Monday, September 19, and runs through Thursday, September 22. CableLabs members have complimentary registration for a full-access pass to SCTE Cable-Tec Expo. Join us for the General Session, Technical Workshops, Exhibit Hall and much, much more by registering here. The Society of Cable Telecommunications Engineers (SCTE) became a CableLabs subsidiary in 2021.
In person for the first time since 2019, SCTE Cable-Tec Expo will bring together industry experts and vendors for more than three days of connection through learning, innovation and business solutions. "Creating Infinite Possibilities" is the theme of this year's event, which will feature dozens of sessions across 13 categories:
Artificial Intelligence & Machine Learning
Cloud & Virtualization
Converged Networks
DevOps & Agile
Energy Management
Internet of Things
Operational Transformation
Security & Privacy
Software Development, Automation and Tooling
Video Services
Wireless Access Network
Wireline Access Network
Workplace
At Expo 2022, don't forget to stop by our booth to meet our technologists and see demonstrations of new and emerging innovations from CableLabs and Kyrio, a subsidiary of CableLabs that focuses on network equipment testing and software services.
Also, winners from CableLabs' first-ever 10G Challenge will have an opportunity to showcase their innovations during SCTE Cable-Tec Expo. Industry expert judges Corning, Intel, Mayo Clinic and Zoom are reviewing entries now. On top of a chance to gain industry exposure at Expo 2022, winning entries will receive up to $100,000 in cash prizes.
Register for Expo•nential Today
Start making plans to attend the upcoming CableLabs' Expo•nential member forum and SCTE Cable-Tec Expo 2022. We always look forward to seeing our members in person, but—for those who can't make it to Philadelphia—Expo•nential will be available virtually too.
Please register for each event separately.