Help an Innovator Win $100,000 and a Showcase at SCTE Cable-Tec Expo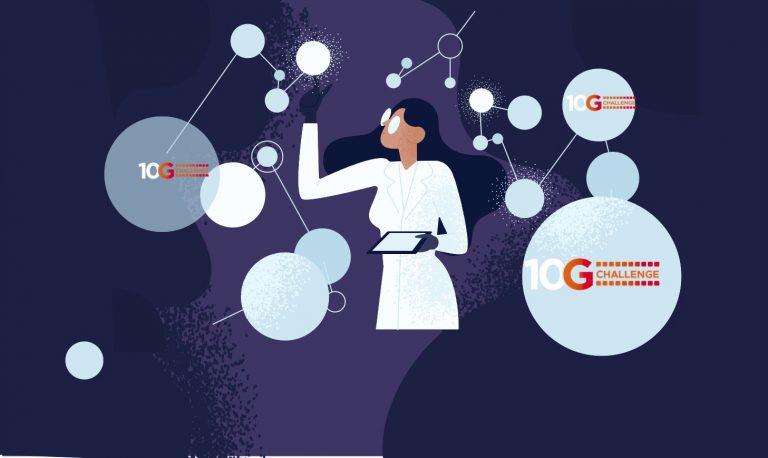 We want to hear from forward-thinking entrepreneurs, accelerators and makers whose big idea will revolutionize the way we live, work, learn or play—the four categories of the 10G Challenge. This could include anyone from large companies and startups to university students, professors and classes to anyone who is working on the next big thing in their garage. We're all ears!
CableLabs members aren't eligible to participate, but we want them to encourage any potential contestants they know to submit their ideas.
How to Enter
Entering the 10G Challenge is easy. Innovators simply fill out the application and share a 3-minute video describing or demonstrating the technology, service or application that they're developing or plan to develop. In the video, applicants should share their vision, including:
the problem their technology solves;
a description or demonstration of their solution;
why their technology is dependent on the reliability, security, speed and/or low latency that 10G promises; and
how their solution impacts the way we live, work, learn or play.
Even if an idea is still in the concept stage, it will be considered as long as every question on the submission form is answered and a video describing the technology is included. The deadline to submit is July 1, 2022.
Cash Prizes
Six winners will be chosen: One winner for each category, a Grand Prize Winner and a People's Choice Winner. Each category winner will receive a cash prize of $50,000, with the People's Choice Winner receiving $10,000 and the Grand Prize Winner taking home $100,000. In addition, the Grand Prize Winner and four category winners will have the opportunity to present their technology to industry leaders at SCTE Cable-Tec Expo, taking place September 19–22, 2022, in Philadelphia.
Spread the Word about the 10G Challenge
If you're a CableLabs member and you know an innovator who needs a fast, secure network to move their idea forward, tell them about the 10G Challenge! You'll give them a chance to win $100,000 and an opportunity for invaluable industry exposure. And by helping drive innovation, you'll be giving the broadband industry a boost, too. It's easy!
Powered by CableLabs in collaboration with industry expert judges Mayo Clinic, Corning, Zoom and Intel, the 10G Challenge aims to inspire innovators to leverage the emerging 10G network to develop the life-changing technologies and services that will affect our world for the better. With increased speeds, lower latency and enhanced security, 10G has the power and capabilities to make the technologies of the future possible.
Judging for the competition begins in July, so share this post today using the buttons above or by pointing innovators you know to the 10G Challenge.