The 10G Challenge Winners: Unleashing the Possibilities of Our 10G-Powered Digital Future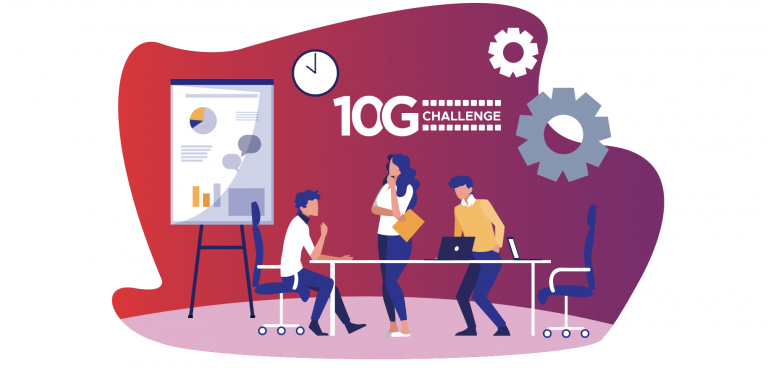 With its blazing fast speeds, incredibly low latency and enhanced reliability, 10G plays a crucial role in fostering innovation and supporting entrepreneurial endeavors. The network of the near future provides a solid foundation for the development and deployment of emerging technologies that improve the way we live, work, learn and play.
Last fall, CableLabs announced the winners of the 10G Challenge, a competition built on behalf of the cable industry to inspire the creation of applications that utilize the 10G network. By challenging innovators, university students, technologists and other forward-thinking groups to envision a world transformed by seamless, immersive digital experiences, we've helped the world understand the countless possibilities that the near-future 10G network will unlock.
Submissions from innovators throughout North America included everything from improving remote health care and designing a new way to manage farm equipment to virtual reality (VR) shopping and immersive remote education experiences. To judge the unique competition, CableLabs welcomed industry expert judges from Corning (Work), Mayo Clinic (Live), Zoom (Learn) and Intel (Play).
We announced the six winners of the 10G Challenge (a Grand Prize Winner, a People's Choice Winner and four category winners) and their innovations at SCTE Cable-Tec Expo 2022. We caught up with several of them recently to discuss their progress.
Grand Prize Winner: MediView — Leveraging Reliable Connectivity to Boost Cancer Care
Using advanced VR technology, MediView aims to improve access to care for breast cancer patients by connecting them to experts at National Cancer Institute (NCI)-designated cancer centers across the country.
"CableLabs' 10G Challenge brought heightened visibility and momentum to MediView's efforts to combine intuitive augmented reality visualization and seamless remote collaboration in an innovative delivery model to expand NCI-level cancer care to patients who lack access to such facilities," said Mina Fahim, MediView's CEO and president. "CableLabs' enablement of more reliable data connectivity is critical to address the global problem of rural and underserved populations and staffing shortages."
As MediView's work with Dr. Jamie Wagner and the University of Kansas Medical Center expands, its shared goal is to improve collaboration and patient outcomes as more data and results become available. As technology evolves, reliable connectivity will become less of an issue, empowering early-stage technologies to aid in health care applications far beyond breast cancer care — from tumor ablation to telehealth and everything in between.
Live Category Winner: Xennial Digital — Building an Immersive Health Care Training Platform
Xennial Digital won the Live category by building a data-driven "Medical Verse" for immersive medical training. The Medical Verse will use the reliability of the 10G broadband network to improve how organizations create immersive environments for workforce development and high-risk training procedures that increase competence and productivity while fostering knowledge retention and performance. By enhancing how health care professionals learn to deliver care, Xennial Digital will help eliminate employee shortages that create health care barriers, improving access to a broader population.
"Participating in the 10G Challenge was a game-changer," said Douglas Fajardo, Xennial Digital's CEO. "Being selected as the winner in the Live category by Mayo Clinic for our virtual reality 'Medical Verse' platform not only gave credibility to our strategy and vision for building immersive solutions for the health care industry but also increased awareness of our work in the medical simulation market. We are truly grateful to CableLabs for enabling this type of opportunity to the tech startup and innovation ecosystem."
The $50,000 prize for winning the Live category helped the Xennial Digital team build the final VR Simulation Module, allowing the company to complete its first product for the health care simulation market. It's now being acquired and adopted by schools of medicine domestically and internationally.
Work Category Winner: TractorCloud — Harnessing 10G to Grow Food More Efficiently
Developing hardware and software solutions that save farmers valuable dollars, TractorCloud's innovative solution diagnoses and manages tractor repairs with first-of-its-kind, in-the-field fleet management. Driving the future of tractor fleet management, the company's farmer-focused mission has constantly pushed the boundaries of what the agriculture industry can accomplish.
"TractorCloud has continued to invest in collaboration with farmers on the cutting edge of a transformation in their industry. Our services can enable farmers to adopt high-leverage technology without the complexity," said Morgan Swanson, TractorCloud's CEO and founder. "The broadband industry is an important partner to us in continuing to provide the infrastructure that enables access to cloud services like ours."
Winning the Work category, TractorCloud used its prize money to finance an initial round of prototypes soon to launch at test farm sites across California.
Learn Category Winner: KC Digital Drive — Remotely Teaching Nursing Students
Leveraging the 10G network to expand access to nursing education via digital twin classrooms, KC Digital Drive focuses on technology infrastructure, data, meaningful use cases and tech literacy to provide virtual nursing education.
"The CableLabs 10G Challenge afforded the KC Digital Drive and KU School of Nursing project the ability to refine our immersive education solution and provide a valuable platform to showcase new ideas in nursing education leveraging 10G technology," said Jim Starcev, program manager at KC Digital Drive. "The 10G Challenge was instrumental in our ability to deploy a variety of experiences based on a digital twin of the nursing school campus and the lab where students can assess virtual patients. We believe this project is a gateway to more advances in personalized patient care through generative AI that can significantly improve patient adherence to treatment plans with greater health outcomes."
From real-time data transfer and remote treatment to better drug development, medical imaging and even virtual assistants, the 10G network has the potential to unlock more advances in personalized patient care.
As these innovators and other entrepreneurs across industries develop solutions demonstrating the potential of 10G technology, the upcoming deployment of DOCSIS® 4.0 technology will further drive innovation in the field, enabling even faster and more reliable internet speeds for consumers and businesses.
The Path to 10G
Enabling the next generation of broadband over cable's hybrid fiber coaxial (HFC) networks, DOCSIS 4.0 technology is the foundation of the broadband networks of the future, delivering symmetrical multigigabit speeds while supporting high reliability, increased security and low latency. By significantly increasing upstream capacity to allow for multigigabit symmetric services over HFC networks, the technology's faster symmetric speeds enable futuristic applications like those mentioned above — and many more.
With no new wires to bury or trenches to dig, DOCSIS 4.0 technology increases the efficiency of existing cable broadband network infrastructure without the need to lay more cable, reaching 90 percent of American homes. Positioning the broadband industry to continue meeting consumer needs through the next wave of innovation, DOCSIS 4.0 deployment is an essential step on the path to 10G. While these DOCSIS advancements are important, remember that 10G is more than just the telecommunications standard! A symphony of technologies enables the network of the near future.
Step Inside the Future
Through the 10G Challenge, we helped empower innovators to explore and showcase the vast possibilities of a 10G-powered digital future. How will these transformative technologies continue to evolve and change our daily lives in the years ahead? From revolutionizing health care, agriculture and education to creating immersive environments for workforce development and interpersonal communications, the possibilities that the 10G network will enable are endless.
Subscribe to this blog to stay up to date on 10G broadband technologies.