How DOCSIS® 4.0 Technology Is Enabling The Next Generation of Broadband
Broadband just got better as cable delivers on the 10G Platform with DOCSIS® 4.0 technology that is not only faster but more cost-effective.
These speeds will allow consumers to access the next generation of higher bandwidth customer applications that allow for improved telework, education, gaming, health care, social interaction, and virtual reality (VR) and augmented reality (AR). There is so much that faster broadband will bring to consumers.
And speed is not the only focus of the 10G platform. DOCSIS 4.0 will improve consumers' cable broadband experience through:
Increased network security because the bad actors are out there. DOCSIS 4.0 technology provides several approaches that help reduce the risk of data loss, theft, and sabotage, with the goal to build consumer trust in the cable broadband network.
More reliable connectivity because the cable broadband network is resilient, self-monitoring and self-healing. Technological advances keep it working without sudden glitches, slowdowns, freezing and other annoying interruptions. Consumers can get more done with cable broadband.
Lower latency technology will spur a wave of innovation, enabling better gaming and seamless next-level experiences like holodecks, light field displays and 360° video. Learn more about low latency DOCSIS technology and read about how Kyrio certified the first low latency DOCSIS 3.1 modem this year.
There are no new wires to bury or trenches to be dug. Consumers will reap the benefits immediately because DOCSIS 4.0 uses the same cable network that not only pioneered broadband but has continually provided high-quality and reliable services.
CableLabs is hosting DOCSIS 4.0 interoperability events as DOCSIS 4.0 technology positions the cable broadband network to meet consumer needs for the next wave of broadband. These are significant steps towards realizing the cable 10G Platform.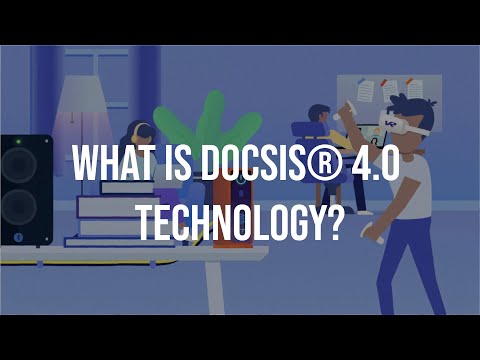 Interop·Labs for DOCSIS® 4.0 Technology
On behalf of CableLabs, Kyrio will be hosting upcoming DOCSIS 4.0 interoperability events! 
DOCSIS 4.0 technology is the next evolution of the HFC network, moving the industry towards the 10G vision and offering multigigabit symmetric services as well as low latencies over the network.  
As vendors work to create the development of DOCSIS 4.0 products, CableLabs and Kyrio are busy preparing for the next phase of technology development: conducting interoperability events. CableLabs has established a rigorous process for technology development starting with DOCSIS 1.0 technology and ultimately leading to the robust ecosystem that exists today. The company's proven approach has worked successfully at CableLabs for the past 24 years: 
Phase 1                               Phase 2                              Phase 3

Phase 1 is the specification stage, when CableLabs, members and vendors come together to collaborate on defining the DOCSIS technology. Phase 1 for DOCSIS 4.0 was completed in 2019, when the specifications were written and suppliers have began implementation.
Phase 2 is when interoperability events (aka interops) occur at CableLabs in Louisville, Colorado to make sure that systems work together. As the term implies, interops are held to ensure that components of a DOCSIS system — including the base technology, security and support — are interoperable for easy installation and proactive customer care.
For DOCSIS 4.0 technology, CableLabs will be prepared to host the first interop event this year after  SCTE Cable-Tec Expo 2021 in Atlanta, where the show floor promises to hold several DOCSIS 4.0 technology demonstrations.
At this time, 12 DOCSIS 4.0 interoperability events are planned to begin in October 2021 and will run through December 2022. This near-monthly spacing will give suppliers the opportunity to attend, learn and then run a sprint to add new functionality for the next interop.
The early interops focus on basic functionality of the DOCSIS chipsets. As the schedule progresses, the focus will shift to adding more software functionality. Always, the emphasis will be on interoperable solutions, including the cable modem, cable modem termination system (CMTS) and software support systems. Going forward, the interops will include Remote PHY and Remote MACPHY devices.
Interoperability gives operators the confidence to plan large installations and the certainty that the equipment they purchase today will also work tomorrow. Customers can buy a modem and take it with them if they move into a new cable territory, worldwide. Interoperability provides a larger market in which suppliers can compete, which, in turn, allows for healthier ecosystems and varying strategies.
Phase 3, the certification stage, will happen naturally as the interoperability process produces more mature products and systems. We'll talk more about this phase when that time approaches.
The interop phase can be a fun, invigorating time. Some of us have been working on the DOCSIS project for two decades, and there are always new entrants. As we shift back to working in our offices post-pandemic, we're all looking forward working face-to-face in the lab—all in the effort to bring forward the next generation of cable broadband and deliver on the 10G promise.
Interoperability is paramount to the DOCSIS ecosystem. The DOCSIS community is encouraged to once again come together for these upcoming interoperability events, contributing and collaborating to keep the DOCSIS 4.0 ecosystem healthy and sustainable. This fall, CableLabs will be ready!
CableLabs Specifications Move From De Facto to De Jure
The Merriam-Webster online dictionary defines de facto and de jure as follows:
de facto | di-ˈfak-(ˌ)tō – actual, exercising power as if legally constituted
de jure | (ˌ)dē-ˈju̇r-ē – by right, based on laws or actions of the state
In law and government, de facto describes practices that exist in reality, even though they are not officially recognized by laws, whereas de jure describes practices that are legally recognized, regardless of whether the practice exists in reality.
De facto is commonly used to refer to what happens in practice, in contrast with de jure, which refers to things that happen according to law.
The CableLabs® DOCSIS® series of specifications have been de facto standards for the cable industry for over 20 years. In parallel, CableLabs has contributed its specifications to de jure telecommunications industry standards bodies, specifically the International Telecommunications Union (ITU-T), the European Telecommunications Standards Institute (ETSI), and the Society of Cable Telecommunications Engineers/International Society Broadband Experts (SCTE/ISBE).
In the past, creating a de jure standard was a lengthy process involving the reformatting of the specifications into the standards body's document template, proofreading the reformatting for any errors, submitting the reformatted content as a contribution, and taking it through the standards body's standardization process. These steps could take many months or even years. Because CableLabs' specifications are living documents under strict document control (and may have a certification program linked to revisions under this document control), the official de jure standards body's copy can quickly become out of date. To keep the copy up to date, the process of reformatting, proofreading, submitting, and going through the standards process, has to be repeated with every revision. This reality has led to the unfortunate result that the official de jure standards have been consistently out-of-date.
However, with the SCTE/ISBE publication of the DOCSIS 4.0 standard, now all three of the relevant de jure telecommunications industry standards bodies simply normatively reference the CableLabs specifications, either directly as is the case with SCTE/ISBE and ITU-T, or indirectly as is the case with ETSI. This simplifies the revision process to one of updating a few normative references and approving them. The process of updating these de jure standards has therefore become a much more streamlined activity and the official de jure standards can remain in sync with the CableLabs specifications.
One might ask, "Why does this matter?" Quite simply, it is a matter of law versus fact, as the definitions of de facto and de jure make clear. Regional governments ("the law") globally prefer to recognize standards that result from the due process of a de jure standards body rather than a potentially proprietary solution coming from a single manufacturer or industry consortia. The standards process will vet these solutions and typically come with an Intellectual Property Rights (IPR) policy by which all participants must abide. Now that all of the relevant de jure standards bodies have adopted this practice cable operators around the world can confidently purchase products compliant with the CableLabs specifications, knowing that they are also fully compliant with any of the official standards from the aforementioned standards bodies.
In effect, ITU-T, ETSI, and SCTE/ISBE have all recognized that the CableLabs DOCSIS specifications are not only the de facto global standard, but also the de jure global standard. There is no longer is any gap between the facts and the law.
CableLabs Releases DOCSIS® Simulation Model
When it comes to technology innovation, one of the most powerful tools in an engineer's toolbox is the ability to rapidly test hypotheses through simulations. Simulation frameworks are used in nearly all engineering disciplines as a way to understand complex system behaviors that would be difficult to predict analytically. Simulations also allow the researcher to control variables, explore a wide range of conditions and look deeply into emergent behaviors in ways that are either impossible or extremely challenging to accomplish in real-world testbeds or prototype implementations.
For some of our innovations, CableLabs uses the "ns" family of discrete-event network simulators (widely used in academic networking research) to investigate sophisticated techniques for making substantial improvements in broadband network performance. The ns family originated at Lawrence Berkeley National Laboratory in the mid-1990s, and has evolved over three versions, with "ns-3" being the current iteration that is actively developed and maintained. The open-source ns-3 is managed by a consortium of academic and industry members, of which CableLabs is a member. Examples of features developed with the help of ns include the Active Queue Management feature of the  DOCSIS 3.1 specifications, which was developed by CableLabs using ns-2, and more recently, the Low Latency DOCSIS technology, which was created using models that we built in ns-3. In both cases, the simulation models were used to explore technology options and guide our decision making. In the end, these models were able to predict system behavior accurately enough to be used as the reference against which cable modems are compared to assess implementation compliance.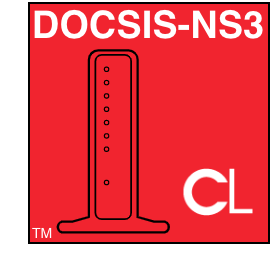 As a contribution to the global networking research community, CableLabs recently published its DOCSIS simulation model on the ns-3 "App Store," thus enabling academic and industry researchers to easily include cable broadband links in their network simulations. This is expected to greatly enhance the ability of DOCSIS equipment vendors, operators and academic researchers to explore "what-if" scenarios for improvements in the core technology that underpins many of the services being delivered by cable operators worldwide. For example, a vCMTS developer could easily plug in an experimental new scheduler design and investigate its performance using high-fidelity simulations of real application traffic mixes. Because this DOCSIS model is open source, anyone can modify it for their own purposes and contribute enhancements that can then be published to the community.
If you've ever been interested in exploring DOCSIS performance in a particular scenario, or if you have had an idea about a new feature or capability to improve the way data is forwarded in the network, have a look at the new DOCSIS ns-3 module and let us know what you think!
On the Path to 10G: CableLabs Publishes DOCSIS® 4.0 Specification
Today we are pleased to announce the release of the DOCSIS 4.0 specification, which incorporates both full duplex and extended spectrum capabilities. A part of the suite of technologies that support the 10G platform, DOCSIS 4.0 technology achieves a downstream speed of up to 10 Gbps (doubling the maximum download speed available with the implemented DOCSIS 3.1 technology) and an upstream speed of up to 6 Gbps - quadrupling what DOCSIS 3.1 technology could do. These speed increases build on the ample capacity deployed by cable operators today–with gigabit services nearly saturating the US cable footprint–and will enable cable broadband to deliver symmetric multigigabit services, with significantly enhanced upstream capabilities. As cable operators respond to the evolving connectivity needs of customers in our current public health crisis, remote work, learning, and health services stand to benefit from upstream broadband enhancements as DOCSIS 4.0 technology is deployed. 
Specification development started in August 2016. The full duplex capabilities were described in an October 2017 blog post, and now the extended spectrum capabilities have been completed as described in a September 2019 blog post.  
With these speed increases, we intend to change the consumer broadband industry by ushering in a new era of application development. Although speed numbers are important, broadband is about so much more than speed: it's about changing the way we collaborate to make the world a better place. We have more devices, and our experiences increasingly rely on connectivity. Streaming video continues to explode. We're video-chatting instead of making calls, we're playing music off the web instead of our own media, and we're playing games with people around the world. As technology continues to advance, we don't know what the next trend will be, but we do know that the Internet will be central to whatever it is.
DOCSIS 4.0 Technology Increases Upstream Speed
A key piece of this story is the DOCSIS 4.0 multigigabit upstream capability, which greatly increases how fast information can be uploaded from your computer. Traditionally, businesses have required faster upload speeds to move large files around or to perform in-house web hosting. Now consumers are expecting more upstream speed as they work and learn from home. In addition, upstream speed is important to do things such as the following: 
Hard drive backups
Uploading videos and pictures
Cloud applications
Video conferencing
Smart homes and IoT devices
Home security cameras
Distance learning and visual classrooms
These applications are just the beginning. The higher speeds available with DOCSIS 4.0 technology will serve as a catalyst for the next wave of innovations.
The 10G Platform
The DOCSIS 4.0 specification takes to heart the four pillars of the 10G platform initiative. Below are quick descriptions of these pillars, and links to more information. 
Speed is addressed in this blog post. Multigigabit symmetric speeds raise the bar for consumer broadband.
Lower latency was incorporated into the DOCSIS 3.1 specification and has been brought forward into the DOCSIS 4.0 specification. Lower latency will provide a better experience for consumers on applications such as online gaming and multimedia.
Increased security comes with every new DOCSIS release. Our security experts are constantly monitoring network threats to the network and taking measures to increase the confidentiality, integrity and availability of communications.
Higher reliability must be planned into the network and DOCSIS technology takes this to a new level by including methods to proactively identify and address network issues before consumers are even aware of them.
CableLabs continually makes advances in these areas and others, bringing state-of-the-art breakthroughs to cable broadband. 
Mapping Out the Next Steps for DOCSIS Technology 
Delivery of the specification is the first step of a three-part DOCSIS lifecycle. The second step includes interoperability events and the final step is certification, which will be discussed in future blog posts. These three steps—specification, interoperability and certification—have been part of the DOCSIS process for over 20 years and constitute a time-proven method to deliver high-speed, low-cost, interoperable cable modems to consumers. 
A Major Leap Toward 10G: CableLabs to Complete DOCSIS® 4.0 Specification in Early 2020
In a continuing effort to meet the industry's recently announced 10G goal, CableLabs is wrapping up the first major update to its DOCSIS specification since DOCSIS 3.1. DOCSIS 4.0 technology will enable the next generation of broadband over cable's existing hybrid fiber coax (HFC) networks, delivering symmetrical multi-gigabit speeds while supporting high reliability, high security and low latency.
What is DOCSIS 4.0 Technology?
Building on the success of DOCSIS 3.1 technology, which the cable industry is leveraging globally to deliver 1 Gbps services to end users, DOCSIS 4.0 technology supports a rich and flexible feature set of capabilities. The technology will enable multiple system operators (MSOs) to deliver on the 10G vision and includes support for Extended Spectrum DOCSIS (ESD) and Full Duplex DOCSIS (FDX) capabilities. These are complementary technologies that jointly or individually represent key elements to deliver on the 10G promise. By supporting these technologies, cable operators can deliver a richer feature set of capabilities and facilitate a cost-effective upgrade to a better, faster and more efficient network.
Full Duplex DOCSIS Capabilities
FDX DOCSIS technology allows for concurrent use of spectrum for both upstream and downstream traffic, thus doubling the network efficiency by leveraging the HFC network characteristics, self-interference cancellation technology and intelligent scheduling. DOCSIS 4.0 technology is also backwards compatible with previous generations of DOCSIS technologies.
With ESD, operators can leverage a lot more usable spectrum on their existing HFC networks—up to 1.8GHz. That's 600MHz more than the 1.2GHz available to them under the current DOCSIS 3.1 standard. The DOCSIS 4.0 working groups are in full swing, focusing on developing and adding the ESD requirements to the DOCSIS 4.0 specifications.
This boost in capacity provided by DOCSIS 4.0 technology will enable MSOs to provide multi-Gbps symmetric services to residential and business customers, and support the next generation of user experiences such as immersive media experiences in addition to serving as a catalyst for a new wave of innovations.
Toward 10G
DOCSIS 4.0 technology is a major step toward reaching the industry's 10G goal. You can learn more about the road to 10G and its technologies here. If you're near New Orleans or attending the SCTE Cable-Tech Expo next week, register for our vendor forum, Envision, to get the exclusive opportunity to learn about the technologies the industry is working on. At Envision, which will take place on September 30, you can expect to hear updates about DOCSIS 4.0 technology and 10G, including how 10G will enable mobile and wireless networks.
CableLabs Low Latency DOCSIS® Technology Launches 10G Broadband into a New Era of Rapid Communication
Remember the last time you waited (and waited) for a page to load?  Or when you "died" on a virtual battlefield because your connection couldn't catch up with your heroic ambitions? Many internet users chalk those moments up to insufficient bandwidth, not realizing that latency is to blame. Bandwidth and latency are two very different things and adding more bandwidth won't fix the internet lag problem for latency-sensitive applications. Let's take a closer look at the difference:
Bandwidth (sometimes referred to as throughput or speed) is the amount of data that can be delivered across a network over a period of time (Mbps or Gbps). It is very important, particularly when your application is trying to send or receive a lot of data. For example, when you're streaming a video, downloading music, syncing shared files, uploading videos or downloading system updates, your applications are using a lot of bandwidth.
Latency is the time that it takes for a "packet" of data to be sent from the sender to the receiver and for a response to come back to the sender. For example, when you are playing an online game, your device sends packets to the game server to update the global game state based on your actions, and it receives update packets from the game server that reflect the current state of all the other players. The round-trip time (measured in milliseconds) between your device and the server is sometimes referred to as "ping time." The faster it is, the lower the latency, and the better the experience.
Latency-Sensitive applications   
Interactive applications, where real-time responsiveness is required, can be more sensitive to latency than bandwidth. These applications really stand to benefit from technology that can deliver consistent low latency.
As we've alluded, one good example is online gaming.  In a recent survey we conducted with power users within the gaming community, network latency continually came up as one of the top issues. That's because coordinating the actions of players in different network locations is very difficult if you have "laggy" connections.  The emergence of Cloud gaming makes this even more important because even the responsiveness of local game controller actions depends on a full round-trip across the network.
Queue Building or Not?
When multiple applications share the broadband connection of one household (e.g. several users performing different activities at the same time), each of those applications can have an impact on the performance of the others. They all share the total bandwidth of the connection, and they can all inflate the latency of the connection.
It turns out that applications that want to send a lot of data all at once do a reasonably good job of sharing the bandwidth in a fair manner, but they actually cause latency in the network when they do it, because they send data too quickly and expect the network to queue it up.  We call these "queue-building" applications. Examples are video streaming and large downloads, and they are designed to work this way.  There are also plenty of other applications that aren't trying to send a lot of data all at once, and so don't cause latency.  We call these "non-queue-building" applications. Interactive applications like online gaming and voice connections work this way.
The queue-building applications, like video streaming or downloading apps, get best performance when the broadband connection allows them to send their data in big bursts, storing that data in a buffer as it is being delivered.  These applications benefit from the substantial upgrades the cable industry has made to its networks already, which are now gigabit-ready. These applications are also latency-tolerant – user experiences are generally not impacted by latency.
Non-queue-building applications like online gaming, on the other hand, get the best performance when their packets don't have to sit and wait in a big buffer along with the queue-building applications. That's where Low Latency DOCSIS comes in.
What is Low Latency DOCSIS 3.1 and how does it work?
The latest generation of DOCSIS that has been deployed in the field—DOCSIS 3.1—experiences typical latency performance of around 10 milliseconds on the access network link. However, under heavy load, the link can experience delay spikes of 100 milliseconds or more.
Low Latency DOCSIS (LLD) technology is a set of new features, developed by CableLabs, for DOCSIS 3.1 (and future) equipment.  LLD can provide consistent low latency (as low as 1 millisecond) on the access network for the applications that need it.  The user experience will be more consistent with much smaller delay variation.
In LLD, the non-queue-building applications (the ones that aren't causing latency) can take a different path through the DOCSIS network and not get hung up behind the queue-building applications.  This mechanism doesn't interfere with the way that applications go about sharing the total bandwidth of the connection. Nor does this reduce one application's latency at the expense of others. It is not a zero-sum game; rather, it is just a way of making the internet experience better for all applications.
So, LLD gives both types of applications what they want and optimizes the performance of both.  Any application that wants to be able to send big bursts of data can use the default "classic" service, and any application that can ensure that it isn't causing queue build-up and latency can identify its packets so they use the "low latency" service. Both then share the bandwidth of the broadband connection without one getting preference over the other.
Incorporating LLD Technology
Deploying Low Latency DOCSIS in a cable operator's network can be accomplished by field-upgrading existing DOCSIS 3.1 CMs and CMTSs with new software. Some of the low latency features are even available to customers with older (pre-DOCSIS 3.1) CMs.
The technology includes tools that enable automatic provisioning of these new services, and it also introduces new tools to report statistics of latency performance to the operator.
Next Steps
DOCSIS equipment manufacturers are beginning to develop and integrate LLD features into software updates for CMTSs and CMs, and CableLabs is hosting Interoperability Events this year and next year to bring manufacturers together to help iron out the technology kinks.
We expect these features to become available to cable operators in the next year as they prepare their network to support low latency services.
LLD provides a cost-effective means of leveraging the existing hybrid fiber-coaxial (HFC) network to provide a high-performance network for latency-sensitive services. These services will help address customers' requirements for many years into the future, maximizing the investments that cable operators have made in their networks. The cable industry is provisioning the network with substantial bandwidth and low latency to take another leap forward with its 10G networks.
For those attending the SCTE Cable-Tec Expo in New Orleans, Greg will be presenting the details of this technology on a SCTE panel "Low Latency DOCSIS: Current State and Future Vision"  Room: 243-244,  Monday, September 30, 2019: 3:30 PM - 4:30 PM".  Hope to see you there!
The Golden Gigabit Internet Age
Over the past year, a quiet revolution in broadband services has been happening, thanks to investments cable operators are making around the globe: gigabit services are available to tens of millions households for the first time ever. Already, over half of households in North America can buy a 1 Gbps service from their cable operator, and the percentage is growing rapidly. This shift is driven by a new technology making it economically feasible for operators to provide gigabit services in most areas. And the technology is not limited to a single gigabit – it is capable of much higher speeds over time.
The technology? DOCSIS® 3.1. This innovation is now being quickly deployed by operators.
While the broad availability of gigabit services may have escaped notice, there is even less awareness of the potential for DOCSIS technology to provide higher speeds. With existing DOCSIS specifications and comforming vendor gear, operators could use DOCSIS to:
Provide shared, downstream capacity of over 15 Gbps
True downstream speed tiers of 10 Gbps or more for individual households
How can DOCSIS provide that much speed?
The technology is actually already in the DOCSIS 3.1 specifications. However, getting to these speeds will require an evolution of DOCSIS silicon, along with some outside plant improvements. Here is the roadmap: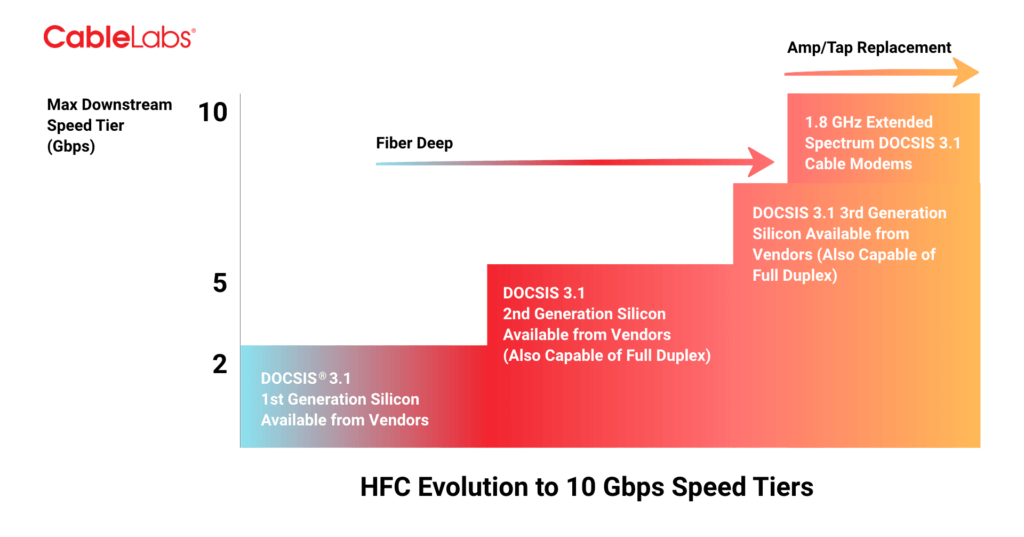 As you can see, the first generation of DOCSIS 3.1 silicon has been available for deployment for over a year, and it enables downstream speed tiers of roughly 1-2 Gbps. As demand materializes for higher speed tiers, operators may ask silicon providers for a second and third generation of DOCSIS 3.1 silicon. Each new silicon generation supports broader frequency ranges for DOCSIS, possibly up to the full DOCSIS 3.1 limit of about 1.8 GHz. At the 1.8 GHz range limit, over 1.5 GHz of spectrum can be used for downstream DOCSIS 3.1 channels. At 10 bits per Hertz that is more than 15 Gbps of total capacity.
Expanding Spectrum
Most operators are using 1 GHz of spectrum (or less) in their networks today. If an operator wanted to use spectrum as high as 1.8 GHz in a high-demand neighborhood it can push fiber to within 800 feet of many homes, and install taps that can pass the full 1.8 GHz of spectrum.
Thanks to the work of our CableLabs members, homes in the tens of millions are gaining access to 1 gigabit services for the first time ever. With more homes enjoying gigabit and even higher speeds, there will be a growing market for application developers and artists to develop immersive entertainment and interactive network services such as those in our Near Future video series. Radiologists working from home will be able to move massive files back and forth from medical centers. Grandparents will join their grandchildren in virtual family rooms for a game of virtual Uno. Immersive holographic movies will stream to a new generation of entertainment devices. And this is only the beginning.
If you have been yearning for a gigabit service at your home, check with your local cable operator – gigabit services may already be available to you. And, if you want to learn more about the DOCSIS roadmap to 10 Gigabit services, please subscribe to our blog.

Validating Cable Modems for DOCSIS® 3.1 PNM Deployment
The cable industry is always trying to find ways to improve service. When the cable industry made proactive network maintenance (PNM) a part of the DOCSIS® specifications, we showed great commitment to service. CableLabs supports that commitment through its work in specifications, and particularly through its PNM project.
This blog entry in our PNM series focuses on cable modem validation. Cable modem (CM) validation is the work to assure that the CMs can fully support PNM. When CMs can be assured to report data about impairments in the network, service providers have a tool for finding and fixing network issues before they impact service. CableLabs built the cable modem validation application (CMVA) to help bring that assurance to the industry.
Validating CM PNM functionality for DOCSIS 3.1 network deployments might seem like a small step in a large technology life cycle. But it's an important step, and one we wish to highlight.
Why is it important to validate PNM data reporting from CMs?
Continuous service improvement: Before deploying a technology, it is important to know ahead of time whether CMs will be capable of supporting network maintenance and troubleshooting. We never want to introduce a new technology that costs more to maintain than the previous. Ideally, a new technology will cost less to build, be less expensive to maintain, and provide superior service. PNM capabilities are an important part of this needed improvement. A consistent approach with CMs is the first step toward CMTS testing and having integrated PNM capabilities for the entire architecture.
Getting ready for future technology evolutions: New DOCSIS 3.1 modems provide more information about the plant and its ability to support enhanced services and deploy new technologies like FDX. This capability can become an important source of information for all sorts of planning and engineering activities. It is a critical first step toward many possible futures for DOCSIS.
Best practices we can share: With a consistent industry approach to PNM data reporting, collection, and certification testing of modems, everyone can validate and verify consistent reporting. Therefore, we can build best practice operation solutions on that strong foundation.
You can't manage what you can't measure, so having modems capable of reporting PNM measurements allows cable operators to manage their networks effectively, inexpensively, and reliably! 
Realize: It's always too late to start thinking about reliability!
You can't add in reliability as if it's a separate feature. You need to design it into the system as early as possible for the lowest cost, or work it in later at a much higher cost. DOCSIS is a sophisticated system, especially 3.1 and Full Duplex DOCSIS. This complexity is why having PNM within the DOCSIS specification is an important move for the industry, supporting its ability to evolve. But, this is only a first step. We need to make sure these PNM capabilities work as intended in systems before we deploy and assure we can take full advantage of the capabilities once deployed.
The Common Collection Framework (CCF) and the Cable Modem Validation Application (CMVA)
CableLabs built two solutions that together help address this industry need:
The Combined Common Collection Framework (XCCF): The XCCF provides management of data requests to network elements, and provides the data to a REST API to support applications of all kinds. The CMVA, one of those applications, uses the data provided by the XCCF to validate modem performance in support of PNM. If you want to learn more about the XCCF, you can read the previous entry in our PNM blog series here, or access the public version of the architecture document here. We are building the future of the XCCF right now, so it's a great time to get involved.
The Cable Modem Validation Application (CMVA): The CMVA allows any of us to test CMs for compliance to DOCSIS 3.1 specifications, specifically the PNM portions. The tests conducted are based on the Acceptance Test Plans (ATPs) supported here at CableLabs, specifically the DOCSIS 3.1 PHY and OSSI ATPs, based on the DOCSIS 3.1 specifications. But not only does CMVA provide concise test results based on these ATPs, but it provides nice graphical output (plots, tables) so you can visually confirm the results too. Sometimes what passes a specification is still not desirable or functional necessarily. Looking at the results is a great way to get introduced to the wealth of data available in DOCSIS 3.1 CMs, allowing the CMVA to be useful toward confirming specific results you may envision for your own PNM deployments. To facilitate that idea further, we are adding to the CMVA a few extra capabilities so that users can test additional PNM workflows, look for test anomalies, or further experiment with PNM capabilities.
We use it…
CableLabs and our subsidiary, Kyrio, are using the CMVA in our own CM certification testing. CableLabs will use it further to explore improved workflows for PNM, in support of the InGeNeOs Forum's planned work on PNM Best Practices for DOCSIS 3.1 technology. Just like the XCCF is the foundation for a lot of PNM related capabilities, the CMVA is a step beyond and toward greater PNM capabilities that support low cost and high effectiveness in DOCSIS 3.1 network deployments.
…Others use it…
We envision a couple of important use cases for our partners.
Vendors can use it to validate their modem for compliance to the PNM portions of the specifications, test chip capabilities, improve firmware, or explore potential PNM developments. We're aware of a vendor using XCCF to test silicon, so, for example, the CMVA could be added to find issues and share them with their suppliers during design testing.
MSOs can verify compliance in their own labs, develop CM builds that help them differentiate, and examine CM sensitivity and capability at PNM tasks and operations workflows. For example, if a particular modem is vulnerable to LTE ingress at the interface, a few lab tests might detect it before deploying the problem, and the CMVA would be one way to detect and display the problem.
…Wouldn't you like to use it too?
CMVA was designed specifically for Kyrio and CableLabs to use in certification testing of CMs, with vendors and members able to use it for their own equivalent needs. But, CMVA is well suited for exploring a lot of other needs. Thus, we look forward to working with you to get the full benefit from the XCCF, CMVA and all the CableLabs PNM developments completed and yet to be built.
If you first just want to learn more, please look for our demonstration video to be announced soon. When you are interested in gaining access or discussing it with me further, please feel free to contact me directly by clicking below.
vRAN Over DOCSIS: CableLabs Making it a Reality
In November, CableLabs announced the opening of our new Telecom Infra Project (TIP) Community Lab. Today, CableLabs joins TIP in releasing a whitepaper, making public deeper insights into the vRAN fronthaul interface under development in the TIP vRAN Fronthaul project group. With this new interface, the addressable market for virtualized RAN (vRAN) deployment architectures can grow significantly. This increased market is evidenced by the diverse set of use cases being sponsored by the growing set of operator-based TIP Community Labs.
With the release of the white paper, the project group highlights key milestones which have been reached, including agreements further defining the open API and a set of interoperability metrics to be used in validating the interface in multi-vendor configurations.
As the project continues, work on the CableLabs DOCSIS network vRAN fronthaul use case will take place at the CableLabs TIP Community Lab. We look forward to sharing more as we continue to check milestones off our list, so check back soon for updates.
You can find the whitepaper "Creating an Ecosystem for vRANs Supporting Non-Ideal Fronthaul v1.0." here.