Reliability
Cable-centric Reliability
No doubt our cable industry has a unique culture of working and innovating together to solve technical issues. But there are best practices from other communities which we can build from; these practices inform how we can continue to develop toward more reliable services. By "reliable," as it relates to service, I mean reliable, available, and resilient services, which result from reliable, available, resilient, repairable, maintainable, and highly performing cable networks, not to mention operations focused on the customers' needs. On the other hand, specifically used, reliability refers to the probability of not experiencing failure, whereas availability refers to the expected proportion of time that something is working as intended. These are very related, but very different things. You can read more here. But when we speak generally about reliability, often many of these like concepts are relevant.
What is Unique About Cable Relating to Reliability Concepts?
For one thing, DOCSIS® networking is unique. Each version of DOCSIS technologies improved performance, but also increased the robustness of the services it supports. Error correction, profile management, pre-equalization, echo cancelers, and other technologies have enabled this performance extension, but also these advantages create separation from the impairment and service failures, allowing for maintenance before service is impacted.
Another unique advantage is Proactive Network Maintenance (PNM). The advantages of DOCSIS technologies are what make PNM possible. We use data to find impairments in the network that, left untreated, will eventually impact service. This capability affords operators the opportunity to find and remove impairments early, before the network is further damaged by degradation, and service is impacted severely. Networks can be maintained well, but also services remain available while the network is experiencing failure.
Cable operators and vendors in cable have analog radio frequency (RF) expertise with a digital mindset. The cable industry knows RF, and that knowledge has helped it get the most out of the physical layer of the network. That deep understanding of the network's physical layer is why mitigating network failure modes is second nature, and the industry has the needed skills.
Then there's the industry's "laser focus." Pushing fiber out deeper into the network can improve reliability and availability, but current technology does lack some of the PNM advantages. There is work to do, but the capabilities are there for us to develop.
What Are the Best Practices We Can Re-use?
Designing communication networks for reliability carries many best practices and experience.
The ability to understand and mitigate failures before deployment – We have defined PNM use cases based on the measurements we've been able to define in the DOCSIS specifications. Now, we must extend that work to link to failure modes, effects, and criticality analysis, and root cause analysis, to inform technology choices, measurements for management, and design for reliability.
Condition based maintenance – Maintenance optimization research is clear that in any practical situation it is almost always more cost efficient to base maintenance on condition information rather than age information.
Prognostics and Health Management (PHM) – A newer field of reliability, PHM is a lot like our PNM. PHM is a research field of study using data sources (e.g., vibration in mechanical systems, or charge time in batteries) to determine the remaining useful life of a component or system. PNM is a clear cousin to that field, so we can certainly share and gain benefit from that work.
Certification testing – Certifying cable modems (CMs) has improved the PNM responsiveness of CMs, and the same can be true about cable modem termination systems (CMTSs) as that part of the network begins to align.
Maintenance optimization – Service reliability and availability, in addition to network reliability and availability and robustness, are important focuses for the industry; they relate, but are distinct and important in their own. The network can fail while service continues to perform at a high level, so maintenance can be better planned in this situation.
Thoughts for the Future of Cable
More options mean more standardization – Adding more options to the technology choices allows operators to better meet the unique needs of their customer base. However, keeping it all standardized increases operability and repairability so that service is highly reliable and available.
Each feature needs measurements – As we add options and features to cable technologies, each option needs special measurements to assure that the feature can be managed properly. DOCSIS 4.0 technology is full of options, so we'll need a critical eye on each to make sure those options can be operated reliably.
Pushing the limits of technology requires more diligence on PNM – As we rely on tighter tolerances and more complexity on issues like upstream noise, echo cancelation, and error correction, we need more information about how those perform, and more diligent PNM practice relating to them.
Impairments relate to capacity and network resilience – As capacity becomes a stronger focus, the impact of impairments on that capacity becomes more important, so cable network reliability is entwined.
As we push higher capacity to the edge, redundancy must come with it – With more capacity comes more critical services, and more impact to the lives of customers. A failure becomes more impactful as a result. Then, as the cost of a failure increases, large failures become more expensive, driving the need for more network resiliency, and thus more redundancy.
Strong Foundation, Strong Future
Building on a strong foundation of PNM and DOCSIS technologies, the cable industry has the right culture and technology foundation to take communications to a reliable future. We have lots of work to do, but we're on the right path to do it. Here we go!
The 10g platform is going to provide reliable service. As the cable industry embarks on the development of 10G services, there is a lot of work ahead, but we already have a strong foundation of experience and technology to build upon.
The 10 Gbps goal is about performance. But it must come with low cost, high quality, and sufficient reliability. 10G services have to be easy to install reliably, remain stable and robust against cable plant variations and conditions, and provide a wealth of service flexibility so that services remain reliable under a broad set of use cases.
The Road to 10G…
At CableLabs, we've taken big leaps toward 10G with DOCSIS® 4.0, including Full Duplex DOCSIS, and with cable modems (CMs) which will be capable of 5 Gbps symmetrical service in the near future. To fully arrive at 10G, we need to enable 10 Gbps downstream speeds. To accomplish that, we'll need to expand our use of available spectrum, and we'll likely need to use that spectrum in a highly efficient manner. Pushing higher bandwidth solutions deeper into the network and closer to the edge customers will be required, too. We have a lot of innovation ahead of us to get to the 10G future.
…Is Paved with Innovation
Invention often begins with an initial solution that is later repeated for verification, then validated further. That initial solution then needs to be scaled; in other words, it needs to be made repeatable, at a low cost, and with sufficient reliability.
Fortunately, DOCSIS networking is a technology with many reliability traits integrated. Data are delivered reliably due to Forward Error Correction. Profile management can control the data rate to allow the best performance possible, but not push performance to low reliability. Adjustments to the connection between the cable modem termination system (CMTS) and CM assure reliable transmission continues under constant environmental and network changes. And Proactive Network Maintenance (PNM) assures that plant conditions are discoverable, and that they can be translated into maintenance activities that can further assure services stay reliable at low cost. The cable industry is starting on a solid foundation.
Consider one possible direction we could take on the road to 10G. As we begin to expand the frequencies that DOCSIS uses, we may need improved error correction, better profile management, or better CMTS-to-CM coordination to assure reliable services continue at expected levels. However, pushing these limits might also mean new failure modes in the plant, or greater service sensitivity to existing failure modes, thus increasing the importance of PNM. Operators should up their PNM game now, understanding that it will be an even more important element to assure a reliable 10G future.
A Super Highway in Many Directions
Because of this strong reliability foundation in cable technologies, particularly DOCSIS, we can build our 10G future with reliability in mind. Rather than simply extending our boundaries and hoping that our existing methods to assure reliable services will be sufficient, we can define solutions that bring reliability with them. By focusing simultaneously on increased performance, lower operational costs, and reliable services, we can evolve into an effective, desirable 10G future for the world.
Also, by thoughtfully choosing the technologies to develop, we can create degrees of freedom and opportunities to enhance reliability while developing 10G. This is the right approach for the industry to take because reliability can only be built into a service, not added later. By choosing to develop solutions now that expand our options for reliable services, we can enable operators to have full control of their services. To make it work reliably, PNM will be there, and so will a few other advantages to come.
Wired
Cable Network Reliability: ProOps Platform for PNM and More!
Cable network reliability has many important dimensions, but operators are all too familiar with the significant cost of maintenance and repair, and some with the advantages of Proactive Network Maintenance (PNM). But not everyone has taken full advantage of PNM. Let's have a look at some of the reasons for that, and what CableLabs is doing to address those needs as part of its PNM project.
The Proactive Operations Problem
CableLabs has been informally assessing the reasons why more operators don't take advantage of the proactive gift that DOCSIS® provides: the ability to use PNM data to find problems in the network before they become impactful and costly.
It takes a lot of work to implement solid PNM solutions that keep working. A key task in operations is to make decisions based on data. That takes expertise and time. Not every operator or vendor has an expert army in place to analyze all the available operations data to find proactive maintenance work worth doing. Machine learning is anticipated to help, but it will require a lot of work to apply those techniques successfully to an operations task like PNM, and even more to develop the needed controls. Likewise, not every operator or vendor has a statistical analysis or IT army in place to build enterprise tools to automate the process of turning data into action.
Some operators need to start small with testing PNM concepts to find a solution that fits their needs. That means many operators must experiment and learn first. But that requires basic, general tools in hand before experimentation can begin.
A ProOps Platform for Everyone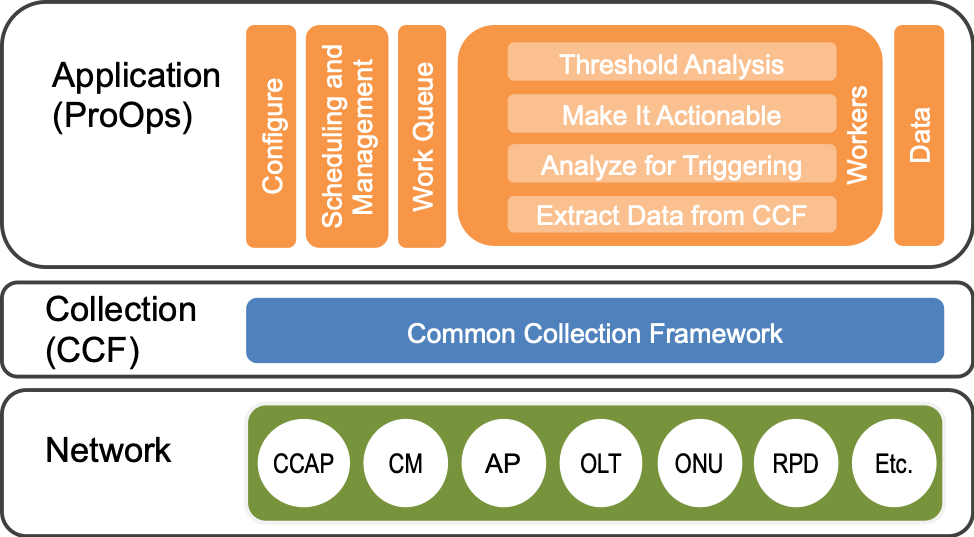 Figure 1. ProOps with its elements and workers in four layers, built on CCF, on top of the network.
CableLabs created a generalized process for translating data into operations actions and applied it to PNM. Then we built the Proactive Operations (ProOps) platform to enable this process, thus making it easy for everyone to try, develop, deploy and make full use of PNM.
ProOps translates network data into action through a framework that is not strictly enforced but is enabled and supported to better ensure effective proactive maintenance.
The steps we identify for turning network data into action are briefly as follows, moving up from the network, through data collection, and through the worker layers of ProOps in Figure 1.
Extract Data from the Common Collection Framework (CCF)—ProOps uses CCF to extract the data it needs from the network, then applies basic analysis to translate the data into useful information.
Analyze for Triggering—Next, the results are analyzed further to determine whether they are interesting or not; interesting results are "triggered" for deeper scrutiny. The data are looked at over time and across data sources to orient the information into context.
Make It Actionable—Once we find the most interesting network elements to watch, we group network elements into network tasks and provide a measure of importance for the identified work.
Threshold Analysis—The best work opportunities get picked to become proactive work packages, which can be selected based on impact to customers, likelihood of becoming an emergency, and so on.
You ShOODA Get ProOps!
The steps we outline for turning network data into action—or in this case pro-action—align nicely with the well-known strategy of observe, orient, decide, act (OODA). This OODA loop, or OODA process, was created by U.S. Air Force Colonel John Boyd for combat operations. The operations of combating network failure aren't much different! If you work as a cable operator, then you know.
ProOps is available upon request to any operator member or vendor of the CableLabs community. CableLabs supports users by helping them to deploy ProOps with an example application that shows how to configure it to a specific operator or use case, and we will help our members develop solutions in it, too. Just contact Jason Rupe to get your copy.
Our goal is to help operators provide highly reliable service, and efficient, effective operations is one proven way to do that. ProOps is the latest tool to combat network failures.
Wired
Proactive Network Maintenance (PNM): Cable Modem Validation Application(s)
Sometimes, two apps are better than one. We now have two versions of the Cable Modem Validation Application (CMVA) available for download and use: a new lab automation version, and a data exploration version.
Thing One and Thing Two
Lab automation and certification have unique requirements, but investigation and invention require flexibility. Because the CMVA found value as a cable modem (CM) data plotter and browser on top of its original purpose as a lab testing tool, we decided there should be two versions—one focused on each use case.
Sometimes You Feel Like a DUT
The newest, most complex version of CMVA is built specifically for CM Cert-Lab testing and includes several new features and automations:
Improved efficiency for CMVA on certification testing: CMVA now discovers OFDM/OFDMA-based topology information from the CMTS and loads all related channel configuration information automatically for testing. CMVA also synchronizes PNM SNMP SET command parameters with XCCF for better efficiency and greater control.
Automated discovery of the active DOCSIS® 3.1 CM list: Users can easily select CMs with their test configurations automatically filled to start tests with a few clicks.
CMVA now runs multiple PNM tests sequentially on multiple CMs in parallel with simple clicks on a single user login: The latest test reports are directly served from the CM table. Different users are handled in parallel, as previously.
CMVA now embeds detailed testing logs into the HTML test report: The log file can be downloaded from the HTML test report. The HTML test report is portable.
CMVA now keeps copies of raw PNM test files together with the test reports for vendor debugging references: When downloading the test reports, CMVA packages the test logs in raw text, and forms the portable HTML test report into a single archive.
All the Acceptance Test Plan (ATP) calculation activities are placed in the log file for vendor debugging references.
We added a function for resetting CMs remotely with one click: This is important for testing and useful for other purposes.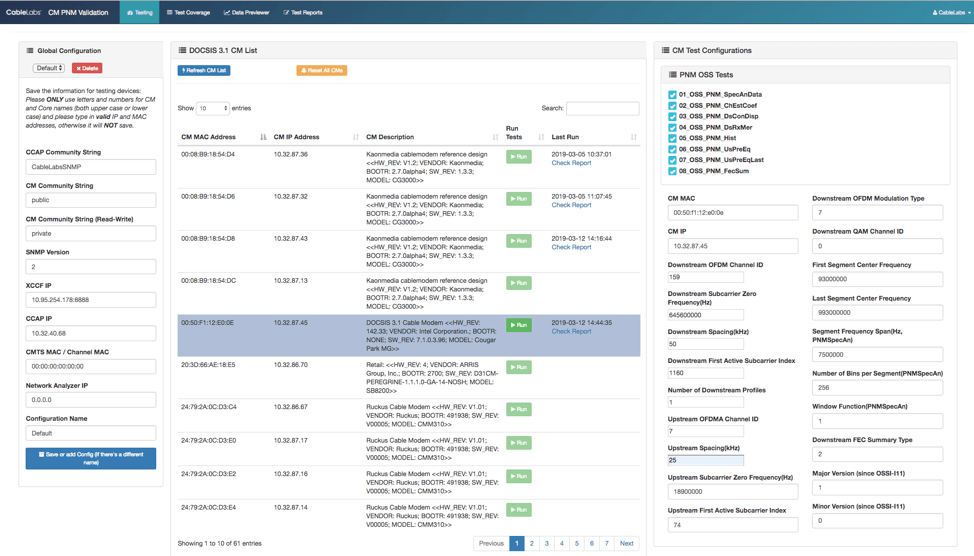 Figure 1: New layout for test and configuration management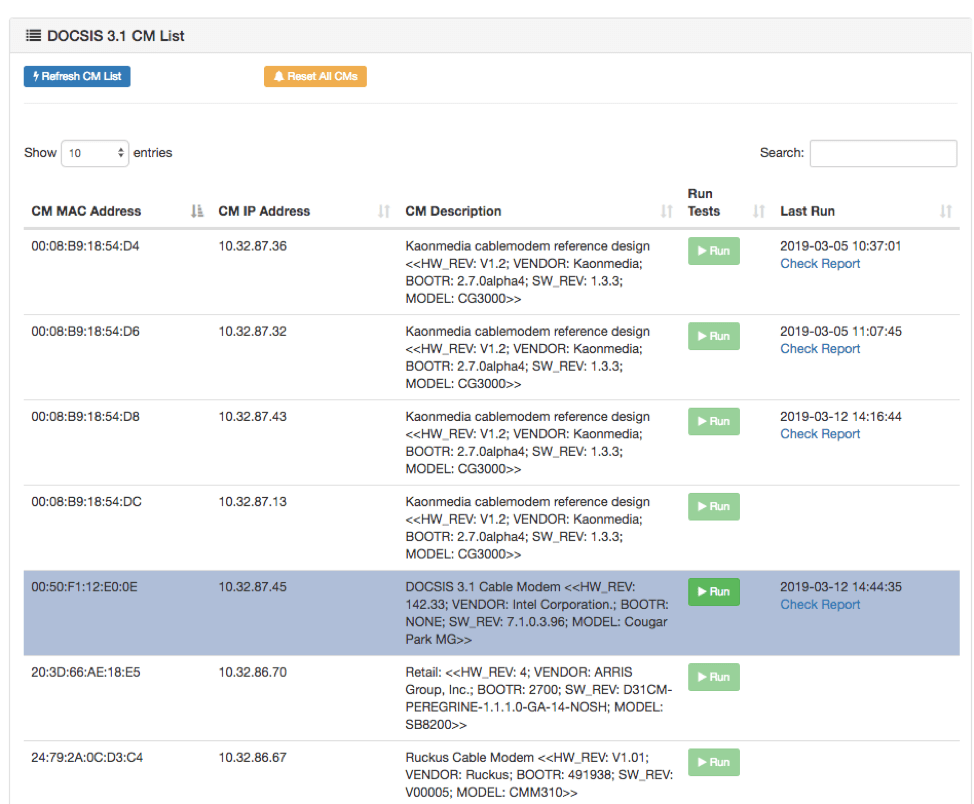 Figure 2: Select CM directly from the table to start tests; the latest reports are linked directly in the table for convenience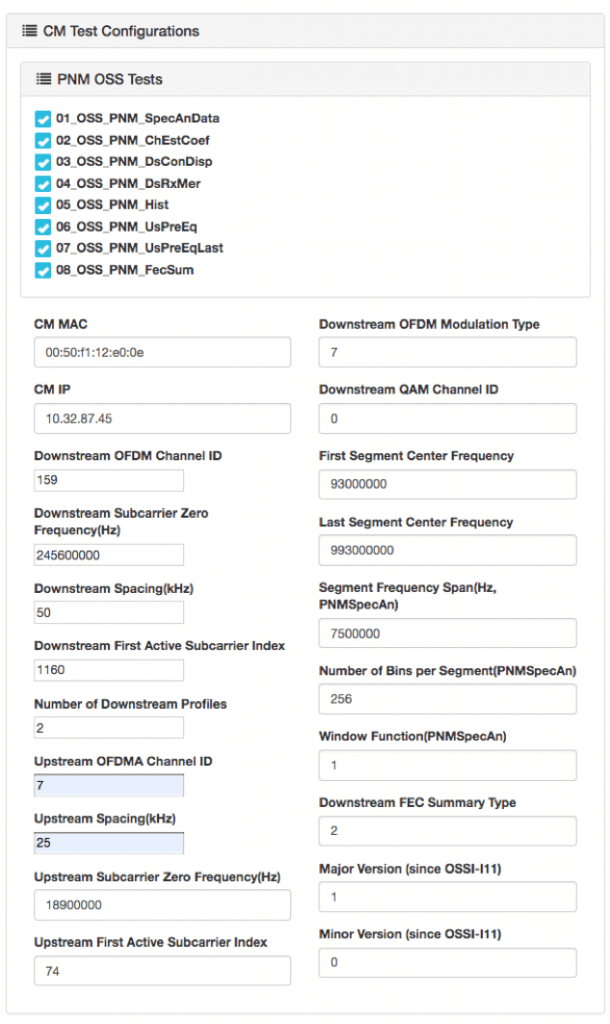 Figure 3: The test procedures ran last time are tracked, and the configurations are automatically filled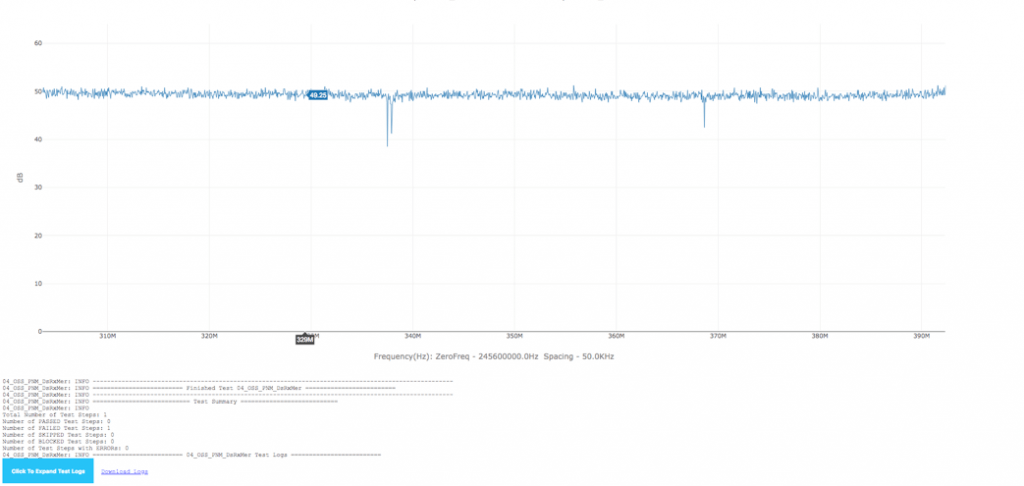 Figure 4: Detailed test logs are embedded directly into the portable HTML test report and can be downloaded as pure text log
All these new features are important for test automation, but some of them are useful for other needs. Go nuts! But if you simply want the basic capabilities that CMVA always provided, you can still get that version.
Sometimes You Don't
Sometimes you just want a simple way to poll a set of modems and see what you can get. The previous version is a bit simpler, but it still has the validation capabilities if you need them. So, it might be the version that can address most, if not all, of your needs. We use it for many purposes but mainly as a testing and development tool. Here are some specific use cases we've encountered:
Testing ideas in the lab: The PNM Working Group InGeNeOS conducted lab testing, as reported on before, and we used CMVA to grab data from CMs under test.
Developing applications: As we work to develop our first large-scale PNM base application, inside our prototype PNM Application Environment, we use CMVA to develop theories about how the data can be processed for automated processing.
Building reports and documenting: So often, we need to capture what certain impairments look like, or obtain a good visualization of a PNM measurement, and CMVA makes that handy.
Investigating issues: With CMVA, it's a simple matter to collect data from a pool of CMs and compare the results. This helps us investigate many issues, including changes in firmware versions, CM responsiveness, and other potential issues with plant configuration, software changes and so on.
Combined Common Collection Framework (XCCF) development and testing: As we develop new capabilities with our XCCF, we can use CMVA to validate its functionality.
If you are a user of CMVA, let us know how you have used it!
Two Can Play at That Game
Although the more complicated testing tool can be used for all these use cases and many more, some users don't need the automation, overhead and many controls required for automated testing. When you contact us to get an updated version of CMVA, please let us know what you would like to use it for. That way, we can offer you the right version.
Wired
Proactive Network Maintenance (PNM): Are You InGeNeOS?
I love a good acronym! InGeNeOS™ is an acronym built from Intelligent General Next Operations Systems. It's the name of a CableLabs working group that solves Proactive Network Maintenance (PNM) issues for the cable industry, and it might be for you.
What's So InGeNeOS about PNM?
The InGeNeOS group focuses on discussing, inventing, building and sharing network operations tools and techniques from the data made available from DOCSIS® systems, including the CM, CMTS and test devices. Other CableLabs working groups focus on DOCSIS specifications, and the SCTE Network Operations Subcommittee Working Group 7 focuses on network operations training material. The InGeNeOS group connects these two worlds and turns the network information into capabilities that engineers and technicians can use to maintain services. We turn DOCSIS system information into solutions that identify, diagnose and sometimes automatically correct network problems—often before the customer notices. When these tools get good enough, they can become proactive. Thus, we often refer to this group as the PNM Working Group (WG). See why we put it into an acronym?
Don't Just Think—Do!
This group doesn't merely ponder PNM solutions; it is very active in several ways:
Developing best practices for PNM solutions—We just started an effort to document PNM best practices in a DOCSIS 3.1 environment.
Guiding specifications development for emerging technologies—For example, although Full Duplex (FDX) DOCSIS technology is not yet deployed, we know it must be fully ready when it is, and that includes being operationally supportable.
Sharing experiences, both problems and solutions—Many working group participants work maintenance problems at operator companies, or for operators, so they bring problems to the working group to get ideas for causes and resolutions.
Testing theories in the lab—Once we develop theories about the causes of problems in the field, we reproduce the theorized conditions in the lab to confirm the cause. We can also calibrate measurements, test methods for detection and develop new PNM tools and methods based on these tests.
This developing, defining, knowledge sharing and testing help operators reduce costs and improve service reliability by improving their network maintenance operations. All these are just examples of what we do. If you have ideas that might fit within this framework, keep reading.
So You Think You're InGeNeOS?
Operators in—and vendors supporting—the cable industry can easily benefit from joining the InGeNeOS group:
If you are a cable operator and a CableLabs member, consider this your invitation to join.
If you are a cable operator but not a member, this is a very good reason to become a member.
If you are a vendor, all you need to do is sign the NDA and IPR.
In any case, contact Jason Rupe to join the InGeNeOS group.
Wired
Proactive Network Maintenance: Where Is Common Data Collection Going Next?
Welcome to 2019, and the future of Proactive Network Maintenance (PNM)! As CableLabs' PNM solutions mature, we look toward developing a framework for PNM that everybody can use.
On December 21, 2018, CableLabs released the Combined Common Collection Framework (XCCF) version 2.0. This new version includes several enhancements, including refactoring to make it easier to work with and tuning to support new use cases. If you are in the PNM club and receive the monthly reports, you've seen some of these enhancements over the past 6 months:
In July, the XCCF team solved many encountered cable modem (CM) stability issues associated with polling. We also created methods to purge and maintain files in the cache, and to allow better load management.
In August, we added additional scalability enhancements, multiple formats for outputs, listing abilities, read or write (RW) and read-only (RO) strings, and we introduced code to support the new 10th PNM measurement.
As of September, the XCCF includes a data archiver function to allow users to manage and save space on the application program interface (API).
As of October, the XCCF includes a method to manage host machine performance, as well as the ability to separately manage read and write strings. We have also significantly optimized query time and further hardened and enhanced it for greater performance as part of the Gridmetrics™ project.
In November, the XCCF team added improved CM polling, a few back-end improvements, a CM events driver and better spectrum analysis handling in a new driver.
In December, final touches to version 2.0 of the XCCF included an ability to receive traps from CMs and converged cable access platforms (CCAPs), and store them. A considerable amount of code was refactored to decouple data storage from the rest of the code so that users can swap out the data storage with their favorite database or alternative method.
CableLabs is using the XCCF for several use cases, including PNM, Gridmetrics™, Profile Management, LTE ingress detection and general network monitoring needs. We envision several use cases beyond those already identified and have demonstrated effectiveness for many of these:
CM testing: This is the purpose of the Cable Modem Validation Application (CMVA). We found it useful for validating chip and CM builds for PNM, for modem testing in an operator's lab setting, and for streamlining testing such as the acceptance test plan (ATP) for certification. We also found it useful for the next use case.
Developing PNM methods: The convenience of the CMVA, coupled with XCCF, makes it useful for a lot of basic data visualization needs, including experimenting with detecting impairments. The PNM working group used it to capture output from testing while reproducing observations from the field and discovering the effectiveness of some measurement methods. CableLabs is using it to guide our development of the next use case.
PNM ApplicatioN Environment (PNMANE): CableLabs will be developing an environment for PNM applications that sit on top of XCCF.
Gridmetrics™: XCCF collects machine data, so why not collect voltage measurements from power supply modems? We did exactly that, and it works very well. Now, operators can use their network to monitor power levels they receive, and thus provide out-of-band measurement of the power grid to support power companies.
Profile management: The profile that a CM uses dictates much of the quality of experience that a customer enjoys. XCCF collects the information needed from the network to enable optimizing the profiles that the CMs use, thus enhancing service performance and experience.
LTE ingress detection: Spectrum analysis and receive modulation error ratio (RxMER) data, as well as other PNM measures, can reveal ingress, including LTE. CableLabs has a method for detecting these issues, which can inform not only PNM activity but also the placement of small cells, and report on overall network health for such an endeavor.
General network monitoring and operations: Northbound data collection on any network device is possible in the same manner as supported by XCCF. A whole world of possibilities exists here. Fortunately, the XCCF is suited to evolve to new methods of machine data collection and is set to protect the network from over-polling, too.
Service protection automation in Software Defined Networking (SDN): Many SDN solutions lack access to the network data required to adjust network conditions for an automated response to network impairments and other conditions. The XCCF can provide useful information northbound to applications that can protect against failures, develop traffic engineering solutions or analyze and define solutions for network risk.
We expect use cases to drive how we support the XCCF into 2019, and this is where you all come in.
Please comment below or contact us to share your use cases and experiences with using the XCCF and CMVA, or where your PNM needs are headed. Many operators and vendors have requested access to download and install the XCCF, as well as CMVA, and we hope and expect that everyone has been getting good use out of them.
CableLabs needs feedback to continue supporting projects, so we need your input. Please let us know how you've been using the XCCF or CMVA, particularly how you've gained value for your company or the industry overall. Anything you can share is helpful, no matter how brief or minor you might think it is. Your input will help drive future development of XCCF, CMVA and our current efforts, including PNMANE.
Events
Come Along for the Ride: Innovation Boot Camp
Innovation is difficult. A full 95 percent of consumer products fail. Plus, the innovation process is highly unreliable, so we need every advantage we can get. In just three and a half days at the CableLabs Innovation Boot Camp, my team and I found a way to change all that. Yes, they were long days, and we had to make efficient use of that limited time. But 95 percent? We considered that an opportunity!
My part of the project pitch—the ultimate goal of Innovation Boot Camp—started off with a statistic that was just as surprising as that 95 percent figure, which was the number of people who could seriously benefit from the use of autonomous vehicles—if they were made to be safe. About 15 percent of the world's population is disabled, and many of them could benefit from autonomous vehicles in some way (but also could be more easily harmed by them). Then again, everybody could significantly benefit from automated vehicles, so that percentage rises to 100 with a little change in perspective! Doing a bit of research and framing a problem with real statistics is something I learned a long time ago in high school debate. But it's a corner I often cut, as I think many of us do. Innovation Boot Camp reinforced that important aspect, which is critical to solving an important problem.
As for our pitch—it went very well! We got fantastic feedback, and the Q&A session afterward quickly generated further great ideas. A key feature of the boot camp was Phil McKinney teaching attendees about innovation antibodies. I listen to his podcast regularly, so I had heard of the concept before. But it was during Innovation Boot Camp that I realized those antibodies were real—and they were inside me! I'm not talking about autonomous bots in my system, and I'm not referring to the autonomous vehicles and robotics at the core of our focus at Innovation Boot Camp. Rather, to me, innovation antibodies mean that I could talk myself out of taking the needed risks to execute on innovation. Thankfully, I recognized their presence, so I could deal with them directly— an important step! I really came away with confidence that I could overcome those innovation antibodies. Our successful pitch demonstrated that nicely. But just the evening before, I wasn't so sure.
I remember preparing for our final pitch. We had driven our project far in just a few days, and we had successfully followed the innovation process. We were coached on what elements belonged in our pitch to sell it well, and we were learning about the hard part: execution. Our idea had merit! (Of course, every team at Innovation Boot Camp could confidently say the same thing.) We knew to focus on the "why."
Executive Director of UpRamp Scott Brown gave us great pointers; I'm sure he was proud of us! But even as the teams were getting ready to frame their pitches and were forming their use case stories, we were also learning from Ryan Wickre and Scott Thibeault about design practices, and how excellent companies like Frog Designs solve tough design problems.
Learning is a constant at Innovation Boot Camp. Our dinner one night was a live Q&A session at the Computer History Museum. After looking over the technology that touches our topic area for our innovation project (autonomous vehicles), we enjoyed a live session with a few seasoned entrepreneurs who shared a lot of wisdom with us:
That evening was all about gaining both knowledge and wisdom! When I first arrived at Boot Camp, I knew almost nothing about autonomous vehicles, but after that evening, I knew more than enough to innovate in that market space. And I was already learning the steps required to innovate well. We were motoring!
As my team prepared its pitches, I thought about the time we spent enjoying food and drinks with our target market: the early adopters. When it comes to focusing ideas on an innovation area, I learned just how important it is to know the target market. And that takes having real, frank conversations with those users. Our coaches and subject matter experts found actual early adopters in Silicon Valley and steered them to us so that we could ask them questions. What we learned that night heavily influenced our innovation project and convinced me that not knowing a target market is a highly significant innovation mode of failure.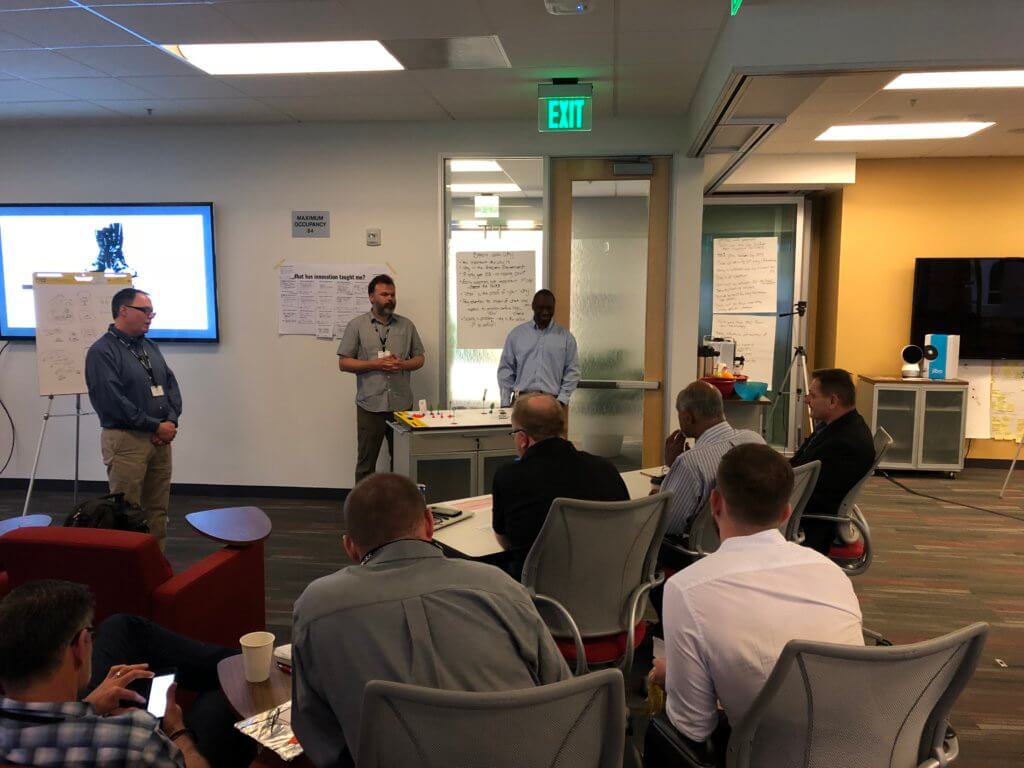 While talking with early adopters of robotics, drones, and autonomous vehicles, my team and I learned a great deal that helped us focus the chaos of ideas we'd brainstormed earlier. We spent most of that day learning how to innovate and rank our ideas. It's amazing how quickly you can generate excellent ideas for problem-solving. Bringing our individual ideas to the team, grouping them, enhancing them, and developing them from that point resulted in some exciting opportunities! Although I had some experience going through this process, Innovation Boot Camp introduced me to concepts such as the scamper method, as well as proven methods for ranking ideas.
Idea generation and ranking were reinforced throughout the boot camp. Think of it as driver's education for innovation. Each day, Phil McKinney told us to get our books out to generate and rank ideas about an identified problem. Framing the problem was also important, and having some skills reinforced on that first step was essential. This kind of daily practice takes only a few minutes, but it brings great value!
Zero to sixty in no time! We were already talking to innovation experts on the first day of boot camp, even getting a presentation from Aditya Kaul through a remote presence robot. We toured autonomous vehicle research facilities. Time went by quickly, even though the days were long. Innovation Boot Camp started exactly the way you'd expect: a rapid learning experience that established a strong foundation from which to innovate. We saw:
The challenges of the autonomous vehicle space
Learned what companies were working on, and understood where their biggest challenges were
And at the same time, we were already learning about framing, ideation, ranking, and execution—also known as the FIRE process
When the Boot Camp began, I wondered what it would be like. Was I going to learn enough about autonomous vehicles to actually come up with a good idea? Was I going to learn anything new that would help me step up my innovation game? Could I find a way to take what I learned back to my team and bring more value to CableLabs and its members? Was I going to crash?
As I received my certificate on the final day, I knew my time wasn't wasted, and the return on my investment was high. I had a wonderful time! But it wasn't just because the food was great or because the location was right. The event staff were fabulous, the topic was interesting, the content was solid, and my team members were fantastic. Our coaches really drove us to success; Lori Lantz, Dan Smith, Christian Pape, and Lisa Warther were great leaders. And Michelle Vendelin was the event master; she guides us and made the whole experience highly valuable! Although the process alone was completely worth the investment, the project outcome was hugely valuable too. I grasped a few new skills, I learned a process I can reference later, and I got some great ideas worth pursuing after the event. I can confidently replicate what I learned, and in fact, I've already done that in my job and in my personal life!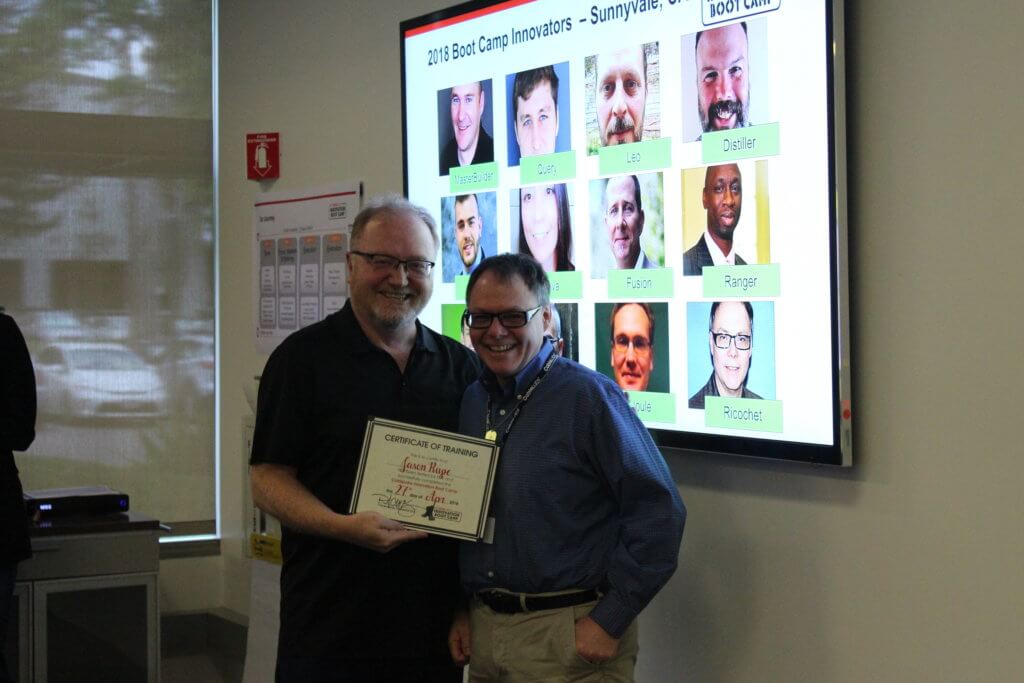 That 95 percent failure rate for innovation is low-hanging fruit. I can now assuredly do my part to lower that failure rate. Off to the races!
Our next Innovation Boot Camp is September 25-28 in Louisville, Colorado. The topic is Connected in Extreme Weather and Natural Disaster. Register now and don't miss the opportunity to learn a framework and new methods for Innovation that is repeatable and has led to incremental and breakthrough innovation for past attendees. 
Wired
Inform[ED] Video: Cable Modem Validation Application
Ever-present communication is an important part of life these days. Cable technology provides connectivity for homes and businesses, providing entertainment, information and increasingly important functions for life. As we rely more on all forms of communications access, we rely on our cable modems to help keep services running their best. Cable modems have therefore become more capable - they can report on network problems they see as they adjust around those problems. The cable industry refers to the information obtainable from these capable cable modems as Proactive Network Maintenance data.
CableLabs has created an application to share with the industry which can make sure cable modems are doing their best with reporting their Proactive Network Maintenance data. This sharing enables members, vendors and our own laboratories to be on the same page with validating our cable modems. The application automates the Proactive Network Maintenance tests that are part of the certification tests conducted at CableLabs for the industry. Everyone in the industry can use it to reduce their cycle times and costs around certification testing, but they can use it also to develop new capabilities, special versions of modems to support new capabilities, and more.
If you're interested in learning more about the Cable Modem Validation Application you can read my technical blog here and watch the video below.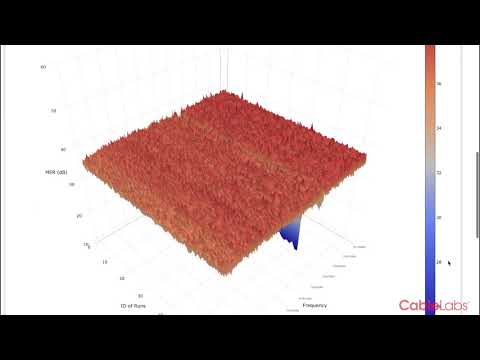 DOCSIS
Validating Cable Modems for DOCSIS® 3.1 PNM Deployment
The cable industry is always trying to find ways to improve service. When the cable industry made proactive network maintenance (PNM) a part of the DOCSIS® specifications, we showed great commitment to service. CableLabs supports that commitment through its work in specifications, and particularly through its PNM project.
This blog entry in our PNM series focuses on cable modem validation. Cable modem (CM) validation is the work to assure that the CMs can fully support PNM. When CMs can be assured to report data about impairments in the network, service providers have a tool for finding and fixing network issues before they impact service. CableLabs built the cable modem validation application (CMVA) to help bring that assurance to the industry.
Validating CM PNM functionality for DOCSIS 3.1 network deployments might seem like a small step in a large technology life cycle. But it's an important step, and one we wish to highlight.
Why is it important to validate PNM data reporting from CMs?
Continuous service improvement: Before deploying a technology, it is important to know ahead of time whether CMs will be capable of supporting network maintenance and troubleshooting. We never want to introduce a new technology that costs more to maintain than the previous. Ideally, a new technology will cost less to build, be less expensive to maintain, and provide superior service. PNM capabilities are an important part of this needed improvement. A consistent approach with CMs is the first step toward CMTS testing and having integrated PNM capabilities for the entire architecture.
Getting ready for future technology evolutions: New DOCSIS 3.1 modems provide more information about the plant and its ability to support enhanced services and deploy new technologies like FDX. This capability can become an important source of information for all sorts of planning and engineering activities. It is a critical first step toward many possible futures for DOCSIS.
Best practices we can share: With a consistent industry approach to PNM data reporting, collection, and certification testing of modems, everyone can validate and verify consistent reporting. Therefore, we can build best practice operation solutions on that strong foundation.
You can't manage what you can't measure, so having modems capable of reporting PNM measurements allows cable operators to manage their networks effectively, inexpensively, and reliably! 
Realize: It's always too late to start thinking about reliability!
You can't add in reliability as if it's a separate feature. You need to design it into the system as early as possible for the lowest cost, or work it in later at a much higher cost. DOCSIS is a sophisticated system, especially 3.1 and Full Duplex DOCSIS. This complexity is why having PNM within the DOCSIS specification is an important move for the industry, supporting its ability to evolve. But, this is only a first step. We need to make sure these PNM capabilities work as intended in systems before we deploy and assure we can take full advantage of the capabilities once deployed.
The Common Collection Framework (CCF) and the Cable Modem Validation Application (CMVA)
CableLabs built two solutions that together help address this industry need:
The Combined Common Collection Framework (XCCF): The XCCF provides management of data requests to network elements, and provides the data to a REST API to support applications of all kinds. The CMVA, one of those applications, uses the data provided by the XCCF to validate modem performance in support of PNM. If you want to learn more about the XCCF, you can read the previous entry in our PNM blog series here, or access the public version of the architecture document here. We are building the future of the XCCF right now, so it's a great time to get involved.
The Cable Modem Validation Application (CMVA): The CMVA allows any of us to test CMs for compliance to DOCSIS 3.1 specifications, specifically the PNM portions. The tests conducted are based on the Acceptance Test Plans (ATPs) supported here at CableLabs, specifically the DOCSIS 3.1 PHY and OSSI ATPs, based on the DOCSIS 3.1 specifications. But not only does CMVA provide concise test results based on these ATPs, but it provides nice graphical output (plots, tables) so you can visually confirm the results too. Sometimes what passes a specification is still not desirable or functional necessarily. Looking at the results is a great way to get introduced to the wealth of data available in DOCSIS 3.1 CMs, allowing the CMVA to be useful toward confirming specific results you may envision for your own PNM deployments. To facilitate that idea further, we are adding to the CMVA a few extra capabilities so that users can test additional PNM workflows, look for test anomalies, or further experiment with PNM capabilities.
We use it…
CableLabs and our subsidiary, Kyrio, are using the CMVA in our own CM certification testing. CableLabs will use it further to explore improved workflows for PNM, in support of the InGeNeOs Forum's planned work on PNM Best Practices for DOCSIS 3.1 technology. Just like the XCCF is the foundation for a lot of PNM related capabilities, the CMVA is a step beyond and toward greater PNM capabilities that support low cost and high effectiveness in DOCSIS 3.1 network deployments.
…Others use it…
We envision a couple of important use cases for our partners.
Vendors can use it to validate their modem for compliance to the PNM portions of the specifications, test chip capabilities, improve firmware, or explore potential PNM developments. We're aware of a vendor using XCCF to test silicon, so, for example, the CMVA could be added to find issues and share them with their suppliers during design testing.
MSOs can verify compliance in their own labs, develop CM builds that help them differentiate, and examine CM sensitivity and capability at PNM tasks and operations workflows. For example, if a particular modem is vulnerable to LTE ingress at the interface, a few lab tests might detect it before deploying the problem, and the CMVA would be one way to detect and display the problem.
…Wouldn't you like to use it too?
CMVA was designed specifically for Kyrio and CableLabs to use in certification testing of CMs, with vendors and members able to use it for their own equivalent needs. But, CMVA is well suited for exploring a lot of other needs. Thus, we look forward to working with you to get the full benefit from the XCCF, CMVA and all the CableLabs PNM developments completed and yet to be built.
If you first just want to learn more, please look for our demonstration video to be announced soon. When you are interested in gaining access or discussing it with me further, please feel free to contact me directly by clicking below.
Networks
PNM Series: The Business Case for a Common Collection Framework
This is the second in our series on Proactive Network Maintenance (PNM). If you missed our introduction to PNM, you can check out the first entry which explains some background on the subject.
PNM is our CableLabs project focused on assuring cable service provider companies can maintain the network at a level of quality so that major impacts to service are avoided. The proactive part means the maintenance happens before the customer's service is impacted. But, to do this well, a service provider must collect data from the network. However, collecting data from the network in a way that doesn't impact service is not easy.
What is the Common Collection Framework?
The Common Collection Framework is a set of Python software modules that handle the task of collecting PNM data from the network elements and presenting the data to PNM applications. It provides the data in a common form so that software applications don't have to talk network language to get the data it needs. It also protects the network from overly frequent data requests, which can impact service.
CableLabs created a DOCSIS® Common Collection Framework (DCCF) and a Wi-Fi Common Collection Framework (WCCF). We have also started the creation of an optical-centered collection framework. We may even create an in-home wired (MoCA) framework if members express the need. To keep the usage model simple, CableLabs intends to join these frameworks into a combined Common Collection Framework (XCCF). Because cable services are provided over a network comprised of many different technologies, CableLabs is making it easy for members to use the right mix of collection frameworks to get data from the right network elements for their needs.
CableLabs recently released an architecture document to the public that describes the DCCF in detail. You can obtain a copy at this link and reference it in your work. The document describes what the DCCF is, as well as the intended architecture for XCCF. There is also a partner document reporting on the Wireless Common Collection Framework, available here.
What's Under the Hood?
Briefly, the XCCF is a set of Python modules that work in concert to set up the network for polling using Simple Network Management Protocol (SNMP), manages requests for PNM data, and stores Trivial File Transfer Protocol (TFTP) output in native form or SNMP results in JavaScript Object Notation (JSON) files. If that seems confusing, just know that we are providing the network data in easy to use forms. Applications can then request data from the XCCF data based on time parameters and data types. So, if the needed data are already there, the applications can receive what they need right away. Or, if the data are not there, then the XCCF can obtain the needed data and provide it in a timely manner. There are a lot of actions that can go wrong in these transactions, so CableLabs has worked hard to build a flexible architecture that supports many possible PNM approaches.
Because the PNM data are presented in the formats presented by the network, existing applications shouldn't have trouble connecting to the XCCF to obtain its data. Translator software takes the output from the network and gets it ready for applications to use.
Why did CableLabs build it?
A PNM application or program needs data to drive it - obtaining the data required can be a significant request to network elements. Service providers need to know that the network isn't impacted by PNM requests, so they need some level of control to assure service is the priority. Further, there are potentially numerous PNM applications that need the same data, so having every application impact the network in uncoordinated ways is not efficient, and not necessarily customer friendly. A PNM program that utilizes multiple applications needs a common collection capability to support the applications and relieve the network.
There are clear advantages to using the XCCF to support network operations:
It provides one polling mechanism to manage, serving all applications.
Building your own applications, and supporting purchased applications, becomes easier with the XCCF.
The network isn't overly taxed with data requests, so it can be ruled out as a cause when there is a problem.
You get clear separation from the network and the applications, which fits the way operations are usually organized.
Updating is easy between the applications and the network when you have the XCCF as the point to manage those changes, and XCCF is built to support that.
XCCF is extensible, and we have loads of great ideas to consider on the roadmap.
Because XCCF is based on SDN architecture concepts, scaling is understood, and high reliability is supported.
Because it is accessible by all CableLabs members, any member can use it to test out a PNM capability in a field trial to learn about its benefits to their business.
There is quantifiable business value here too!
Testing a new PNM capability within operations is easier and more realistic when the data are already presented to the applications in a common way, reducing the uncertainty in the payback of a PNM business case.
Using the XCCF can streamline implementation of PNM applications in a PNM program, making the business case for PNM pay back faster.
CAPEX is lower because simpler, cheaper PNM solutions can enter operations and scale better when small applications can be pointed to existing XCCF instances.
OPEX is lower because applications are separate from the network, and the XCCF interface can be rapidly, easily maintained.
PNM advantages are achievable because a significant effort in any PNM program is solved with the XCCF. It avoids scaling risks that could otherwise increase the OPEX of a PNM program.
For all these reasons, CableLabs heard from our members that an XCCF capability was needed, so we responded.
Where do I get a copy?
CableLabs members can obtain a copy here. Vendors who are willing to sign the necessary CableLabs agreements can also obtain a copy. We hope our community can contribute feedback, and potentially contribute code as well, to the XCCF. We also look toward the community to drive our roadmap for the XCCF, providing input to what capabilities need to be supported with the highest priorities.
Don't forget to subscribe to our blog to read more about PNM in the future.