Registration Ends Soon: 5 Things to Know for CableLabs Member Forum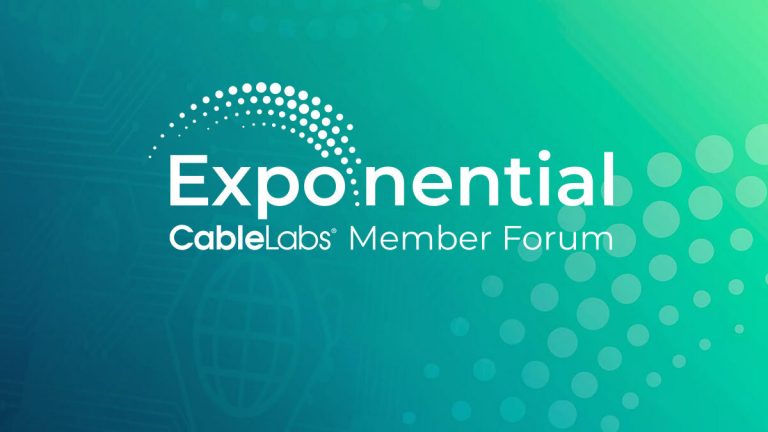 It's hard to believe we're less than two weeks away from catching up—in person—with CableLabs members at our inaugural Expo•nential Member Forum. This jam-packed day of interactive sessions will cover current and emerging technologies, the implications of those technologies and strategies for success. It happens Monday, September 19, in Philadelphia, just ahead of SCTE® Cable-Tec Expo 2022®.
Exploring Today, Tomorrow and Beyond—from Current Trends to Quantum Security
If you're a CableLabs member, Expo•nential is your chance to connect with peers, colleagues and industry experts and focus on what matters most. Here's what you need to know.
1. Hurry! September 9 is the last day to register for Expo•nential.
It's not too late to claim your seat at Expo•nential. We've extended in-person and virtual registration through Friday, September 9. Register now so you don't miss out! Please note that you must register for the CableLabs Member Forum and SCTE Cable-Tec Expo separately. Complimentary, full-access passes to Cable-Tec Expo are available for CableLabs members.
2. At Expo•nential, you'll encounter countless industry perspectives.
Once registered for Expo•nential, you'll be in good company. Join industry thought leaders, peers and colleagues for a rich series of sessions exploring topics on the theme of the day—Today, Tomorrow and Beyond.
Opening session with Craig Moffett: We'll launch the day with analyst Craig Moffett of research firm MoffettNathanson. He'll share his insights on the industry and set the scene for a day of discussion and exploration.
Breakout sessions—Today and Tomorrow: Then, we'll break down the market trends of the day, discuss what options are available for operators today and share updates on current technologies. Breakout sessions will continue into the afternoon with conversations about innovations that are on the near horizon. We'll also discuss how various technologies can work in unison to power the 10G network of the future.
General session—Beyond: Finally, attendees will reconvene for a general session on the "Beyond." We'll explore the innovations of tomorrow that are already being shaped by the technologies of today.
3. Expo•nential will cover a lot of ground—all in a single day.
These Expo•nential sessions will cover everything from current trends to future needs and many technologies in between. They have been carefully crafted for members to exchange insights and connect with industry experts.
Insights on Broadband Usage & Its Future Growth
Comparative Network Economics & Last Mile Strategies: Technology Strategy
DOCSIS® 4.0 Technology: Successful Network Evolution
Passive Optical Networking: The Other 10G Technology
The Future of Converged Networks
The Road to 10G: Cloud Native Architectures for a Converged Tomorrow
Fiber Access Network Technologies & Use Cases
A Link to Tomorrow: Wi-Fi 6e/7/Home Networking
10G Your Way to Light Fields
Quantum Key Distribution: The Future of Secured Networks
4. There's even more in store at SCTE Cable-Tec Expo. 
After Expo•nential, let's keep the conversation going at SCTE Cable-Tec Expo. Back in person for the first time since 2019, Cable-Tec Expo is the industry's largest learning and networking event. SCTE is a subsidiary of CableLabs.
View the full schedule of CableLabs demos and speakers, but here are just a few highlights for CableLabs at SCTE Cable-Tec Expo:
Tuesday, September 20: Join Phil McKinney, president and CEO of CableLabs, and Mark Dzuban, president and CEO of SCTE, as they welcome Cable-Tec Expo attendees and introduce speakers for the opening general session.
Wednesday, September 21: Make plans to attend the Fireside Chat with McKinney and Cate McNaught, of Corning Optical Communications. In this session, CableLabs will announce the winners of the 10G Challenge. You'll also have a chance to meet the winning innovators and view demos of their technologies at the 10G Challenge kiosk on 10G Avenue on the showroom floor.
Throughout Cable-Tec Expo: The CableLabs booth (#5001 on the showroom floor) will host experts from CableLabs and Kyrio for demos of their latest innovations. Kyrio is also a CableLabs subsidiary.
5. Both Expo•nential and SCTE Cable-Tec Expo are conveniently located in downtown Philadelphia.
If you're already planning to attend one of these events, why not make the most of it? Expo•nential takes place just two blocks away from Cable-Tec Expo in downtown Philadelphia. This makes it easy for you to take advantage of all four days of networking, learning, connection and collaboration.
View all the details for Expo•nential CableLabs Member Forum and SCTE Cable-Tec Expo. Register now for this opportunity to collaborate with other CableLabs members, connect with industry thought leaders and much more.
We'll see you soon in Philadelphia!