Broadband Innovation Begins With State-of-the-Art Labs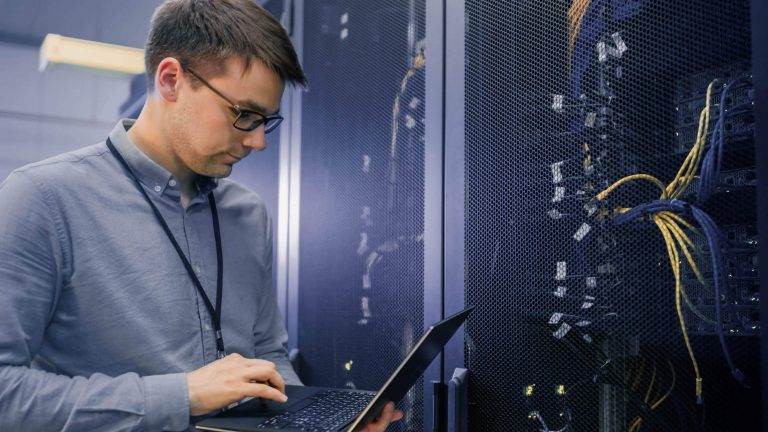 Innovation is unleashed in an environment of collaboration, experimentation and expertise. By guiding early-stage ideas from concept to real-world deployment, the industry and end users benefit. CableLabs has a range of labs designed to strengthen and support collaboration and broadband innovation. Members, vendors and other collaborators can join forces to create a multitude of network architectures and scenarios to explore and test new solutions. With this degree of interaction and cooperation, innovation is amplified.
Research & Development Labs
Our R&D Labs host advanced technologies and expertise including various unique test environments. The labs include everything from AI and machine learning to Wi-Fi, mobile and convergence. They also include hybrid fiber coax, advanced optics, fiber, cloud-native, security, PHY/RF analysis and more. These labs can be interconnected to simulate various network architectures.
Kyrio Test Services
Kyrio, a subsidiary of CableLabs, uses labs to provide testing for the unique requirements of individuals or groups of operators or vendors. These services allow devices and systems to be tested for interoperability, performance, requirements compliance, specification conformance and operator acceptance, encouraging confident new tech adoption.
System & Device Test Environments
These labs are used by Kyrio and can be configured to replicate a wide range of scenarios using large anechoic chambers, 3D printed radio frequency modeling and advanced optics benching. A specific test scenario can be simulated when combined with our other labs.
Next-Generation Technologies Lab
This lab investigates and tests technologies, such as quantum encryption, allowing experimentation with long-term possibilities. In this lab, our team works to develop new quantum networking mechanisms to defend against cyber-attacks and access quantum computers.
Moving technologies through the entire life cycle—from R&D through testing and certification and into the real world—CableLabs' lab environments support the key phases in network technology development and deployment. As an industry, we're stronger together. That's why we collaborate to advance innovation for next-generation technology.
If you're interested in collaborating to unlock the broadband of tomorrow, check out the "Lab Overview" page on our website. You'll find a deeper dive into how these labs empower the industry to develop new service offerings, achieve enhanced levels of network efficiency and reduce the risks that come with innovation.