2023 5G Challenge Event Closes Chapter on Open RAN Competition
The 5G Challenge culminated in an inspiring event September 21 with the awarding of $7 million in cash and in-kind prizes to providers of high-performing Open Radio Access Network (RAN) solutions. CableLabs, which served as the host lab in partnership with subsidiary Kyrio, welcomed U.S. and international stakeholders to our headquarters in Colorado for a ceremony marking the end of both the 2023 competition and the two-year challenge program.
Open RAN — a next-generation wireless network architecture — makes building, expanding, upgrading and repairing networks simpler and cheaper for mobile network operators (MNOs). More than half of CableLabs' member companies are MNOs.
The 5G Challenge was launched in 2022 as a collaboration between the National Telecommunications and Information Administration's Institute for Telecommunications Sciences (NTIA-ITS) and the Department of Defense (DoD). The objective was to accelerate the widespread adoption of 5G open interfaces, interoperable subsystems, secure networks and multivendor solutions by cultivating a thriving and vibrant vendor community. We share the NTIA and DoD's goals for creating a more competitive and diverse Open RAN ecosystem.
What Is Open RAN?
Open RAN enables mobile service providers to use subcomponents from various vendors in their wireless networks. Traditional RAN, by contrast, uses a single vendor for all its components, which limits innovation and raises costs. By avoiding vendor lock-in, mobile service providers can repair and replace RAN components and software more quickly and efficiently, which ultimately reduces the cost of deployment and overall lifecycle costs.
Collaboration at Every Level
Selected as the host lab for both years of the challenge, CableLabs partnered with Kyrio — the first O-RAN Alliance Open Testing and Integration Center (OTIC) in the Americas — to provide expertise and our facility for testing the contestants' systems. The testing of components by an independent and neutral lab is key to the Open RAN ecosystem.
Watch the video below to take a look at our state-of-the-art lab and our expert staff working on Open RAN.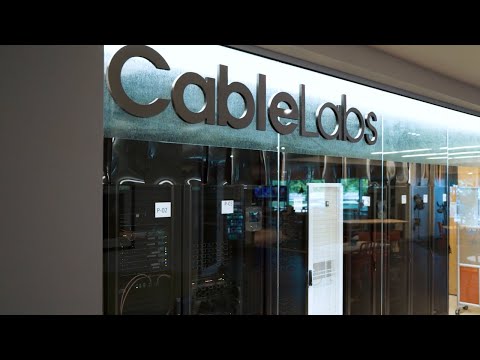 CableLabs' ongoing involvement in Open RAN activities, including hosting O-RAN Alliance PlugFests, and our extensive expertise in mobile network technologies made our facilities well suited for meeting the goals of the challenge. Our staff also assisted the NTIA-ITS and DoD in designing the challenge, including the rules and grading process.
Nine contestants were selected for the 2023 5G Challenge, and solutions were judged for their ability to demonstrate multivendor interoperability across radio units (RUs) and combined central units (CUs) and distributed units (DUs).
"Working together as an industry, working together across the vendor community and with the support of NTIA and our other partners, we were able to do that in a very short timeframe — all of five weeks," our president and CEO, Phil McKinney, noted during the closing ceremony. "Many people didn't think it could be done, but it got done."
Colorado Gov. Jared Polis was also among the government officials, policymakers, industry leaders and other experts attending the event at CableLabs' Louisville headquarters. He commended the 2023 contestants' spirit of innovation and touted the impact of the industry.
"I always find that these challenges really bring out the best of us," he said. "Rather than just doing more of the same, we're challenging people and companies to do things in new and different ways. And one thing's for sure: The better connected we are to one another, the stronger our communities are and the stronger our economy will be. That's really, at its core, what 5G technology is all about."
The 5G Challenge Winners
CableLabs congratulates Lions, Mavenir, NewEdge and Radisys, which comprised the team winning the largest of the 2023 5G Challenge total prize purse awards — $3 million — in the "Stage Four: Mobility" category. The winning team and another mobility team — Capgemini, JMA Wireless and QCT/Benetel — both successfully completed Stage Four, and a tiebreaker determined the prize winner. Other winners were:
Multivendor End-to-End Integration Prizes
First place ($750,000 each and additional lab time): Capgemini and QCT/Benetel
Second place ($250,000 each): Lions and Radisys
Wrap-Around Emulation Prizes ($100,000 each)
Capgemini (CU+DU)
Fujitsu (RU)
GXC (CU+DU and RU)
JMA Wireless (CU+DU)
Lions (RU)
Mavenir (CU+DU)
NewEdge (RU)
QCT/Benetel (RU)
Radisys (CU+DU)
Best in Show Prizes
Best Software Bill of Materials (SBOM) and Vulnerability Exploitability eXchange (VEX) ($100,000 each and security testing): Fujitsu and JMA Wireless
Best Collaborator ($20,000 and security testing): Lions
The participants successfully demonstrated end-to-end data sessions across an Open RAN architecture with multiple vendors. They also demonstrated multivendor end-to-end interoperability with three pairs of Open RAN subsystems conducting data sessions using various protocols, traffic loading and stability in varying radio frequency (RF) conditions. And, in an industry first, mobile handover between two separate multivendor Open RAN next-generation node Bs (gNBs) was achieved.
CableLabs looks forward to working with contestants that were also awarded additional lab time or security testing.
Last year, the 2022 5G Challenge offered a $3 million prize purse to contestants that successfully integrated hardware and/or software solutions for one or more RU, CU and/or DU subsystems.
Building on Successes Together
There's still more to do to fully develop the Open RAN ecosystem, and a neutral lab like ours will be essential for efficient and effective testing. CableLabs is committed to the growth of Open RAN infrastructure, and we look forward to future collaborations with the NTIA and DoD.
Together, we can build a more open and truly plug-and-play Open RAN ecosystem.