Wired
The P2P Coherent Optics Specification of the Future, Available Today
Today, CableLabs is announcing another addition to our family of Point-to-Point Coherent Optics specifications:  The Physical Layer 2.0 (PHYv2.0) specification. This new specification defines interoperable point-to-point (P2P) coherent optics links running at 200 Gbps (200G) on a single wavelength.
Just 9 months ago, in July of 2018, CableLabs announced the release of the P2P Coherent Optics Physical Layer 1.0 (PHYv1.0) specification, which defines operation at 100 Gbps (100G) on a single wavelength. The PHYv1.0 specification is designed to support rapid product development, ensuring the availability of interoperable products quickly. That quick availability was born through the interoperability event we held this past December, in which 9 different suppliers participated and demonstrated 100G interoperability.
In other words, the specification of the Now
The PHYv2.0 specification, on the other hand, is designed to leverage an emerging new generation of silicon and the resulting devices, which are anticipated to arrive by 2020. Those new devices will double the capacity of the cable access network, consume less power, and lower the cost per bit delivered. All on the network that already exists today.
This is the specification of the Future: A future that's coming very quickly
Further, this new specification is a key part of another future that's coming soon: the 10G future recently unveiled by the cable industry. P2P coherent optics running at 100G – and now 200G – allows cable operators to leverage the fiber they've already deployed to support that future vision as cost effectively as possible by greatly increasing the capacity of their existing hybrid fiber coax (HFC) networks. That, in turn, enables the enhanced services and experiences envisioned as a part of the 10G future.
Whether the connection to the customer is wired or wireless, at some point all of those network connections need to be aggregated together. The CableLabs suite of coherent optics specifications – now highlighted by the PHYv2.0 specification, defining interoperable 200G operation – will serve as a critical piece of enabling our interconnected future. Fill out the form below for more information.
Wired
Preparations for Full Duplex DOCSIS® 3.1 Technology are Marching Along
Built on the successful completion of CableLabs' DOCSIS 3.1 specification, Full Duplex (FDX) DOCSIS® 3.1 technology is a key component of the 10G platform that will significantly elevate the level of services available to consumers using existing cable broadband networks. With FDX DOCSIS 3.1 technology, the same frequencies are simultaneously used for both upstream and downstream traffic, virtually doubling the capacity of the coaxial cable. More capacity means lower latency and speeds of up to 10G for both upstream and downstream traffic. Cable broadband users will be much more satisfied with services, leading to greater customer retention and the ability to attract new customers.
Field Testing Analysis
In the past year, CableLabs has thoroughly scrutinized FDX DOCSIS 3.1 technology in the field. Test equipment and engineers have flown around North America performing analysis on real cable broadband networks, including both a newly constructed plant and coaxial cable that was installed back while I was in college (that coax is well past voting age…). Volumes of data were collected, such as technical parameters on various configurations and various weather conditions: data from real networks in the real world.
And it works. The testing results were positive and in line with expectations, and products built to the specifications are expected to deliver the higher symmetrical bit rates associated with full duplex operation. Now, coaxial cable networks won't be a limiting factor in getting to full duplex and the next generation of broadband services.
Now that CableLabs has developed FDX DOCSIS 3.1 specifications, members can move forward with this exciting technology. Members can further benefit from the Kyrio testing services that provide all the engineering expertise and lab equipment needed for testing FDX DOCSIS 3.1. All the operator has to do is identify network segments where the work is to be performed.
What's Coming in 2019
Getting back to the lab (which is a lot dryer and warmer than some of the outside plant scenarios where CableLabs has worked), CableLabs is:
Hosting lab activities to support the development and interoperability of FDX DOCSIS 3.1 products
Bringing back important discoveries from the field testing into the labs to support testing in real-world situations and scenarios.
Building the lab infrastructure needed to rigorously analyze performance and reliability in a variety of configurations
CableLabs and the cable industry are continuing to advance cutting-edge developments in cable broadband networks to remain ahead of consumer demand. The focus is on developing innovative network technologies, as well as defining optimal network architectures that provide the necessary capacity and performance in each network segment for multi-gigabit services today and in the future.
You can learn more about Full Duplex DOCSIS 3.1 technology and the 10G platform by clicking below. 
Wired
Proactive Network Maintenance (PNM): Are You InGeNeOS?
I love a good acronym! InGeNeOS™ is an acronym built from Intelligent General Next Operations Systems. It's the name of a CableLabs working group that solves Proactive Network Maintenance (PNM) issues for the cable industry, and it might be for you.
What's So InGeNeOS about PNM?
The InGeNeOS group focuses on discussing, inventing, building and sharing network operations tools and techniques from the data made available from DOCSIS® systems, including the CM, CMTS and test devices. Other CableLabs working groups focus on DOCSIS specifications, and the SCTE Network Operations Subcommittee Working Group 7 focuses on network operations training material. The InGeNeOS group connects these two worlds and turns the network information into capabilities that engineers and technicians can use to maintain services. We turn DOCSIS system information into solutions that identify, diagnose and sometimes automatically correct network problems—often before the customer notices. When these tools get good enough, they can become proactive. Thus, we often refer to this group as the PNM Working Group (WG). See why we put it into an acronym?
Don't Just Think—Do!
This group doesn't merely ponder PNM solutions; it is very active in several ways:
Developing best practices for PNM solutions—We just started an effort to document PNM best practices in a DOCSIS 3.1 environment.
Guiding specifications development for emerging technologies—For example, although Full Duplex (FDX) DOCSIS technology is not yet deployed, we know it must be fully ready when it is, and that includes being operationally supportable.
Sharing experiences, both problems and solutions—Many working group participants work maintenance problems at operator companies, or for operators, so they bring problems to the working group to get ideas for causes and resolutions.
Testing theories in the lab—Once we develop theories about the causes of problems in the field, we reproduce the theorized conditions in the lab to confirm the cause. We can also calibrate measurements, test methods for detection and develop new PNM tools and methods based on these tests.
This developing, defining, knowledge sharing and testing help operators reduce costs and improve service reliability by improving their network maintenance operations. All these are just examples of what we do. If you have ideas that might fit within this framework, keep reading.
So You Think You're InGeNeOS?
Operators in—and vendors supporting—the cable industry can easily benefit from joining the InGeNeOS group:
If you are a cable operator and a CableLabs member, consider this your invitation to join.
If you are a cable operator but not a member, this is a very good reason to become a member.
If you are a vendor, all you need to do is sign the NDA and IPR.
In any case, contact Jason Rupe to join the InGeNeOS group.
Wired
Proactive Network Maintenance: Where Is Common Data Collection Going Next?
Welcome to 2019, and the future of Proactive Network Maintenance (PNM)! As CableLabs' PNM solutions mature, we look toward developing a framework for PNM that everybody can use.
On December 21, 2018, CableLabs released the Combined Common Collection Framework (XCCF) version 2.0. This new version includes several enhancements, including refactoring to make it easier to work with and tuning to support new use cases. If you are in the PNM club and receive the monthly reports, you've seen some of these enhancements over the past 6 months:
In July, the XCCF team solved many encountered cable modem (CM) stability issues associated with polling. We also created methods to purge and maintain files in the cache, and to allow better load management.
In August, we added additional scalability enhancements, multiple formats for outputs, listing abilities, read or write (RW) and read-only (RO) strings, and we introduced code to support the new 10th PNM measurement.
As of September, the XCCF includes a data archiver function to allow users to manage and save space on the application program interface (API).
As of October, the XCCF includes a method to manage host machine performance, as well as the ability to separately manage read and write strings. We have also significantly optimized query time and further hardened and enhanced it for greater performance as part of the Gridmetrics™ project.
In November, the XCCF team added improved CM polling, a few back-end improvements, a CM events driver and better spectrum analysis handling in a new driver.
In December, final touches to version 2.0 of the XCCF included an ability to receive traps from CMs and converged cable access platforms (CCAPs), and store them. A considerable amount of code was refactored to decouple data storage from the rest of the code so that users can swap out the data storage with their favorite database or alternative method.
CableLabs is using the XCCF for several use cases, including PNM, Gridmetrics™, Profile Management, LTE ingress detection and general network monitoring needs. We envision several use cases beyond those already identified and have demonstrated effectiveness for many of these:
CM testing: This is the purpose of the Cable Modem Validation Application (CMVA). We found it useful for validating chip and CM builds for PNM, for modem testing in an operator's lab setting, and for streamlining testing such as the acceptance test plan (ATP) for certification. We also found it useful for the next use case.
Developing PNM methods: The convenience of the CMVA, coupled with XCCF, makes it useful for a lot of basic data visualization needs, including experimenting with detecting impairments. The PNM working group used it to capture output from testing while reproducing observations from the field and discovering the effectiveness of some measurement methods. CableLabs is using it to guide our development of the next use case.
PNM ApplicatioN Environment (PNMANE): CableLabs will be developing an environment for PNM applications that sit on top of XCCF.
Gridmetrics™: XCCF collects machine data, so why not collect voltage measurements from power supply modems? We did exactly that, and it works very well. Now, operators can use their network to monitor power levels they receive, and thus provide out-of-band measurement of the power grid to support power companies.
Profile management: The profile that a CM uses dictates much of the quality of experience that a customer enjoys. XCCF collects the information needed from the network to enable optimizing the profiles that the CMs use, thus enhancing service performance and experience.
LTE ingress detection: Spectrum analysis and receive modulation error ratio (RxMER) data, as well as other PNM measures, can reveal ingress, including LTE. CableLabs has a method for detecting these issues, which can inform not only PNM activity but also the placement of small cells, and report on overall network health for such an endeavor.
General network monitoring and operations: Northbound data collection on any network device is possible in the same manner as supported by XCCF. A whole world of possibilities exists here. Fortunately, the XCCF is suited to evolve to new methods of machine data collection and is set to protect the network from over-polling, too.
Service protection automation in Software Defined Networking (SDN): Many SDN solutions lack access to the network data required to adjust network conditions for an automated response to network impairments and other conditions. The XCCF can provide useful information northbound to applications that can protect against failures, develop traffic engineering solutions or analyze and define solutions for network risk.
We expect use cases to drive how we support the XCCF into 2019, and this is where you all come in.
Please comment below or contact us to share your use cases and experiences with using the XCCF and CMVA, or where your PNM needs are headed. Many operators and vendors have requested access to download and install the XCCF, as well as CMVA, and we hope and expect that everyone has been getting good use out of them.
CableLabs needs feedback to continue supporting projects, so we need your input. Please let us know how you've been using the XCCF or CMVA, particularly how you've gained value for your company or the industry overall. Anything you can share is helpful, no matter how brief or minor you might think it is. Your input will help drive future development of XCCF, CMVA and our current efforts, including PNMANE.
Wired
The Profile Management Application: Optimizing DOCSIS® 3.1 Networks
Cable operators are broadly deploying DOCSIS 3.1 technology around the world. Operators in North America and Europe have announced gigabit service offerings that use the technology across their footprint. In this blog, I focus on techniques by which operators can boost the capacity and robustness of their existing DOCSIS 3.1 network.
Introducing Toolsets for Optimizing the DOCSIS 3.1 Network
DOCSIS 3.1 specifications introduced orthogonal frequency division multiplexing (OFDM) technology to the access network. In DOCSIS 3.0 and prior technologies, a single-carrier downstream channel (6 MHz) would be configured with just the one modulation order (say, 256-QAM). The DOCSIS 3.1 technology divides a wider (e.g. 192 MHz) channel into a number of small subcarriers spaced at 25 kHz or 50 kHz apart, creating up to 7600 subcarriers. These subcarriers can be individually configured to operate at a different modulation order, anywhere from 256-QAM, to 1024-QAM, all the way to 4096-QAM.
A specific configuration of modulation orders for every subcarrier in the OFDM channel is known as a "profile." A cable modem termination system (CMTS) can use multiple profiles on a channel; profiles differ in the modulation orders assigned to each subcarrier.

Different modems experience the network in different ways. Some modems may have a noisier environment, whereas others see a relatively clean plant. The figure shows an example of the interference seen by a modem in part of the OFDM channel.
Profiles allow the channel to operate at a higher modulation order in clean parts of the spectrum and then go down to more robust modulation orders when there is any interference present. The idea with multiple profiles is to have the CMTS use different profiles for such different groups of cable modems. This allows the operator to reach two goals:
minimize transmission errors on the network and
maximize network capacity.
The same concept applies to upstream OFDMA channels, where one can create upstream profiles for the channel, to increase reliability and throughput.
The Profile Management Application (PMA) Solution
If there are say 4 OFDM channels per port, 10 ports per line-card, and 10 line-cards on a CMTS, then there could be easily over a couple of million subcarriers requiring a specific configuration! This represents an immense configuration challenge which cannot be solved manually. This problem is made more difficult because profiles are not typically "one size fits all," but rather they need to be tailored to the set of cable modems on the channel, the interference on the channel, and they also need to adjust to plant changes over time. The question then becomes: What is the most efficient method for automating the creation of multiple profiles to maximize robustness and capacity?
I am pleased to announce that CableLabs has met this tremendous challenge with the introduction of the Profile Management Application (PMA). The PMA creates a set of optimal profiles for each channel and assigns profiles to modems. And the PMA accomplishes this dynamically by proactively reading data collected from the network. The PMA can create optimized modulation profiles periodically, as well as backup profiles in case of errors. It can also intelligently decide when to roll out profile changes to the network. A single PMA instance can create and configure profiles for a number of CMTSs in a short period of time and help the operator understand the data capacity of each channel.
How It Works—PMA Architecture and Algorithms
CableLabs released a PMA Technical Report that describes the PMA architecture, use cases, and interface definitions. We also developed data models (YANG) and protocols to facilitate the design of a software application to configure and manage modulation profiles.
Determining the optimal set of modulation profiles to use on a DOCSIS 3.1 channel is a task for intelligent software, given the number of modems, the number of subcarriers and the differences in signal quality across the channel each modem experiences. This CableLabs paper on profile management algorithms describes methods to optimally compute the profiles. The paper also introduces a metric indicating the capacity gain a set of profiles obtains compared with running all traffic at 256-QAM. The key idea is to use clustering algorithms to group modems that have similar signal-to-noise signatures across the channel and then design a profile for each group. The PMA algorithm searches for the best set of profile definitions to maximize the overall capacity and at the same time keeps the individual profiles robust to observable interference patterns.
Some of the information that a PMA needs to compute the profiles includes the channel information from a CMTS, list of modems and network signal quality metrics (mainly, each modem's per subcarrier RxMER data). Also using performance data (e.g., codeword error rates), a PMA can further refine the profiles.
How It Works—Deployment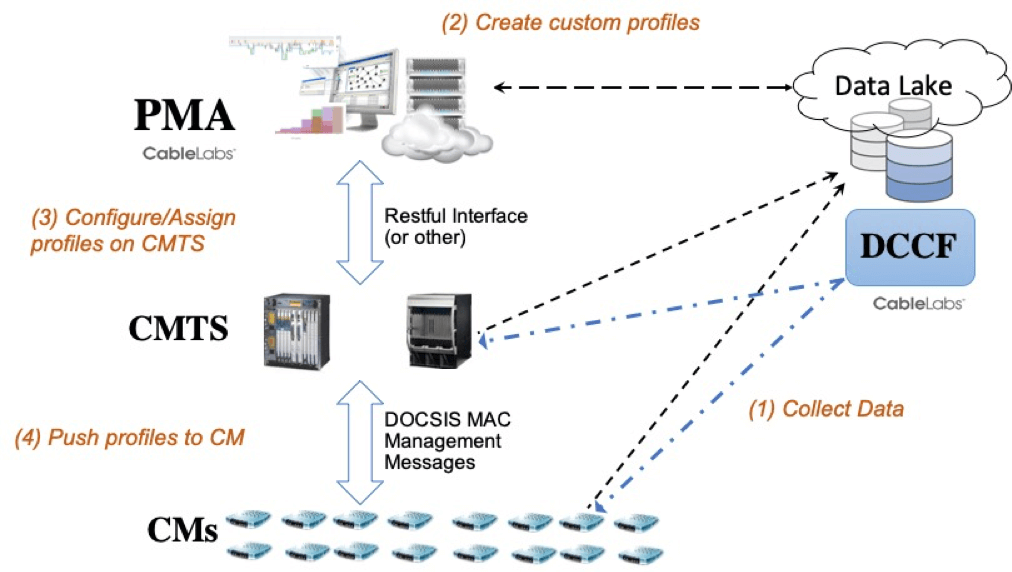 A PMA field deployment would include the following:
Data Collection: A centralized server is needed for modems and CMTSs to upload signal quality data. Operators can use the CableLabs DOCSIS Common Collection Framework (DCCF) to implement this.
PMA: Using the data collected, this application creates optimized profiles per channel. It configures these profiles on the CMTS, assign CMs to profiles and can initiate performance tests.
CMTS: Configures profiles for the individual channels, assigns the modulation profiles to CMs and ultimately sends/receives data using the profiles.
CMs: Cable Modems use the profiles defined and assigned by the CMTS to receive/send data.
What's Next? PMA Software Available
CableLabs has developed network-deployable software that operators can integrate and use within their DOCSIS 3.1 access network. This PMA solution can use the data generated by the network devices and create optimized OFDM/OFDMA profiles while considering different capabilities supported across CMTS platforms. The software is capable of calculating profiles for a channel with around 200 CMs in ~30 msecs using a single CPU process, so it is easily scalable across an operator's network. Many operators are testing and planning PMA deployment using this solution framework. PMA is available via CableLabs C3. Contact us to try it out. (Watch for an upcoming video blog on this topic.)
Gains from PMA
A PMA will help increase the throughput per cable modem and maximize network capacity by optimizing the bit-loading of the subcarriers within a channel. Designing profiles around noisy areas in the plant make the system operation more robust. The bandwidth gains in running a well-designed set of profiles can be anywhere from 15% to 40% capacity increase on a channel, compared with running the whole channel at 256-QAM. This can translate to a solid 200 to 400 Mbps extra capacity on each OFDM channel! This enables an operator to match growing bandwidth demands and defer potential node-splits and new equipment costs.
With this profile management technology, operators can realize the full potential of their DOCSIS 3.1 network, by minimizing transmission errors and maximizing the data capacity of the OFDM/OFDMA channels.
Subscribe to our blog to learn more about PMA in the future.
Wired
First Light for CableLabs® Point-to-Point Coherent Optics Specifications
On June 29th, CableLabs publicly unveiled for the first time two new specifications:
These two new specifications are the result of a focused effort by CableLabs, our members, and our manufacturer partners to develop Coherent Optics technology for the access network and bring it to market quickly. They also represent the beginning of a sea change for the way data is distributed into the network by:
Greatly expanding the capacity of existing cable operator fiber access networks,
While meeting ever-increasing capacity demands at the lowest possible cost.
The Drive for More Capacity
Have you ever met a customer that didn't want faster speeds?  That didn't want their broadband and wireless services to be quicker, faster, and more responsive? I didn't think so.
To meet those increasing customer expectations, there are two fundamental changes occurring in the access network of cable operators:
Operators are deploying remote devices using CableLabs Distributed Access Architecture (DAA) technology, which requires converting the fiber network from analog to digital transport.
They are also pushing fiber deeper into the network, such that multiple remote devices are taking the place of a single fiber node.
These two changes together enable cable operators to increase capacity more cost-effectively than traditional node splitting, while improving service quality and opening the door to new service opportunities.
Today's Technology Option
To be able to reach those remote DAA devices (such as Remote PHY Devices, or RPDs), today cable operators are deploying multiple 10 Gbps links that share a single fiber by operating at different wavelengths (known as DWDM, or Dense Wavelength Division Multiplexing) as in the figure below: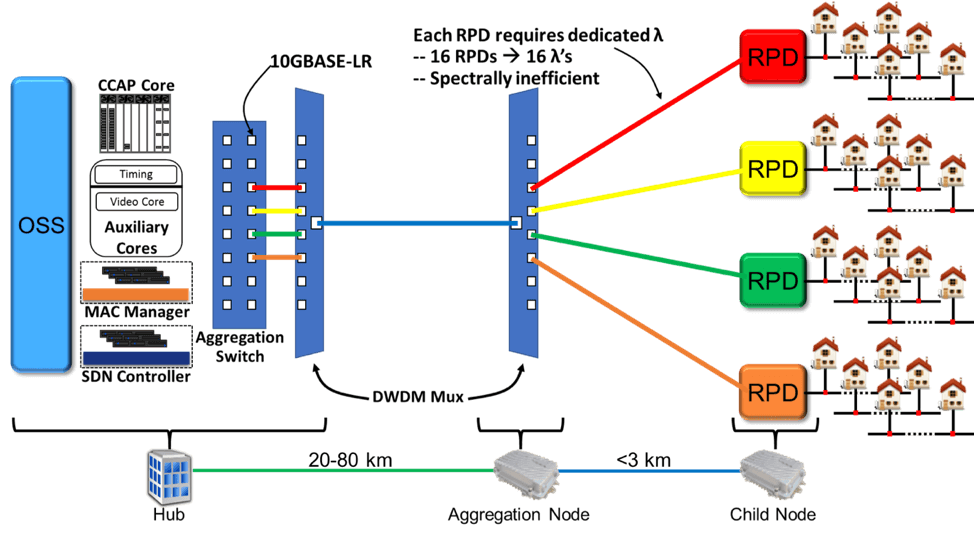 There are limits to how many different wavelengths that can be placed onto a fiber, and the number of fibers available to use may also be limited, which together limit the growth of this option. Additionally, adding more and more wavelengths adds not only direct cost, but also operational complexity, which has its own cost.
Coherent Optics: A Brighter Solution
In order to transmit digital data – a series of 1s and 0s – across a fiber at 10 Gbps, today's devices use On-Off Keying (OOK). In essence, devices turn the light on and off very quickly to transmit that data.
Wouldn't it be great if we could add more information to each pulse of light?
That's what Coherent Optics technology does:  it packs multiple bits of data into each "symbol", allowing for more data to be transmitted in the same amount of time (a.k.a, more speed). It does this by manipulating the amplitude, phase, and polarization of that light to transmit multiple bits of data with each symbol duration, as shown in the following example for 16QAM modulation: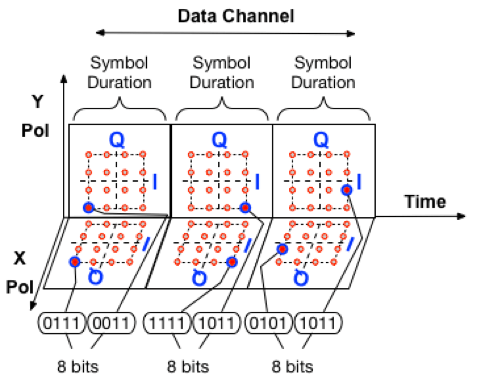 Now, instead of each wavelength carrying 10 Gbps, with Coherent Optics technology defined in these new specifications we can carry 100 Gbps (and more) on each wavelength. And this technology is also well suited to operating with multiple wavelengths on the same fiber, dramatically increasing capacity. Where before a 40 channel fiber network could have a capacity of 400 Gbps, now it'll be 4 Terabits per second, a full order of magnitude increase.
Interestingly, Coherent Optics technology actually isn't new. It's been used in long-haul networks for several years. What is new is applying it to the access network and realizing that by optimizing this technology for these shorter distances, we could dramatically reduce the cost of the technology.
The advantage of applying Coherent Optics Technology to the Access Network
Let's take a look at that network example above, but now using Coherent Optics technology rather than multiple 10 Gbps links: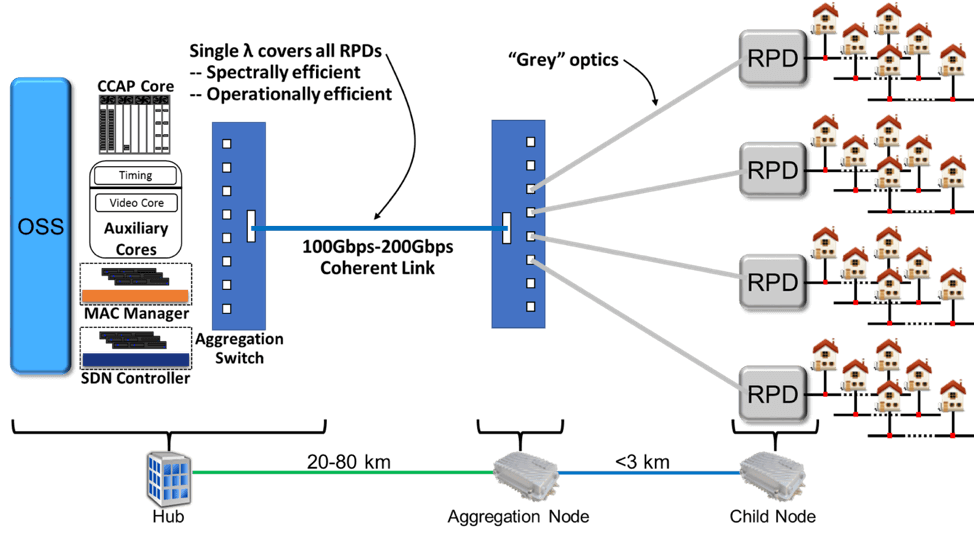 Now we can have just one or two wavelengths operating at 100 Gbps each taking the place of all of those 10 Gbps wavelengths, making network operation and management much simpler. While we still need 10 Gbps links to each of the remote DAA devices, we can use low cost, short reach optics rather than higher cost, long reach optics. This reduces overall cost and complexity compared to existing solutions, without the same limitations.
New Service Opportunities
The opportunities with Coherent Optics technology go well beyond improving service to residential broadband customers. By having a high capacity digital architecture that reaches deep into their networks, cable operators are not only able to support increasing demand for residential broadband services, but are ideally placed to support next-generation wireless services like 5G. These networks will place network endpoints right where wireless transmitters are needed, and with plenty of capacity to support wireless demand growth in addition to wired growth.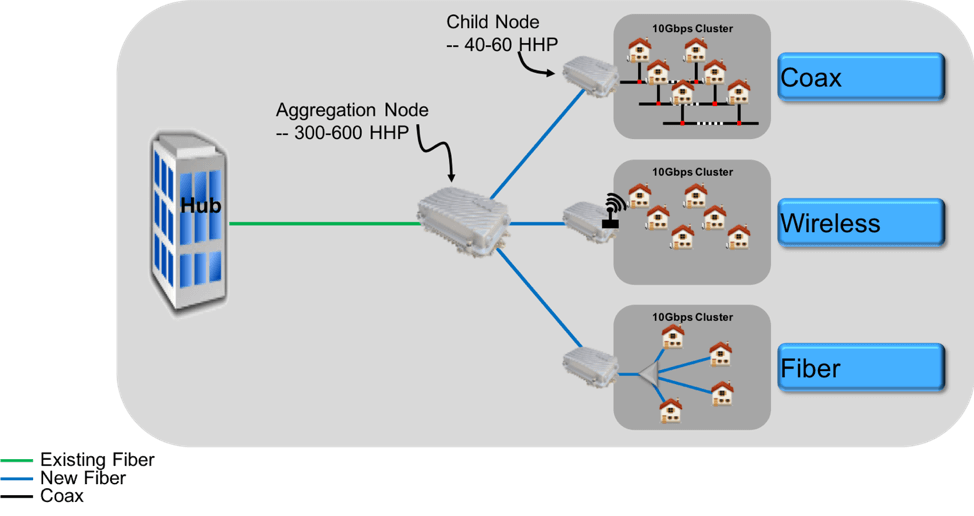 As we like to say, DAA isn't just about DOCSIS services, and Coherent Optics is the key to opening up the capacity to unlock those services.
Why did CableLabs develop Coherent Optics specifications?
The number one objective for the CableLabs effort is to reduce the cost of this technology. The devices used today for long-haul networks are generally expensive, and therefore unsuitable for our objective of increasing capacity cost-effectively. However, much of that is driven by the fact that they have been designed for much longer distances than would be required for the access network. Our specifications reduce cost in 2 primary ways:
They define the minimum feature set necessary for an access network application, reducing complexity and therefore cost; and
They ensure interoperability, which increases competition and scale, thereby also reducing cost.
Through these efforts, we believe that the cost of Coherent Optics technology will be greatly reduced, making it both more economical and more future proof than existing solutions.
What do these specifications define?
The P2P Coherent Optics Architecture Specification: Defines the overall architecture for using Coherent Optics technology in cable operator access networks. It contains information about the technology itself, defines use cases for cable operators, and provides guidance on deployment scenarios. It should be seen as a resource for learning more about how to apply this technology to access networks, as well as assisting in preparing for its use.
The P2P Coherent Optics Physical Layer v1.0 Specification: Defines the requirements for coherent optics transceivers to interoperate with each other on the fiber network at 100 Gbps for each wavelength.  It contains the requirements that manufacturers will need to comply with in order to make their devices interoperate with each other at these speeds while keeping cost down as much as possible.  It should be seen as the guide for manufacturers to use in developing their products for this market.
What's next?
As is implied by the Physical Layer specification being labeled as "v1.0", there is more to come:
CableLabs, its members, and our manufacturer partners are already hard at work on future versions of the technology that will expand the capacity of each wavelength to 200 Gbps and greater.
We're developing an OSSI or Operational Support Systems Interface specification to enable consistent management of Coherent Optics transceivers.
We're also in the planning stages for interoperability events that will demonstrate device interoperability and specification compliance at 100 Gbps speeds.
The well-lit path ahead
Through the use of Coherent Optics technology – and devices built to be compliant with the CableLabs Point-to-Point Coherent Optics Specifications – cable operators now have a means of cost-effectively meeting ever-expanding consumer demand over their existing fiber access networks, and one which also provides the opportunity to provide new services like 5G small cell backhaul and enhanced business services.
The future of the fiber network is bright, so stay tuned!
DOCSIS
The Golden Gigabit Internet Age
Over the past year, a quiet revolution in broadband services has been happening, thanks to investments cable operators are making around the globe: gigabit services are available to tens of millions households for the first time ever. Already, over half of households in North America can buy a 1 Gbps service from their cable operator, and the percentage is growing rapidly. This shift is driven by a new technology making it economically feasible for operators to provide gigabit services in most areas. And the technology is not limited to a single gigabit – it is capable of much higher speeds over time.
The technology? DOCSIS® 3.1. This innovation is now being quickly deployed by operators.
While the broad availability of gigabit services may have escaped notice, there is even less awareness of the potential for DOCSIS technology to provide higher speeds. With existing DOCSIS specifications and comforming vendor gear, operators could use DOCSIS to:
Provide shared, downstream capacity of over 15 Gbps
True downstream speed tiers of 10 Gbps or more for individual households
How can DOCSIS provide that much speed?
The technology is actually already in the DOCSIS 3.1 specifications. However, getting to these speeds will require an evolution of DOCSIS silicon, along with some outside plant improvements. Here is the roadmap: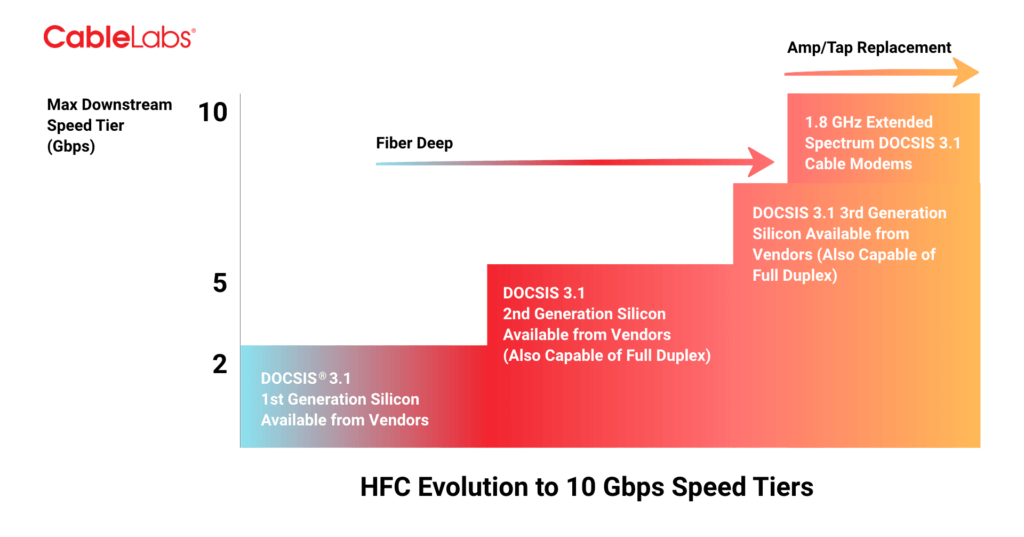 As you can see, the first generation of DOCSIS 3.1 silicon has been available for deployment for over a year, and it enables downstream speed tiers of roughly 1-2 Gbps. As demand materializes for higher speed tiers, operators may ask silicon providers for a second and third generation of DOCSIS 3.1 silicon. Each new silicon generation supports broader frequency ranges for DOCSIS, possibly up to the full DOCSIS 3.1 limit of about 1.8 GHz. At the 1.8 GHz range limit, over 1.5 GHz of spectrum can be used for downstream DOCSIS 3.1 channels. At 10 bits per Hertz that is more than 15 Gbps of total capacity.
Expanding Spectrum
Most operators are using 1 GHz of spectrum (or less) in their networks today. If an operator wanted to use spectrum as high as 1.8 GHz in a high-demand neighborhood it can push fiber to within 800 feet of many homes, and install taps that can pass the full 1.8 GHz of spectrum.
Thanks to the work of our CableLabs members, homes in the tens of millions are gaining access to 1 gigabit services for the first time ever. With more homes enjoying gigabit and even higher speeds, there will be a growing market for application developers and artists to develop immersive entertainment and interactive network services such as those in our Near Future video series. Radiologists working from home will be able to move massive files back and forth from medical centers. Grandparents will join their grandchildren in virtual family rooms for a game of virtual Uno. Immersive holographic movies will stream to a new generation of entertainment devices. And this is only the beginning.
If you have been yearning for a gigabit service at your home, check with your local cable operator – gigabit services may already be available to you. And, if you want to learn more about the DOCSIS roadmap to 10 Gigabit services, please subscribe to our blog.

Wired
What's in a Name? The Value of CableLabs Certification/Qualification for Cable Operators
An industry colleague recently reached out to a few of us with a problem: A cable operator was having trouble with a cable modem termination system (CMTS) in his network. The manufacturer of that CMTS had claimed that it was "DOCSIS® Compliant," and therefore this operator apparently had assumed it would just work.
We checked the posted list of CableLabs Certified® and Qualified devices (available on the CableLabs® website) and were quickly able to determine that the CMTS in question had not received CableLabs qualification. Although the manufacturer in question claimed that its CMTS was compliant with the DOCSIS specifications, that had not been verified by CableLabs.
What does CableLabs Certified and CableLabs Qualified mean?
This incident caused us to realize that it would be valuable— through a series of blog posts—to help clarify what the terms "CableLabs Certified" and "CableLabs Qualified" actually mean, why they're important to both operators and manufacturers, and how both CableLabs and our Kyrio subsidiary help get products into the field rapidly.
That is a differentiating aspect of CableLabs: We not only help develop new innovative technologies, we also help bring them to market as quickly as possible. We do this through a variety of activities, such as interoperability events where we invite manufacturers to work together collaboratively on neutral ground to promote interoperability, as well as 1:1 private testing through our Kyrio subsidiary.
The ultimate check of compliance to any CableLabs specification, however, comes in the form of our Certification and Qualification programs—that is, certification for customer premise equipment (CPE) devices and qualification for network devices.
The process of becoming CableLabs Certified or Qualified
The road to becoming CableLabs Certified or Qualified:
Begins with a manufacturer applying for that status and submitting multiple samples of a device to Kyrio to conduct independent testing of that device.
Kyrio executes a series of tests to verify various requirements from the relevant CableLabs specification(s)—essentially an extensive compliance audit—and generate a test report regarding those results.
That report is then presented to a Certification Board made up of experts from several CableLabs member companies, who then determine whether to award CableLabs Certification or Qualification.
Only after a manufacturer has successfully completed this process will it be able to state that its device is "CableLabs Certified" or "CableLabs Qualified," and have that product listed on the CableLabs Certified/Qualified list on our website.
Checking the list
So, the next time you see a manufacturer claim that its products are DOCSIS compliant, you may want to ask whether those products are CableLabs Certified, and check our list of certified devices as a way to ensure that they really are compliant with the specifications.
Don't forget to subscribe to our to receive the next blog post in this series where we will look at the value of CableLabs Certification and Qualification for manufacturers. Visit Kyrio to learn more about their testing services.
Wired
What is Full Duplex Coherent Optics?
A brand new innovation, Full Duplex Coherent Optics uses the same wavelength, in two different directions, over the same fiber at the same time. As a result, Full Duplex Coherent Optics technology supports over 200 times more capacity compared to non-coherent digital transmission over a single fiber. This makes Coherent Optics technology well suited for deployment in many more cable access network fibers. Watch our video to see how this technology will significantly increase the value of the currently deployed fiber infrastructure.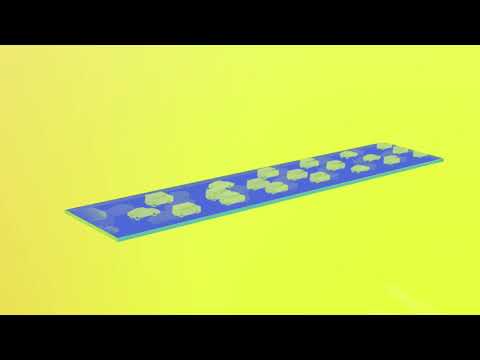 Click below to learn more about Full Duplex Coherent Optics. 
Wired
Inform[ED] Video: Cable Modem Validation Application
Ever-present communication is an important part of life these days. Cable technology provides connectivity for homes and businesses, providing entertainment, information and increasingly important functions for life. As we rely more on all forms of communications access, we rely on our cable modems to help keep services running their best. Cable modems have therefore become more capable - they can report on network problems they see as they adjust around those problems. The cable industry refers to the information obtainable from these capable cable modems as Proactive Network Maintenance data.
CableLabs has created an application to share with the industry which can make sure cable modems are doing their best with reporting their Proactive Network Maintenance data. This sharing enables members, vendors and our own laboratories to be on the same page with validating our cable modems. The application automates the Proactive Network Maintenance tests that are part of the certification tests conducted at CableLabs for the industry. Everyone in the industry can use it to reduce their cycle times and costs around certification testing, but they can use it also to develop new capabilities, special versions of modems to support new capabilities, and more.
If you're interested in learning more about the Cable Modem Validation Application you can read my technical blog here and watch the video below.