Events
Meet the CableLabs Experts Speaking at the All-Virtual SCTE•ISBE Cable-Tec Expo® 2020
This year, our colleagues at SCTE•ISBE are taking full advantage of the power of connectivity to make one of the biggest industry events completely virtual—and FREE—to all attendees. The first-ever SCTE•ISBE Cable-Tec Expo® Virtual Experience (sponsored by Charter Communications, Comcast and Cox Communications) is scheduled for October 12–15, 2020, and we're very excited to be a part of it. We'll have a virtual showcase starting on October 9th, and we've arranged for multiple speakers and moderators from CableLabs to participate in this year's event, covering a broad range of topics from AI to fixed-mobile convergence to the future of 10G, and much more.
The theme of SCTE•ISBE Cable-Tec Expo®2020 is Imagine the Possibilities, and it's all about exploring the future of our increasingly connected world. This topic resonates with many of our experts here at CableLabs who are working on advancing cable network technologies to meet the needs of current and future generations. We'd like to introduce you to a few of them.
Phil McKinney | President and CEO of CableLabs
Session: CEO Welcome, Chairman's Welcome and Opening General Session
When: October 12 @ 11:00 AM–12:30 PM EDT
Author, innovation guru and CableLabs CEO Phil McKinney will kick off the General Session by introducing the participants and setting the overall objective for the 2020 Cable-Tec Expo.
Steve Goeringer | Distinguished Technologist
Session: The Cable Industry and Fraud: What It Is and What To Do About It
When: October 12 @ 1:00–2:00 PM EDT
Steve will moderate a discussion about the evolution of cyber fraud and how operators can prevent, detect and respond to attacks within the parameters of the privacy law.
Karthik Sundaresan | Distinguished Technologist
Session: Latency Labors: Solving for the (Super Low) Requirements of What's Coming
When: October 12 @ 1:00 PM–2:00 PM EDT
In the Latency session, Karthik will offer well-needed focus on how latency can be represented quantitatively, including metrics for describing latency behavior and methods of collecting those metrics.
Greg White | Distinguished Technologist of Next-Generation Systems
Session: Latency Labors: Solving for the (Super Low) Requirements of What's Coming
When: October 12 @ 1:00 PM–2:00 PM EDT
Greg will moderate a four-part workshop that focuses on latency and ways to lower latency to meet consumer demand for seamless digital experiences, such as multiplayer online gaming and workplace collaboration tools.
Debbie Fitzgerald | Immersive Experiences and Technology Policy, CableLabs
Session: The 10G Platform: Powering the Smart Home of the Future
When: October 12 @ 1:30 PM–2:00 PM EDT
What was once only imagined is now becoming reality with applications such as VR/AR, holographic devices and other high-tech high-bandwidth technologies in the home. Debbie Fitzgerald and key players that were involved with the Mediacom 10G Smart Home showcase project will discuss technological challenges and future opportunities.
Craig Pratt | Lead Security Engineer
Session: Customer-Facing Security Mechanisms: Keeping People Safe Without Compromising Their Experiences
When: October 12 @ 3:00–4:00 PM EDT
Craig will cover the WFA Easy Connect specification, which integrates into the CableLabs Frictionless Onboarding System to keep Wi-Fi connections secure.
Curtis Knittle | Vice President of Wired Technologies
Session: The HFC Future: 10G, FDX and Extended Spectrum
When: October 13 @ 9:30–10:30 AM EDT
Curtis will join his colleagues from CommScope and Comcast for a three-part workshop on future-proofing cable's HFC networks on the path to 10G and beyond.
Max Pala | Principal Architect of Security
Session: Evolving Security Tools: Advances in Identity Management, Cryptography and Secure Processing
When: October 13 @ 9:30–10:30 AM EDT
Security, PKI and encryption expert Max Pala will cover the latest developments in quantum computing as a possible means to break public key cryptography.
Karthik Sundaresan | Distinguished Technologist
Session: An Upstream Path Forecast: OFDMA Ahead
When: October 13 @ 1:00 PM–2:00 PM EDT
Karthik will join the OFDMA session to talk about the work with NOS to develop an upstream Profile Management Application.
Mark Poletti | Director of Wireless
Session: Current Events in CBRS for Cable
When: October 13 @ 1:00–2:00 PM EDT
Mark will join experts from Celona and Charter to examine the opportunities offered by the FCC's decision to make the Citizens Broadband Radio Service (CBRS) spectrum band available for unlicensed use in private LTE/5G networks.
Jason Rupe | Principal Architect
Session: Proactive Network Management: Cool Tools to Identify and Eliminate Impairments
When: October 13 @ 1:00 PM–2:00 PM EDT
As an expert in Proactive Network Management, Jason will take a look at profile management in DOCSIS® 3.1, including ways to sidestep LTE interference in the middle of an OFDM channel.
Kyle Haefner | Senior Security Engineer
Session: Applying AI in the Home to Improve Consumer Experiences
When: October 14 @ 3:00–4:00 PM EDT
Kyle will share recent academic work to classify devices and learn their behavior, so that the network can identify devices—and determine when they're operating outside of their norm.
Jennifer Andreoli-Fang | Distinguished Technologist
Session: The State of Converging Access and 5G Mobile Networks: What's Happening, and What Matters?
When: October 15 @ 10:00–11:15 AM EDT
Jennifer will kick off the workshop with a look at transport convergence between mobile and DOCSIS® technology, including major MSO deployments in North America and Europe.
Robert Cruickshank | Proactive Network Management Advisor
Session: Powering 10G: What It Takes and How to Do It
When: October 15 @ 1:00–2:00 PM EDT
A recognized expert in early cable technology development, Robert will examine data coming from a Gridmetrics pilot program to measure, monitor and track the availability and stability of voltage in the last mile of the access network's power grid.
Matt Schmitt | Principal Architect
Session: I'd Like a (Network) Slice, Please: Current Events in Multi-Network Convergence
When: October 15 @ 1:00 PM–2:00 PM EDT
Matt will talk about CableLabs' Convergence Lab and new business opportunities beyond
residential broadband, including mobile fronthaul/backhaul, business-grade Ethernet and
remote OLT.
You can always count on SCTE•ISBE Cable Tec Expo to bring together thousands of tech's most ambitious minds, including leading innovators, technologists and visionaries. This year is no different. In fact, now it's even easier to register and join from the comfort of your own home or workplace office. Although you can expect some deviation from the usual event proceedings due the virtual format, all the main event sessions are generally still in place, including the thought-provoking General Session, Innovation Theater presentations, Interactive Sponsor Showcase and, of course, the educational heart of the event—the Fall Technical Forum. You can learn more about all the CableLabs speakers here or review the full agenda on the SCTE•ISBE Cable-Tec Expo® site. Visit CableLabs and Kyrio at the Interactive Sponsor Showcase. We hope to "see" you at the Expo!
10G
Welcome to the Smart Home of the Future, Powered by 10G
Today, we're very excited to announce another successful milestone on the road to 10G. We've partnered with Mediacom Communications—one of the first cable operators to roll out gigabit service to all of its customers—and the NCTA-The Internet & Television Association to bring you a real-life demonstration of how 10G will power the smart home of the future. This demonstration is part of the first-ever 10G field trial conducted by Mediacom in Ames, Iowa.
Introduced in early 2019 as cable's next great leap forward for broadband, the 10G platform will power a new wave of innovation that will be able to take full advantage of its ultra-fast, multi-gigabit symmetrical download and upload speeds, imperceptible latency and enhanced security and reliability. We've talked a lot about 10G over the past year and have even made a few videos to help you visualize what this new world might look like in the near future, but this is the first time we're participating in a demonstration that brings the 10G vision to life.
What Is Mediacom's 10G Smart Home? 
In simple terms, Mediacom's 10G Smart Home is a lab. It's a working technology laboratory wired for ultrafast speeds that allows Mediacom to test cutting-edge consumer applications in a real-world environment. What might look like an ordinary home is anything but! From the kitchen to the laundry room, every living area of this home has been outfitted with smart home technologies that will help the "future you" live your best life. The showcase includes:
Kitchen devices that blend IoT technology to create wholesome food
Telemedicine connections to improve patient engagement and care
Home automation technology that allows control of the environment with one tap or command
High-energy egaming played with low latency and seamless engagement and interactivity
Immersive entertainment experiences
Virtual and augment reality applications powered by the body's own electricity to de-stress and quiet the mind
A variety of other technologies that can help with pet care, working from home, distance learning and even window washing
This demonstration is a thrilling glimpse into the ways 10G can transform and enhance every aspect of your life.
Inside the home, CableLabs showcases the next generation of display technologies for entertainment, research and education. As you can imagine, holographic video requires an enormous amount of data, but we'll soon see holographic 3D images and video that won't require glasses or heavy headwear. These are the types of experiences that our 10G platform will make possible.
Launched on September 17, 2020, Mediacom's 10G Smart Home launch event included welcome messages from former FCC Chairman and NCTA CEO Michael Powell, CableLabs CEO Phil McKinney as well as high-profile attendees such as representatives from state and local government, the press and tech influencers. 
A True Tech Paradise
In a tech world, innovation faithfully follows the classic "if you build it, they will come" philosophy, which means that as internet speeds increase, new inventions come to light. Think about holodecks, video walls, immersive cord-free VR experiences and many other technologies that we haven't even imagined that will help us live, learn, work and play in the future. Cable's 10G platform will give innovators the flexibility they need to dream up big ideas that aren't constrained by data limits and pave the way for a new hyperconnected future. That's why demonstrations like Mediacom's 10G Smart Home are so important.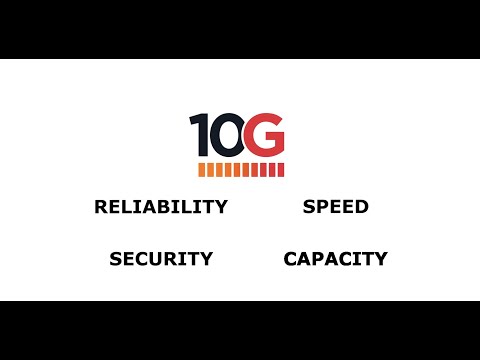 News
CableLabs Member, Telia Norge, Launches the Fastest Broadband Service in Norway
There's more great news from across the pond! Just a month after Vodafone Germany surpassed the 21 million gigabit homes passed milestone, another European telecommunications company and CableLabs® member, Telia Norge (Telia Norway), is launching the fastest broadband service in Norway for its customers, operating under the GET brand it acquired in 2018.
Now, Telia Norway's GET customers have access to as much as 1,250 Mbps download speed and either 500 Mbps or 50 Mbps upload speed, depending on the package they choose. Either option gives them unprecedented freedom to surf, stream and share on multiple devices at the same time. In addition to much higher speeds, customers will also enjoy the benefits of a significant increase in network capacity and reliability. These improvements are a direct outcome of Telia Norway's ongoing commitment to modernize and future-proof its hybrid fiber-coax (HFC) network in preparation for the next generation of high-speed digital products and services. By upgrading its network to CableLabs DOCSIS® 3.1 technology, Telia Norway will be able to not only greatly improve the broadband experience for its current customers but also ensure that it stays ahead of their broadband needs for years to come.
"This is a large and important program for us, where we will invest a lot in the years ahead," said Pål Rune Kaalen, Telia Norway Director of the Private Market. "Through the program, we are greatly expanding the speed, capacity and stability of today's network—something our new broadband product is a good example of. For us, this technology represents the broadband of the future."
As part of this large-scale modernization push, Telia Norway plans to continue investing in its HFC infrastructure with a goal of upgrading more than 300,000 homeowners to the new DOCSIS technology by 2023. The inherent flexibility of the DOCSIS technology will allow for a cost-effective upgrade without digging new trenches and negatively impacting the environment—or the bottom line. And that's what the broadband of the future is all about.
Check out the full press release on Telia's news site (Norwegian).
News
CableLabs Member Vodafone Germany Surpasses 21 Million Households with Access to Gigabit Speeds
Today we are shining a spotlight on another monumental achievement in the European cable community. Our CableLabs member with the largest gigabit network in Germany, Vodafone, has just surpassed 21 million households with access to gigabit speeds, bringing blazing-fast internet to over 50 percent of German households.
As a leading provider, Vodafone Germany recognizes the importance of expanding its Hybrid-Fiber-Coax (HFC) network and combining it with innovative multi-layer technology to meet the rising demand for high-speed services. From Aachen to Zwickau, and from the North Sea to the Zugspitze, in the first quarter of this year, more than half of Vodafone's new customers are opting in for a connection of 400 Mbps or faster and every third customer chooses 1 Gpbs service. It's very clear: an ultra-high-speed cable connection is the digital future and Vodafone intends to deliver. Aside from adding new infrastructure to accommodate its growing customer base, Vodafone has been using CableLabs DOCSIS® 3.1 technology to significantly increase both download and upload speeds and expand network capacity. Right now, there is an average of 8 gigabytes passing through every Vodafone customer's connection every day, allowing businesses and individuals to work, learn and enjoy multi-gig services.
Twenty-one million is a significant milestone, but while we are taking a minute to celebrate, Vodafone Germany is already working toward the next one: 25 million households in the Vodafone network by 2022! As soon as the first prototypes of the new hardware generation are available, Vodafone is planning initial field tests. These are to take place within the next two years.
"Vodafone, with its hybrid fiber coax network, is the main driver for the expansion of high-speed networks in Germany. With today's expansion step, we and above all our customers have well over 20 million reasons to celebrate," says Vodafone Germany CEO Hannes Ametsreiter and adds: "The upgrading of our hybrid fiber coax cable network continues and the end of the line in terms of speed is still a long way off. With each technology evolutionary step, we are making our cable internet even faster and even better by bringing more fiber optic into the network and pushing ahead with capacity expansion."
Vodafone is a shining example of the true power of an HFC network in delivering the future we are all dreaming of. As more multi-gigabit innovations become part of our lives, Vodafone and other cable providers will be ready to not only meet the increasing demand but to stay well ahead of it—many years into the future.
HFC Network
Upstream: How Much Speed Do You Need?
In the middle of a global pandemic, in which people are working and playing on their various devices at home, internet usage is surging—whether because of virtual meetings or streaming entertainment or mindlessly scrolling through apps. And it's not just the heavily used downstream aspect that's seeing increased usage, we're also seeing an increase in upstream usage.
What Is Upstream?
Upstream is when data flows from the user to the network. When we play an online multiplayer video game or conduct a web conferencing call, we're using the upstream channel. According to the NCTA's COVID-19 dashboard, upstream internet traffic through late July was elevated, up 22.1 percent compared with pre-pandemic levels.
Cable networks have ably handled this increased traffic, aided by the fact that popular upstream-dependent applications require relatively modest bandwidth. A web audio conference call requires a modest 0.03 to 0.15 Mbps in bandwidth, whereas a video call may require up to 3 Mbps. Given that nearly all U.S. households passed by cable networks have currently available upstream speeds of at least 20 Mbps, there's sufficient capacity to meet today's demands.
Your cable broadband internet connection can handle it today and we continue to advance cable network technology to ensure we're also ready for tomorrow.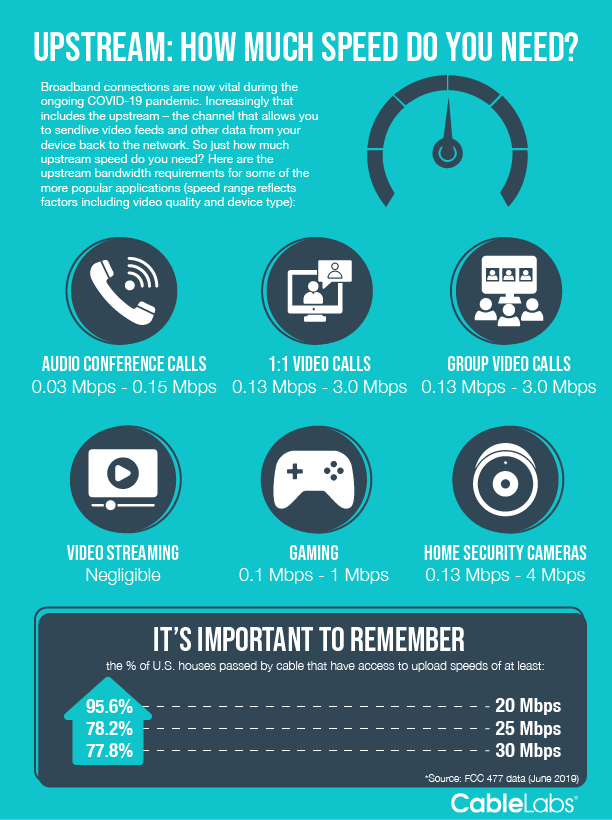 Download the infographic here.
Events
See the Future Now With 4Front: Register for Our 2021 Event
Mark your calendars now because 4Front 2021 is coming next June! Thanks to work behind the scenes, the event's visionary lineup is coming into even stronger focus. A unique cross-industry event that will bring together leaders and innovators from around the world to exchange ideas and explore how technology will shape the future, the inaugural 4Front conference was scheduled June 23-24 in Aurora, Colorado. However, because of health safety concerns stemming from the COVID-19 pandemic, CableLabs decided to postpone the event until June 15-16, 2021.
The 4Front 2021 event has already gained two notable recommitments among thought leaders, including artificial intelligence pioneer Rana el Kaliouby, founder and CEO of MIT-spinoff Affective. Under el Kaliouby's guidance, Affectiva has developed a technology that analyzes faces for emotional nuances. The technology is being used in a wide range of content testing, video recruitment and mental health applications.
Also joining 4Front 2021 is Shoshana Zuboff, a noted author and futurist who predicted in the 1980s that computers would revolutionize the workplace. In her latest book, The Age of Surveillance Capitalism: The Fight for a Human Future at the New Frontier of Power, she proposes that technology users are raw materials for manufacturing and sales systems, as part of a new surveillance economic order.
Meanwhile, 4Front's futuristic conversation continues in the present, through a series of podcasts available on Spotify, Google Podcasts and Apple Podcasts starting July 28.
The podcasts will feature 4Front visionaries who will reveal how they envision technology's role in building a better, safer and more connected future. Imagine holographic displays that drive workplace productivity and literally bring a new dimension to education in the classroom. Or immersive virtual reality games the whole family can play. Or new video applications that will allow patients to see specialists a thousand miles away.
The first trio of podcasts will explore the future of education and the workplace.
Education innovation expert Ai Addyson-Zhang will discuss her passion for incorporating social media and creative technologies to drive student remote learning.
Mike Hess, founder and executive director of the Blind Institute of Technology, will talk about his mission to bring blind and visually impaired IT and tech professionals into the workforce.
Spark Mindset CEO and Founder, Lawrence Wagner, will discuss what he sees in the workplace now, and what could change in the future.
More podcasts exploring entertainment and healthcare innovations will follow in the coming weeks so make sure to tune in and stay in the forefront of innovative thinking so that you're prepared for the 4Front conference next June.
Home Network
6 Tips to Speed Up Your Home Network
Are Your Devices up to Speed? Here's Why It Matters…
Nobody likes to wait for an internet page or movie to load, but did you know there are things you can do to improve the speed? Yes YOU. Even if you think you're not tech savvy, you can easily check your devices to see if they're slowing things down. If you like to send/receive email messages, browse the internet, download files, and stream movies without delay, this blog post is for you.
Turns Out, Your Computer's Age Might Be Affecting Your Speed
Did you know that even if you have purchased 1 Gbps service from your cable provider, your computer may not be able to deliver that speed due to how old your computer is?? You should check the age of your computer and other devices. They may not have the processing speed, gigabit card or compatibility with your service level to meet your expectations. Check your computer settings, the manual or even the manufacturer's website for the specifications for your model number to make sure your laptop has wireless 802.11ac and gigabit ethernet cards.
Update Your Software and Drivers
Are your devices updated with the latest drivers and software? Go to the support page of your manufacturer's website and check the "drivers" section. You may need to download the latest drivers which allow your device to properly communicate with your operating system. If you know your processor brand, you can also go to the Intel or AMD websites and use the driver auto detect / support assistant tool which will automatically let you know which drivers you need to download. Be sure to check for the latest drivers every 3 to 4 months.
Need a New Router?
Wi-Fi standards govern how different wireless devices are designed and how they communicate with each other. As these standards are improved, your devices may need to be upgraded to keep up with the improvements. Perhaps everything in your home except your wireless router can deliver gigabit service. Your network speed is dependent on your router specifications, so make sure that your wireless access point, router, or switch has 802.11ac wireless functionality and gigabit ports built in. If not, it might be time to buy a new one.
What's the Best Location to Place Your Wi-Fi Router?
Where-oh-where is your wireless access point? It's all about location, location, location. We created a brief video with suggestions for where to place your access point and tips to improve your home Wi-Fi performance.
Let's Not Forget About Security
Security is imperative. You can learn how to secure your Wi-Fi router to protect your home network.
One last security tip: Your antivirus software will not work at its full capacity unless your computer is fully updated with the latest updates. To get your system updates in Microsoft Windows, go to settings and then click on windows updates. On a Mac, go to systems preferences from the Apple menu and click software update. (There is also a check box to automatically keep your Mac up to date.)
Home Network
Clogged Home Wi-Fi? Try Installing a Mesh Network
Wi-Fi has become the broadband internet plumbing in our homes, supplying the data flow we need to work and play online. But it also can be just as vexing as traditional plumbing – you get a broadband torrent in one room and a data trickle in another. What's the fix? It may well be a mesh Wi-Fi network.
Luckily, home mesh Wi-Fi networks are easier, cheaper and not nearly as messy to install as traditional plumbing jobs. Mesh network systems start at about $250 and are available online. Most mesh systems can be self-installed and configured using a downloadable smartphone app.
Here's How a Wi-Fi Mesh Network Works
Instead of relying on a single router to create a Wi-Fi network in your home, a mesh network includes a main router plus additional mesh node devices. Mesh nodes are small radio transmitters that function in the same way as a wireless router. They are linked to the main router using a wired or wireless connection. Each mesh node device – often no larger than a hockey puck – provides Wi-Fi coverage in specific zones in your house, together providing whole-home coverage. The result is a consistent data flow whether you are surfing the internet in your upstairs bedroom, downstairs den or main floor living room.
Before Purchasing a System
Your first step is to figure out how many nodes you need, and that requires a little math. Calculate how many square feet your Wi-Fi network needs to cover, including each floor and any outdoor spaces such as a patio. Then check the recommendations from your mesh device maker to decide how many mesh nodes you will need.
Installation Process
The order of the steps in the installation process varies per brand, but usually follow this pattern:
Download and open the mesh network system's mobile app to your smartphone
The app may guide you through setting up an account and administrator password. Be sure to save that password for easy access in the future.
The app will then most likely ask you to name your new Wi-Fi network and set the network password. You may want to match the name and password of your existing Wi-Fi network which will allow your devices to jump right on the new network.
Finally, the app will walk you through the installation of the hardware which includes detecting the main mesh router and then placement of the additional nodes.
The main mesh router is usually installed next to your home broadband modem using a wired ethernet cord. From there, things get a bit trickier, as you decide where to put the additional mesh nodes. If you have a dead zone with little or no Wi-Fi signal, try placing one of the mesh nodes halfway between it and your main mesh router. Remember, the additional mesh nodes need to be able to talk to the main mesh router.
The Don'ts
Don't put nodes close to a microwave oven or a cordless landline phone, as they are known Wi-Fi signal disruptors.
In the kitchen, don't place a node next to the fridge – it's a giant metal box, and it will block Wi-Fi signals.
Most apps also will let you know if any of the mesh nodes are in a bad spot, and you may have to move them to improve the signal.
The last cleanup step is to decide if you want to disable the Wi-Fi signal from your old system.  This is usually a good idea if you placed your new mesh router node close to your old router. Some routers have a switch to disable the Wi-Fi and others require you to turn off the Wi-Fi via its browser user interfaces.
Once complete, you are good to go. Your self-installed mesh network now pipes broadband data throughout your home to support your workflow and entertainment streaming – all without ever having to pick up a monkey wrench!
Subscribe to our blog for more Wi-Fi tips and tricks.
Home Network
Screen Yourself: When It's Wise to Nix Video in Teleconferences
To be seen or not to be seen – that is the question for many of us as we spend our days in online teleconference meetings while working from home.
True, seeing video of your fellow participants can add energy to a meeting and make you feel less isolated. But there are some good reasons – and some embarrassing ones – for toggling off your video feed.
My home broadband isn't all that broad. Even in the era of plentiful home broadband service, video teleconferencing calls can be a chore if your home connection is running slow. Maybe you moved into a house with a great view of the mountains but lousy Internet access. Or every member of your household is online right now, and your share of the broadband pipe is decidedly narrow. Or it could be that you are required to user a VPN connection, which provides better security but also slows down the video stream and increases latency. Whatever the case, participants' video feeds jerk and stutter, or worse, all of a sudden you find yourself kicked out of the call queue. Turning off your video feed – and asking others to do so as well – may lighten the bandwidth load so you can continue the meeting.
My laptop is a fossil. Hey, we've all been there. You start a job and you are given the oldest laptop in the company fleet. In computer years, it dates back to the Cretaceous Era, as evidenced by its CD drive. With its maxed-out RAM memory and outdated operating system, this geezer of a computer can barely deal with email, let alone a live streaming video conferencing call. If your laptop would be more useful as a brick and there is no hope of a replacement, you may need to participate in teleconference meetings in audio-only mode.
Focus, people! If the meeting features a single person giving a presentation, it may be a good idea to have everyone else go sans video. Not only does this allow the group to focus on the presenter as well as any screen-shared information, but the presenter doesn't have to watch a half-dozen or more bobbing heads, or see that most of the participants are looking elsewhere, munching on snacks or yawning. That's not only discouraging for the presenter, but it also is distracting.
Oh no, I really have to go… You are in the middle of a marathon meeting and you really, really need to use the restroom. Or maybe your five-year-old has just burst into your home office in full-on meltdown mode. Either way, it's probably best if you temporarily turn off your video and put yourself on mute. Your colleagues may not be happy you are taking a break to deal with personal business, but they will be grateful you didn't share it in glorious video and audio.
Uh, did I put on pants? You overslept. Or you are naturally fashion-challenged. Or the call came at a really bad time early or late in the day. Whatever the case, you aren't exactly dressed for success – in fact, you shouldn't even go out in public and risk scaring small children. The best option may be to turn off your computer camera and keep your fashion fail private. All in all, your colleagues may thank you for it. You really don't need to be this guy.
Subscribe to our blog to get more tips, tricks and information from CableLabs.
Home Network
From Setup to Snacking, There's an Art to Working From Home
Thanks to reliable broadband networks, many of us have been able to turn our home space into our workplace as we weather the COVID-19 pandemic. But doing business at home in this new normal world isn't always easy. Luckily, your fellow telecommuters at CableLabs have come up with some great ideas to help you get the job done while at home, from creating a workable workplace to probably the most important issue: Snacks.
Let's start with the basics. Good work depends on a good workspace, so setup is key. Your home office should be in an area where there is good light and a strong broadband connection. If you must participate in teleconferencing calls, make sure your computer has a good camera, microphone and speakers. To avoid looking like a shadow puppet during video calls, make sure any bright window or desk light is in front of you, not behind.
Now look at your work space, including your chair, keyboard, mouse and monitor(s). Is your monitor screen at or slightly below eye level? Are your armrests at a level with your elbows, so your shoulders aren't straining or hunching? Is your keyboard positioned so your wrists are not contorting as you type? With some simple changes, you can avoid the misery of headaches, backaches and carpal tunnel syndrome pain.
One of the biggest problems for office workers also hits home for telecommuters: Don't sit too long while staring into a bright monitor. To avoid eye strain, make a habit of looking away from the screen for a couple of minutes every hour or so. To give your backside a break, try setting up an alternative standing desk using a counter or high table.
If a standing desk isn't doable, try getting up and moving at regular intervals. Luckily, there are always plenty of household chores waiting, such as loading/unloading the dishwasher or shoving dirty clothes into the washing machine. This will not only give your eyes and body a necessary break, but you will have something clean to wear and dishes ready for dinner.
Another big problem is isolation, as we get used to working outside of an office filled with coworkers. To keep your day from feeling like solitary confinement, schedule regular team teleconferencing meetings so that you can still see and hear your colleagues. And don't worry if the first few minutes are spent telling funny stories about epic cooking fails or what the dog did this weekend – this is good, morale-boosting social interaction, and as long as everyone moves into work topics after a few minutes, it does far more good than harm.
And finally, snack choice is crucial. Working from home means you are much closer to the fridge and pantry, which can be a blessing but also a curse for your waistline. Great options for munching during the work-at-home day include mini carrots, celery, hummus and granola. Favorites among CableLabs team members include cheese, nuts and jerky – all are loaded with protein that will power your productivity and reduce hunger pangs. Of course, every once in a while, indulge in a favorite treat, be it animal crackers, cookies or chocolate. Working from home doesn't have to be torture, after all.
Subscribe to our blog for more tips and tricks in the future.