Home Network
Tips to Improve Your Home Wi-Fi Performance
In response to the Covid-19 outbreak, most people around the world are being asked to stay home. At the same time, they're going about their daily lives as best as possible under the circumstances. This means that people will be doing more online such as working from home, classroom assignments, calling their friends and watching videos.
With more users in the home simultaneously active online, you may be experiencing Wi-Fi overload. Joanna Stern over at the Wall Street Journal posted a helpful article about fixing Wi-Fi pain points here. We have a few more suggestions and tips to better share your home network.
The first step is to assure that your router is centrally located in your home. Router antennas send Wi-Fi signals out in all directions. So, if yours is tucked away in a corner of your home your wireless coverage might be pointing outside. A central location will optimize your signal. Ideally the router should be off the floor and placed as high as possible. It's also important to keep the router away from obstructions, such as TVs and other large electronics. The more obstacles near your router, the more interference with the signal.
Don't forget to stay close to your Wi-Fi router when you're using data-intensive applications. The closer the device you are using is to a Wi-Fi router, the better its connection will be. If you have several people on the internet in your household all at the same time watching online videos and such, consider using standard definition (versus high definition) to help things run smoothly. Go into video settings on your streaming platforms and lower the resolution as needed. Do you really need full HD 1080 resolution for the kids to watch Baby Shark? Look for "data saver" or "good" under the settings of your favorite services. Also consider lowering the video resolution on your webcam to 720p to ensure great video while reducing the risk of the kids competing with you for Wi-Fi bandwidth while binge-watching Star Wars movies.
Services such as Zoom, Google Hangouts and Webex allow for changing your video resolution under their settings tabs. Others may require a change by your systems administrator. It can help to turn off your video security cameras and nanny cams while at home or not in use too.
If you're on a deadline for work or school and need to try and speed things up, try minimizing the use of concurrent devices and applications (e.g., gaming or watching streaming video) to reduce conflict. Backing up videos, pictures and files can take a while, depending on the size and other applications being used. Schedule and perform large file backups during overnight hours.
Don't forget that having multiple tabs open on your browser can slow things down, especially if you're streaming music or have a video running on different websites in the background. This can cause a decrease in your browsing speed, so we recommend closing tabs when they're not in use. We're all used to working wirelessly these days; a wired Ethernet connection will speed up data transfer from your computer to the Internet. So, go to your garage or closet where you store your miscellaneous electronic accessories and dig up your CAT 6 (standard twisted pair cable) cables to use a wired versus Wi-Fi connection for your PCs, gaming consoles and TVs if available.
By taking some of the steps outlined above, we can all help improve our Internet experience within the home network. We will get through this and whatever comes next!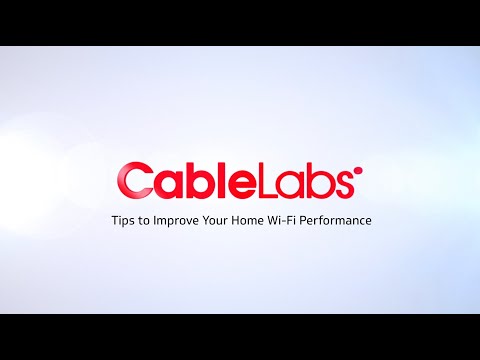 News
CableLabs Appoints 5G Pioneer Rakesh Taori as VP of Wireless
CableLabs is excited to announce the appointment of Rakesh Taori as its Vice President of Wireless. He will report to Chief Research and Development Officer, Mariam Sorond. In this role, Rakesh will drive CableLabs' efforts in the wireless and mobile area delivering on CableLabs' vision and strategy for putting the industry in the driver's seat in the future of connectivity.
"We are delighted to welcome Rakesh to CableLabs. His in-depth knowledge and vast experience in the wireless area will bring tremendous benefits to our members and the industry as a whole," said Sorond. "Rakesh brings a broad perspective across many technologies and platforms. As the industry embraces the principles of open standards, virtualization, and open interfaces, Rakesh's creative thinking will propel innovations at CableLabs towards disruptive networks."
Rakesh's appointment underscores CableLabs' commitment to attracting thought leaders from the wireless industry. His decade-long pioneering work in 5G, coupled with his first-hand experience in initial deployments equips him with a solid understanding of the opportunities. He provides a timely addition to CableLabs' ability to deliver innovations that will continue to place the industry at the leading edge of convergence and connectivity.
"I am thrilled to join CableLabs and I look forward to working with a team of world-class distinguished technologists and research engineers," said Rakesh. "Delivering ultra-high-speed ubiquitous broadband services to consumers securely, and monitoring, administering and operating billions of machines and objects in public and private networks will require unprecedented levels of innovations in wired and wireless technologies. CableLabs provides the ideal platform for inventing unified architectures that incorporate native support for coexistence and seamless delivery and helps the industry build and deliver innovative and efficient systems to serve these next-generation needs."
Prior to joining CableLabs, Rakesh was a Fellow of 5G Technologies with JMA Wireless (which acquired Phazr Inc.)—a 5G startup where Rakesh was a founding employee and served as the VP of systems and standards. At Phazr, Rakesh led the systems team that helped architect and build 5G infrastructure equipment, including Phazr's novel 5G base station—the industry's most integrated and compact form-factor 5G base station. At JMA/Phazr Rakesh also enabled and led several paid mmW 5G trials and pilot deployments with Tier-1 operators in the European Union and Japan.
Prior to JMA/Phazr, Rakesh amassed valuable experience and expertise while working with technology leaders including Samsung, Ericsson and Philips. Rakesh has served on the Wi-Fi Alliance Board for over 5 years, served as a vice-chairman of the IEEE 802.16 working group and held various leadership positions in several standards organizations. Rakesh holds more than 150 granted U.S. patents.
Subscribe to our blog to learn more about Rakesh's work in the future.
News
CableLabs' Own Dr. Jennifer Andreoli-Fang Is This Year's WICT Rocky Mountain Woman in Technology
We are proud to announce that on May 1, 2020, CableLabs' Distinguished Technologist, Dr. Jennifer Andreoli-Fang, will receive the prestigious Woman in Technology award for her contribution to the cable industry. The award is presented by Women in Cable Telecommunications (WICT) Rocky Mountain chapter, one of the oldest and largest organizations dedicated to advancing the position and influence of women in the telecommunications field. 
Jennifer's Journey to the Walk of Fame 
Walk of Fame is widely regarded as one of the most influential and inspiring events that recognizes talented individuals—both women and men, veterans and up-and-comers—for their game-changing contributions to the cable industry. Jennifer's dedication to advancing cable technologies has certainly earned her this honor. Thanks to Jennifer, the cable-enabled internet you enjoy today is faster and more robust than ever before. She has spent the last 12 years leading the development of state-of-the-art broadband wireline and mobile wireless technologies such as, DOCSIS® 3.0 MAC, DOCSIS 3.1 MAC, Full Duplex DOCSIS MAC architecture and LTE in unlicensed spectrum. She also co-invented Low Latency Xhaul (LLX)-a crucial step toward DOCSIS/mobile convergence-and is now leading a multi-vendor effort to standardize it across the industry.   
To say that Jennifer knows her trade is an understatement. As an innovator and a true leader, she is widely respected within the cable and mobile community. In addition to her CableLabs work, she also led the cable industry LTE unlicensed effort at the 3GPP, served as the vice chair of the Wi-Fi Alliance (WFA) LTE-U Task Group and organized and served as the chairwoman of the IEEE International Conference on Communications LTE-U workshop. She is leading the CableLabs effort at the O-RAN Alliance. 
Jennifer's every move is geared toward building innovative network solutions that enable faster, more seamless communication between people and devices. She has more than 80 granted and filed patents and many prestigious industry awards, including the 2018 Light Reading Hedy Lamarr Female Tech Pioneer of the Year and 2017 Silver Stevie Award for Innovative Woman in Technology. The Walk of Fame Award is a well-deserved addition to Jennifer's already impressive collection. 
Congratulations, Jennifer! 
Events
Gearing Up for 4Front 2020: What Does It Take to Build the Future?
We're only 4 months away from launching 4Front, and it's shaping up to be one of the most innovative and meaningful events of the year! The agenda already includes an amazing lineup of speakers, workshops, demos, interactive experiences and members-only sessions that will not only help inform you about the future but also create opportunities where you can participate in building it. Be sure to mark your calendar for the big event: June 23–24, 2020. Seats are limited for select sessions, so register today!
Below are just some of the things you can expect from 4Front:
Meet and Collaborate with Our Amazing Speakers
What really sets 4Front apart is the diversity of expertise that we're bringing to the event. We've got world-famous educators, authors, founders, product managers, futurists, psychologists, technologists, behavioral scientists, engineers, journalists, AI experts, molecular biologists, gerontologists and even biohackers—all coming to 4Front to share their expertise, both from the big stage and in more intimate workshop settings.
You'll meet such visionaries as:
Learn Innovative Techniques that Will Help Solve Real Problems and Improve Decision-Making
The same experts and visionaries that you'll hear from onstage will join you for a series of interactive workshops designed to complement the four main conference experience tracks: Live, Work, Learn and Play. In these workshops, you will learn how to:
Overcome organizational barriers to innovation
Recognize disruptive new business concepts
Design better, more humanist products
Generate more creative ideas
And much more!
Our experienced facilitators will not only teach you these highly valuable skills but will also show you how you can implement them in your day-to-day life and business. These workshops are included in the general admission, but seats are extremely limited. Make sure to reserve your spot after registering. You can learn more about 4Front workshops here.
Show Off Your Hard Work by Becoming a 4Front Exhibitor
At 4Front, we're aiming to ignite a global effort to build a better, safer and more connected future through cross-industry collaboration. By becoming a 4Front exhibitor, you can show off your ideas for the future and collaborate with experts from various industries whom you wouldn't otherwise meet. These encounters could help identify common problems and jumpstart new ventures that lead to innovative solutions.
If you'd like to share your vision of the future, make sure to reserve your exhibitor table at 4Front today! Table space is limited.
Together, we can determine how we will live, work, learn and play in the next decade and beyond. Don't wait for the future—start building it at 4Front. Hope to see you there!
News
CableLabs Honored with a New Technology Emmy
This awards season, CableLabs won a Technology and Engineering Emmy Award for enabling development and deployment of the Hybrid Fiber Coax (HFC) Network Architecture—the suite of technologies responsible for the razor-sharp broadband video, high-speed Internet you enjoy today.
These Emmy awards aren't easy to snag—although we previously received one in 2010 for DOCSIS 3.0 technology. They're awarded only once per year to individuals and companies whose technologies have made an extensive and significant impact on the transmission, recording and reception of television. Essentially, the awards recognize technologies that have revolutionized the industry. That's inarguably true of HFC and, specifically, the AM laser technology that replaced the very long and unreliable amplifiers in cable distribution plants. AM lasers substantially reduced noise and distortion and increased the plants' bandwidth, paving the way for high-capacity digital services such as HDTV, Video on Demand, high-speed Internet connectivity and more. In just a few decades, cable operators have universally adopted HFC technology, deploying more than 500,000 miles of optical fiber worldwide.
CableLabs' Contribution: A Little Bit of History
In many ways, what's known today as HFC technology is a joint effort to improve the reliability of cable technologies devised in the early 1980s. Prior to 1985, cable systems had long cascades of amplifiers, the failure of which affected service to large populations. In search of a solution, Time Warner—and later, Ortel—began experimenting with using fiber deep in the system with much shorter legs of coax and only a few amplifiers in each leg. The results were very promising—much better picture, reduced noise and greater overall system reliability.
After the initial test trials, the challenge was to make this technology economically viable for larger-scale commercial deployments. This is where CableLabs has played a monumental role. In 1988–89, newly formed CableLabs (led by Dick Green) drove the effort to standardize the application of HFC technology and facilitate collaboration between cable operators and industry vendors, resulting in rapid performance improvements and reduced cost.  It is this collaboration across cable operators, industry vendors and CableLabs – and other industry partners – that remains the hallmark of CableLabs' continued success today.
What's Next for HFC: The Road to 10G
HFC technology has been around for over 30 years and is still going strong, providing the platform for countless gigabit data services, like Ultra HD and more. It's also the basis for the cable industry's 10G platform, which aims to provide faster speed, lower latencies, enhanced reliability and better security in a scalable manner. Achieving this goal will open the door to a whole new wave of innovations, such as full-immersion virtual reality (VR) gaming, artificial intelligence (AI) applications and other technologies that will revolutionize the way we live in the near future.
One of the major advantages of HFC architecture is its ubiquity, which allows the cable industry to make quick performance improvements without any major, expensive overhauls to the system. And although we at CableLabs are deeply honored to receive recognition for our contribution, our work on HFC is far from over. We'll continue working with our members and partners to unleash HFC's full potential, building on our existing foundation to deliver a fast, reliable and secure network of the future.
The 72st Annual Technology and Engineering Emmy Awards will take place in partnership with the National Association of Broadcasters (NAB), at the NAB Show at the Wynn Encore Hotel and Spa on Sunday, April 19th, 2020 in Las Vegas, NV.
Acknowledgment of Significant Individual and Corporate Contributors:
CableLabs
Dick Green
Time Warner / ATC
Jim Collins, Jim Chiddix, Louis Williamson, Dave Pangrac, Don Gall, John Walsh, Jim Luddington, Jay Vaughn
TCI
John Malone (who was also Chairman of CableLabs), J.C. Sparkman, Richard Rexrote
Ortel
Hank Blauvelt, Larry Stark
ANTEC / AT&T Bell Laboratories
ANTEC – John Egan

AT&T Bell Laboratories – Bob Stanzione, Carl McGrath, Gerry Fenderson

Jerrold / General Instrument
David Grubb, Steve Frederick, Geoff Roman
Scientific Atlanta
Dave Fellows, Lee Thompson, Frank Little, Rezin Pigeon
Events
Jet Off to Miami for CableLabs' First Latin America & Caribbean Summit
In recent years, expanding cable footprints across Latin America and the Caribbean have helped transform the lives of many people who now have access to better internet, TV and mobile services. But, there's always more work that needs to be done. This December, join us in "Magic City" Miami for our first-ever Latin America & Caribbean Summit, where we'll address the unique connectivity needs and challenges of the region and define strategies for the future.
Why Now?
Last year, cable overtook DSL to become the largest broadband technology platform in Latin America and the Caribbean. In 2018 alone, there were about 438 million Internet users—an increase of more than 130 million from 2013. This uptake is great not only for the providers, who are looking to expand and grow their revenues, but also for the communities they serve. In the long run, high-speed internet access changes the way people work, socialize and exchange ideas—leading to innovation, entrepreneurship and overall economic growth and prosperity. And we know that for many of our local provider members who care deeply about their communities, this is as much a motivating factor as their bottom line.
Our members in Latin America and the Caribbean represent a highly diverse group of cable operators – from 16 unique island communities in the Caribbean to 12 equally differentiated countries in North, Central and South America. At the summit, we will cover topics specific to their needs, including various ways the latest cable technology can accelerate progress in the region. You will have an opportunity to share ideas and insights with your peers, learn about the latest innovations and implementation strategies, and identify new opportunities for growth. Topics will include network evolution strategies in the context of 10G and DOCSIS 4.0, as well as fixed-mobile convergence, 5G, Kyrio's services and how they impact the connectivity industry, in-home Wi-Fi, operations experience improvements and other technology strategies for the new decade and beyond.
Who, When, Where?
The Latin America & Caribbean Summit is for C-level executives, technology leaders and subject matter experts from all CableLabs member companies in North, Central and South America and the Caribbean islands who have a deep understanding of the socio-economic characteristics of their markets and are committed to making a difference.
The event will take place in the beautiful Four Seasons hotel in Miami—the city appropriately referred to as the gateway to Latin America and the Caribbean—December 5–6, 2019.
Latency
Gearing Up for 10G: Download the Technical Brief on CableLabs' Low Latency Technologies for DOCSIS Networks
If you've been following our blog and our recent 10G announcement, you know that one of the main areas of focus for us is latency. Achieving a near-zero latency on DOCSIS networks is one of the goals of the 10G initiative and is just as important as increasing speed or bandwidth. The success of future 10G networks that can support seamless communication and next-level interactive experiences like holodecks and 360° video is heavily dependent on finding technological solutions that decrease latency to imperceptible levels, delivering consistent, real-time responsiveness that our customers desire.
The good news is we are well on our way to getting there. So far we've released a number of specifications, including Low Latency DOCSIS (LLD) and Low Latency Mobile Xhaul (LLX), aimed at reducing latency in the DOCSIS networks that provide residential services and also serve as backhaul, midhaul and fronthaul (collectively known as xhaul) for mobile traffic.
Low Latency DOCSIS (LLD)
In modern households, there are often multiple applications and devices connected to the same network at the same time, sending and receiving a variety of traffic. Some, like streaming video and large file downloads, send repeated large bursts of data and expect the network to buffer and play-out those bursts, while others, like online gaming and voice chat, send traffic smoothly. Ordinarily, the traffic from the smooth senders is subjected to the widely varying buffering latency caused by the bursty senders.  LLD technology is optimized for these two different types of traffic behavior, and decreases delays for smooth sending applications (many of which are latency-sensitive) without affecting the other traffic. Low Latency DOCSIS technology can support a consistent sub-1ms latency round-trip for the smooth sending applications, resulting in a much better network performance overall.
Low Latency Mobile Xhaul (LLX)
LLX leverages collaboration between the mobile network scheduler and the DOCSIS scheduler to provide a low latency xhaul solution that achieves a consistent DOCSIS upstream delay of just 1 to 2 milliseconds. LLX also defines a common quality of service framework for both mobile and DOCSIS so that the relative priorities of different traffic streams are maintained across the two systems. In the foreseeable future, deploying LLX technology will help solidify DOCSIS cable networks as the xhaul transport of choice, capable of supporting the latency requirements of 5G and beyond.
For more detail, please download the following member-only technical brief on Low Latency Technologies for DOCSIS Networks which includes information about sources of latency, how we address them, implementation strategies and more.
If you're not yet a CableLabs member, find out how you can become one here.
Events
Can You Envision It Now?
In a world of constant change and innovation, the need for collaboration and assurance is crucial. Every year, CableLabs and Kyrio host a booth at SCTE-ISBE Cable-Tec Expo (#1101 this year). At this event, cable and broadband professionals from around the world come together to share innovations, trends and emerging technologies. This year, we're doing something a little different. We're excited to announce the creation of our new CableLabs Envision Vendor Forum leading into SCTE Cable-Tec Expo 2019. This forum will accelerate innovation by introducing our newest technology advancements to our vendor community faster than ever.
What Will CableLabs Cover at Envision?
10G Wired Technologies
In addition to the significant cost savings, without laying more cable, we are also future-proofing our wired technologies and making certain that our customers have access to revolutionary services in the years to come. With technologies like Distributed Access Architecture, Full Duplex Coherent Optics, Passive Optical Network (PON), Proactive Network Maintenance (PNM), and DOCSIS 4.0, that revolutionary future is just around the corner.
Members of our team will not only provide information about the technology being developed for the industry; it will also offer an all-inclusive story that will tie together the numerous projects into a clear and comprehensive narrative. This narrative will support the direction of wired technologies within the industry and how all of the work is interconnected.
Mobile and Wireless Networks Enabled by 10G
Wireless technologies must be fast, secure and widely available so that we can stay connected to the people and things that matter the most to us. Wireless technologies are important, like network convergence and low latency mobile xhaul, because low-latency wireless access is key to building our connected future. We've been making sure cable's hybrid fiber coax networks are ready to support wireless needs now and in the future.
Panel Discussions and More
CableLabs technology experts will be speaking and moderating panel discussions throughout the forum, and CEO and President Phil McKinney is speaking at the opening ceremony. Our lineup of speakers and moderators include the following:
There will be many more speakers you will not want to miss, especially our keynote speaker, Kevin Hart, Executive VP, Chief Product and Technology Officer, from Cox Communications.
CableLabs Envision Vendor Forum is ideal for developers, engineers, systems administrators, systems architects, technical decision makers, product engineers, marketers, and anyone who needs to be ahead of the technology movement.
Event Information
When: Sept. 30, 2019
Where: New Orleans, LA
Innovation
Behind the Tech: Near Future. Diverse Thinkers Wanted.
During Summer Conference, we released Diverse Thinkers Wanted, the fourth Near Future film—this one about the ways we'll all be working a few years from now. Just like the previous three films, Diverse Thinkers Wanted highlights how advancements in cable technology can affect the way we interact with other people and the world around us—but this time in a professional capacity. The film explores multiple future technologies that can eventually help us become better, faster and smarter versions of ourselves, enhancing our creative problem solving, time management and collaboration skills.
On-Call Mixed Reality
Our eyeglasses and other wearables will be outfitted with connected mixed reality (MR) tech that can display a variety of useful and timely information about everything we see. This will give new meaning to the term "plugged in" at work. 
Public Light Field
Public Light Field technology will allow multiple users to sign in and share information in a virtual 3D space or take part in private discussions through a secure channel if they need to. Thanks to this tech, working from home or another location will be easier than ever.
 Autonomous Taxi Fleet
We envision a future, just a few years away, where a connected autonomous taxi service is instantly available to safely take you from point A to point B no matter where you are. Beats trying to get an Uber during rush hour!
Layered Videoconferencing
The traditional video telepresence solutions available today will be enhanced with MR and holographic technologies that will allow you and your team to be exponentially more productive, leaving less room for misunderstandings and more room for creativity.
Earpiece AI
Next-generation AI applications can help you make the right decisions more quickly than ever. They can continuously listen for context and adapt to your needs as time goes by. Eventually, these tools will know what you need when you need it, without your explicit instructions. This tech will be very handy when you're in a time crunch.
Holo-rooms
Holo-rooms are gathering spaces that include the latest holographic tech such as light field displays, light field rooms and volumetric light field tables. They're perfect for running "virtual" meetings where all the participants feel as if they're in the same room even if they're miles apart.
Alternative Interfacing
Future innovations will allow you to do things you've never been able to do before, such as moving virtual objects with the gaze of your eyes. This type of tech can revolutionize the workforce by creating exciting new opportunities and even entire new fields of work.
Affordable Light Field Units
As light field technology becomes more mainstream, it will become more affordable, allowing manufacturers to create a variety of products for use at home, work and in public places, such as museums and bus stops. Soon, it will become one of the most effective ways to convey information.
Events
4Front 2020: Introducing a New Cross-industry Event for Leaders Building the Future
At CableLabs, we think about the future every day. Our Near Future series offers a glimpse of how people might live, work, learn and play 3 to 8 years from now, but it doesn't address how we'll get there. The development of the 10G cable network that will power the innovations depicted in these films is already well underway; however, a network alone isn't enough.
Building the future will require a whole new level of cross-industry collaboration and input from the brightest minds in healthcare, gaming, automotive, education, consumer tech, sustainability, financial technology, AI, security and other fields that will develop consumer products and applications for the new era. This is why we need 4Front.
What Is 4Front?
4Front is a 2-day conference that will take place June 23-24, 2020, at the Gaylord Rockies Resort & Convention Center in Denver, Colorado. We invite all industries and ecosystems to join us and answer the question: What kind of future do we want to build?
Tackling that question might result in a wide array of answers, but we know there will also be unique, industry-specific challenges that we won't know about until we get everyone in the same room. And that's the type of information we need to be able to move forward. Less about execution or any one type of technology, 4Front is devoted to expanding the human connection, aligning visions and discovering how to build a better tomorrow for all mankind—together.
This event will be structured around four separate tracks: live, work, learn and play. Each track is designed to explore the technological dependencies and accelerate progress in that particular area. For example, a "Live" track may focus heavily on healthcare, biotech and automotive industries, whereas a "Play" track will delve into gaming, fitness and entertainment. Attendees will be able to showcase their thought leadership, share their vision and exchange ideas about how to move forward. Inspirational talks and discussions in both free-form and facilitated formats have the potential to create new partnerships, launch new market ventures or look at today's problems with a "vuja de" mentality to discover opportunity.
Why You Should Attend
Meet all the right people: We're bringing together more than 1,500 visionaries and innovators who hold the power to make decisions on behalf of their companies. You will be among senior executives, founders and entrepreneurs who understand the unique challenges of their field and are willing to share the goals and requirements for what they want to accomplish.
Identify new opportunities: Because 4Front brings together top decision makers who probably wouldn't otherwise meet, the connections you make here will help you identify interdependencies across various industries, gain a deeper understanding of your company's role within the global ecosystem and potentially forge new synergistic business partnerships that can contribute to your ROI and ultimately result in a better experience for everyone.
Find real solutions to real problems, faster: Innovation doesn't happen in a vacuum. If you're trying to solve a problem of the future, chances are someone from another industry might be looking at it from a different angle or working on a new technology that can potentially accelerate your progress. 4Front gives you an opportunity to have conversations with people who are as eager to move forward as you are. And though we can't guarantee that you'll find solutions to all your problems in 2 days, we can create an environment that's conducive to the type of innovative ideas that can lead to a breakthrough down the road.
 Why Is CableLabs Launching 4Front Now?
 The world is on the brink of the so-called fifth industrial revolution, where humans and technology will intersect in ways we never thought possible. Even if you don't buy into the hype, one fact is undeniable: The pace of innovation is accelerating at a staggering rate. Entire industries are being disrupted with predictable regularity, and inventions that would have once taken decades to saturate the market are becoming global sensations in months, or even days, thanks to our ubiquitous digital devices.
The effects of technology on markets and labor are astonishing. The World Economic Forum estimates that 65 percent of children now entering elementary school will hold jobs that don't exist today. McKinsey determined that over 50 percent of current work activities are automatable. There are hundreds of other statistics pointing to the same thing: Our world is about to change.
AI, VR, light field panels, holodecks and other emerging broadband-based technologies are tools that can be used across many different industries to create better connected experiences for everyone. By bringing all the relevant players to the table now, we can maximize the potential of all these emerging innovations and chart a course for the future we want to build.
There are two ways to handle a wave of change: Let it wash over you or steer it where you want it to go. Choose the latter! Join us at 4Front 2020.