Wi-Fi Alliance Launches Wi-Fi CERTIFIED 6™ Certification Program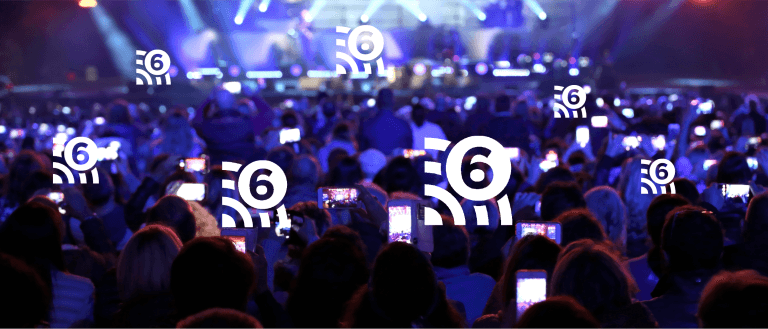 Wi-Fi 6 has been around for almost a year, in the news and on the shelves. Tuesday, however, marked a key milestone to the deployment of the next generation of Wi-Fi connectivity; the Wi-Fi Alliance has announced the launch of the Wi-Fi CERTIFIED 6 ™ certification program. Wi-Fi CERTIFIED 6™ provides the assurance that certified devices will interoperate and meet the industry-agreed standard requirements. With more than one billion Wi-Fi 6 chipsets expected to be shipped annually by 2022, interoperability is playing a crucial role to guarantee a proper operation of Wi-Fi networks and a seamless user experience.
Based on the IEEE 802.11ax standard, Wi-Fi 6 enhances the former Wi-Fi generations by delivering greater network capacity, improving performance in congested environments, increasing data rates, and improving power efficiency. IEEE 802.11ax Working Group started work on the next generation of Wi-Fi back in 2014. The former 802.11 standards focused primarily on delivering higher peak and aggregated throughput but with the rapid evolution of the Wi-Fi landscape, new use cases and challenges needed to be addressed. The exponential growth of Wi-Fi connected devices made it critical to focus on actual field conditions. 802.11ax, known as Wi-Fi 6, addresses the congestion and interference issues seen especially in dense deployments, to deliver higher average throughput per user. The targeted deployments include busy airports or train stations, public venues, mobile traffic offload, and apartment complexes. For Cable Operators this can translate to improved efficiency by serving multiple users at a higher average throughput in a residential environment or public hotspots.
Wi-Fi CERTIFIED 6™ key features
Wi-Fi CERTIFIED 6™ certification program includes a series of key features listed below:
Downlink and uplink Orthogonal Frequency Division Multiple Access (OFDMA) where the channel width is split in different sub-channels that allocated to different clients. OFDMA increases the system efficiency while decreasing the latency in dense deployment, making more efficient use of the available spectrum. This allows multiple users to be served simultaneously compared to Wi-Fi 5 and earlier where a single user is served one at a time.
Downlink Multiple User Multiple Input, Multiple Output (MU-MIMO) increases the system capacity. MU-MIMO was introduced in Wi-Fi 5 and is part of Wi-Fi 6 extends the capability to serve up to 8 users concurrently.
Quadrature Amplitude Modulation (QAM) 1024 increases the peak throughput by 25% in good conditions compared to Wi-Fi 5.
Transmit beamforming uses several transmit antennas on the access point to focus the signal to then destination station. This enables higher data rates at a longer range.
Target Wakeup Time (TWT) is based on a scheduler that allows devices to negotiate when and how often they will wake up to send or receive data. TWT improves battery life of devices, a feature required for Internet of Things (IoT) devices.
Basic Service Set (BSS) coloring allows for devices to recognize if incoming traffic is from an adjacent network, allowing devices to take measures to adapt transmissions to optimize intra-network activity.
Wi-Fi 6 certified devices must also meet 3 prerequisites:
Wi-Fi CERTIFIED N (Wi-Fi 4) and Wi-Fi CERTIFIED AC (Wi-Fi 5) certifications ensure a backward compatibility with former Wi-Fi standards.
Wi-Fi CERTIFIED Agile Multiband allows devices to make intelligent access point, band, and channel selection, improving efficiency and consistency on congested wireless networks.
Wi-Fi CERTIFIED WPA3 improves security standards for authentication, authorization and encryption, resolving some vulnerabilities issues of WPA2 that emerged over the past years.
The Role of Wi-Fi 6 in the 10G Platform
Earlier this year, CableLabs®  introduced 10G™, the cable industry's vision for delivering 10 gigabit networks. The 10G platform includes a collection of technologies enabling 10 Gbps symmetrical speeds, lower latencies, enhanced reliability, and security. In addition to the wired related technologies such as DOCSIS 4.0 and P2P coherent optics, the platform includes a set of wireless technologies as an integral part of the network (e.g. Dual Channel Wi-Fi™ and Low Latency Wi-Fi). With almost half of the Internet traffic initiated from Wi-Fi connected devices, the cable industry is devoted to developing and enhancing wireless networks for a seamless user experience.  Wi-Fi 6 increased capacity, lower latency, and higher throughput is supporting the necessary evolution of the wireless technologies to address the 10G roadmap.
Wi-Fi 6 is also addressed by Kyrio™, a subsidiary of CableLabs. Kyrios's Wi-Fi 6 test setup (based on Otoscope®) provides a lab environment for controlled testing. In addition, the Kyrio test house is equipped with Wi-Fi 6 devices to simulate a real-world experience and characterize Wi-Fi 6 performance in a residential environment.