The Cost of Codecs: Royalty-Bearing Video Compression Standards and the Road that Lies Ahead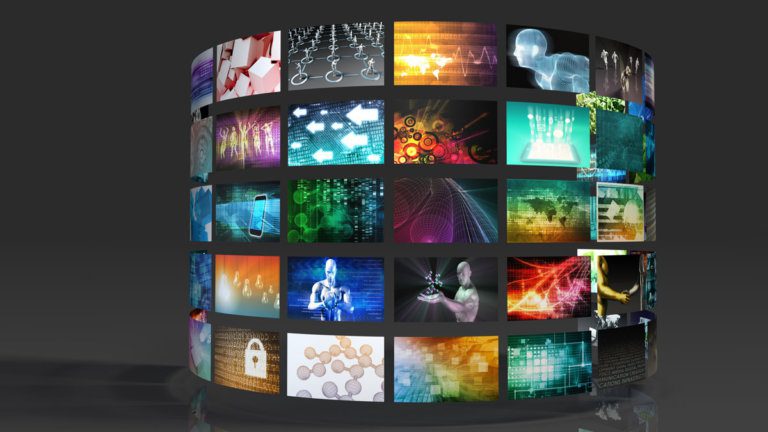 Since the dawn of digital video, royalty-bearing codecs have always been the gold standard for much of the distribution and consumption of our favorite TV shows, movies, and other personal and commercial content. Since the early 90's, the Moving Picture Expert Group (MPEG) has defined the formats and technologies for video compression that allow all those pixels and frames to be squeezed into smaller and smaller files. For better or for worse, along with these technologies comes the intellectual property of the individuals and organizations that created them. In the United States and in many other countries, this means patents and royalties.
MPEG-LA
The MPEG Licensing Authority (MPEG-LA) was established after the development of the MPEG-2 codec to manage patents essential to the standard and to create a sensible consolidated royalty structure through which intellectual property holders could be compensated. With over 600 patents from 27 different companies considered to be essential to MPEG-2, MPEG-LA simplified the process of negotiating licensing agreements from each patent owner by anyone wishing to develop products utilizing MPEG-2. The royalty structure that MPEG-LA and the patent owners adopted for MPEG-2 was fairly simple: a one-time flat fee per codec. See table below.
The successor codec to MPEG-2, MPEG-4 Advanced Video Coding (AVC), was completed in 2003. Shortly thereafter, MPEG-LA released its licensing terms, which contained per-unit royalties and a ceiling on the amount that any one licensee must pay in a year. However, it seemed that not all parties who claimed to have essential patents for AVC were satisfied with the royalty structure established by MPEG-LA. Thus, a new AVC patent pool, managed by Via Licensing, a spin-off of Dolby Laboratories, Inc., emerged in 2004 and announced their separate licensing terms. This created a significant amount of confusion amongst those trying to license the technology. Would you end up having to license from both parties to protect yourself from future litigation? Some patent owners were in both pools; would you have to pay twice for these patents? In the end, Via Licensing signed an agreement with MPEG-LA and its licensors merged with the MPEG-LA licensors to create a single licensing authority. The royalty structure established by the MPEG-LA group for MPEG-4 added new fees to the mix. In addition to a one-time device fee (includes software and hardware applications), per-subscriber and per-title fees (e.g., VOD, digital media) were added. These additional fees have deterred many cable operators and other MVPDs from adopting MPEG-4. Royalties were also established for over-the-air broadcast services, while free Internet broadcast video (e.g YouTube, Facebook) remained exempt. See table below.
The latest MPEG video codec is called High Efficiency Video Coding (HEVC), and with it comes the latest licensing terms from MPEG-LA. A flat royalty per device is incurred for those shipping over 100,000 devices to end-users. Companies with device volumes under 100,000 will pay no royalties. In addition, the royalty cap for organizations was raised substantially. Most companies distributing HEVC encoders/decoders will not be charged royalties because they will easily fall under the 100,000-unit limit. Larger companies that sell mobile devices (Samsung, LG, etc.), OS vendors (Microsoft), and large media software vendors (Adobe, Google) will likely be the ones paying HEVC royalties. Learning from the lackluster adoption rate of MPEG-4 by content distributors, there are no royalties on content distribution. This seems like a step in the right direction.
The following table details the royalty structures established from the days of MPEG-2 up to the proposed terms for HEVC.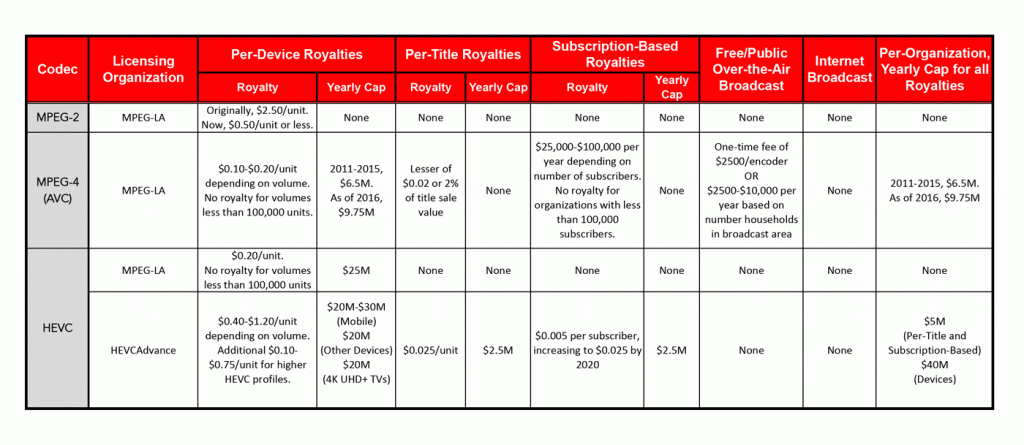 Download PDF version
Trouble on the Horizon
As one might expect, many companies who hold patents that they claim are essential to HEVC were not happy with the MPEG-LA terms and have instead joined a new licensing organization, HEVCAdvance. In early 2015, when HEVCAdvance first announced their licensing terms, it caused quite a stir in the industry. Not only did they have much higher per-device rates, but there was also a very vague "attributable revenue" royalty for content distributors and any other organization that utilizes HEVC to facilitate revenue generation. On top of all that, there were no royalty caps.
In December, 2015, due in no small part to the media and industry backlash that followed the release of the original license terms, HEVCAdvance released a modified terms and royalties summary. Royalties for devices were lowered slightly, but still significantly higher than what MPEG-LA has established – and with no yearly cap. Additionally, there are slightly different royalty rates depending on the type of device (e.g., mobile phone, set-top-box, 4K UHD+ TV). No royalties are assessed for free, over-the-air and Internet broadcast video. However, per-title and per-subscriber royalties remain. See table above. The HEVCAdvance terms also assess royalties with no caps for past sales of per-title and subscription-based units. Finally, there is an incentive program in which early adopters of the HEVCAdvance license can receive limited discounts on royalties for past and future sales.
It is important to note that the companies that participate in each patent pool (HEVCAdvance, MPEG-LA) are not the same. If the two patent pools are not reconciled or merged, licensees may have to sign agreements with both organizations to better protect themselves against infringement. This will result in a substantial financial impact to the device vendors (TVs, Browsers, Operating Systems, Media Players, Blu-Ray Players, Set-Top Boxes, GameConsoles, etc). Of course, content distributors are also unhappy with the HEVCAdvance terms that revert back to the content-based royalties of MPEG-4, and a higher cap of $5M per year. As a result, you may expect the content distributors to pass a portion of their subscription- and title-based royalties on to their customers which results in increased prices for consumers like you and me.
Update (2/3/16): Technicolor announced that they will withdraw from HEVCAdvance and license its patents directly to device manufacturers. While this is an encouraging sign (and good for content distributors), I'm curious as to why they did not just join MPEG-LA. If more and more companies take the route of individual licensing, it may make the process of acquiring licenses for HEVC more complex.
The Royalty-Free Codec Revolution
In response to the growing concerns regarding the costs of using and deploying MPEG-based codecs, numerous companies and organizations have developed, or are planning to develop, alternatives that are starting to show some promise.
Google VPx
Google, through its acquisition of On2 Technologies, has developed the VP8 and VP9 codecs to compete with AVC and HEVC, respectively. Google has released the VP8 codec, and all IP contained therein, under a cross-license agreement that provides users royalty-free rights to use the technology. In 2013, Google signed an agreement with MPEG-LA and 11 MPEG-LA AVC licensors to acquire a license to VP8 essential patents from this group. This makes VP8 a relatively safe choice, legally speaking, for use as an alternative to AVC. The agreement between Google and MPEG-LA also covers one "next-generation" codec. According to my discussions with Google, this is meant to be the VP9 codec. The VP8 cross-license FAQ indicates that a VP9 cross-license is in progress, but nothing official exists to-date.
Most of the content served by Google's YouTube is compressed with VP8/VP9 technology. Additionally, numerous software and hardware vendors have added native support for VPx codecs. Chrome, Firefox, and Opera browsers all have software-based VP8 and VP9 decoders. Recently, Microsoft announced that they would be adding VP9 decode support to their Edge browser in an upcoming release. On the hardware side, Google has signed agreements with almost every major chipset vendor to add VP8/VP9 functionality to their designs.
From a performance standpoint, we feel that VP8/AVC and VP9/HEVC are very similar. Numerous experiments have been run to try to assess the relative performance of the codecs and, while it is difficult to do an apples-to-apples comparison, they seem very close. If you'd like to look for yourself, here is a sampling the many tests we found:
Mukherjee, et al., Proceedings of the International Picture Coding Symposium, pp. 390-393, Dec. 2013, San Jose, CA, USA.
Grois, et al., Proceedings of the International Picture Coding Symposium, pp. 394-397, Dec. 2013, San Jose, CA, USA.
Bankoski, et al., Proceedings of IEEE International Conference on Multimedia and Expo, pp. 1-6, July 2011, Barcelona, ES.
Rerabek, et al., Proceedings of the SPIE Applications of Digital Image Processing, XXXVII, vol. 9217, August 2014, San Diego, CA, USA
Feller, et al., Proceedings of the IEEE International Conference on Consumer Electronics, pp. 57-61, Sept. 2011, Berlin, DE.
Kufa, et al., Proceedings of the 25th International Radioelektronika Conference, pp.168-171, April 2015, Pardubice, CZ
Uhrina, et al., 22nd Telecommunications Forum (TELFOR), pp. 905-908, Nov. 2014, Belgrade, RS
An Alliance of Titans
At least in part in reaction to the HEVCAdvance license announcement in 2015, a collection of the largest media and Internet companies in the world announced that they were forming a group with the sole goal of helping develop a royalty-free video codec for use on the web. The Alliance for Open Media (AOM), founded by Google, Cisco, Amazon, Netflix, Intel, Microsoft, and Mozilla, aims to combine their technological and legal strength to ensure the development of a next-generation compression technology that will be both superior in performance over HEVC and free of charge.
Several of the companies in AOM have already started work on a successor codec. Google has been steadily progressing on VP10. While Cisco has introduced a new codec called Thor. Finally, Mozilla has long been working on a codec named Daala, which takes a drastically different approach to the standard Discrete Cosine Transform (DCT) algorithm used in most compression systems. Cisco, Google, and Mozilla have all stated that they would like to combine the best of their separate technologies into the next generation codec envisioned by AOM. It is likely that this work would be done in the IETF NetVC working group, but not much has been decided as of yet.
The Future is Free?
Not sure we can say this statement with utmost confidence; but it seems clear that the confusing landscape of IP-encumbered video codecs is driving industry towards a future where digital video--the predominant leader in video traffic on the internet--may truly be free from patent royalties.
Greg Rutz is a Lead Architect in the Advanced Technology Group at CableLabs. 
Special thanks to Dr. Arianne Hinds, Principal Architect at CableLabs, and Jud Cary, Deputy General Counsel at CableLabs for their contributions to this article.