The 10G Challenge: How Zoom Leverages Technology to Improve Education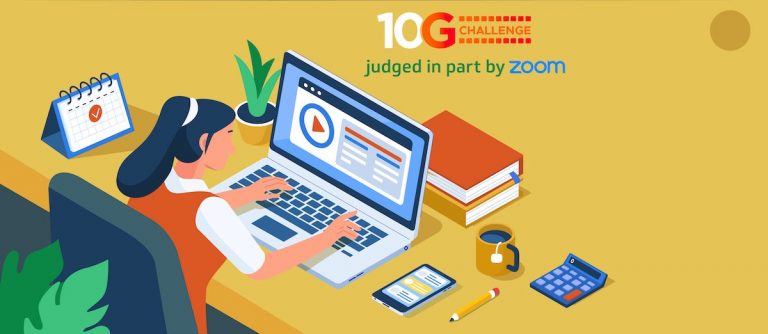 Designed to encourage innovation around the network of the future, the 10G Challenge aims to solve real-world problems and showcase the individuals and organizations developing the technologies, services and applications that will rely on 10G to impact the way we live, work, learn and play.
With the 10G Challenge kicking off, CableLabs is excited to introduce another one of the industry experts we've tapped to help raise awareness about the contest. From growing a customer base to reaching new markets, strategic collaboration empowers all parties involved in the evolution of a business. That's why we've selected Zoom as the industry expert that will help judge submissions that will impact the way we learn in the future.
The "Learn" Category, Powered by Zoom
Judged by experts from Zoom, a video communications company best known for its Zoom Meetings, the 10G Challenge's Learn category explores where the classrooms of the future are headed.
We believe that learning will be amplified through virtual reality (VR) worlds, light field holodecks and omnipresent artificial intelligence (AI) assistance in the classrooms of tomorrow. With the right network capacity and visionary thinking, who knows what other technologies will transform the world of education? By conceiving how a powerful new broadband network can help solve real-world problems related to how the world learns, participating innovators are truly helping invent a better future.
The COVID-19 pandemic has had a significant impact on student learning and well-being. When schools closed in March 2020 to quell the spread of the virus, the need for effective learning environments didn't disappear. Consequently, the use of virtual learning models escalated to help ensure that students wouldn't fall behind. Zoom already has a history of bringing together students, faculty and staff for learning, collaboration and administration, and its communications platform supports remote and hybrid learning environments for primary and secondary schools and institutes of higher education.
Whether delivering online and hybrid learning or better engaging students through impactful virtual experiences, Zoom is helping expand access to education. With a blend of synchronous and asynchronous learning tools, Zoom is improving learning experiences and enhancing student engagement by enabling students to learn from anywhere and connect with other students outside of a traditional classroom. By increasing student participation and learning retention in virtual and hybrid classrooms, Zoom helps improve learning outcomes and expands traditional classrooms to meet the growing needs of today's students.
Finally, Zoom provides flexible work environments, ultimately ensuring continuity of academic services and communications across entire education enterprises. By utilizing resources and hardware you already have to expand your capabilities and community offerings, Zoom supports educators with maximizing their resources to enrich both teaching and learning.
By participating in the 10G Challenge, Zoom will have an up-close, firsthand look at how innovators are advancing life-changing technologies and supporting fellow trailblazers. And Zoom will see how the development of tomorrow's solutions will leverage a new, powerful broadband network that's poised to impact the world—no matter where education takes place.
Together, CableLabs and Zoom are thrilled to power the next era of broadband innovation. For more information about the 10G Challenge, or to submit your idea, please visit 10Gchallenge.com.