The 10G Challenge: How Corning Leverages Technology to Improve How We Work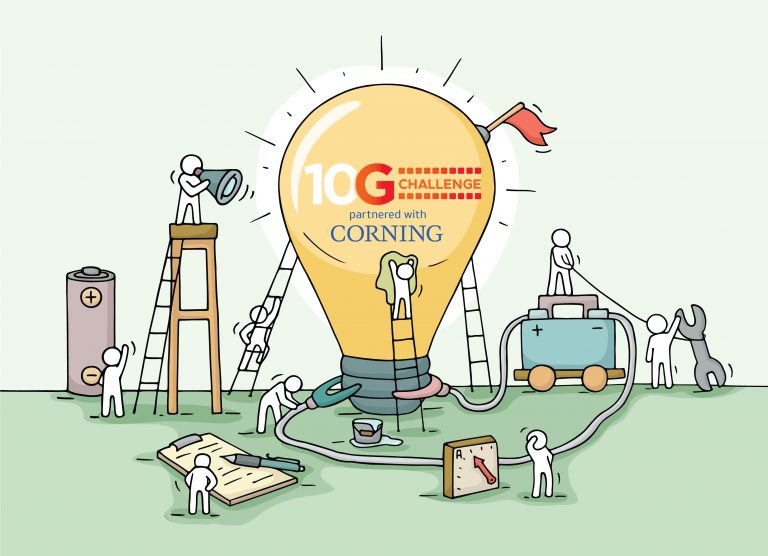 CableLabs believes mutually beneficial relationships are crucial to the growth of any business. Whether growing a customer base or reaching a new market, strategic collaboration can deliver value to both parties. To raise awareness about the 10G network, we've joined forces with outstanding organizations like Corning to get innovators thinking about how to build technologies that will work on the network of the future with the 10G Challenge. The 10G Challenge is designed to invent a better future that impacts the ways in which we live, work, learn and play.
The "Work" Category, Powered by Corning
In collaboration with Corning, one of the world's leading innovators in materials science, the 10G Challenge's Work category highlights how the 10G network will enable smart, intuitive technologies that will transform how we collaborate and solve problems in business environments, ultimately boosting creativity and productivity. From 3D remote meetings to immersive demos from countries away, next-generation technologies will make a significant impact on the way we do business.
As an organization, Corning's growth is fueled by a commitment to innovation. Through sustained investment in research, development and engineering, a unique combination of material and process innovation, and close collaboration with customers to solve tough technology challenges, Corning has spent the last 150-plus years bringing life-changing innovation to the world.
In 1970, Corning invented the first low-loss optical fiber, ushering in a communications revolution. Thanks to Corning's fiber optics, enormous amounts of data are able to move around the planet, and that movement of data has enabled a barrage of follow-on innovations, including the internet, cloud and mobile technologies, streaming TV, autonomous cars, bitcoin, AI — you name it.
In the five decades since inventing optical fiber to pave the way for the information highway, Corning has continued to introduce new methods, ideas and products aimed at transforming the way we connect with one another and the world around us. From liquid crystal display glass to fiber-to-the-home connectors to revolutionary pharmaceutical glass packaging to whatever comes next, Corning's participation in the 10G Challenge enables the leading materials science innovator to evolve to meet changing market needs and visualize what the future of work could look like. Even better, by working with CableLabs on the 10G Challenge, Corning will help support individuals and organizations leveraging a new, powerful broadband network to solve real-world problems across work environments.
Encouraging innovators to envision how 10G can help us solve real-world problems, the 10G Challenge showcases the individuals and organizations developing the technologies, services and applications that will rely on the network of the future. By advancing life-changing technologies and supporting the innovators developing new solutions, CableLabs and Corning are excited for what lies ahead and look forward to motivating forward-thinkers to leverage 10G to create a better future for humanity.