A Sneak Peek of SCTE Cable-Tec Expo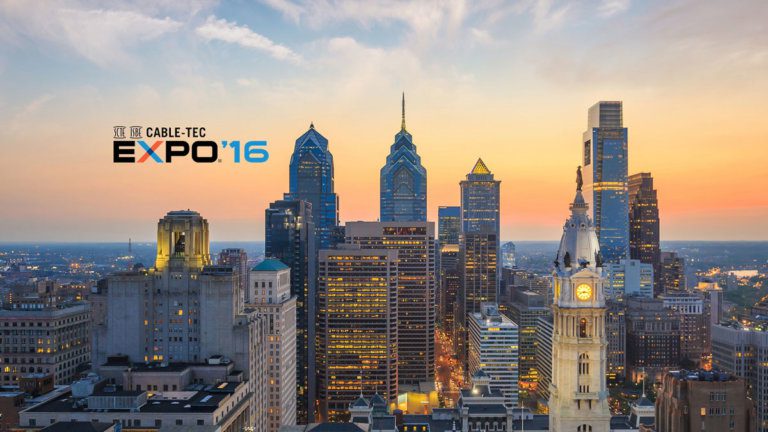 CableLabs and Kyrio will be hosting a booth at the SCTE Cable-Tec Expo 2016.  To provide you with a sneak peek of what we plan to show at the event, below are highlights of six demonstrations:
Full Duplex DOCSIS® 3.1 Technology
With Full Duplex DOCSIS 3.1 technology, the HFC network can support 10 Gbps Downstream x 6 Gbps Upstream symmetrical capacities in 1.2 GHz of spectrum.  Multi-Gbps symmetric services will meet user demands and support future applications. Learn more about the next evolution of DOCSIS technology.
3.5GHz Shared Spectrum and Wi-Fi Traffic Aggregation
3.5 GHz (3.55 – 3.7GHz) shared spectrum offers the potential democratization of LTE. Cable operators can deploy LTE-based solutions within homes, offices and even in public environments to create low cost mobile networks.  See how CableLabs multi-path TCP technology can help cable operators aggregate IP traffic from both 3.5 GHz spectrum and existing Wi-Fi access points to provide their customers with great wireless speeds.
Energy Efficiency of CPE (Consumer Premises Equipment)
CableLabs provides technical leadership to the industry through influencing energy efficiency voluntary agreements for set-top boxes and small network equipment as well as other energy efficiency initiatives.  CableLabs also works closely with SCTE Energy 2020 to address end-to-end energy efficiency in the cable infrastructure.  Learn more about the voluntary agreement initiatives and see CPE energy efficiency in action!
Automated Leakage Detection and Time Domain Reflectometer (TDR)
Cable operators can automatically gather their own leakage data for use as a diagnostic tool. This new detection method employs GPS and a continuous wave test signal and can pinpoint leakage sources. The leakage data can be used to make Proactive Network Maintenance (PNM) map overlays to speed problem resolution and to prevent LTE interference.  The TDR uses standing waves on digital signals to accurately calculate the distance to reflections without interrupting service.  Learn more about how these methods can improve network performance.
DOCSIS® 3.1 Profile Management Application (PMA)
The Profile Management Application implements a software application that can configure and manage DOCSIS 3.1 OFDM subcarrier modulation profiles on a DOCSIS 3.1 CMTS. This demonstration shows how PMA interacts with CMTSs, CMs, and other network elements to monitor, create, modify and then assign specific profiles to specific DOCSIS 3.1 CMs to optimize and maximize the capacity on a DOCSIS 3.1 OFDM Channel.
Real World Testing
In a world of constant change and innovation, the need for agility and assurance is crucial. Learn how Kyrio Testing Services provides their customers with the ability to adapt to new requirements, accelerate change, and assure quality of product performance and usability from the end user perspective.
We look forward to meeting you at the SCTE Cable-Tec Expo, Booth # 1424, September 26 – 29 in Philadelphia.