RDK Training Summit 2015: A Full House at CableLabs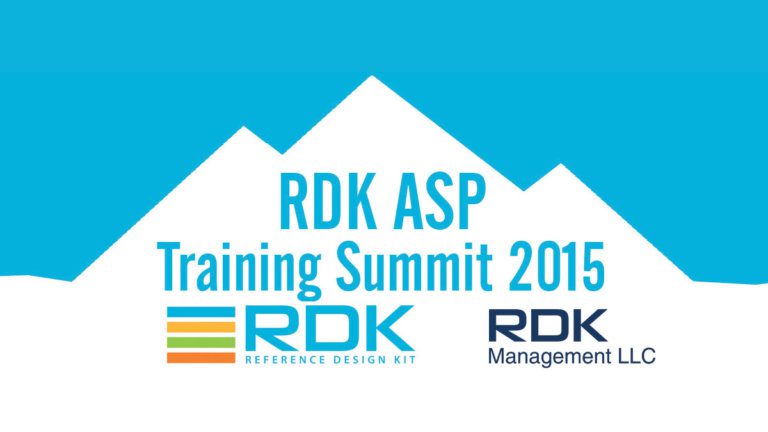 I was admiring the crisp look of our training room the night before opening day of the RDK Training Summit 2015 - a first time co-production by CableLabs and RDK Management (RDKM), LLC hosted at the CableLabs facility. A surge of angst began to well up inside of me. We needed to handle a load of eighty 250MB Yocto build images being siphoned from the cloud simultaneously with full IP provisioning without a hiccup. Countermeasures were taken to mitigate the risk by installing an additional circuit at our lab and configuring a dedicated network for the event. We executed dry runs. We had back-up plans. - I was still edgy.
So – what's the RDK buzz all about? If you are in the business of deploying and maintaining a feature rich install base of customer-premise equipment (CPE) such as set top boxes and gateways, it may benefit you to have some knowledge of the Reference Design Kit (RDK). Simply stated, the RDK is a standardized, pre-integrated software stack that enables multichannel video programming distributors (MPVDs) to deploy next generation video services with speed and agility. And, RDK has the support of a fast growing RDK community worldwide. Moreover, RDK licensees have full transparency to the code which fosters community wide innovation for new feature contributions and simplified firmware deployments on their own schedules – and the reference implementation source code is $0--royalty free.
The Summit Opens
Opening morning brought over seventy participants from thirty companies to CableLabs for the three day technical training summit. I welcomed smiling faces from around the world that appeared eager to dive in.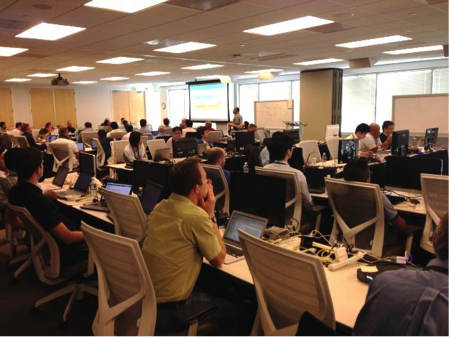 Highlights of the first day included a course where attendees focused on working with the RDK emulator. The emulator provides the ability to run RDK on the comfort of a PC platform where users can try out new technologies and develop/integrate new features without having to work directly on CPE. Attendees participated in a hands-on walk through on how to use the emulator and the RDK Media Framework (RMF) app to playback and stream media from gateway devices.
The RDK emulator uses the Yocto build framework to create images. Another popular session on Yocto (developed and presented by CableLabs) was featured that included lectures on various topics and hands-on building of the emulator image from scratch. The Yocto Project, an open source collaboration project initiated by the Linux Foundation in 2010, helps developers create custom Linux-based systems for embedded products by providing tools, templates, and methods.
The first day concluded with an evening reception and demo sponsored by Alticast, a contributing RDK developer on a variety of devices from STBs to Gateways, who showcased their RDK application framework running multiple HTML5 UIs.  In addition, Alticast demonstrated their work with a large North American operator currently deploying RDK 1.3 and in the process of migrating to RDK 2.1.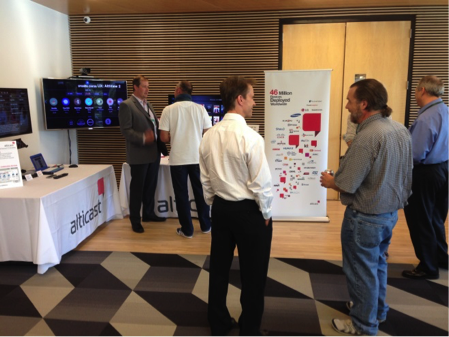 Day Two
On the second day we broke out into two separate sessions, Application Development Track and System Development Track. The Application Development Track introduced RDK usage with courses on Inter-Application Resource Manager (IARM) Bus – a platform agnostic inter-process communication (IPC) interface. It allows applications to communicate with each other by sending events or invoking remote procedure calls. The common programming APIs offered by the RDK IARM-Bus interface is totally independent of the operating system or the underlying IPC mechanism. Other RDK subsystem topics included Device Settings, Service Manager, RDK Media Framework (RMF), and Streaming Mechanisms.
Alticast also developed and led the course Integrating RDK with back-end subsystems & Application Framework, which provided attendees with real world lessons learned and best practices for integrating the Application Frameworks layer with the User Interfaces, RDK components and back-end systems.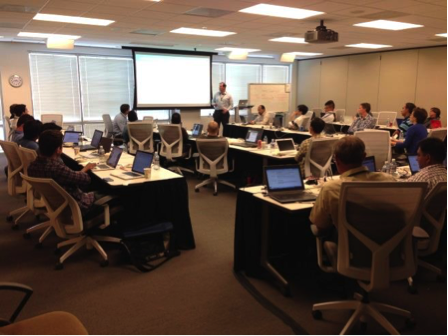 The System Development Track introduced RDK implementation details for the benefit of system programmers from SOC/OEMs and System Integrators. Attendees learned the underpinnings of the Gstreamer architecture and requirements. GStreamer is an open-source multimedia framework from which elements (plugins) are configured in a pipeline to establish data flow for audio playback, audio and video playback, recording, streaming and editing. The System Track also included several courses on RDK Media Framework (architecture, network and conditional access integration, etc.).
The Summit Concludes
Everyone was back together the next morning on the final day for a brief lecture on Digital Rights Management (DRM) & Security followed by Debugging & Triage which delved into the RDK debugging methodologies and triage process / best practices. RDK logging schemes and how to leverage logs was also discussed along with lectures on RDK TR-069 Diagnostics, Boot-up Procedures, and Closed Caption.
The summit wrapped-up with Test Development course which outlined the architecture, deployment and usage of the Test Development Kit (TDK). Attendees learned the benefits of the TDK as it provides a test kit for automated testing of generic RDK components and end-to-end scenarios facilitated by a web based user interface for configuration, test creation, execution and result aggregation. The web based UI is complemented by command line interfaces to power test automation from third party test and continuous integration tools. This was followed by an open work shop session that provided more hands on experience with the emulator and Q&A with the experts.
The RDK Training Summit 2015 was a successful event with attendees responding with a high rate of satisfaction. It was a great opportunity for CableLabs, in collaboration with RDKM, to provide valuable educational opportunities for the RDK community and to our members. I would like to thank all of the attendees, trainers, RDKM, TATA, itass/Cognizant, and CableLabs staff who contributed to the Training Summit. Also, a special thanks to Alticast, our reception sponsor.
Planning will begin soon for the next RDK Training Summit so stay tuned for future events. If you are a cable CPE OEM, system integrator, app developer, or SoC vendor - and new to RDK, I encourage you to check out RDK on the web.
John Cernazanu is R&D Program Manager, Application & Security Technologies at CableLabs.