OnePON™: Addressing the Alphabet Soup of PON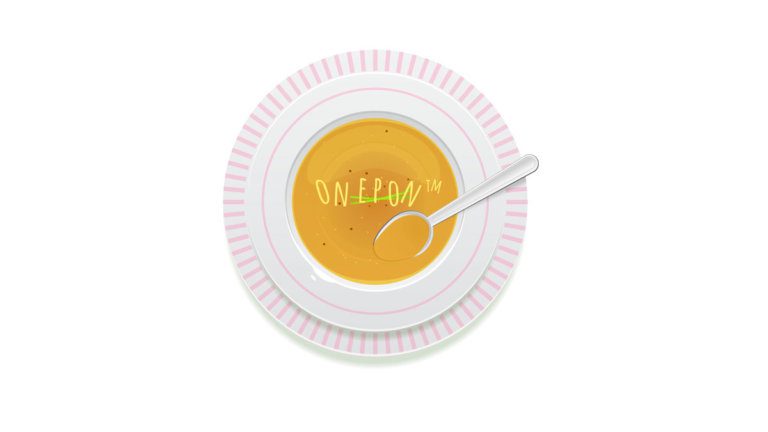 APON, BPON, EPON, GEPON, GPON, G.epon, NGPON1, XGPON1, XGPON2, NGEPON, NGPON2, TWDM-PON, WDMPON – did I leave any out? I'm sure I did.
The alphabetical possibilities to represent different versions of passive optical networking (PON) technologies will soon be exhausted. I'm being overly dramatic, of course, but trying to make the point that all these different versions of PON, driven by membership in two somewhat competing standards development organizations, not only causes the eyes of network engineers to glaze over, but has contributed to confusion and indecision among service providers globally.
What is a PON?
In the strictest sense, a PON is an all-fiber network which consists of only passive optical components (specifically splitters and combiners), except at the endpoints of each fiber, where there is an electrically-powered termination device – either an optical line terminal (OLT) or optical network unit (ONU). The aforementioned PON technologies also assume a point-to-multipoint topology in which downstream transmission from an OLT is received by all ONUs, but upstream transmission by an ONU is received only by the OLT.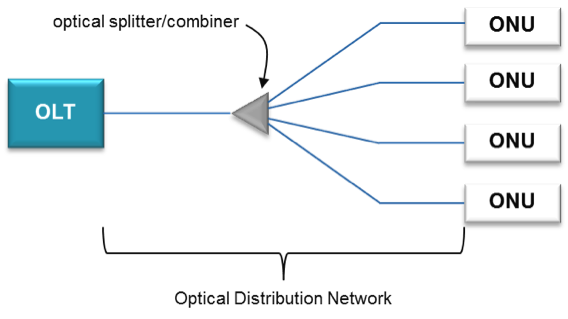 Admittedly, not all of the acronyms above represent actual PON standards, so here is an unofficial, very short description of the meaning of each acronym:
APON (ATM PON) – The first PON technology standardized by the ITU. APON used Asynchronous Transfer Mode (ATM) cells to transport data across the PON. APONs typically provided up to 622 Mbps downstream and up to 155 Mbps upstream.
BPON (Broadband PON) – ATM is known to be an inefficient transport technology, so APON was renamed to BPON to distance the technology from ATM, even though it still used ATM for transport. Supported bit rate also increased to 1.2 Gbps downstream and 622 Mbps upstream, but most (all?) were deployed at 622 Mbps downstream and 155 Mbps upstream.
EPON (Ethernet PON) – The first PON standard developed by IEEE which uses Ethernet frames to transport data across the PON.  1G EPON provides symmetric 1 Gbps links, while 10G EPON provides symmetric 10 Gbps links. There is also a variant that provides 10 Gbps downstream and 1 Gbps upstream.
GEPON (Gigabit Ethernet PON) – Many people use GEPON to refer to EPON. Others use GEPON to refer to an early, unstandardized version of 100 Mbps PON used in Japan.
GPON (Gigabit PON) – A non-ATM based PON standard from the ITU which uses GPON Encapsulation Method (GEM) to transport Ethernet frames, ATM cells, and native TDM data across the PON. GPON provides 2.5 Gbps downstream and 1.25 Gbps upstream. ATM and TDM are de-facto obsolete, and no GPON equipment supports it, resulting in a network solution which also transports only Ethernet frames – like EPON.
G.epon (EPON with a GPON flavor) – Not to be confused with GEPON, which existed first, G.epon is an ITU term used for EPON devices which can be configured using the GPON mode of ONU configuration called ONU Management Control Interface (OMCI).
NGPON1 (Next Generation GPON) – ITU name for a family of 10 Gbps PON standards (see XGPON1 and XGPON2) – this was the first "next generation" activity in the ITU.
XGPON1 / XGPON2 (10G GPON) – XGPON1 represents an ITU standardized versions of GPON capable of 10 Gbps downstream and 2.5 Gbps upstream. XGPON2 was supposed to represent symmetric 10G bps GPON, but it was never completed.
NGEPON – This is the name for the current IEEE activity to define an EPON standard beyond 10 Gbps – the next generation of EPON.
NGPON2 – This is the name for the current ITU activity to define a family of post-10 Gbps GPON solution(s) - the second "next generation" PON effort in the ITU. The technology of choice for this new standard uses Time and Wavelength Division multiplexing – the origin of the TWDM-PON acronym.
I'm sure I missed a few hyphens in all those acronyms, but I give up! It's definitely clear as mud, right? Actually, it is very challenging to explain all the different PON standards and terminology. The bottom line is, service providers today are forced to choose between two PON solutions that do exactly the same thing – transport Ethernet frames from one side of an optical distribution network to the other side. Judging from the NGEPON (IEEE) and NGPON2 (ITU) activities, it looks like the madness will continue and the industry will have two next generation PON standards to choose from, much to the disadvantage of both service providers and vendors.
Learning from the Wireless Industry
Once upon a time in the wireless industry there were several competing standards simultaneously operating: GSM, North American TDMA, and Qualcomm's CDMA. In addition, around the year 2000, WiMax made an entrance. These competing standards operated for anywhere between 8 and 12 years. Around 2006 the GSM/TDMA/CDMA trifecta finally converged to become what is today the LTE wireless standard.   The interesting aspect of this technology convergence is the affect on CPE dongle pricing, as shown in the graph below.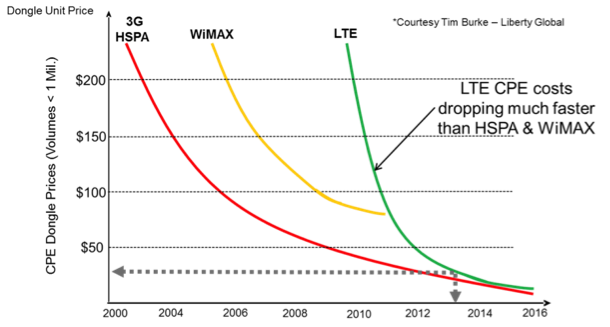 Clearly, a single technical solution drives prices downward much quicker by achieving truly global scale. This has been a huge benefit for wireless service providers. Also beneficial for wireless device vendors, they get to focus their precious and limited development dollars on a single technical solution for the entire wireless market.
OnePON™ Initiative
Clearly the global telecommunications industry does not need two different technologies to transport Ethernet frames across a PON. Today, the IEEE and the ITU are both working on yet another generation of PON standards which will continue the alphabet soup trend and continue to bifurcate the PON market. If the wireless industry may serve as an example, this will force service providers to unnecessarily pay higher prices, and device manufacturers to spend nearly twice the amount for product development if they wish to target the entire market.
The CableLabs OnePON™ Initiative is building toward creating a single PON solution that satisfies the requirements of the global service provider market. OnePON™ is not EPON, and it is not GPON. A third standardized PON solution is not a goal of the OnePON™ Initiative. On the contrary, the goal is to combine the best aspects of both IEEE and ITU solutions to create a single next generation solution.  Service providers will reap the benefits of lower capital expenses for network deployments. Vendors will be able to focus on a single technical solution for PON which addresses the global PON market, resulting in saving a tremendous amount of development costs (compared to two PON solutions), which will help translate directly to lower costs for service providers.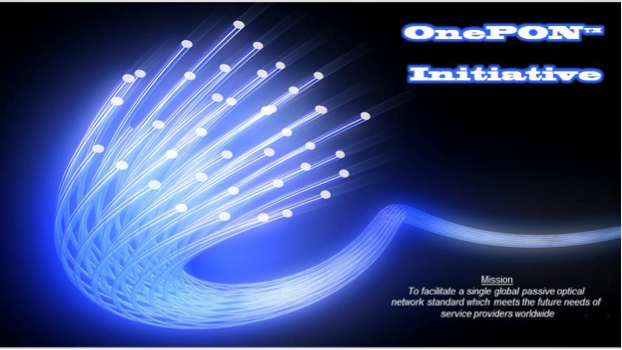 As Director of Optical Technologies at CableLabs, Curtis Knittle leads the activities which focus on standardizing EPON and GPON technologies for use in cable operator networks. On a daily basis he witnesses firsthand the challenges and increased costs associated with two similar PON technologies.