Medical Grade Connectivity: How IoT Drives Digital Transformation in Healthcare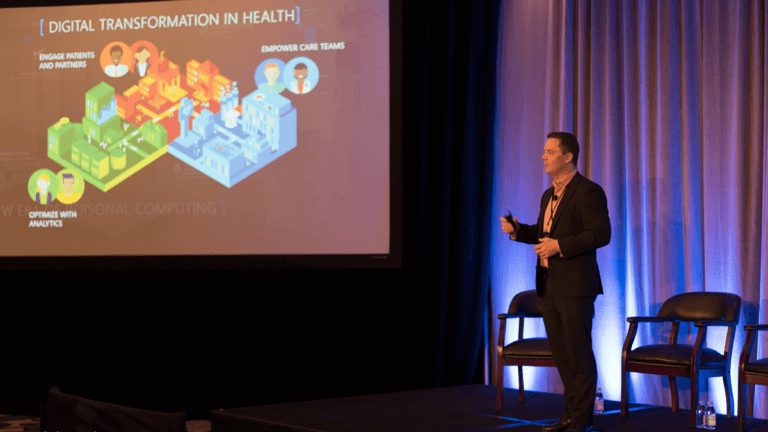 The connected world that is enabling the digital transformation of our lives and society is pervasive. So often, people view the radical transitions as dehumanizing – that technology moving us further from each other, making our relationships more distant and our interactions impersonal. However, this really doesn't hold up to close scrutiny when we consider the context of our whole lives. We've never been so connected to people and information – and we are becoming more engaged every day. We are able to stay in touch with family and friends more easily; share experiences even though distant; share intimate ideas over phones even when sitting next to each other. Like so many important areas of our lives, the realization of the connected world is also transforming healthcare. CableLabs hosted an Inform[ED] symposium to investigate how connected healthcare is evolving and what technical challenges it must overcome. Attended by a fantastic mix of technical professionals, visionaries, and subject matter experts, the overwhelming consensus was that emerging technologies and pervasive networking will reinvent healthcare. The result will be an even more humane and caring system, accessible to more and more people at even lower cost.
The connected healthcare event was opened by Simon Kos, Chief Medical Officer of Microsoft. He set the tone for the day, demonstrating how technology is fundamentally changing society as it becomes more accessible, affordable and capable. His view was on our total health – not just during episodic care with clinicians, but our overall quality of life as we cope with the challenges of living. To organize his storytelling, he used the Quadruple Aim framework and presented examples to examine technology innovation along the dimensions of engaging patients, empowering care teams, optimizing clinical and operational effectiveness and transforming the care continuum. His examples resonated with the views and ideas of other presenters and panelists throughout the day.
Transforming Healthcare Through Interoperability and Data Liquidity
Security concerns are very real, as discussed by a panel of Corporate Information Security Officers (CISOs) moderated by Ram Ramadoss of Catholic Health Initiatives. Panelists included Cyrus Malbari of Abbott, Kathy Hughes of Northwell Health, and Timothy Torres of Sutter Health.  The rash of ransomware incidents against thousands of hospitals globally demonstrates the severity of the threat environment. Yet, as Mr. Ramadoss discussed with his panel, they can't control threats. Rather they work to control weaknesses. Some weaknesses are obvious and yet have been very hard to fully mitigate – phishing, being too open with system administrator privileges, exposing sensitive systems to risks by using them for personal activities such as email. Others are not so obvious. Kathy Hughes pointed out that the focus on care tends to decentralize IT – with the result that a large percentage of devices connected to the care network may not even be known to security teams. Timothy Torres said one way his organization found that works to deal with this challenge was to incentivize purchasing devices through correct channels. The panelists all felt that device security certification could be a major improvement in ensuring securable devices were used to provide care. And they cited potential savings in cyber security insurance as a result.
A discussion point that was visited throughout the day was data liquidity. The concept of data liquidity is not synonymous with interoperability, though related. Rather, data liquidity is about ensuring actionable access to health information by whomever needs it. This is a differentiating challenge in healthcare. As Kerry McDermott and Jeff Smith highlighted in the legal and regulatory panel, medical devices are regulated by a plethora of federal agencies. No other industry has the same mix of privacy and security requirements while at the same the ability to produce such rich and valuable data that, applied to the right algorithms and made available to the right person at the right time can save lives while lowering costs.
Fireside Chat with Ed Cantwell
Ed Cantwell and Ed Miller, both from the Center for Medical Interoperability, observed that interoperability and security in connected devices are interdependent. Security functions between devices must be interoperable, and insecure connectivity doesn't provide practical interoperability. Ed Cantwell went further, describing secure interoperability need to be approached as a utility – a fundamental capability that must exist to support evolving practices in health care. This idea was similar to ideas shared during the IoT Security Inform[ED], where Brian Scriber of CableLabs asserted that code and practices to secure IoT devices and systems should be developed collaboratively and then shared freely.
Ed Cantwell also shared that he thinks blockchain technologies have a role to play here. Blockchains are designed to address trust in a way directly applicable to healthcare, providing a basis for security, privacy, control, transparency, and compliance.
Innovation in Connected Healthcare
The final speakers painted a bright future, discussing in depth how digital transformation will refocus healthcare on the patient, humanizing care. Summer Knight of Firecracker was particularly eloquent, sharing her passion and drive to show how the cable industry can be pivotal in providing medical grade connectivity. She feels that the evolving connectivity will engage and empower individuals and their family as part of the healthcare team as we hardwire humanity at every point of care. Medical grade connectivity can provide the platform for customer engagement and activation, putting the patient in the center of all decisions. The opportunity for contribution from cable is significant. Remote monitoring can reduce costs by as much as $8400/year per patient. Coupled with other critical functions, the near term opportunity for cable operators is over $200 billion annually, supporting a total addressable market of over 170 million people.
This was a very informative event. It brought stakeholders together to chart how we can achieve a bright future in providing secure, connected health. Working together, the cable industry and health care industry can lower the per capital cost of care and we can improve the wellness of populations by making access easier. Medical grade connectivity will improve the patent experience and change how we assess success in providing care as we transition the business focus from fee-for-service to a focus on positive results. We can empower care teams in new ways, ensuring quicker care that allows us to treat patients better and increase the likelihood of excellent outcomes.