Insights From Creating A Collaborative Workplace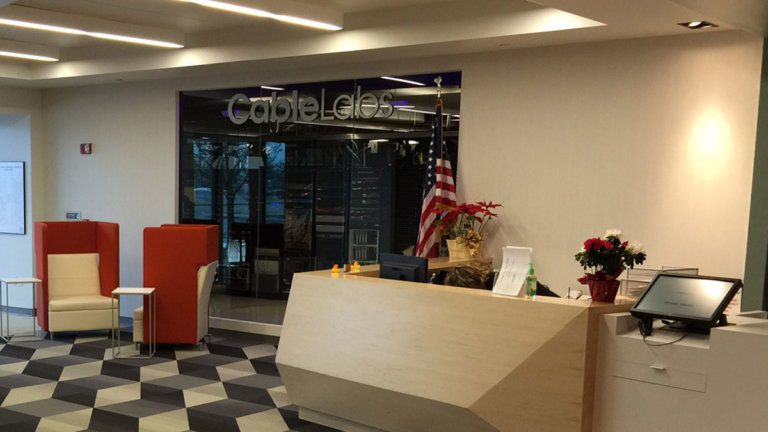 In 2013, CableLabs embarked on an ambitious project to re-imagine its Louisville, Colorado location into a work environment that better aligns with CableLabs' growing innovative culture and strong sense of collaboration. Traditional high walled cubes and offices were no longer conducive to the level of interaction, flexibility, and innovation that CableLabs' team members, projects, and visitors need.
CableLabs' CEO Phil McKinney articulated three "must achieve" goals, establishing the underpinnings of the architectural design and function of the remodeled space:
Teamwork/Collaboration – Support, encourage, and foster communication and collaboration
Growth – Accommodate our growth within the existing building constraints
Excitement/Energy – Create a new and exciting space with team member amenities such as open space, natural light, and café style gathering areas
We remodeled while still using the building. Teams were moved across the street into overflow offices during the different remodeling phases. One year and six days from initiating construction, the three phases of remodel construction were completed within budget, with all staff relocated into their newly remodeled work environment on January 6, 2015.
In the same 79,186 sq. ft. Louisville office space, the redesigned floor plan:
Increased the number of available seats from 204 to 237 modernized workstations
Increased scheduled and unscheduled meeting rooms and informal gathering spaces from 27 to 70
Eliminated all offices, relocating staff in lower height 6'x8'workstations (including all executives and senior managers)
Increased video conferencing capable rooms from 2 to 5
Added open, flexible work areas for project, experimentation, and innovation work
Lessons Learned
Experiment early, apply learnings - During 2013, CableLabs opened a new Silicon Valley office and lab facility in Sunnyvale, California. During this time, experiments were also set up in various parts of the Louisville, Colorado building with lower height cubicles, open style meeting space furniture, glass wall modular partitions, whiteboard wall paint, plant walls, AV, and other ideas under test. Some ideas worked and others were failures. All of those experiences were invaluable in setting the direction for the Louisville workplace redesign.
Strong team with collaborative relationships - One year construction projects rarely complete on time and within budget. The tone of the remodel project was set up front; collaboration and teamwork are essential to our success. This greatly influenced the selection of the architect, construction, project management firms, and other partners, resulting in very strong, collaborative relationships across the remodel team. This proved invaluable in many aspects of the project including logistics and coordination across the three construction phases, communicating with and intently listening to staff during the project, getting decisions made quickly, managing construction noise during business hours, resolving unexpected problems as they occurred, managing within the budget, and dust mitigation in the office areas, labs and computer rooms.
Create abundant meeting and collaborative work areas - The new workplace design very intentionally eliminated offices and lowered cube walls to create more openness and increase communications and transparency. The approach also created concerns about whether meeting areas, and quiet locations for work, phone or conference calls, and discussions were sufficient.
To foster this new collaborative style of work environment, six types of work areas were designed into the new floor plan; scheduled conference rooms, unscheduled 2-4 person huddle rooms and phone rooms, small furniture amongst cubical areas, café style open seating areas, and flexible workspaces such as the Garage and the Carport. Since occupying the remodeled space, team members report they rarely if ever have difficulty finding a place to meet, talk, or work.
Self-forming teams innovate solutions - With the move to all workstations and no offices, staff expressed concern that they would spend too much time searching for available huddle or phone rooms. A challenge went out and a small, self-directed team formed consisting of a few engineers, developers, and administrative staff. Utilizing Agile and Lean techniques, the team quickly created the Huddle web app. Using IoT motion and door sensors, floor plan jpg images, and information already in Active Directory, Huddle provides a quick at-a-glance view of available huddle and phone rooms. Huddle also makes it easy to locate team members' work stations, meeting spaces, printer locations, and staff contact information.
A second example occurred with the redesign of the lab work area. This was not part of the original office space remodel scope, but technicians working in the lab expressed their desire to create more meeting space, decrease equipment noise, and add similar workstations to their work area. A self-forming team of lab technicians and engineers came up with the plan and budget. The team proposed and then implemented the solutions themselves, reorienting portions of the lab, decreasing noise, and repurposing a small storage area as new meeting space.
Work style change is cultural change - Changing from high cubes and offices to a more open, collaborative and flexible workspace is as much, if not more, about culture change than it is about moving to a new floor plan. The new work environment changes our work style, increasing the frequency of and number of locations for interaction. It pulls staff out of cubes and offices and into visible meeting and unscheduled work areas, increasing opportunities for creative collisions amongst staff of different disciplines and skill sets. In many ways, moving to this type of work style is something that can only be fully appreciated by experiencing and working in an open office environment. Staff with experience working in startups and other tech companies can assist in this culture change by sharing their experiences with others, and talking with coworkers about reducing distractions in this type of environment.
Mitchell Ashley is Vice President of Information Technologies at CableLabs.