Innovation From All Corners: The Role of Vendors in the Innovation Ecosystem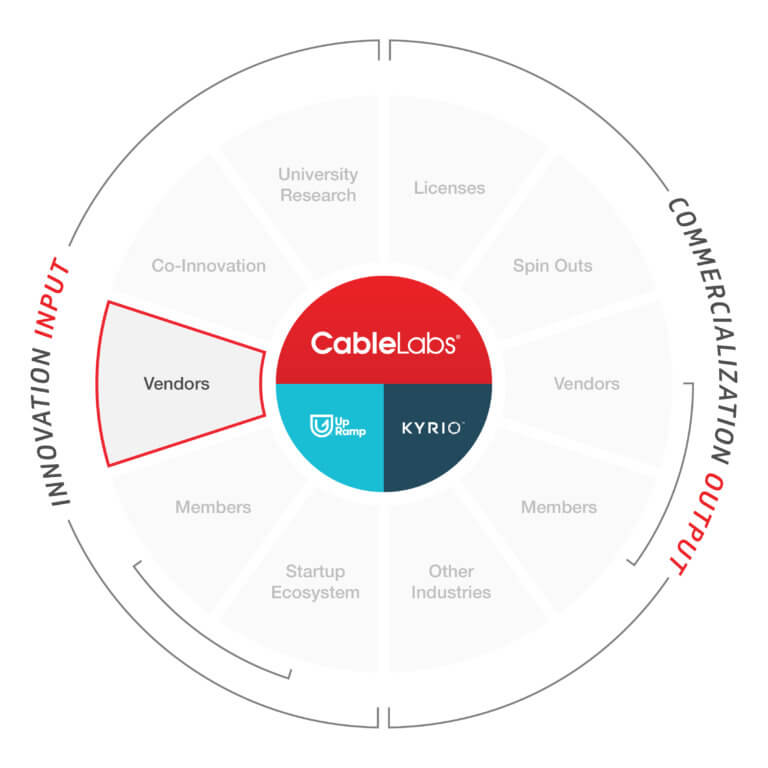 So far we've covered the cycle of innovation and commercialization in Transforming Ideas into Solutions and how CableLabs helps turn innovative ideas into reality through startup collaboration and creative licensing agreements. This next part of the Innovation Ecosystem Series focuses on vendors and their role in moving our industry forward.  
CableLabs has a long history of vendor community collaboration, teaming up to bring new, innovative ideas to reality. Vendors' research, unique vantage point and expertise helps shape our innovation roadmaps, inform our members' business decisions and bring new cutting-edge technology products to market faster and more cost-effectively.
We could cite many examples of successful vendor collaboration, but let's look at one that has had a widespread and significant market impact: DOCSIS® technology. Its role in the evolving cable modem sector is a great example of how vendor contributions drive the innovation cycle in the industry.
DOCSIS Technology: A Vendor Collaboration Success Story
DOCSIS technology, well established and universally adopted today, was revolutionary at the outset, establishing a telecommunications standard that permitted the addition of high-bandwidth data transfer to an existing cable TV (CATV) system. This meant users could finally experience true interoperability, regardless of the cable vendor they chose.
The Problem
Prior to the creation of the original DOCSIS specifications, many vendors brought proprietary cable modems to market. Each of these proprietary solutions had its own unique, innovative approach to offering broadband internet over a cable network. Some offered solutions for carrying downstream traffic but were weaker in the area of carrying upstream traffic. Some had better Media Access Control (MAC) layer protocols but did not offer great RF performance. Few addressed the issue of security and privacy. None of them individually had the best fix, and none of them captured sufficient market share to make the economics work for truly mass deployment. In short, neither suppliers nor cable customers were finding the optimum resolution.
The Solution
Together with our member companies and industry suppliers, we embarked on an exhaustive process to select the "best of breed" innovations proposed by the vendors. This process involved testing a multitude of different solutions to determine which ones would eventually make it into DOCSIS technology. With each successive generation of DOCSIS technology, innovative contributions to the specifications enable greater speed, lower latency and higher reliability. Now, thanks to our continued collaboration with our vendors, DOCSIS 3.1 technology supports phenomenal speeds of up to 10 gigabits per second downstream and 1 gigabit per second upstream—an amazing achievement that allows our cable operators to stay very competitive in today's markets. 
The Industry Impact
DOCSIS technology catapulted the cable industry into a new service arena, providing broadband internet access to many homes across the country and beyond. Bruce Leichtman, president and principal analyst for Leichtman Research Group, relates the results: "At the end 2Q 2017, cable had a 64% market share. The broadband market share for cable is now at the highest level it has been since the first quarter of 2004."
Thanks to DOCSIS technology, consumers can now enjoy ultra-high definition 4K television, artificial reality (AR), advanced gaming options, IoT and many other benefits of internet connectivity. This, coupled the soon-to-be-delivered 5G, is a very exciting time for broadband innovation.
How We Engage With Our Vendors
Over the last 30 years, we've worked hard to develop close working relationships with vendors through various programs and collaboration opportunities. Here are just some of the ways our vendors can engage with us and our member community.
Working Groups: As Working Group members, vendors get the opportunity to participate in the creation of new specifications and collaborate with other industry professionals.
Visiting and Contributing Engineer Programs: Vendors can work on-site in our labs as Visiting Engineers or remotely—as Contributing Engineers. They get access to our tools and workspace in exchange for their expertise.
Draft Specification Reviews: Vendors can get access to draft specifications not yet available to the public. This gives them an opportunity to comment and submit change requests 30 to 60 days prior to issuance.
Co-innovation Opportunities: Just like with DOCSIS technology, we invite all members and vendors to join us in tackling a specific problem facing the industry and are open to many co-innovation opportunities. 
Events & Showcases: Vendors have multiple opportunities to show off their inventions and connect with cable operators throughout the year. Some of our free events, like the Envision Forum (formerly Connect[ED] Forum), are geared specifically to vendors.
Kyrio Product Certifications: In our industry, interoperability is key. Through Kyrio, vendors can test their products to make sure they meet all the industry specifications.
Vendors' work is crucial to our industry on both the innovation and commercialization side of the spectrum. These companies are some of the most prolific sources of great ideas and it's part of CableLabs' mission to make sure they are heard by the right people at the right time in the innovation cycle. By working together with both our members and vendors, we can continue to reach our collective goals as an industry and discover new possibilities.
Learn more about vendor collaboration by clicking below.