Laser Focused on Fiber: The Can't-Miss Event to Explore Optical/FTTP Technologies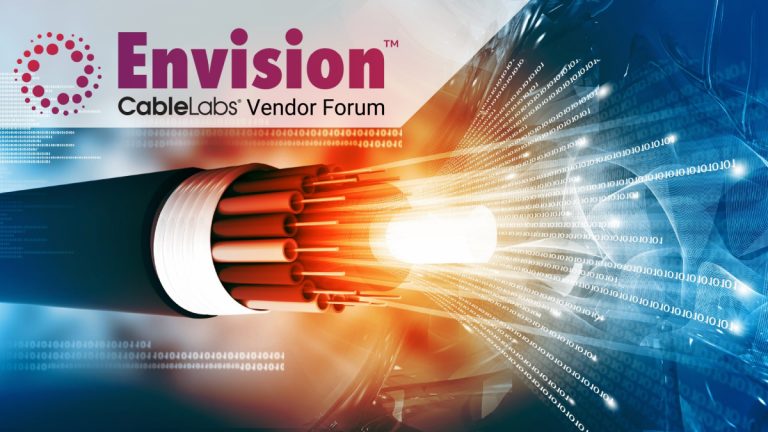 What are the cable industry's latest optical and FTTP trends and technology developments? What does the future of fiber optics look like? How can operators and vendors get on the same wavelength to promote innovation and adoption? Connect with CableLabs vendor and member communities to discuss these questions and more at CableLabs Envision Vendor Forum 2023: FTTP & Optical.
Envision is a two-day virtual event that takes place May 3–4, 2023, from 9:00 to 11:30 a.m. MDT on both days. Join executives, senior technologists and strategists to hear from industry leaders on key technology, policy and security strategies for fiber optical infrastructure deployments. The last day to register is April 28, 2023 (registration link below).
"CableLabs is seeing strong interest by our member companies world-wide to increase investments in optical deployments. Our goal at this event is to initiate the strategic and technical dialogue between our member and vendor communities to fuel the development of innovative, reliable and interoperable solutions for the market. The lineup of industry influencers this year is incredible, and I look forward to hearing everyone's views." —Dr. Curtis Knittle, VP of Wired Technologies
This year's sessions include:
Operator Wish Lists for Optical and FTTP
Wednesday, May 3, 9:10 - 9:55 a.m. MDT
Israel Madiedo, Director of Innovation and Technology at Izzi, and Robert Kuse, Director at Cox Business Network Engineering, will offer global perspectives on the pain points they're experiencing as they plan and deploy optical and FTTP projects.
Accessing Coherent: Activating the Access Network
Wednesday, May 3, 9:55 - 10:25 a.m. MDT
Coherent technology is finally coming to the access network. Shawn Esser, Director of Product Management at Coherent, and Fernando Villareal, Chief Architect at Ciena, will discuss implementation, new and emerging products and the new service opportunities this development will enable.
Unlocking the Future of Tech: Exploring the World of Optical Innovations
Wednesday, May 3, 10:35 - 10:55 a.m. MDT
Dr. Steve Jia of CableLabs dives into the latest in coherent optical technology, distributed optical fiber sensing, quantum networking and more.
Hurricane Heroes: Comcast's Recovery from Hurricane Ian
Wednesday, May 3, 10:55 - 11:20 a.m. MDT
Venk Mutalik, Comcast Fellow, shares how Comcast used P2P coherent optics to speed up recovery after Florida's Hurricane Ian in 2022.
Operator Spotlight: PONtificating Fiber's Future for the Next Decade
Thursday, May 4, 9:10 - 9:40 a.m. MDT
How do operators see PON evolving? What are the key factors that operators are considering now that will drive their deployments in the years to come? John Lee, NGA Architect at Vodafone, and Eric Svenson, CTO and VP of Engineering and Technical Operations at Armstrong, will address these key questions and many more.
Getting on the Same Wavelength: The Importance of Interoperability in PON Equipment
Thursday, May 4, 9:40 - 10:00 a.m. MDT
Hear operator and vendor perspectives from Dr. Pao Lo, VP of Network Engineering at Midco, and Ryan Nicometo, Senior VP and GM of Video Broadband Solutions at Vecima Networks, about the importance of interoperability for PON equipment. What impact can the industry expect? How should interoperability best be approached?
Spotlight: CableLabs Optical Program Highlights
Thursday, May 4, 10:10 - 10:25 a.m. MDT
CableLabs shares its roadmap for evolving optical technologies for the industry. This discussion will include updates on current and upcoming activities and available resources. Learn about the key research tracks and their leaders, as well as how to best engage or follow the activities.
INSIGHTS: Cable & PON from the Vendor Perspective
Thursday, May 4, 10:25 - 11:05 a.m. MDT
What can the cable community do to increase the velocity of PON adoption? Join industry experts from Calix, Ciena and Nokia to discuss the challenges of selling into and supporting the cable industry as operators move toward FTTx.
Across the Spectrum: An Analyst's View
Thursday, May 4, 11:05 - 11:20 a.m. MDT
Close out the day with the latest perspective on the optical market. Hear Jaimie Lenderman, Principal Analyst and Research Manager at Omdia, give highlights on trends and anticipated growth for the next decade.
Register now and join us as we dive deep into industry challenges, technology hurdles for operators, and thought-leading vendor perspectives to accelerate innovation and adoption. We hope to see you there!
Registration closes April 28, 2023. This event is closed to the press, media and analysts.