DOCSIS® 3.1 Products Are Getting Real!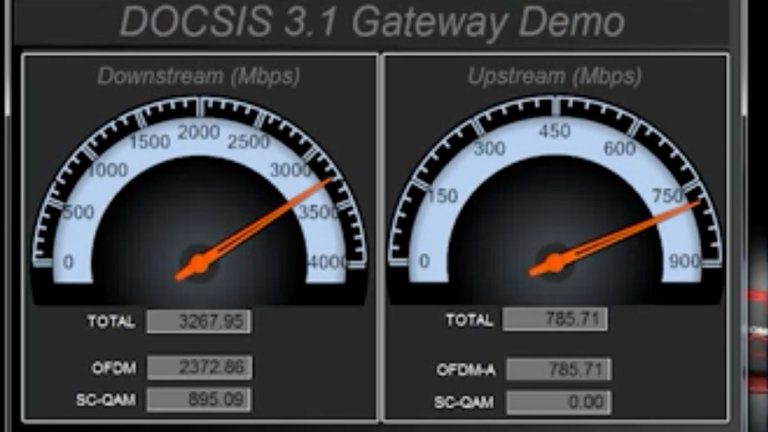 Is the cable industry ready to deliver multi-gigabit broadband? Can the industry effectively compete in the market against fiber? Can the existing HFC plant scale to support the spectrum requirements of next generation services? The answer to all these questions is a resounding YES! as shown at CableLabs during a DOCSIS 3.1 demonstration day held late last month in Colorado.
A healthy ecosystem of twenty-two vendors came together to demonstrate the capabilities and readiness of DOCSIS 3.1 technology on a range of products including cable modems, Converged Cable Access Platforms (CCAPs), and test and measurement equipment.
Demonstrations included
Multi-Gbps Speeds
Multiple vendors demonstrated the ability of DOCSIS 3.1 devices to deliver Multi-Gbps speeds, showcasing downstream capacities up to 4.6 Gbps on the downstream and 800 mbps on the upstream using various combinations of bonded OFDM (OFDMA for upstream) and SC-QAM channels.
Fluid Transition – Backward Compatible, Upgradable, Flexible
ARRIS showcased the capability of DOCSIS 3.1 CCAPs to support both DOCSIS 3.1 and DOCSIS 3.0 cable modems using their E6000 platform, which is currently deployed in the field for DOCSIS 3.0 and can be upgraded via a software update to support DOCSIS 3.1 services.
Casa Systems also showcased their CCAP, which is also currently deployed in the field and can be upgraded via a software update to support DOCSIS 3.1 services.
Vendors showcased a variety of spectrum configurations including downstream OFDM transmissions spanning from 96 to 384 MHz, and upstream transmissions operating with different upstream plant configurations including 5-42 MHz, 5-85 MHz and 5-204 MHz.
Greater Spectral Efficiency
Futurewei and Broadcom showcased DOCSIS 3.1 downstream signals operating at 4096 QAM increasing efficiency by 50% compared to DOCSIS 3.0 technology at 256 QAM, and also showcased 4096 QAM upstream signals increasing efficiency by 100% compared to DOCSIS 3.0 technology at 64 QAM.
Cisco showcased the ability of a DOCSIS 3.1 CCAP to support multiple modulation profiles, which highlights the ability of DOCSIS 3.1 technology to maximize spectral efficiency based on HFC network characteristics.
Future Scalability
Futurewei showcased the optional feature of DOCSIS 3.1 devices to support 16384 QAM, increasing downstream efficiency by 75% compared to DOCSIS 3.0 technology at 256 QAM.
CableLabs is now open for DOCSIS 3.1 device certification testing
The success of the DOCSIS 3.1 demonstrations was not a surprise. CableLabs has been running a series of DOCSIS 3.1 interoperability events (interops) since last December. These events provide the opportunity for manufacturers to work together on interoperability, development, and compliance; and over the course of these events, manufacturers have continued to demonstrate increases in product maturity.
In addition, CableLabs has been holding DOCSIS 3.1 technology dry run events since June to provide additional development opportunities and to evaluate product readiness for certification and field testing through joint test execution.
As was previously announced, CableLabs is now open for DOCSIS 3.1 device certification testing: as soon as products demonstrate readiness through the Dry Run process, certification testing can begin. CableLabs certification programs provide verification of specification compliance; and in the interest of advancing DOCSIS 3.1 device readiness as rapidly as possible, CableLabs will work with device manufacturers in the DOCSIS 3.1 device certification testing process until they can demonstrate this compliance.
The advances in DOCSIS 3.1 device maturity are also born out by the fact that Cable operators have also announced field deployments of DOCSIS 3.1 services as early as Q4 2015.
This is good news for all concerned: DOCSIS 3.1 technology with its support for up to 10 Gps downstream and up to 1 Gps upstream, along with improved network and spectrum efficiency, will enable a new generation of services and applications including advanced video technologies, virtual and augmented reality, tele-existence, etc. DOCSIS 3.1 technology also reduces network latency, and so dramatically improves responsiveness for sophisticated applications such as gaming and rich web experiences.
For cable operators, DOCSIS 3.1 technology provides a flexible migration path for their current HFC deployments since it is backward compatible with legacy DOCSIS devices.
DOCSIS 3.1 technology is living up to its promise to deliver best-in-market speeds to the broadest population of consumers.
DOCSIS 3.1 Demonstration Day Vendor Participation
Arris
Askey
Averna
Broadcom
Casa Systems
Castlenet
Cisco
Comsonics
Excentis
Futurewei
Humax
Intel
Keysight Technologies
Netgear
Pace
Rohde and Schwarz
Sagemcom
ST Microelectronics
Technicolor
Trilithic
Ubee
Viavi
Comcast's DOCSIS 3.1 Gateway was also included in the demonstrations.
Matt Schmitt, Vice President of Lab Services, CableLabs, also contributed to this article.
Belal Hamzeh is Director of Network Technologies at CableLabs.