Congratulations to WBA on 20 Years of Wi-Fi Innovation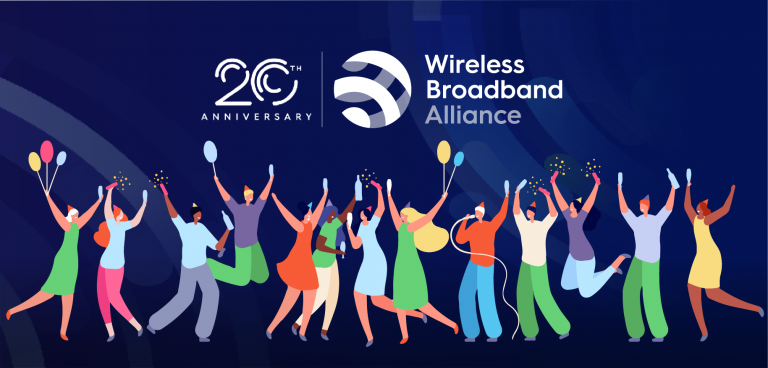 Since 2003, the Wireless Broadband Alliance (WBA) has worked tirelessly to advance seamless, interoperable Wi-Fi experiences throughout the global Wi-Fi ecosystem. CableLabs recognizes the importance of WBA's contributions to the wireless community as it promotes collaboration among its members in areas such as NextGen Wi-Fi, OpenRoaming, 5G, IoT, Testing & Interoperability and Policy & Regulatory Affairs.
Through programs and activities designed to address critical business and technical challenges, WBA has made many valuable contributions, including:
expanding Wi-Fi roaming through the Wireless Roaming Intermediary eXchange (WRiX) framework,
promoting awareness and detailed testing of Passpoint,
leading trials and assessments of wireless technologies as they become available, and
resolving standards and technical issues.
WBA is also transforming the Wi-Fi ecosystem with its introduction of WBA OpenRoaming, which enables users to roam over a larger pool of access networks. As the Wi-Fi ecosystem continues to evolve, WBA is among those leading the industry with research, education, development, collaboration and communication.
Working Together to Advance the Wireless Industry
CableLabs is a long-time supporter of WBA, as both contributors and leaders of many WBA projects. In recognition of this support, CableLabs has received more than 30 awards from WBA for these roles as Contributor and Project Lead, including the Outstanding Leadership award. The joint efforts of CableLabs, Kyrio and WBA benefit the cable industry and many others both now and in the future as WBA expands to cover issues in IoT and 5G convergence.
Specifically, CableLabs provided key ecosystems in an effort to duplicate real-world deployments within the CableLabs/Kyrio test house and lab simulations. The project resulted in useful data for reporting on Wi-Fi technologies such as Passpoint, OpenRoaming and Wi-Fi 5/6/6E. Through testing and trials, Kyrio—a CableLabs subsidiary—has played a major role in the WBA certificate PKI infrastructure, advancing Wi-Fi roaming authentication and accounting security, a key component of OpenRoaming deployments.
How WBA Is Moving Toward Seamless, Interoperable Wi-Fi
WBA's mission is to help service providers, technology companies, cities, regulators and organizations create seamless, interoperable Wi-Fi experiences for consumers and enterprises. The alliance works to accomplish this goal by:
helping organizations gain maximum commercial benefit from Wi-Fi,
promoting interoperability among wireless technologies,
supporting the development of next-generation Wi-Fi applications across the wireless ecosystem,
delivering automated, secure Wi-Fi experiences,
advising and influencing policy,
delivering safe, secure Wi-Fi,
bridging the digital divide with Wi-Fi to empower business, education and communication,
developing sustainable Wi-Fi.
These focus areas support the development of technologies and services that will improve customer experiences and business opportunities. By helping members network and collaborate, WBA is building a connected infrastructure that will support the future of the industry.
Congratulations on two decades of innovation, Wi-Fi advocacy and growth. Here's to the next twenty years!