CableLabs Innovation Series: Transforming Ideas into Solutions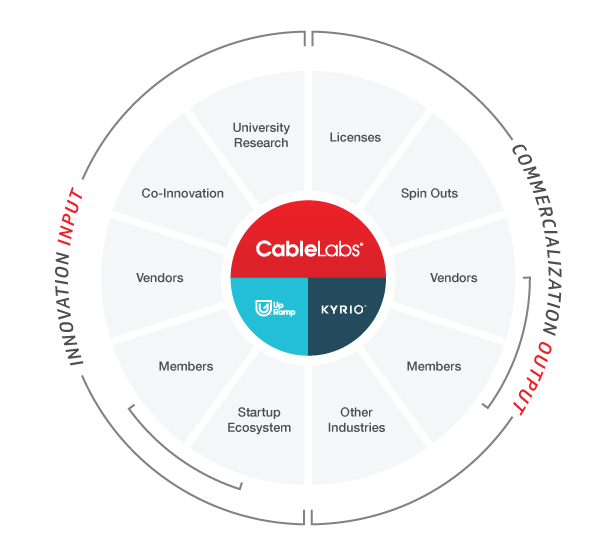 Innovation is both an art and a science. It is equal parts inspiration and hard work. It requires creativity and systems, passion and persistence. And most of all, innovation requires people — teams of people that work together to create what none of them could do on their own.
CableLabs is arguably one of the most impactful industry innovation labs in the world, generating immense value for the dollars invested by our members. A prime example:
Technology developed and specified at CableLabs is used by over half a billion people in the world every day, and the number is growing rapidly.
What is the secret to that success?
Do we have better researchers?
Do we have better leadership?
Do we have better facilities?
While we do have great people, we have fewer than 200 of them, so surely other research groups vastly outnumber us. We do have good leaders, and excellent facilities, though we don't believe we have a monopoly on these. So, none of these things by themselves explain the success we've had.
From the founding of CableLabs until today, we have recognized that our success derives from two things:
Our position in an ecosystem, and our practical focus on building innovations that will really be adopted. The ecosystem is made up of companies, yes, but within these companies are individuals.
And the real secret is that we multiply the impact of our almost 200 people by engaging with the ecosystem and bringing the power of thousands of additional people to bear on our industry's needs.
Innovation
Ideas are where innovation starts, so CableLabs casts a wide net for ideas by working with our own teams, and also engaging the ecosystem around us. We create programs and often organize teams to gather participants from our members, from vendors, from academic researchers, co-innovation partners, and startups, as shown on the Innovation Input section of the diagram below. A few examples:
Full Duplex DOCSIS: A technology that allows radio frequency spectrum to be simultaneously used for upstream and downstream communications on the cable plant, was inspired by an idea that we found through academic research work with Stanford a number of years ago.
Low Latency DOCSIS Mobile Backhaul: Our work came out of a collaboration with Cisco, a major vendor to the cable industry.
Proactive Network Maintenance: A CableLabs project that enables operators to find plant maintenance needs before they become customer impacting, resulted from a close collaboration with Comcast, one of our members.
UpRamp: Our team engages deeply with the startup community, evaluating over 1,000 new startups every year to find the handful that will be selected for our Fiterator program.
We also source ideas internally, collecting over 200 potentially impactful ideas every year from our teams at CableLabs, Kyrio, and UpRamp.
We take this big pile of ideas and systematically sort them, filtering out the ideas that won't create enough impact, or the ideas that are best pursued by other parts of the ecosystem. Once we have an idea that we think has promise, the ecosystem engagement continues. We often work on the idea together with vendors, startups, and members to build and validate the idea, asking and answering questions like:
Does the technology really work?
Does it really save as much money as we thought?
Does the customer really want it?
The ideas that make it through testing and still look good are ready to go to the next step.
Commercialization
Once we know that an idea has been validated and can have a major impact for our members, we turn our attention to commercialization. The end objective here is to really finish the race, which means that our work is not complete until members have deployed the technology and are generating revenue, cost savings, or improved user experiences with the idea. We get tired of hearing it, but our CEO Phil McKinney is right when he says that:
"Ideas without adoption are a hobby, and we aren't in the hobby business."
Here, we have a lot of tools in the toolkit, because it is important to use the right tool for the job with each individual idea. Broadly, as shown on the Commercialization Output section of the diagram above, our commercialization paths include:
Specifying technology for production by the vendor ecosystem
Licensing intellectual property, including contributions to open source communities
Direct adoption by members or by other companies outside of the cable industry
Commercializing services and digital products for member or non-member companies through our subsidiary, Kyrio
Through our UpRamp subsidiary, helping startups adapt their products to the industry's needs and having the startup make direct sales to cable operators
Here are a few examples of how we use these different commercialization paths:
We created intellectual property when we developed our Proactive Network Maintenance (PNM) technologies, and now we license this intellectual property to the vendor ecosystem for use in products that serve our industry. It is free for use on member networks. For non-member networks, the vendors pay a fee.
We developed systems and technology to support the use of digital security certificates in cable modems, and we leverage that work through Kyrio, which sells digital security certificates to many industries, including the energy, medical, and communications equipment industries.
We work closely with vendors and members to help write the specifications for every DOCSIS release, and we test vendor DOCSIS gear against those specifications with Kyrio.
We developed open source software for our SDN NFV Application Platform and Stack (SNAPS), and for our Low-Power Wide Area Networking LoRa Server, and license that software through the open source community.
It Takes an Ecosystem
Any world-class innovation effort needs to leverage ideas and resources throughout the ecosystem of suppliers, researchers, startups, and adopting companies or customers in order to find the best ideas and get them commercialized. At CableLabs, Kyrio, and UpRamp, we are continuing to develop the relationships with key ecosystem partners, because we know that we can't achieve our mission to deliver impactful innovation without the whole ecosystem working together. It is only through collaboration that we can continue as one of the world's most impactful industry innovation labs.
This is an introduction to how CableLabs' ideas become solutions. Subscribe to our blog to automatically receive the next installment of our CableLabs innovation story.