CableLabs is Celebrating the Big Three-O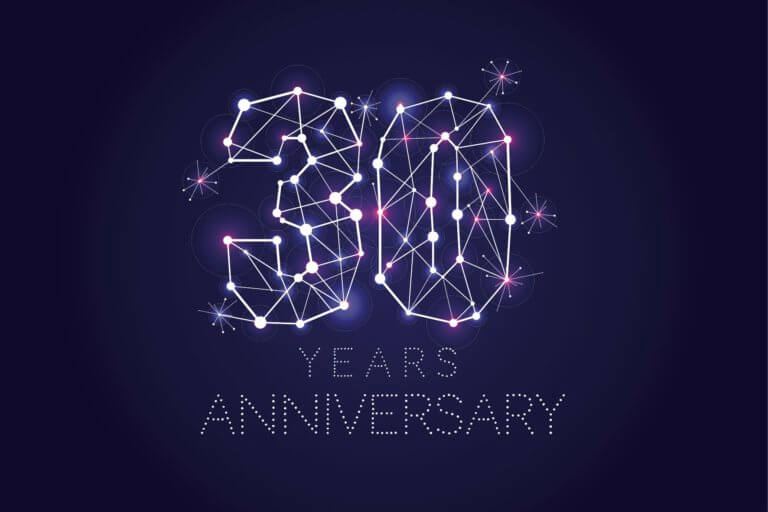 Happy anniversary, CableLabs!
Thirty years is a respectable milestone. So what makes it so special? While gathering material for the CableLabs anniversary site, we were fortunate to spend some time with the people who know it best— its founders, employees and members. Their leadership helped grow CableLabs into a global innovation powerhouse and laid a strong foundation for its future. Let's look at the last 30 years through their eyes.
The CableLabs Pitch
Dick Leghorn came forth and said, "Look, this is silly. We've got an industry where proprietary standards are largely driven by manufacturers and suppliers, who are making it subscale."
– Dr. John Malone, Founder, CableLabs
In 1988, the cable industry was experiencing a rapid, but poorly controlled growth. At one point there were 11,000 cable providers dividing the country into tiny markets. While the bigger players may have been able to afford some R&D work internally, the little guys didn't stand a chance. If cable were to remain competitive against telcos and broadcasters, something needed to be done. CableLabs provided a way to plan and fund critical R&D projects and bring together the scale needed to drive the industry standards. Plus, it facilitated the transfer of relevant technology to its member companies. This kind of collaboration was unheard of in the United States and a critical turning point for the cable industry.
Defining and Driving Industry Standards
"It started with the agreement that we would all get together and use a digital compression standard and that CableLabs guys would be defining and driving that standard. We were really, at that point, taking over television technologically in America."
– Dr. John Malone, Founder, CableLabs
The nineties brought in a tsunami of innovation. Breakthroughs like hybrid fiber coax boosted Cable's bandwidth capacity and laid the groundwork for the expansion of the internet. Around the same time, compression technology came into play. Suddenly, cable companies could put 20 channels inside of one, bringing the total number of channels to a whopping 500! CableLabs was instrumental in defining and driving MPEG, the video encoding standard still used around the world. This marked a pivotal point in time when broadcasters finally conceded technological leadership to CableLabs.
Bringing the Industry Together Like Never Before
"CableLabs pulled the industry together—the vendors and the operators—and came up with a standard, the DOCSIS standard, that really drove us to be able to scale our cable modem business."
– Nomi Bergman, Former Member of CableLabs Board of Directors Technology Committee, Former President of Bright House Networks
Before DOCSIS (Data Over Cable Service Interface Specification), cable modems were launched in a proprietary fashion, lacking the scale to make them affordable to the average consumer. DOCSIS changed all that. It was a true shining moment for CableLabs. Not only did DOCSIS help bring the scale and the price of cable modems to where they needed to be, it turned the cable industry into a digital machine. This would not have been possible without the kind of collaboration CableLabs facilitated.
Adapting to Change
"The meeting that really turned the industry, in my opinion, was the one with Bill Gates. Bill had told us that he was ready to have me drag people up there [Silicon Valley] and tell them that he could build a digital set-top box that would fully comply with the standards that we were looking for in volume for under 300 bucks."
– Dr. John Malone, Founder, CableLabs
As the industry matured, skeptics emerged. Cable could not wait any longer—it needed to make a digital set-top box. There was just one major hurdle: the price. Today, $300 seems like an astronomical number, but back then, creating a digital box at this price was a herculean task. Most manufacturers quoted double this amount. Despite the sticker shock, CableLabs heeded Gates' advice and moved ahead with the project. Microsoft's involvement gave cable the additional credibility it needed to transition to digital delivery and quiet the skeptics for good.
Bringing Everyone to the Table
"One of the more memorable CableLabs meetings was about 15 years ago. Ted Rogers, then the CEO of Rogers, was telling us with great passion that it was critical that every operator in this room embraced wireless and got into wireless. I really do think he might've stood up on the table. I caught that bug from Ted Rogers and had been passionate about it ever since."
– Nomi Bergman, Former Member of CableLabs Board of Directors Technology Committee, Former President of Bright House Networks
By providing a platform for lively discussion, CableLabs was able to facilitate collaboration among a wide range of member companies of different size, interest, scale, and circumstance. Some of them hardly did anything technical without consulting CableLabs or collaborating with other industry members through CableLabs. This exchange of ideas and knowledge was and still is instrumental to CableLabs' success.
Spreading Out to Other Industries
"Kyrio's mission is to help expand and bring the technologies of CableLabs to other industries. We've worked with the smart goods industry. We've worked with the medical industry. We've worked with IOT lighting manufacturers. As the technology evolves, we will continue to bring our expertise and our knowledge to those other industries as well as cable."
-Mitch Ashley, President & GM, Kyrio
As a nonprofit, CableLabs' main purpose is to serve the interests of its members within the Cable industry. But a few years ago, CableLabs' leadership decided it was time to think bigger. The launch of Kyrio marked a monumental shift in strategy, allowing CableLabs to take its innovations and expertise to other industries beyond cable. It provided a path to commercialization and quick deployment of cutting-edge technologies that impact millions of lives all around the world.
So, why is CableLabs special?
In the words of John Malone, "CableLabs is a unique animal." Not many companies are able to respond and adapt to rapid change while still staying true to their mission. Even fewer can serve the interests of an entire industry and unify it in a way CableLabs has. Over the last 30 years, CableLabs has solidified its reputation as the engine of innovation. Let's keep this engine running for the next 30 years and beyond.
To learn more about CableLabs' history and its impact on billions of people around the world, please visit our 30th Anniversary website.