Cable and Education: Welcome to the Classroom of the Future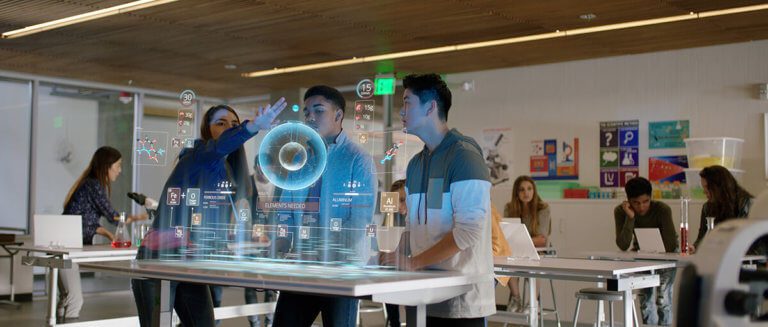 In August we released the third installment of our vision videos: "The Near Future. Ready for Anything." In the video, we imagine a future where kids use technology to learn and solve problems and can't wait to come back to school on Monday. Skeptical? You won't be after you see what their classrooms might look like in the near future. Cutting-edge technology powered by multi-gigabit super networks will expand their learning environment beyond the physical walls of the school as far as their imagination goes, making education a fun, collaborative and truly enjoyable experience. Take a look for yourself!
Head-Mounted Displays: AR/VR
AR and VR technology has been gaining some traction in the last few years among gamers, but education is one area where it can really shine. No kid would ever fall asleep at their desk wearing a sleek head-mounted display! They can interact with virtual and real-life objects at their own pace, explore and discover new worlds alongside their classmates and be back in time for lunch. Now that's a class trip we'd all look forward to.
Video Wall
We call it a wall, but this technology breaks down boundaries like no other. It creates a collaborative environment where kids from different schools and countries can interact in real time. How fun would it be to learn a new language or work on a common project with your peers who are hundreds of miles away? The learning opportunities are endless. Low latency networks powered by the cable industry are the key to making this concept a reality.
Artificial Intelligence Media
It's a friend. It's a guidance counselor. It's a teacher. A future AI-powered assistant can take on all these roles and more. An invaluable addition to anyone's day, it can interpret its owner's feelings and predict his or her needs at the right time. When it comes to education, it can be a great resource for information, giving our kids the right tools to become the best they can be.
Internet of Things
We're already seeing the benefits of having multiple connected devices in our homes, but that's just a start. IoT technology, such as sensors and other devices, connected to one powerful network has the potential to transform the way we learn, giving us the information we need when we need it. Imagine how much faster your class experiment will go if you could collect and interpret data in an instant? And that's just one possible application out of many others.
Light Field Table
Fans of sci-fi will be excited to see this tech in the classroom! What if you could see digital chemistry elements suspended in the volumetric space right before your eyes? They are holographic, so you can conduct virtual experiments with simple hand gestures. All the future scientists and engineers will agree, this is one fun lab class you won't want to miss.
Light Field Holodeck
Put all your other collaboration tools away, because this one is a game-changer. A light field holodeck can project media into volumetric virtual classroom or workspace where everyone can meet using their photorealistic avatars. Participants can work and communicate with each other as if they are in the same room even if they are miles apart in real life. With enough bandwidth, this will become the collaboration tool of the future. You can read more about how we're enabling this technology here.
There's one requirement all these innovations have in common: a powerful broadband network. To make this vision a reality, we need multi-gigabit networking solutions that can support seamless life-like experiences. CableLabs, along with our members and partners, is working to bring these ideas to life, one innovation at a time. Check out our "Behind the Technology. The Near Future. Ready for Anything. " video in its entirety here: