Driving 5G and HFC Convergence with Multi-Tenancy at the Edge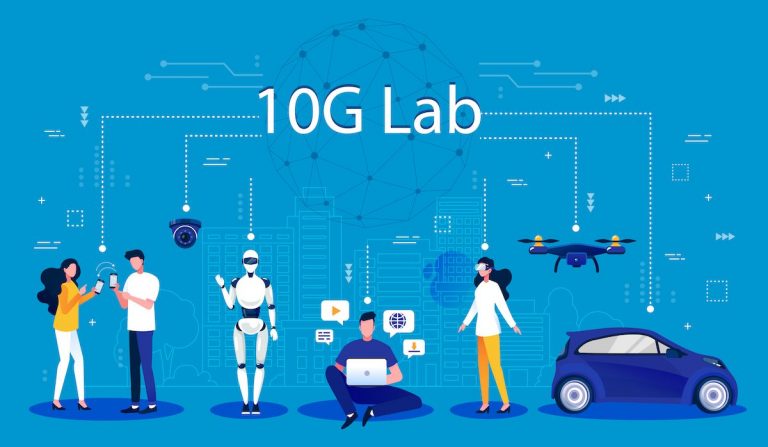 CableLabs is making it easier and more efficient to run 5G, DOCSIS and other applications at the edge. Working with our vendor partners, we've remediated challenges and improved the way vendors deploy their cloud-native 5G network stacks into a shared, private cloud setting. This early work acts as a catalyst to a vision in which any application workload can be co-located on infrastructure at any location in an operator's footprint that serves the applications in the most optimal way.
The 10G Lab
CableLabs launched the "10G Lab" where the goal is to deploy multiple 5G cores and vRAN systems alongside a cable hybrid fiber-coax (HFC) network. More specifically, these applications will run in a cloud-native, multi-tenant, bare-metal environment that starts the journey toward a fully converged network. By co-locating 5G and HFC running as containers on shared infrastructure managed by a common management layer, this first step toward platform convergence enables operators to reap the rewards that come with this type of architecture, including:
reduced operating expenses (OpEx), such as power consumption, and reduced capital expenses (CapEx), including hardware costs and facilities to house the hardware, such as head-end or hub locations;
the elimination of over-provisioned environments by matching resources to demand (the environment is scaled to optimize network stack operation);
automated as opposed to manual deployment of services (more OpEx savings); and
the ability to create dynamic, customized network topologies at different geographical locations that improve throughput and reduce latency for subscribers.
In addition, decoupling the network software from proprietary hardware increases the cadence of system upgrades, which reduces the time to market for new capabilities and optimizations.
The following diagram shows the current and future focus of the 10G Lab: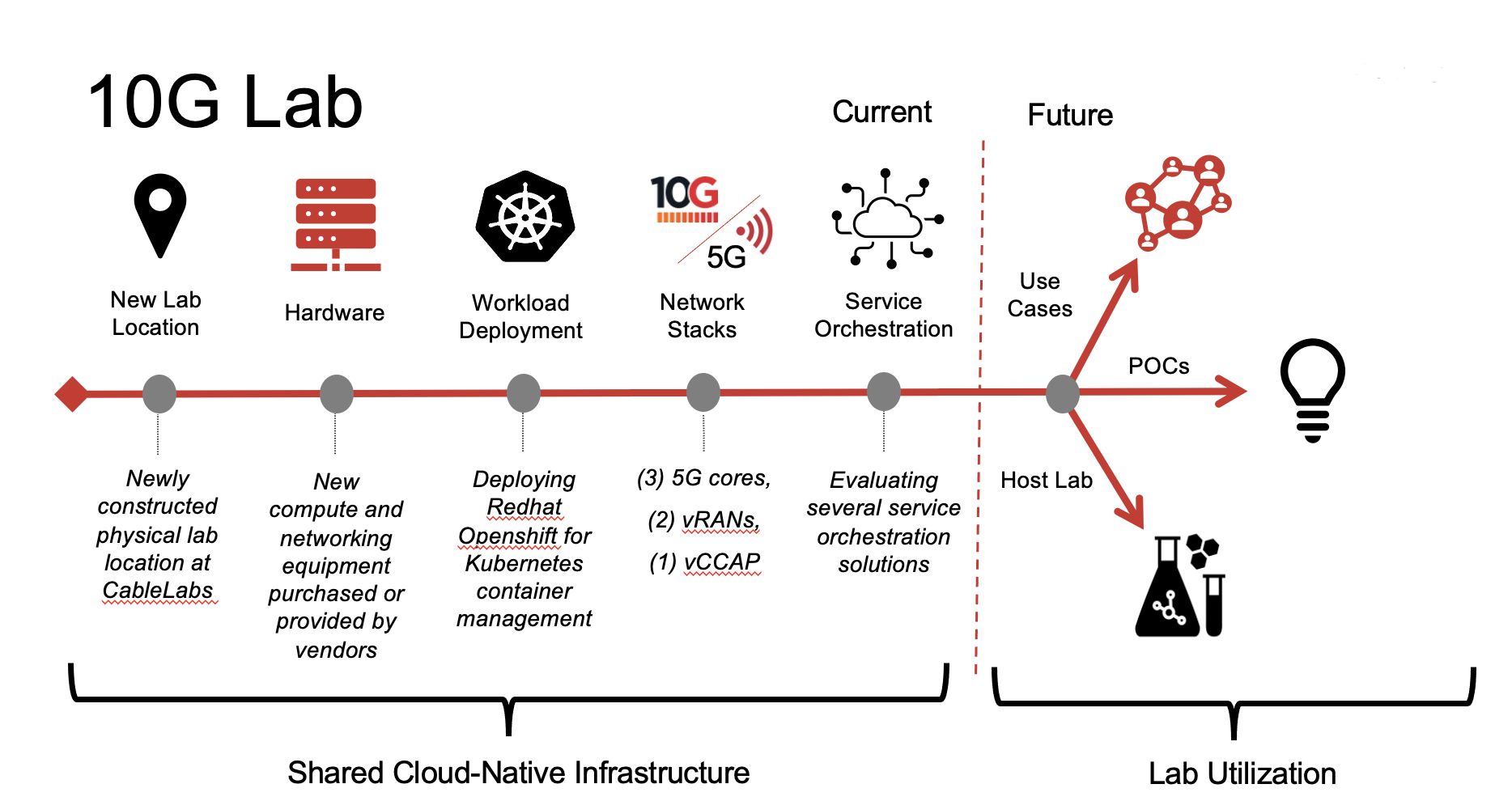 The Experience
CableLabs' experience working with vendors to deploy network stacks into a multi-tenant environment, initially 5G, has been captured in a recently published white paper (open to the public) entitled "Best Practices for Deploying 5G into a Shared Environment." There's also a GitHub repository (referenced in the white paper) that shares the scripts for automating the deployment of a Kubernetes cluster tailored for 5G workloads. The white paper captures learnings related to enhancing security and ensuring that vendor applications are deployed such that they don't interfere with one another when running in a shared environment. Other areas of discovery include optimizing network configurations, balancing resource allocations, enabling performance settings (particularly for user-plane operations for 5G) and easing the management of multiple applications on shared infrastructure. Be sure to check out the conference recording on this topic at the Envision Vendor Forum 2022 (day 2).
What's Next
CableLabs has already worked with 5G vendors in the 10G Lab; however, later this year, we plan to expand the lab capabilities with open-source 5G cores and vRAN solutions, as well as a vCCAP. When a level of convergence is achieved—initially through co-locating the 5G and HFC network stacks into a shared environment, and eventually by establishing a tighter integration between 5G and cable wireline technologies through a shared core to support both access network types—operators will further benefit from this singular, multi-modal communication platform that will reduce network complexity, cut operational costs, improve quality and create new business and service opportunities.
Get Involved
The 10G Lab will play a part in three key initiatives. It will:
provide a foundation for convergence-related activities, including executing convergence use cases of interest to our members;
provide an environment for hosting the 5G challenge and other interoperability events; and
be leveraged for proof of concept (POC) demonstrations as part of CableLabs' innovation initiatives.
The 10G Lab is open to collaboration with CableLabs' members and the NDA vendor community. We encourage members and vendors to partner with us to showcase the value of running applications in this shared, cloud-native environment. Please contact Carmela Stuart with your ideas! You can also join the CableLabs community as an NDA vendor.
Capitalizing on Data: An Engine to Business Services Growth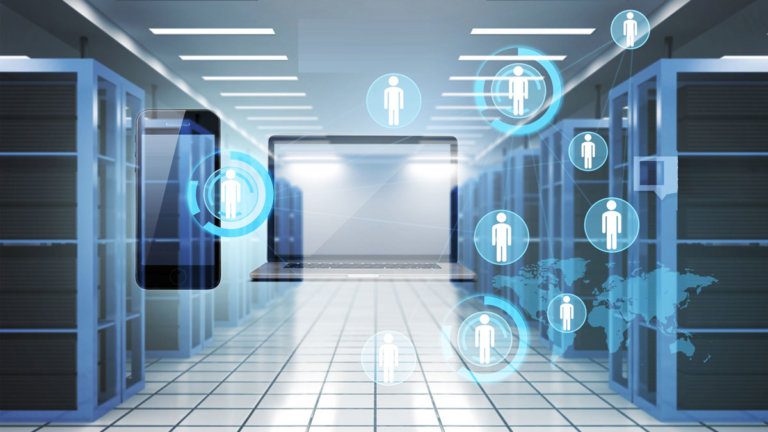 Aligning a service provider's business with its drive for new services and optimized operations relies heavily on one foundational element — data. Working closely with our cable operator members, the CableLabs team recognizes that access to data provides key insights that drive business and technology innovations. Supporting the growth opportunities our members have in Business Services, CableLabs has three projects focused on helping enable our members to capitalize and realize the revenue growth.
Present Growth Opportunity: The Enterprise Market
An expanding number of business services opportunities are driving an increased focus on data. For example, enablement of B2B Ethernet services for large enterprise businesses (500+ employees) that span across multiple geographical footprints requires a common data structure to seamlessly integrate end-to-end solutions. Through incorporating existing global standards and providing necessary extensions based on our member's insight, CableLabs is designing and developing open application programming interfaces (APIs) to create a common data structure to automate the exchange of data, accelerating the sales proposal, service delivery, and ongoing service assurance processes enabling cross-service provider's ability for seamless service delivery and support for shared accounts that enterprise business locations present.
Sales Automation & Interoperability Approach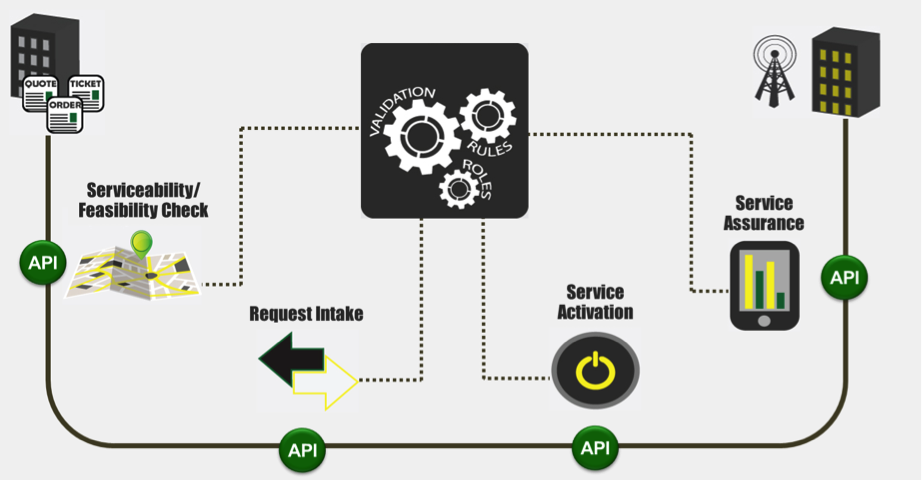 Future Growth Opportunity: Virtualized Service Delivery & Management
While Ethernet services provide the backbone, small, mid & enterprise businesses are increasing the demand for dynamic applications & managed services. Firewall, DDOS mitigation, and multi-site VPNs are a few examples of managed security services that provide an important opportunity to increase revenue per unit served. The emergence and role of virtualized service delivery and management will provide critical infrastructure support to exchange the data needed seamlessly to enable the rapid development and deployment of these solutions. The shift towards a virtualized delivery of products & services is defining the future of network enablement through software-centric solutions with a high reliance on configuration and performance data. Utilizing common data definitions and access methods to network data for reuse across applications will reduce the risk of supplier lock-in, simplify dynamic network management, and enable easy sharing of network data with peripheral applications (e.g., security, load-balancing, and analytic engines).
Industry collaboration that leads to a well-defined data framework will enable the rapid development of new services that can be easily integrated between partner companies. This flexible framework and streamlined integration will shorten new service time-to-market, elevate the cable operator's competitive positioning, and continue to attract a robust supplier community.
Open API Access & Community Engagement
These trends are driving architecture evolution and a shift away from the historical practice of housing data in a vertical format, which limits sharing across enterprise applications. CableLabs has developed an approach with a reusable library of data artifacts, which includes common APIs, data models, and entity definitions as examples (which registered users can access at diadeveloper.cablelabs.com) that aims to replace the siloed approaches of the past.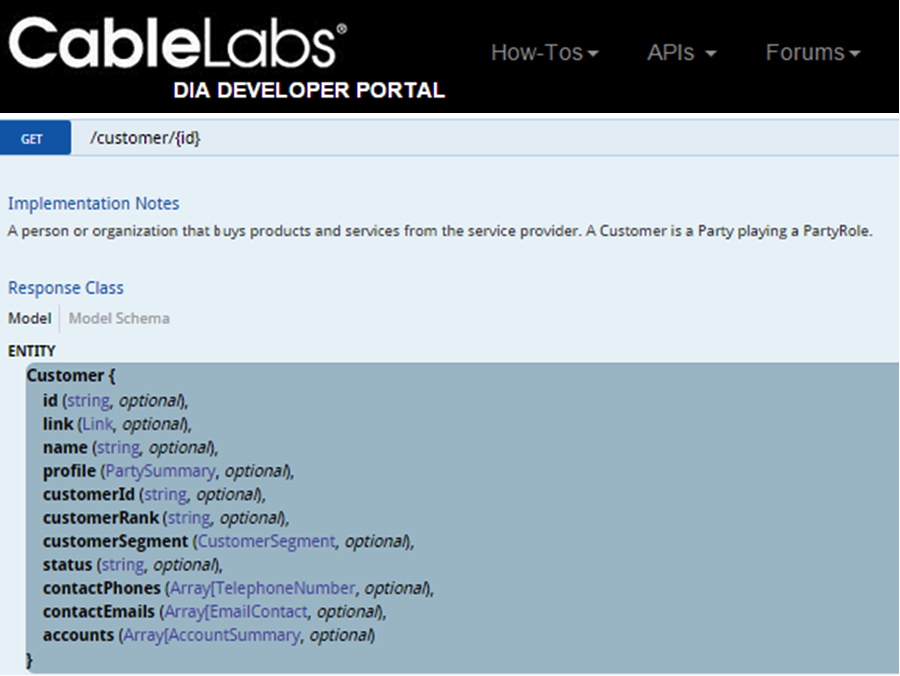 The approach strives to support CableLabs members as they begin to unlock the value of their big data reserves, adapt quickly to the shifts in technology, and move towards a software-centric and cloud networking operational world.
For more information on CableLabs projects related to Business Services, please contact Carmela Stuart, c.stuart@cablelabs.com
Carmela Stuart is the Director of Business Technologies at CableLabs.