The 10G Challenge: How Corning Leverages Technology to Improve How We Work
CableLabs believes mutually beneficial relationships are crucial to the growth of any business. Whether growing a customer base or reaching a new market, strategic collaboration can deliver value to both parties.
To raise awareness about the 10G network, we've joined forces with outstanding organizations like Corning to get innovators thinking about how to build technologies that will work on the network of the future with the 10G Challenge. The 10G Challenge is designed to invent a better future that impacts the ways in which we live, work, learn and play.
The "Work" Category, Powered by Corning
In collaboration with Corning, one of the world's leading innovators in materials science, the 10G Challenge's Work category highlights how the 10G network will enable smart, intuitive technologies that will transform how we collaborate and solve problems in business environments, ultimately boosting creativity and productivity. From 3D remote meetings to immersive demos from countries away, next-generation technologies will make a significant impact on the way we do business.
As an organization, Corning's growth is fueled by a commitment to innovation. Through sustained investment in research, development and engineering, a unique combination of material and process innovation, and close collaboration with customers to solve tough technology challenges, Corning has spent the last 150-plus years bringing life-changing innovation to the world.
In 1970, Corning invented the first low-loss optical fiber, ushering in a communications revolution. Thanks to Corning's fiber optics, enormous amounts of data are able to move around the planet, and that movement of data has enabled a barrage of follow-on innovations, including the internet, cloud and mobile technologies, streaming TV, autonomous cars, bitcoin, AI — you name it.
In the five decades since inventing optical fiber to pave the way for the information highway, Corning has continued to introduce new methods, ideas and products aimed at transforming the way we connect with one another and the world around us. From liquid crystal display glass to fiber-to-the-home connectors to revolutionary pharmaceutical glass packaging to whatever comes next, Corning's participation in the 10G Challenge enables the leading materials science innovator to evolve to meet changing market needs and visualize what the future of work could look like. Even better, by working with CableLabs on the 10G Challenge, Corning will help support individuals and organizations leveraging a new, powerful broadband network to solve real-world problems across work environments.
Encouraging innovators to envision how 10G can help us solve real-world problems, the 10G Challenge showcases the individuals and organizations developing the technologies, services and applications that will rely on the network of the future. By advancing life-changing technologies and supporting the innovators developing new solutions, CableLabs and Corning are excited for what lies ahead and look forward to motivating forward-thinkers to leverage 10G to create a better future for humanity.
How Cable Networks Secure Communications
The email you sent, the website you visited, the internet searches you performed, the internet purchases you just made—they all require strong security to protect against eavesdropping, changes to your messages, and those who would make these services unavailable to you. These service examples demonstrate the foundational triad of security: confidentiality, integrity, and availability.
Securing the confidentiality, integrity, and availability of broadband traffic can be applied at different layers of networking technology. Some messaging applications encrypt traffic (for confidentiality) at the upper levels of the OSI network model (the application, presentation, and session layers), but broadband traffic transits below just those top network layers.
The cable industry's security technology ensures that the confidentiality, integrity, and availability of cable broadband technology happens at the lowest levels of the networking stack by encrypting the internet packets from cable subscribers' homes and businesses. This security is provided through the cable industry's use of its own public key infrastructure (PKI), the same type of security used by banks and the U.S Department of Defense for their own protection.
The cable industry created and manages a PKI with strong security. The digital keys used in the cable PKI have a very long private key (1024 bits and 2048 bits long), that is unique to each cable modem and part of each cable modem's digital certificate. Digital certificates securely identify the modem and are used to help encrypt the traffic going to and from that modem. You may think of a digital certificate as a driver's license for a cable modem to get onto the internet through a cable operator's broadband network. The information in a digital certificate provides an immutable and mathematically attestable identifier that is embedded during the modem's manufacture. The cable PKI encryption technology protects each cable network user from having anyone eavesdrop on their internet traffic, change, corrupt their communications, or introduce malware into the cable modem. Cable operators and cable device manufacturers use the cable PKI to securely update and manage cable devices in homes and businesses.
The cable modem and customer premise equipment (CPE) that help homes connect securely to the internet requires the same kind of patches and updates that other devices require to drive efficient and secure operation within the configuration required by the network to which they attach. Security specifications support SNMPv3 and TR-069, which are internet standards that provide commercial-grade security with ease of administration, and which include methods for authentication, authorization, access control and privacy in the configuration of devices. In the case of cable equipment, the firmware for these devices can be updated through a special secure channel by the network operator; this channel is secured similar to how the cable modem establishes its link. Firmware is the collection of all the software, memory, and operations that, akin to the medulla oblongata in the human body which passes messages between the brain and spinal cord, manages traffic to and from the subscriber home, and keeps the modem functioning. The firmware image is digitally signed by both the cable modem manufacturer and the network operator, whose public keys are accepted and recognized by the cable modem; this, and a special secure boot process, help make it increasingly difficult for malicious actors to compromise the device or network.
In addition to the cable PKI security controls, cable networks provide mechanisms to protect the routing and switching of broadband traffic once it leaves the cable broadband subscriber's home or business. For example, source address verification ensures that origination packets are coming from proper, non-spoofed addresses. Additionally, the cable industry's DOCSIS® Security provides several methods of filtering traffic, including enabling access control lists and security filters both at the cable modem and at the cable operator's cable modem termination system, which connects a cable modem connects to the internet.
The cable industry uses security mechanisms that are broad and robust. These security mechanisms are continuously reviewed and improved as technology changes and security threats to cable broadband subscribers change. You can find more details in these blog posts The Cable Security Experience and 10G Integrity: The DOCSIS® 4.0 Specification and Its New Authentication and Authorization Framework.
CableLabs continues to work with cable operators and cable device manufacturers to increase cable broadband security beyond providing the encryption technology. These BCP's, developed based on input from cable operators and cable device manufacturers, provide recommended security practices for cable operators and cable manufacturers and are aimed at improving the cybersecurity posture of devices and the networks they connect to. The BCP document strongly aligns with other industry and governmental security recommendations, such as the M3AAWG CPE Best Practices and recent publications from NIST and ENISA. Through continuous strengthening of security tools and practices, the cable industry works to protect its subscribers against those who would seek to eavesdrop, corrupt, or disrupt cable broadband access
Reference Gateway Device Security Best Common Practices:
Documentation: Gateway Device Security Best Common Practices Version V01
How DOCSIS® 4.0 Technology Is Enabling The Next Generation of Broadband
Broadband just got better as cable delivers on the 10G Platform with DOCSIS® 4.0 technology that is not only faster but more cost-effective.
These speeds will allow consumers to access the next generation of higher bandwidth customer applications that allow for improved telework, education, gaming, health care, social interaction, and virtual reality (VR) and augmented reality (AR). There is so much that faster broadband will bring to consumers.
And speed is not the only focus of the 10G platform. DOCSIS 4.0 will improve consumers' cable broadband experience through:
Increased network security because the bad actors are out there. DOCSIS 4.0 technology provides several approaches that help reduce the risk of data loss, theft, and sabotage, with the goal to build consumer trust in the cable broadband network.
More reliable connectivity because the cable broadband network is resilient, self-monitoring and self-healing. Technological advances keep it working without sudden glitches, slowdowns, freezing and other annoying interruptions. Consumers can get more done with cable broadband.
Lower latency technology will spur a wave of innovation, enabling better gaming and seamless next-level experiences like holodecks, light field displays and 360° video. Learn more about low latency DOCSIS technology and read about how Kyrio certified the first low latency DOCSIS 3.1 modem this year.
There are no new wires to bury or trenches to be dug. Consumers will reap the benefits immediately because DOCSIS 4.0 uses the same cable network that not only pioneered broadband but has continually provided high-quality and reliable services.
CableLabs is hosting DOCSIS 4.0 interoperability events as DOCSIS 4.0 technology positions the cable broadband network to meet consumer needs for the next wave of broadband. These are significant steps towards realizing the cable 10G Platform.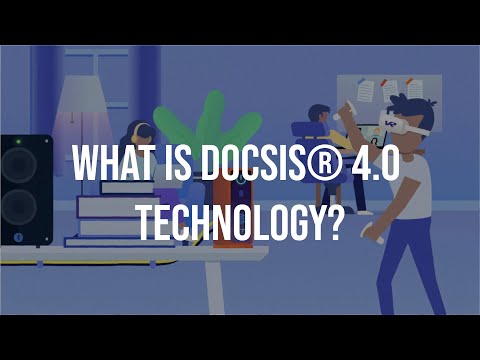 Join Us at CableLabs® Envision Vendor Forum 2021
Over the years, CableLabs Envision Vendor Forum has become a platform for collaboration between our industry's leaders and innovators. More than just a meeting of the minds, it is an event where cable operators and industry vendors can compare common problems, align strategies and forge a path forward toward a better future—together. Our next Envision Vendor Forum, scheduled for September 23-24, will focus on Optical and Hybrid Fiber-Coax (HFC) technologies. It is also completely virtual and free.
What's on the Agenda
We'll take a few hours each day to dive deeper into the future of optical and wired technologies, covering the next-generation Passive Optical Network (PON) architectures, DOCSIS® 4.0 technology, Coherent PON and other HFC solutions. We will discuss how these technologies dovetail into wired-wireless convergence, identify the challenges surrounding current and future government broadband policies, and share our CableLabs innovation roadmap—along with a timeline for upcoming specification releases—with our operator and vendor communities.
From a cable technology perspective, there is no single path that will work for every operator. Depending on each operator's HFC architecture, vision and goals, there are multiple paths for delivering next-generation service offerings. Our goal at Envision is to help operators and vendors de-risk their planning activities by providing a community forum that proactively spotlights emerging technological paths and encourages community discussion devoid of the pressure from outside participation.
The virtual event will consist of panel discussions and presentations, with multiple opportunities to ask questions. 
Who's Invited
This event is best suited for decision-makers, including executives, senior technologists and strategists on both the cable operator and the vendor side, who are leading the development and implementation of next-generation technologies and services in their respective areas.
This event is closed to journalists and analysts.
The Details
When: September 23-24, 2021, 9:00-11:30 a.m. MDT on both days.
Where: Virtual
How much: FREE. Each person must register separately with their company email by September 20, 2021.
Chris Lammers Selected for Cable TV Pioneers Class of 2021
Cable TV Pioneers recently announced that 24 new members have been selected for the Cable TV Pioneers 55th Annual Induction. Each of the honorees has a minimum of 20 years of direct involvement in the cable industry and has made a positive impact on the growth and innovation of our industry during those years. The members of this year's class include a strong array of men and women, from CEOs and company founders to technologists and journalists. Each has demonstrated and proven his or her value as a cable pioneer. We are very excited to announce that among those honored is our very own Chris Lammers, chief operating officer and senior vice president of member development at CableLabs. 
Over the past four decades, Chris has held numerous senior roles and responsibilities within the cable industry. Today at CableLabs, he's responsible for operations, membership development and international relationships. Under his guidance, CableLabs' membership has grown from 23 members to 65 members across 35 countries in North America, Latin America, Europe and Asia. In addition, Chris established CableLabs' test and evaluation labs, leading the cable industry's first video, broadband and voice certification programs. Chris also leads mergers and acquisitions for CableLabs, including the procurement of multiple cable television systems and, most recently, the acquisition of the Society of Cable Telecommunications Engineers (SCTE), with a critical focus on the integration of SCTE into CableLabs.
In what many see as one of his most substantial contributions to the broadband industry, Chris developed the MTO Group within CableLabs, made up of a highly influential community of mid-market and smaller operators across the United States and Canada. Chris was the first individual to recognize the need for including small organizations and determining how to understand, serve and address the coverage area of these smaller markets.
Through these efforts, Chris continues to represent the "voice" of the mid-market and small-market operators at CableLabs. His passion for mid-tier operators and small-market members brings a more holistic perspective of the entire broadband industry to CableLabs. It's no exaggeration to say that Chris has been a true leader in bringing together cable operators of differing sizes and nations to create a truly global community.
Chris also supports CableLabs' staff engaging in innovation to support MTOs, such as CableLabs' mapping project and initiatives related to rural broadband. Through this work, Chris has ensured that mid-market and smaller operators are valued and that their unique needs are addressed. Without this work, many consumers served by MTOs wouldn't receive the leading-edge services they enjoy today. 
Another very important activity that is near and dear to Chris' heart is giving back to the community. Chris serves on the Emma Bowen Foundation's Board of Directors (as well as its Executive Committee), an organization to which he has been committed for nearly 20 years. He has contributed to the Foundation by seeking to build a more diverse media industry by recruiting promising college and university students of color and placing them in multi-year paid internships at some of the nation's leading media, PR and technology companies. Chris has supported the WICT Rocky Mountain chapter through its Tech It Out and Walk of Fame programs. He has also contributed to numerous state and local cable associations through industry guidance and speaking engagements.
Chris began his cable tenure serving as senior vice president and general counsel (1988–1993) at Western Communications, where the majority of his clients were cable operators, and he has been employed at CableLabs for the past 24 years. Please join us in congratulating Chris on his outstanding years of service and for his contributions to—and the impact he has made on—the entire industry.
In Honor of Earth Day: CableLabs and Kyrio Offices Now Powered by 100% Renewable Energy
At CableLabs, we pride ourselves on our commitment to sustainability in every aspect of our work. At our headquarters in Louisville, Colorado we recently subscribed to Windsource, a program offered by Xcel Energy that ensures our office is powered by 100 percent renewable energy. Our engagement with Windsource was part of a broader discussion with Xcel in which we also signed a Memorandum of Understanding (MOU) to participate in the company's Strategic Energy Management program. This program is a 24-month commitment with the objective of better understanding and managing our energy usage.
The Kyrio test lab and offices are also now powered by 100% renewable energy, and the Kyrio team was instrumental in driving the sustainability initiative. Kyrio is committed to continue using sustainable energy as the company grows, and recycles all expired electronic equipment.
CableLabs' Vice President of Information Technology and Facilities, Jeff Leget, and his team have installed several charging stations at the Colorado office, and we provide all our Colorado-based employees an EcoPass card to take advantage of public transit as part of our sustainability efforts. We have also developed a roadmap to institute similar initiatives at our Sunnyvale, California office.
On a larger scale, CableLabs has been instrumental in establishing industry voluntary agreements in the United States and Canada to improve the energy efficiency of set-top boxes (STBs) and small network equipment (SNE) such as modems and routers. The most recent U.S. STB VA report found that, in 2019 alone, the VA had saved consumers more than $1.9 billion and avoided nearly 10.4 million metric tons of CO2 emissions from power plants. You can learn more about these agreements in the United States here and in Canada here.
Implementing programs that focus on sustainability and energy efficiency is important to us this Earth Day and every day. We encourage other companies to look into how they can make small changes to become sustainable. Together, these efforts can add up to making a big impact. We look forward to announcing more sustainability efforts in the near future.
CableLabs Announces the Convergence Council
Motivational speaker, Jim Rohn is known for saying, "What is powerful is when what you say is just the tip of the iceberg of what you know." For an organization like CableLabs, the challenge morphs into something quite monumental when the goal is to enable convergence across multiple industries and technologies that have been progressing independently of one another.
So, CableLabs is trying something new this year.
As part of our ecosystem expansion program, CableLabs has created the Convergence Council that will be hosted by CableLabs' Chief Research and Development Officer (CRDO) Mariam Sorond. The Convergence Council is an advisory board, composed of a broad range of experts and thought leaders representing multiple aspects of connectivity—whether it's wired, wireless, mobile, fixed technologies—or the enablers of these technologies through cloud and virtualized platforms while embracing open and disaggregated architectures. This brilliant team of evangelists is tasked with identifying convergence use cases that will inspire development, technologies and solutions, business models that could unlock opportunities for convergence, and building scenarios for industry consensus.
"Tomorrow's consumers are slated to be more connected, informed, and creative than ever before." Sorond says. "To that end, we are moving towards more user-centric networks that will need a fresh look at convergence to enable not only the demands of a seamless user experience but also an unleashing of new applications. To speed the industry's understanding of use cases that will drive this vision, I wanted to create an industry-sounding board from as broad a sample of thought leaders as possible to help us explore some of the more complex areas."
CableLabs looks forward to working with these talented individuals to move this important initiative forward. The Convergence Council will also be working very closely with the newly announced Mobile Convergence Committee to ensure a comprehensive industry engagement on our future work.
Many of the participants in the council have expressed strong support of the Convergence Council and convergence in general.
Says Rob Soni, Head of Architecture and Technology at Nokia/Bell Labs, "The future of Mobile Access Networks will be to lean forward towards virtualized and disaggregated platforms. These platforms will be flexible and maximize user and enterprise experience. This will give great opportunities between cable operators and mobile operators to cooperate in many ways in the 5G era. Leveraging transport, platforms, and common technologies are all opportunities for greater cooperation between different types of operators that minimize the total cost of ownership. "
"Cable providers will play a critical role in the era of 5G and the edge," says Caroline Chan, VP and GM, Network Business Incubator Division, Intel. "Convergence is essential for ensuring consistent service and persistent connectivity."
"CableLabs has recognized the need for a convergence strategy, and we're honored to participate in the development of a common vision and strategy," says John Baker, Senior VP, Business Development, Mavenir. "Unifying the layers of wireless and cable infrastructure offers a significant opportunity. Convergence will allow for simplification in the deployment and operation of converged solutions."
Steve Alexander, CTO, Ciena, sums up the opportunity behind convergence: "Cable access digitization and transition to cloud is a ripe environment for bandwidth-rich solutions," he says. "Intelligence and convergence will enable myriad end-to-end services and a seamless user experience."
The following ecosystem partner representatives are on the advisory council this year:
You can learn more about and hear directly from Convergence Council members by registering for CableLabs' Envision Vendor Forum 2021: Mobile & Convergence.
CableLabs Announces the Mobile Convergence Committee: User-Centric Networks of the Future Need a Fresh Look at Convergence
Over the next decade, we expect the industry to undergo a significant transformation as service providers deploy multiple access technologies and as new connectivity choices become available to users. To enable transparent, seamless connectivity for users and to efficiently leverage their assets, networks need to become more user-centric. User centricity will demand a more holistic architecture that converges the independent, siloed networks we currently use, thereby enabling a more seamless and optimized experience at home, at work, on the go and in the air. The time is now to put on an innovative lens to take a fresh look at convergence.
Although many people are focused on expanding from wired to wireless, and integrating existing wired and wireless networks, no single access method can address the needs of all users. Ideally, a converged network solution will enable our members to deliver the most efficient seamless experience while allowing them to keep up with ever-increasing demand for faster, more reliable, more secure connectivity—all in an effort to improve the way we live, work, learn and play and to unleash the next generation of applications and use cases.
This transformational shift toward user-centric networks as wireless and wireline technologies surge toward deployment, the CableLabs team, led by Chief Research Development Officer (CRDO) Mariam Sorond, formulated a clear vision of what network architectures and technologies for such a converged network should be.
"With the rapid adoption of new disaggregated architectures, open standards and cloud native technologies," Sorond said, "the timing seemed right to focus on a user-centric network architecture through the convergence of wireless and wired networks."
A well-defined set of architectures and requirements will provide a clear and consistent view and facilitate industry alignment and economies of scale. It will also provide guidelines for ecosystem partners to develop converged solutions and products, enabling our members to deliver on the vision of user-centric networks. To this end, Sorond has put together the Mobile Convergence Committee (MCC), the main objective of which will be to develop industry requirements for a network that will, in turn, bolster the convergence architecture and its specifications.
Currently, the MCC is composed of the following ten industry influencers and thought leaders:
We anticipate that MCC membership will expand to a total of 14 in the coming months.
"The advantages of convergent networks is clear, and it will strongly benefit our customers," said Nadia Benabdallah. "We will simplify the consumption of new services, regardless of the underlying infrastructure. With the adoption of the 'Network as a Platform' approach, we make the underlying networks invisible to our customers."
"The long-term vision for fixed mobile convergence is to deliver ubiquitous wired-wireless connectivity to our customers anywhere and on any device, delivered on cable's high-capacity and low-latency networks," Craig Cowden said. "This means that customers will carry their services, policies and identity with them wherever they go. The time for convergence is now, as we can leverage key building blocks like virtualization, network disaggregation, open interfaces, multi-access edge computing (MEC), automation, along with artificial intelligence (AI) and machine learning (ML) to manage network complexities. I look forward to chairing the Mobile Convergence Committee and working with a talented group of professionals."
"At Cox," said Tony Krueck, "our number-one guiding principle for considering retail wireless is to protect our core business. We believe the primary way to do that is through converged capabilities. Creating seamless connectivity and applications for our customers will become foundational to the future of our products and services."
"With Xfinity Mobile, Comcast has taken its leading connectivity experience outside the home and given our customers the ability to access the Internet from anywhere," said Tom Nagel. "As we look toward a future with more integrated experiences across all of our services, we are excited to work with CableLabs toward the virtualization and convergence that will help make that a reality."
"We believe that bringing together a common vision and strategy in wireless, cable infrastructure and—most importantly—customer experience is critical to moving the industry forward," said Luciano Ramos. "As members of CableLabs, we're very pleased to participate in the Mobile Convergence Committee to help simplify converged solutions and bring new experiences to customers."
"The industry has been talking about convergence for a long time", said Iyad Tarazi. "What's exciting about this CableLabs initiative is that the foundational technologies now exist for us to make this real, and the focus on the customer experience is the right guiding principle."
If you're interested in hearing more about the MCC, register for Envision by clicking below.
FMA 101: Taking Things Apart to Make Them Even Better
This month, we continue our CableLabs 101 series by peeling back the next layer of the hybrid fiber-coax (HFC) distributed access network with a recently released specification called Flexible MAC Architecture (FMA). This technology isn't as well known as DOCSIS®, Remote PHY or Coherent Optics, but it's just as essential to make 10G a reality in the near future. Let's take a closer look.
What Is FMA?
Without getting too technical, a big part of what we do involves analyzing how things work. We like to take things apart and see how we can reorganize or alter the components to build better, more efficient products. Essentially, that's what innovation is all about! In this case, the "product" in question is the DOCSIS technology and the cable access network that delivers Internet to your home.
Some time ago, we figured out how to split key DOCSIS functions into two major pieces: the Media Access Control (MAC) function responsible for DOCSIS processing and the physical radio frequency function (PHY) responsible for DOCSIS signal generation. This initial split became known as Remote PHY, and you can read more about it in our previous blog post here. Subsequently, we built a complementary project involving the redistribution of these functions across the network to enable efficiencies in speed, reliability, latency and security. This newer project is FMA, which defines various ways of restructuring the MAC function's management, control and data planes to support multi-gigabit data services of the future.
In September 2020, this extraordinary effort—involving thousands of work hours across the global cable industry—culminated in the specification. It's a library of specifications that gives our industry vendors the technical means to develop interoperable products for our cable community, and it officially welcomes FMA into the 10G technologies toolkit.
How Does FMA Work and Why Do You Need It?
The Converged Cable Access Platform (CCAP)—a nearly decade-old technology—serves as a single platform for both video and broadband services. In a traditional CCAP architecture, all the major network functions, including the MAC layer functions we mentioned earlier, are unified at the headend. However, as consumers' bandwidth consumption has continued to skyrocket with no sign of slowing down, the cable industry asked: Is there a better way to structure CCAP to prepare our networks for the needs of tomorrow?
The answer was yes.
That's how the concepts of Remote PHY, Remote MAC-PHY and, eventually, FMA were born. By taking apart key CCAP functions and moving them to other places throughout the network (e.g., a fiber node), we can greatly reduce space and power demands at the headend, creating efficiencies that translate into faster network speeds, lower latencies and overall a better, and reliable cable access network.
Plus, FMA offers cable operators the ultimate flexibility to implement and deploy CCAP functionality in a way that makes the most sense for them. It fully supports the DOCSIS 4.0 requirements and, along with the other tools in the 10G arsenal, can help operators build adaptive and secure networks that can easily handle future demand.
How Does This Technology Affect You and Your Future?
Complete disaggregation of CCAP sounds great, but you might be asking yourself: "What's in it for me?" As with any 10G technology that we'll cover in this series, it's always about improving the end user experience. All those technical efficiencies we talked about basically boil down to more room for data to go through the network at much faster speeds. This means more multi-gigabit services, low-latency applications such as ultra-realistic video experiences and overall a better quality of experience. One day soon, as we continue to build upon cutting-edge cable technologies like FMA, this will become reality.
The September 2020 FMA release is just a part of a much bigger initiative to completely virtualize cable access networks in the near future, so definitely stay tuned! In the meantime, we'll continue taking things apart and putting them back together in new and better ways to take your connected experiences to the next level.
Remote PHY 101: Why the Industry Is Working Together to Take Things Apart
In our previous CableLabs 101 post about Distributed Access Architecture (DAA), we discussed the benefits of distributing key network functions throughout the cable access network to optimize its performance. Today, we delve deeper into Remote PHY—one of the earliest DAA solutions that cable operators are deploying to increase their network's bandwidth and more.
What Is Remote PHY?
PHY stands for "physical radio frequency (RF) layer," which delivers voice, video and data via the DOCSIS® protocol over the hybrid fiber-coax (HFC) network. Media Access Control (MAC) is an example of another CCAP layer that we'll cover in our next CableLabs 101 post.
Prior to the introduction of the DAA concept, all CCAP functions, including PHY and MAC, were integrated at the Internet provider's cable modem termination system (CMTS)—typically located at the headend or hub site—which sends and receives data to and from the modem in your home. This data exchange is the basis for how DOCSIS technology on HFC networks works. However, the integrated CCAP approach does not maximize the potential of the cable access network.
Once we figured out how to split the PHY and MAC functions, we were then able to distribute PHY closer to the end user, resulting in increased network capacity and greater speeds. You can refresh your memory about the benefits of DAA and Distributed CCAP Architecture (DCA) here.
Remote PHY was the first documented DCA specification that we officially released in 2015, followed by Flexible MAC Architecture (FMA), released in September 2020. These solutions are complementary and have similar benefits, giving cable operators the flexibility to architect their networks the way they see fit to support future high-bandwidth services. The specifications provide guidance to our industry vendors who are manufacturing Remote PHY–compatible equipment. Just like the other DOCSIS and Coherent Optics technologies, Remote PHY and the other DCA approaches are part of the 10G toolset.
How Does Remote PHY Work?
The Remote PHY specification defines ways to separate the physical RF layer from the MAC layer that remains at the headend and describes the interfaces between them. Let's take a closer look at how it's done.
The PHY layer of the CCAP system is placed in something called a Remote PHY Device (RPD). An RPD is a piece of equipment usually produced by a third-party cable vendor that contains all the PHY-related circuitry, as well as the pseudowire logic that connects back to the CCAP Core, which supports full DOCSIS functionality. In other words, all this rerouting on the back end is completely hidden from customers like you. Your network will function the same as before, only much faster because the PHY layer is now located much closer to where you live.
Speaking of location, the beauty of the Remote PHY architecture lies in its flexibility to place RPDs anywhere, including optical nodes closer to the network "edge"—a cable insider's way of saying "closer to customers' homes." A single node can serve just a few blocks or even a single building; therefore, each customer modem connected to that node gets a bigger chunk of the bandwidth pie, so to speak. And, of course, more available bandwidth means better customer experience!
How Does This Technology Affect Me and My Future?
You might think that it makes no difference to you how your Internet provider's CCAP is designed—and you would be right. What does matter, however, is the noticeable difference in your Internet quality, including how fast your apps work, how quickly you can download your movies or how much lag (or lack thereof) you experience when you play an online game with your friends. Looking forward to the near future, you may be using applications that utilize holographic displays, artificial intelligence, virtual rooms, 360° fully immersive entertainment experiences and other innovative technologies that require multi-gigabit bandwidth to function seamlessly.
This is why CableLabs and our partners in the cable industry are continuously inventing new ways to mine more bandwidth out of the available RF spectrum. Thanks to specifications like Remote PHY, FMA and others, we have all the pieces in place to deliver 10G symmetrical speeds—and more—to support future innovations. Now it's just a matter of putting it all together.