DOCSIS
Full Duplex DOCSIS® 3.1 Technology: Raising the Ante with Symmetric Gigabit Service
Building on state of the art technology, ongoing DOCSIS 3.1 technology deployments have squarely set the cable industry on the path to deliver Gigabit services over HFC networks.
But there's more to come! A newly unveiled project at CableLabs illustrates how DOCSIS 3.1 technology provides the basis for continued evolution of system capacities by supporting symmetric multi-Gigabit service over the cable network. During its recent 2016 Winter Conference, CableLabs unveiled a Full Duplex DOCSIS technology which applies emerging techniques from wireless networks to achieve a breakthrough increase in the upstream speeds for DOCSIS delivered broadband service. A Full Duplex DOCSIS network is a prime example of the CableLabs 2.0 vision using its rich innovation funnel of technologies to transform the industry.
How is full duplex different from existing technologies?
Existing technologies mostly use either Frequency Division Duplexing (FDD) or Time Division Duplexing (TDD). In FDD, upstream and downstream (or uplink and downlink in the terms of the wireless world) traffic operate separately in dedicated parts of the spectrum. In current DOCSIS network deployments, the lower part of the spectrum is dedicated for upstream traffic and the upper part of the spectrum is dedicated for downstream traffic. In TDD, the upstream and downstream traffic share the same spectrum, but take turns in using the spectrum, similar to how Wi-Fi, or DSL, operate. In Full Duplex communication, the upstream and downstream traffic use the same spectrum at the same time, doubling the efficiency of spectrum use. A DOCSIS 3.1 Full Duplex network provides the peak speeds and flexibility of TDD solutions, but one-ups both TDD and FDD with double the capacity.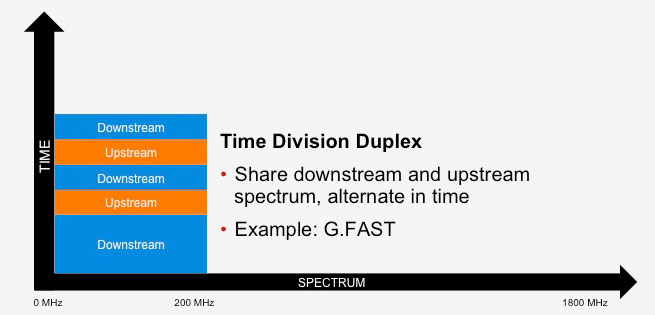 Today's Technology Duplex: Time Division Duplex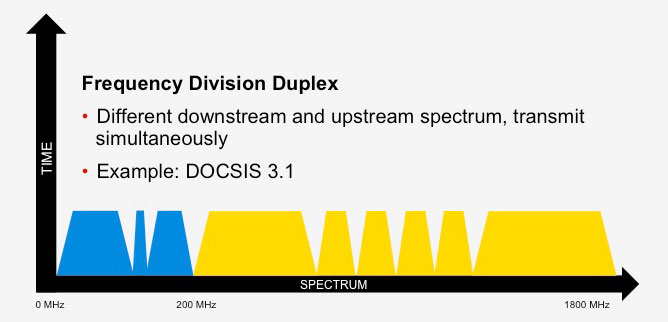 Today's Technology Duplex: Frequency Division Duplex
Using a combination of Passive HFC and the self-interference cancellation and intelligent scheduling of DOCSIS 3.1 technology, CableLabs has built a solution that proves the viability of full duplex communication. Its approach significantly increases upstream data capacity in order to enable symmetric multi-Gigabit broadband data services for consumers and the enterprise. These developments are expected to yield DOCSIS 3.1 network performance of up to 10 Gbps symmetrical on 1 GHz HFC networks, with the potential for even higher performance by utilizing spectrum that is currently available for future expansion above 1 GHz.
One of the compelling attributes of a Full Duplex DOCSIS 3.1 network for the next evolution in HFC delivery is the strong foundation DOCSIS 3.1 technology provides. Our design and analysis shows that the existing Physical and MAC layer protocols in DOCSIS 3.1 technology can largely support this new symmetric service. The evolution to a DOCSIS 3.1 Full Duplex network is an incremental evolution of DOCSIS 3.1 technology and will support both backward compatibility and coexistence with previous generations of DOCSIS network deployments.
So what's next for the Full Duplex DOCSIS 3.1 technology?
Over the next few months, we will engage with a team composed of our members and vendors who can help us further validate and mature the technology. Following which, if all signs remain positive, the project will transition from an innovation effort into an R&D project, open to all interested participants.
We are excited about this development effort, and look forward to its further evolution. Stay tuned to this blog for more exciting news from CableLabs.
Dan Rice also contributed to this article.
Belal Hamzeh is Vice President of Research & Development in Wireless Technologies group at CableLabs.