Meet the CableLabs Experts Speaking at the All-Virtual SCTE•ISBE Cable-Tec Expo® 2020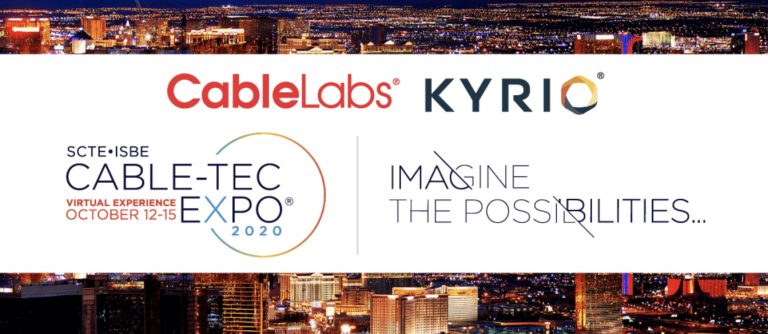 This year, our colleagues at SCTE•ISBE are taking full advantage of the power of connectivity to make one of the biggest industry events completely virtual—and FREE—to all attendees. The first-ever SCTE•ISBE Cable-Tec Expo® Virtual Experience (sponsored by Charter Communications, Comcast and Cox Communications) is scheduled for October 12–15, 2020, and we're very excited to be a part of it. We'll have a virtual showcase starting on October 9th, and we've arranged for multiple speakers and moderators from CableLabs to participate in this year's event, covering a broad range of topics from AI to fixed-mobile convergence to the future of 10G, and much more.
The theme of SCTE•ISBE Cable-Tec Expo®2020 is Imagine the Possibilities, and it's all about exploring the future of our increasingly connected world. This topic resonates with many of our experts here at CableLabs who are working on advancing cable network technologies to meet the needs of current and future generations. We'd like to introduce you to a few of them.
Phil McKinney | President and CEO of CableLabs
Session: CEO Welcome, Chairman's Welcome and Opening General Session
When: October 12 @ 11:00 AM–1:30 PM EDT
Author, innovation guru and CableLabs CEO Phil McKinney will kick off the General Session by introducing the participants and setting the overall objective for the 2020 Cable-Tec Expo.
Steve Goeringer | Distinguished Technologist
Session: The Cable Industry and Fraud: What It Is and What To Do About It
When: October 12 @ 1:00–2:00 PM EDT
Steve will moderate a discussion about the evolution of cyber fraud and how operators can prevent, detect and respond to attacks within the parameters of the privacy law.
Karthik Sundaresan | Distinguished Technologist
Session: Latency Labors: Solving for the (Super Low) Requirements of What's Coming
When: October 12 @ 1:00 PM–2:00 PM EDT
In the Latency session, Karthik will offer well-needed focus on how latency can be represented quantitatively, including metrics for describing latency behavior and methods of collecting those metrics.
Greg White | Distinguished Technologist of Next-Generation Systems
Session: Latency Labors: Solving for the (Super Low) Requirements of What's Coming
When: October 12 @ 1:00 PM–2:00 PM EDT
Greg will moderate a four-part workshop that focuses on latency and ways to lower latency to meet consumer demand for seamless digital experiences, such as multiplayer online gaming and workplace collaboration tools.
Debbie Fitzgerald | Immersive Experiences and Technology Policy, CableLabs
Session: The 10G Platform: Powering the Smart Home of the Future
When: October 12 @ 1:30 PM–2:00 PM EDT
What was once only imagined is now becoming reality with applications such as VR/AR, holographic devices and other high-tech high-bandwidth technologies in the home. Debbie Fitzgerald and key players that were involved with the Mediacom 10G Smart Home showcase project will discuss technological challenges and future opportunities.
Craig Pratt | Lead Security Engineer
Session: Customer-Facing Security Mechanisms: Keeping People Safe Without Compromising Their Experiences
When: October 12 @ 3:00–4:00 PM EDT
Craig will cover the WFA Easy Connect specification, which integrates into the CableLabs Frictionless Onboarding System to keep Wi-Fi connections secure.
Curtis Knittle | Vice President of Wired Technologies
Session: The HFC Future: 10G, FDX and Extended Spectrum
When: October 13 @ 9:30–10:30 AM EDT
Curtis will join his colleagues from CommScope and Comcast for a three-part workshop on future-proofing cable's HFC networks on the path to 10G and beyond.
Max Pala | Principal Architect of Security
Session: Evolving Security Tools: Advances in Identity Management, Cryptography and Secure Processing
When: October 13 @ 9:30–10:30 AM EDT
Security, PKI and encryption expert Max Pala will cover the latest developments in quantum computing as a possible means to break public key cryptography.
Karthik Sundaresan | Distinguished Technologist
Session: An Upstream Path Forecast: OFDMA Ahead
When: October 13 @ 1:00 PM–2:00 PM EDT
Karthik will join the OFDMA session to talk about the work with NOS to develop an upstream Profile Management Application.
Mark Poletti | Director of Wireless
Session: Current Events in CBRS for Cable
When: October 13 @ 1:00–2:00 PM EDT
Mark will join experts from Celona and Charter to examine the opportunities offered by the FCC's decision to make the Citizens Broadband Radio Service (CBRS) spectrum band available for unlicensed use in private LTE/5G networks.
Jason Rupe | Principal Architect
Session: Proactive Network Management: Cool Tools to Identify and Eliminate Impairments
When: October 13 @ 1:00 PM–2:00 PM EDT
As an expert in Proactive Network Management, Jason will take a look at profile management in DOCSIS® 3.1, including ways to sidestep LTE interference in the middle of an OFDM channel.
Kyle Haefner | Senior Security Engineer
Session: Applying AI in the Home to Improve Consumer Experiences
When: October 14 @ 3:00–4:00 PM EDT
Kyle will share recent academic work to classify devices and learn their behavior, so that the network can identify devices—and determine when they're operating outside of their norm.
Jennifer Andreoli-Fang | Distinguished Technologist
Session: The State of Converging Access and 5G Mobile Networks: What's Happening, and What Matters?
When: October 15 @ 10:00–11:15 AM EDT
Jennifer will kick off the workshop with a look at transport convergence between mobile and DOCSIS® technology, including major MSO deployments in North America and Europe.
Robert Cruickshank | Proactive Network Management Advisor
Session: Powering 10G: What It Takes and How to Do It
When: October 15 @ 1:00–2:00 PM EDT
A recognized expert in early cable technology development, Robert will examine data coming from a Gridmetrics pilot program to measure, monitor and track the availability and stability of voltage in the last mile of the access network's power grid.
Matt Schmitt | Principal Architect
Session: I'd Like a (Network) Slice, Please: Current Events in Multi-Network Convergence
When: October 15 @ 1:00 PM–2:00 PM EDT
Matt will talk about CableLabs' Convergence Lab and new business opportunities beyond
residential broadband, including mobile fronthaul/backhaul, business-grade Ethernet and
remote OLT.
You can always count on SCTE•ISBE Cable Tec Expo to bring together thousands of tech's most ambitious minds, including leading innovators, technologists and visionaries. This year is no different. In fact, now it's even easier to register and join from the comfort of your own home or workplace office. Although you can expect some deviation from the usual event proceedings due the virtual format, all the main event sessions are generally still in place, including the thought-provoking General Session, Innovation Theater presentations, Interactive Sponsor Showcase and, of course, the educational heart of the event—the Fall Technical Forum. You can learn more about all the CableLabs speakers here or review the full agenda on the SCTE•ISBE Cable-Tec Expo® site. Visit CableLabs and Kyrio at the Interactive Sponsor Showcase. We hope to "see" you at the Expo!