Security
CableLabs® Micronets Security Reference Code Is Now Open Source
In November, we introduced CableLabs micronets, a next-generation on-premise networking platform focused on providing adaptive security for all devices connecting to home or small business networks. Micronets uses dynamic micro-segmentation to manage the connectivity to each device and is designed to provide seamless and transparent security without burdening end users with the technical aspects of configuring and maintaining the network. Micronets is also a foundational piece of the cable industry's recently announced 10G vision – supporting increased security for home and small business users.
Today we are pleased to announce that the release of the micronets reference implementation as open source software. You'll find links to files and details on how to build and deploy the different Micronets components here. CableLabs plans to continue to develop and add new features to the open source reference implementation – we also welcome contributions from the broader open source community.
Why Open Source?
Here at CableLabs, we believe in the importance of sharing our code to accelerate the adoption of new ideas and to stimulate industry-wide innovation. In this particular case, there was an even stronger sense of urgency to do so.
The rapid and growing proliferation of Internet-connected devices, or the "Internet of Things" (IoT), has ushered in a new era of connectivity that gives us unprecedented control over our environment at home and at work. Unfortunately, along with all the benefits comes significant risk to end users and the broader Internet, alike.  Vulnerable IoT devices are the fuel for botnets and other distributed threats.  Compromised IoT devices are used to launch distributed denial of service (DDoS) attacks, spread ransomware, send spam, and more generally, enabling the theft of personal or sensitive information.  Moreover, vulnerable IoT devices may also create the risk of physical harm, as many connected devices now provide a bridge between the cyber and physical worlds.
CableLabs and the broader IoT ecosystem are committed to driving improved IoT security, but such efforts are not enough alone to address the risks of insecure IoT.   We must also develop network technologies, such as micronets, to help mitigate the risks of insecure IoT.  There will always be legacy devices that don't meet current IoT security best practices and potentially, manufactures that don't follow best practices.
We believe addressing the risks of insecure IoT is a shared responsibility. By releasing the reference code as open source, we're hoping to accelerate the adoption of micronets and encourage others to build upon our work.
More on Micronets and How it Fits into Our Security Agenda
The micronets platform leverages advanced mechanisms like device fingerprinting and artificial intelligence to enable real-time detection and quarantining of compromised IoT devices, minimizing the risk to other devices on the local network and to the broader Internet.  Micronets can also provide enhanced security for high-value or sensitive devices, further reducing the risk of compromise for these devices and applications. Despite the complex technology under the hood, this self-organizing system is geared toward an everyday consumer and is very easy to use. For a deeper dive into micronets' security features, please download the micronets whitepaper here. Missed our recent public webinar? You can find it on youtube here.
Micronets is just one of many active security projects at CableLabs. For instance, we're also working on advancing additional cyber-attack mitigation technologies, such as DDoS information sharing, IP-address spoofing prevention and more, as well as actively contributing to industry and government efforts to drive increased IoT security. And although there's no single solution that protects every network, we will continue working with our members and vendors and various industry organizations to develop better tools that make our world a safer place—one network at a time.
Click below for details on how to build and deploy the different Micronets components. 
Security
Comparing 4G and 5G Authentication: What You Need to Know and Why
The 5G (fifth generation) of cellular mobile communication is among the hottest technologies today and is under development by 3GPP. Besides providing faster speed, higher bandwidth, and lower latency, 5G also supports more use cases, such as:
Enhanced Mobile Broadband (eMBB)
Massive Machine Type Communications (mMTC)
Ultra Reliable Low Latency Communications (uRLLC)
With global deployment imminent, privacy and security protection are of critical importance to 5G. Calls, messaging, and mobile data must be protected with authentication, confidentiality, and integrity. Authentication and key agreement form the cornerstone of mobile communication security by providing mutual authentication between users and the network, as well as cryptographic key establishment that is required to protect both signaling messages and user data. Therefore, each generation of cellular networks defines at least one authentication method. For example, 4G defines EPS-AKA. 5G defines three authentication methods: 5G-AKA, EAP-AKA', and EAP-TLS. Network practitioners are asking what motivates the adoption of the new 5G authentication methods, how they differ from 4G authentication, and how they differ from each other.
To answer these questions, CableLabs studied and compared 4G and 5G authentication. Our analysis shows that 5G authentication improves 4G EPS-AKA authentication in a number of areas. For instance, 5G offers a unified authentication framework for supporting more use cases, better UE identity protection, enhanced home network control, and additional key separation in key derivation. This study also points out that 5G authentication is not without weakness and requires continuous evolvement.
For more information, please download the "A Comparative Introduction of 4G and 5G Authentication" white paper. Be sure to contact Tao Wan if you have questions.
Security
Security for Blockchains and Distributed Ledgers
Empirical evidence reveals an inimical belief that blockchains and distributed ledger technologies (DLTs) are inherently secure because they use cryptography, employ hashing algorithms and have public/private keypairs—in short, a belief that the data in these systems is extremely unlikely to become exposed. After evaluating requirements and deciding to utilize a blockchain solution, security is important to consider from the start.
Over the past several years, the Security Technologies arm of CableLabs' Research and Development organization has been tracking blockchain attacks and compromises. From this work, several hazard groupings have been identified. The following list is intended to act as an aid to architecture, design and implementation efforts surrounding enterprise projects that use these technologies.
Smart Contract Injection
The Smart Contract engine is an interpreter for a (sometimes novel) programming language and a parser of data related to the decisions the engine needs to make. The hazard in this situation is when executable code appears inside smart contracts in an effort to subvert the contract language or data. Implementers need to consider sanitizing inputs to smart contracts, proper parsing and error handling.
Replay Attacks
Not only is there a threat in transaction processing and validation, but also in node behavior, authentication, and the securing of confidential messaging. Adding nonces to check against prior transactions is critical.
History Revision Attacks
Blockchains that rely on fault-tolerant consensus models do well when there are many participating nodes processing, competing and collaborating on the next block. When the number of nodes drops, or if there is predictably cyclic behavior, lulls can be leveraged in a history revision attack where a new branch is created, effectively deleting a previously accepted transaction. Designers should consider how to best guarantee minimum support and the diversity of nodes.
Permanence Poisoning
Due to the permanence of blockchains and the cost to fork, it's possible to sabotage a chain with even claims of illegal content to draw the ire of regulators and law enforcement.
Confidential Information Leaks
Permanence increases the risk of data being exfiltrated out of the chain. Even encrypted data is at risk for future threats against those algorithms or brute-force attacks. Designers need to make sure that they understand the data being stored, how it is protected, who owns it and how it could be re-associated with any pseudonymized users.
Participant Authentication Failure
Are transaction creators cryptographically signing their transactions? Is that signature verified by the protocol? Is transaction receipt confirmed (non-repudiation)? Are sessions managed? Architects need to consider the proof of possession of private keys in the verification and authentication of participants.
Node Spoofing
Nodes are the entities that create and agree on the next new blocks in a chain. Nodes should be authenticated like any other user or system, and authentication must be verified, with multiple votes prohibited. Designers who fail to look for voting irregularities open their implementation to risk.
Node Misbehavior
Nodes that behave incorrectly, intentionally circumventing fault-tolerance mechanisms, or trojan nodes (nodes in public chains that follow the standard protocol but have non-standard implementations) are problematic. Transaction propagation non-compliance is another concern—where nodes don't convey transactions quickly to other nodes, nodes consistently act in opposition to other nodes, or verifications align consistently within small fiefdoms. In addition, architects need to consider what happens to the chain operations when the chain, the nodes or a subset of the nodes is subject to a denial of service attack.
Untrustworthy Node-Chain Seam
The cryptographic difference between what was intended by the participant, what happens in the node, and what happens on the chain must all be consistent. Architects should enforce a design such that the node is unable to modify a transaction (signing and hash verification), skip a transaction (non-repudiation) or add new transactions (source verification).
General Security Hazards
The hazards fall into this meta-category of general security concerns that have specific implications in the blockchain/DLT realm. Architects, designers and implementers all need to take heed of these practices and work to ensure a complete solution:
Unproven Cryptography: Look for best practices and proven cryptography in cipher suites, hash algorithms, key lengths, elliptical curves used, etc.
Non-Extensible Cryptography: Should a foundational algorithm aspect of the chain become compromised, can the chain easily migrate to another suite/hash/key pair? Is there a mechanism and process among node operators to agree and deploy this quickly?
Security Misconfiguration: Be aware of all code libraries used, stay abreast of the latest security information about deployment technologies such as Docker, and ensure that defaults present in test systems are not available in production systems. Ask if there are any components with known vulnerabilities, determine whether any open ports or file-system permissions may be at risk, and understand protection mechanics for private keys.
Insufficient Logging and Alerts: If something goes wrong, are there sufficient methods in place to capture actions that occurred (voting, smart contracts, authentication, authorization)? Project managers must ensure that alerts have been added to the code, that the correct recipients have been added at deployment time, and that procedures for constant monitoring and updating of those recipients take place.
Weak Boundary Defense: Development teams need to be aware of, and shore up, defenses so that there are no exploitable holes in client code or node software, smart contract engines, mobile applications, web applications, chain viewers or administrative tools.
Clearly, this list doesn't contain everything that must be reviewed in a blockchain or DLT application, but the objective is to provide a few key areas to focus on and provide insight to dive deeper where it makes sense in your own applications. Blockchains can help bridge trust gaps in an ecosystem, but security is foundational to that trust.
Want to learn more about security for blockchain and distributed ledgers in the future? Subscribe to our blog by clicking below. 
Security
Micronets: Enterprise-Level Security Is No Longer Just For Enterprises
Today we are introducing CableLabs® Micronets, a framework that simplifies and helps secure increasingly complex home and small business networks.
As we add devices to our networks such as cell phones, computers, printers, thermostats, appliances, lights and even medical monitors, our networks become more susceptible to intrusions. Micronets automatically segments devices into separate, policy-driven trust domains to help protect the devices, data and the user. Agile and easy-to-use, Micronets gives consumers increased protection and control of their local network without overwhelming them with technical details. Micronets reduces the risks associated with vulnerable devices but is not a substitute for strong device security.
The Micronets Advantage: Smart Security and Ease of Use
CableLabs Micronets is an advanced network management framework that utilizes three components to provide enhanced security:
Automated Networked Devices: While CableLabs is not the first organization to introduce the concept of network segmentation, Micronets' primary advantage is in its implementation. The Micronets framework uses advanced mechanisms like device fingerprinting and Manufacture Usage Definitions (MUD) to intelligently group networked devices into dynamically managed trust domains or "micronets."
For example, children's devices are assigned to one micronet, home automation on another and so on. If one device is compromised, devices on the other micronets will not be visible to the attacker. The system will automatically quarantine the infected device, minimizing the risk to the network and other connected devices. While the system is largely autonomous, the user has the visibility and control to adjust trust domains and add new devices.
Seamless User Experience: Micronets provides a layer of dynamic management and secure credential provisioning that hides the complexity associated with network orchestration and focuses on improving the user experience. It's a self-organizing platform that's very easy to use and control which is a major benefit to an average customer who lacks the time and knowledge required for manual network administration.
Adaptive Devices: The Micronets framework also includes an intelligence layer that manages the connectivity between the individual trust domains, the Internet and third-party provider services. Because security threats continuously evolve, Micronets is built to evolve as well. State-of-the-art identity management and cloud-based intelligence technologies, like machine learning and neural networks, are leveraged to provide adaptive security that can evolve over the years, thereby providing a solution that will work for today's as well as tomorrow's needs.
Another benefit that Micronets can provide is enhanced security for highly sensitive devices or applications, through secure network extension via APIs. For example, Micronets can be used to establish a secure, end-to-end network connection between an Internet-connected medical device, like a glucose tester, and the cloud services of a healthcare provider. This enhanced capability provides confidentiality, integrity and availability of the medical device and the healthcare data to and from the device.
Micronets provides features, such as network isolation, similar to 5G network slicing but can operate across Wi-Fi and mobile networks. Micronets is focused on security of private networks (e.g., home networks and SMB networks) where 5G slicing is focused on different service segment performance levels of end to end networks. Since Micronets is an overlay technology, it's compatible with existing networks, even 5G slicing, where 5G slicing is dependent on the broad deployment of the underlying 5G technologies.
Under the Hood: A Deeper Dive into How Micronets Works
Micronets has five major architectural components:
Intelligent Services and Business Logic: This layer acts as the interface for the Micronets platform to interact with the rest of the world. It functions as a receiver of the user's intent and business rules from the user's services and combines them into operational decisions that are handed over to the Micronets Manager for execution.
Micronets Manager: This critical element orchestrates all Micronets activities, especially flow switching rules between the home network, cable operator and third-party providers that allow the delivery of services. It also provides controls that allow the user to interact with the Micronets platform.
Micronets Gateway: Micronets Gateway could be a cable modem, router, wireless access point, or LTE hub/femtocell. It's a core networking component that uses Software Defined Networking (SDN) to define how Micronets services interact with the home network. It also oversees the entire device profile on the user network—both wired and wireless.
The Home Network: All the devices on the customer's home or SMB network are automatically organized into appropriate trust domains—or micronets—using the device identity and SDN based logic. However, the customer can always make manual changes through a user-friendly Micronets interface.
Micronets API: Operator partners and third-party operators can interact with the Micronet manager via secure APIs. Micronets ensure that third-party devices and services are secured through mutual authenticated and encrypted communications channels.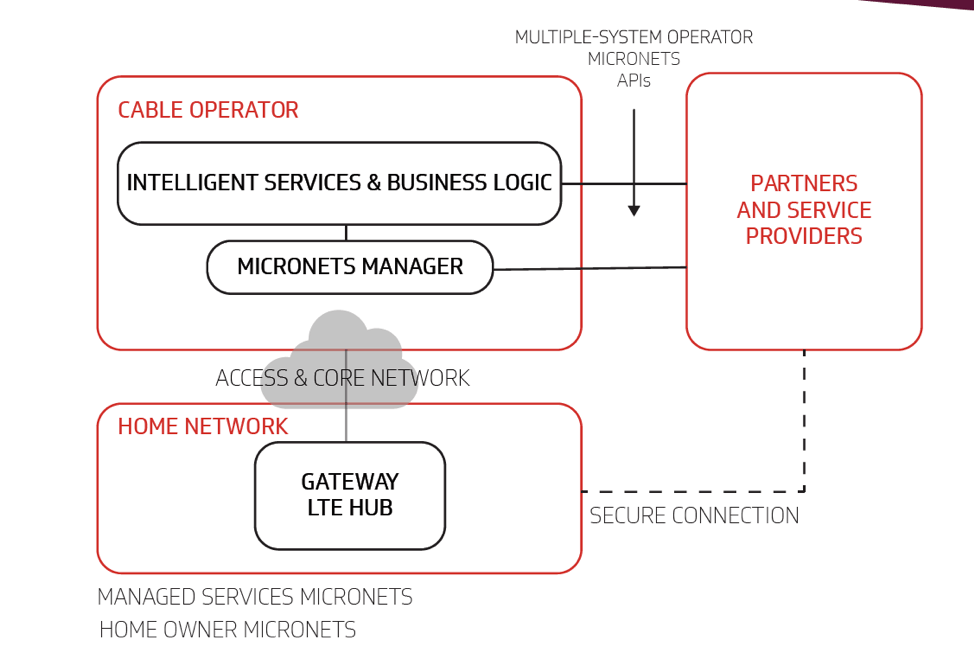 The Rollout: Getting Micronets In Homes and Business
White Paper: Our white paper lays out the vision and architecture of Micronets in greater detail.
Industry Partnerships: We're working with our industry partners and cable operator members to bring Micronets to consumers. We are also working on implementing an easy-onboarding framework that builds on top of features from the Wi-Fi Alliance (WFA), namely EasyConnect, WPA3 security and the Internet Engineering Task Force (IETF) Manufacturer Usage Description framework to enable the secure and seamless configuration and on-boarding of consumer devices. We are also leading the development of a secure interoperability specification for IoT devices in the Open Connectivity Foundation, and with Micronets, we're making significant strides to simplifying and securing increasingly complex networks.
Code: We are releasing the reference code, currently under development, to the open source community in the coming months.
Government Collaboration: We're participating in and supporting government efforts like NIST's National Cybersecurity Center of Excellence project on mitigating botnets in home and small business networks.
Our Members and Vendors: We are planning on developing and publishing specifications for standardized API's for advanced security services based on machine learning and device fingerprinting in collaboration with our members and vendors.
CableLabs has long been a leader in the development of security technologies for the delivery of video and broadband Internet access services. With Micronets we are bringing our expertise to the growing world of connected devices, for which security is a shared responsibility across the Internet ecosystem.  Micronets helps mitigate the risks associated with insecure IoT, but is not a substitute for or alternative to the ongoing efforts to drive increased device security, to prevent vulnerabilities at their source.
Download our white paper by clicking below or learn more here.
Interested in working with the CableLabs team or hearing more about Micronets? Contact Darshak Thakore (d.thakore@cablelabs.com).
Security
The Need for IoT Standards
Imagine a world in which you can tell your phone you're leaving work, and your washing machine automatically starts the laundry at home so that it's ready for the dryer when you arrive. Or your oven begins preheating so that you can pop a pizza in when you get home. Or, on cold days, your car automatically starting and warming up for your drive home. Imagine coming home from the grocery store, and your hands are full. No worries! The camera above your door has recognized you, and your door has unlocked and is already swinging open for your convenience.
Actually, you don't have to imagine these scenarios anymore; they're happening now. It is estimated there will be 30 billion IoT connected devices by 2020 and 75 billion devices by 2025. But with all these devices from dozens of manufacturers exploding onto the scene, how will they all work together? Today, many of them don't—but it's essential that they do.
The Importance of Technical Standards
That's where technical standards come in. Standardizing products allows devices to work together, making the products easier to use and more appealing to end users. It also creates competition among manufacturers, which reduces prices and gives consumers a choice. But what's in it for the manufacturer?
Often, companies want to lock you into their products so that you solely use their brand. But most companies don't make every type of product. Door lock companies don't usually make dishwashers. Automotive product companies don't usually make medical devices. So, allowing devices to work together actually expands the market for the manufacturer without having to develop products outside of their specialization. It also allows for smaller niche products to work with more widespread ones. Beyond that, making devices more versatile and easier to use makes these devices more appealing in general so that all manufacturers sell more products. As for the price, the best way for companies to keep prices up is to produce newer, better and more innovative products, which benefits the consumer as well.
Spearheading IoT Standards for Interoperability and Security
Where do standards come from? For standards related to IoT, an organization has been created called the Open Connectivity Foundation (OCF). OCF is committed to consumers, businesses and industries to deliver a standard communication platform to ensure interoperability and security for IoT devices. These standards will span multiple industries, including smart homes, automotive, industrial, scientific and medical, to name a few.
OCF's goal is for devices from various manufacturers to operate together seamlessly and securely. Currently, OCF's membership includes roughly 400 member organizations, including major software companies, service providers and silicon chip manufacturers. OCF has developed specifications and is using an open-source platform called IoTivity (hosted by the Linux Foundation) that can be embedded in IoT devices. IoTivity is used to create middleware that will allow various clients and servers to communicate with one another. The communications occur in software, so the physical connections (e.g., Wi-Fi, Bluetooth, Zigbee, Z-wave, ethernet) aren't an issue.  
But OCF isn't just about interoperability. The latest release of the OCF platform incorporates PKI security. At a time when security is often taken for granted or is an afterthought for new technologies, OCF is committed to the highest level of security possible for such low-power limited processing devices. Why is this important? We may not think that hacking a lightbulb is a big deal, but the weakest link in a network is often the biggest target for hackers. Once they're in, they can cause irreparable damage. Therefore, every device on the network needs to be secured. Not to mention the fact that you probably don't want someone else to be able to unlock your doors, turn off your security devices or control your medical device or vehicle without your knowledge or consent!
Furthering IoT Standards Development with CableLabs and Kyrio
So where do CableLabs and Kyrio fit in? CableLabs has been in the business of developing standards and certifying products for the cable industry for the past 30 years. Kyrio, as a subsidiary of CableLabs, is reaching out to other industries to help develop new technologies. The combination of experience in standards development, as well as certification testing, makes CableLabs and Kyrio a natural fit with the OCF.
For the past few years, CableLabs and Kyrio have been heavily involved with OCF. Our involvement ranges from acting as a standing member of the board, to chairing the security working group, to participating in various working groups such as certification and interoperability testing. Kyrio is also one of seven authorized test labs (ATLs) in the world and have performed certification testing for several of the first devices to be certified. In addition to OCF certification testing, we also offer development support to manufacturers that need to get their implementations ready for certification.
You can learn more about certification testing with the Open Connectivity Foundation here or contact Kyrio today with your IoT support needs at labs@kyrio.com.
Security
But it's Just a Light Bulb, Does it Need All This Security?
A version of this blog was published by S&P Global Market Intelligence.
In IoT security, one of the common arguments is about "how much security" a given device needs (as if we could measure that in grams). The typical example is usually a light bulb. The objective in asking the question this way is usually to vacate some or all of the security requirements for that class of device; the real question we care about, however, is the security available to protect the network, not the just the device.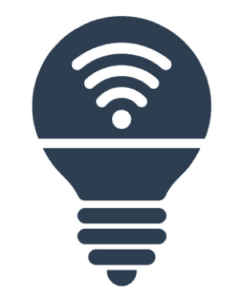 The light bulb question tricks us into thinking in the wrong frame, it focuses on the device and not the network.
Why would anyone attack this?
What would they do if they compromised it, turn my light on and off?
The real question is about the security available to protect the network, not the just the device.
If an attacker were able to compromise the light bulb, they may initially try to test the compromise with a change in command from on to off and back again, but then they would likely not do anything else that would signal the fact that they've gained control over that device. The likely target was never the light bulb, this is just a means to an end and part of a larger attack vector.
The light bulb is an interesting initial attack target for several reasons. One of the most pertinent aspects is the fact that the bulb has constant power. The light may be off, but the "smart" element of the bulb is awake and listening to network traffic. The bulb also has a network stack, this is how it communicates with the smart light switch, the rules engine, the family hub, or the owner's phone; this bulb isn't just listening, it's also transmitting on that network.
The likely target was never the light bulb, this is just a means to an end and part of a larger attack vector.
To do this work, the bulb also has a processor; since custom hardware is expensive, that processor can likely perform many functions (so that it can be included in other IoT devices) if not address them all generally. The light bulb also has storage for maintaining state, auditing, and communication, memory to run the operating system and the network stack. Additionally, the bulb also includes drivers for the filament, LEDs, coloration, and dimming aspects of the bulb. Most importantly, when we onboard the light bulb into a network that allows us to control the bulb, we provision that device with networking credentials.
The combination of the above aspects of the smart bulb, combined with either the extremely unlikely chance of discovery or the potentially less likely chance that the firmware or operating system will be updated by the user, make this an excellent first attack point for a network. Once compromised, the attacker can cautiously watch the network, potentially interact with other devices on the same network (including cameras and sensors), spoof other devices, and even perform some physical actions that could compromise the safety of the inhabitants of the home (e.g. by advising the front door to unlock or turning the oven on).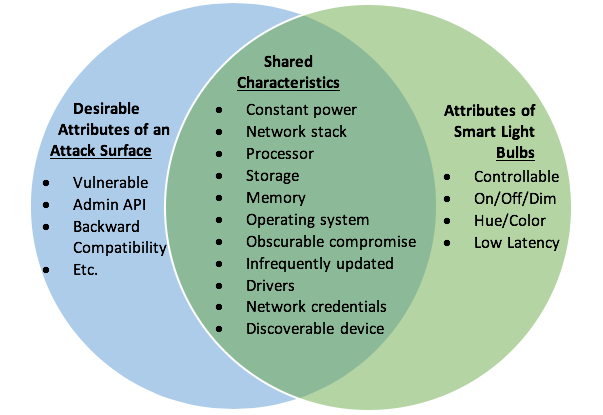 It's unlikely that anyone - other than a prankster or the neighbor whose house you insist on parking in front of - wants to turn your light off and on. That said, the likelihood of other malicious attacks, the ability to gain access to your network and to the other devices in your home make the light bulb a perfect first step in an attack. A well-known cybersecurity attack principle is lateral movement. An adversary compromises a less protected target on a network and then uses that device or system as a pivot point to perform reconnaissance, move laterally in the network, escalate privileges, and finally reach their objectives.
The ability to find devices such as a light bulb and attack them has never been easier; adversaries can use device identification tools (e.g. shodan.io) to find these light bulbs (both online and as a pin on a map) and then attack them. Some of these light bulbs provide discovery and introspection information that may make for easy interactions within the home but also allow attackers to look up specific attacks based on known vulnerabilities in that bulb's device and firmware version. These attacks are carried out either locally from a radio within the attacker's car, or from across the globe, if they're internet-connected.
Once the light bulb is compromised, they can horizontally attack the rest of the network, attempt to escalate privilege, interact with the other devices, and even use other legitimate devices to spoof interactions with outside equipment, other internet connected services, or other bridged devices within the home. Underestimating the importance of the security for all devices leads to holes in network security and is a path to risk exposure (financial, privacy, safety, litigation, and well-being). It's not just a light bulb, it's the network, and that network needs to have strong security.
At CableLabs, we are partnering with manufacturers and working to protect consumers and their networks; to do this, we are contributing device security expertise to IoT standards bodies like OCF and to open-source initiatives like IoTivity. Please join us in these initiatives, either as part of the creation and engineering process or by leveraging this work in your devices.
Security
Blockchain Enters the Cable Industry
A version of this article appeared in Broadband Library. 
Blockchain is one of today's most discussed and visible technologies. Some technologists consider blockchain to be the most significant technological innovation since the dawn of the Internet. Many researchers have begun to see blockchain applied to Internet of Things (IoT) security, providing better consumer control and transparency of privacy rights and options, private and public sector voting, and more. And yet, to a significant segment of the population, blockchain remains a mystery. What is it? And how can it apply to the cable industry?
What Is Blockchain?
Finding a definition of blockchain that doesn't involve a distributed database or a reference to Bitcoin can be difficult. Perhaps a simplistic but concise definition is that a blockchain is an immutable, distributed method of record-keeping for transactions—a ledger that is visible to the participating community.
Immutable means that the information that a blockchain contains cannot be changed.
Distributed means that the information is replicated among many participants (in Bitcoin terms, nodes).
Ledger implies that the blockchain records transactions.
Visible to the participating community means that every transaction recorded in the ledger is visible to every participant (user or implementer) of the blockchain.
In short, blockchain is a big deal. Its benefits are enabled through a synergy of cryptography—the application of math to protect data—and network algorithms that allow distributed systems to manage consensus. Combining these concepts, blockchain provides the ability to create a history of transactions that is significantly more expensive to change than it was to create. We've never had that ability before. Revisionist historians should be concerned!
Blockchain and Cable—Hype vs. Reality
To appreciate how blockchains can be applied to cable, we have to get past the hype. According to the hype:
Blockchains are the best technology to solve every trust and security problem in existence. That's simply not true.
Blockchains are the secret to disintermediation, which allows the elimination of middlemen and the need for people to know who they're dealing with. That's certainly controversial, and it may be somewhat true. But how many people believe getting rid of the middleman works out well?
The reality is that blockchains allow us to create histories of transactions (which we used to call logs) with unprecedented integrity. Although that may seem somewhat boring, it is transformational. Transactions recorded on a blockchain become statements of fact. There are many use cases where this concept could build new types of relationships between operators and customers, between operators, and between regulators and the regulated. Information flows can now be synchronized with high fidelity. Transparency in business operations can be provided where legal and helpful.
2018—The Year of the Blockchain
Cable operators are developing capabilities now, but it's too early to share successes and lessons learned. This year, 2018, is the year that cable starts to integrate blockchain solutions, but it will be quiet and subtle.
Should cable operators work together to create their own blockchains? Perhaps. Ensuring control of the software that enables a blockchain to work across multiple partners will be essential to the success of blockchain projects. Governance of the code base and the processes to develop consensus is at the heart of implementing blockchains. Although blockchain use cases are often subtle, they can also be business-critical once they're mature.
Interested in learning more? Subscribe to our blog to stay current on blockchain and the cable industry. 
Security
Cable's Role in Cybersecurity
The cable industry does more than just provide internet connectivity for millions of customers: it also plays an active role in driving security in the broader internet ecosystem. Cable operators have a long history of successfully defending against attackers seeking to steal service, customer data and video content. The cable industry has been protecting the delivery of high-value video content for over 30 years through technology that has never been breached in a successful, scalable manner. Moreover, the industry has been setting fundamental broadband security features through cable internet access standards for over 20 years to ensure the confidentiality, integrity and availability of cable broadband services globally. As the details and motivations of attacks continue to evolve, so does the security incorporated by cable operators.
Of particular focus for CableLabs is the urgent need to address the risks associated with insecure internet-connected devices ("Internet of Things" or "IoT"). IoT represents the next major axis of growth for the internet. But, without a significant change in how IoT providers approach security, the explosion of connected devices increases the risk to consumers and to the basic functionality of the internet. The consensus forecast has the number of devices connected to the internet doubling (or more) between 2016 and 2020. To the extent these devices do not contain sufficient security, the number of potential attack vectors will multiply rapidly as IoT proliferates.
A Comprehensive Approach to Addressing Insecure IoT
A combination of mitigation and prevention is necessary to fully address the current and emerging threats posed by insecure IoT. The cable industry recognizes that addressing these security risks (e.g., botnets) is a shared responsibility across the entire internet ecosystem. To this end, cable operators have invested substantially in developing and deploying measures to reduce the risks associated with insecure IoT, including DDoS and other botnet attacks, with a primary focus on protecting networks to ensure the availability of broadband service.
Mitigation
Cable industry efforts to improve measures that seek to mitigate attacks against their networks and their customers include both individual and collaborative measures:
The development and advancement of compromised-device detection and identification systems
Customer notification and remediation programs
Distributed denial of service (DDoS) monitoring and mitigation systems
IP-address spoofing prevention technologies and cybersecurity information sharing systems
In addition to maintaining and expanding these existing techniques, CableLabs and cable operators are also working on next-generation networking technologies to help reduce these risks.
Prevention
Although Internet Service Providers (ISPs), including cable operators, have been working on mitigating the effects of compromised and insecure devices for more than 15 years, these efforts ultimately only address the symptoms and not the root cause of the problem. The challenge of this task has already begun to outpace current and anticipated techniques. Unfortunately, IoT providers have not generally incorporated the needed security measures or committed to maintaining the security of their IoT devices. To fully address the risks posed by insecure IoT devices, IoT providers must drive increased security into future connected devices. Preventing compromised devices must be a substantial part of the industry's shared responsibility in addressing the risks posed by insecure IoT to consumers and the internet.
Increasing IoT Security through an Industry-Led, Standards-Based Approach
Industry-led standards represent the most promising approach to increase IoT security. Given the global and constantly evolving nature of threats, the industry must utilize its expertise with a goal to develop, adopt and enforce fundamental IoT security measures. To achieve the needed level of security, an IoT security standard must address:
Device identity
Authentication, authorization, and accountability (onboarding)
Confidentiality
Integrity
Availability
Lifecycle management
Future (upgradable) security
A robust technical standard is necessary, but not sufficient. To establish value and credibility in the marketplace, an open and balanced development organization must be established to ensure due process and consensus, drive widespread adoption of the standard, address the intellectual property rights of participants and ensure conformity through strong certification testing and enforcement of the standard.
To this end, CableLabs and a number of cable operators are actively engaged in the Open Connectivity Foundation (OCF). The OCF is an industry effort to develop an open specification to enable connected devices to securely communicate with one another regardless of manufacturer, operating system, chipset or physical transport. OCF membership is broad-based with over 300 members, including leading companies at all levels of the IoT space – silicon, software, platform and finished-goods. CableLabs and Comcast hold board seats and CableLabs chairs the Security Work Group of OCF. In addition, CableLabs contributes to IoTivity, a Linux Foundation Collaborative Project sponsored by OCF, which provides an open source reference implementation of the OCF specification that will further enable broad adoption.
Engaging with the Broader Internet Ecosystem
CableLabs and the cable industry have enabled cable-based security technologies to be leveraged in the wider internet ecosystem, including in Wi-Fi hotspots, smart grid devices and medical communications, through CableLabs' subsidiary, Kyrio. The cable industry also provides broad-based technology thought leadership on security through substantial contributions to the Internet Engineering Task Force (IETF), the Messaging, Malware and Mobile Anti-Abuse Working Group (M3AAWG), Wi-Fi Alliance and the Broadband Internet Technical Advisory Group (BITAG), among other leading technical bodies.
Broadband service continues to become more integral to economic activity and social connectivity. The number of connected people and devices continues to grow, as does broadband network capacity and performance. Security provides the fundamental trust that enables these trends, and as the internet ecosystem grows, all actors must make it a priority.
You can find more information about CableLabs' role in securing the future in our Inform[ED] Insight papers "A Vision for Secure IoT" and "Securing Networks in the Broadband Age."
Security
IoT Security – Insight on Trends, Challenges and the Road Ahead
The Internet of Things (IoT) industry isn't part of the "Near Future" - it's already here and growing rapidly. The Wall Street Journal hails IoT as the next Industrial Revolution and, according to Cisco, there are currently 4.9 billion connected devices today with an expected 12 billion by 2020. The fully matured result of this rapid growth is a $6 trillion industry.
AT&T's Cybersecurity Insights Report surveyed more than 5,000 enterprises around the world and found that 85% of enterprises are in the process of or intend to deploy IoT devices. Yet a mere 10% of those surveyed feel confident that they could secure those devices against cyber attacks.
The big question that emerges as individuals think deeper about the the implications of almost every device being connected is: "How do we keep our devices secure?"
To further our discussion on IoT Security from our Insight paper, we talked to Kyrio's Director of Business Development, Security Services, Ron Ih, to get expert insight into one of the most pressing questions in tech today...
What is the most important IoT security trend we are seeing this year?
As consumers and businesses adopt more IoT devices and threats continue to multiply, securing those devices easily and at scale has become a daunting task. We are seeing more specialized security tools and processes specifically for IoT devices this year, specifically the use of digital certificates and public key infrastructure (PKI's) to enable a more secure onboarding process.
"'Onboarding' is the process by which a new device is connected and added to the network and the local IoT ecosystem. Onboarding includes the process for authentication, authorization, and accountability of that new device." -- A Vision for Secure IoT
Digital certificates are issued and signed by a reputable source, often referred to as a Certificate Authority or Root of Trust. Like a digital identity card, devices exchange digital certificates to cryptographically authenticate each other's identity and origin. In other words, authentication credentials allow you to prove you are what you say you are. As the IoT Security Informed Insight explains, "not only do digital certificates increase security, they enable a better customer experience (e.g. no PIN to enter.)"
The cryptographic signatures within the certificates cannot feasibly be forged or re-created unless you have the proper private key at the source. You can read more about the authentication process, digital certificates and PKI's here.
What are the main challenges facing the IoT industry today?
The challenges are multifaceted, but the three most common I see are:
While many companies are beginning to explore solutions, most device makers do not have security experts and are unprepared to manage security complexities
Device manufacturers and security companies have traditionally operated in two quite separate worlds.
Device manufacturers operate in a world of physical devices, often on the scale of hundreds of thousands, even millions of devices the manufactured each year. Tightly managing inventory, bill of material costs, and just in time delivery are essential to remaining competitive.  Device manufacturers work with firmware and small footprint applications, often with limited compute power and storage. Security can be limited to that which is only essential, in order to keep costs down and delivery times short. This market is generally characterized by tens of thousands of small to medium sized companies that individually might not drive very high volumes, but in aggregate ship billions of devices.
Security companies have traditionally operated in the world of enterprise computing, networking, and web servers and web applications. These accounts are typically characterized by large corporations with IT groups and staff or consultants that specializes in security. Generally, these are large companies, banks, data centers, health care providers, etc. where there may not be a physical product, but valuable data that is stored in vast database servers. The data enables services and usually involves personal and/or financial information that must be protected.
As you can see, this can result in a large mismatch between what a device maker needs, and what a security company is equipped to provide, resulting in the two parties talking past each other. As a result, device security often doesn't get implemented properly. This is not because the device maker doesn't want to do it, but because they are not effectively guided on HOW to do it.
In the pressure to meet product schedules and quarterly earnings, device security is often omitted or left as an afterthought because it currently takes too much effort and cost to understand and implement it
People often hear that cost is the reason for not implementing security, but misinterpret where that cost lies. There is indeed strong pressure to lower BOM costs, but the larger cost is often in the staff a company needs just to understand security itself. Whether it is allocating brain cycles from existing staff or new hires, headcount is generally one of the largest costs a company incurs. Understanding takes brain cycles. Brain cycles = time. Time = money, big money.
If we are to address the IoT security issue effectively, we need to address the time aspect of implementing security.
Although IoT has existed for some time now, the market pressure to go wireless leaves devices more vulnerable to attacks
Autonomous networked devices have existed for quite some time already, but have primarily been implemented on wired networks on a relatively limited scale, using general purpose computers. However, with the relentless march of Moore's Law, microcontrollers have advanced to the point where even a very small, inexpensive chip can operate a full TCP/UDP network stack in addition to managing a wireless radio. This high integration and lower cost have driven the market towards the adoption of small, wirelessly connected autonomous devices. In addition, the convenience of wireless connectivity has increased the scale of adoption to levels that are orders of magnitude greater than we have ever seen before.
Every device that is connected to your network is effectively a user on that network. Would you let a human user onto your network without verifying their identity? If you wouldn't do that, why would you let a "device" do it? I put "device" in quotes because, in a network environment, you can't always be sure if something claiming to be a device actually is what it says it is.
The justification for omitting security I often hear is "there is nothing important on that device". That is the data center way of thinking about it where you are protecting what is directly on the system where security is implemented. My response is usually this, "You are absolutely correct. No one cares about what's on the device. They care about the network it's connected to." That usually gets them to rethink their position. Insecure devices provide a foothold on the network to attack higher value devices or capture sensitive data.
How can companies work to ensure better security in their IoT products?
Businesses need to stop looking at security as a burden
Instead, businesses should leverage security as an opportunity to improve customer experience and revenues. Consumers don't buy security for security's sake, they buy products that make their lives easier and more convenient. If a product is secure, it improves the customer experience.
A holistic approach to security must be addressed at the design stage of a device
To bring products to market faster, it's easy to fall into the trap of a "sell now and we'll patch it later" mentality. It's nearly impossible to predict every security issue that may arise, so manufacturers need to consistently ask themselves: "How would this feature play out over time?" and "How do we do this in a way that's scalable and secure over time". Retrofitting security midway through the product lifecycle generally doesn't work nearly as well and often sets you up for failure.
Businesses must understand what "security" actually means and look for solutions that are easily digestible if they don't employ security experts
Device makers need to understand what security actually means and what it is. Just because you use encryption, doesn't mean your device is secure. The biggest element of security is not encryption, but authentication: identify who you are communicating with and be able to verify it.
--
As IoT devices gather more information about us and our daily lives, consumers and businesses must pay more attention to the security risks and vulnerabilities. As Chris Connors, the General Manager of Internet of Things Offerings at IBM, states: "This means that device manufacturers, application developers, consumers, operators, integrators and enterprise businesses all have their part to play to follow best practices."
You can find more information on IoT security here. Don't forget to subscribe to our blog for more information on IoT in future blog posts.
Security
ETSI Security Week: Securing Networks Requires a Global Perspective
Cyber attacks are on the rise and a threat to critical infrastructure around the globe. CableLabs along with other service providers and vendors are collaborating through European Telecommunications Standards Institute (ETSI) to ensure best practices are consistently deployed in regards to these attacks.
Take a look at any cyber attack and consider where the attacks come from and who their victims are. You'll find that almost all attacks are international in scope, with both attackers and victims found across a transnational field devoid of boundaries. Securing our networks and services requires a global response and our evolving practices and strategies must have an international perspective. CableLabs does this by participating in multiple international organizations working hard to evolve our cyber security defenses. Last week, the ETSI hosted a series of focused workshops on network security at ETSI Security Week. CableLabs helped plan this event, and we contributed our insights in presentations and panels.
This annual event is attended by nearly 300 industry professionals and opens a dialogue to develop a common understanding in the industry of best practices. Workshops included public policy impacts on security practices, Machine to Machine/Internet of Things security challenges, securing Network Function Virtualization (NFV) architectures, and, no event is complete without some discussion of 5G. (For more information on 5G see Tetsuya Nakamura's blog post here.) I presented our experiences in implementing NFV proof-of-concepts and Brian Scriber participated in a panel discussing operator perspectives. Materials shared at the event are available after registration on the ETSI portal here.
As shared here last fall, as well as introducing new security challenges, NFV also presents opportunities to improve the security of future networks relative to legacy infrastructure. Benefits of a well implemented NFV infrastructure enables:
More consistent security processes and controls
Easier and more rapid security upgrades and patching as threats evolve
Improved support for pervasive encryption
More cost-effective security and performance monitoring
With the correct implementation, NFV enhances security operations by enabling pervasive monitoring and more agile and flexible responses as cyber threats evolve.
NFV coupled with Software Defined Networking (SDN) enables the creation of an open and distributed architecture which enables operators to create "network factories". Network factories are fully automated network architectures that are entire supply chains for exciting new services. We need to secure the network infrastructure, as well as secure the software supply chain from code creation to delivery as running code on the platform. This requires a different orientation from today's operations. Fortunately, NIST has provided a framework for approaching the cyber security aspects of supply chains and it applies well to open and distributed architectures.
ETSI is a leader in providing foundational standards for NFV and is the single most influential body on NFV security best practices today. The ETSI NFV Architectural Framework sets the stage for what most other standards bodies and open source code projects are attempting to achieve. ETSI's NFV reference architecture does not currently adequately identify all the supply chain cyber security aspects.  Consequently, we haven't yet defined a comprehensive approach to establishing security associations between all of the components (which may be hardware or software).
Every connection in the network should be considered as a security association. Certain security functions must be implemented for each security association. Each security association should be:
Based on strong identity: This means there needs to be a persistent private key associated with a unique identifier and attested (signed) by a certificate or equivalent
Authenticated: Using some form of cryptographic challenge
Authorized: For both network and process access control and based on a network-wide policy
Isolated: From other sub-networks and workloads on virtualized servers
Confidential: Including encryption
Attested: The infrastructure and communications links are proven to be untampered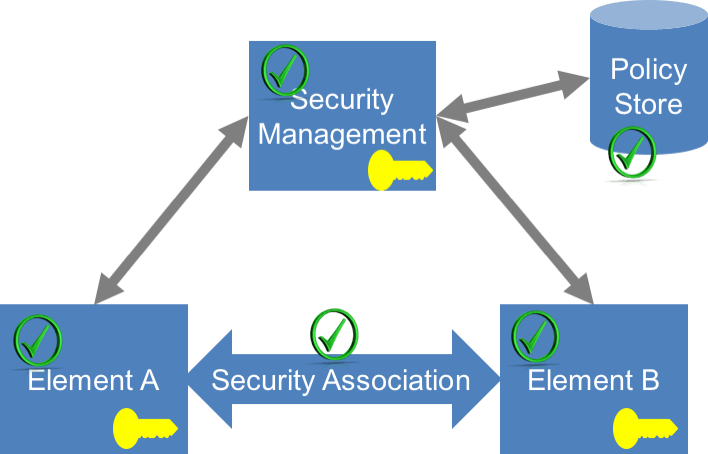 Providing a basis for strong identity is proving to be challenging. CableLabs has used PKI-based certificates for strong identity for DOCSIS network now for 17 years with over 500M certificates issued. Yet, achieving consensus to replicate this success amongst the evolving solutions in NFV, IoT, and medical devices are taking time.
Security identity requires three components:
The first element is a secret, which is usually a private key to support authentication and encryption.
The second element is a unique identifier within the ecosystem. DOCSIS network security uses the MAC address for this purpose, but that is not applicable to all other domains.
Thirdly, the identity must be attestable. This means creating a certificate or profile that is signed, which binds the certificate to the secret.
The path to success in implementing globally effective cyber security is to document best practices through specification or standardization with supporting code bases which actually implement those practices. CableLabs is proud to be a major contributor to ETSI's NFV project. We lead both the ETSI NFV Operator Council and the Security Working Group and we are collaborating with other industry leaders to address these gaps. Further, we work closely with open source code groups such as OpenStack, OSM, OpenDaylight, OPNFV, and we watch emerging initiatives such as FD.io and ONAP. Through our SNAPSTM initiative, we are reinforcing standards work with practical experience.  If these initiatives mature, we will adapt the practices to cable specific solutions.
--
CableLabs is hosting the next ETSI NFV plenary meeting in Denver,CO from September 11-15, 2017. Participation is open upon signing the ETSI NFV participant agreement. Leave a comment below if you'd like to connect with the CableLabs team. We'd love to meet you there!