Events
Meet the CableLabs Experts Speaking at the All-Virtual SCTE•ISBE Cable-Tec Expo® 2020
This year, our colleagues at SCTE•ISBE are taking full advantage of the power of connectivity to make one of the biggest industry events completely virtual—and FREE—to all attendees. The first-ever SCTE•ISBE Cable-Tec Expo® Virtual Experience (sponsored by Charter Communications, Comcast and Cox Communications) is scheduled for October 12–15, 2020, and we're very excited to be a part of it. We'll have a virtual showcase starting on October 9th, and we've arranged for multiple speakers and moderators from CableLabs to participate in this year's event, covering a broad range of topics from AI to fixed-mobile convergence to the future of 10G, and much more.
The theme of SCTE•ISBE Cable-Tec Expo®2020 is Imagine the Possibilities, and it's all about exploring the future of our increasingly connected world. This topic resonates with many of our experts here at CableLabs who are working on advancing cable network technologies to meet the needs of current and future generations. We'd like to introduce you to a few of them.
Phil McKinney | President and CEO of CableLabs
Session: CEO Welcome, Chairman's Welcome and Opening General Session
When: October 12 @ 11:00 AM–1:30 PM EDT
Author, innovation guru and CableLabs CEO Phil McKinney will kick off the General Session by introducing the participants and setting the overall objective for the 2020 Cable-Tec Expo.
Steve Goeringer | Distinguished Technologist
Session: The Cable Industry and Fraud: What It Is and What To Do About It
When: October 12 @ 1:00–2:00 PM EDT
Steve will moderate a discussion about the evolution of cyber fraud and how operators can prevent, detect and respond to attacks within the parameters of the privacy law.
Karthik Sundaresan | Distinguished Technologist
Session: Latency Labors: Solving for the (Super Low) Requirements of What's Coming
When: October 12 @ 1:00 PM–2:00 PM EDT
In the Latency session, Karthik will offer well-needed focus on how latency can be represented quantitatively, including metrics for describing latency behavior and methods of collecting those metrics.
Greg White | Distinguished Technologist of Next-Generation Systems
Session: Latency Labors: Solving for the (Super Low) Requirements of What's Coming
When: October 12 @ 1:00 PM–2:00 PM EDT
Greg will moderate a four-part workshop that focuses on latency and ways to lower latency to meet consumer demand for seamless digital experiences, such as multiplayer online gaming and workplace collaboration tools.
Debbie Fitzgerald | Immersive Experiences and Technology Policy, CableLabs
Session: The 10G Platform: Powering the Smart Home of the Future
When: October 12 @ 1:30 PM–2:00 PM EDT
What was once only imagined is now becoming reality with applications such as VR/AR, holographic devices and other high-tech high-bandwidth technologies in the home. Debbie Fitzgerald and key players that were involved with the Mediacom 10G Smart Home showcase project will discuss technological challenges and future opportunities.
Craig Pratt | Lead Security Engineer
Session: Customer-Facing Security Mechanisms: Keeping People Safe Without Compromising Their Experiences
When: October 12 @ 3:00–4:00 PM EDT
Craig will cover the WFA Easy Connect specification, which integrates into the CableLabs Frictionless Onboarding System to keep Wi-Fi connections secure.
Curtis Knittle | Vice President of Wired Technologies
Session: The HFC Future: 10G, FDX and Extended Spectrum
When: October 13 @ 9:30–10:30 AM EDT
Curtis will join his colleagues from CommScope and Comcast for a three-part workshop on future-proofing cable's HFC networks on the path to 10G and beyond.
Max Pala | Principal Architect of Security
Session: Evolving Security Tools: Advances in Identity Management, Cryptography and Secure Processing
When: October 13 @ 9:30–10:30 AM EDT
Security, PKI and encryption expert Max Pala will cover the latest developments in quantum computing as a possible means to break public key cryptography.
Karthik Sundaresan | Distinguished Technologist
Session: An Upstream Path Forecast: OFDMA Ahead
When: October 13 @ 1:00 PM–2:00 PM EDT
Karthik will join the OFDMA session to talk about the work with NOS to develop an upstream Profile Management Application.
Mark Poletti | Director of Wireless
Session: Current Events in CBRS for Cable
When: October 13 @ 1:00–2:00 PM EDT
Mark will join experts from Celona and Charter to examine the opportunities offered by the FCC's decision to make the Citizens Broadband Radio Service (CBRS) spectrum band available for unlicensed use in private LTE/5G networks.
Jason Rupe | Principal Architect
Session: Proactive Network Management: Cool Tools to Identify and Eliminate Impairments
When: October 13 @ 1:00 PM–2:00 PM EDT
As an expert in Proactive Network Management, Jason will take a look at profile management in DOCSIS® 3.1, including ways to sidestep LTE interference in the middle of an OFDM channel.
Kyle Haefner | Senior Security Engineer
Session: Applying AI in the Home to Improve Consumer Experiences
When: October 14 @ 3:00–4:00 PM EDT
Kyle will share recent academic work to classify devices and learn their behavior, so that the network can identify devices—and determine when they're operating outside of their norm.
Jennifer Andreoli-Fang | Distinguished Technologist
Session: The State of Converging Access and 5G Mobile Networks: What's Happening, and What Matters?
When: October 15 @ 10:00–11:15 AM EDT
Jennifer will kick off the workshop with a look at transport convergence between mobile and DOCSIS® technology, including major MSO deployments in North America and Europe.
Robert Cruickshank | Proactive Network Management Advisor
Session: Powering 10G: What It Takes and How to Do It
When: October 15 @ 1:00–2:00 PM EDT
A recognized expert in early cable technology development, Robert will examine data coming from a Gridmetrics pilot program to measure, monitor and track the availability and stability of voltage in the last mile of the access network's power grid.
Matt Schmitt | Principal Architect
Session: I'd Like a (Network) Slice, Please: Current Events in Multi-Network Convergence
When: October 15 @ 1:00 PM–2:00 PM EDT
Matt will talk about CableLabs' Convergence Lab and new business opportunities beyond
residential broadband, including mobile fronthaul/backhaul, business-grade Ethernet and
remote OLT.
You can always count on SCTE•ISBE Cable Tec Expo to bring together thousands of tech's most ambitious minds, including leading innovators, technologists and visionaries. This year is no different. In fact, now it's even easier to register and join from the comfort of your own home or workplace office. Although you can expect some deviation from the usual event proceedings due the virtual format, all the main event sessions are generally still in place, including the thought-provoking General Session, Innovation Theater presentations, Interactive Sponsor Showcase and, of course, the educational heart of the event—the Fall Technical Forum. You can learn more about all the CableLabs speakers here or review the full agenda on the SCTE•ISBE Cable-Tec Expo® site. Visit CableLabs and Kyrio at the Interactive Sponsor Showcase. We hope to "see" you at the Expo!
Events
See the Future Now With 4Front: Register for Our 2021 Event
Mark your calendars now because 4Front 2021 is coming next June! Thanks to work behind the scenes, the event's visionary lineup is coming into even stronger focus. A unique cross-industry event that will bring together leaders and innovators from around the world to exchange ideas and explore how technology will shape the future, the inaugural 4Front conference was scheduled June 23-24 in Aurora, Colorado. However, because of health safety concerns stemming from the COVID-19 pandemic, CableLabs decided to postpone the event until June 15-16, 2021.
The 4Front 2021 event has already gained two notable recommitments among thought leaders, including artificial intelligence pioneer Rana el Kaliouby, founder and CEO of MIT-spinoff Affective. Under el Kaliouby's guidance, Affectiva has developed a technology that analyzes faces for emotional nuances. The technology is being used in a wide range of content testing, video recruitment and mental health applications.
Also joining 4Front 2021 is Shoshana Zuboff, a noted author and futurist who predicted in the 1980s that computers would revolutionize the workplace. In her latest book, The Age of Surveillance Capitalism: The Fight for a Human Future at the New Frontier of Power, she proposes that technology users are raw materials for manufacturing and sales systems, as part of a new surveillance economic order.
Meanwhile, 4Front's futuristic conversation continues in the present, through a series of podcasts available on Spotify, Google Podcasts and Apple Podcasts starting July 28.
The podcasts will feature 4Front visionaries who will reveal how they envision technology's role in building a better, safer and more connected future. Imagine holographic displays that drive workplace productivity and literally bring a new dimension to education in the classroom. Or immersive virtual reality games the whole family can play. Or new video applications that will allow patients to see specialists a thousand miles away.
The first trio of podcasts will explore the future of education and the workplace.
Education innovation expert Ai Addyson-Zhang will discuss her passion for incorporating social media and creative technologies to drive student remote learning.
Mike Hess, founder and executive director of the Blind Institute of Technology, will talk about his mission to bring blind and visually impaired IT and tech professionals into the workforce.
Spark Mindset CEO and Founder, Lawrence Wagner, will discuss what he sees in the workplace now, and what could change in the future.
More podcasts exploring entertainment and healthcare innovations will follow in the coming weeks so make sure to tune in and stay in the forefront of innovative thinking so that you're prepared for the 4Front conference next June.
Events
Gearing Up for 4Front 2020: What Does It Take to Build the Future?
We're only 4 months away from launching 4Front, and it's shaping up to be one of the most innovative and meaningful events of the year! The agenda already includes an amazing lineup of speakers, workshops, demos, interactive experiences and members-only sessions that will not only help inform you about the future but also create opportunities where you can participate in building it. Be sure to mark your calendar for the big event: June 23–24, 2020. Seats are limited for select sessions, so register today!
Below are just some of the things you can expect from 4Front:
Meet and Collaborate with Our Amazing Speakers
What really sets 4Front apart is the diversity of expertise that we're bringing to the event. We've got world-famous educators, authors, founders, product managers, futurists, psychologists, technologists, behavioral scientists, engineers, journalists, AI experts, molecular biologists, gerontologists and even biohackers—all coming to 4Front to share their expertise, both from the big stage and in more intimate workshop settings.
You'll meet such visionaries as:
Learn Innovative Techniques that Will Help Solve Real Problems and Improve Decision-Making
The same experts and visionaries that you'll hear from onstage will join you for a series of interactive workshops designed to complement the four main conference experience tracks: Live, Work, Learn and Play. In these workshops, you will learn how to:
Overcome organizational barriers to innovation
Recognize disruptive new business concepts
Design better, more humanist products
Generate more creative ideas
And much more!
Our experienced facilitators will not only teach you these highly valuable skills but will also show you how you can implement them in your day-to-day life and business. These workshops are included in the general admission, but seats are extremely limited. Make sure to reserve your spot after registering. You can learn more about 4Front workshops here.
Show Off Your Hard Work by Becoming a 4Front Exhibitor
At 4Front, we're aiming to ignite a global effort to build a better, safer and more connected future through cross-industry collaboration. By becoming a 4Front exhibitor, you can show off your ideas for the future and collaborate with experts from various industries whom you wouldn't otherwise meet. These encounters could help identify common problems and jumpstart new ventures that lead to innovative solutions.
If you'd like to share your vision of the future, make sure to reserve your exhibitor table at 4Front today! Table space is limited.
Together, we can determine how we will live, work, learn and play in the next decade and beyond. Don't wait for the future—start building it at 4Front. Hope to see you there!
Events
Jet Off to Miami for CableLabs' First Latin America & Caribbean Summit
In recent years, expanding cable footprints across Latin America and the Caribbean have helped transform the lives of many people who now have access to better internet, TV and mobile services. But, there's always more work that needs to be done. This December, join us in "Magic City" Miami for our first-ever Latin America & Caribbean Summit, where we'll address the unique connectivity needs and challenges of the region and define strategies for the future.
Why Now?
Last year, cable overtook DSL to become the largest broadband technology platform in Latin America and the Caribbean. In 2018 alone, there were about 438 million Internet users—an increase of more than 130 million from 2013. This uptake is great not only for the providers, who are looking to expand and grow their revenues, but also for the communities they serve. In the long run, high-speed internet access changes the way people work, socialize and exchange ideas—leading to innovation, entrepreneurship and overall economic growth and prosperity. And we know that for many of our local provider members who care deeply about their communities, this is as much a motivating factor as their bottom line.
Our members in Latin America and the Caribbean represent a highly diverse group of cable operators – from 16 unique island communities in the Caribbean to 12 equally differentiated countries in North, Central and South America. At the summit, we will cover topics specific to their needs, including various ways the latest cable technology can accelerate progress in the region. You will have an opportunity to share ideas and insights with your peers, learn about the latest innovations and implementation strategies, and identify new opportunities for growth. Topics will include network evolution strategies in the context of 10G and DOCSIS 4.0, as well as fixed-mobile convergence, 5G, Kyrio's services and how they impact the connectivity industry, in-home Wi-Fi, operations experience improvements and other technology strategies for the new decade and beyond.
Who, When, Where?
The Latin America & Caribbean Summit is for C-level executives, technology leaders and subject matter experts from all CableLabs member companies in North, Central and South America and the Caribbean islands who have a deep understanding of the socio-economic characteristics of their markets and are committed to making a difference.
The event will take place in the beautiful Four Seasons hotel in Miami—the city appropriately referred to as the gateway to Latin America and the Caribbean—December 5–6, 2019.
Events
Clocking In: 4Front 2020 Tackles the Future of Work
What will a typical workplace look like five, ten or even twenty years from now? Who will work there and what technologies will they use? These and other questions related to the future of work will form one of the major themes of our inaugural 4Front conference, scheduled for June 23-24, 2020, in Denver, Colorado.
Unlike some of the other conferences you may've attended, this event is not industry specific. It's an inclusive idea launching pad where decision makers from all kinds of related ecosystems, including networking, government, infotech, education, healthcare and many others, can get together to address the technical needs of the future workforce and begin planning for the socioeconomic impacts of the upcoming changes.
What We'll Talk About
To be clear, our goal is to do more than just talk about the change that we already see happening. We are more interested in the next steps. Where do we want that change to lead us and how can we position our own businesses on the right path to getting there? In other words, how can we build the right technology for the right people? 
In order to do that, we need to take a look at a few things, mainly:
What kinds of jobs will be available in the future?
If you have a child who's entering preschool, there's a good chance his or her future job role hasn't even been invented yet (think along the lines of a Memory Curator or an AI Ethics Officer). In fact, according to Accenture, 79% of executives agree that the future of work will be based more on specific projects than roles. Employers are already looking for people who are willing and able to wear "different hats" and think creatively even if the task at hand doesn't match their official training. This trend will continue in the future, where skills like critical and creative thinking will be valued the most. The technologies we create have to support this new, agile way of working, allowing people to be more adaptable, efficient and creative no matter where or when they do it. This will inevitably lead to greater job satisfaction and a well-balanced, stress-free environment for the next generation of workers.
How will people work together?
The future of work is all about flexibility. And not just in terms of schedule, but also where and how you work. Telecommuting is already becoming the new norm, but future technology, like holograms and VR, can take it to the next level, allowing people to log into virtual "rooms" where they can interact with their teammates as if they are in the same location. Seamless and instant connectivity, to both people and information, will be instrumental to the success of individual workers and their companies. And we need to help them get there.
How will technology augment human jobs?
The topic of automation has been causing a lot of anxiety lately, especially among workers whose jobs are undergoing a transitional period. Are robots really taking over the workforce? Will there be enough work for us, humans, in the future? In short, yes. Fortunately, the human mind is far more skilled in any area that relies on creativity and emotional intelligence than machines and while some manual jobs might disappear, a great number of new, creative and highly-satisfying careers will take their place. It is up to us—technologists, lawmakers, entrepreneurs, futurists and creative visionaries—to architect a seamless transition to a future we can all be proud of.
Why You Should Attend
As already mentioned, we are planning to make 4Front an inclusive event that gathers representatives from a variety of technical and non-technical fields. And if your personal and company goals match any of the below, we would love for you to join us.
Speakers: You're a thought leader looking for a platform to communicate your vision of the future to an eager audience.
Founders/entrepreneurs: You are a decision maker looking to find inspiration in people outside your industry or ecosystem and discover new market opportunities.
Technologists: Your innovative spirit is guided by the desire to build a better future and you're looking to make your products fit the needs of your target audiences. Both CableLabs members and non-members are invited.
Policy makers: You are an expert in designing policies that navigate the socioeconomic impacts of innovation and you want to better understand the needs of entrepreneurs and end users.
Influencers: You want to expand your network and cement your reputation as an industry trailblazer.
Why You Should Sponsor the Work Track
One of the best ways to drive the strategy of the future is by sponsoring the entire "work" track. It is a one-of-a-kind opportunity to widen your sphere of influence, showcase your innovations, attract new business opportunities and lead discussions on the topics that matter the most to your business.
As a 4Front sponsor, you will be able to:
Contribute content to the main stage and introduce keynote speakers.
Design an immersive experience that showcases your thought leadership.
Drive the conversation with other decision makers by hosting your own panel.
Gain attention of the brightest minds in the industry, including CEOs, founders and other entrepreneurs like yourself.
Get invaluable media exposure, put yourself at the forefront of your industry and much more!
To discuss potential sponsorship opportunities and agenda ideas, please contact Jeff Metzger, CableLabs Director of Live Brand Experience, at jeff@4frontevent.com.
You can learn more about our vision of the future of work in our recent Near Future video. You can read more about 4Front and register below. See you there!
Events
Can You Envision It Now?
In a world of constant change and innovation, the need for collaboration and assurance is crucial. Every year, CableLabs and Kyrio host a booth at SCTE-ISBE Cable-Tec Expo (#1101 this year). At this event, cable and broadband professionals from around the world come together to share innovations, trends and emerging technologies. This year, we're doing something a little different. We're excited to announce the creation of our new CableLabs Envision Vendor Forum leading into SCTE Cable-Tec Expo 2019. This forum will accelerate innovation by introducing our newest technology advancements to our vendor community faster than ever.
What Will CableLabs Cover at Envision?
10G Wired Technologies
In addition to the significant cost savings, without laying more cable, we are also future-proofing our wired technologies and making certain that our customers have access to revolutionary services in the years to come. With technologies like Distributed Access Architecture, Full Duplex Coherent Optics, Passive Optical Network (PON), Proactive Network Maintenance (PNM), and DOCSIS 4.0, that revolutionary future is just around the corner.
Members of our team will not only provide information about the technology being developed for the industry; it will also offer an all-inclusive story that will tie together the numerous projects into a clear and comprehensive narrative. This narrative will support the direction of wired technologies within the industry and how all of the work is interconnected.
Mobile and Wireless Networks Enabled by 10G
Wireless technologies must be fast, secure and widely available so that we can stay connected to the people and things that matter the most to us. Wireless technologies are important, like network convergence and low latency mobile xhaul, because low-latency wireless access is key to building our connected future. We've been making sure cable's hybrid fiber coax networks are ready to support wireless needs now and in the future.
Panel Discussions and More
CableLabs technology experts will be speaking and moderating panel discussions throughout the forum, and CEO and President Phil McKinney is speaking at the opening ceremony. Our lineup of speakers and moderators include the following:
There will be many more speakers you will not want to miss, especially our keynote speaker, Kevin Hart, Executive VP, Chief Product and Technology Officer, from Cox Communications.
CableLabs Envision Vendor Forum is ideal for developers, engineers, systems administrators, systems architects, technical decision makers, product engineers, marketers, and anyone who needs to be ahead of the technology movement.
Event Information
When: Sept. 30, 2019
Where: New Orleans, LA
Events
4Front 2020: Introducing a New Cross-industry Event for Leaders Building the Future
At CableLabs, we think about the future every day. Our Near Future series offers a glimpse of how people might live, work, learn and play 3 to 8 years from now, but it doesn't address how we'll get there. The development of the 10G cable network that will power the innovations depicted in these films is already well underway; however, a network alone isn't enough.
Building the future will require a whole new level of cross-industry collaboration and input from the brightest minds in healthcare, gaming, automotive, education, consumer tech, sustainability, financial technology, AI, security and other fields that will develop consumer products and applications for the new era. This is why we need 4Front.
What Is 4Front?
4Front is a 2-day conference that will take place June 23-24, 2020, at the Gaylord Rockies Resort & Convention Center in Denver, Colorado. We invite all industries and ecosystems to join us and answer the question: What kind of future do we want to build?
Tackling that question might result in a wide array of answers, but we know there will also be unique, industry-specific challenges that we won't know about until we get everyone in the same room. And that's the type of information we need to be able to move forward. Less about execution or any one type of technology, 4Front is devoted to expanding the human connection, aligning visions and discovering how to build a better tomorrow for all mankind—together.
This event will be structured around four separate tracks: live, work, learn and play. Each track is designed to explore the technological dependencies and accelerate progress in that particular area. For example, a "Live" track may focus heavily on healthcare, biotech and automotive industries, whereas a "Play" track will delve into gaming, fitness and entertainment. Attendees will be able to showcase their thought leadership, share their vision and exchange ideas about how to move forward. Inspirational talks and discussions in both free-form and facilitated formats have the potential to create new partnerships, launch new market ventures or look at today's problems with a "vuja de" mentality to discover opportunity.
Why You Should Attend
Meet all the right people: We're bringing together more than 1,500 visionaries and innovators who hold the power to make decisions on behalf of their companies. You will be among senior executives, founders and entrepreneurs who understand the unique challenges of their field and are willing to share the goals and requirements for what they want to accomplish.
Identify new opportunities: Because 4Front brings together top decision makers who probably wouldn't otherwise meet, the connections you make here will help you identify interdependencies across various industries, gain a deeper understanding of your company's role within the global ecosystem and potentially forge new synergistic business partnerships that can contribute to your ROI and ultimately result in a better experience for everyone.
Find real solutions to real problems, faster: Innovation doesn't happen in a vacuum. If you're trying to solve a problem of the future, chances are someone from another industry might be looking at it from a different angle or working on a new technology that can potentially accelerate your progress. 4Front gives you an opportunity to have conversations with people who are as eager to move forward as you are. And though we can't guarantee that you'll find solutions to all your problems in 2 days, we can create an environment that's conducive to the type of innovative ideas that can lead to a breakthrough down the road.
 Why Is CableLabs Launching 4Front Now?
 The world is on the brink of the so-called fifth industrial revolution, where humans and technology will intersect in ways we never thought possible. Even if you don't buy into the hype, one fact is undeniable: The pace of innovation is accelerating at a staggering rate. Entire industries are being disrupted with predictable regularity, and inventions that would have once taken decades to saturate the market are becoming global sensations in months, or even days, thanks to our ubiquitous digital devices.
The effects of technology on markets and labor are astonishing. The World Economic Forum estimates that 65 percent of children now entering elementary school will hold jobs that don't exist today. McKinsey determined that over 50 percent of current work activities are automatable. There are hundreds of other statistics pointing to the same thing: Our world is about to change.
AI, VR, light field panels, holodecks and other emerging broadband-based technologies are tools that can be used across many different industries to create better connected experiences for everyone. By bringing all the relevant players to the table now, we can maximize the potential of all these emerging innovations and chart a course for the future we want to build.
There are two ways to handle a wave of change: Let it wash over you or steer it where you want it to go. Choose the latter! Join us at 4Front 2020.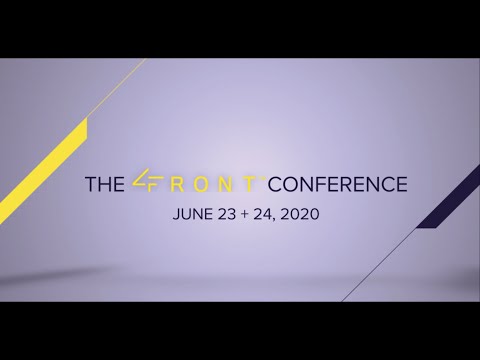 Summer Conference
What Do Loonshots, Prisons and the FCC Have in Common? Meet the 2019 Summer Conference Speakers and Find Out!
CableLabs Summer Conference 2019 is now less than a month away, and we're very excited to introduce you to the incredible individuals who will share their life experiences and professional expertise during the first 2 days. This year, we've brought together a diverse group of best-selling authors, founders, industry leaders, distinguished technologists—and even one innovative prison system entrepreneur who knows a whole lot about determination, perseverance and second chances. Join us to hear their stories and see for yourself how simple—but brilliant—ideas are generated, nurtured and brought to life. Check out the complete conference schedule.
Keynote Speakers
Safi Bahcall, Author of Loonshots
Day 1 @ 9:30am
Do you ever wonder why interesting ideas are sometimes dismissed in favor of safer, mediocre ones? Turns out, it has a lot to do with team dynamics and corporate structures. In his Wall Street Journal bestselling book, Safi Bahcall explores the concept of "loonshots"—or crazy radical ideas that lead to monumental breakthroughs—and how we can adjust our team behavior to allow them to flourish. In the words of Nobel Laureate Daniel Kahneman, this book—appropriately titled Loonshots—is "not to be missed by anyone who wants to understand how ideas change the world." 
Catherine Hoke, Entrepreneur, Author and Speaker
Day 2 @ 9:30am
Catherine Hoke is a radical entrepreneur who has found ways to use failure as a catalyst for change and innovation. After touring some of the most notorious prisons in America, she discovered that many of the inmates possessed strong entrepreneurial and business skills, just waiting to be put to good use. And that's exactly what she did! Catherine founded two successful non-profits, Prison Entrepreneurship Program and Defy Ventures, aimed at helping incarcerated people get the education they need to change their lives and reduce recidivism overall. As a result, more than 5,000 people have graduated from these programs, many of whom even earned MBA certificates. Catherine later founded a for-profit venture called Hustle 2.0, delivering life-transforming education to millions of Americans who went through the justice system.
Michael Powell, President and CEO of NCTA
Day 2 @ 4:15pm
Michael Powell not only understands innovation and technology, he spent decades of his life promoting and regulating its progress—first as a chairman of the Federal Communications Commission (FCC) and later as the president and CEO of NCTA. He's also served as chief of staff of the Antitrust Division of the Department of Justice, policy advisor to the Secretary of Defense and armored cavalry officer in the U.S. Army. During his career, he had a front-row seat to the digital revolution of the 1990s and early 2000s, overseeing the proliferation of the Internet, cell phones, Wi-Fi and other pivotal technology we can't live without today. Join us to learn about his take on the future of innovation.
For a full list of speakers, please visit our Summer Conference page, where you'll also find a detailed agenda, registration information and a vendor application for demonstrating your own product.
Spots are filling up fast and next week is your last chance to register!
Events
Moving Closer to Reality: CableLabs Holds Second Interop•Labs Point-to-Point Coherent Optics Event
Not every time can be the first time:  there can only be one first interop, or first spec release, or first technology demo. Saying you've done something for the second time doesn't carry the same excitement or cachet as saying you did it for the first. And yet, the first time at anything is rarely the last:  you take what you learn doing something the first time, and then you apply that to doing it better the second time.  And then you take what you learn there, and you continue to improve.  It's that continuous cycle of improvement that brings things closer to reality and ultimately gets us to the finish line.
It's in that spirit that we'd like to announce the successful completion of our second Interop·Labs Point-to-Point Coherent Optics event, hosted by CableLabs at our facility in Louisville, Colorado, April 23–25, during which we worked to bring point-to-point coherent optics technology closer to reality for cable operators.
We went into this event with two main objectives:
Demonstrate the ability to pass ethernet traffic between coherent optics transceivers from multiple different manufacturers, representing a real-world use of the technology; and
Demonstrate compliance with the optical receiver sensitivity requirements from the specification.
Both of these objectives are incremental yet significant steps toward showing a real-world solution as compared with the "plugfest" style event we held in December 2018.
Assisting us in this work were five manufacturers: Acacia, ADVA, Ciena, Edge-Core, and NTT Electronics. It wasn't a long list, but it was highly representative of the industry, including transceivers utilizing DSP silicon from the majority of the key manufacturers in the coherent optics space. It also represented multiple different pieces of network equipment, necessary for connecting coherent optics transceivers to other networks, including for the first time a network switch not provided by a transceiver module manufacturer and designed to work with a wide range of transceiver modules.
And just because the event built on a previous one doesn't mean that there weren't issues to resolve. But that's the point of events like this:  to uncover those issues in the lab, to work together in the spirit of collaboration to resolve them and to move ever closer to seeing these products deployed in the field. Which is exactly what happened! I'm happy to say that everyone showed the type of interoperability we would expect, and demonstrated compliance with the optical power and optical signal-to-noise ratio (OSNR) sensitivity requirements that we were testing against.
In the final result, this was a solid step forward on the path toward making the deployment of this 10G technology in cable operator networks a reality. And it certainly won't be the last, so there will be further opportunities to engage in more events in the future. Any company that manufactures coherent optics transceivers, network equipment for those transceivers, or test equipment for validating coherent optics equipment is welcome to join our Interop·Labs events. Please contact me if you're interested in getting involved, or keep an eye on our website for announcements of future events.
Events
ANGA 10 Gigabit and Beyond: Powering the Future of Cable
For the 15th consecutive year, thousands of network operators, service providers and vendors from around the globe will gather in Cologne, Germany, for ANGA COM Exhibition and Conference, June 4–6, 2019. Widely known as Europe's leading business platform for broadband operators and content providers, ANGA COM is organized by ANGA Services GmBH, which represents the interests of more than 200 companies in the German broadband industry that provide service to more than 40 million customers. This year's event is a 3-day deep dive into key topics such as gigabit networks, smart homes, Internet of Things (IoT), Wi-Fi, network virtualization, big data, streaming, cloud TV and 5G.
With more than 500 exhibitors and 20,000 participants from 75+ countries expected to attend, this year's list of confirmed participants includes many of our members, together with our partner industry organizations, such as Society of Cable Telecommunications Engineers (SCTE), NCTA and other representatives from the cable community. And, for the first time, ANGA COM is engaging the startup community and will have a featured exhibition area where CableLabs subsidiary UpRamp will be talking to potential Fiterator companies.
10G Gigabit and Beyond: Powering the Future of Cable
On June 4, from 11 a.m. to 12:15 p.m. CEST, CableLabs COO Chris Lammers will kick off the technology track by discussing the cable industry's 10G platform—a collection of technologies providing faster speeds, lower latency, higher reliability and greater security. He will be joined by some of the most influential names in cable, including Cisco Fellow and CTO of Cable Access John Chapman, General Manager of Intel's Connected Home Strategy and Technology Office Robert Ferreira, Vodafone's Director of Deployment Frank Hellemink and Liberty Global VP of Technology Bill Warga. The discussion will be moderated by SCTE·ISBE President and CEO Mark Dzuban. They will talk about the latest 10G developments and answer your burning questions.
Gigabit Broadband: Springboard for 10G
As the suite of technologies that will deliver Internet speeds 10 times faster than today's networks, the foundation for 10G already exists—the hybrid fiber coaxial network currently offering 1 gigabit speeds to much of the United States and Europe. Panelists will discuss how cable networks have ramped up their services to offer 1 gigabit (gigabit-per-second download speed) service across 80 percent of the United States—up from just 5 percent in 2016, with similar growth seen in Europe.
Not convinced we need 10 gigabit or even 1 gigabit speeds? Based on the double-digit bandwidth growth that we continue to see every year, we know that customers are ready for the next step in innovation and, thanks to a consistent cadence of network updates, cable operators are ready too.
10G Platform: Cable's Technologies Make It Real
The 10G standard's promise of faster speeds, lower latency, higher reliability and greater security will enable a wide variety of new services and applications that will change the way millions of consumers, educators, businesses and innovators interact with the world. Learn which technologies power the 10G platform and what's coming next:
Network Convergence: Opening Up New Business Opportunities
Experience 10G with network convergence and the rollout of 5G! The 5G standard requires multiple small cells (radio equipment), and—because those small cells require an efficient way to communicate with one another and the core network—cable can provide the perfect infrastructure. Learn more about technologies like Mobile Xhaul and Fronthaul vRAN that allow the wireline network to efficiently carry traffic back to the mobile network.
Improved Wi-Fi = Happy Customers
In recent years, the cable industry has devoted substantial resources to developing and enhancing wireless technologies for a seamless experience. Learn about the technologies and policy initiatives that increase Wi-Fi speed and reliability for whole-home pervasive coverage and consistent throughput, allowing consumer devices to enjoy the full benefits of advances—in speed, reliability, security and latency—in the coax and fiber portions of the network.
Event Information
Where: Koelnmesse, Cologne, Germany
When: June 4–6, 2019
Why: Learn the ins and outs of the 10G platform
See the ANGA COM 2019 agenda here for more information.