Events
CableLabs Sponsors FCBA/IAPP "Data Is King"
Many of today's most popular consumer products and services are powered by the exponential growth in the generation, collection and use of personal data, enabled by ever-increasing broadband capacity, processing power and storage. These products and services provide consumers with unparalleled personalization, efficiency and convenience. However, the technologies and practices surrounding personal data also create new dimensions of risk to individuals, institutions and society alike.
In response, governments both in the United States and around the world are under increasing pressure to develop new legislation and regulatory models to address these growing concerns. In the past year alone, we have seen the implementation of the European Union's sweeping General Data Protection Regulation (GDPR), the passing of the California Consumer Privacy Act, and multiple hearings in the U.S. Congress stemming from numerous data breaches and other scandals involving the potential misuse of consumers' personal data. Here at CableLabs, we recognize the interplay and potential impact of emerging privacy regulations on the direction of next-generation Internet applications.
In that spirit, CableLabs sponsored "Data Is King" – U.S. Privacy Developments and Implications for Global Markets and Technology Development, a recent event co-hosted by the Federal Communications Bar Association (FCBA) Rocky Mountain Chapter and the IAPP Denver/Boulder KnowledgeNet Chapter. The event gathered luminaries from across the policy and technology spectrum to explore trends and recent developments in privacy law and regulation, as well as the potential impact that these policies will have on the products and services of tomorrow.
The event was kicked off by Martin Katz (Chief Innovation Officer and Senior Advisor for Academic Innovation and Design at the University of Denver and the Executive Director at Project X-ITE). Katz discussed the existing gaps and fragmentation in today's U.S. privacy regime and highlighted the drawbacks of the EU's approach to comprehensive personal data protection legislation (GDPR). In Katz's view, such an approach creates a significant and costly compliance regime that can stifle new startups and small businesses, and more generally, innovative new products and services. He emphasized that any comprehensive U.S. federal regime should recognize and seek to minimize compliance costs and ensure room for innovation while protecting consumer choice, trust and accountability.
Tracy L. Lechner (Attorney and Founder at the Law Offices of Tracy L. Lechner) moderated the first panel session, focused on trends and recent developments in privacy regulations domestically and internationally, with the following panelists: Beth Magnuson (Senior Legal Editor of Privacy and Data Security at Thomson Reuters Practical Law); Dale Skivington (Compliance and Privacy Consultant, Adjunct Professor at the University of Colorado, and Former Chief Privacy Officer at Dell); Erik Jones (Partner at Wilkinson, Barker, Knauer); and Scott Cunningham (Owner at Cunningham Tech Consulting and Founder of IAB Tech Lab).
The panelists agreed that the general position of industry has evolved from a preference for best practices with agency oversight to a recognized need for U.S. federal legislation. This shift has been spurred by a desire for a common compliance framework in light of developing differences in state laws and diverging international privacy regimes. The panelists emphasized that changing privacy regulatory requirements has forced organizations to make frequent and costly IT overhauls to ensure compliance that arguably create little to no value for consumers. For instance, GDPR's expansive definition of "personal data" created a herculean project for large organizations to take the foundational step of identifying and classifying all the potentially covered data. The panelists agreed that state attorneys general could have a valuable and thoughtful role in enforcement, but they also believe that specific requirements should be standardized at the federal level and be based on an outcome- or risk-based approach, unlike GDPR's highly prescriptive approach.
Mark Walker (Director of Technology Policy at CableLabs) led a second-panel discussion, focused on the interplay of privacy regulation and technology development. The panel featured Walter Knapp (CEO at Sovrn), Scott Cunningham and Danny Yuxing Huang (Postdoctoral Research Fellow at the Center for Information Technology Policy at Princeton University). Walker framed the panel discussion in historic terms, highlighting the privacy concerns generated through the widespread availability of the portable camera in the late 1800s, through the emergence of electronic eavesdropping capabilities in the 1960s and, more recently, through the broad adoption of RFID technology. For each of these examples, public concern drove legal and regulatory changes, but more fundamentally, the privacy "panic" subsided for each technology as society became more familiar and comfortable with each technology's balance of benefits and drawbacks.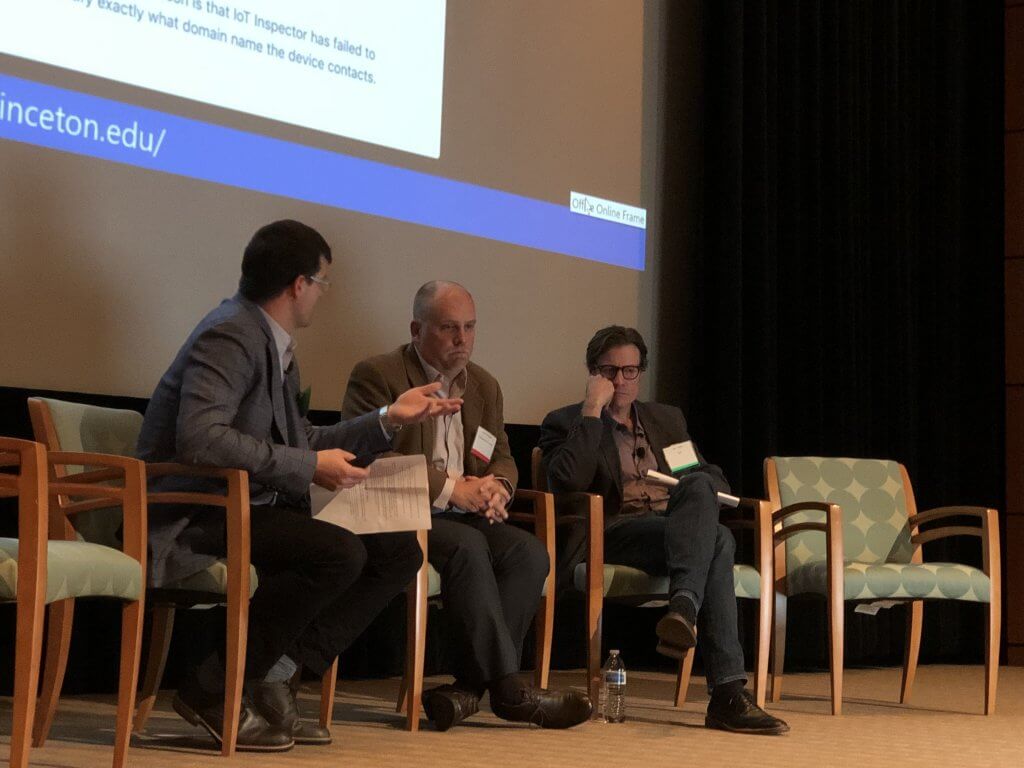 Through that lens, the panelists examined GDPR and highlighted the high associated compliance costs, from both a technical implementation and revenue perspective. Faced with these costs, many smaller publishers are choosing to cut off access to their content from covered geographies rather than trying to comply. In comparison, large Internet firms have the resources to ensure compliance even in a costly and highly fragmented regulatory environment. Until recently, the Internet has largely matured without defined geographic borders and has nearly eliminated global distribution costs for smaller publishers. However, this trend may be reversed in the face of an emerging fragmented and highly regulated environment, reducing the viability of smaller publishers and driving unintended market concentration.
Turning to emerging technologies, Huang described his research into the security and privacy implications of consumer Internet of Things (IoT). He provided an overview of a newly released research tool, Princeton IoT Inspector, that consumers can easily use to gain detailed insights into the network behaviors of their smart home IoT devices. Through this tool, consumers can gain a better understanding of how IoT devices share their personal information. He illustrated how IoT Inspector was able to identify the numerous ad networks and other domains a streaming video device communicated with while streaming a single television program; surprisingly, the streaming device communicated with more than 15 separate domains during that single streaming program.
The event closed with Phil Weiser, Colorado's Attorney General, providing keynote remarks that outlined the current state of legislative efforts, explained potential approaches that address key privacy challenges and highlighted the role of state attorneys general in developing regulatory approaches and enforcing them. Attorney General Weiser recognized that although curbing a patchwork of state laws in favor of a single federal one would be the ideal outcome, it is unlikely to happen in a reasonable timeframe, saying:
A first best solution would be a comprehensive federal law that protected consumer privacy. Such a law, like the Dodd-Frank law, should authorize State AGs to protect consumers. When Congress starts working on such a law, I will be eager and willing to support such an effort. After all, differing laws and reporting requirements designed to protect privacy creates a range of challenges for companies and those working to comply with different—and not necessarily consistent—laws.
In today's second-best world, I believe that States have an obligation to move forward. We should do so with a recognition that we need to collaborate with one another and develop approaches that recognize the challenges around compliance. We can use your help and engagement and we work towards just this end.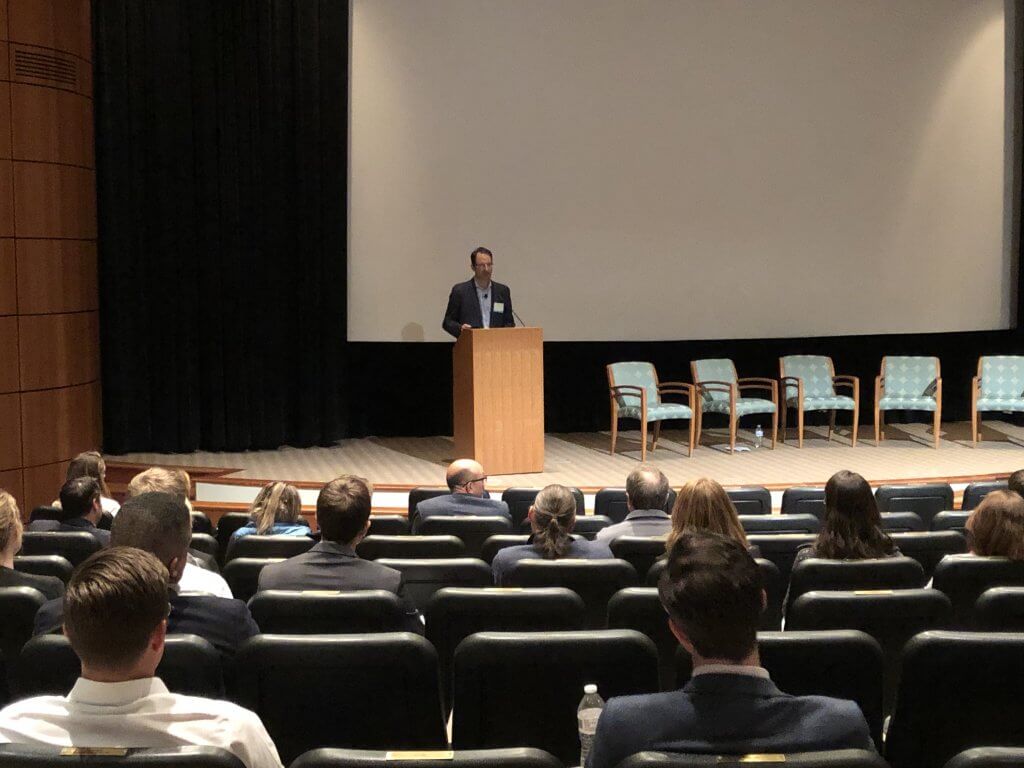 As CableLabs continues to focus on developing new and innovative network technologies, we must continue to ensure that we have a sound understanding of the rapidly evolving privacy landscape, both here and abroad. But, just as importantly, policymakers should have a sound understanding of how the various regulatory approaches may impact current and developing technologies. Events like this help bridge those gaps in understanding.
Events
Be a Part of the Next Generation – Join the Next Remote PHY Interoperability Event
A CableLabs interoperability event is always a popular affair—and with good reason. It's where manufacturers from all corners of the industry can come together to test the viability and interoperability of their products, as well as resolve technical issues before going to market. Our next Interop•Labs event, focused on Remote PHY technology, will be held May 6–10 in Louisville, Colorado. Space is limited, so be sure to register before May 1 to reserve your spot!
What to Expect at the Event
CableLabs is known for developing specifications, but our work doesn't stop there. We want to do everything we can to ensure that our specifications are implemented properly and that the final consumer products deliver the best possible experience for customers. This philosophy benefits our members and vendors and, ultimately, the industry as a whole.
At the event, we will help you verify that your device and software meet the Remote PHY (R-PHY) requirements, and we will address any issues associated with implementation or interoperability. You will also get a rare opportunity to collaborate with other vendors and make sure that your products work together.
All event participants will get access to Kyrio's state-of-the-art laboratories, fully equipped for comprehensive interoperability and performance testing. All you need to bring is the equipment or software that you intend to test.
A Bit of Housekeeping…
The event is open to all CableLabs members and NDA vendors. You must have a CableLabs member or vendor account to register, as well as approved R-PHY project access. Each participating company can send an appropriate number of engineers, in addition to any contributing engineers from the CableLabs R-PHY working groups. We also ask that you sign the DOCSIS® Participation Agreement prior to the event. If you have any questions, please email us at events@cablelabs.com.
Events
The Future of Extended Reality
The Boulder International Film Festival (BIFF) has become one of the most influential and innovative film festivals in the United States. It might seem strange that CableLabs, a core technology company, was invited to participate in the festival's creative conversations about the future of narrative media. Technology and the arts have always fed off of each other, but every once in a while, a generational disruption defines a new paradigm for both of them.
XR Panel
The festival's panel on extended reality (XR) experience was hosted by Mark Read, founder of Hypercube, and I was honored to share the stage with Jeff Orlowski, Emmy-winning filmmaker, and Brenda Lee, founder, and CEO of Reality Garage. The panel discussed XR as a term that identifies how real-and-virtual environments are combined, whether it be mostly virtual as in virtual reality (VR), or more combined as in mixed reality, and the ever-improving technologies that make immersive media environments possible and how they can be experienced.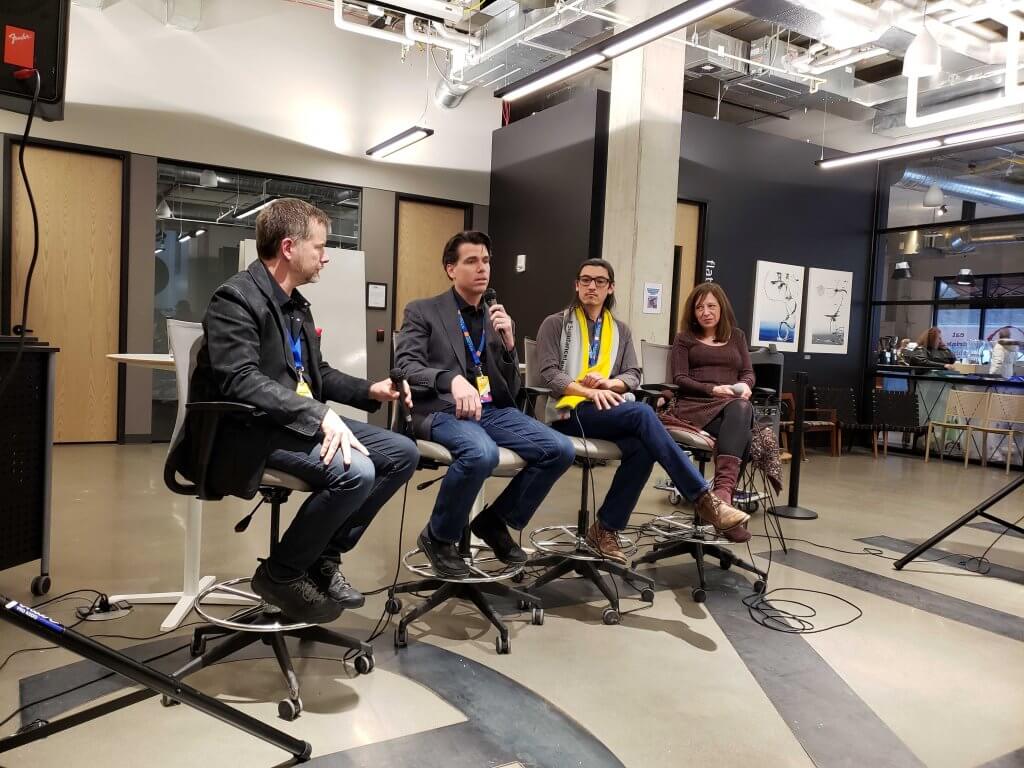 Discussions explored current immersive technologies, such as 360VR (looking in all directions in a static position), 6 Degrees of Freedom or 6DoF (looking and moving about in all directions and positions), augmented and mixed reality (looking through glasses to see digital media interacting with physical surroundings), and light field holographic displays (looking at true 3D volumetric media without glasses), as well as artificial intelligence (AI) and how it might be used within these environments.
The Importance of Narratives
The panel dove into what's currently working and not working with XR, especially concerning narratives. One theme, consistent across the panel, was that immersive experiences feel much more real. Seeing a lion in VR gives the user a much more tangible experience of the animal compared with viewing it on a flat screen. But the novelty of these experiences tends to be short-lived, partly because the headsets required for them are still too bulky and off-putting, but mostly because the narrative quality of today's titles are not compelling enough to move the needle on mass consumer adoption.
Millions of people love to watch The Lion King. It doesn't matter that the lions aren't real, or that the audience can't walk around a scene. The quality of the narrative experience is what consumers demand, and that quality comes from over a century of evolution of how to tell compelling visual stories in the cinematic arts.
Games are the same way: Using 6DoF to move around inside of a game is not what causes gamers to return to their favorite titles. The 6DoF experience is compelling for a little while, but for most people, the flat screen comes back after the novelty of the XR has passed.
New Paradigm
For XR today, there's a big gap between what the technology can do versus what consumers will pay for, but it was unanimous that this is temporary. The clunky headsets, the limited environments and haptics (physical feedback), the dumb characters and dialogue are all just stepping stones toward smarter and more compelling immersive systems.
The field of XR, as a narrative craft, is in its infancy and requires a new creative paradigm to move forward. XR can be compared with the sophistication of the first film 120 years ago, when an edit had not yet been conceived, much less the use of different camera angles. In the gaming industry, XR is comparable to Atari's Pong, before the  2-D joystick control made more innovative games possible. What set of technologies and content will move the needle of XR forward to mass consumer adoption?
This is a new era in the digital media ecosystem. Gaming was the first content evolution from passive television which led to the interactive explosion of gaming today, and now there's another kind of experience on its way. The new paradigm of the consumer experience is moving from controlling the content to being with the content.
What CableLabs is Doing
These ideas are not science fiction: CableLabs is working with a diverse group of industry leaders to standardize the format for network delivery of immersive media. This includes developing interoperable interfaces and exchange formats that will be shared by the ecosystem of capture-and-display manufacturers, network providers and content creators. With the capacity of the 10G network, extended reality will scale to hundreds of millions of consumers across the US.
What does an XR industry ecosystem look like at mass consumer adoption? This is the question that's getting the attention of the cable industry, and it's why we're working directly with creatives as well as everybody else in the ecosystem: to create the future.
Summer Conference
Collaborate, Share and Learn at Summer Conference 2019
With the beautiful Colorado summer fast approaching, we're ramping up preparations for our  annual three-day Summer Conference in Keystone—a place we like to call "Faster, Together." It's where professionals from all corners of cable gather to reflect on the state of the industry, sneak a peek into the future and exchange ideas on how to get there faster.
Join us this summer and find out how you can:
Get on the same page with the cable community
The agenda is packed with insightful keynotes, panel discussions and product showcases designed to give you a sense of what's happening around the industry. The event sessions cover two tracks: innovation and technical. On the innovation side, you'll learn more about emerging technologies and find out how your company's roadmap measures up with industry trends. On the technical side, you'll delve deeper into how things work and how the global industry can join forces to overcome its current technical obstacles.
Step out of your comfort zone
Many of us are goal-oriented introverts by nature. Great for hitting deadlines, but it's time to take a break from the office and open your mind to new ideas, even if they come from people who have nothing to do with your line of work. Or do they? In the past we've invited speakers from all walks of life—writers, illustrators and even poker players—to share success strategies that you can easily apply in your career.
Build valuable business connections
Tap into a powerful network of operators, vendors, startups and industry experts who share a vision of the connected future built on advanced cable technologies. Every session, project meeting or coffee break is a potential networking opportunity.
It doesn't matter if it came from the mind of a Fortune 500 CEO or a maverick innovator with big dreams, every great idea deserves a moment in the spotlight. Book a slot in Tek Stadium™ to showcase your company's product and get invaluable feedback from hundreds of industry professionals.
Attend exclusive meetings
Attend project meetings that are focused on new technologies and getting them widely deployed sooner. Project meetings are for cable operator members only. 
New Decade, New Possibilities
We're excited to announce that starting in 2020 we are launching an all-new annual event—with a new purpose, agenda and location—to serve the growing needs of the cable community in the new decade and beyond. And since at CableLabs innovation never stops, we're going bigger and bolder than ever before!
This also means that this year's Summer Conference will be our last. Don't miss your opportunity to attend this event—be sure to click below to learn more information and be notified when registration opens!
Event Info
Where:
633 Tennis Club Rd, Dillon CO
Hosted by: CableLabs
When: August 5-7, 2019
Events
What's Next for Cable? To Find Out, Join us at Cable Next-Gen this March
For the 12th consecutive year, cable's top executives, technologists, engineers, marketers, new business developers, strategists, financial experts and other professionals gather in Denver, Colorado, for Light Reading's Cable Next-Gen Technologies & Strategies Conference. Widely known as the cable industry's leading independent event, it is a two-day deep dive into cable's future. Participants discuss the adoption and monetization of emergent technologies, current and future business models, transitioning from legacy platforms to next-generation equipment and software and other hot topics that'll shape the cable industry for years to come.
Who, What, Where
Previous attendees consistently boast about every aspect of this event, from its structure to the quality of the speakers to the venue. Judging by the posted agenda, 2019 will not disappoint. Captivating keynotes, panel discussions, Fireside Chats and networking lunches will not only keep you interested and engaged for the full two days, they'll also leave you with a wealth of new information you can take back to the office.
This year's list of confirmed participants includes many of our members, organizations such as Society of Cable Telecommunications Engineers (SCTE) and many other representatives from the cable community. Many of our accomplished technologists including our CEO and President, Phil McKinney, have been invited to share their expertise as keynote presenters or panelists. Here's a list of some our attendees and their respective sessions:
Author, speaker and innovation guru, Phil McKinney, will deliver a keynote on the rollout of 10G technologies in the near future, titled CableLabs Talks 10G. Find out more about how our technologies will enable the 10G platform and deliver residential internet speeds 10 times faster than today's networks and 100 times faster than what most consumers currently experience.
CableLabs' current "Inventor of the Year," Dr. Campos is regarded by many as the "founding father of Proactive Network Maintenance." He will share his expertise in his keynote, Coherent Optics: Beyond Bits, and participate in a panel discussion called Lighting Up Coherent Optics.
A video and immersive experience expert, Dr. Hinds will share her thoughts on the future of VR/AR/MR technologies in her keynote CableLabs Goes Back to the Future.
Mr. Levensalor will leverage his extensive NFV knowledge and experience as an OPNFV Vice Chair in the Fireside Chat called Transforming the Cable Network Infrastructure.
As the connected home becomes a reality for many consumers in the coming decade, experts like Josh are working hard to make Wi-Fi experience the best it can be. He will join two other panelists for a Special Breakfast Session called Profiting from the In-Home Wi-Fi Challenge: Strategies and Solutions.
An expert in developing monetization strategies for emerging communication technologies, Jen Shelby will share her knowledge as a panelist in a session titled Monetizing Next-Gen Business Services.
Dates & Location
March 12-14, 2019
Embassy Suites Downtown Denver Convention Center
Denver, Colorado
If you're still wondering if this event is for you, it's simple—if you're in the cable business and are involved in building its future—Cable Next-Gen has to be on your list of annual "must-goes." For more details or to register, please visit the Conference website.
Events
CableLabs Europe Conference 2019: Together We are Ready for Anything
As we enter a new era of innovation, our networks must continue to stay ahead of both competition and customer demand. On 3-4 April 2019, join us for CableLabs Europe Conference 2019 as we explore challenges and opportunities for converging today's technologies – and those that are "next" – into our fixed and wireless networks.
Why Attend
This free, members-only event puts you in contact with professionals who are adept at building tomorrow's networks - today. These leaders and innovators are shaping network advancements throughout the European and U.S. cable industries.
What You'll Discover
CableLabs Europe Conference is a two-day event with speakers, discussions and opportunities to ask questions to those in the know.
10G Vision: Learn how the 10G combination of speed, millisecond latency, and superior security at scale can meet consumer needs well beyond what they are currently experiencing.
Strategies for Building 10G Networks: Listen to an expert panel's strategic choices for delivering on the promises of 10G networks, such as Full Duplex DOCSIS technology, Node+X, extended spectrum and advanced fiber.
Maximizing In-Home Wireless Opportunities: Discover how MSOs seize on opportunities to take Wi-Fi from black boxes to managed services, such as EasyMesh™, Wi-Fi PNM and more.
Innovation Showcase: Meet companies that are breaking technology barriers and changing the landscape of the industry - diverse innovations include computer vision, machine learning, password-free high assurance authentication, rogue device mitigation, and personal data protection and privacy aligned with GDPR requirements.
 Transatlantic Technology: Listen to and participate in policy and regulatory discussions surrounding key topics including 10G/ 5G connectivity and subscriber behavior in Europe, and how they relate to our innovative technologies.
Mobile and Fixed Broadband - Infrastructure and Service Perspective: Discover how operators are looking at the relationship between mobile and broadband from both an infrastructure and service perspective.
Growth Engines for Mature Markets: Europe has many advanced product offerings in converged wired and wireless networks despite increasing levels of complexity. Learn from experts discussing what needs to be fixed, as well as possibilities in future customer service and offerings.
CTO Roundtable: Leveraging the success of last year's highly popular roundtable, hear what key CTOs on both sides of the Atlantic are doing with their networks.
Fireside CEO Chat: Phil McKinney, CableLabs President and CEO, will lead a discussion with industry CEOs ranging from business strategies to competition to consumer demand.
Event Info
When: 3-4 April 2019
Where: London, England
Hotel: St. Pancras Renaissance London Hotel
Euston Rd., Kings Cross,
London NW1 2AR, UK
Who: CableLabs Members
Events
AI & Machine Learning: Register for Our Next Innovation Boot Camp in April 2019
No matter your title or job description, you probably hear the term "innovative" a lot around your office. It's what drives all of us to come to work, push boundaries and solve the unsolvable. Sounds inspiring, but how do you become innovative or lead others to be more innovative? This is the premise behind CableLabs' Innovation Boot Camp, an intensive three-and-half-day workshop that helps you understand a more predictable way to generate breakthrough ideas and uses proven strategies, real-world scenarios and small group exercises to ignite your innovation leadership skills.
2019 Innovation Boot Camp: The New Assistants - AI & Machine Learning
We usually structure our Innovation Boot Camps around a single area of focus and this April's topic is "The New Assistants: AI & Machine Learning." It's a hotly debated topic and an area ripe for innovation. Just consider the latest announcements at CES 2019, where smart appliances and virtual assistances of all shapes and sizes were capturing our imagination. During your time at Innovation Boot Camp, we will discuss the latest breakthroughs in AI as well as the challenges faced by the innovators in this field. And you will have the opportunity to practice innovation and generate new ideas in this space.
Why You Should Attend
Participants often describe CableLabs' Boot Camp experience as an intense learning journey that teaches you how to apply new creative practices, build on your influence and present your best ideas with more confidence. It's also a great networking opportunity that allows you to foster valuable relationships with a whole community of innovators.
But don't take our word for it. Here's what our Boot Camp graduates have to say about the program:
Jeremy Swenson, an Operation Analyst from Midco, said: "It brought a lot of common-sense approaches, but also a lot of new information that I never would have thought about—new tools and strategies that I can take to my company and implement on day one."
The Boot Camp program is based on the FIRE framework for Innovation (Focus, Ideate, Rank, Execute) developed by author, radio host and our CEO, Phil McKinney. Each exercise is designed to build on new information and show you how it could be put into practice immediately. Even if you've never thought of yourself as the "creative type," our skilled innovation coaches and speakers will show you how you can become one. By the end of the program, you will build an arsenal of useful strategies that will help you generate and pitch ideas in your professional sphere.
Pam Lloyd, a VP from G.C.I, said: "The external speakers were all top notch and each one built on the framework…the flow was great!" 
Aside from our own CableLabs innovation experts, we like to bring in industry leaders from external companies. Because this year's Innovation Boot Camp is focused on AI and Machine Learning, we will select experts from this field. They'll share their thoughts on the future of AI and its current progress as well as the role of innovation in their lives.
Sian Morgan, a Senior Director from Videotron, said: "The tours were great. We got to see innovation in more of a working context by visiting large organizations that were integrating innovation into their day-to-day work."
If you think our Boot Camp is all lectures and group exercises, think again. Our participants go out in the field for private tours of Silicon Valley companies that are known for their focus on innovation and are willing to share the truth about it (in the past we have toured Google, Salesforce, Toyota, Ford, Autodesk, etc.)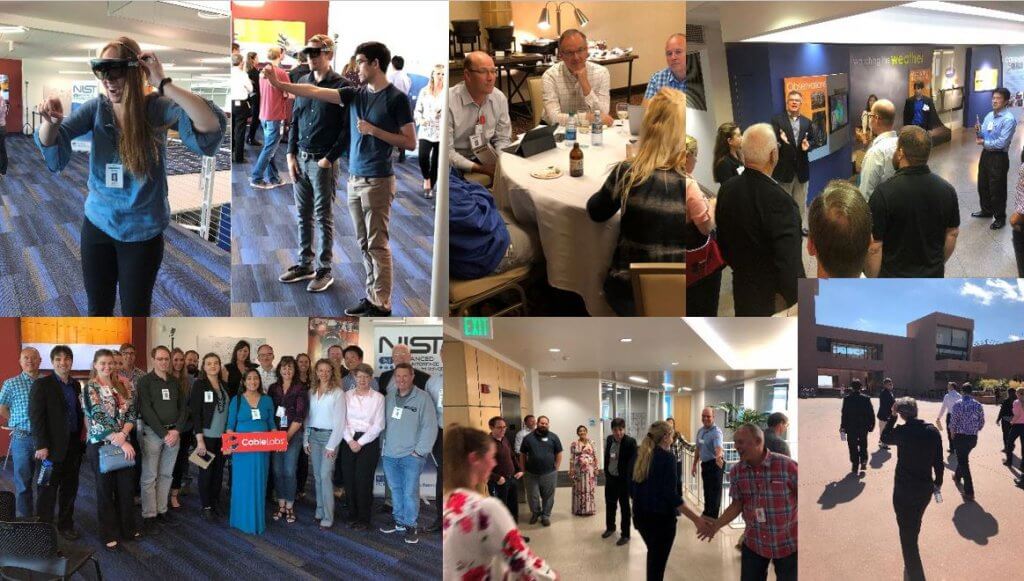 The Final Pitch
Our Innovation Boot Camp is designed to foster innovation leadership skills in industry professionals. In other words, it's all about you, and building your skills and a custom toolkit which you can then take back to your team. That's why the program culminates with what we like to call "the final pitch" where you will get to demonstrate your newly-learned skills by pitching your idea to a panel of battle-tested innovators. It's a fantastic opportunity to test yourself and get valuable feedback that you can incorporate in real life.
Ready for your next Innovation Boot Camp? Early bird pricing is still available - register today! 
Event Info
Where:
CableLabs Silicon Valley
400 W California Ave
Sunnyvale, CA 94086
When:
April 9-12, 2019
Price:
CableLabs Members Early Bird Discount: $997 (Register before February 8)
CableLabs Members: $1,347
General Industry Early Bird Discount: $1,497 (Register before February 8)
General Industry: $1,997
Pricing includes all materials, tours, meals and beverages. You will need to provide your own transportation and hotel (special hotel discounts available).
Events
Something Old, Something New: CableLabs Holds First P2P Coherent Optics Interop
No, it wasn't a wedding—but it was a major gathering of great importance! Nine prominent manufacturers participated in the very first CableLabs Point-to-Point (P2P) Coherent Optics Interoperability Event.
The highly successful Interop·Labs event took place at the CableLabs offices in Louisville, Colorado, December 4–6. Participants included nine manufacturers from the coherent optics space, including both silicon and module/system makers, each of whom brought a coherent optics transceiver:  Acacia Communications, ADVA Optical Networking, Ciena, Finisar, Fujitsu Optical Components, Inphi, Lumentum, NeoPhotonics, and NTT Electronics. The event was focused on testing interoperability between coherent optics transceivers designed to be compliant with the CableLabs P2P Coherent Optics PHYv1.0 specification (issued in June of this year), which defines requirements for interoperable devices operating at 100 Gbps on a single wavelength.
A Common Goal
If you've been following CableLabs and this blog for some time, you're aware that we've been holding interoperability events at CableLabs for many years—for example, for each successive generation of DOCSIS® technology. For those of us who've been around CableLabs for a while, in some ways this was something old: an event we've done many times before.
But this was something new: this was the first time CableLabs held an interoperability event for P2P coherent optics devices—an entirely different class and type of device from those we've held events for in the past. As a result, this event included a set of companies and engineers that have never been a part of such an event before; it was definitely something new for them!
This fact was highlighted by some feedback I received during the event. One participant remarked, "This was a great session, and everyone involved worked together for a common goal, which doesn't happen much with competitors." This comment was mirrored by other messages I received during the event: attendees praised the open and collaborative environment we created for the interop, allowing engineers from companies that otherwise compete to collaborate one-on-one to address interoperability and get their devices working together.
Working Together
By the end of the event, all nine companies had an opportunity to work with one another, and all of them reported successful interoperability running at 100G. This is particularly significant given how many manufacturers were involved, and that it's been less than 6 months since the specifications were issued. The event represents a major milestone in making this technology available to the cable industry.
During a recent company meeting, our President and CEO Phil McKinney advised us to avoid getting into a rut and to instead look at things with fresh eyes. This event reminded me of the same: seeing people participate together like this for the first time, and hearing about the immense and immediate value they were getting from their participation, helped me to see this event with fresh eyes and reminded me just how special it is for all of us to be able to work—as one—toward common goals that benefit the industry as a whole.
Till Next Time
I'm looking forward to the next event with fresh eyes and a desire to do even more to move this technology forward. Please keep an eye on the CableLabs Events page for an announcement of our next event, and if you'd like to get involved with our efforts to make coherent optics technology available to the cable industry, please get in touch to learn more.
Events
CableLabs at SCTE-ISBE Cable-Tec Expo® 2018: Learn How We're Inventing the Future
It's that time of year again! SCTE-ISBE Cable-Tec Expo brings cable and broadband professionals from around the world together to share trends, innovations and emerging technologies. At this year's event, we'll continue to demonstrate how CableLabs' innovations make next-generation broadband available today and provide solutions for tomorrow's connectivity challenges.
Here's a sneak peek of what we're covering:
CableLabs subject matter experts are moderating panel discussions, leading seminars and CEO and President Phil McKinney is speaking at the opening ceremony. Our lineup of speakers and moderators include:
Through our 61 member companies worldwide, partnerships with top-tier universities and a collaborative ecosystem inside and outside the cable industry, CableLabs is able to create global impact. We are looking forward to seeing you in Atlanta from Oct. 22-25. Visit us at Booth #713 to learn more about how CableLabs is continuing to make breakthroughs towards our vision of a connected future.
30th Anniversary
Technology in Your Everyday Life: Why You Should Pay Attention to Innovation
If you were around 30 years ago, you may recall using a payphone, writing a check, or strolling down the street with your Walkman. All of those conveniences of 30 years ago don't seem all that convenient today. In just three decades, the span of CableLabs' entire existence, we went from analog to digital, from payphones to smartphones, from libraries to the internet. Now we wake up every day ready for the next big thing.
While you may get excited about the latest new device or app you probably don't give much thought about what lies behind the next big thing. So long as the device or app works why should you care?
Reason #1: Cybersecurity
Like it or not, your life is online. This comes with many benefits, like convenience and accessibility, but also a few risks.
When CableLabs was formed in 1988, a huge chunk of our innovation efforts focused on television and improving the viewing experience. Fast forward to today: your TV is now connected to your network, just like your phone and a myriad of other smart devices you can't live without. Many of them have digital eyes and ears, a.k.a. cameras and microphones, that aren't secure. That's why a lot of our work today centers on cybersecurity. Whether you're streaming a YouTube video or making an online payment, it's very important to use secure devices.
Cable operators have a long history of successfully defending against attackers seeking to steal your service, customer data and video content. We've enabled cable-based security technologies to be leveraged in the wider internet ecosystem, including in Wi-Fi hotspots, smart grid devices and medical communications through our subsidiary Kyrio. The cable industry also provides broad-based technology thought leadership on security through substantial contributions to the Internet Engineering Task Force (IETF), the Messaging, Malware and Mobile Anti-Abuse Working Group (M3AAWG), Wi-Fi Alliance and the Broadband Internet Technical Advisory Group (BITAG), among other leading technical bodies.
Reason #2: Networks
You may not realize it, but bandwidth and network speed have become just as important as your other utilities. You can't have the next big thing without them.
Just like we don't care about electricity unless the lights go out, we don't pay attention to how much data we use until it's gone. We download and upload all day long without giving it much thought unless there is congestion somewhere on the network. As new bandwidth-hungry technologies, such as VR/AR, AI, and autonomous vehicles, become more mainstream, the demands on network bandwidth will increase. One of CableLabs' main focus areas is building better and faster networks capable of supporting these new and future technologies.
Reason #3: Sustainability
Technology and its byproducts affect our planet, so how we innovate and use technology is just as important as the benefits it provides.
Recycling is great, but we can all do more. CableLabs' unique position within the communications industry gives us an opportunity to drive policy priorities that focus on greener, more energy-efficient products. Through technological development and voluntary energy agreements with manufacturers, our industry has achieved rapid energy efficiency gains—proof that we can drive sustainability. That's great for business and even better for our planet.
These are just a few of the many reasons to stay on top of technology and innovation trends. We've been doing it for the last 30 years! Please watch our Near Future videos and click below to visit our 30th Anniversary site to learn more about CableLabs and how our technology affects your everyday life.