Mobility & Wireless in a Converged World: Envision Vendor Forum 2022

This year's CableLabs 2022 Envision Vendor Forum aligns with one of our industry's biggest goals for the near future: mobile + fixed convergence. Specifically, we'll focus on the wireless, mobile and converged aspects of network infrastructure that will allow us to build truly seamless and ubiquitous platforms to power next-generation products and services. This short and highly consumable virtual event will occur April 19–20 and is absolutely free. Be sure to register today and become a part of the convergence conversation.
What's On the Agenda?
Ever since the term "convergence" started popping up in technology circles, CableLabs has been focused on facilitating meaningful and productive discussions about how to make this goal a reality. Considering that there are so many approaches to convergence, the insight of our industry's vendors and wireless specialists is instrumental to forging a path forward. This year at Envision, we're planning to exchange ideas and share progress through a combination of panel discussions and presentations by key industry thought leaders who are working on next-generation 5G/Open Radio Access Network (ORAN), 10G, Wi-Fi 6, 3GPP and other wireless and mobility infrastructure products. We'll also discuss future initiatives and challenges, as well as technology policies, security considerations and emerging operating models.
We're also sticking to last year's flexible virtual format, which removes many logistical barriers and allows all registered participants to pose questions directly to subject matter experts. Our main objective is to help you and other CableLabs members and subsidiaries get up to speed on the latest developments in the wireless area of the convergence initiative and align your business goals with the larger picture.
Who's Invited?
This event is best suited for decision-makers—including executives, senior technologists and strategists on both the cable operator and the vendor side—who are leading the development and implementation of next-generation wireless services in their respective areas.
CableLabs 2022 Envision Vendor Forum is closed to outside press, media and analysts.
The Details
When: April 19–20, 2022, 9:00–11:30 a.m. MDT on both days.
Where: Virtual
How much: FREE. Each person must register separately with their company email by April 17, 2022.
The Cable Center Hall of Fame Honors CableLabs' Chris Lammers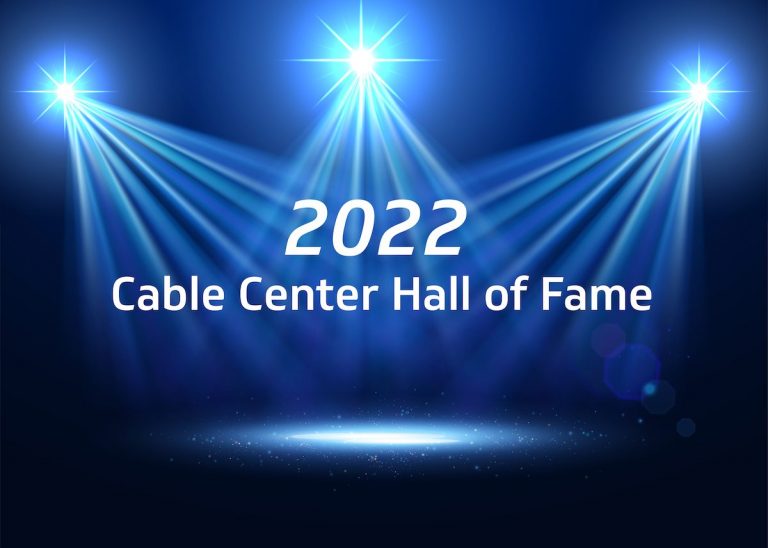 We're thrilled to announce that Chris Lammers, CableLabs' COO Emeritus and Senior Executive Advisor, has been inducted into The Cable Center Hall of Fame for his life-long professional efforts and indelible impact on the cable and broadband industry. This induction is one of the industry's highest and most exclusive honors, reserved only for the most innovative and influential leaders.
Chris's mission and vision extends beyond the goals of any one company. A lawyer by trade, he made his debut in the cable arena in the 1980s when he was hired to lead the merger and acquisitions effort at Western Communications, a mid-tier operator (MTO). After holding a series of executive positions at Western, he ultimately served as the company's CEO for three years before joining CableLabs in 1997. In a number of roles, Chris contributed to the successful rollout of critical technology, which brought high-speed cable internet to millions around the world.
Chris's experience at Western shaped his holistic vision for creating a truly inclusive global cable community that addresses the unique needs of its smaller members. Chris understood early on that small and mid-sized operators are often more open to trying new ideas and technologies that drive the industry forward. CableLabs offered him a platform for launching numerous initiatives geared toward increased innovation in the MTO space, resulting in the launch of many cutting-edge services that cable customers enjoy today. He has also been instrumental in growing CableLabs' international membership from 19 to 65 members in 35 countries, making sure that every member has access to the latest developments and technical support. His unwavering moral compass and sense of fairness has helped him build strong professional relationships and teamwork among diverse members and employees, positively contributing to the inclusive culture and image of CableLabs and its community.
Chris is also a great champion of next-generation talent development. To promote interest in the industry, he has taken an active role in the Emma Bowen Foundation's efforts to unite students with industry professionals, and he has also been involved in the Chinese Executive Media Management Program (CEMMP) to train mid-level managers from Chinese media companies in the United States. Outside his professional endeavors, Chris has led corporate sponsorship efforts for Community Food Share, United Way and the "I Have a Dream" Foundation, and he recently became professionally involved with the Colorado Women's Hall of Fame. These accomplishments are only a snippet of Chris's contributions to the cable industry and beyond.
We're incredibly proud to have Chris Lammers as part of our team at CableLabs and deeply appreciate all that he has done for the cable industry over the course of his accomplished career. Congratulations, Chris!
Join CableLabs Experts at Light Reading's Annual Cable Next-Gen Conference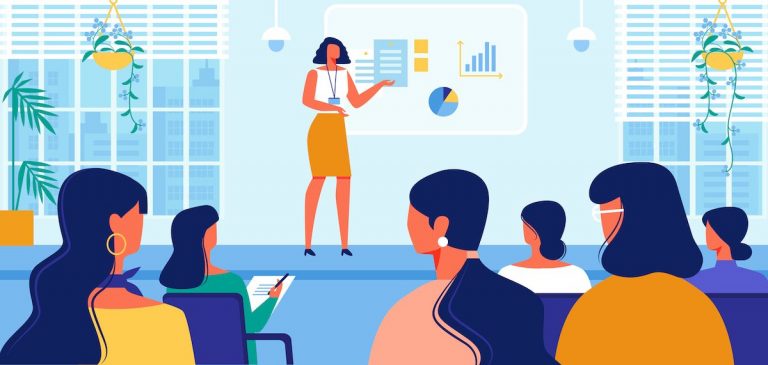 The 15th annual Cable Next-Gen Technologies & Strategies conference is kicking off today, and we are excited to connect with our colleagues throughout the cable industry to discuss opportunities and challenges in a post-pandemic era.
We believe it is important that stakeholders throughout the cable industry hear about the latest and greatest trends and developments in cable, broadband, wireless and related technologies so that they can be leveraged to keep ahead of the curve.
The free two-day online event is where industry experts will gather to discuss technologies and platforms shaping the cable space, examining how operators can adapt to the rapidly changing market while maintaining the seamless delivery of existing services that customers have come to demand.
This year's conference will cover a myriad of timely topics, including the following:
Next-gen PON
Network virtualization
Fiber-to-the-premises (FTTP) builds
5G
Mobile spectrum
Wi-Fi 6
Smart homes
Power grids
Edge computing
Consumer tech trends
The incredible roster of invited speakers includes leaders and technical experts from Comcast, Charter Communications, Cox Communications, SCTE, the Consumer Technology Association and many others. More so, six speakers from CableLabs will join the conversation to discuss the role that broadband technology is currently playing and will continue to play in the future. Let's take a look at what attendees can expect to hear from CableLabs at Cable Next-Gen 2022.
Prepping for DOCSIS 4.0 — Tuesday, March 15 1:15–2:30 p.m.
During this panel discussion, panelists — including Doug Jones, principal architect at CableLabs — will dive deep into how cable operators and vendors are preparing for the future. DOCSIS 4.0 technology provides optionality for boosting bandwidth capacity and delivering multi-gig speeds. This session will delve into where the industry stands with prep, including lab and field trials, equipment development and spectrum upgrades.
Wising Up with Wi-Fi 6 — Tuesday, March 15 1:15–2:30 p.m.
This panel discussion will see John Bahr, principal architect, wireless R&D at CableLabs, join industry experts from Altice USA, Incognito, Plume and Schurz Broadband Group to explore how cable operators can play a bigger role in managing today's smart homes. Connected smart home products are surging in growth, which means consumer demand for more bandwidth is exploding and the congestion of the home Wi-Fi network is mounting. This session will tackle how operators can leverage their in-home networks to create and support promising new smart home services and boost their average revenue per user by deploying Wi-Fi 6, AI, cloud and other new technologies and tools.
Enabling Mobile for Cable Operators — Tuesday, March 15 2:45–3:00 p.m.

What will be required for the cable industry to thrive in the mobile ecosystem? We believe it is a number of things such as access to spectrum, network architectures that leverage existing HFC infrastructure and common frameworks for convergence. Join David Debrecht, vice president of wireless technologies at CableLabs, as he touches on these aspects; and don't miss hearing more during the panel discussion "Finding Cable's Mobile Mojo."
Delivering the DAA Difference — Tuesday, March 15 3:00–3:45 p.m.
With the cable industry increasingly adopting distributed access architecture (DAA) technology to move key functions and equipment from the cable headend to the HFC access network, a question has arisen: How much difference is the new technology making? This panel — which includes Jon Schnoor, lead engineer, wired technologies at CableLabs — will look at cable's growing DAA deployments and the lessons learned in the field thus far. Are Remote PHY and Remote MAC/PHY enabling more advanced services and more efficient operations? Has CableLabs' Flexible MAC Architecture (FMA) specification leveled the playing field between the two main DAA variants? This discussion will highlight best practices for getting the most out of DAA, DOCSIS technology and the rest.
Finding Cable's Mobile Mojo — Tuesday, March 15 3:00–3:45 p.m.
As a key part of their product bundles, cable operators are increasingly embracing mobile service. With the Federal Communications Commission recently auctioning Citizens Broadband Radio Service (CBRS), C-band and mid-band spectrum licenses for 5G services, operators are curious how to use their new wireless holdings to expand their reach, converge their networks and deliver new services like fixed-wireless access. This panel discussion, which includes David Debrecht, will assess the opportunities and challenges that 5G and wireless/wireline convergence present the cable sector — and how they factor into the industry's mobile and broadband plans.
Good Optics: Pumping PON's Power — Wednesday, March 16 11:55 a.m.–12:40 p.m.
What role will PON play in cable's future? PON's role is now growing well beyond FTTH, but DOCSIS will not disappear any time soon. With operators steadily putting more fiber in their HFC plant, PON's support for enterprises, xHaul transport and smart cities makes the network system a solid alternative transmission method for the cable industry. Featuring Curtis Knittle, CableLabs' director of optical technologies, this panel discussion will evaluate PON's role in the future of cable, how cable companies should evaluate PON's next-gen capabilities, the operational advantages of PON versus coaxial cable and much more.
Making Access More Coherent — Wednesday, March 16 2:15–2:30 p.m.

Optical technologies have come a long way in the past 20+ years, allowing service providers to offer ultra-high capacities suitable for meeting current subscriber demands. Are we nearing a leveling-off point, or will capacities continue to increase? How will the access network evolve over the next 20 years? Join Dr. Curtis Knittle, vice president of wired technologies at CableLabs, to hear more about the future of optical access.
Getting Edgy with Edge Computing — Wednesday, March 16 2:45–3:30 p.m.
Edge computing is one of the technology industry's hottest buzzwords. Today, companies of all shapes and sizes are trying to bring powerful internet functionality as close to users at the edge of their service networks as possible. Consequently, cable operators and tech vendors are now exploring the potential value edge computing can deliver as they aim to develop and deliver next-generation, low-latency connectivity services. Randy Levensalor, principal architect at CableLabs, will join this panel discussion to discuss where the cable space stands in the pursuit of edge computing, the challenges that still need to be overcome and the industry's emerging edge compute plans.
To better understand these key topics and how cable will succeed in the post-pandemic world, join us online for the annual Cable Next-Gen Technologies & Strategies conference. Preregister for Cable Next-Gen, we'll see you there!
The 10G Challenge: How Zoom Leverages Technology to Improve Education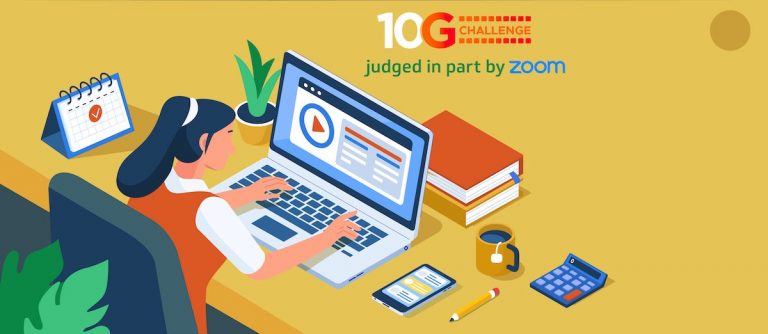 Designed to encourage innovation around the network of the future, the 10G Challenge aims to solve real-world problems and showcase the individuals and organizations developing the technologies, services and applications that will rely on 10G to impact the way we live, work, learn and play.
With the 10G Challenge kicking off, CableLabs is excited to introduce another one of the industry experts we've tapped to help raise awareness about the contest. From growing a customer base to reaching new markets, strategic collaboration empowers all parties involved in the evolution of a business. That's why we've selected Zoom as the industry expert that will help judge submissions that will impact the way we learn in the future.
The "Learn" Category, Powered by Zoom
Judged by experts from Zoom, a video communications company best known for its Zoom Meetings, the 10G Challenge's Learn category explores where the classrooms of the future are headed.
We believe that learning will be amplified through virtual reality (VR) worlds, light field holodecks and omnipresent artificial intelligence (AI) assistance in the classrooms of tomorrow. With the right network capacity and visionary thinking, who knows what other technologies will transform the world of education? By conceiving how a powerful new broadband network can help solve real-world problems related to how the world learns, participating innovators are truly helping invent a better future.
The COVID-19 pandemic has had a significant impact on student learning and well-being. When schools closed in March 2020 to quell the spread of the virus, the need for effective learning environments didn't disappear. Consequently, the use of virtual learning models escalated to help ensure that students wouldn't fall behind. Zoom already has a history of bringing together students, faculty and staff for learning, collaboration and administration, and its communications platform supports remote and hybrid learning environments for primary and secondary schools and institutes of higher education.
Whether delivering online and hybrid learning or better engaging students through impactful virtual experiences, Zoom is helping expand access to education. With a blend of synchronous and asynchronous learning tools, Zoom is improving learning experiences and enhancing student engagement by enabling students to learn from anywhere and connect with other students outside of a traditional classroom. By increasing student participation and learning retention in virtual and hybrid classrooms, Zoom helps improve learning outcomes and expands traditional classrooms to meet the growing needs of today's students.
Finally, Zoom provides flexible work environments, ultimately ensuring continuity of academic services and communications across entire education enterprises. By utilizing resources and hardware you already have to expand your capabilities and community offerings, Zoom supports educators with maximizing their resources to enrich both teaching and learning.
By participating in the 10G Challenge, Zoom will have an up-close, firsthand look at how innovators are advancing life-changing technologies and supporting fellow trailblazers. And Zoom will see how the development of tomorrow's solutions will leverage a new, powerful broadband network that's poised to impact the world—no matter where education takes place.
Together, CableLabs and Zoom are thrilled to power the next era of broadband innovation. For more information about the 10G Challenge, or to submit your idea, please visit 10Gchallenge.com.
Advancing 10G: CableLabs Reached Several Key Milestones in 2021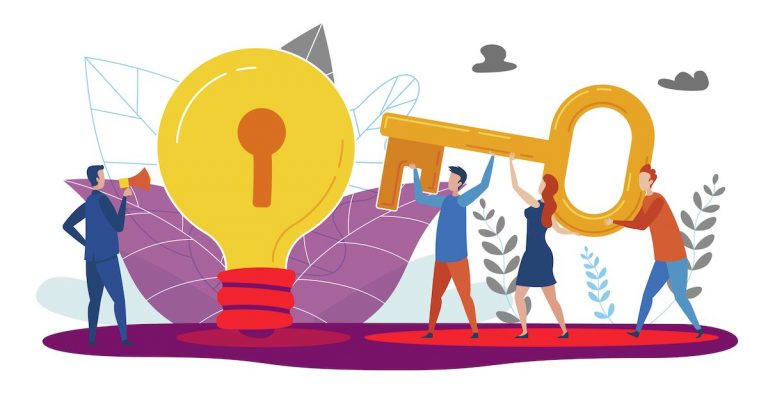 Last year, CableLabs and its members took major steps toward making 10G a reality. There were numerous launches, enhancements, and even a couple of "firsts." Every one of these initiatives—from launching the 10G Challenge to enhancing specification requirements—will play an important role in building the faster, more secure and reliable networks of the future.
Here are some of the key milestones we're especially proud of:
Improved Fiber Capacity
As data demands increase, operators are considering increasing capacity on their existing optical access network. To help operators meet this demand, the Coherent Termination Device enables them to take advantage of coherent optics technologies in access networks. Typically used for long-haul, metro and submarine networks, coherent optics technologies let operators use their existing fiber assets more efficiently when teamed with wavelength-division multiplexing in the optical access network.
More Robust Security
The Network Security Best Common Practices is a comprehensive document that sets the foundation for a new era in network security by establishing a common set of requirements and best practices for vendors of gateway devices and cable modems. Agreed upon by the global community of operators and device manufacturers, the document provides a globally consistent baseline that will make our digital lives a lot safer.
Inspiring 10G Innovators
The 10G Challenge is a competition designed to accelerate the development of applications for emerging 10G networks. It's a great way to inspire talented innovators, startups, students and entrepreneurs to not only imagine the near future but actually build it. The winners will have the opportunity to showcase their hard work at SCTE Cable-Tec Expo® 2022.
Cable Industry Achievement Highlights
Because our mission is to support the entire cable industry, we can't possibly talk about our achievements without mentioning the truly amazing accomplishments of our members. Several firsts came from our members last year, including the following:
Each one of these milestones is an essential building block, bringing us closer to 10G speeds, lower latencies, enhanced network reliability and better security. For more information about CableLabs' 2021 achievements and progress toward 10G, please read the press release.
Band Splits 101: Splitting Our Way to 10G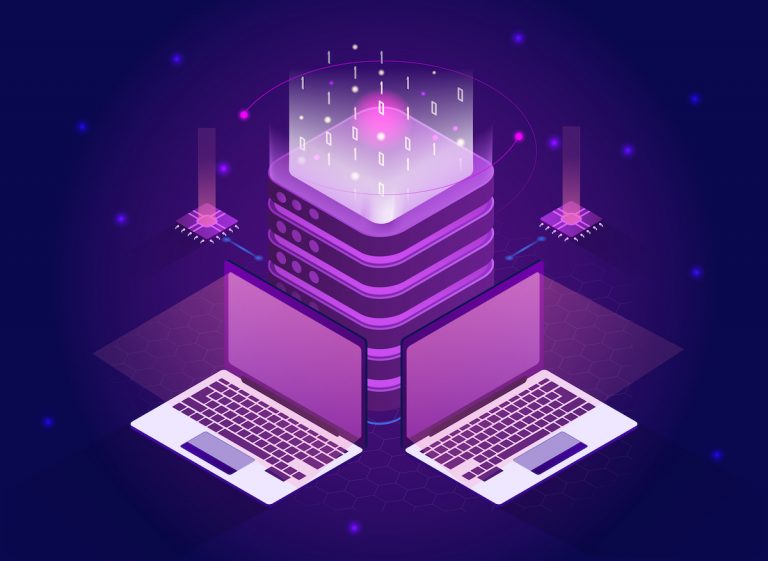 As consumers' bandwidth needs continue to grow, cable operators are always thinking of ways to expand their network capacity to accommodate future increases in data traffic—especially upstream traffic. Band splits play an important role in that effort, taking advantage of the incredible resiliency of cable's hybrid fiber-coaxial (HFC) network.
What Is a Band Split and How Does It Work?
To describe what band splits are, we need to first define bandwidth. The best way to think of bandwidth is as a stretchable pipe that allows radio frequency (RF) signals carrying data to travel through it. So, when we talk about expanding the bandwidth of a network, we're looking for ways to stretch that pipe to higher frequencies to accommodate more data traffic. The term "bandwidth" is somewhat synonymous with "capacity," and on cable networks bandwidth is measured in megahertz (MHz) and gigahertz (GHz)—1 GHz is 1,000 times greater than 1 MHz.
The following figure shows several options available for band splits on the cable broadband network, allowing various mixes of upstream and downstream bandwidth depending on the needs of consumers. Frequency Division Duplex (FDD) designates separate bands for upstream and downstream traffic.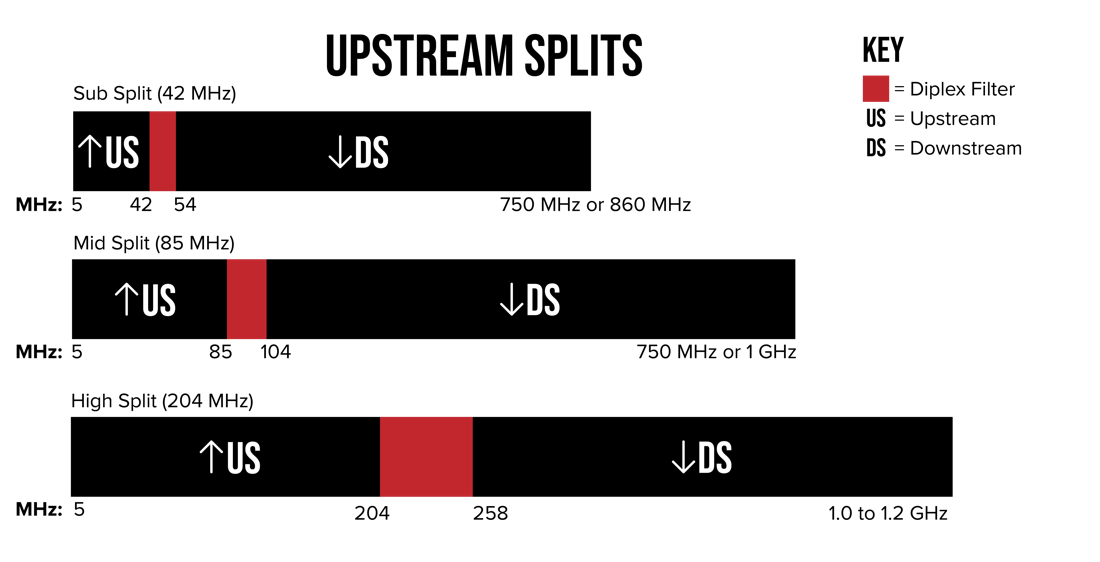 Note that the bands in the figure aren't to scale. The red in the middle is the diplex filter used to separate the upstream (US) and downstream (DS) channels.
The bandwidth "pipe" (split into two parts) has data traffic traveling in opposite directions: downstream from your provider's hub to your modem and upstream from your modem back to the hub. This back-and-forth flow allows you to use interactive services like video chat, teleconferencing, telehealth and more.
Band splits determine how much bandwidth is dedicated to downstream and upstream channels. Downstream traffic is usually transmitted on a high-band frequency range, whereas the lower band is dedicated to upstream traffic. Two-way amplifiers are used to amplify signals in both directions. These amplifiers have something called diplex filters to separate downstream and upstream frequencies to prevent interference.
Usually, consumers use a much larger chunk of the bandwidth pipe for downstream traffic, but that's starting to change. As people switch to working and studying from home, they're using more interactive services like video chats, which require more upstream data. To accommodate this trend and future demand, network operators need to consider when to add more upstream bandwidth. For this reason, they may need to rethink the way their networks are split.
What Kind of Band Splits Are There?
Not all band splits are created equal: In North America, there are sub-splits, mid-splits and high-splits, and Europe has its own band split. This situation has to do with how the operator divides the available bandwidth pipe between downstream and upstream traffic.
Although sub-splits are still prevalent in North America today, mid-split and high-split bands require an upgrade. In a sub-split, a spectrum range of 5 MHz to 42 MHz is used for upstream traffic and 54 MHz to 1.2 GHz or 1.8 GHz is for downstream traffic. In a mid-split scenario, 5 MHz to 85 MHz is dedicated for upstream and above 108 MHz for downstream. And high-split extends the upstream range to 204 MHz while reserving 258 MHz and higher frequencies for downstream.
The European split uses an upstream spectrum range of 5 MHz to 65 MHz, and the downstream spectrum range is above 88 MHz. There's also an ultra-high-split where the upstream goes to a 684 MHz upper-frequency limit that includes even more choices of band-splits, which some operators may consider in the future. However, for most networks in North America, Europe and Latin America, future bandwidth allocations will consist of mid-split and high-split bands, and even some ultra-high-splits.
How Has This Technology Evolved?
If we go back to the early pre-internet days, information on cable networks traveled one way, delivering analog TV signals to millions of homes over coaxial cable, with no data traveling back from the consumer to the hub. Eventually, as consumer needs evolved, so did the industry, and networks began to send signals both ways, to and from the consumer, opening doors to cable broadband Internet, video chatting and much, much more.
As we move toward the next phase of HFC evolution, we must remember that building the super-fast and reliable networks we have today required a lot of collaboration and about $290 billion dollars in infrastructure and network investments over the past 20 years. And that's just in the United States! For most cable operators, a re-allocation to mid-split, high-split or a mix of the two will require switching out signal amplifiers and other legacy equipment—an investment that many are already making. Although there's no one-size-fits-all approach, the consensus is to move to at least the mid-split in the near future, further expanding the incredible capacity of the HFC network.
How Will Higher Band Splits Affect You and Your Future?
Although as a consumer you'll never have to worry about how your cable company's bandwidth is split between downstream and upstream, we know you pay attention to network speed. The journey from today's 1G to tomorrow's 10G offerings will involve expanding the bandwidth pipe to allow for more capacity. More bandwidth will give us more flexibility to accommodate near-future technologies, including bandwidth-hungry virtual reality (VR) applications and more.
That's where band splitting really makes a difference. Dedicating higher band splits to upstream traffic will future-proof our networks for years to come, allowing us to reach our goals and build the next-generation of technologies to help us live, work, learn and play in the coming decades.
The 10G Challenge: How Corning Leverages Technology to Improve How We Work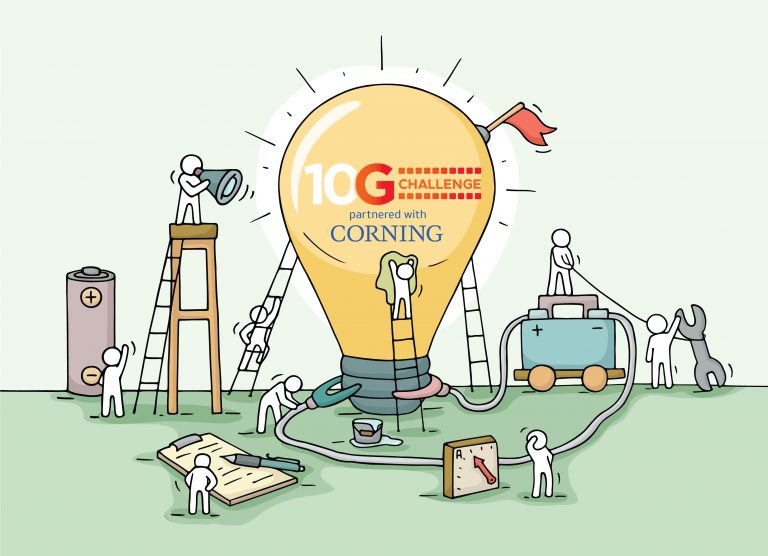 CableLabs believes mutually beneficial relationships are crucial to the growth of any business. Whether growing a customer base or reaching a new market, strategic collaboration can deliver value to both parties. To raise awareness about the 10G network, we've joined forces with outstanding organizations like Corning to get innovators thinking about how to build technologies that will work on the network of the future with the 10G Challenge. The 10G Challenge is designed to invent a better future that impacts the ways in which we live, work, learn and play.
The "Work" Category, Powered by Corning
In collaboration with Corning, one of the world's leading innovators in materials science, the 10G Challenge's Work category highlights how the 10G network will enable smart, intuitive technologies that will transform how we collaborate and solve problems in business environments, ultimately boosting creativity and productivity. From 3D remote meetings to immersive demos from countries away, next-generation technologies will make a significant impact on the way we do business.
As an organization, Corning's growth is fueled by a commitment to innovation. Through sustained investment in research, development and engineering, a unique combination of material and process innovation, and close collaboration with customers to solve tough technology challenges, Corning has spent the last 150-plus years bringing life-changing innovation to the world.
In 1970, Corning invented the first low-loss optical fiber, ushering in a communications revolution. Thanks to Corning's fiber optics, enormous amounts of data are able to move around the planet, and that movement of data has enabled a barrage of follow-on innovations, including the internet, cloud and mobile technologies, streaming TV, autonomous cars, bitcoin, AI — you name it.
In the five decades since inventing optical fiber to pave the way for the information highway, Corning has continued to introduce new methods, ideas and products aimed at transforming the way we connect with one another and the world around us. From liquid crystal display glass to fiber-to-the-home connectors to revolutionary pharmaceutical glass packaging to whatever comes next, Corning's participation in the 10G Challenge enables the leading materials science innovator to evolve to meet changing market needs and visualize what the future of work could look like. Even better, by working with CableLabs on the 10G Challenge, Corning will help support individuals and organizations leveraging a new, powerful broadband network to solve real-world problems across work environments.
Encouraging innovators to envision how 10G can help us solve real-world problems, the 10G Challenge showcases the individuals and organizations developing the technologies, services and applications that will rely on the network of the future. By advancing life-changing technologies and supporting the innovators developing new solutions, CableLabs and Corning are excited for what lies ahead and look forward to motivating forward-thinkers to leverage 10G to create a better future for humanity.
How Cable Networks Secure Communications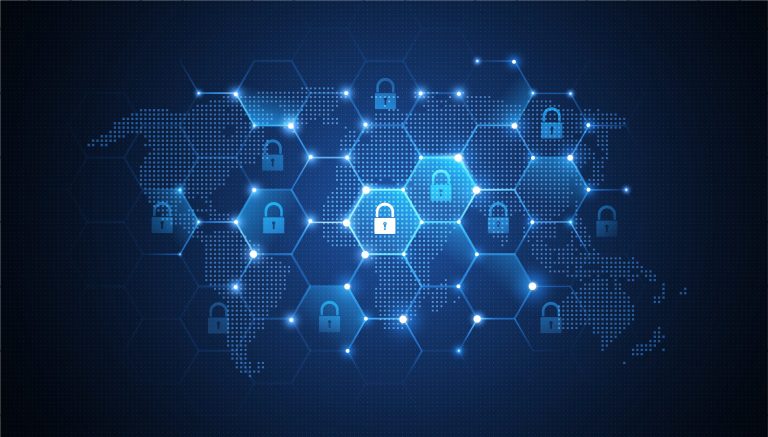 The email you sent, the website you visited, the internet searches you performed, the internet purchases you just made—they all require strong security to protect against eavesdropping, changes to your messages, and those who would make these services unavailable to you. These service examples demonstrate the foundational triad of security: confidentiality, integrity, and availability.
Securing the confidentiality, integrity, and availability of broadband traffic can be applied at different layers of networking technology. Some messaging applications encrypt traffic (for confidentiality) at the upper levels of the OSI network model (the application, presentation, and session layers), but broadband traffic transits below just those top network layers.
The cable industry's security technology ensures that the confidentiality, integrity, and availability of cable broadband technology happens at the lowest levels of the networking stack by encrypting the internet packets from cable subscribers' homes and businesses. This security is provided through the cable industry's use of its own public key infrastructure (PKI), the same type of security used by banks and the U.S Department of Defense for their own protection.
The cable industry created and manages a PKI with strong security. The digital keys used in the cable PKI have a very long private key (1024 bits and 2048 bits long), that is unique to each cable modem and part of each cable modem's digital certificate. Digital certificates securely identify the modem and are used to help encrypt the traffic going to and from that modem. You may think of a digital certificate as a driver's license for a cable modem to get onto the internet through a cable operator's broadband network. The information in a digital certificate provides an immutable and mathematically attestable identifier that is embedded during the modem's manufacture. The cable PKI encryption technology protects each cable network user from having anyone eavesdrop on their internet traffic, change, corrupt their communications, or introduce malware into the cable modem. Cable operators and cable device manufacturers use the cable PKI to securely update and manage cable devices in homes and businesses.
The cable modem and customer premise equipment (CPE) that help homes connect securely to the internet requires the same kind of patches and updates that other devices require to drive efficient and secure operation within the configuration required by the network to which they attach. Security specifications support SNMPv3 and TR-069, which are internet standards that provide commercial-grade security with ease of administration, and which include methods for authentication, authorization, access control and privacy in the configuration of devices. In the case of cable equipment, the firmware for these devices can be updated through a special secure channel by the network operator; this channel is secured similar to how the cable modem establishes its link. Firmware is the collection of all the software, memory, and operations that, akin to the medulla oblongata in the human body which passes messages between the brain and spinal cord, manages traffic to and from the subscriber home, and keeps the modem functioning. The firmware image is digitally signed by both the cable modem manufacturer and the network operator, whose public keys are accepted and recognized by the cable modem; this, and a special secure boot process, help make it increasingly difficult for malicious actors to compromise the device or network.
In addition to the cable PKI security controls, cable networks provide mechanisms to protect the routing and switching of broadband traffic once it leaves the cable broadband subscriber's home or business. For example, source address verification ensures that origination packets are coming from proper, non-spoofed addresses. Additionally, the cable industry's DOCSIS® Security provides several methods of filtering traffic, including enabling access control lists and security filters both at the cable modem and at the cable operator's cable modem termination system, which connects a cable modem connects to the internet.
The cable industry uses security mechanisms that are broad and robust. These security mechanisms are continuously reviewed and improved as technology changes and security threats to cable broadband subscribers change. You can find more details in these blog posts The Cable Security Experience and 10G Integrity: The DOCSIS® 4.0 Specification and Its New Authentication and Authorization Framework.
CableLabs continues to work with cable operators and cable device manufacturers to increase cable broadband security beyond providing the encryption technology. These BCP's, developed based on input from cable operators and cable device manufacturers, provide recommended security practices for cable operators and cable manufacturers and are aimed at improving the cybersecurity posture of devices and the networks they connect to. The BCP document strongly aligns with other industry and governmental security recommendations, such as the M3AAWG CPE Best Practices and recent publications from NIST and ENISA. Through continuous strengthening of security tools and practices, the cable industry works to protect its subscribers against those who would seek to eavesdrop, corrupt, or disrupt cable broadband access
Reference Gateway Device Security Best Common Practices:
Documentation: Gateway Device Security Best Common Practices Version V01
How DOCSIS® 4.0 Technology Is Enabling The Next Generation of Broadband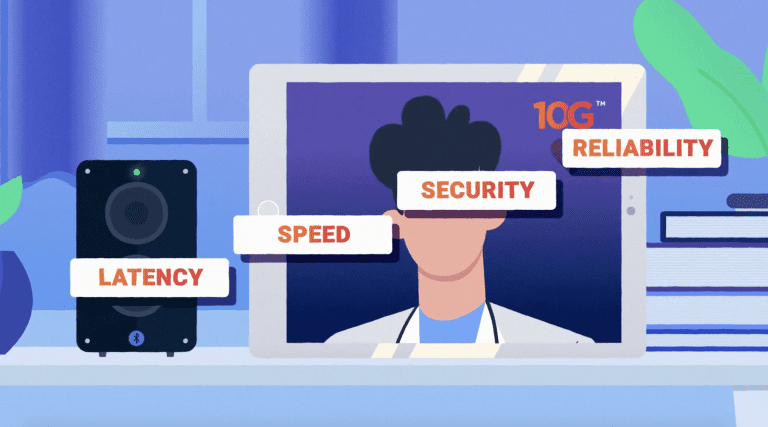 Broadband just got better as cable delivers on the 10G Platform with DOCSIS® 4.0 technology that is not only faster but more cost-effective.
These speeds will allow consumers to access the next generation of higher bandwidth customer applications that allow for improved telework, education, gaming, health care, social interaction, and virtual reality (VR) and augmented reality (AR). There is so much that faster broadband will bring to consumers.
And speed is not the only focus of the 10G platform. DOCSIS 4.0 will improve consumers' cable broadband experience through:
Increased network security because the bad actors are out there. DOCSIS 4.0 technology provides several approaches that help reduce the risk of data loss, theft, and sabotage, with the goal to build consumer trust in the cable broadband network.
More reliable connectivity because the cable broadband network is resilient, self-monitoring and self-healing. Technological advances keep it working without sudden glitches, slowdowns, freezing and other annoying interruptions. Consumers can get more done with cable broadband.
Lower latency technology will spur a wave of innovation, enabling better gaming and seamless next-level experiences like holodecks, light field displays and 360° video. Learn more about low latency DOCSIS technology and read about how Kyrio certified the first low latency DOCSIS 3.1 modem this year.
There are no new wires to bury or trenches to be dug. Consumers will reap the benefits immediately because DOCSIS 4.0 uses the same cable network that not only pioneered broadband but has continually provided high-quality and reliable services.
CableLabs is hosting DOCSIS 4.0 interoperability events as DOCSIS 4.0 technology positions the cable broadband network to meet consumer needs for the next wave of broadband. These are significant steps towards realizing the cable 10G Platform.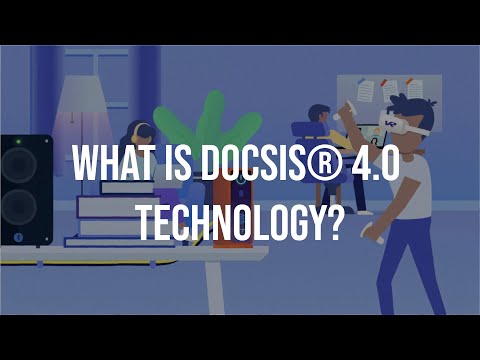 Join Us at CableLabs® Envision Vendor Forum 2021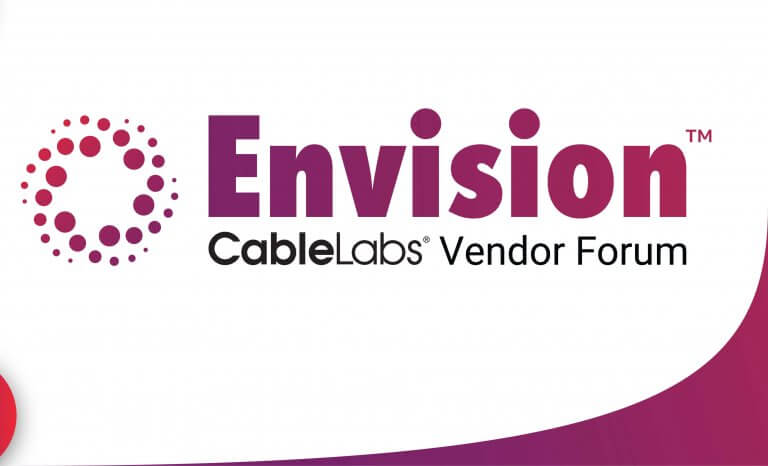 Over the years, CableLabs Envision Vendor Forum has become a platform for collaboration between our industry's leaders and innovators. More than just a meeting of the minds, it is an event where cable operators and industry vendors can compare common problems, align strategies and forge a path forward toward a better future—together. Our next Envision Vendor Forum, scheduled for September 23-24, will focus on Optical and Hybrid Fiber-Coax (HFC) technologies. It is also completely virtual and free.
What's on the Agenda
We'll take a few hours each day to dive deeper into the future of optical and wired technologies, covering the next-generation Passive Optical Network (PON) architectures, DOCSIS® 4.0 technology, Coherent PON and other HFC solutions. We will discuss how these technologies dovetail into wired-wireless convergence, identify the challenges surrounding current and future government broadband policies, and share our CableLabs innovation roadmap—along with a timeline for upcoming specification releases—with our operator and vendor communities.
From a cable technology perspective, there is no single path that will work for every operator. Depending on each operator's HFC architecture, vision and goals, there are multiple paths for delivering next-generation service offerings. Our goal at Envision is to help operators and vendors de-risk their planning activities by providing a community forum that proactively spotlights emerging technological paths and encourages community discussion devoid of the pressure from outside participation.
The virtual event will consist of panel discussions and presentations, with multiple opportunities to ask questions. 
Who's Invited
CableLabs Envision Vendor Forum is best suited for decision-makers, including executives, senior technologists and strategists on both the cable operator and the vendor side, who are leading the development and implementation of next-generation technologies and services in their respective areas.
This event is closed to journalists and analysts.
The Details
When: September 23-24, 2021, 9:00-11:30 a.m. MDT on both days.
Where: Virtual
How much: FREE. Each person must register separately with their company email by September 20, 2021.