HFC Network
Coherent Optics 101: Coming at You at 0.69c
Welcome back to the CableLabs 101 series! In our previous post, we discussed the basic components of a typical hybrid fiber-coax (HFC) cable network infrastructure and the role of DOCSIS® technology in data transmission over the coaxial portion of the network. Today, we'll focus on the fiber portion of the HFC network, as well as the coherent optics technology that's widely considered to be the hyper-capacity future of internet connectivity.
What Is Coherent Optics Technology?
Cable's HFC networks are "fiber-rich," which means they're composed mostly of fiber—a bundle of very thin, hair-like strands of glass or plastic wire. Fiber is light, durable, and most importantly, capable of transmitting a lot of data over very long distances incredibly quickly. Light travels through a vacuum at 186,282 miles per second, a universal constant that scientists denote as "c." Although light traveling through fiber optic cable moves a little slower than that (69 percent of the speed of light in a vacuum, or 0.69c), it's still incredibly fast at over 128,000 miles per second. That's fast enough for a single burst of light to circle the earth more than five times in a single second.
Until recently, signals in a typical HFC network were transmitted over fiber using analog technologies: an electrical radio frequency signal would be converted to an analog optical signal, transmitted over fiber optic cables, and then converted back to an electrical signal at the fiber node. With the advent of Distributed Access Architecture technologies, which will help cable operators cost-effectively add more capacity to their networks, that same fiber is being re-used to carry digital signals rather than analog ones.
The digital fiber technology being deployed today in access networks uses an "on-off keying" approach, in which a transmitter rapidly turns the laser on and off to send a signal; each pulse can signal a single bit of digital information (a 1 or a 0). Coherent optics adds further dimensions to the optical signal to carry more information simultaneously: rather than just pulsing the light on and off, it uses other properties of light (e.g., amplitude, phase and polarization) to carry multiple bits with each burst of information rather than just one bit. That can increase the data-carrying capacity of a single fiber by as much as 70 times, compared with non-coherent technology.
How Has This Technology Evolved?
Coherent optics technology is not new. It's been used for over 10 years in long-haul fiber networks that span thousands of miles between cities and countries. More recently, as the cost of coherent optics technology has come down and speeds have gone up (from forty to now hundreds of gigabits per second) it has seen growing deployment in metropolitan or regional networks. The one remaining frontier has been the access network—such as in a cable HFC network, which has a large number of relatively short links, requiring a very low-cost solution.
It was for this reason that CableLabs embarked on an effort to define the use of coherent optics for cable access networks: to define requirements specific to access networks, thereby promoting interoperability, scale and competition. All this reduces the cost of this technology to the point at which it could be used widely to grow the capacity of cable operator fiber networks.
This vision was realized with the publication of our initial Point-to-Point (P2P) Coherent Optics specifications (released in June 2018), which defined how to send 100 Gigabits per second (Gbps) on a single wavelength, and how to send up to 48 wavelengths on a single fiber. That was followed by our version 2 specifications (released in March 2019), which defined interoperable operations at 200 Gbps per wavelength, doubling the capacity of the network. And both specifications included support for another key technology called Full Duplex Coherent Optics, which doubles the capacity of each fiber yet again while enabling the cost-effective use of a single fiber rather than the normal fiber pair.
How Does This Technology Affect Me and My Future?
When you think about current technology trends and predictions for the future, you'll notice a common thread. Future innovations—like holograms, 360° virtual reality (VR), artificial intelligence and so on—will all require super high-capacity, low-latency networks that can transmit a ton of data very, very quickly. We're not talking about just long-haul networks between cities and countries, but everywhere.
This is why cable companies started investing in the expansion of their fiber infrastructure and fiber optic technology decades ago. By focusing on "fiber deep" architectures—a fancy term for bringing fiber closer to subscribers' homes—and using technologies such as coherent optics to mine even more bandwidth out of the fiber that we already have in the ground today, we can ensure that our cable networks continue meeting the requirements of current and future innovations. Thanks to those efforts, you'll be able to one day enjoy your VR chats in "Paris," work in a "holo-room" and much, much more.
HFC Network
Cable Broadband: From DOCSIS 3.1® to DOCSIS 4.0®
In 1997, CableLabs released the very first version of Data Over Cable Service Interface Specification (DOCSIS ® technology) that enabled broadband internet service over Hybrid Fiber-Coaxial (HFC) networks.  Ever since, we've been making improvements, greatly enhancing network speed, capacity, latency, reliability and security with every new version. Today, cable operators use DOCSIS 3.1 technologies to make 1 Gbps cable broadband services available to 80% of U.S. homes, easily enabling 4K video, seamless multi-player online gaming, video conferencing and much more. Although there is still a significant runway for DOCSIS 3.1, CableLabs has been hard at work developing the next version – DOCSIS 4.0, which was officially released in March of 2020 and further advances the performance of HFC networks. Let's take a look.
First, let's talk about upstream speeds. DOCSIS 4.0 technology will quadruple the upstream capacity of HFC network to 6 Gbps—compared to the 1.5 Gbps that is available with DOCSIS 3.1. While current cable customers still download significantly more data than they upload, upstream data usage is on the rise. In the near future, advanced video collaboration tools, VR and more, will require even more upstream capacity. DOCSIS 4.0 also provides more options for operators to increase downstream speeds, with up to 10 Gbps of capacity. It has been designed to support the widespread availability of symmetric multigigabit speed tiers through full-duplex and extended-spectrum technologies that move us closer to our 10G goal.
In addition to faster speeds, DOCSIS 4.0 will also deliver stronger network security through enhanced authentication and encryption capabilities and more reliability due to the Proactive Network Maintenance (PNM) improvements. It is a great leap toward 10G, setting the stage for a series of subsequent enhancements that will all work together to help us build the future that we always dreamed of.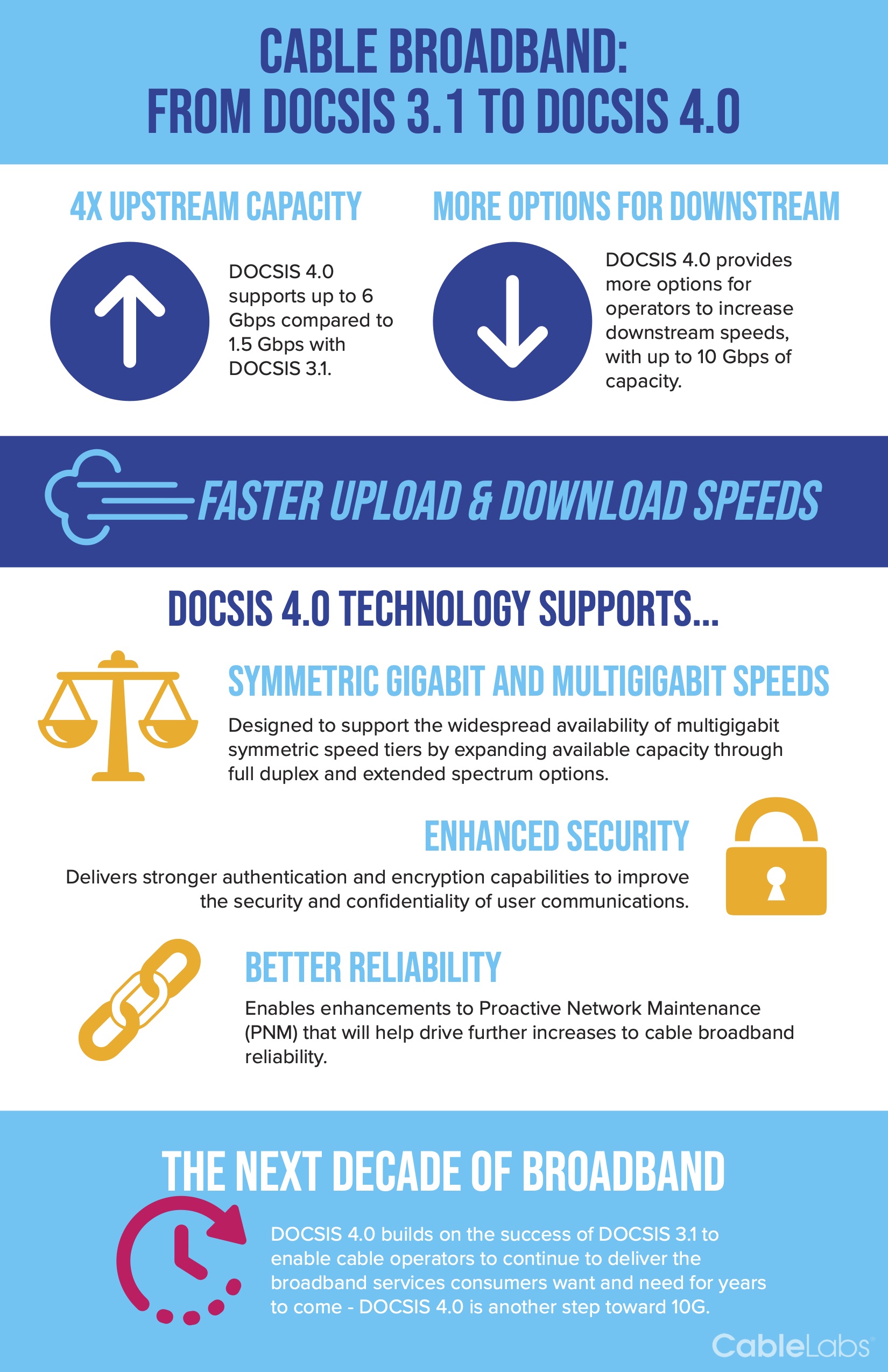 HFC Network
A "101" on DOCSIS® Technology: The Heart of Cable Broadband
Welcome to the first installment of our CableLabs 101 series about a suite of breakthrough technologies that are instrumental in the path toward the cable industry's 10G vision—a new era of connectivity that will revolutionize the way we live, work, learn and play. These technologies work together to further expand the capabilities of cable's hybrid fiber coaxial (HFC) network by increasing connection speeds and capacity, lowering latency and enhancing network reliability and security to meet cable customers' needs for many years to come.
Let's begin with the DOCSIS specification that started it all. Without DOCSIS technology, cable broadband would look much different.
What Is DOCSIS?
Initially released by CableLabs in 1997, DOCSIS—or Data Over Cable Service Interface Specification—is the technology that enables broadband internet service over an HFC network, now used by hundreds of millions of residential and business customers around the globe. It is essentially the set of specifications that allows different cable industry vendors to design interoperable cable modems (the piece of network equipment that sits in the home) and cable modem termination systems (CMTSs—the network equipment that sits in the cable operator's hub site). The CMTS is a head-end traffic controller that routes data between the modem in the home and the internet.
DOCSIS technology helped usher in the era of broadband and "always on" internet connections, enabling a wave of innovation that continues to this day.  With DOCSIS technology, internet customers were no longer forced to use dial-up solutions that tied up home phone lines and probably caused a significant spike in family feuds. The DOCSIS solution changed everything. Not only did it allow for an "always-on" cable connection (no dial-up required!), it was also significantly faster than dial up.  We'll talk about connection speed—along with capacity, latency and other network performance metrics—and how they affect you a little later in this article.
How Does It Work?
DOCSIS technology governs how data is transmitted over the HFC network. To understand how it works, we need to start with the HFC network—the physical infrastructure that most cable companies use to provide high-speed internet connectivity to their customers. As the name suggests, the HFC network is composed of two parts: the fiber optical network and the coaxial network. HFC networks are predominantly fiber, as illustrated in our recent blog post. The remaining portion of the HFC network is coaxial cable. The coaxial network is connected to the optical fiber network at a "fiber node," where the (fiber) optical signals are converted to radio frequency electrical signals for transmission over the coaxial network to the subscriber's home. The HFC network seamlessly transmits data from the CMTS to your cable modem (we call this "downstream" or "download" traffic) or from your modem back to the CMTS ("upstream" or "upload"). In turn, the CMTS is connected to the internet via a set of routers in the service provider's network.
Think of the HFC network as a "highway" and the data as traffic moving in "lanes" in either direction. In the downstream direction, DOCSIS devices translate the data from the internet into signals carried on the fiber optic portion of the HFC network and then down the coaxial network to your modem. On the upstream, the data that you upload is sent back up the network on a separate upstream "lane." Traditionally, this "highway" has had more lanes dedicated to the downstream traffic than upstream, which matches current customer traffic patterns. All of this is about to change with the 10G vision, which strives toward symmetrical upstream and downstream service speeds.
How Has This Technology Evolved?
DOCSIS technology has come a long way since 1997. Over the years, it has undergone a few iterations, through versions 1.0, 1.1, 2.0 and 3.0 to 3.1. As DOCSIS has evolved, it has gotten faster by adding more lanes in each direction and it has become more energy-efficient as well. Along the way, several additions to the base technology have been continuously added. These include enabling lower latencies, increased security of the traffic, and tools to make the network more reliable. Today's cable networks leverage DOCSIS 3.1 technology, which has enabled the widespread availability of 1 Gbps cable broadband services, allowing us to easily enjoy services like 4K video, faster downloads, seamless online gaming and video calls.
DOCSIS 4.0, released in March 2020, is another stepping stone toward that 10G vision. It will quadruple the upstream capacity to 6 Gbps, to match changing data traffic patterns and open doors to even more gigabit services, such as innovative videoconferencing applications and more. DOCSIS 4.0 equipment is still in the process of being developed and is seeing great progress each day toward device certification. Once certification is complete, cable vendors will start mass-producing DOCSIS 4.0-compatible equipment. With the widespread deployment of DOCSIS 4.0 technology, cable operators will have the ability to offer symmetrical multigigabit broadband services over their HFC networks.
How Does This Technology Affect Me and My Future?
All this talk about connection speeds, low latency, reliability and other performance metrics matter to us technologists because it's how we gauge progress. But it's so much more than giga-this and giga-that. These metrics will directly impact your future in a real, tangible way.
Over the past two decades, high-speed internet connectivity went from an obscure tech geek novelty to an important part of modern life. We are now streaming in 4K, collaborating on video chat, playing online games with people around the world, driving connected cars and so on. Continuous advancements in DOCSIS technologies are helping make this reality possible by increasing download and upload speeds, lowering latency—or lag—for a more seamless experience, and improving reliability and security to protect our online information.
DOCSIS 4.0 technology will enable symmetrical multigigabit services, ushering in a new wave of innovation across industries and applications, including healthcare, education, entertainment, collaboration technologies, autonomous vehicles and many more. In the near future, we will see advanced health monitoring services, immersive learning and work applications, visually rich VR/AR, holodecks, omnipresent AI assistants and other game-changing innovations that we haven't even thought of yet. In many ways, the reach and flexibility of cable's HFC infrastructure is the backbone of our 10G future, and DOCSIS—in combination with other advanced network technologies—is key to helping us reach this Near Future.
HFC Network
Facts You May Not Know About the Cable Industry
The cable industry has been around since 1948, first delivering broadcast TV channels, then cable TV channels starting in the 1970s and finally—cable broadband internet in 1996. The introduction of fast-speed, "always-on" cable internet changed everything. It accelerated innovation across multiple industries and created whole new markets. Just take a moment to think: how many times a day do you do something that requires an internet connection and where would you be without it?
The cable broadband industry now serves over 200 million households—and counting—around the world. Even if yours is one of them, you probably don't give too much thought to what cable internet is or how it works. Internet has become an important part of modern life enabling us to learn and work from home, watch in 4K, schedule telemedicine appointments, play online multiplayer games, remote control our home security systems and so on. In fact, cable industry is the leader in delivering next-generation broadband services, with cable gigabit services available to over 80% of U.S. homes. Plus, roughly half of global cable operators are also mobile providers, so you can take your modern conveniences on the go.
While it might seem like an overnight success, building a super-fast and reliable broadband platform for millions of everyday users required a lot of collaboration and around $290 billion dollars in infrastructure and network investments over the past 20 years in the U.S.. Earlier this year, CableLabs released the DOCSIS® 4.0 specification, the latest version of the technology that governs how a broadband internet signal is transmitted over cable. When widely adopted, DOCSIS 4.0 technology will quadruple network upload capacity to up to 6 Gbps, that will support a new wave of innovative experiences and much more. But we're not stopping here. This is only a stepping stone toward cable's 10G vision.
Along with speed, capacity, latency and other network performance metrics, the cable industry also improved the energy efficiency of its equipment by reducing energy consumption through voluntary commitments. All these ongoing improvements, together with cable's expansive network footprint and unwavering commitment to meeting the needs of broadband customers, are the perfect recipe for building the super network of the future. Stay tuned!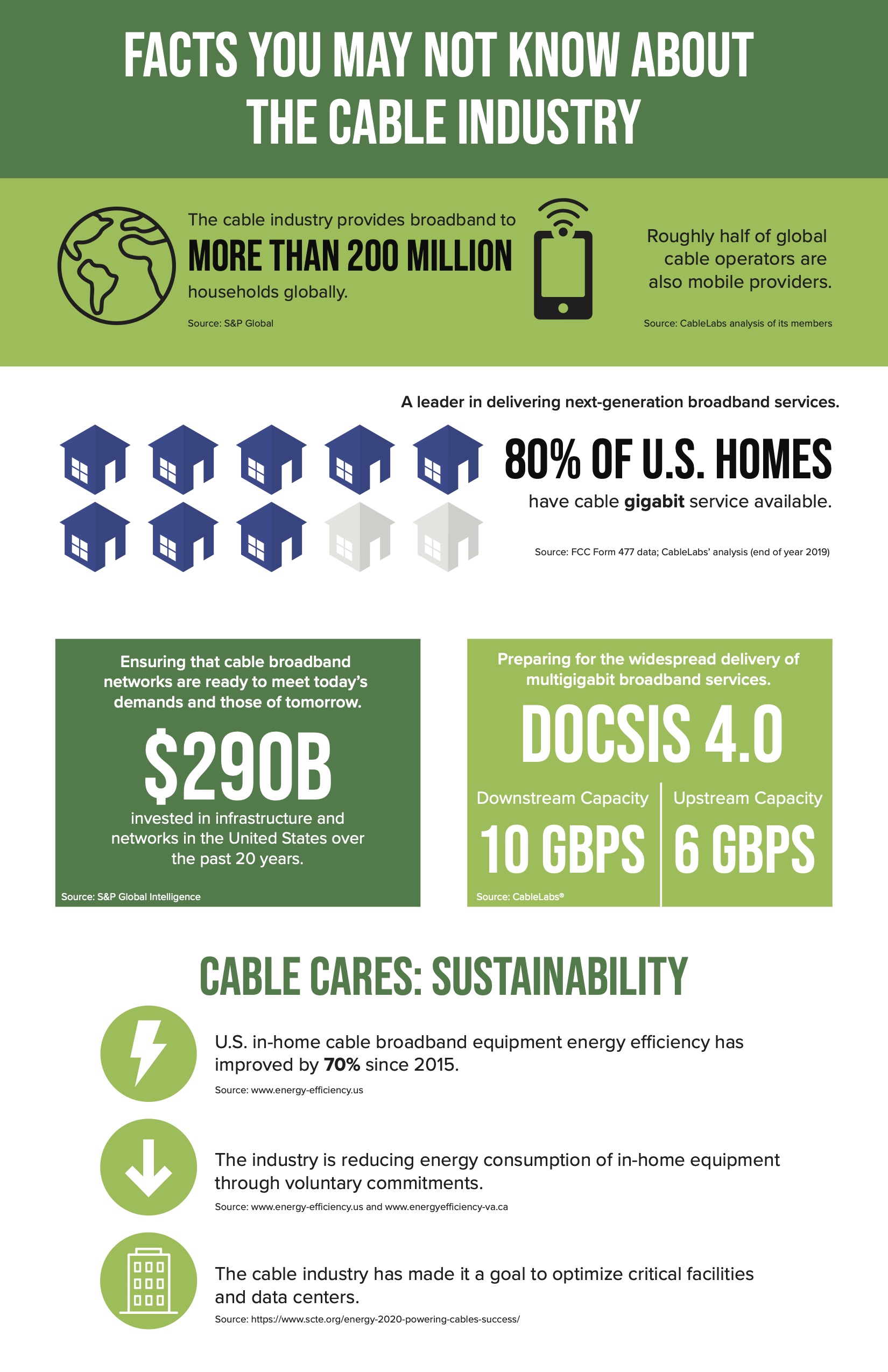 You can download the infographic
here
.
HFC Network
A Fiber-Rich Cable Network: What Does It Really Mean?
Cable networks are fiber-rich, and cable operators have long invested in deploying more fiber deeper into their networks. A fiber-rich environment enables greater capacity, increased speeds and more flexibility to support a range of access technologies. Although cable broadband networks are typically composed of both fiber optic and coaxial cables, most cable customers are surprised to learn that the vast majority of the distance that an internet packet travels is over fiber.
In simple terms, a cable network is composed mostly of fiber that connects the interconnection border gateways to the regional hubs to the optical nodes. The remaining short distance—from the optical node to the customer's home and then to each individual device in the home—is where the internet packet travels over coaxial cable and home Wi-Fi.
Let's take a look at a simple real-life example, illustrated below. When a cable customer in Vancouver, Canada, makes a video call to a cable customer in Ames, Iowa, the data starts its journey over Wi-Fi to the home router and then travels about a quarter of a mile from the router to the nearest optical node via a coaxial cable. From that point, the data is converted to a fiber-optic signal that carries it for about 2,499 miles—or 99.96 percent of the total journey—to another neighborhood optical node in Ames. The remaining half-mile or less from the node to the other customer's home is again transmitted over coax and Wi-Fi. As you can see, less than 1 mile (1.5 kilometers) of the data's 2,500-mile (3,200-kilometer) journey between Vancouver and Ames is transmitted over coax and Wi-Fi—the rest is all fiber!
You can download the infographic here. Interested in learning more about cable networks in the future? Subscribe to our blog.
Events
Meet the CableLabs Experts Speaking at the All-Virtual SCTE•ISBE Cable-Tec Expo® 2020
This year, our colleagues at SCTE•ISBE are taking full advantage of the power of connectivity to make one of the biggest industry events completely virtual—and FREE—to all attendees. The first-ever SCTE•ISBE Cable-Tec Expo® Virtual Experience (sponsored by Charter Communications, Comcast and Cox Communications) is scheduled for October 12–15, 2020, and we're very excited to be a part of it. We'll have a virtual showcase starting on October 9th, and we've arranged for multiple speakers and moderators from CableLabs to participate in this year's event, covering a broad range of topics from AI to fixed-mobile convergence to the future of 10G, and much more.
The theme of SCTE•ISBE Cable-Tec Expo®2020 is Imagine the Possibilities, and it's all about exploring the future of our increasingly connected world. This topic resonates with many of our experts here at CableLabs who are working on advancing cable network technologies to meet the needs of current and future generations. We'd like to introduce you to a few of them.
Phil McKinney | President and CEO of CableLabs
Session: CEO Welcome, Chairman's Welcome and Opening General Session
When: October 12 @ 11:00 AM–1:30 PM EDT
Author, innovation guru and CableLabs CEO Phil McKinney will kick off the General Session by introducing the participants and setting the overall objective for the 2020 Cable-Tec Expo.
Steve Goeringer | Distinguished Technologist
Session: The Cable Industry and Fraud: What It Is and What To Do About It
When: October 12 @ 1:00–2:00 PM EDT
Steve will moderate a discussion about the evolution of cyber fraud and how operators can prevent, detect and respond to attacks within the parameters of the privacy law.
Karthik Sundaresan | Distinguished Technologist
Session: Latency Labors: Solving for the (Super Low) Requirements of What's Coming
When: October 12 @ 1:00 PM–2:00 PM EDT
In the Latency session, Karthik will offer well-needed focus on how latency can be represented quantitatively, including metrics for describing latency behavior and methods of collecting those metrics.
Greg White | Distinguished Technologist of Next-Generation Systems
Session: Latency Labors: Solving for the (Super Low) Requirements of What's Coming
When: October 12 @ 1:00 PM–2:00 PM EDT
Greg will moderate a four-part workshop that focuses on latency and ways to lower latency to meet consumer demand for seamless digital experiences, such as multiplayer online gaming and workplace collaboration tools.
Debbie Fitzgerald | Immersive Experiences and Technology Policy, CableLabs
Session: The 10G Platform: Powering the Smart Home of the Future
When: October 12 @ 1:30 PM–2:00 PM EDT
What was once only imagined is now becoming reality with applications such as VR/AR, holographic devices and other high-tech high-bandwidth technologies in the home. Debbie Fitzgerald and key players that were involved with the Mediacom 10G Smart Home showcase project will discuss technological challenges and future opportunities.
Craig Pratt | Lead Security Engineer
Session: Customer-Facing Security Mechanisms: Keeping People Safe Without Compromising Their Experiences
When: October 12 @ 3:00–4:00 PM EDT
Craig will cover the WFA Easy Connect specification, which integrates into the CableLabs Frictionless Onboarding System to keep Wi-Fi connections secure.
Curtis Knittle | Vice President of Wired Technologies
Session: The HFC Future: 10G, FDX and Extended Spectrum
When: October 13 @ 9:30–10:30 AM EDT
Curtis will join his colleagues from CommScope and Comcast for a three-part workshop on future-proofing cable's HFC networks on the path to 10G and beyond.
Max Pala | Principal Architect of Security
Session: Evolving Security Tools: Advances in Identity Management, Cryptography and Secure Processing
When: October 13 @ 9:30–10:30 AM EDT
Security, PKI and encryption expert Max Pala will cover the latest developments in quantum computing as a possible means to break public key cryptography.
Karthik Sundaresan | Distinguished Technologist
Session: An Upstream Path Forecast: OFDMA Ahead
When: October 13 @ 1:00 PM–2:00 PM EDT
Karthik will join the OFDMA session to talk about the work with NOS to develop an upstream Profile Management Application.
Mark Poletti | Director of Wireless
Session: Current Events in CBRS for Cable
When: October 13 @ 1:00–2:00 PM EDT
Mark will join experts from Celona and Charter to examine the opportunities offered by the FCC's decision to make the Citizens Broadband Radio Service (CBRS) spectrum band available for unlicensed use in private LTE/5G networks.
Jason Rupe | Principal Architect
Session: Proactive Network Management: Cool Tools to Identify and Eliminate Impairments
When: October 13 @ 1:00 PM–2:00 PM EDT
As an expert in Proactive Network Management, Jason will take a look at profile management in DOCSIS® 3.1, including ways to sidestep LTE interference in the middle of an OFDM channel.
Kyle Haefner | Senior Security Engineer
Session: Applying AI in the Home to Improve Consumer Experiences
When: October 14 @ 3:00–4:00 PM EDT
Kyle will share recent academic work to classify devices and learn their behavior, so that the network can identify devices—and determine when they're operating outside of their norm.
Jennifer Andreoli-Fang | Distinguished Technologist
Session: The State of Converging Access and 5G Mobile Networks: What's Happening, and What Matters?
When: October 15 @ 10:00–11:15 AM EDT
Jennifer will kick off the workshop with a look at transport convergence between mobile and DOCSIS® technology, including major MSO deployments in North America and Europe.
Robert Cruickshank | Proactive Network Management Advisor
Session: Powering 10G: What It Takes and How to Do It
When: October 15 @ 1:00–2:00 PM EDT
A recognized expert in early cable technology development, Robert will examine data coming from a Gridmetrics pilot program to measure, monitor and track the availability and stability of voltage in the last mile of the access network's power grid.
Matt Schmitt | Principal Architect
Session: I'd Like a (Network) Slice, Please: Current Events in Multi-Network Convergence
When: October 15 @ 1:00 PM–2:00 PM EDT
Matt will talk about CableLabs' Convergence Lab and new business opportunities beyond
residential broadband, including mobile fronthaul/backhaul, business-grade Ethernet and
remote OLT.
You can always count on SCTE•ISBE Cable Tec Expo to bring together thousands of tech's most ambitious minds, including leading innovators, technologists and visionaries. This year is no different. In fact, now it's even easier to register and join from the comfort of your own home or workplace office. Although you can expect some deviation from the usual event proceedings due the virtual format, all the main event sessions are generally still in place, including the thought-provoking General Session, Innovation Theater presentations, Interactive Sponsor Showcase and, of course, the educational heart of the event—the Fall Technical Forum. You can learn more about all the CableLabs speakers here or review the full agenda on the SCTE•ISBE Cable-Tec Expo® site. Visit CableLabs and Kyrio at the Interactive Sponsor Showcase. We hope to "see" you at the Expo!
10G
Welcome to the Smart Home of the Future, Powered by 10G
Today, we're very excited to announce another successful milestone on the road to 10G. We've partnered with Mediacom Communications—one of the first cable operators to roll out gigabit service to all of its customers—and the NCTA-The Internet & Television Association to bring you a real-life demonstration of how 10G will power the smart home of the future. This demonstration is part of the first-ever 10G field trial conducted by Mediacom in Ames, Iowa.
Introduced in early 2019 as cable's next great leap forward for broadband, the 10G platform will power a new wave of innovation that will be able to take full advantage of its ultra-fast, multi-gigabit symmetrical download and upload speeds, imperceptible latency and enhanced security and reliability. We've talked a lot about 10G over the past year and have even made a few videos to help you visualize what this new world might look like in the near future, but this is the first time we're participating in a demonstration that brings the 10G vision to life.
What Is Mediacom's 10G Smart Home? 
In simple terms, Mediacom's 10G Smart Home is a lab. It's a working technology laboratory wired for ultrafast speeds that allows Mediacom to test cutting-edge consumer applications in a real-world environment. What might look like an ordinary home is anything but! From the kitchen to the laundry room, every living area of this home has been outfitted with smart home technologies that will help the "future you" live your best life. The showcase includes:
Kitchen devices that blend IoT technology to create wholesome food
Telemedicine connections to improve patient engagement and care
Home automation technology that allows control of the environment with one tap or command
High-energy egaming played with low latency and seamless engagement and interactivity
Immersive entertainment experiences
Virtual and augment reality applications powered by the body's own electricity to de-stress and quiet the mind
A variety of other technologies that can help with pet care, working from home, distance learning and even window washing
This demonstration is a thrilling glimpse into the ways 10G can transform and enhance every aspect of your life.
Inside the home, CableLabs showcases the next generation of display technologies for entertainment, research and education. As you can imagine, holographic video requires an enormous amount of data, but we'll soon see holographic 3D images and video that won't require glasses or heavy headwear. These are the types of experiences that our 10G platform will make possible.
Launched on September 17, 2020, Mediacom's 10G Smart Home launch event included welcome messages from former FCC Chairman and NCTA CEO Michael Powell, CableLabs CEO Phil McKinney as well as high-profile attendees such as representatives from state and local government, the press and tech influencers. 
A True Tech Paradise
In a tech world, innovation faithfully follows the classic "if you build it, they will come" philosophy, which means that as internet speeds increase, new inventions come to light. Think about holodecks, video walls, immersive cord-free VR experiences and many other technologies that we haven't even imagined that will help us live, learn, work and play in the future. Cable's 10G platform will give innovators the flexibility they need to dream up big ideas that aren't constrained by data limits and pave the way for a new hyperconnected future. That's why demonstrations like Mediacom's 10G Smart Home are so important.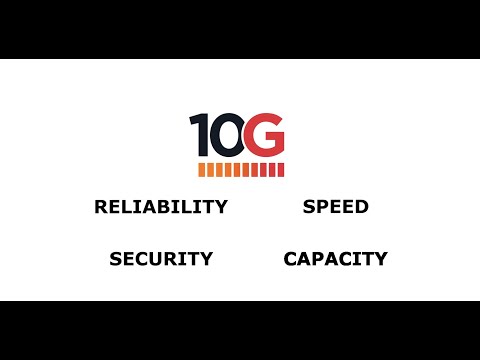 News
CableLabs Member, Telia Norge, Launches the Fastest Broadband Service in Norway
There's more great news from across the pond! Just a month after Vodafone Germany surpassed the 21 million gigabit homes passed milestone, another European telecommunications company and CableLabs® member, Telia Norge (Telia Norway), is launching the fastest broadband service in Norway for its customers, operating under the GET brand it acquired in 2018.
Now, Telia Norway's GET customers have access to as much as 1,250 Mbps download speed and either 500 Mbps or 50 Mbps upload speed, depending on the package they choose. Either option gives them unprecedented freedom to surf, stream and share on multiple devices at the same time. In addition to much higher speeds, customers will also enjoy the benefits of a significant increase in network capacity and reliability. These improvements are a direct outcome of Telia Norway's ongoing commitment to modernize and future-proof its hybrid fiber-coax (HFC) network in preparation for the next generation of high-speed digital products and services. By upgrading its network to CableLabs DOCSIS® 3.1 technology, Telia Norway will be able to not only greatly improve the broadband experience for its current customers but also ensure that it stays ahead of their broadband needs for years to come.
"This is a large and important program for us, where we will invest a lot in the years ahead," said Pål Rune Kaalen, Telia Norway Director of the Private Market. "Through the program, we are greatly expanding the speed, capacity and stability of today's network—something our new broadband product is a good example of. For us, this technology represents the broadband of the future."
As part of this large-scale modernization push, Telia Norway plans to continue investing in its HFC infrastructure with a goal of upgrading more than 300,000 homeowners to the new DOCSIS technology by 2023. The inherent flexibility of the DOCSIS technology will allow for a cost-effective upgrade without digging new trenches and negatively impacting the environment—or the bottom line. And that's what the broadband of the future is all about.
Check out the full press release on Telia's news site (Norwegian).
News
CableLabs Member Vodafone Germany Surpasses 21 Million Households with Access to Gigabit Speeds
Today we are shining a spotlight on another monumental achievement in the European cable community. Our CableLabs member with the largest gigabit network in Germany, Vodafone, has just surpassed 21 million households with access to gigabit speeds, bringing blazing-fast internet to over 50 percent of German households.
As a leading provider, Vodafone Germany recognizes the importance of expanding its Hybrid-Fiber-Coax (HFC) network and combining it with innovative multi-layer technology to meet the rising demand for high-speed services. From Aachen to Zwickau, and from the North Sea to the Zugspitze, in the first quarter of this year, more than half of Vodafone's new customers are opting in for a connection of 400 Mbps or faster and every third customer chooses 1 Gpbs service. It's very clear: an ultra-high-speed cable connection is the digital future and Vodafone intends to deliver. Aside from adding new infrastructure to accommodate its growing customer base, Vodafone has been using CableLabs DOCSIS® 3.1 technology to significantly increase both download and upload speeds and expand network capacity. Right now, there is an average of 8 gigabytes passing through every Vodafone customer's connection every day, allowing businesses and individuals to work, learn and enjoy multi-gig services.
Twenty-one million is a significant milestone, but while we are taking a minute to celebrate, Vodafone Germany is already working toward the next one: 25 million households in the Vodafone network by 2022! As soon as the first prototypes of the new hardware generation are available, Vodafone is planning initial field tests. These are to take place within the next two years.
"Vodafone, with its hybrid fiber coax network, is the main driver for the expansion of high-speed networks in Germany. With today's expansion step, we and above all our customers have well over 20 million reasons to celebrate," says Vodafone Germany CEO Hannes Ametsreiter and adds: "The upgrading of our hybrid fiber coax cable network continues and the end of the line in terms of speed is still a long way off. With each technology evolutionary step, we are making our cable internet even faster and even better by bringing more fiber optic into the network and pushing ahead with capacity expansion."
Vodafone is a shining example of the true power of an HFC network in delivering the future we are all dreaming of. As more multi-gigabit innovations become part of our lives, Vodafone and other cable providers will be ready to not only meet the increasing demand but to stay well ahead of it—many years into the future.
HFC Network
Upstream: How Much Speed Do You Need?
In the middle of a global pandemic, in which people are working and playing on their various devices at home, internet usage is surging—whether because of virtual meetings or streaming entertainment or mindlessly scrolling through apps. And it's not just the heavily used downstream aspect that's seeing increased usage, we're also seeing an increase in upstream usage.
What Is Upstream?
Upstream is when data flows from the user to the network. When we play an online multiplayer video game or conduct a web conferencing call, we're using the upstream channel. According to the NCTA's COVID-19 dashboard, upstream internet traffic through late July was elevated, up 22.1 percent compared with pre-pandemic levels.
Cable networks have ably handled this increased traffic, aided by the fact that popular upstream-dependent applications require relatively modest bandwidth. A web audio conference call requires a modest 0.03 to 0.15 Mbps in bandwidth, whereas a video call may require up to 3 Mbps. Given that nearly all U.S. households passed by cable networks have currently available upstream speeds of at least 20 Mbps, there's sufficient capacity to meet today's demands.
Your cable broadband internet connection can handle it today and we continue to advance cable network technology to ensure we're also ready for tomorrow.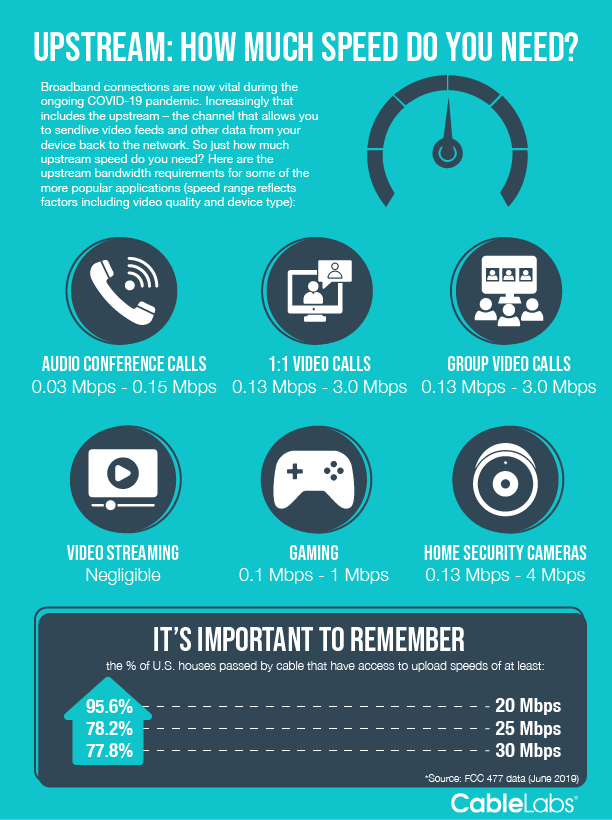 Download the infographic here.